By Robert G. Segel
WWII-era Japanese white metal desk inkwell. Japanese soldier in full field gear with Type 11 light machine gun in the prone position. The Japanese flag is hinged and lifts up to reveal two inkwell positions: one for blue ink and one for red ink. Measures approximately 6x3x3 inches.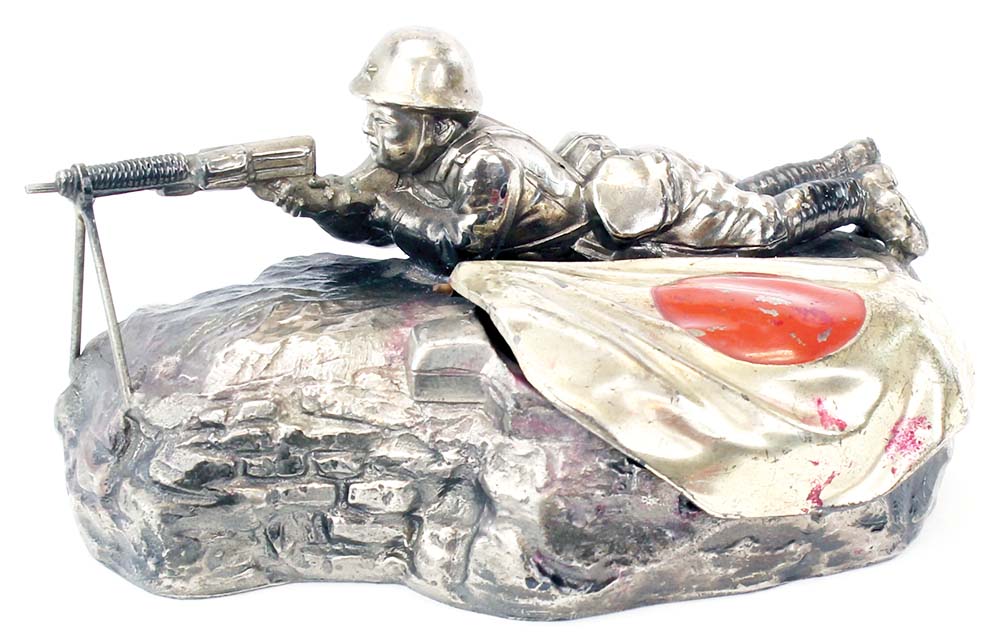 World War I New Zealand soldier wrist identity bracelet with chain. Bracelet marked "Pte S. Moorcraft, N. Z. M. G. C. 31527 C. E." (Private S. Moorcraft, New Zealand Machine Gun Corps, 31527, Church of England).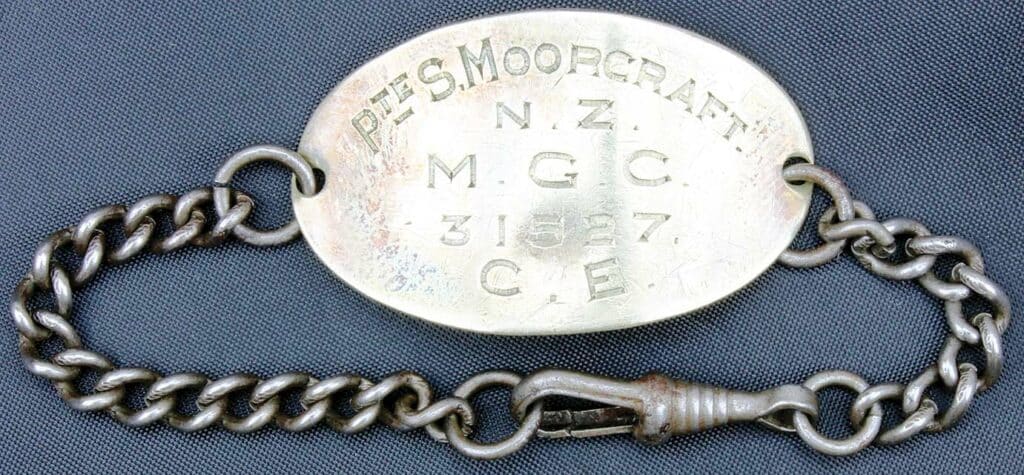 British World War I blackened bronze other ranks cap badge for the Machine Gun Corps Motor Transport driver as worn in Africa in Egypt or Palestine. The one-piece construction of King's crown over crossed Vickers with a spoked wheel below. Slider to rear.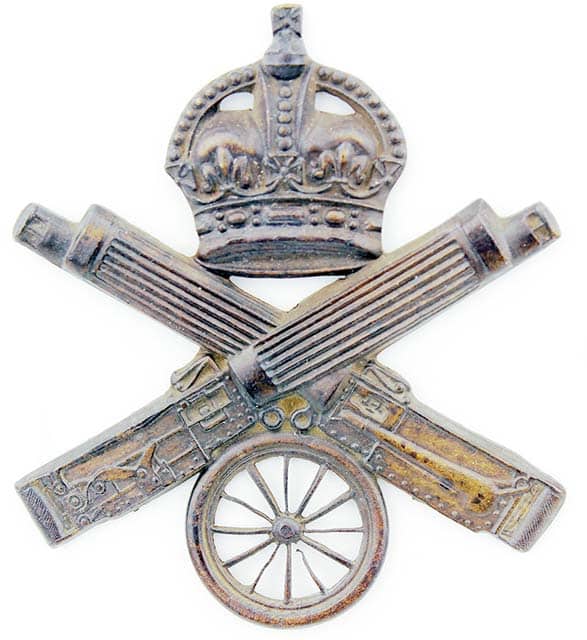 Pair of sterling silver and enamel earrings set in Lucite of the insignia of the Canadian regiment The Winnipeg Grenadiers MG. The King's crown surmounts over a central image of a ram's head encircled by "The Winni-peg Grenadiers MG" over banner with motto "Adsum" (I am present). The Winnipeg Grenadiers were a militia infantry battalion organized as a machine gun battalion on September 4, 1939. The unit was sent to Hong Kong and surrendered to the Japanese on December 25, 1941, after heavy fighting. The unit reformed in January 1942 in Canada and disbanded in the UK in November 1944. Slip-on style with screw back clip for non-pierced ears. Rear marked sterling silver.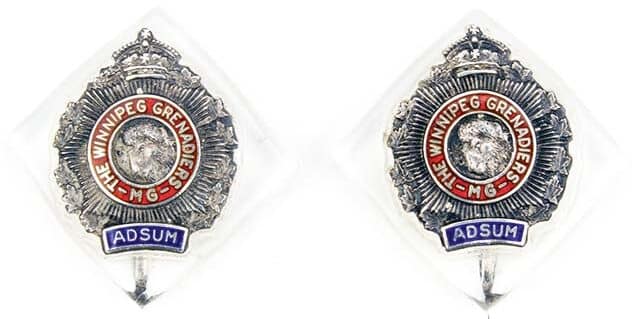 Brass and bronze "trench-art"-style miniature of a German World War I Maxim MG 08 machine gun on sled mount with steam condensing hose, water and ammo cans. The gun traverses and elevates on the mount. The front legs can be adjusted from prone position to selected height. The gun and sled mount sits on a stained wood stand with an inscription plate in German that reads "Schwere Mashinen Gewehr 08" (Heavy Machine Gun 08). This highly detailed model was made in 2017 by Oleg Prokopenko and his brother Dmytro Prokopenko in the Ukraine. The gun measures approximately 6 inches long.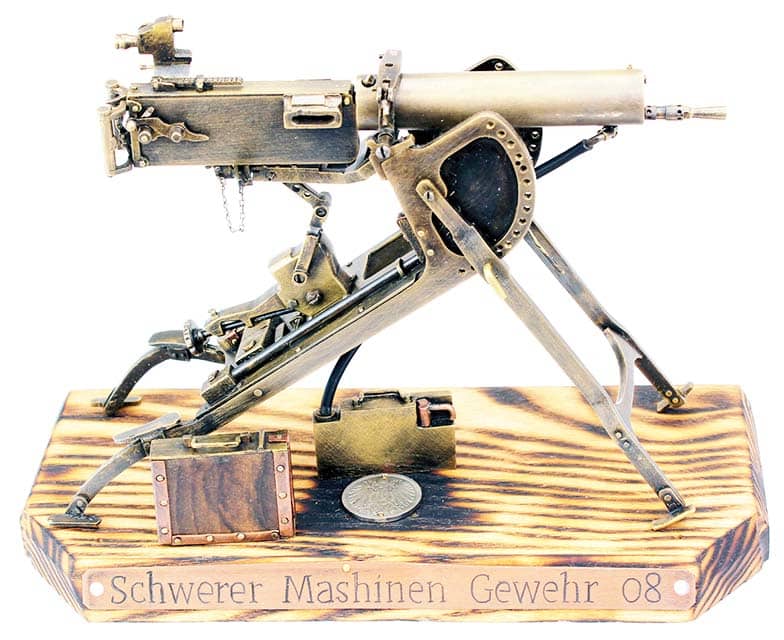 Russian silver shooting award pendant. The obverse has a central image of an M1910 Maxim machine gun on a Sokolov wheeled mount and engraved above and below in Russian: "1st prize for machine gun fire." The reverse is engraved in Russian (Shamordino 2 Base 1919). The pendant measures approximately 1 1/8×1 3/8 inches.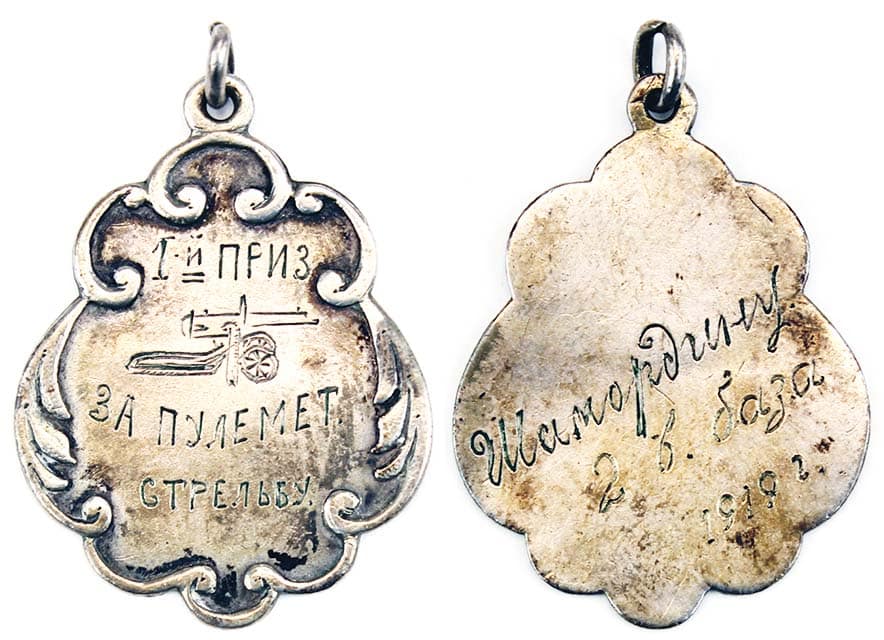 WWI-era U.S. Cavalry machine gun troop expert proficiency with a machine gun felt sleeve patch worn 1918–1919 only. Sewn image of red five-round section of a machine gun belt within a red circle against a yellow backing. The colors of red on yellow denoted machine gun troops in the U.S. Cavalry.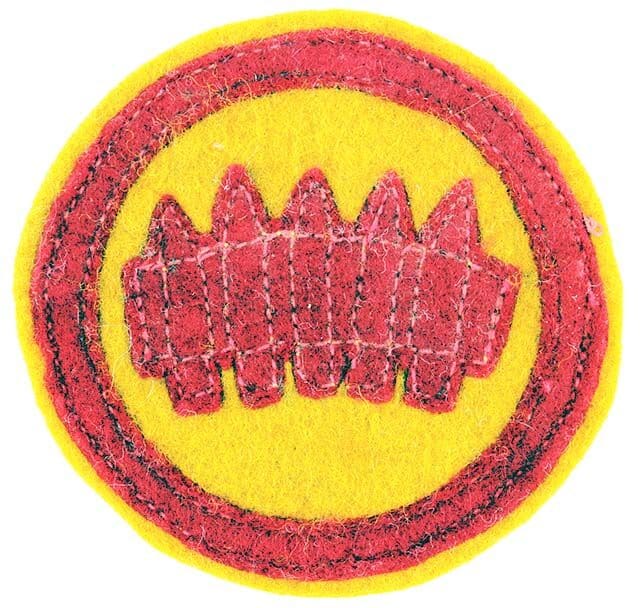 German service insignia of the Stahlhelm branch of the Freikorps. Blue cloth-covered round badge approximately 1.5 inches in diameter. Affixed to the center is a gray metal Maxim MG08 machine gun on sled mount. Metal-backed and maker-marked, "Ges. Gesch" (copyrighted). The Stahlhelm, Bund der Frontsoldaten was one of the many paramilitary organizations that arose after the German defeat of World War I and operated as the armed branch of the national conservative German National People's Party (DNVP).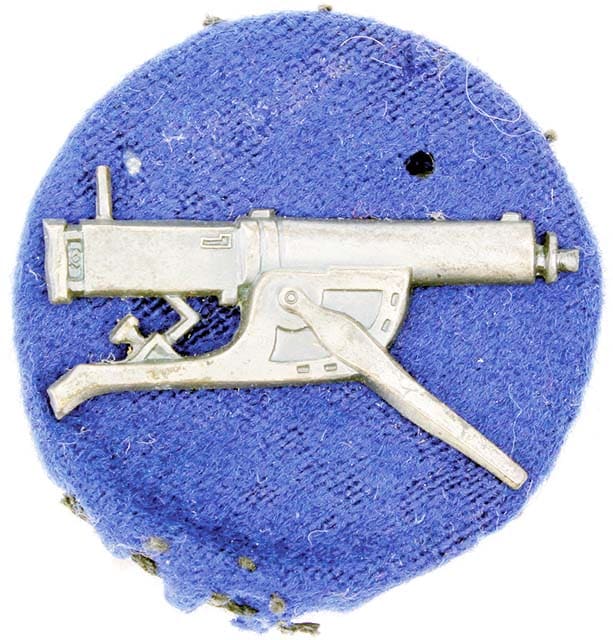 This article first appeared in Small Arms Review V24N1 (Jan 2020)