Story & Photography by Heebum Hong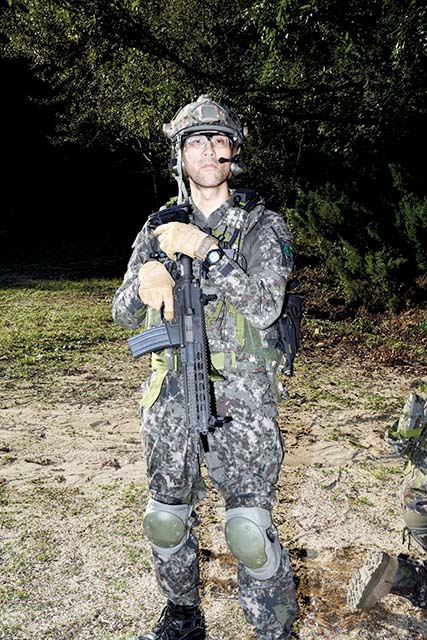 The ROK Special Forces, especially the Army's Special Operations Command (SOC), has been using the K1A SMG as its main personal weapon. While some units are using foreign-made SMGs like the HK416 or FN SCAR, such units are the minority, and a vast majority of them are still using the K1A. While it is called an "SMG," it doesn't mean it's a traditional pistol-caliber weapon; it is a 5.56mm assault carbine with a DI gas system.
K1As have been in service for more than 35 years, and now show many signs of obsolescence. The K1A doesn't have an ergonomically sound design. Since there was no consideration over mounting optics or other things while designed, even with modern rail systems the K1A is not good for attaching optics or laser sights. Of course, you can attach them, but in many cases using them is not as convenient or effective as using them on other foreign weapons. Also, the K1A's DI system didn't have a good reputation during its long service life. It's not bad, but it had some limitations.
So, during the last few years, the ROK military tried to find a replacement for K1As, and initially, it seemed like SnT Motiv's K2C, a shortened version of the gas-piston-driven K2 rifle, would be the logical choice. 
But things changed dramatically during the last 2 to 3 years. Dasan Co., a weapons and machine parts manufacturing company in Korea, obtained a license to supply small arms to the ROK military. Until then, SnT Motiv had a virtual monopoly over that market as the only company in Korea with that license. Dasan offered AR-type weapons, namely Caracal's CAR816 (Dasan has manufacturing rights in Korea) or the DAR-15P, a piston-driven AR carbine developed by Dasan. 
This offer, together with the Special Operation units' experiences with the HK416 or M4A1 carbines used by elite counter-terror units, changed customers' opinions quite a bit. Compared to the K1A or K2 series of weapons, those AR-type weapons were way better in terms of ergonomics and accessories. So, to counter this, SnT Motiv finally designed a new AR-type carbine of its own—the STC-16. 
About the STC-16
The STC-16 is a very new weapon, first announced in October 2019. As you can see, it is a typical piston-driven AR carbine, only it is slightly different. It is very obvious to see it is developed to compete with Dasan's AR-type carbines or foreign designs like the HK416 or CAR816. While SnT Motiv doesn't produce AR-based weapons any more, SnT Motiv's predecessor Daewoo Precision was the second largest manufacturer of M16A1s (more than 1 million), so S&T Motiv probably had no trouble in designing the STC-16 with AR specifications. In fact, many original manufacturing facilities that produced the M16A1—mainly procured during the early to mid-1970s—are still used today to produce the K1 and K2 series rifles, along with new computer-controlled machining centers. 
Let's take a look at the STC-16 in detail. It is largely a typical AR carbine but has some differences. The trigger guard is fixed and enlarged to accommodate a gloved finger. And here's one very different part from the typical AR—a bolt stop. Unlike the AR, the STC-16 has a bolt stop inside the trigger guard, quite similar to the G36. It is to make the bolt stop ambidextrous and also reduce the parts sticking out of the receiver. With an ambidextrous magazine catch and this bolt stop, the STC-16 is almost a perfectly ambidextrous weapon. The magazine is, of course, a typical STANAG; the magazine well is a little bit shorter than the original AR in order to reduce weight.

The STC-16 barrel is attached to the receiver via a heavy barrel nut, which is similar to many current ARs like the HK416 or Geissele's AR, and the handguard is also directly attached to the barrel nut with two large bolts. This is also quite similar to Geissele's or other companies' recent designs. The handguard has M-LOK standard slots to the sides and MIL-STD-1913 rails over/underneath. The receiver is a flat top to accommodate an optical sight. The gas system is a typical short-stroke piston, which SnT Motiv developed. I'm sorry I can't open the system and show it to our readers; however, I can say in its current form it has a removable gas plug but has no adjustable gas regulator. Maybe it will be changed, since the ROK Special Forces also want to use suppressors with this. With a suppressor on, the gas regulator is much more desirable. 
Right now, the STC-16 has a 12-inch barrel, which is very similar to the K1A. While the total length itself is a bit longer than the original K1A, the overall mass is actually a bit smaller than the K1A's. But many K1As in The ROK Special Forces now have AR-type stocks (attached via special adaptor); with an AR-type telescopic stock, the K1A is actually longer than the STC-16's. So even in size, the STC-16 has the upper hand. Also, unlike the K1A and K2, users can change the barrel to different lengths relatively easily. S&T Motiv offers various barrel lengths.
Ergonomically, the STC-16 is way better than the current K1A/K2 variants. The STC- 16 is slimmer, and its selector is way easier to access. With the K1A and K2, it's not easy to move the selector from "fire" to "safe" or vice versa without loosening your grip from the pistol grip. With the STC-16, users easily can do it just like on an AR. Also, unlike the K2/K1A, the STC-16's selector is ambidextrous. The selector shape is way better than K2/K1A's as well.

A Disadvantage
One thing the STC-16 lacks from the original AR design is a bolt-forward assist. Well, more precisely speaking, it more or less resembles very early AR-15s before the XM-16E1 was introduced. Whether BFA is necessary is not something I can debate here; Gene Stoner himself didn't like it, and I've met many people who think BFA is necessary, as well as many people who are completely against it. I think it is up to how Korean customers think.
I also had chance to fire the weapon, and basically, it's not bad; it's a typical AR-type, piston-driven weapon with a short barrel. The muzzle flash and recoil are considerable but controllable. While the magazine change procedure is somewhat strange because of that not-so-familiar bolt-stop design, that's because I'm too familiar with the AR's paddle-type bolt stop. If it's used by Korean soldiers, who usually have no firearms experience before entering the military, they'll probably have no problem since they will be trained with it from the beginning.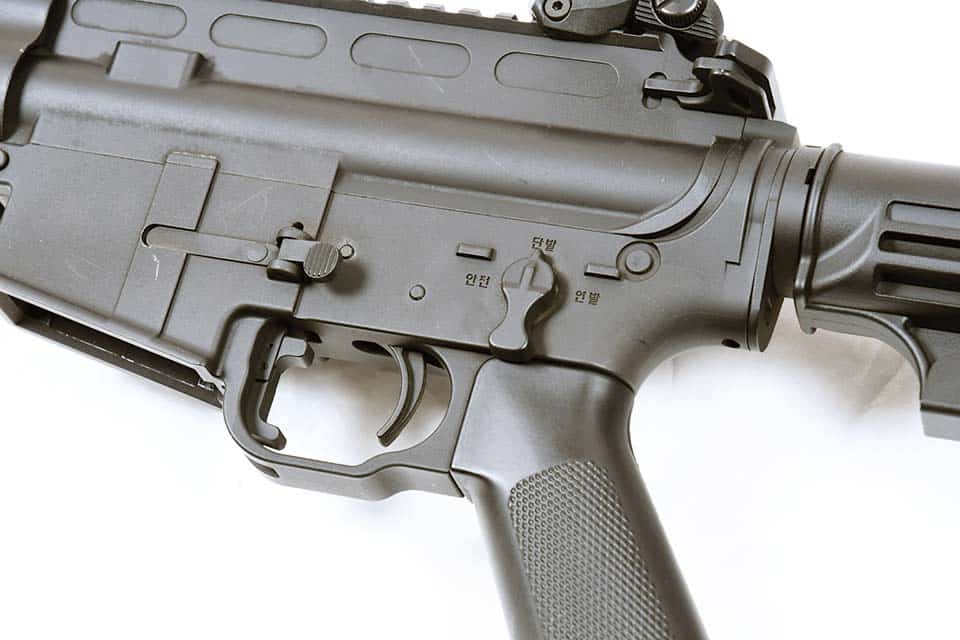 Final Thought
The STC-16 is still in prototype stage and can be changed a lot with potential customers' opinions. It will be interesting to see whether it would win the competition against Dasan's DAR-15P carbines. Let's see what happens!
SPECIFICATIONS
Make: SnT Motiv
Model: STC-16
Caliber: 5.56x45mm 
Operation system: Short-stroke gas piston (otherwise known as "Tappet" by SnT Motiv) 
Cyclic rate: 700~900rds/m
Total length: 870mm with stock extended
Barrel length: 307mm (12in) ~ 419mm (14.5in)
Weight (empty): 3.3kg or less
This article first appeared in Small Arms Review V24N3 (March 2020)