By Robert G. Segel
Exceptionally rare company banner for the Russian Cossacks who fought for Germany in WWII. This banner is for the Second Don Cossacks Battalion, 5th Machine Gun Company. Made of velvet with applied stitching and silver bullion thread fringe. Obverse has death-head skull embroidered on a blue background with "II DON KOS. ABT." ("2nd Don Cossack Battalion") embroidered below bordered in red velvet and silver tacking. The reverse has an embroidered "5" and embroidered MG 42 machine gun crossed with the iconic curved Russian Cossack Shashka sword with horseshoes embroidered to each side all on a blue velvet background with red and silver. Approximately 29×34 inches.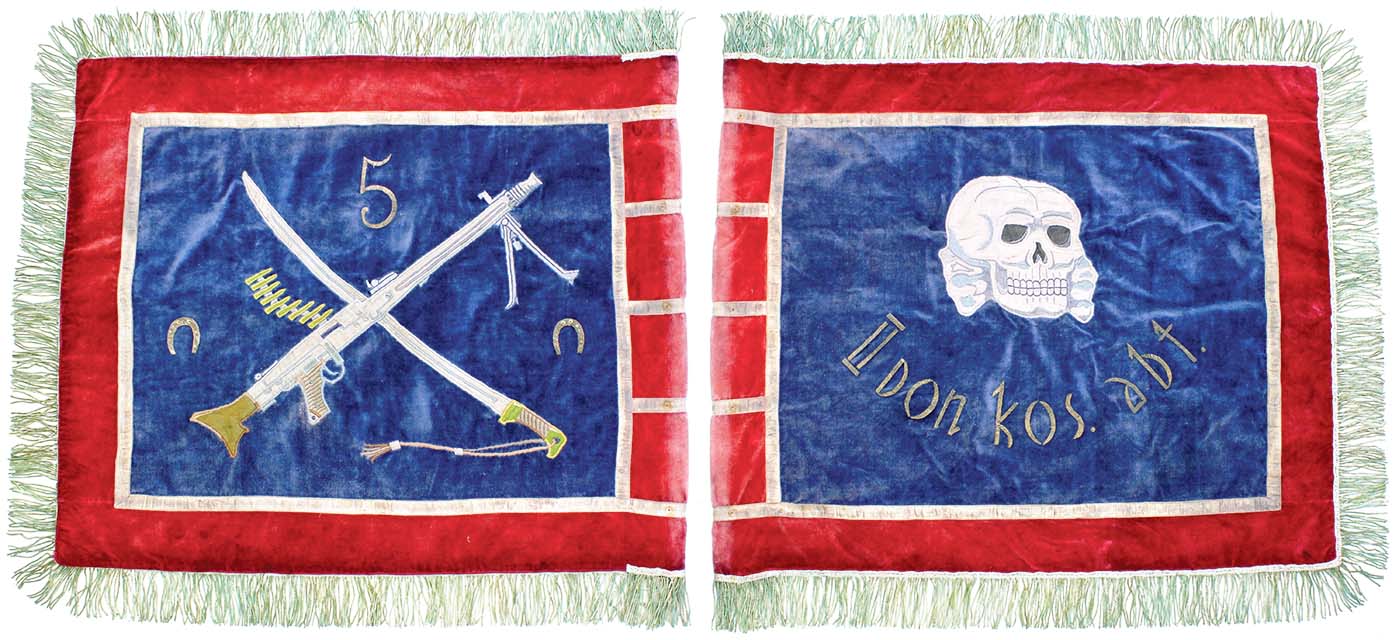 German Reichswehr inter-war period (1920–1934) regimental stein. 0.5 liter pottery marked "3. (M.G. Komp. Erg. Batl. 35" and "Erinnerung an meine Dienstzeit" ("3rd Machine Gun Company reserves 35th Battalion" and "In Remembrance of My Time in Service.") Center of stein has black and white image of a Maxim MG08 machine gun and two-man crew with the gunner aiming through a Z.F. 12 optical sight. Pewter-hinged lid with image of three-man gun crew with Maxim MG 08 on sled mount. Lid also inscribed with "In Remembrance of My Time in Service" in German and engraved with "Schütze Meßbacher" ("Private Mesbacher"). Scroll thumb lift. Inside lid maker-marked "Strählein Nurnburg."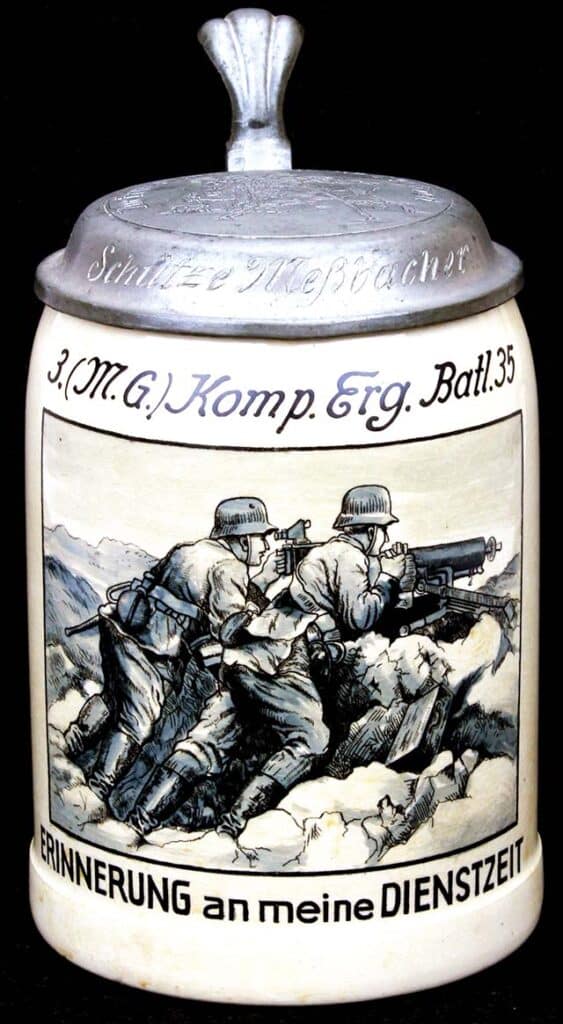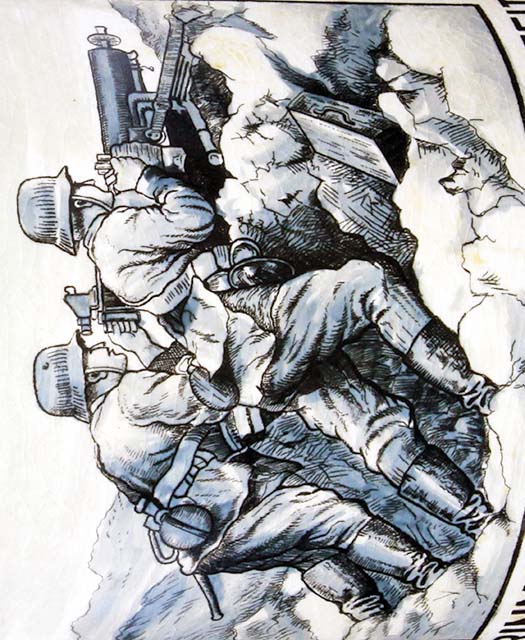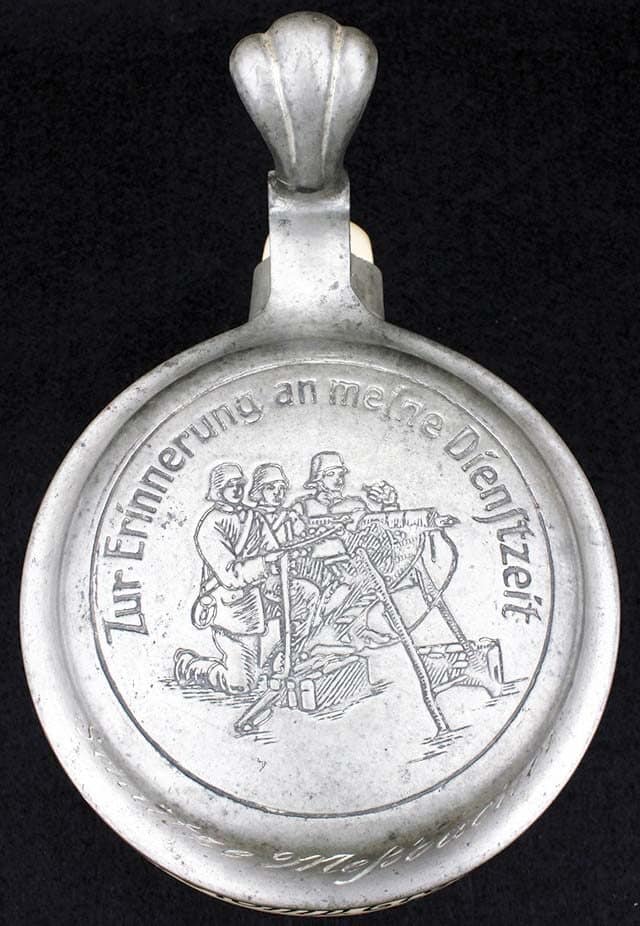 WWI-era souvenir silk pillow cover with screened image of two soldiers with their Colt Vickers Model of 1915 water-cooled machine gun. Identified to "Co. C, 23rd M.G. Bn. ("Company C, 23rd Machine Gun Battalion"). Fringed on all four sides. Part of the 2nd Division of the A.E.F. Served in the front-line trenches in the Verdun Sector, Aisne-Marne Defensive (Chateau-Thierry), Aisne-Marne Offensive (Soissons), front-line trenches at Pont-a-Mousson, participated in the Saint-Mihiel Drive, the Meuse-Argonne Offensive and the March to the Rhine.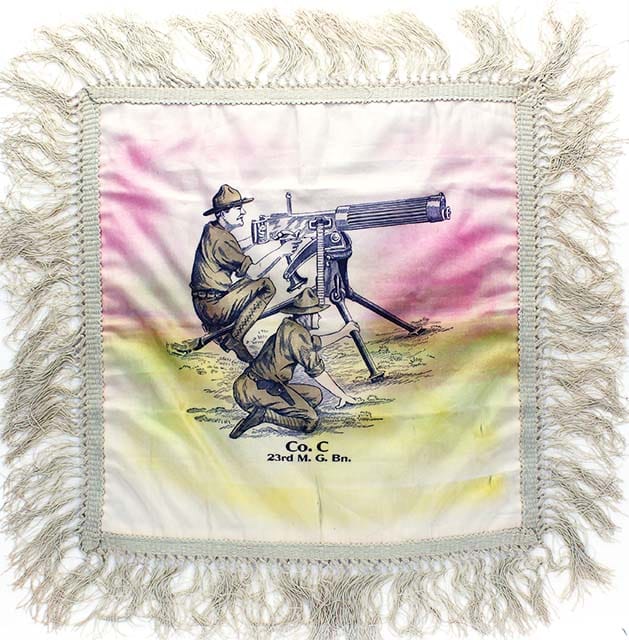 WWI Machine Gun Corps officer's Brodie helmet. Private-purchase helmet with canvas cover attached. With Machine Gun Corps insignia collar badge affixed to front of helmet of King's crown over crossed Vickers machine guns. Stitched to the right side of the cover is a formation patch of a blue diamond with black "MG" stitched to it. The helmet is complete with full liner and chin strap. The black on blue diamond formation patch represents the 164th Machine Gun Company of the 55th West Lancashire Division. They fought in the Somme in France, and the Division took part in the Battle of Gueudecourt.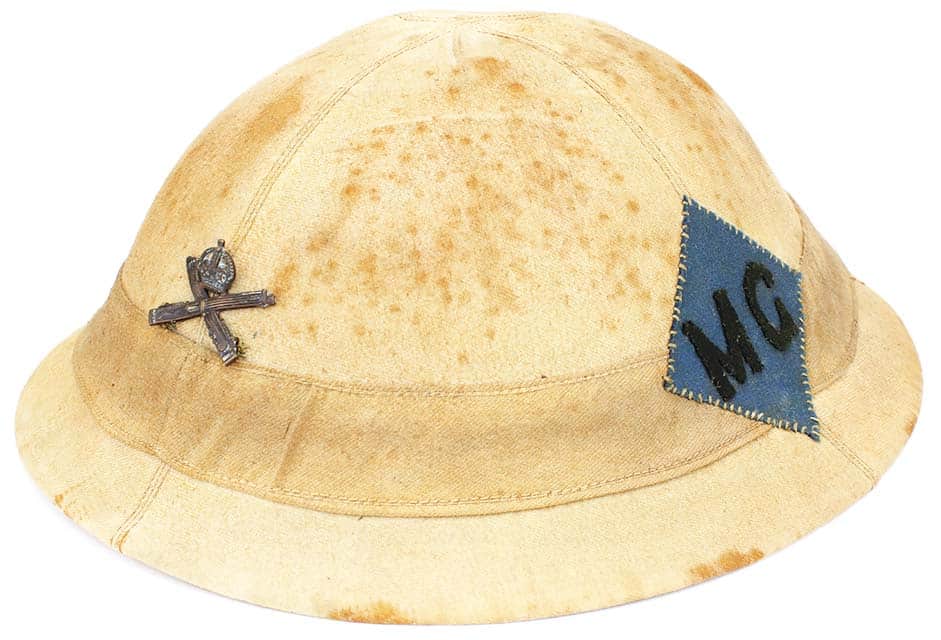 Extremely rare WWII poster showing the Johnson M1941 LMG. The poster was privately printed by Kelly-Read & Co., Inc., for the Think American Institute and is No. 193 in a series of posters that communicated the importance of national unity to preserve liberty and copyrighted in 1943. The artwork for this poster is by C.R. (Chester Raymond) Miller who created some of the best WWII posters. What makes this poster particularly unique is that it shows the Johnson M1941 light machine gun and is the only known WWII poster to show this weapon as it was used, only in the very beginning of the Pacific war by Marines. The poster is approximately 20×27 inches.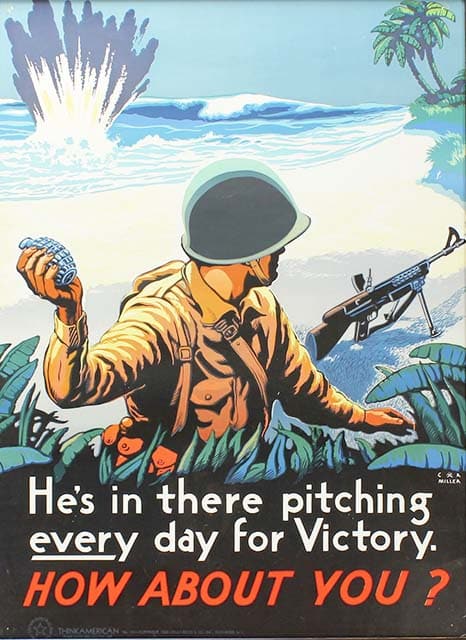 Veteran's blazer patch, cap badge and shoulder titles for the Canadian North Nova Scotia Highlanders (M.G.) machine gun regiment. Though existing in Canada for a very long time, it was under this designation with the addition of (M.G.) to its official insignia for only a little less than 10 months in WWII. Founded in 1936 as The North Nova Scotia Highlanders by the amalgamation of the Cumberland Highlanders, The Colchester and Hants Rifles, and "C" Company, 6th Machine-Gun Battalion, this unit was placed on active service on September 1, 1939, as the North Nova Scotia Highlanders (M.G.). It then mobilized on May 24, 1940, as the North Nova Scotia Highlanders having been switched from machine gun to regular infantry with the resultant deletion of the (M.G.) designation from their insignia. The unit embarked for the UK on July 21, 1941. The regiment landed on Juno beach on D-Day, assigned to 9th Canadian Infantry Brigade, 3rd Canadian Infantry Division.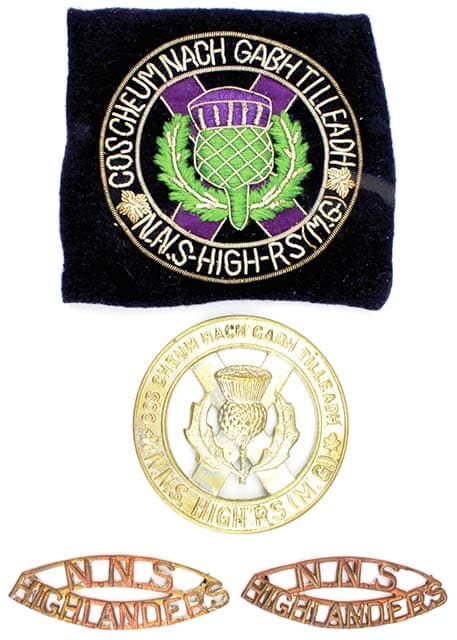 This article first appeared in Small Arms Review V23N9 (Nov 2019)