By Kyle Shea
"The Fast and the Furious" franchise started in 2001 with the release of "The Fast and the Furious," starring Vin Diesel and the late Paul Walker. It did very well in theaters and was soon followed by its sequel "2 Fast 2 Furious." It was soon followed by "The Fast and the Furious: Tokyo Drift" and then got a soft reboot with "Fast and Furious." The first three films were about illegal street racing, but "Fast and Furious" switched to international espionage. In "Fast Five," Dwayne "The Rock" Johnson joined the franchise. In 2019, a spinoff of the franchise starring Dwayne Johnson was released in theaters in the form of "Fast & Furious Presents: Hobbs & Shaw." 
In the movie, Dwayne Johnson plays Luke Hobbs, a D.S.S. agent who is assigned with former SAS operative Deckard Shaw, played by Jason Statham. The two do not get along and spend most of the movie insulting one another, leading to some pretty funny lines. Their mission is to find a rogue operative played by Vanessa Kirby, before a half-man, half-machine terrorist played by Idris Elba can get to her.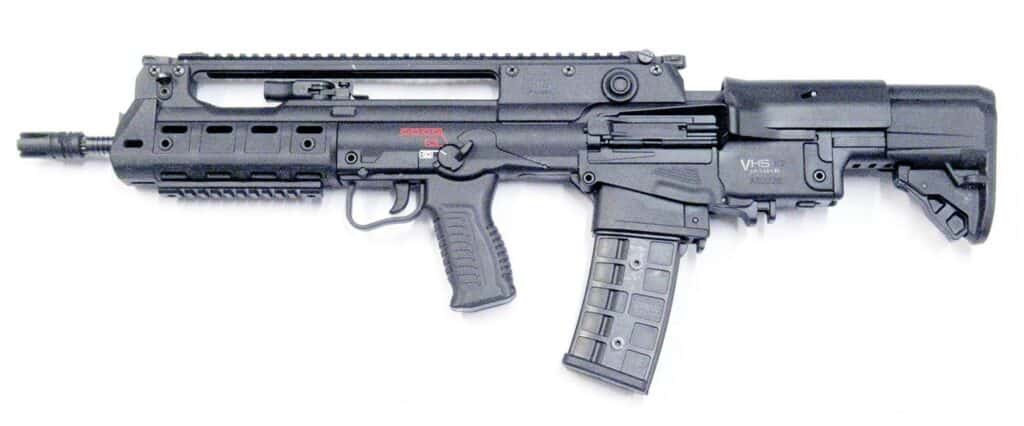 In one scene in the movie, Elba's character and his henchmen storm a building holding Kirby's character. This leads to an incredible chase scene where the villains use climbing cables to climb down the side of the building, with Hobbs falling after them and fighting the henchmen on the cables, as Shaw follows in an elevator and mocks them. The henchmen in this scene are using VHS-K2 assault rifles, made by HS Produkt d.o.o. in Croatia. HS Produkt was founded in 1991 and has been producing weapons for the Republic of Croatia since then, though they also supply to other countries as well.
The VHS-K2 is a bullpup rifle, meaning that the magazine and loading are done behind the trigger group. This allows the rifle to be shorter and lighter than normal assault weapons while keeping the barrel length. They weigh about 9 pounds and use magazines that hold 20 to 30 5.56x45mm NATO rounds. The VHS-K2 assault rifles have seen combat in Syria and in Iraq, where both the police and the Army used them during the countries' civil wars.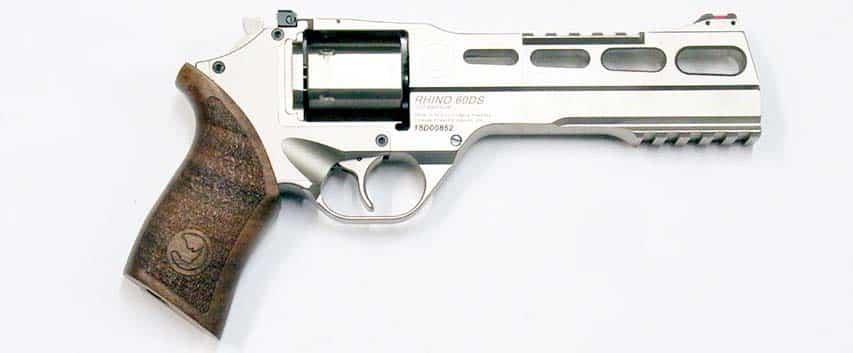 Later in the scene, Luke Hobbs uses a Chiappa Rhino Revolver 60DS pistol in a car chase through London. The Chiappa Rhino is a product of Chiappa Firearms, an Italian manufacturer started in 1958. The Rhino pistols are some of their best products and come in a number of variants. They are light, and each shoots one of a number of different cartridges. 
The 60DS weighs about 2 pounds, has a 6-inch barrel and shoots .357 Magnum from a six-round revolving cylinder. It comes in a number of different finishes, including gold PVD and nickel-plated.
I have only seen a few of the "Fast and Furious" films, but they are entertaining and are worth watching. "Fast & Furious Presents: Hobbs & Shaw" is an entertaining movie as well, with the back and fourths between Hobbs and Shaw being high points. Idris Elba is great as the villain and is a lot of fun to watch. Dwayne Johnson, Jason Statham and Vanessa Kirby are also good in their roles, as well as most of the other actors. The action scenes are fun to watch, and the locations are great, especially Samoa. The film does feel a little too long at times, but aside from that, it is worth a watch. 
This article first appeared in Small Arms Review V23N10 (Dec 2019)