By Oleg Volk
Since its introduction in 2015, the Keystone Arms Model 722 repeater bolt action has become available in a wide variety of configurations. The standard carbine, compact/youth in standard or deluxe trims and varmint/match covered most shooters' needs. The most recent addition to the lineup is the precision rimfire trainer produced in cooperation with American Built Arms (A*B Arms), a manufacturer of centerfire precision rifles. Keystone markets it as the Model 722 KPT; A*B Arms .22 Chassis Rifle.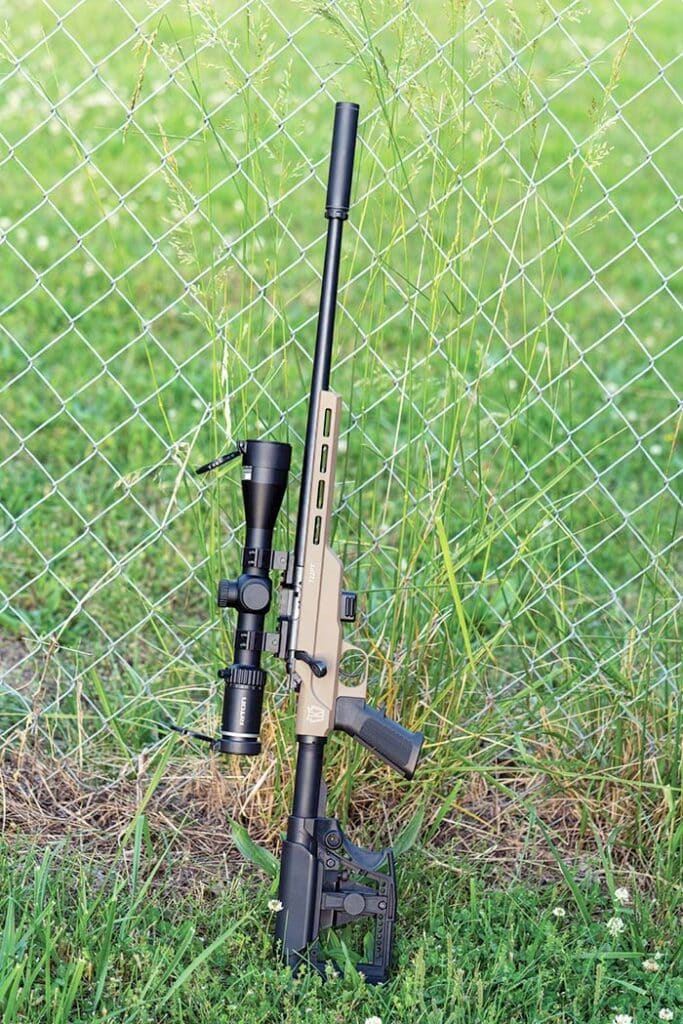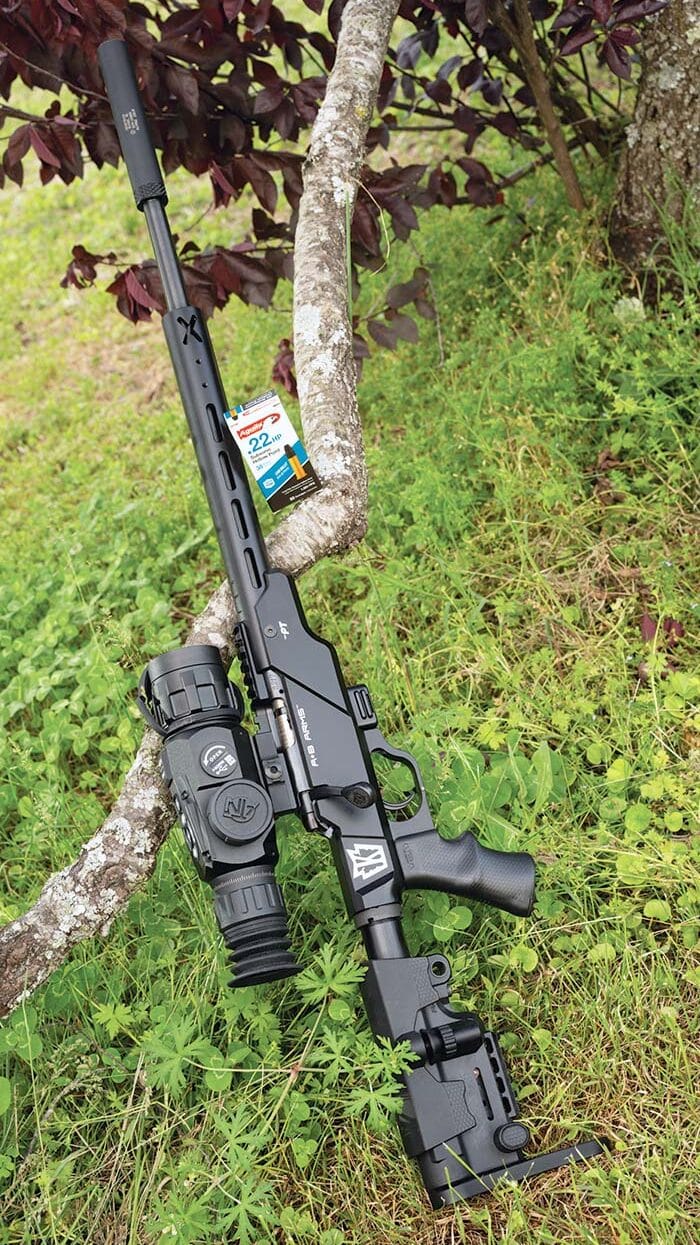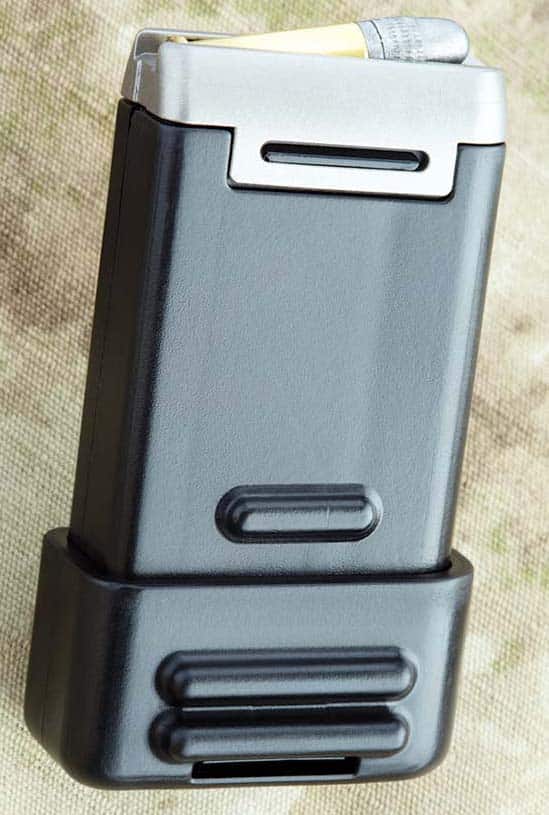 The design mates the 722's action and 16.5-inch or 20-inch match barrel with A*B Arms' 6061 hard-anodized aluminum chassis and their proprietary Urban Sniper stock and P*Grip. The build bears a close resemblance to the A*B Arms chassis with a centerfire short action rifle using AICS-style magazines. Weighing 6 pounds and measuring 30.75 to 34 inches (depending on the stock adjustment), the chassis rifle is just a little lighter and shorter than its centerfire counterpart. The KPT uses an adjustable Luth-AR stock and a mil-spec, AR-15-style pistol grip. With no recoil, minimal report and greatly reduced ammunition cost, it makes an excellent trainer for precision shooting. Thanks to their threaded muzzles, these rifles also work well for quiet varmint elimination when combined with a silencer.
The A*B Arms chassis is round, with four M-LOK slots on each side. In addition, there are two threaded holes on each side and the bottom front permits the addition of extra accessory rails. The chassis uses a fixed AR-style tube to retain an extensively adjustable stock. A well-rounded, heavily sculpted pistol grip with a trapdoor for accessories completes the design. On the Keystone Arms side, they use a rectangular forend with four (for the 16.5-inch barrel) or seven (for the 20-inch barrel) M-LOK slots. Both use approximately 11/16-inch match barrels—cylindrical on the AB and slightly tapered on the KPT. The match barrel and a crisp 2.5-pound trigger add up to sub-minute-of-angle results with every brand of match ammunition I tried. Both variants have an MSRP of $599.
The 722 action uses a one-lug bolt, with the handle acting as a second lug. Retained by a spring-loaded catch on the left of the receiver, the bolt sports two extractors for more reliable cycling, as well as a fixed ejector. The right-side safety lever has two positions: safe (back) and fire (forward). The real gem of this action is the 7-round box magazine—the easiest to load of any 22 LR rimfire system. Instead of a separate catch with a release button or lever, the 722's magazine is retained by two symmetrical leaf springs that accommodate elongated swells on the sides of the magazine body. With very positive support and retention, plus metal feed lips, these magazines proved reliable and durable. Removal is easy, with just a straight-down pull required.
The rifles arrive without sights. A Picatinny rail with a cutaway for the ejection port is used for mounting optics. Two rifles were used in testing, one with a Primary Arms 1-6x rimfire BDC scope for daylight and an ATN ThOR 4 thermal sight for darkness, the other with a Riton 3-15x parallax-adjustable scope. While the Primary Arms optic's BDC reticle is optimized for high-velocity rather than match ammunition, even that provided groups under 2 MOA with CCI Mini-Mags. Both rifles are being used with sound suppressors, the A*B Arms with a Gemtech Outback-II, the KPT with a Hailey Ordnance Consul. After testing with a variety of high-velocity and match ammunition, to minimize noise signature, I switched to Aguila 38-grain subsonics for both rifles. This ammunition produced consistent groups under 2 MOA, with minimal launch signature. At night, only a faint, transient glow is visible on the muzzle side.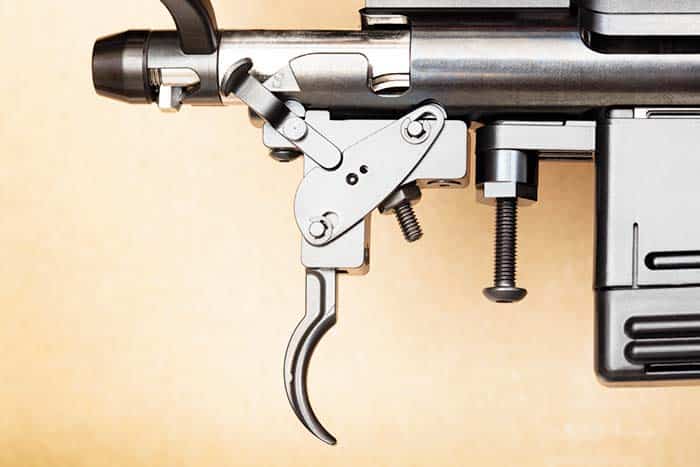 With ATN's thermal sight zeroed for 50 yards and all the ballistic data entered into the sight, re-zeroing is done by entering the target distance. With known-size targets I found it quicker to hold-over, while unknown size targets, like varmints, benefit from the internal ballistic calculator offered by ATN's night optics. With subsonic ammunition and a day scope like the Riton, targets around 4 inches are engaged confidently past 150 yards. With the thermal scope, the same 150 yards is feasible, but with larger, head-sized targets.
As trainers, these guns allow practicing of all marksmanship skills other than recoil control. With the steeper trajectory and greater wind drift of 22 LR bullets, shorter ranges can be used to learn skills that transfer nearly one-to-one to bigger guns at longer ranges. The feel and the ergonomics of the 722 trainers approximate full-bore precision rifles closely enough to make such skill development effective and comfortable. 
This article first appeared in Small Arms Review V25N10 (December 2021)