The old standard issue ALICE packs are a longstanding favorite for their simplicity and strength, but the popular favorite is not without its problems. It's not the most versatile, nor among the most comfortable packs available today.
Enter Frontier Resolve and its new Fortitude Pack Frame. The company is veteran run and owned and brings a noteworthy perspective to the field of load carriage and pack design. Its new offering relies on decades of real-world use and comprehensive study of military and recreational backpack frames and accessories in its approach. The result is a lightweight, aluminum pack frame that prioritizes comfort and versatility without compromising dependability or strength.
The Fortitude Pack Frame is designed to work with all versions of the U.S. military's legacy ALICE pack – including ALICE belts and shoulder straps – and is a fully cross-compatible with the current USMC-issue FILBE pack and components. Further, the Fortitude's design offers compatibility with a wide array of packs on the market, including standard issue military packs as well as many commercial packs. Any pack that accepts a legacy style ALICE frame will accept the Fortitude Pack Frame, says Frontier Resolve.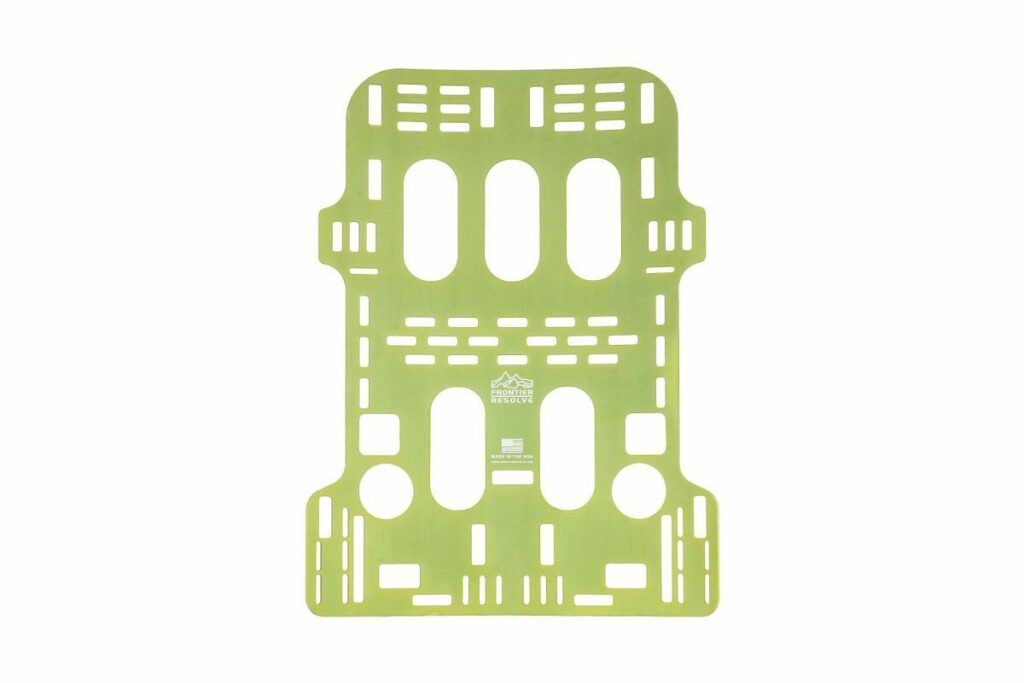 Another great feature of the Fortitude is its ability to be used as a stand-alone packboard by adding a set of shoulder and waist straps to the bare frame. In this configuration, the setup is capable of carrying anything that can be strapped to it using the versatile matrix of slots throughout the frame. The company suggests using the packboard configuration to haul odd-sized duffle bags, water containers, fuel cans, buckets, chainsaws, tools, big-game quarters, or pretty much anything you can think of.
The Fortitude frame is curved to match the profile of the human back. Frontier Resolve says it's thin enough to flex with natural body movement, but rigid enough vertically to support more than 150 pounds of weight and its monolithic design with no moving parts eliminates common break or wear and failure points.
The Fortitude Pack Frame Specs
2.1-pound monolithic design – no welds, no rivets, non-mechanical
Made with custom, specialty aluminum alloy – aircraft-grade aluminum that will not fatigue
Finished with Type III Mil-Spec hard coat anodization, polished and deburred by divertory tumbling
Modular design fits any pack that accepts a traditional ALICE-size frame
Cross-compatible with the current issue USMC FILBE pack
Can be used independently as a packboard
Dozens of webbing cutouts for customization and accessory additions
Individually contoured and pre-curved
Available in Coyote Brown and Olive Drab Green