By Tom Ring
During 1983-1985, Harold "Hal" Johnson designed and built an experimental prototype .30 cal., lightweight machine gun for the Austin Aerospace Corporation for use on their ultra-light aircraft, the Austin Hawk, the Austin Armament Support Program (ASP) referred to it as the ASP machine gun, showing it as a twin gun system in their promotional literature. Two ASP machine guns and a supply of 1000 rounds of belted .30 caliber carbine ammunition in M-27 links formed a light-weight offensive/defensive gun system. This gun system, when mounted under a Hawk, would have been used for scout and escort missions in a hostile environment. This system never saw field use, and all that remains is one gun, some drawings, some literature, several memos, a few photos, and a rather interesting story.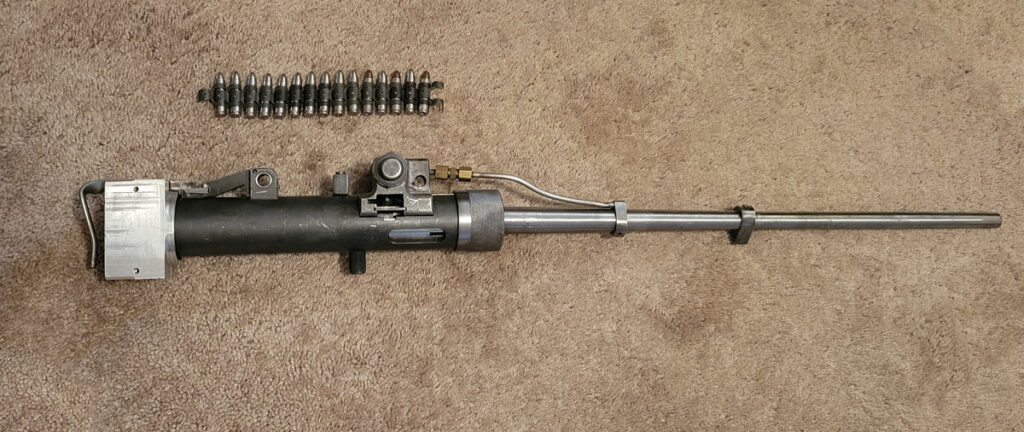 Prior to tasking Johnson with the design and manufacture of the ASP machine gun, Austin Aerospace did a trial with dual-mounted 7.62 NATO caliber M-60 machine guns on their Hawk aircraft. The M-60 was available as an off-the-shelf item and was well worth trying as it had a proven track record. Two M-60s were mounted on a Hawk and, during live fire with the Hawk air born, one of the M-60s jammed and ceased firing. Due to the sudden lack of recoil impulse on one side of the aircraft, the aircraft became unstable in flight. At that point it was decided that a recoil-free machine gun was what they needed. This live fire testing was done at Edwards Air Force Base, California.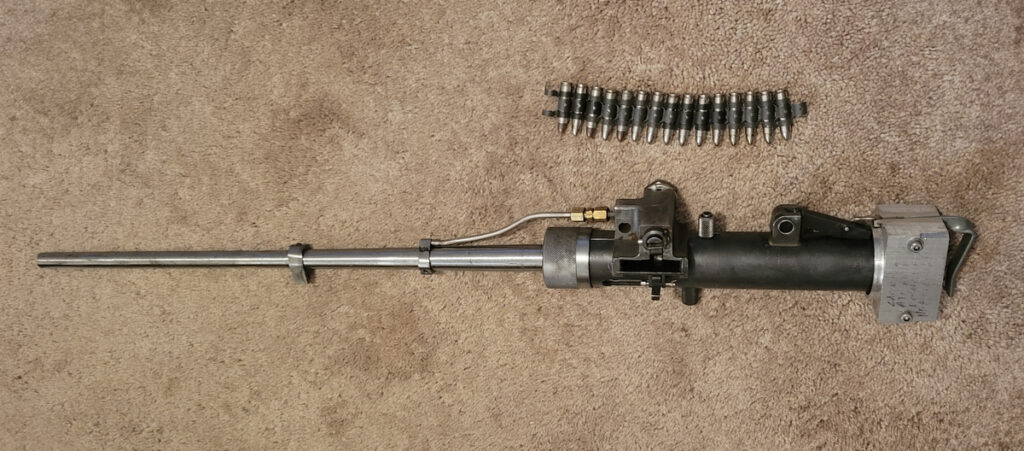 The .30 caliber carbine round was chosen because it most closely met the criteria for this weapons system: a gun and caliber combination that Austin literature states has an effective range of 600-700 meters and a maximum range of 1400 meters, and that was as near to recoil free as possible. The fact that an ASP with a given load of ammunition was approximately half the weight of an M-60 with the same quantity of ammunition was also a factor.
The gun is simple in design, and could be produced in quantity without great expense. The bolt has a fixed firing pin, with a claw extractor, and operates much as a blow back sub machine gun does. When cycling, the bolt travels to the rear, until spring tension overcomes the movement of the bolt, and pushes it forward to pick up and fire the next round.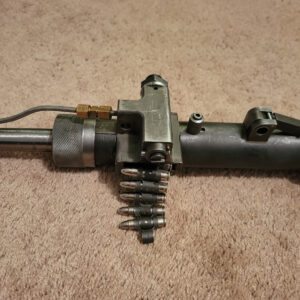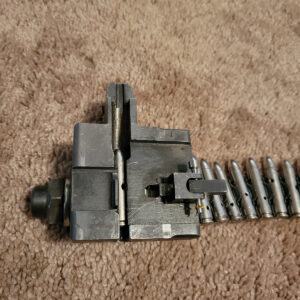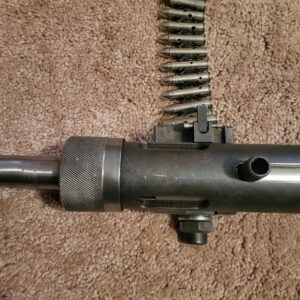 The gas operating system is somewhat unique. Gas is tapped from the barrel, travels to the feed block in a gas tube and powers a feed piston with an attached feed pawl. High pressure gas pushes the piston and the attached feed pawl over the next linked round. As pressure drops in the barrel, the compressed gas piston spring repositions the piston, whose feed pawl positions the next linked round in the feed block for pick-up by the forward traveling bolt. The guns are fired by the pilot via an electric trigger motor.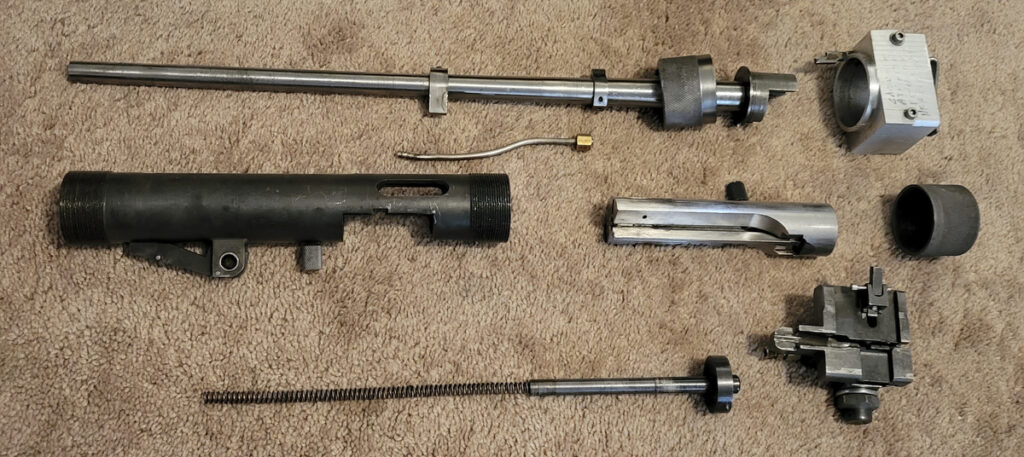 The Austin Hawk was intended for sale to small countries fighting small non-conventional wars. It was small, lightweight, and modular for ease of shipping. It would be easy to maintain and easy to learn to operate. (Part of what Austin Aerospace was going to offer was training on operation, and use and maintenance of the system). It could operate off a 300 foot, smooth surface and while no information exists as to the cost of a complete system, it would certainly have been less expensive to buy and operate than modern military aviation hardware.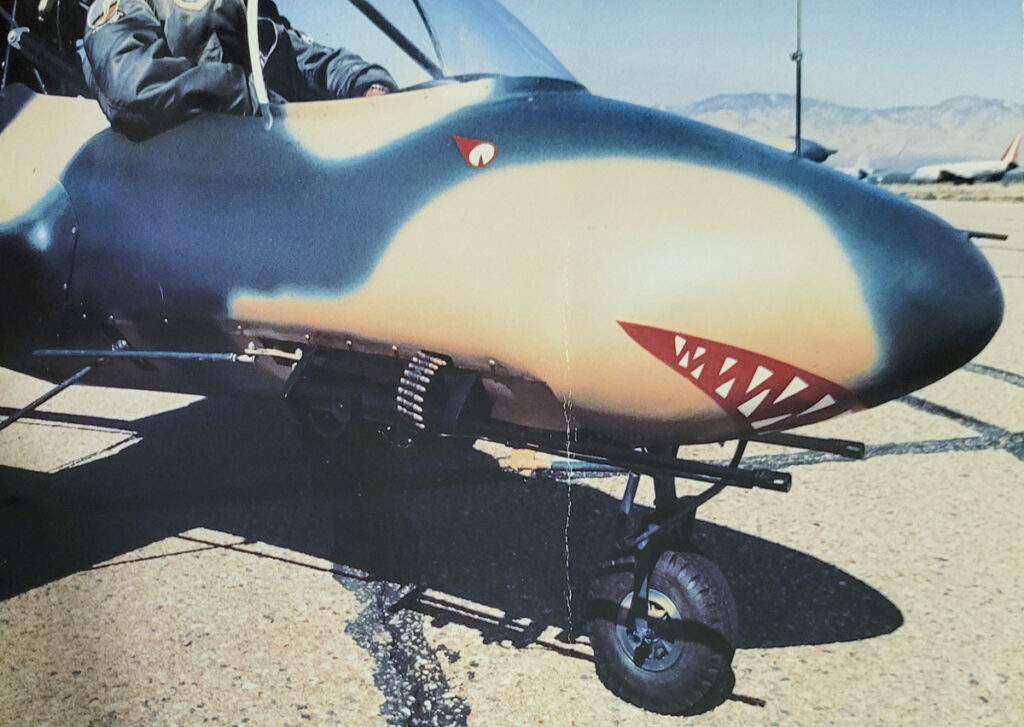 Johnson did not make any profit from his design and work on the ASP. There is a memo to him from Austin Aerospace explaining that he would receive a $15-per-gun royalty for the first 2000 guns sold, and $7.50-per-gun thereafter. In this he joins many inventors throughout history who did not receive a benefit for the fruits of their labor.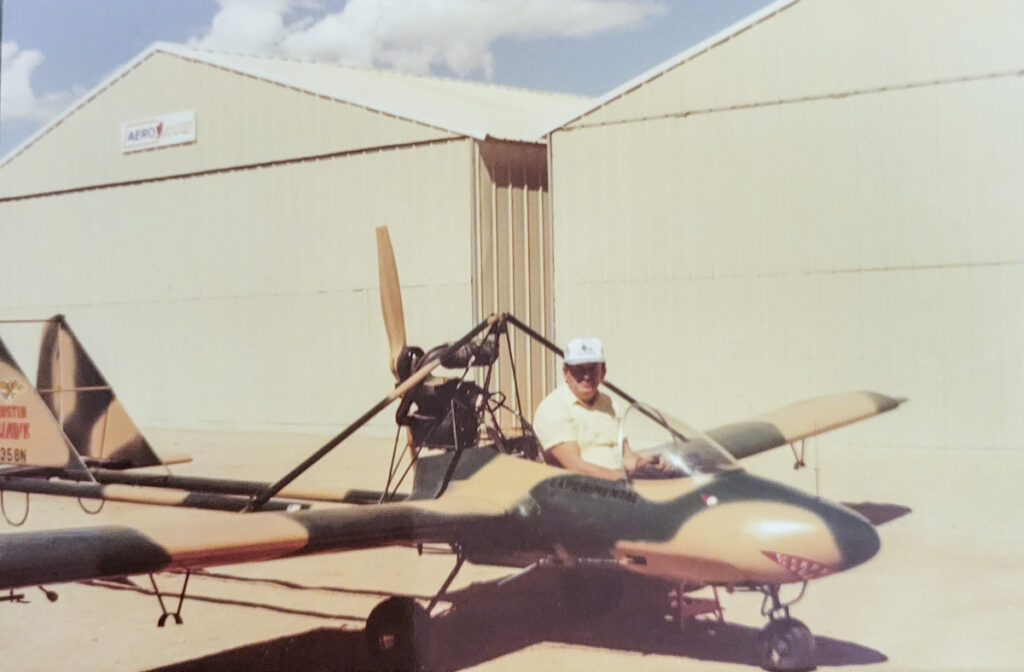 Sidebar: A word on Hal Johnson. Hal grew up in New York near Bannermans, and got an early start In the world of guns. He enlisted in the Marines at age 17 in 1944 and fought on Okinawa as a bow gunner in an M4-A2 Sherman tank. He served in the Korean war as a platoon Sgt in 1st Battalion, 5th Marines. He went on to serve 20 years and retired as a Chief Warrant Officer after spending most of his career in ordnance, to include having been the officer in charge of the 5th Atomic Ordnance Platoon at Camp Pendelton. (Atomic Ordnance Platoons are now called Nuclear Ordnance Platoons). He authored several editions of the Defense Intelligence Agency's Small Arms Identification and Operation Guide's. Simply put he was the master of all things ordnance.