Canvas shoulder bag containing the Russian Maxim M1910 gunner's kit. Note the three-piece cleaning rod assembly affixed to one side of the shoulder strap with the bottom of the rods inserted in a pouch sewn along the side of the bag.
By Robert G. Segel
Machine guns are highly complex operating pieces of machinery. The function of smooth metallic operations of belt feeding, initial extraction of the cartridge from the belt, chambering, firing, cartridge extraction from chamber, ejection, and belt advancement all operate in a symphony of movement of springs, cams and operational forces that must be perfectly timed and in sequence. A number of factors can contribute to bringing this ballet of movement to a halt: broken parts, weak springs, carbon build-up, dirt, improper parts placement or alignment, etc.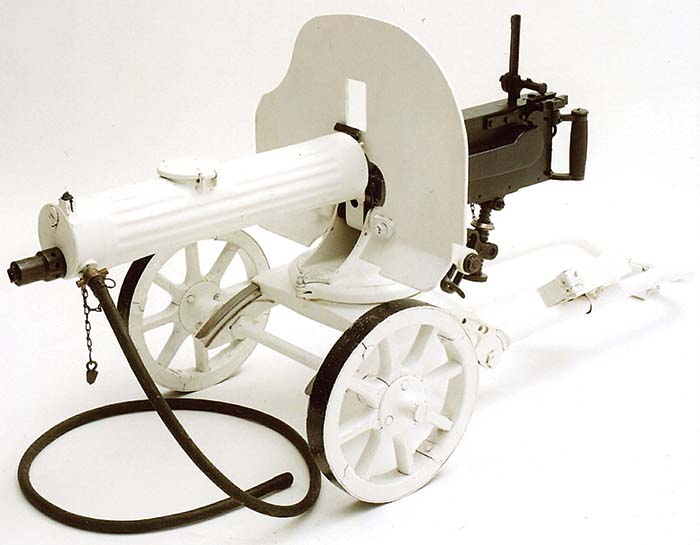 Barring physical or combat damage, it is the responsibility of the machine gun operators to maintain their equipment in reliable working order – their lives depend on it. Without taking the gun out of service to be returned to the rear for armorer work, simple cleaning and worn part replacement can, and is, done by the gun crew. To achieve this, a gunner's kit is provided to each gun for simple cleaning and field repair maintenance.
Beginning with the Russian Maxim M1905 and then the updated M1910, the Maxim saw extensive service for Mother Russia spanning over 40 years ultimately to the end of World War II. Produced in the millions, each gun was issued with a gunner's kit to help keep the gun in action.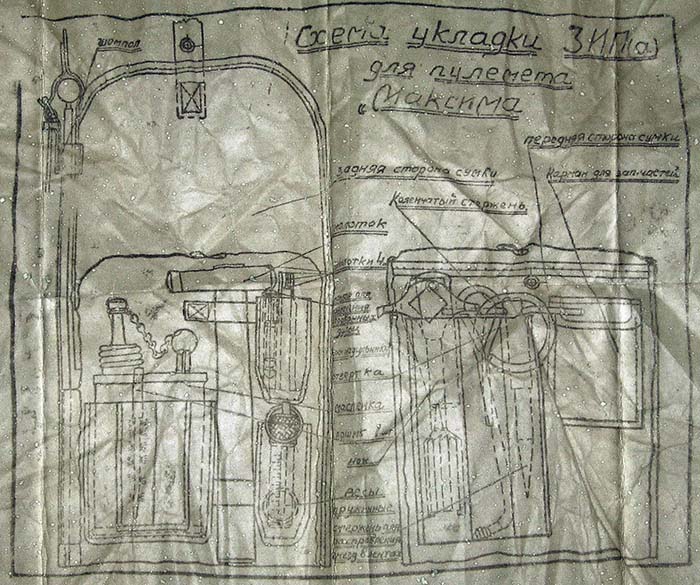 The World War II Russian Maxim M1910 gunner's kit was a simple heavy canvas bag with a fold-over top that was secured by a leather strap and roller buckle with another strap and roller buckle on the two side internal flaps. All leather straps are double riveted in place. The bag is fitted with a two-piece adjustable leather shoulder strap fitted with a roller buckle. The short buckled end has a leather loop riveted in place with a fold over push tab to hold the three-piece cleaning rod assembly in place externally from the bag. The bottom of the three-piece cleaning rod fits into a stitched pouch along the outside side of the bag. The bag has a number of pockets stitched internally to hold different tools and or accessories.

The kit contains a large combination tool with a muzzle booster wrench on one end and a muzzle booster carbon scraper on the other end. Also included is an ammunition cloth belt awl, fusee spring tension scale, broken shell extractor, broken shell extractor handle, screw driver, wood handled brass hammer, asbestos barrel packing string, knife to cut the asbestos packing string and to scrape carbon, rubber snow cap gasket, three punches, barrel brush, bore brush, blank firing device, oil can, alkaline solution can, spare firing pin and spare firing pin spring.
This article first appeared in Small Arms Review V19N5 (June 2015)