Field stripped CMMG Mk 9. The Mk 9 PDW is equipped with 9mm specific hammer, trigger springs, recoil buffer and action springs.
By Todd Burgreen
A recent trend that can no longer be ignored or dismissed as a fad is the number of pistol models stemming from what was typically associated with rifle pattern weapons via removing the buttstock. AR type pistols are dominating this genre via weapons featuring shorter than 16-inch barrels sans any rifle stock; only a buffer tube is protruding from the rear of the receiver. While many will have a wry smile cross their face when discussing AR pistols, AR pistols are in compliance with BATF regulations or we would not be covering it in this magazine. For individuals that have no legal access to a National Firearms Act Short Barrel Rifle (SBR), the AR pistol may well be the closest they can get to achieving such firepower in such a compact package. Along these same lines, the expansion of states issuing concealed carry permits along with honoring other states permits is another reason why AR pistols are currently so popular.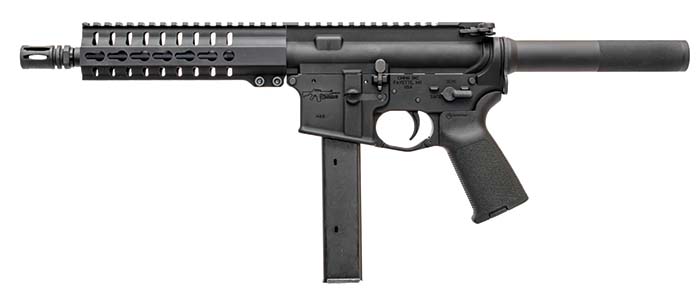 The AR pistol featured herein is the CMMG Mk 9 PDW chambered in 9mm. CMMG additionally offers the Mk 9 chambered in .300 BLK and .22 LR. The CMMG Mk 9 PDW 9 pistol is about as far away from a "traditional" handgun as you can get. The pistol is a stockless version of the 9mm AR SMG and is the latest twist on what Colt started in the early 1980s with its Fourth Generation SMG Model 635 9mm. The Colt Model 635 is patterned off of the M16/AR platform firing from a closed bolt and had the same physical characteristics as the M16/AR-15 including sights, operating controls, and trigger. However, the Colt 9mm AR utilizes a blowback operation method rather than the M16/AR-15 direct impingement gas system. The CMMG Mk 9 PDW 9mm pistol springs from this Colt heritage operating with Colt or modified Uzi magazines. While the original Colt was select fire, the CMMG Mk9 PDW evaluated in this article is semiautomatic.
CMMG decided to forego the slip-in magazine block conversion of a normal AR lower to accommodate the slimmer 9mm AR magazines; instead an integral magazine well is molded into the CMMG lower receiver. The Mk 9 PDW is equipped with 9mm specific hammer, trigger springs, recoil buffer and action springs. The CMMG modifications enhances reliability as there is no chance of conversion block moving once installed as some are prone to do. In conjunction with this, the integral 9mm magblock provides a feed ramp for rounds being fed into the chamber.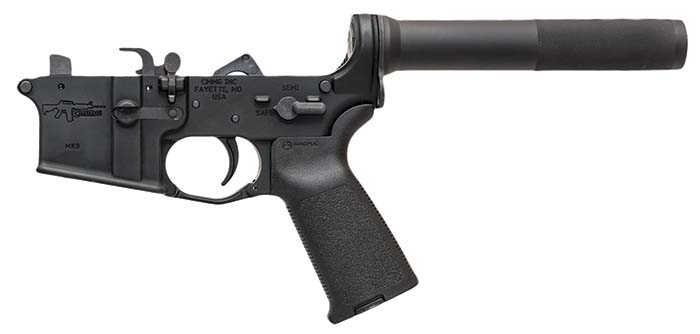 The 9mm AR bolt is very different in configuration from a 5.56mm AR bolt. The bolt carrier on the 9mm AR needs to be much heavier due to operating via blowback method. The 9mm AR bolt group is one piece as compared to the 5.56/.223Rem rotating bolt head. The 9mm bolt face is integral to the bolt and does not rotate or feature locking lugs. Along these same lines there is a slot in the 9mm AR bolt making room for fixed ejector that protrudes up from the magblock sliding along its length. The bolt still recoils into the buffer tube located in the stock; thus side folding stocks are not an option with the 9mm ARs.
The CMMG Mk 9 PDW has an 8.5 inch 1:10 barrel made from 4140 chrome moly. The CMMG Mk9 weighs just over 5 pounds with free floated RKM7 KeyMod hand guard and measures 24 inches in length. CMMG uses Magpul MOE pistol grip and forged M4 style upper made from 7075-T6 aluminum as is the lower. An A2 flash hider is mounted with ½x36 thread pattern. The 1:10 twist rate is better suited to take advantage of the full range of 9mm loads – 115 grain thru 147 grain. Also, the 8.5 inch barrel gets the most out of the 9mm, which is typically loaded to maximize 4-5 inch barrel lengths common in pistols.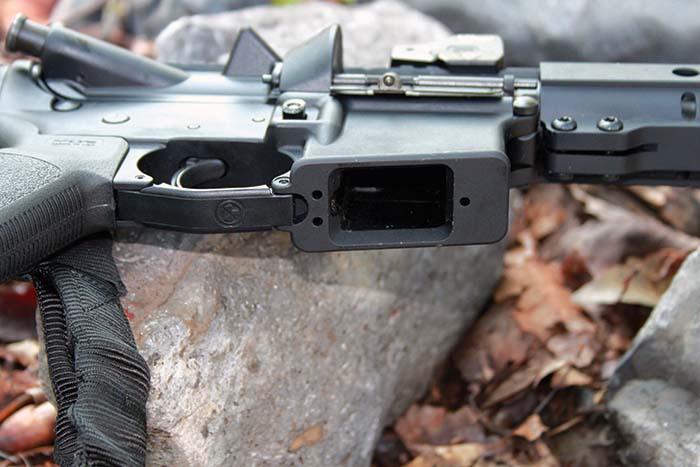 Recent experience working with various AR pistols had the unexpected benefit of becoming familiar with different means of discrete transport of weapons larger than a typical handgun. It was a simple matter applying these lessons learned with the AR pistols to the CMMG Mk 9 pistol. A weapon like the Mk 9 pistol has its own advantages in terms of handling, ease of concealability and increased portability that is hard to resist when compared to a rifle. Most individuals struggle with the balancing of weapon carried versus discreteness. This is why handguns are the prevalent choice of weapon carried. This is not because handguns are the most effective choice; just the easiest to have around at all times in most social settings. One way of maximizing the CMMG Mk 9 pistol capabilities is as an "off body" pistol candidate thanks to its relative compactness and potential firepower. Here the Mk 9's pistol designation is important for anyone with a Concealed Carry Permit. Potential gear enhancers in this role would be the new discrete carry bags offered by BlackHawk such as Diversion Carry Board Pack and Workout Bag. Both BlackHawk products offer "hide in plain" site utility with enhancements to accommodate a weapon and ancillary gear. Many frown on "off body" carry due to not always being attached to one's weapon. Individuals will have to come to their own understanding of what is acceptable to them in this regard.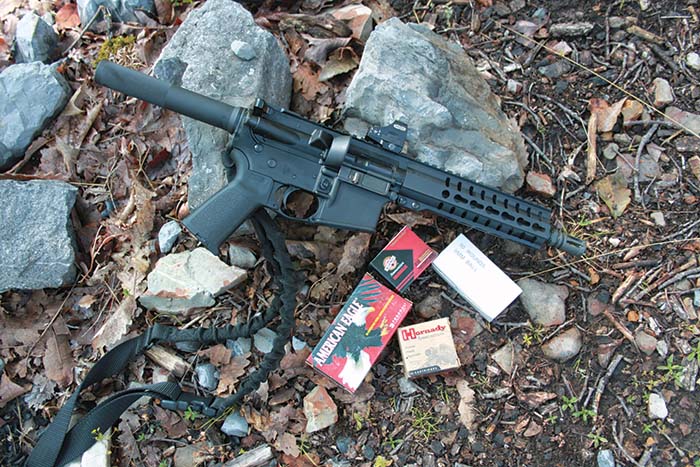 No weapon, no matter theoretical advantage offered, is worth anything if not reliable. As with most self-loaders, magazines are the crucial linchpin. The Colt 9mm modified Uzi magazines are considered the best of the lot of 9mm AR magazines. The Mk 9's increased capacity, as represented in the available 25 and 32-round magazines, is another advantage over a traditional handgun chambered in a similar round. The Mk 9 arrived with one 32-round magazine with 25-round magazines accessed as well.
A compact weapon like the CMMG Mk 9 PDW AR pistol has its own advantages in terms of handling, ease of concealability and increased portability that is hard to resist compared to a rifle. What does the AR pistol offer in terms of real utility in its pistol form? The answer here is nebulous based on user expectations and intentions. For many, an AR pistol, while enticing due to firepower potential, lacks much in terms of accuracy past normal handgun ranges with the added negative of weighing over 6 pounds. For others who have no legal access to a NFA SBR, the AR pistol may well be the closest they can get to achieving rifle firepower in such a compact package. While definitely categorized as a fun firearm, the AR in its pistol form is somewhat limited in its effectiveness when compared to a rifle formatted AR. Or is it if a user can adapt to its limitations?
No one can be all knowing in every facet of a subject as broad as weapons and personal defense. Suarez International, with CEO Gabriel Suarez, is a favored resource for information and training doctrine. Readers are urged to visit the various Suarez sites, including Warrior Talk forum, to gain a better understanding of how to deploy the AR pistol with greater efficiency. Agree with him or not you are sure to come away with a better appreciation of the AR pistols potential. For example, Suarez highlights a method adapted from Czech Special Forces he has worked with where the buffer tube is floated/placed on the cheek providing three points of contact for more stability and thus accuracy.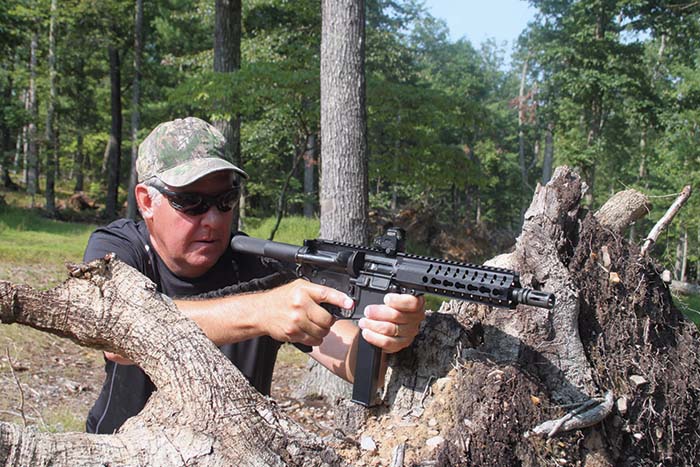 Various methods were used with test firing the CMMG Mk 9 PDW AR pistol. This consisted of two handed holds ala typical handgun and SAS sling tension method initially made popular in the 1980s. The SAS sling method (aka Israeli method in some circles) utilizes a sling attached to the rear of the receiver forming a loop. The loop goes over your shoulder and you push the weapon forward with your strong hand on the pistol grip and your weak side hand on the forend. The sling is sized to keep the rear of the receiver at the same distance from your nose as a standard stock. This technique gives you three points of contact – rear grip, fore grip and sling. Anecdotal accounts make mention that the SAS arrived at the sling method for CQB actions due to not be able to achieve a cheekweld on their H&K MP5 stocks while wearing a gas mask. The sling method has faded in popularity with Tier One units as weapons and methods have evolved. However, its use is still relevant for anyone contemplating serious use of the CMMG Mk 9 PDW pistol. In short, the weapon is "punched" out creating tension on the sling that serves as a point of contact between the user and weapon. While not optimum and not nearly as effective as a true rifle stock cheekweld, the sling method proved better than merely attempting to hold the Mk 9 ala pistol method, especially when the goal is rapid fire rounds downrange with a semblance of accuracy. This accuracy advantage is further accentuated by the Mk 9's mitigated recoil thanks to the firing from a closed bolt and minimal muzzle blast of the 9mm.
Accuracy from a "bench" position with the CMMG 9mm AR pistol measured 2 inches at 25 yards. Accuracy from non-supported shooting positions opened up as could be expected. A pleasant surprise was hits being the norm out to 35+ yards. One immediate upgrade for the CMMG Mk 9 PDW pistol would be the install of a red dot optic and/or laser aiming device. This would simplify aiming compared to aligning rear and front sights. This is easy to do thanks to the Mk 9's M4 flat top railed receiver and forend. A Meopta MeoSight III reflex red dot was mounted on the CMMG Mk 9 PDW pistol. Flip up back up iron sights from Magpul would be an alternative sight option. The MeoSight III is Meopta's recent red dot offering weighing less than 2 ounces and offers 1,000 hour battery life. The 3 MOA red dot simplifies aiming during close range quick reacting shooting. Meopta is a leading European and American optics manufacturer that has been in existence since 1933. Most have no idea what they are missing in terms of optics offered by Meopta. Meopta produces one of the most diversified high performing line-ups of optics on the market.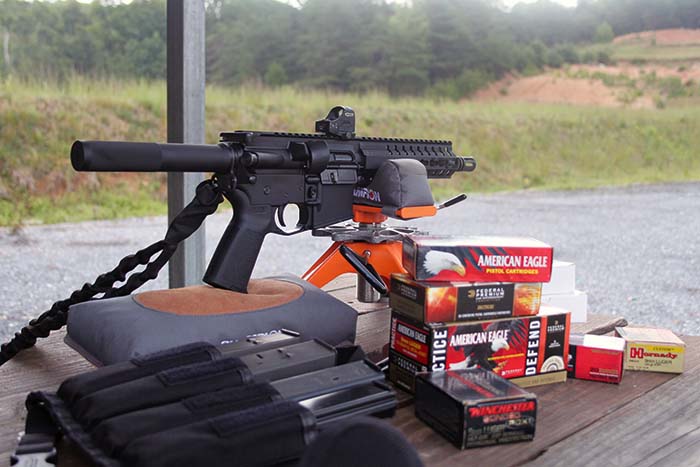 A wide range of 9mm loads were tested including 115 grain, 124 grain, and 147 grain JHP and FMJ loads from Black Hills, Federal, Hornady, and Winchester with several hundred rounds fired downrange. Brass cased ammunition proved utterly reliable during range visits. Steel or aluminum cased ammunition experienced difficulties. The blowback operating method may be the cause for this with it being more susceptible to malfunctions if its operational timing is affected during the extraction/ejection process with steel or aluminum cased ammunition versus brass. An interesting ammunition side note was the use of 9mm surplus acquired via Century International Arms some time ago. The Century surplus was a "hot" SMG 9mm variant. This ammunition had proved problematic in handguns due to high pressure issues; no such issues were experienced with the CMMG Mk 9 AR pistol. The CMMG Mk 9 functioning with this ammunition was well received due to a couple thousand rounds on hand.
Several magazines' worth of ammunition were spent engaging plate racks and man-sized steel targets with the CMMG Mk 9 PDW. Drills quickly moved past stand and deliver drills to more dynamic drills involving movement, magazine reloads, and firing from behind cover. The combination of the heavy bolt and magazine placement in the center of the weapon grip serves to balance the pistol. Accurate strings of fire consisting of multiple rounds sent downrange had no problem keeping rounds smacking steel due to minimal muzzle climb and muzzle blast. In an effort to determine utility of the Mk 9 AR pistol a plate rack featuring multiple 6 inch round targets was engaged at 15 and 25 yards combined with a TacStrike 1/4 scale steel target at 50 yards. This was an effort to establish typical field accuracy with the CMMG Mk 9 compared to prior experiences and expectations with a more traditional handgun form. Volunteers assisting with range T&E at Echo Valley Training Center had skepticism. These doubts were based on the lack of a stock on a weapon originally designed to operate with a stock. These initial doubts were overcome with the CMMG Mk 9 PDW/Meopta MeoSight's combo's performance.
Many will argue that there is no defensive/tactical value in such a non-traditional pistol as the Mk 9; just use a full size rifle or typical handgun. However, some will be lured to the CMMG Mk 9 (or other AR pistols for that matter) for the intriguing nuance of maintain handgun status with a semblance of AR performance based on manipulation techniques mentioned earlier. Would the CMMG Mk 9 PDW AR pistol be a first choice of firearm for personal defense for most? No, but in the same breath it would be far from the bottom of the list as well. The ability to be transported discretely may translate into it being the weapon most readily available if a situation arises unexpectedly while away from home or main weapon location.
The fact the CMMG Mk 9 PDW AR pistol is classified legally as a handgun offers users who have a concealed carry license a certain amount of flexibility compared to a true rifle or NFA classified weapon. We are talking about carry options based on a handgun label. Here is where the AR pistol's true asset in one's inventory becomes evident. If considering the CMMG Mk 9 pistol for serious defense or tactical role, it would be best to view the AR pistol through the lens of a personal defense weapon (PDW) versus a rifle. The CMMG labeling of the Mk 9 PDW refers to this. CQB/Direct Action and personal security detail operations are the arena of personal defense weapons; a near perfect analogy to the civilian personal defense realm. The CMMG Mk 9 PDW AR pistol is more potent and offer longer effective range than a traditional pistol if trained to use effectively and appreciate its nuances.
SITES OF INTEREST
CMMG
www.cmmginc.com
Meopta U.S.A., Inc.
www.meopta.com
Century International Arms
www.centuryarms.com
Echo Valley Training Center
www.echovalleytrainingcenter.com
This article first appeared in Small Arms Review V19N5 (June 2015)