Part 2—The Panzerschreck in Pictures
By Robert Bruce –
This second installment of Robert Bruce's research into WWII German anti-tank weaponry is again inspired by "Men Against Tanks,"a dramatized but deadly serious German wartime training film found on YouTube (search: "manner gegen panzer"). It compelled this examination of the Panzerschreck—literally "tank fright"—another extraordinary infantry anti-tank weapon used by the Third Reich.
This photo essay is intended to be a springboard to the encyclopediccontent that's free to all at Bergflak's Lounge (bergflak.com). The site's creator is a Norwegian Army Captain with a decades-long near obsession for the Panzerschreck and other WWII German weapons and equipment.
He has amassed an astonishing array of primary source information, follow-up research and scores of photos. Small Arms Review hasn't found anything in research of English language resources that can even come close.
As such, readers are urged to start with the extensive photo captions found here and then explore even more deeply by diving into Bergflak's Lounge.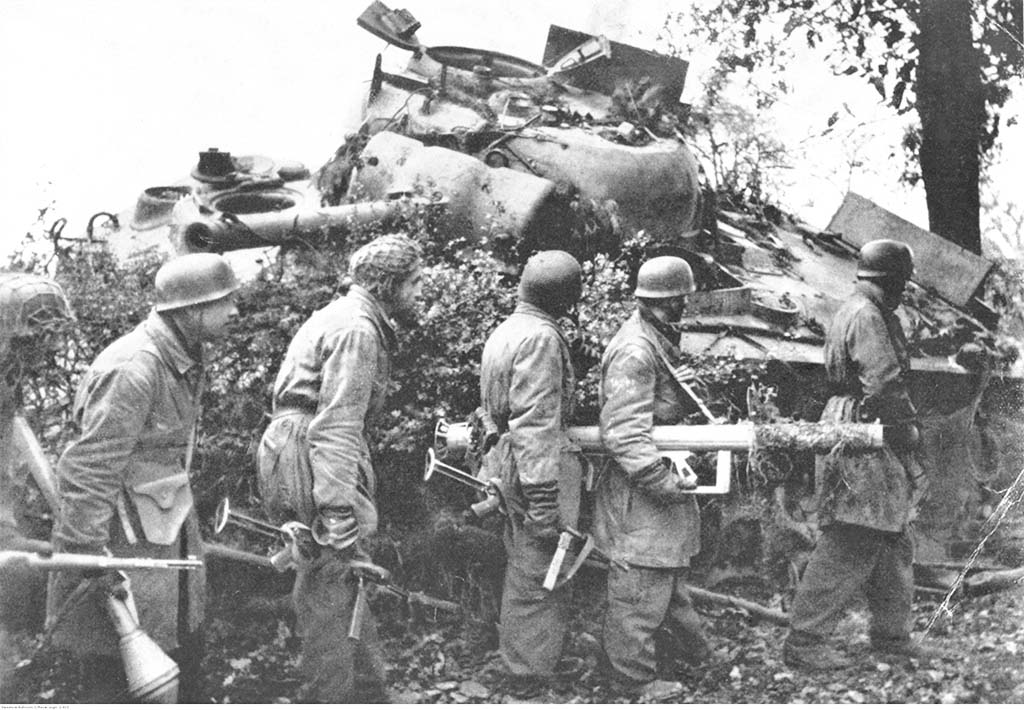 Death of a General Sherman
October 1944, Holland/Belgium border. German Fallschirmjäger (paratroop-ers) move past a derelict M4A3 Sherman, an iconic American medium tank meeting doom while in service with the Canadian Army's 21st CAR. To the point of this feature, arms carried by the Panzer Zerstörer Truppe (tank destroyer troop) include (from left) a Panzerfaust (Pzf) 60 or 100, two MP40 submachine guns and a Raketenpanzerbüchse 54 (RPzB54). According to German specifications, the highly efficient shaped charge warheads of both of these formidable anti-tank weapons are capable of punching through more than 6 inches of armor plate, easily exploiting numerous vulnerabilities of the Sherman's armor.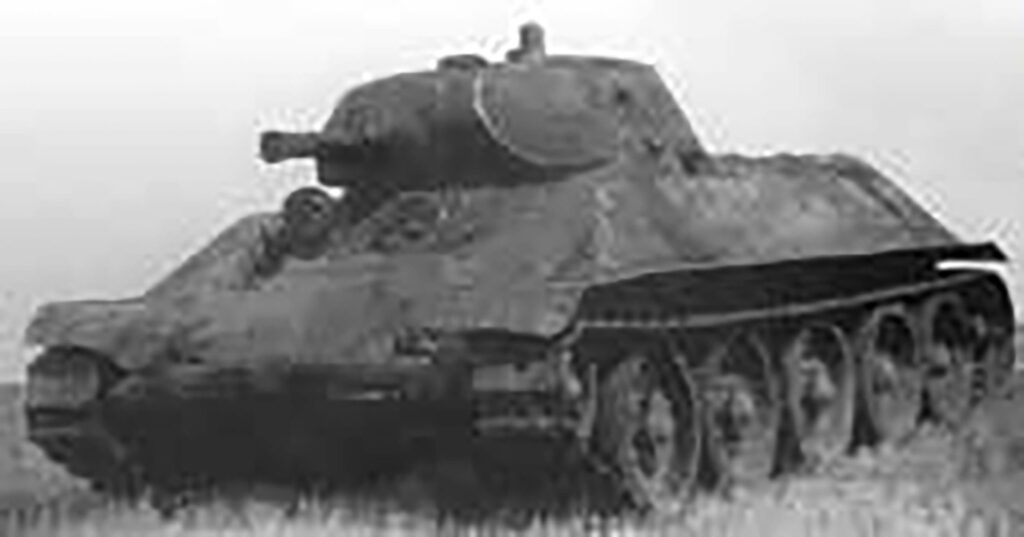 Rampaging Russian Tanks The slow and lightly armored tanks that entered service with the world's armies in the period following "The War to End All Wars" could be neutralized rather easily with anti-tank rifles and light artillery pieces. This situation changed rapidly when Germany ignited another worldwide conflagration in September 1939 by invading Poland, steamrolling France and driving deeply into Russia. Adolph Hitler's Blitzkrieg (Lightning War) began shorting out when confronted by a surprise tidal wave of Josef Stalin's new T-34 tanks, which were faster and more heavily armored. While the Germans had some larger caliber PAK (Panzer Abwehr Kanone) guns that could still do the job, sheer numbers of these Russian tanks and their relative invulnerability too often decimated German infantry units.
As seen in the first installment of "Männer Gegen Panzer" (SAR Vol. 25, No. 1), this resulted in a crash program that produced the ingenious Panzerfaust in 1943, giving individual frontline soldiers the ability to knock out enemy tanks without closing to the knife-fighting range.
While hitting a 30-ton Russian monster from 30m away was a good first start, more distance from disaster was sorely needed. Ironically, the immediate solution was provided by Stalin's minions themselves, carelessly allowing capture of some American-supplied, first-production M1 "bazookas" on the battlefield in late 1942. Other sources say the first capture took place in Tunisia in the spring of 1943, directly from the Americans themselves. Either way, these clever little launching pipes and crates of their zippy, armor zapping 2.36-inch/60mm diameter rockets were immediately flown to Berlin for close examination by Heereswaffenampt (Army Weapons Office).
In somewhat typical Teutonic manner, an "improved" Bazooka adaptation was fielded in record time, mostly because its 3.5-inch (88mm) hollow charge rocket was easily converted from existing ammo for the Raketenwerfer 43 Püppchen. Its very sturdy launch tube was just a thick steel pipe, but characteristically over-engineered at twice the weight of the American weapon while featuring a magneto ignition system that eliminated the need for the Bazooka's problematic flashlight batteries.
Prototypes of the new Raketenpanzerbüchse 54 (RPzB54) "rocket armor rifle" were rushed to the Eastern Front in October 1943. Trial by fire in Russia's brutal arctic winter and soon afterward in North Africa's harsh desert conditions revealed flaws and problems that were being continually addressed right up to the bitter end in the spring of 1945.
Panzer Zerstörer Truppe—tank destroyer teams—armed with both Panzerfaust and Panzerschreck launchers now had serviceable weapons that could be fired from a somewhat safe distance with reasonable chance of a crippling or killing first-round hit.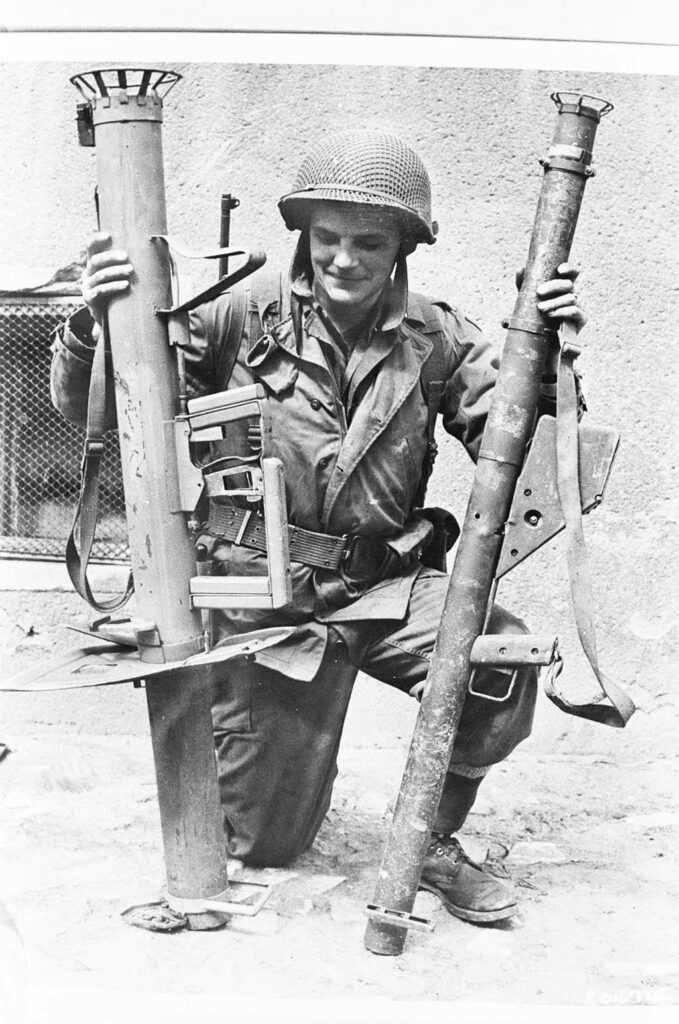 Two "Bazookas"
April 1945, Germany. 9th U.S. Army Private First Class Harvey Clark compares the German and American rocket launchers. In his left hand is a light and handy U.S. 2.36-inch/60mm M1A1 (no foregrip) Bazooka, in regular use by GIs at this late date. Since this one is badly shot up in obvious combat action, could it have been in use on the enemy side? The other is a nice, very late production 3.5-inch/88mm Raketenpan-zerbüchse 54/1, its up-to-date modifications readily identified by the launch tube, shortened 34cm/13.4 inches at the rear section, more supports for the breech guard ring, the electrical connector box relocated to the 12 o'clock position and more elaborate rear and front MKIV sights. Note as well the standard sling, blast shield and rectangular muzzle safety guard. Interestingly, the late War addition of a small add-on shield to protect the firer's hands may be present on this one. Looking at the firing mechanism, the cocking handle is fully rearward, held in position by the safety tab.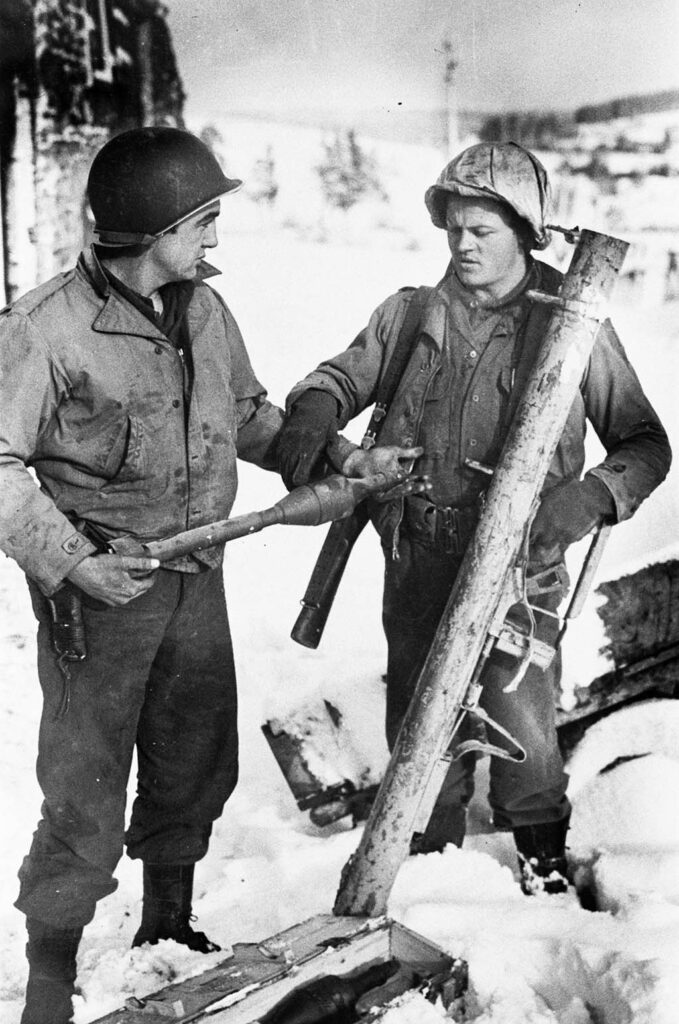 "Whattaya Think Dicken?"
January 1945, Schoppen, Belgium. "U.S. Army Sergeant Lionel Pender and Private Jerome Dicken take a look at a captured German bazooka and its rocket." The standard production RPzB54 looks to be much worse for wear with scraped-up winter whitewash, muzzle safety guard knocked completely around and no sign of the essential blast shield. Because we can't see markings on the 88mm Raketen Pan-zer Büchse Granat 4322 (R PzB Gr. 4322) rocket, it's unclear which one of the three primary HE types it is—their propellant fill necessarily formulated to seasonal use in ambient temperature ranges.
Panzerschreck Photo Shoot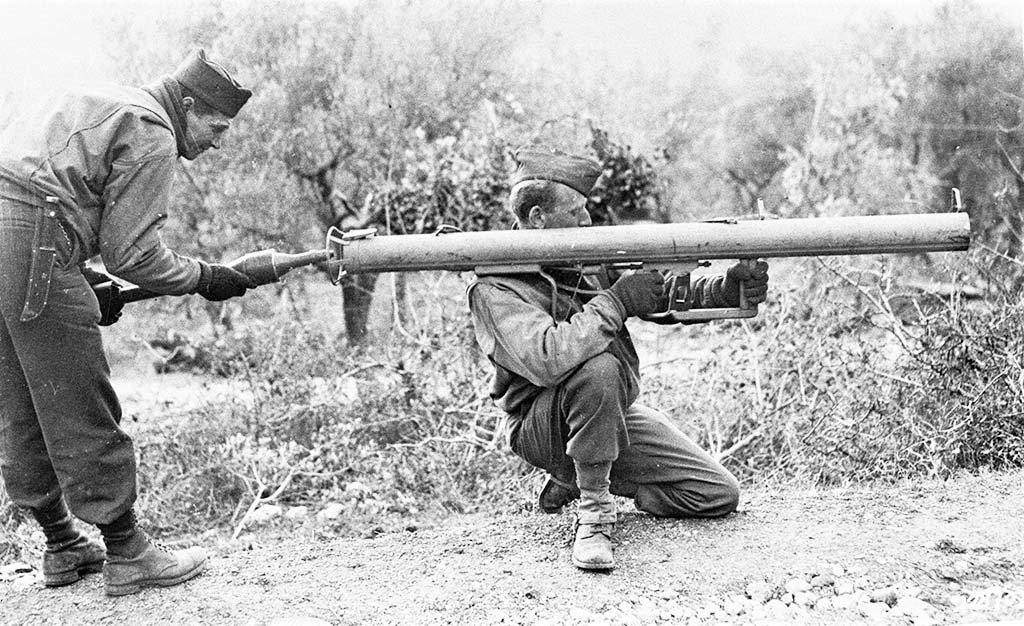 January 1944, Italy. This photo starts off a series of images we found of what is almost certainly a U.S. Army Ord-nance Technical Intelligence field team documenting one of the first freshly captured RPzB54 systems so that an info bulletin can be quickly produced for U.S. and Allied forces. To begin with, they're showing how the rocket is loaded into this German bazooka would be instantly familiar to American infantrymen. The weapon itself shows key characteristics of an early-production model with no shield and no muzzle safety bracket. Here's a resulting excerpt from the Army's wartime Catalog of Enemy Ordnance: "The German Anti-tank rocket launcher (Raketenpan-zerbüchse 43), one of which was captured in Italy, is a comparatively late design, similar in appearance to the American 'Bazooka.'" The erroneous "43" was picked up in translations from early German development documentation. Production models were always designated RPzB54

The Projectile
Unfortunately, the stenciled markings on the 88mm R PzB Gr. 4322 rocket are too indistinct to read in this photo, but we can rely on the Army's description provided in resulting advisories, bulletins and manuals: "High Explosive Anti-tank Rocket Grenade 8.8cm R.Pz. B. Gr. 4322. This fin-stabilized rocket projectile … has a maximum effective range of 165 yards. Eight and one-half-inch armor penetration has been obtained in static tests. … The bursting charge is Cyclotol (41.2% TNT, 58.8%Cyclonite) weighing 1 lb., 7.2 ozs." While quite efficiently developed directly from the percussion-fired 88mm (3.5-inch) rocket used in a closed breech by the odd little Raketenwerfer 43 Püppchen, the handy Panzerschreck rocket is electrically initiated.

In this closer shot the RPzB54 has its rocket properly positioned as it would be upon loading and provides some interesting details including the full-length, rectangular groove pressed into the side of the sturdy steel Rohr (pipe) launching tube. Three evenly spaced, shallow, hydraulically pressed grooves run the length of the pipe, strengthening it and allowing the rocket to slide freely down the tube despite small dents or debris inevitable in combat operations. Below the tube, the prominent cocking handle is fully rearward, held in the SAFE position by a metal tab at the bottom. This holds the steel striker rod under spring tension.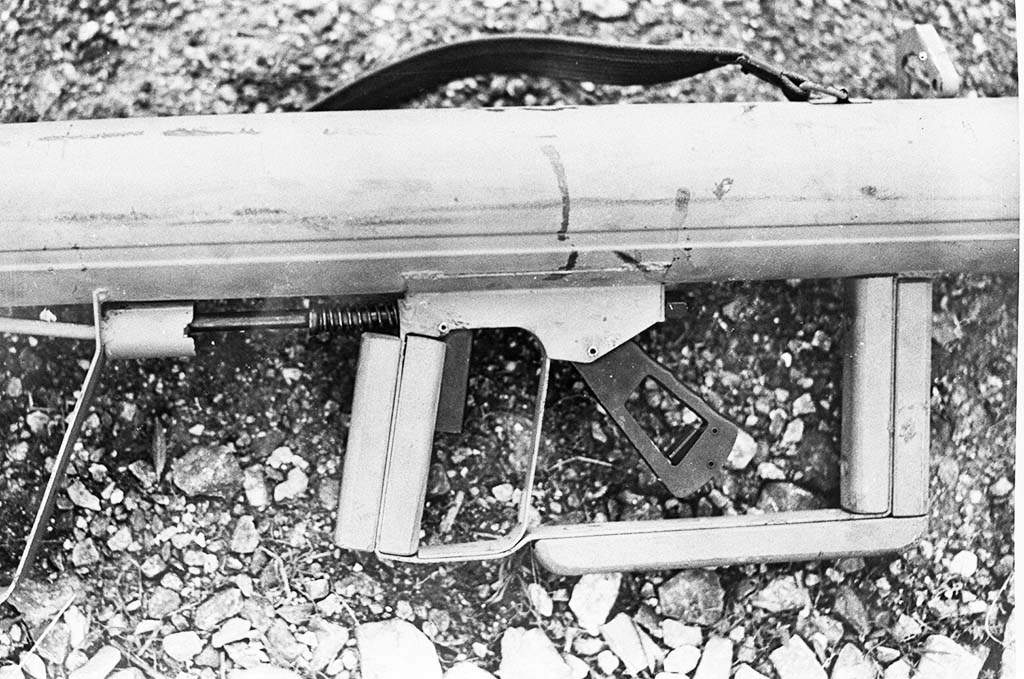 Moving in even closer for details of the arming and firing mechanism, a sturdy arrangement of protective wooden strips front and below with cheap metal stampings that are riveted or welded in place. Compared with the close-up RPzB54 photo, we see the cocking handle forward so that the striker rod is relaxed and not quite touching the shock generator (a magneto that looks like a flashlight battery).
The resulting Tech Intel Bulletin describes the firing sequence as follows: "The firing mechanism … consists of a spring-loaded rod (which is drawn forward into a compressed position when the piece is cocked) and a cylindrical component which appears to contain a magnetized rod and coil. Two wires attached to this current-product-ing component connect with the socket on the launcher and with the plunger that contacts the tail of the projectile." Pulling the trigger releases the striker rod to spring forward, kick the magneto and send an electrical pulse to the rocket.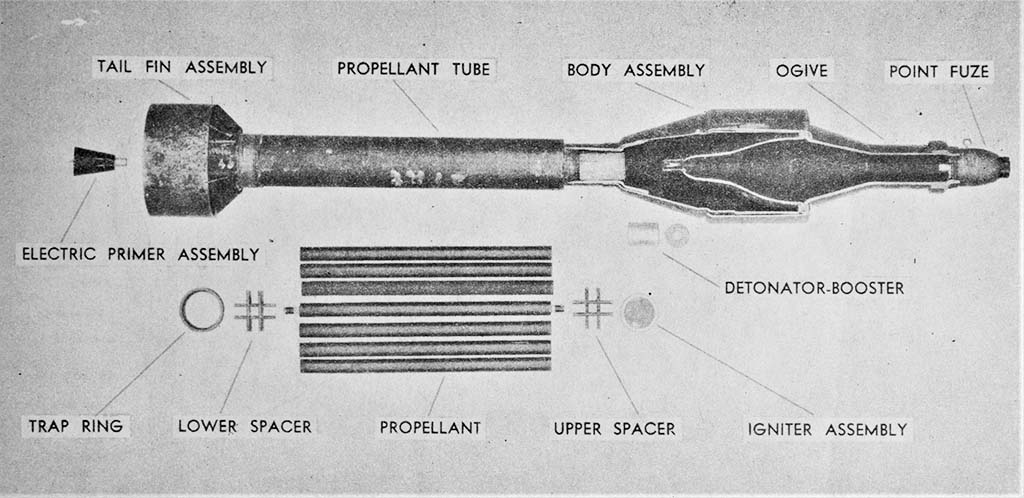 After the field team finished with picture taking, the actual specimens were taken back for even closer examination by highly specialized Ordnance experts. This image from a late-War technical manual shows the rocket's component parts and a cutaway of the warhead's interior. Here's an abbreviated version of the accompanying text: "This fin-stabilized rocket projectile … has a maximum effective range of 165 yards. Eight and one-half inch armor penetration has been obtained in static tests. … The complete round consists of a point fuzed high explosive, hollow charge projectile assembled to a steel tube with a Venturi and stabilizer assembly attached, containing an igniter, propellant and electric primer. A late type of ammunition, the R.Pz.B.Gr 4999, is reported to give good performance up to a range of 220 yards, 25 degrees C (77 degrees F)."
U.S. ARMY SIGNAL CORPS, NATIONAL ARCHIVES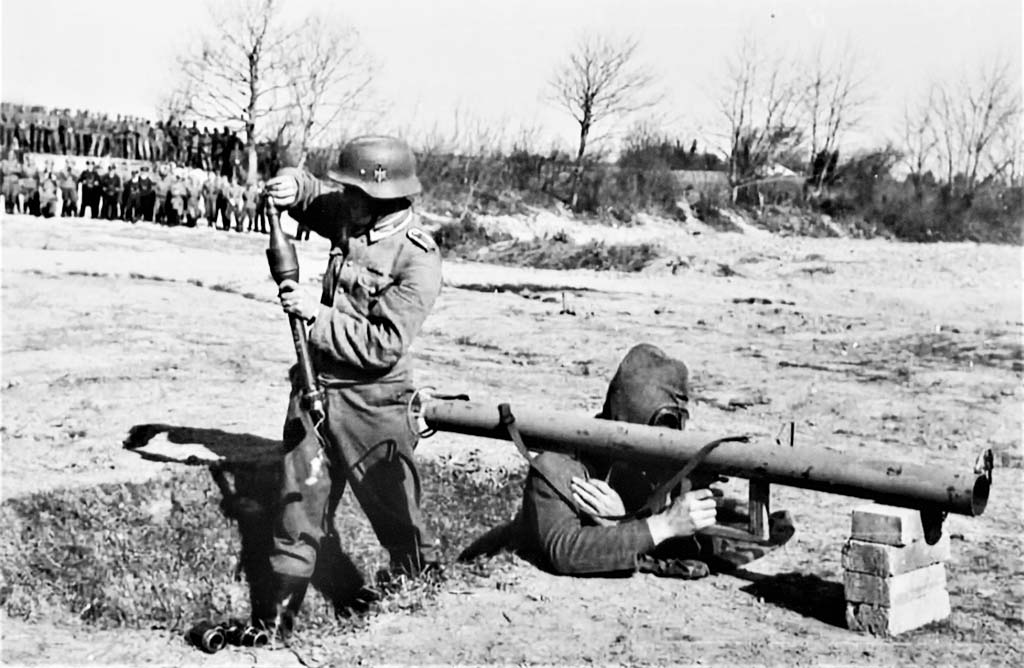 Here's Your New Ofenrohr
March 21, 1944, France. After enough of the first-production model Panzerschreck had been rushed to units fighting in Russia, it was time to begin introduction of this remarkable new tank killer to troops elsewhere. In this sequential pair of photos we see officers and soldiers lined up at a presumably safe distance to observe a live-fire demonstration. In preparation for firing, the Laderschütze (loader) has detached the Holzgriff mit Stecker, a small wooden protector, from the base of the rocket, and it dangles from its two electrical wires. Now he's removing the fuze safety pin immediately before slipping the rocket into the rear of the tube. Originally designated Ofenrohr (stove or furnace pipe) because of its appearance and the large amount of smoke generated on firing, the weapon itself is clearly a very basic, early model with none of the improvements and refinements that will soon follow. For practical purposes including stability and increasing hit probability to properly impress the demonstration's onlookers, the muzzle end rests firmly on bricks stacked at just the right height. Note the correct positioning of the Richtschütze (firer's or gunner's) hands, puzzlingly ungloved/unprotected from the exiting rocket's fiery backblast.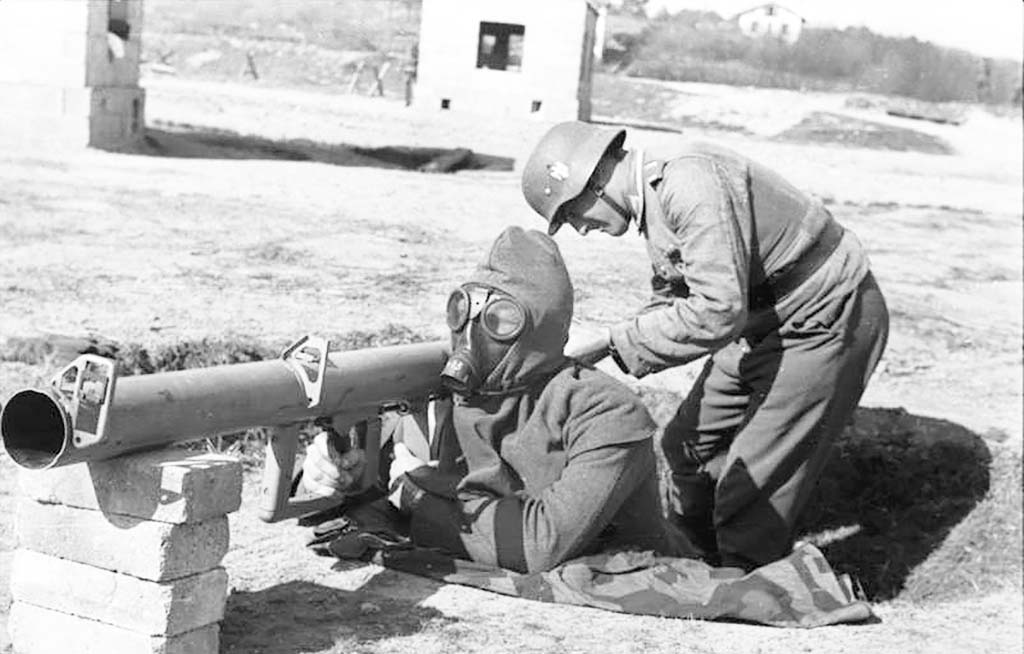 As the loader completes his job by plugging the rocket's "hot" wire into the electrical connection box, our brave gunner settles down into a good shooting stance with elbow braced on the lip of the foxhole. His hooded cape may be improvised protection, snugly secured around the filterless gas mask to minimize effects of the rocket's flaming, noxious exhaust that continued some 2m (6.5 feet) from the muzzle. Additionally, the rocket's loud report on firing mandated cotton balls stuffed into ears for hearing protection.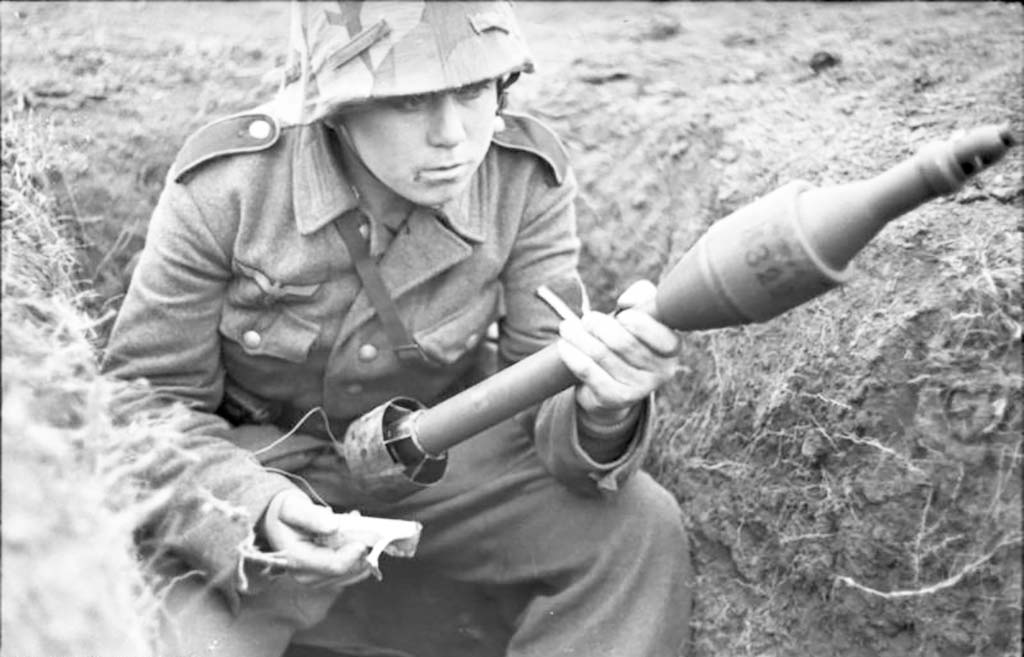 Same Day on the Russian Front
March 21, 1944, Ukraine
(Southern). If official caption information is accurate, on the very same day and some 800 miles away, a youthful Gefreiter (acting corporal) in a training exercise gives the photographer a good look at a rocket prepared for loading. Gripping the 88mm R PzB Gr. 4322 rocket in the prescribed position on its motor tube, he has pulled loose the adhesive tape securing the wooden wire holder/igniter protector to the fin drum. Next step will be to remove and pocket the nose fuze safety pin before sliding the rocket into the tube. In a situation where the weapon isn't fired and must be unloaded, the safety pin absolutely must be reinserted.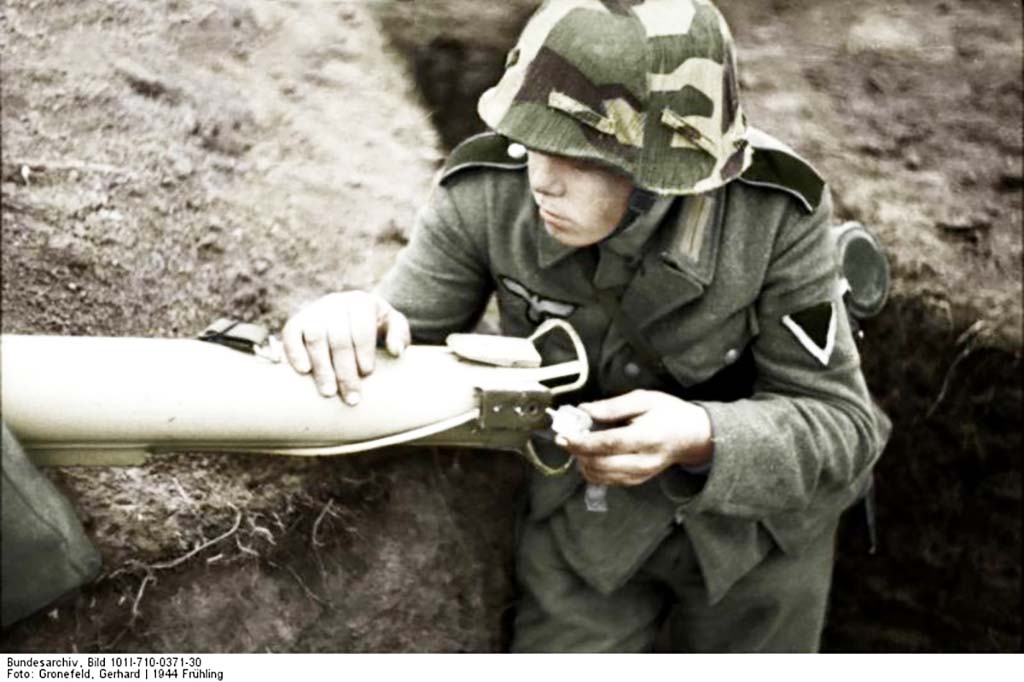 Having slid the rocket into the tube and making sure it is clamped securely in place by the catch seen at top rear, our stalwart loader-in-training is ready to plug the rocket's "hot" wire into the large, rearmost opening of the connection box. This completes the electrical firing circuit because protruding from the box and into the tube, a spring-loaded, sharp-tipped bolt contacts the rocket, serving as a ground.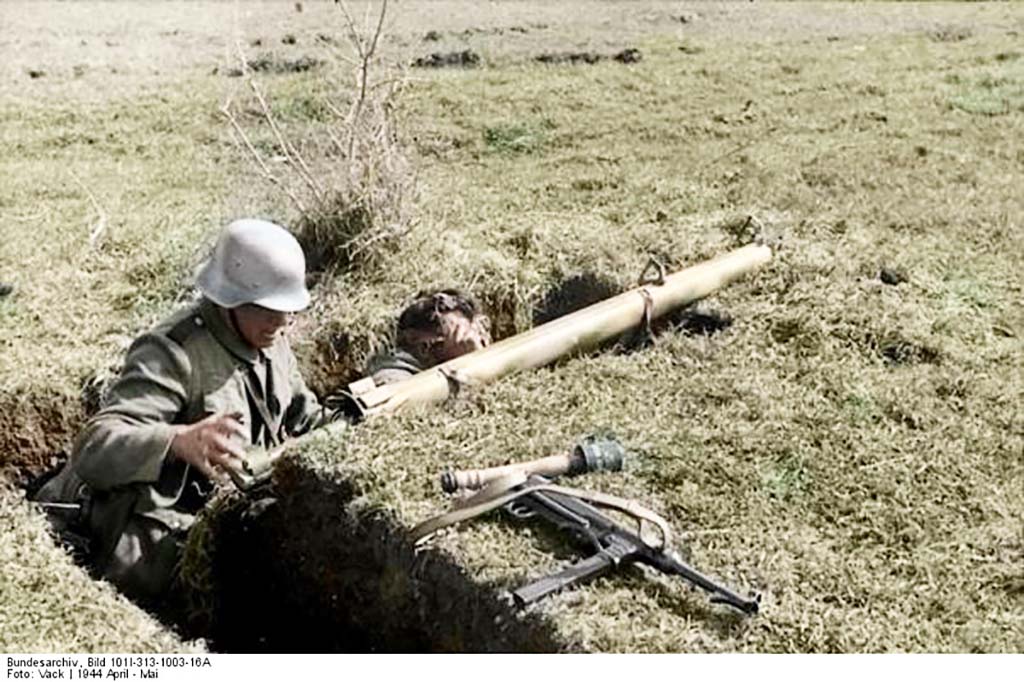 Ready for Action
April–May 1944, Italy. A few weeks later and a bit closer to home, a two-man Panzerschreck team reinforcing Germany's Fascist Italian allies shows the correct practical/tactical doctrine in a narrow
"V-"shaped trench while loading up another early model Panzerschreck. Looks like the gunner is crouching while putting on his absolutely necessary gas mask and head protection. Immediately after the rocket is securely in place and electrically connected, the loader will shout, "Granate ins rohr!" ("Grenade in tube") and duck down in his side of the trench. This way the firer can aim in any direction without concern for the back-blast. A stick grenade (ribbed handle indicating smoke type) and MP40 submachine gun are immediately available to deal harshly with an enemy tank's accompanying infantrymen.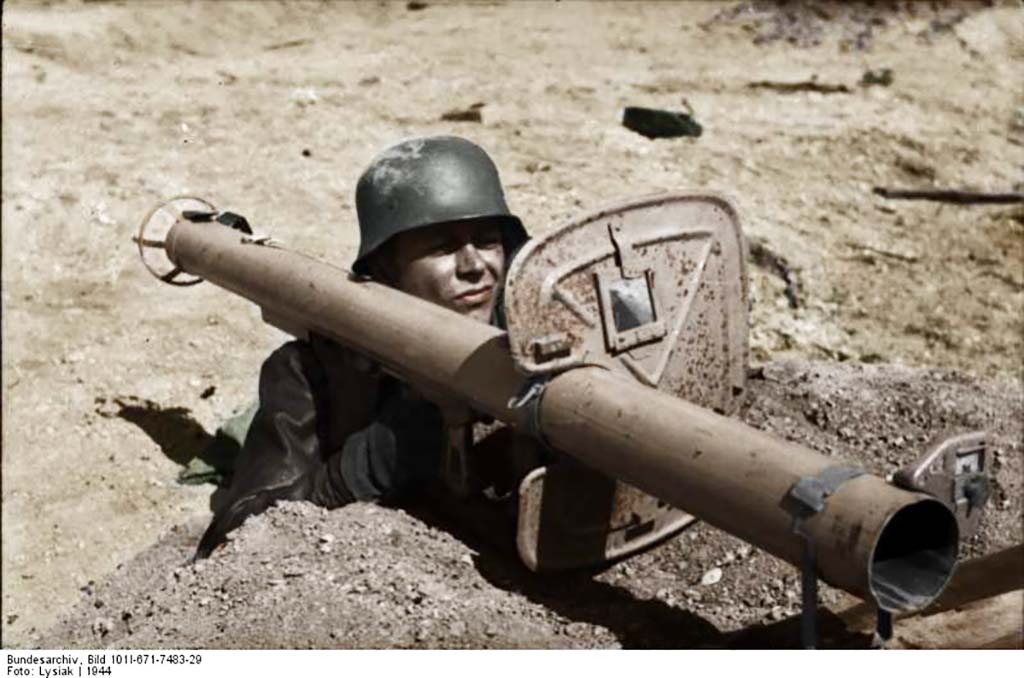 New and Improved
1944, Reich Territory. "Soldier in foxhole during training with Panzerschreck with blast shield." He's prudently gloved but no doubt pleased to have a new, standard-production Schutzshild (protective shield), freeing him from the necessity of wearing head and face protection. Early on, shooters who understandably despised stuffy and vision-restricting gas masks to avoid getting a face full of rocket blast and debris began to fashion crude shields. In response to strong and persistent complaints, an official version made from stamped sheet metal as seen here was produced and hastily distributed beginning around September 1944, providing protection but adding another 1.5kg/3.3 pounds. Simply clamped on to the tube with a levered constriction band, it deflected not only rocket blast but debris thrown back against the shield as evidenced by what's splattered all over it and the front sight. And that little "window" at sight height is glass that's quickly replaceable as was quite often needed. Note also the appearance of the rectangular safety guard clamped just below the muzzle and conveniently resting on a handy wooden plank.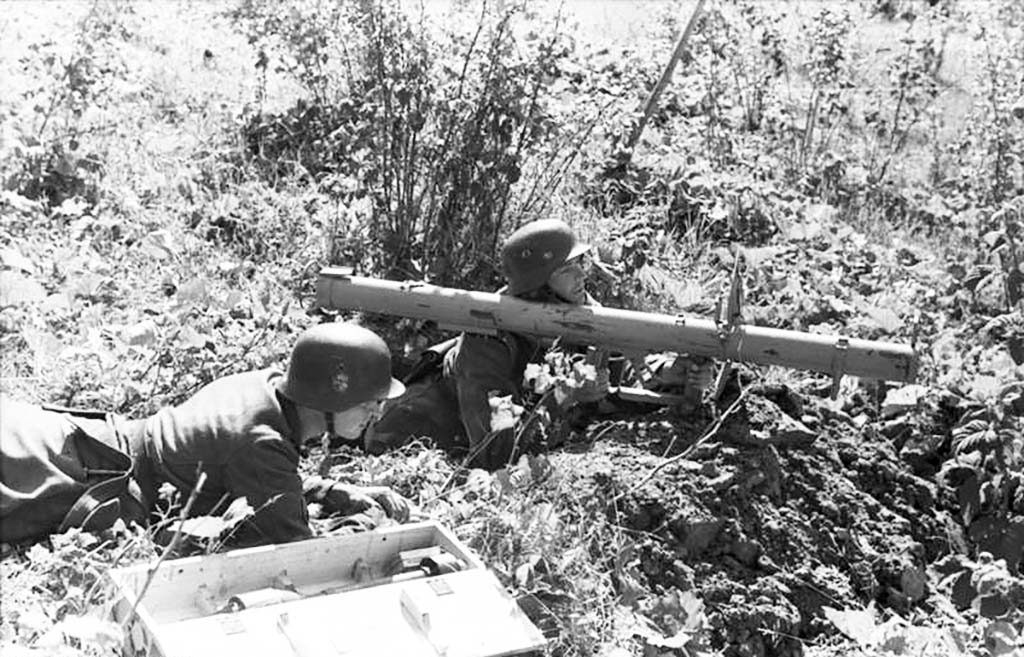 Tank Hunter Team
August 1944, Russia (North). "Schützen fur Panzerbüchse with rocket anti-tank rifle." Hastily dug in and blending in somewhat with their surroundings, this team with a shield-equipped RPzB54 is ready to take on T-34 tanks. Looking at all the dry vegetation behind the launcher, there's more than a little chance that the back-blast will start a problematic brushfire. The sturdy, rope-handled wooden crate next to the loader holds two rockets along with a spare sighting window glass. Not evident in the picture, the crate is prominently marked for their type and temperature range. With luck they've been issued the right ones for summer in Russia, but in an emergency any kind will do. Rockets were also carried in Aufsatgestell—unit-crafted rucksack packboards (mounting frame).
BUNDESARCHIV VIA WIKIMEDIA COMMONS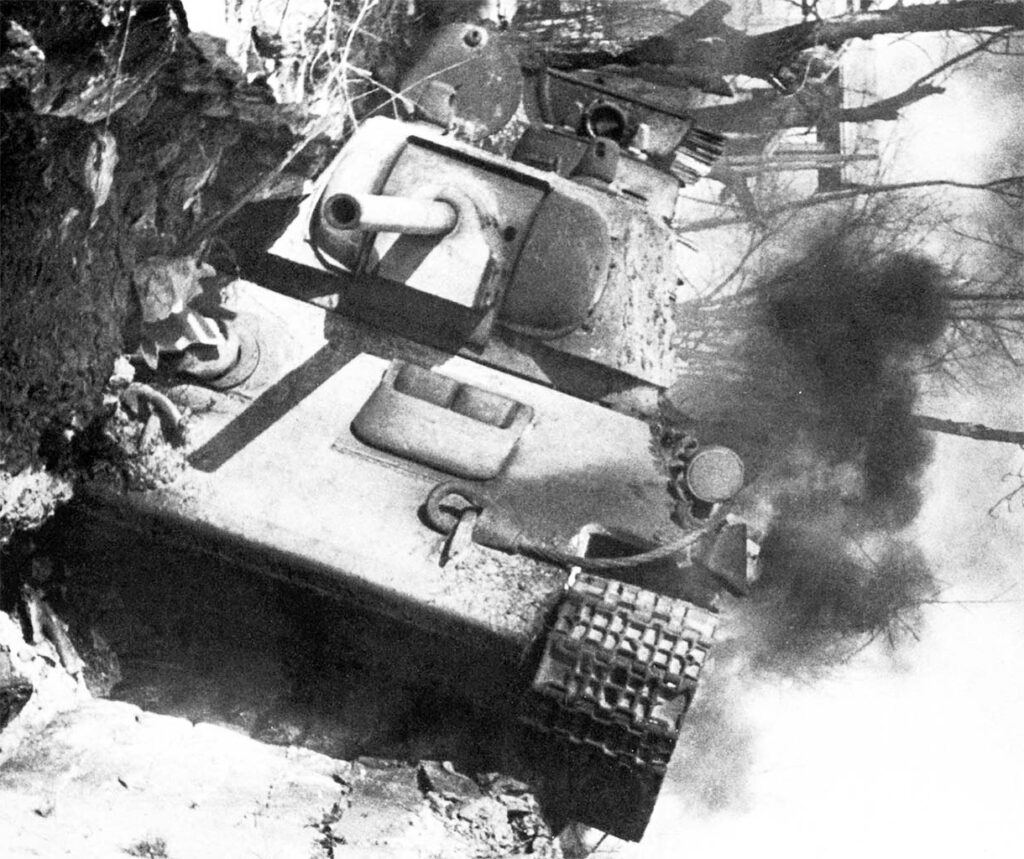 Crash and Burn
This still-smoldering Soviet T-34/76 has run into a deep, anti-tank ditch after probably being ambushed by a Panzer Zerstörer Truppe. If the tactical situation permits, their attack would have begun with smoke pots or smoke grenades obscuring the tank crew's vision, slowing it down and likely hiding the ditch from the driver who blundered in. The immobilized tank would then be easy pickings for any of the team's anti-tank weapons.
BUNDESARCHIV VIA WARALBUM.RU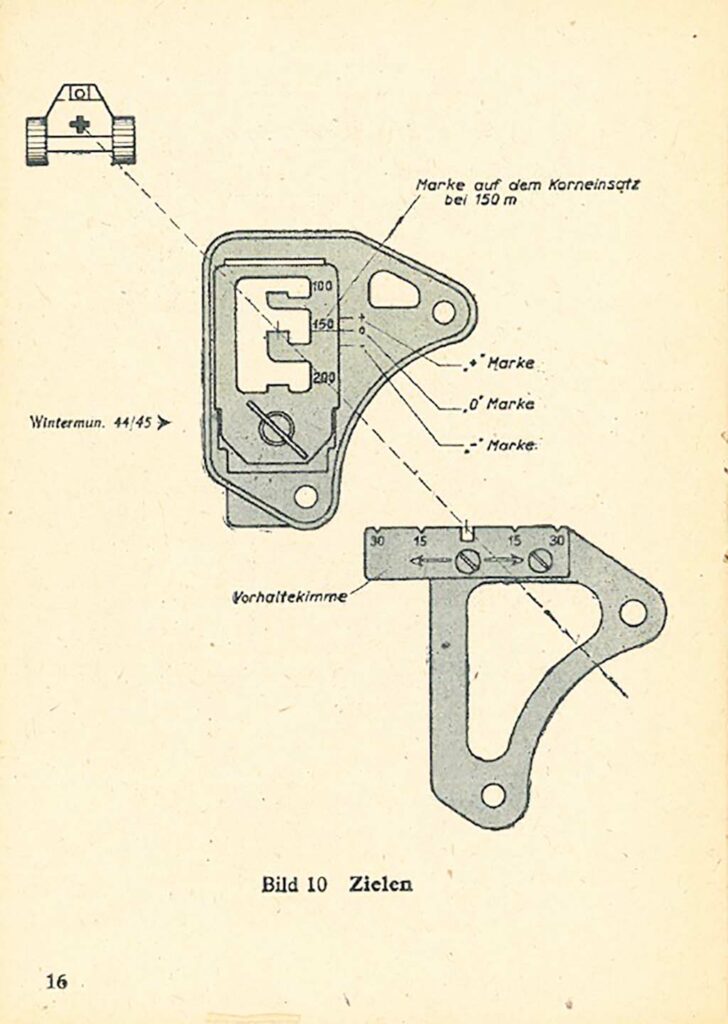 Get the Right Sight Picture!
Diagram from the December 1944 manual D1864/6 showing the improved MKIV rear and front sights for both the RPzB54 and 54/1. The simple rear sight, closest to the firer's eye, has a prominent "U-"center notch for accurate straight-on shots on the T-34 tank. The smaller "V" notches are for windage and properly leading moving tanks. The necessarily more complicated front sight has a movable plate that "ladders up" from 200m to 150m and 100m. Loosening the prominent wing nut allows the plate to be moved up and down. Note the index line for optimal 150m shots is set at the "O" mark for use with the latest Wintermunition 1944/45 rockets. Plus ("+") and minus ("-") marks show adjustments necessary for accurate shooting at warmer or colder ambient temperatures.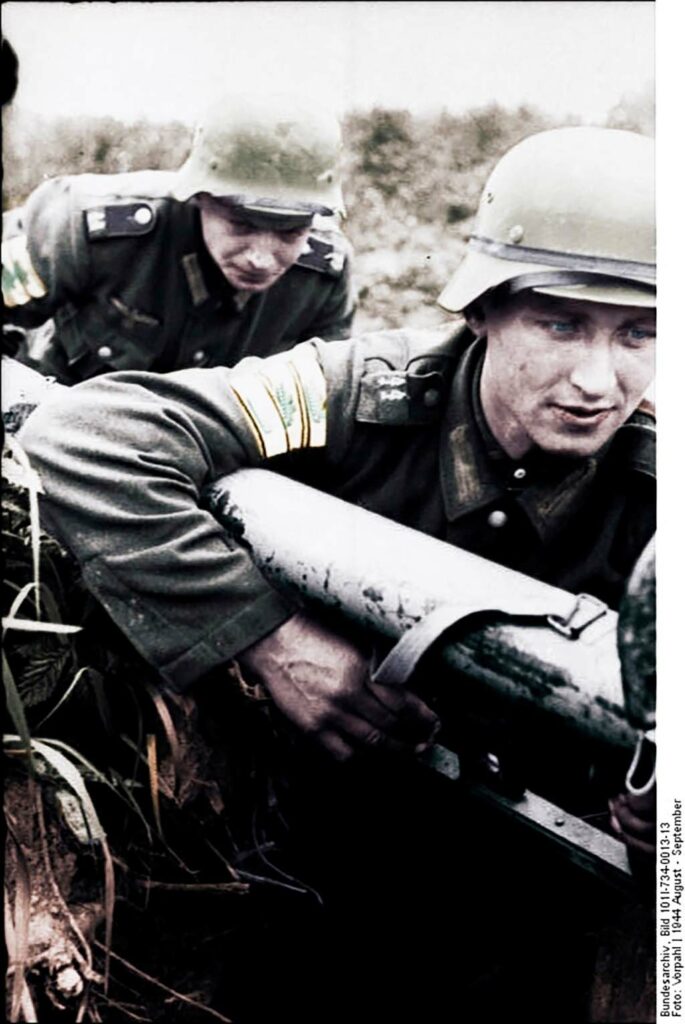 Moving into Position
August 1944, Russia (North). A Panzerknacker (tank cracker) pair moves out smartly into another favorable position to engage ram-paging Russian tanks. This is one frame from a series of propaganda photos staged to highlight the exploits of these remarkable tank-killing heroes, both wearing three Panzervernichtungabzeichen (tank destruction badges) on their right sleeves. The award of each badge signified that its wearer had destroyed an enemy tank using an infantry anti-tank weapon.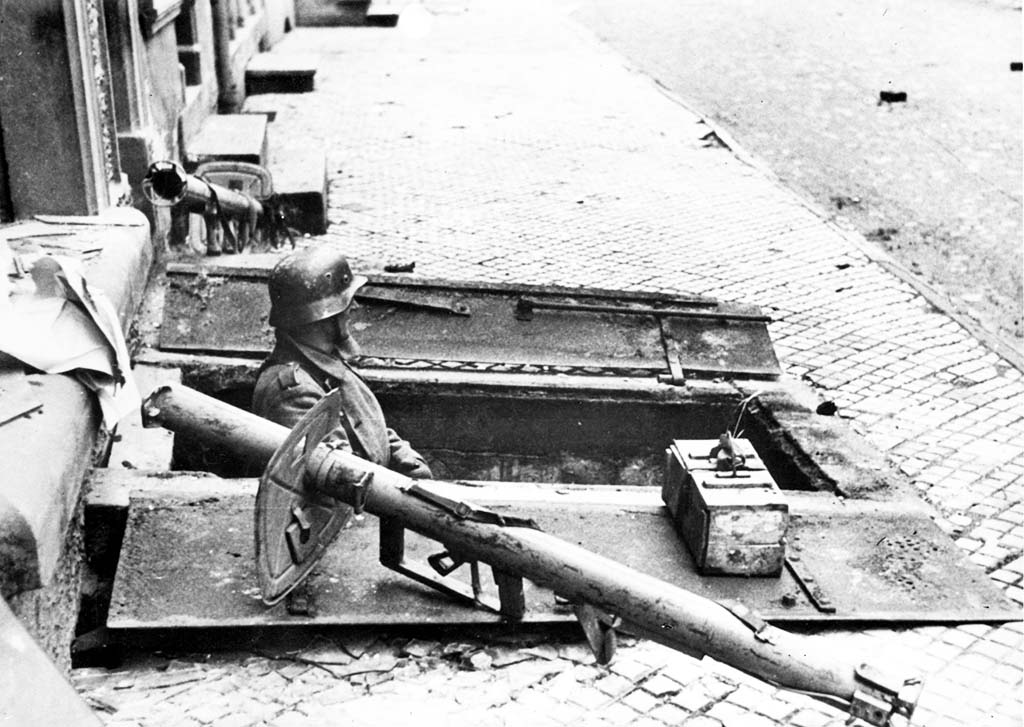 Awaiting the Inevitable
October 1944, Aachen, Germany. "A German soldier with a Panzerschreck RPzB54 at the entrance to a wine cellar on rue Aachen." Noting two launchers, this is evidence that a Panzer Zerstörer Truppe anti-tank team has taken up this unusual urban defensive position. Clearly seen at the bottom of the shield is the small, rectangular box holding spare glass for the sighting window.
BUNDESARCHIV VIA WARALBUM.RU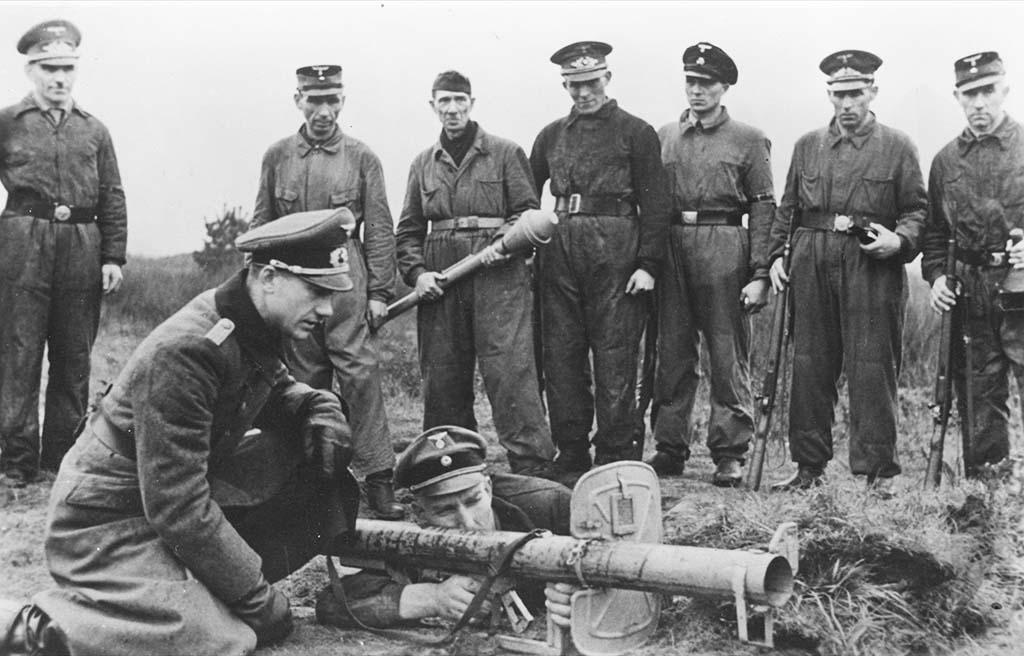 Kampfgeist?
November 1944, Germany. "A German officer trains Volkssturm militia in the use of the Panzerschreck grenade launcher (RPzB54). One of the men in the background is holding a Panzerfaust 30." Is that old fellow's expression Kampfgeist (battle spirit) or understandable wariness? Intended as a propaganda photo showing patriotic civilians stepping forward for defense of the Fatherland, it actually exposes Adolf Hitler's fanaticism in pressing the old and weak into service. That apparently battle-scarred veteran rocket launcher shows much evidence of hard use with its muzzle safety guard knocked askew, little paint left on the tube and a badly cracked sighting window glass. Note that the gunner's firing hand is positioned over the trigger, and the cocking handle is off SAFE and forward, showing the spring-loaded firing rod is ready to strike the electrical spark generator. At the far right of the photo another militiaman holds a Haftholladung magnetic mine, perhaps the most desperately dangerous anti-tank weapon in the arsenal.
BUNDESARCHIV VIA POLISH NATIONAL ARCHIVES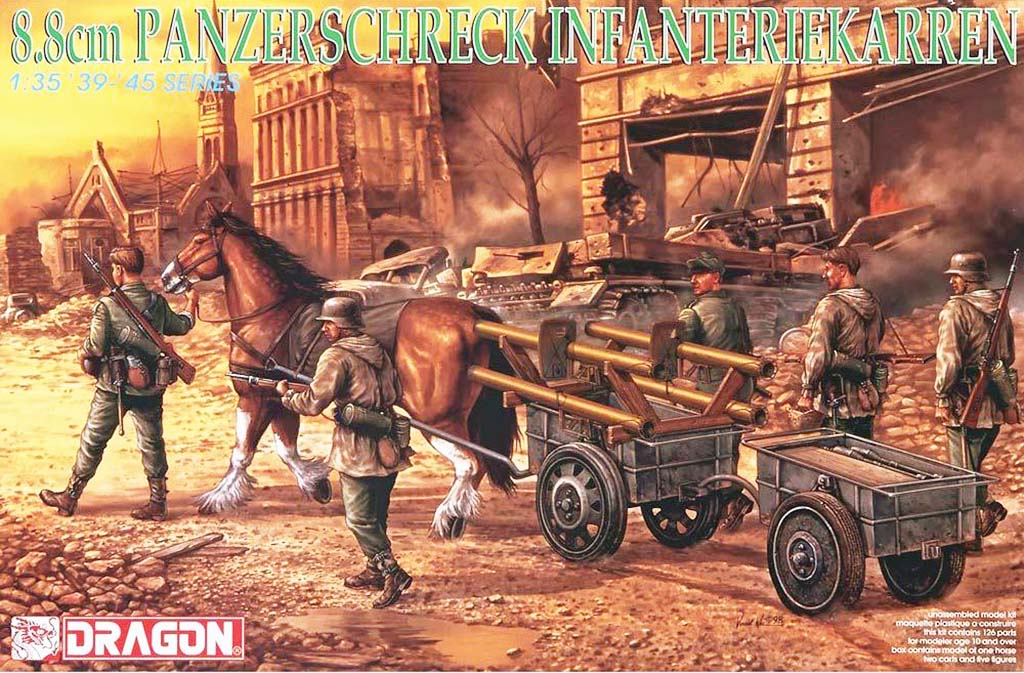 Dragon Model Kit
Purveyors of highly realistic scale model kits offer a selection of Panzerschreck in different configurations and scenarios. This one is particularly interesting because it portrays soldiers of a Panzer Zerstörer Truppe (tank destroyer squad) moving up to the battle front with their four Ofenrohre and ammunition in a pair of Infanterie Karren 8 (IF8). The specialized IF8 carts—seen with improvised wooden carrier racks—are being pulled by a strong draft horse.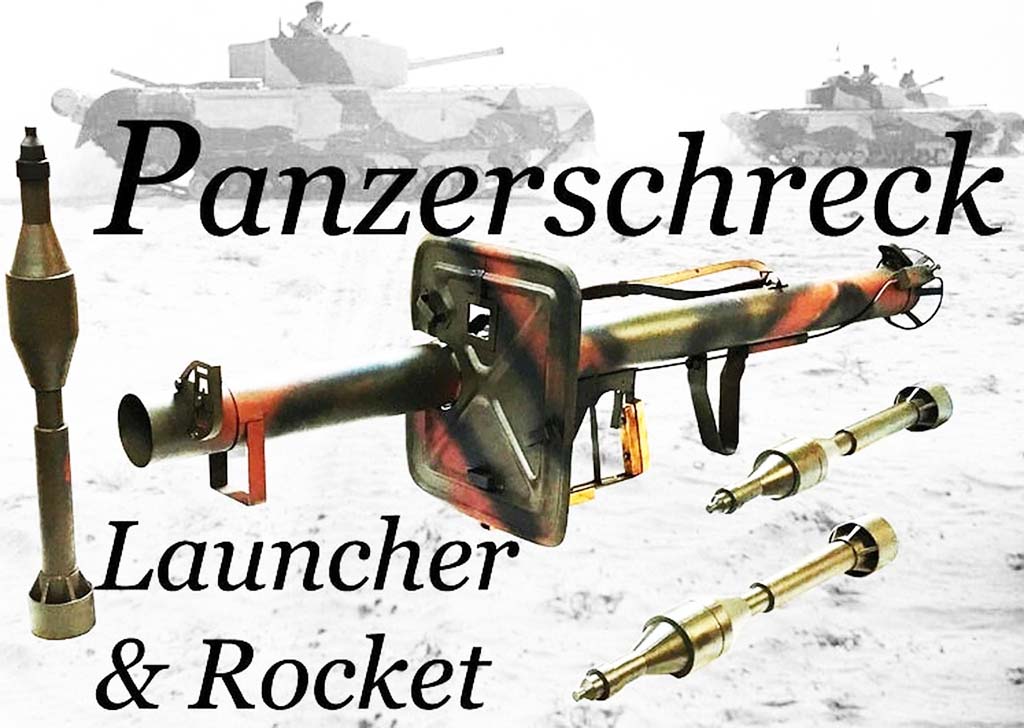 Get One When You Can
Reenactors and others pining for a Panzershreck can find some satisfaction in good replicas offered by Sarco, Inc., International Military Antiques (IMA-USA), U.S. Replica Gun Co. and other firms. The trick is to pay attention to detail in balancing quality vs. price, so beware of those not-always cheaper Chinese versions. The nice one seen here is from Sarco, Inc., currently filling orders as quickly as they can be built from the parts kits they have on hand.

The Good Old Days?
Interarmco's legendary war surplus arms wheeler-dealer Samuel Cummings somehow got a major stockpile of Panzerschrecke (almost certainly from Finland) and shipped them to his sprawling complex of weapons warehouses in Alexandria, Virginia. Understandably, no live rockets that came with the deal could be imported. In the early 1960s, some popular U.S. gun magazines carried tantalizing ads from various firms offering Interarmco's war surplus launchers. While Seaport's "Genuine German Bazookas" could be had at the time for a paltry $19.95, this recalculates to $172 now when adjusting for inflation. Still, that's a great price when considering the nearly $5,000 that a decent original went for recently at auction.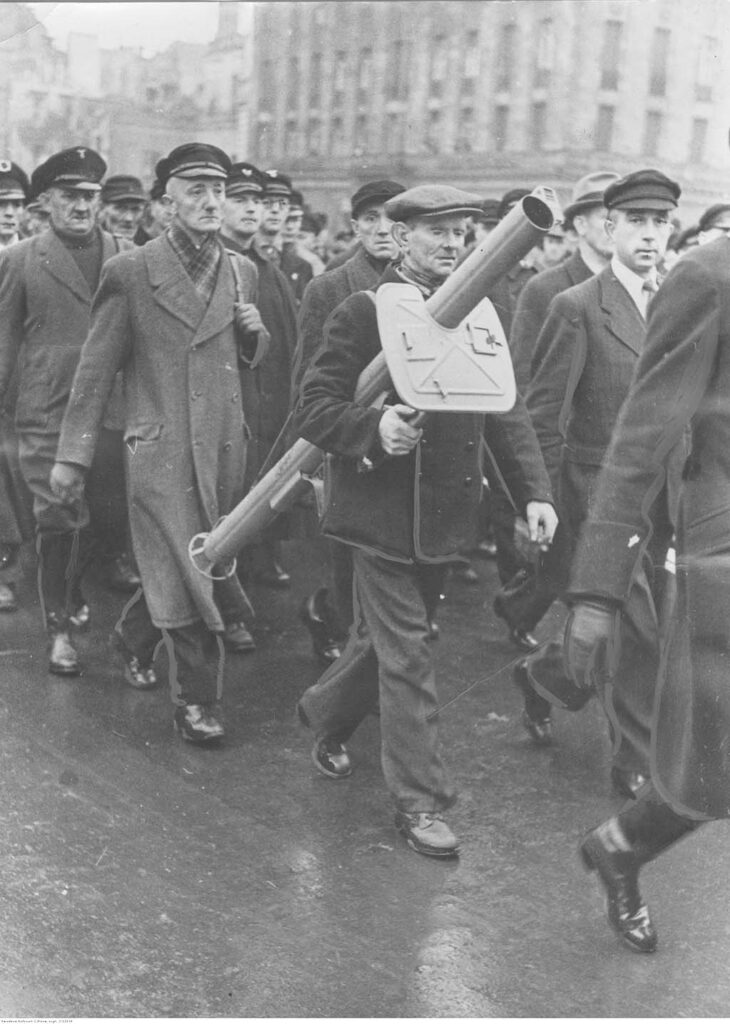 Old and New
1945, Berlin, Germany. Stoically marching in step through the ruins of their once proud capital city, this group of Volkssturm (People's Storm) oldsters is on their way to take up defensive positions as the Red Army's rapacious hordes close in. The RPzB54 slung from that grandfather's shoulder appears to be either factory new or freshly repainted. He has wisely loosened the shield's clamp band and slid it around into a position better suited for carrying on the march. Those rectangular riveted strips on the shield are for attaching camouflage.
BUNDESARCHIV VIA POLISH NATIONAL ARCHIVES
This article first appeared in Small Arms Review V25N2 (February 2021)