Story & Photography by Oleg Volk
My familiarity with Trijicon's IR Hunter started in its pre-production days in 2015. At the time, the options were extremely expensive military thermal scopes that cost more than some cars, and relatively affordable imagers with many extraneous functions but only mediocre sensors. The IR Hunter by IR Defense fit neatly in the middle, producing a very good image with a minimum of extraneous frills for a feasible price. A compact, solidly built unit, it also had better battery life than the mil-spec model. Being able to use the thermal scope by itself without mounting it in tandem with a day scope cut the weight and much improved the sight picture. For the longest time, the sight lived on a Smith & Wesson M&P15-22 rifle. Sound-suppressed, it was discreet enough for nighttime walks around the property. Turns out that steel targets at the range retain daylight heat for hours, so practice in the dark was possible, especially in the hot summer months when midnight temperatures were far more comfortable than in the daytime. At some point, IR Defense was absorbed into Trijicon and a refined IR Hunter was released. Although it looked identical on the outside, I borrowed a sample to find out how it compared with the original model. The manual of operation has not changed, but the quality and the usability have improved considerably.

The Trijicon IR Hunter uses the same 640×480 resolution sensor but delivers a much higher quality picture. The battery life is improved, and boot-up time is reduced to a small fraction of the original. The controls are familiar and simple: the on-off rotary switch, three knobs that look like capped turrets, a +2 to -6 diopter adjustment ring. Focus is fixed, limiting clarity at short distances, but adequate down to about 12 yards. The rubber eye cup has a shuttered eye guard; the pressure of shooting glasses on it opens the petals to show the sight picture. When the sight is away from the eye, its output is hidden from potentially unfriendly eyes, also avoiding ruining adapted night vision of its user. Eye relief is 1.1 inch, enough to keep the ocular lens from touching shooting glasses when running up to about .308 caliber. A hinged front objective cover is a must-have accessory and required for correct sensor calibration. My IR Hunter uses three CR123 batteries to extend its battery life to about 3.5 hours at a fast 60Hz refresh rate and nearly 5 hours at the slower 30Hz refresh rate. MK2 comes with either 35mm or 60mm lenses, roughly 2.5x or 4x magnification. My test sample has the 2.5x optic. 2x and 4x digital zoom option is included, but doesn't really help with detail. At 37 ounces, the sight is heavier than it looks thanks to its all-metal construction. The battery door and image output interface are covered with rubber gaskets. The sight is submergible up to one meter for an hour.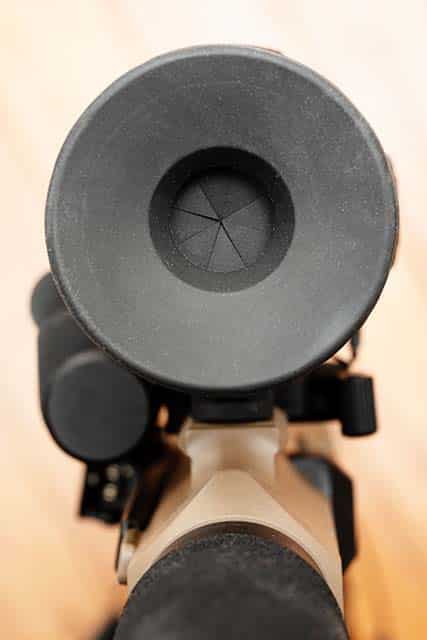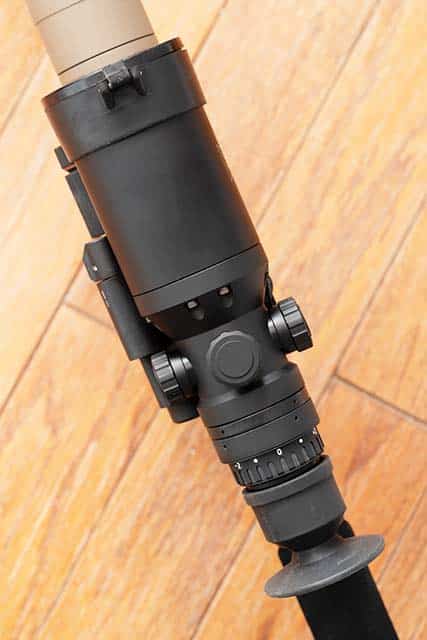 The MK3 offers five BDC reticle options. With a one-shot zeroing process, the setup is quick and easy. A stadiametric rangefinder option is included on the MK3 but that function can be performed quicker with any of the standard reticles. In general, the left-side rotary knob sets up the menu entry, the top and the right-side knobs make adjustments. Imaging options include white-hot and black-hot modes with various degrees of contrast, along with an edge mode that turns the objects in the image into outlines. Enhanced Target Recognition (ETR) is for images with a dominant sky, essentially the thermal equivalent of backlight compensation on a camera. The digital focusing option is actually unsharp masking. At 2.5x magnification, the absence of a focus knob simplifies construction without taking away from the scope's functionality.
The optic can be used to take photos saved to internal memory in BMP or JPG formats. After selecting photo mode with the left knob, turn the top knob to take a photo. Downloading requires an optional IRDACC-9703 USB/RCA video cable, which is also employed for live video output. A downloading program, supplied by Trijicon, is required.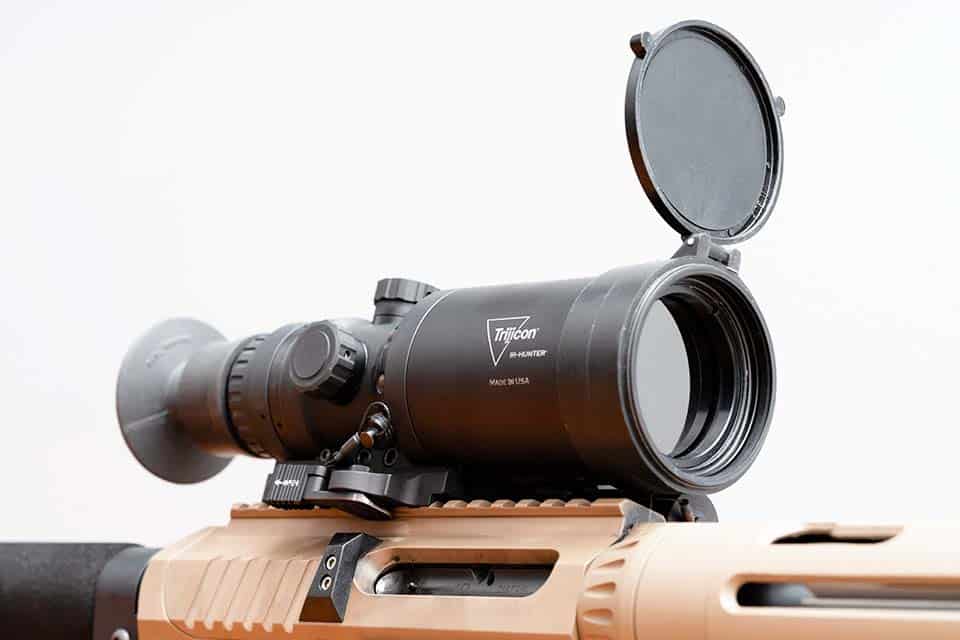 The quality of the image is impressive. At 200 yards, I can identify a cat. At 75 yards I can differentiate one cat from another. Looking at vehicles, it's easy to tell how long they've been driven by the engine and tire heat signature. Set up on a JP Rifles SCR-11 for coyote hunting, it excels far above amplified night vision for spotting targets. Having taken rabbits at ranges from 25 to 75 yards, I appreciate how rapidly this optic handles on a variety of rifles. As with other thermal scopes, the limitation on distances comes from the atmospheric humidity and on the limited number of pixels available to resolve detail. On targets like feral hogs, engagement is possible out to 600 yards; further with the 4x version. On the other hand, telling the difference between a person carrying a handgun and another carrying a wrench might be limited to a much shorter distance, perhaps 150 yards.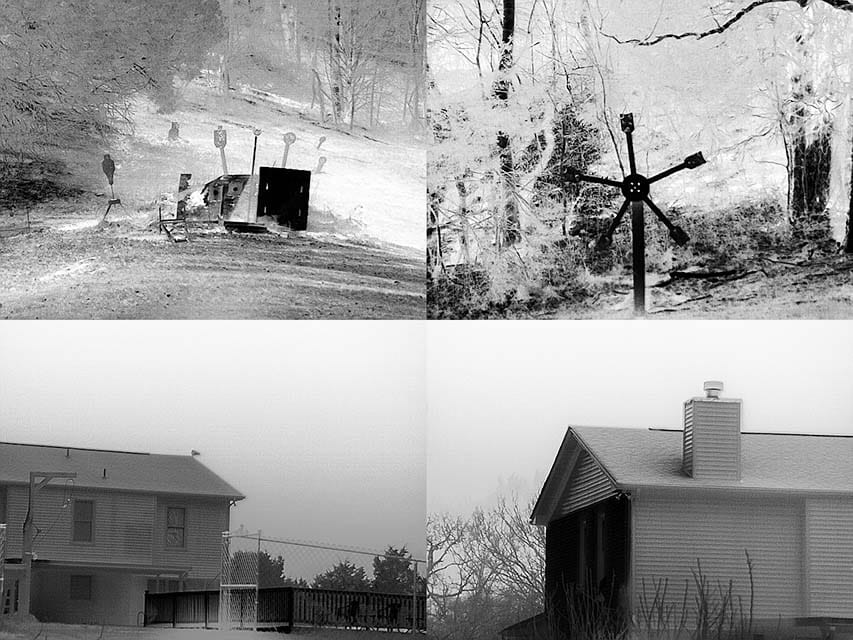 The main appeal of the IR Hunter is the combination of operating simplicity, toughness, and excellent image quality. Due to its appetite for batteries, make sure to watch the viewfinder indicator to know when it's time to swap in fresh cells.
The newest model of this scope that came out since I got mine has some major upgrades. The output port is now USB-C, making both for easy photo and video output, and for charging from external battery packs. New reticle selections include caliber-specific BDC options for .223, .308, and .300 Blk. The weight has been reduced by about 20%. Manual focus adjustment has been added to the 60mm lens. Due to the change in the sensor size, the new lens magnification options are now 1.2x, 1.75x, and 3x. Battery life with two CR123 batteries has been bumped up to 4 hours.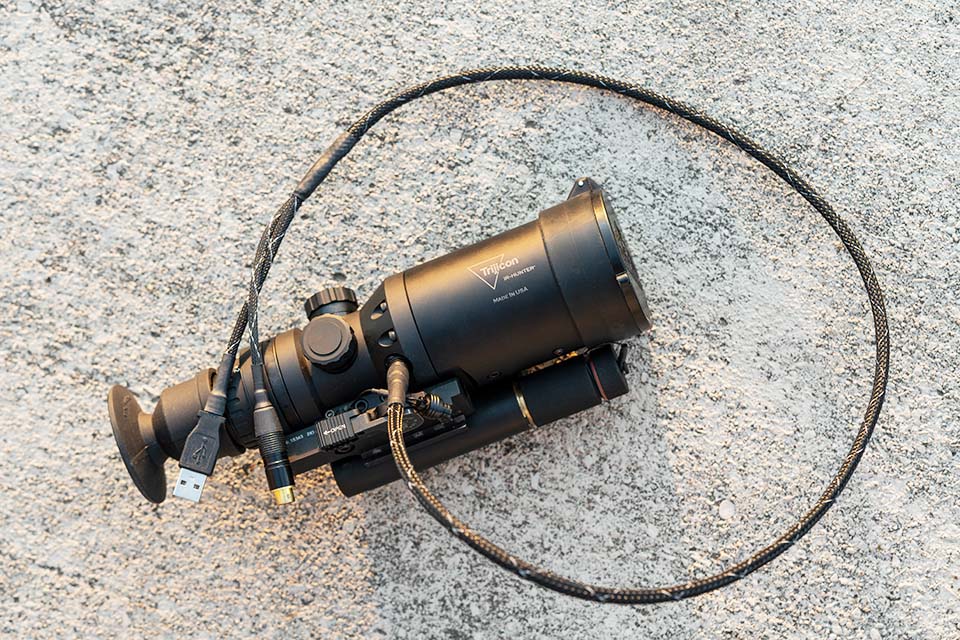 It seems that Trijicon didn't just refresh the design from IR Defense but upgraded it significantly on all fronts. It's definitely a formidable tool for night varmint control and other ballistic applications.
This article first appeared in Small Arms Review V26N5 (May 2022)