By P.E. Fitch
It is no argument that Glock pistols have become some of the most ubiquitous handguns since their debut in the 1980s. Glock handguns are both lightweight and rugged while being extremely reliable while using few moving parts. The obvious difference between Glocks from the classic metal framed handguns like Brownings, Colts and Smiths is the Glock's polymer frame. Back in the day, shooters could customize their own classic revolver or semi-auto by mixing and matching different stocks and grips– be they handmade or bought off-the-shelf.
For Glock shooters, this was one of the downsides about having a gun with a frame made from a singular mold. Once Glock handguns caught on, it wasn't long before ingenious shooters started sanding, carving and stippling polymer frames. Enter Boresight Solutions: one of the most respected custom shops in the industry with over twenty years of experience. Boresight's skipper, Ben Simonson, has ample experience extracting every last bit of accuracy and performance from Glock handguns. He and his team have done so by not only figuring out what different polymer frame alterations suit each shooter's hands, but they are also experts in outfitting Glock pistols with after-market performance parts.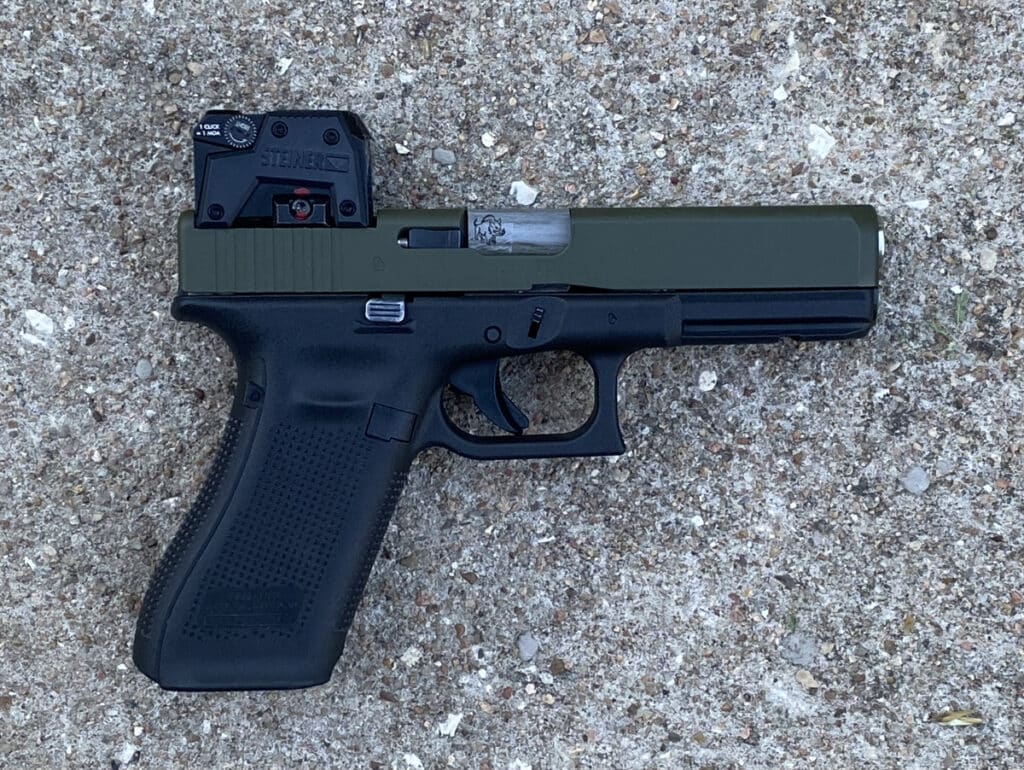 THE FINAL FRONTIER FOR ACCURACY: THE BARREL
One of the most important lessons imparted from Simonson about the performance enhancement of Glock pistols is that a lightened trigger, customized grip, and a crisp red-dot optic are all secondary concerns when it comes to the gun's overall accuracy. This is due, in part, to the mechanical aspects of the Glock's design and also partially due to a phenomenon inherent in all modern manufacturing and mass-produced guns: tolerance stacking.
Every component of a pistol is produced according to drawn dimensions and every measurement has an acceptable flub factor to account for tool wear that's often measure in thousands of an inch. This range of acceptable dimension is called tolerance. As long as each measurement of a part is in the indicated tolerance window, the part passes quality control and gets sent on to be built into a pistol. In layman's terms, as long as all components and parts measure up to an acceptable range of tolerances and specifications, they are green lit from the factory.
Tolerance stacking becomes a detriment when several parts that each measure at the extreme ends of their measurement window are combined in a final product. Because of the sheer volume of slides and barrels manufactured, odds are that some factory Glocks will shoot lights-out out of the box and some may barely print an acceptable group. Different slides and barrels are going to be inevitably mixed and matched at the time of their final assembly. To accurize Glock pistols, gunsmiths fit oversize match-grade barrels to specific guns. This readily shrinks a pistol's group sizes, but due to the fact that these are fitted for extreme accuracy, pistol reliability can take a back seat.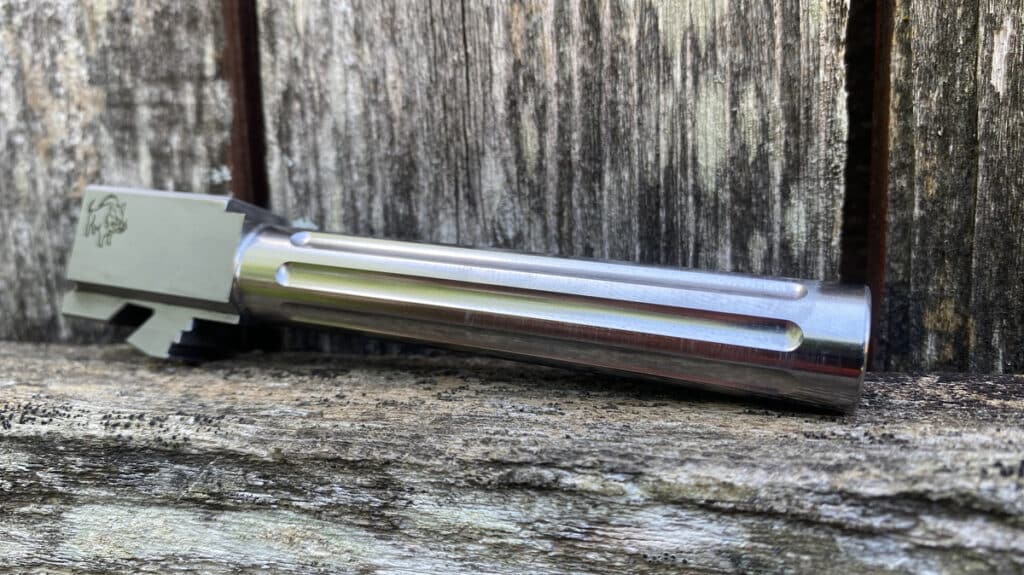 BORESIGHT'S ACTUAL SOLUTION
In autumn 2022, Boresight Solutions released their new Advantage Precision Barrels. Their aim was to provide a drop-in match grade pistol barrel that does not require any gunsmithing while also being wholly reliable for duty-grade use. Currently, these barrels are available for all generations of the most popular 9mm Luger Glock models such as the 17, 19/45, 34, 43X and 48. Advantage Precision Barrels are engineered from 416R chromium stainless steel, a material known for its high tensile strength and its ability to resist corrosion.
The chamber area of the Boresight Solutions Advantage Precision Barrel is also given additional reinforcement for long-lasting, hard service while the barrel itself has longitudinal fluting cuts around its outer circumference. These cuts not only lighten the barrel but they help the barrel cool faster by reducing its mass and adding surface area to the exterior. And speaking of the exterior, all AP barrel external surfaces, from breech to muzzle, are honed to be ultra-smooth with a roughness average of (Ra 16). Furthermore, Boresight Solutions manufactures their barrels to high standards. According to Simonson, the dimensional tolerance for each barrel model within a given generation is no bigger than 0.003 inches–with other tolerances being even more precise.
Simonson also explained that these barrels were designed with hard-use in mind, specifically for duty or defensive carry. As a result, AP barrels have a faster 1:10-inch barrel twist better suited for heavier ranges of premium jacketed hollow point 9mm ammunition that Boresight's clientele tends to favor. 
SHOOTING WITH ADVANTAGE AND PRECISION
To evaluate the Boresight Solutions Advantage Precision barrel, I used my American-made Glock 17 Gen5 pistol – I specifically chose this pistol due to its known reliability. The Boresight Solutions AP barrel arrived in my mailbox generously coated with oil to protect it during storage and shipping and a complimentary silicone impregnated wipe-down cloth with the Boresight Solutions "boar" logo was also included.
The AP barrel easily dropped into my Glock 17 slide without any fanfare. Furthermore, I also dropped the barrel into another American Glock 17 Gen5 slide with a direct-milled Steiner Optics MPS enclosed emitted reflex sight. Putting the barrel through two different slides (including one with a mounted optical sight) makes for a better test. Since the beginning of this review, I've been shooting the AP barrel with the same bone-stock frame and trigger. Both slides include the factory recoil spring and all factory parts.
To date, I've fired approximately 600 cartridges, both factory rounds and handloads. Among the factory loads are: 147-gr Speer Gold Dot G2, 147-gr American Eagle Flat Point, 147-gr, 150-gr and 124-gr Federal Syntech, 124-gr American Eagle FMJ, 115-gr CCI Blazer Brass, 115-gr CCI Blazer Aluminum, and Fiocchi 115-gr FMJ. Moreover, I've shot a good quantity of my general purpose 115-gr and 147-gr handloads. Besides an improperly sized reloaded cartridge which was 100% my fault, to date I have had no reliability or function issues between either slide. While groups with range or practice ammo were more than acceptable, I noticed that my particular barrel really seems to favor 124-grain bullets. Federal Syntech and Federal American Eagle FMJ rounds printed well at 25 yards–from a rest or unsupported. American Eagle 147-gr flat point ammo also showed a lot of promise.
PERFORMANCE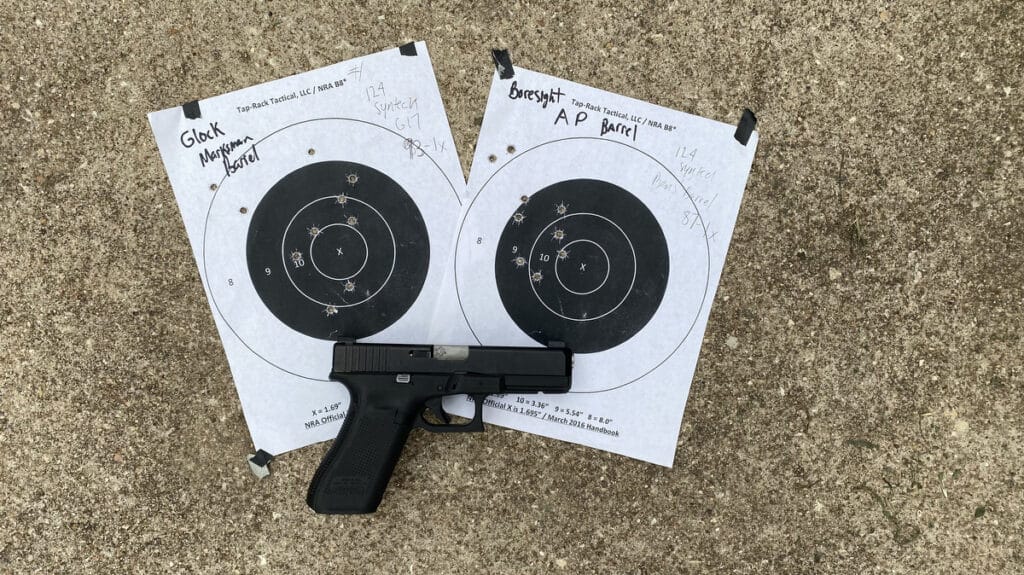 Extracting accuracy will ultimately depend on several factors, including the sighting system, the trigger pull weight and style, the particular cartridges being fired, etc. While a match-grade drop-in barrel will not magically turn any given pistol into a laser beam, a barrel like the Advantage Precision drop-in barrel will certainly eliminate the accuracy variable that comes from a factory barrel with looser tolerances. Working on this review, I noticed that the AP Barrel has a tighter chamber, because I was shooting various handloads (both good ones and my not-so-good ones) for example. Also, Glock deserves some credit as all fifth-generation guns make use of their Glock Marksman Barrels. The GMB is a definite improvement over the barrels of the previous generation and it certainly showed while shooting control groups for this article.
| | | |
| --- | --- | --- |
| Ammo | Boresight AP Barrel | Glock Marksman Barrel |
| 115gr Blazer Brass | 2.75 in | 1.5 in |
| 124gr Federal Syntech | 1.5 in | 1.75 in |
| 147gr Federal Syntech | 1.75 in | 1.75 in |
Shooting 3 round groups from rest at 25-yard targets using the slide equipped with the Steiner MPS.
Boresight Solutions Advantage Precision barrels generally retail for $195 and are manufactured in Florida. Truthfully, with the ubiquity and popularity of Glock pistols, the aftermarket match barrel segment is extremely competitive, and shooters have the option of choosing from a wide variety of aftermarket products. However, after two decades of business and building relationships with its customers and industry partners, Boresight Solutions has its well-earned reputation for a reason. Naturally, after taking the time to design, develop and manufacture an aftermarket drop-in Glock barrel, customers can upgrade their hard-use and EDC Glock pistols with confidence. Please visit Boresight Solutions' website to learn more.