By Josh Wayner –
The gear we carry into the field is almost always a compromise. Despite how far we've come from the days of muskets, there are few differences in practical reality. The hunters of years past faced the same game and the same terrain challenges we do today, and the hunting was done at roughly the same ranges. Despite our technological advances, most medium to large game today is still hunted inside 300 yards. However, things are changing, and there is a trifecta of variables that are allowing this evolution, those being advanced materials, projectiles and cartridge designs. Enter Mesa Precision Arms.
The Field Never Forgives
While we will certainly get to a review of the spectacular Mesa Precision rifle, what needs to be discussed first is the relevance it has and just how important this class of arms is to our continuing advancement in small arms and ammunition.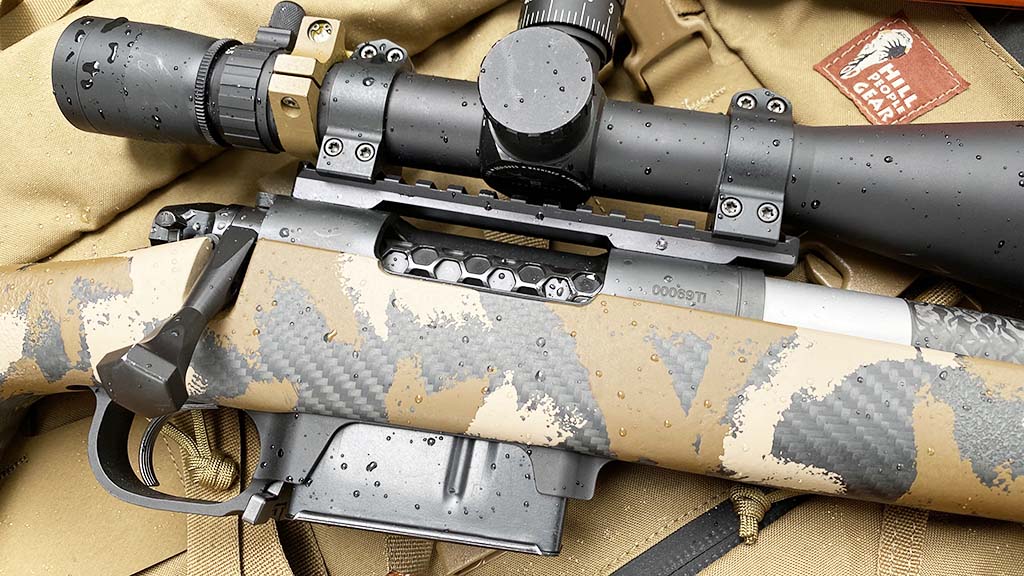 The foremost thing to understand is what limits a shooter to a given range. The most pressing concern is that of ethics in hunting, where longer ranges are not just more challenging but also ethically questionable. The further out you get, the more external factors become involved. The realistic limit for most quality hunting rifles in the last 100 years was extended through the use of optics, but even then bullet technology had not advanced far enough to make shots at considerable distances feasible. Thus, we are not looking at the gun itself as the sole focus of the hunt, but only a single factor in the struggles of the field.
Hunting rifles in years past were a completely separate type of rifle from target guns or precision rifles, the latter encompassing sniper rifles in military service. The general idea was that lightweight rifles were ideal for use in hunting, as the hunter, especially the pack-in hunter, would want to save as much weight as possible. To accomplish this, a modern class of "mountain" rifles were developed that featured skinny barrels, skeletonized parts and composite stocks. These rifles were often bare-bones and plagued with problems.
What sort of problems would such a light gun face? More than you'd imagine. The idea of making a hunting rifle super light using traditional materials and cartridges meant that, given the same cartridge, the light rifle would overheat and rapidly lose accuracy and recoil much more as a simple matter of physics. This in turn made these rifles hard to master, difficult to be consistent at the range and generally unpleasant to fire. All of this resulted in a specialized tool to get into hard-to-reach places but with few redeeming characteristics outside of those conditions. The ergonomic situation in years past was also abysmal, as the stocks used were often too thin in the wrist and offered little as far as rigidity in the name of weight savings.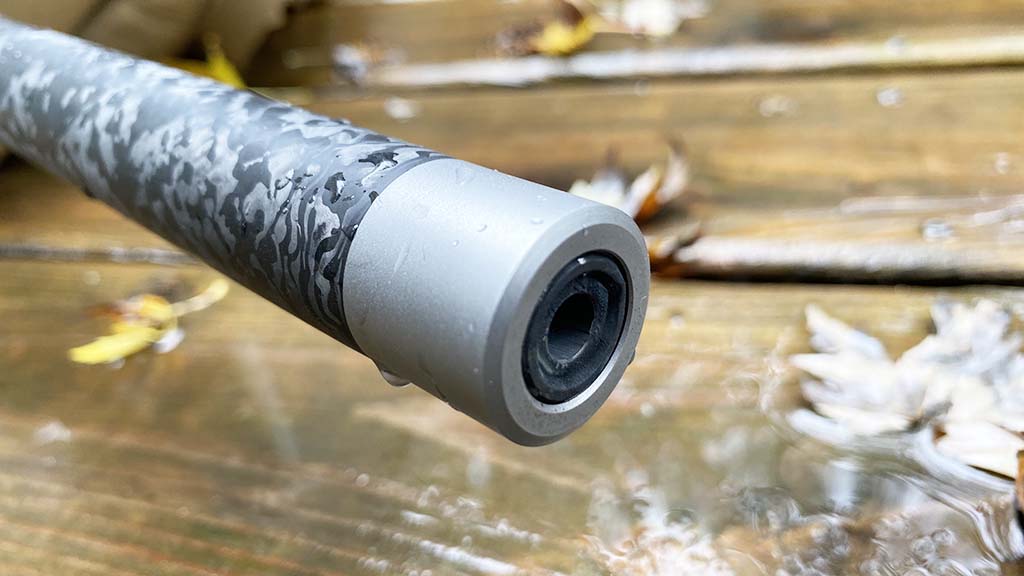 Left: The muzzle comes with a flush-fit thread protector. Because the rifle is light, a muzzle brake is not necessary to tame it, though the option is there. Center: SIG SAUER 130-grain Elite Hunter Tipped loads provide a great balance of weight to velocity and can be used on game up to elk and moose in appropriate settings. The load is suitable for varmints as well, making it a one-stop solution for a mixed-tag trip. Right: Traditional lines meet with modern materials in the carbon fiber stock.
To get an accurate rifle, a hunter needed to look at guns built for accuracy. Accurate rifles intended for precision shooting typically used thick, heavy barrels to fight off heat and increase rigidity. Adjustability and ergonomic quality came with the territory here. Making hits at long-range was all this game was about, but who in their right mind would want to carry a 13-pound hunting rifle to follow game in the mountains? The weight penalty for an accurate rifle made it so that it generally ruled out field use. Offhand or unsupported shooting is not something that can be readily accomplished with so heavy a rifle.
Next was the problem of the balance of accuracy and weight. Gun manufacturers have struggled for years to introduce the perfect balance, but all have generally failed by way of compromise or simply missing the mark in the commercial market. There have been many fine designs that have come and gone, but there is no true right answer for this because the special features of a given rifle in one environment are not always applicable to another climate or region.
The cartridges used in these rifles also play a critical role in determining the end utility of a gun meant for the field. The major struggle is that a cartridge needs to be powerful enough to take game but also pleasant enough to become proficient with. Rounds like the .300 Winchester Magnum and .30-06 have long dominated the field for their relatively high bullet mass and good velocity, but place those rounds in light rifles, and they become completely unenjoyable.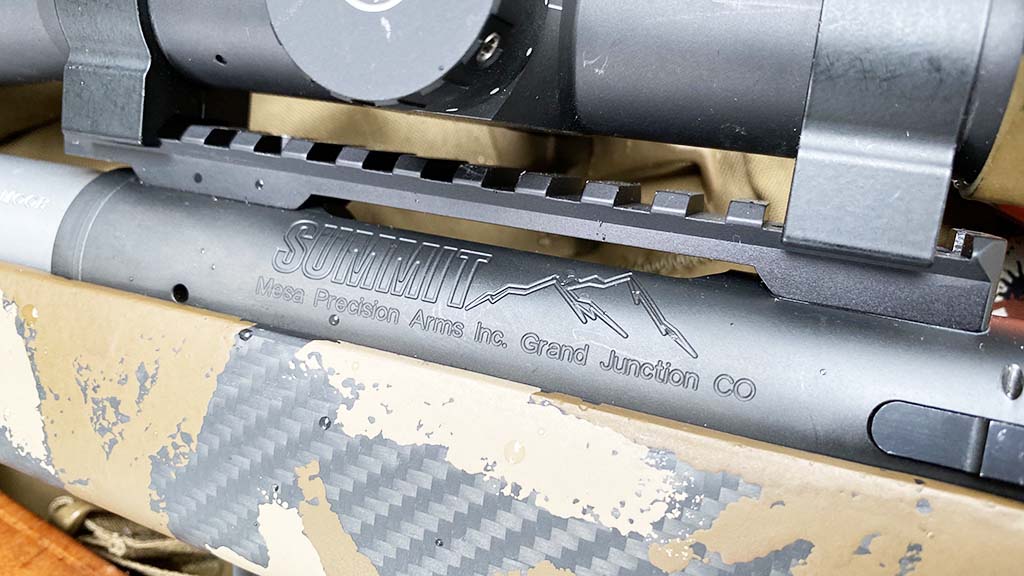 Going smaller has its benefits, but the .308 Winchester, a perennial favorite, only saved the shooter on action length over the .30-06 for the same general power level given the identical bullet weight. The old classics like .243 Win and 7mm-08 were good for their time but did not offer bullet choices suitable for ranges past 200 yards on medium game. The bullet mass was just not there for those ranges nor were the bullets themselves designed for performance at lower velocities seen as ranges extended. Going light in this case also meant sacrificing distance, which was a major consideration when that trophy elk appeared at 600 yards across a ravine.
Bullet technology is the last factor in this equation, and it has, even more than rifle and cartridge technology, allowed the hunter and shooter to do more with less. Bullets have improved so much in the last 10 years that we've practically reinvented what rifles can do in many cases. Rounds like the 6.5 Creedmoor, the first commercially successful round designed for long-range shooting in this era, took advantage of not just advanced case design but also new science about bullet shape and design. The 6.5 Creedmoor is not especially fast or heavy, with a 140-grain bullet at a nominal 2700 fps, but it is extremely efficient thanks to the bullets used that offer a high ballistic coefficient, thus allowing for it to cut the air and buck the wind with ease. The 6.5 Creedmoor has drop and drift characteristics similar to 200-grain class .300 Win Mag but with less recoil than .308 Win. This is huge, as the bullets for 6.5 Creedmoor are not just good for targets: hunting bullets developed alongside target bullets took advantage of the latter's superior flight characteristics while being made tough enough to perform on game at ranges previously reserved for high recoil magnum hunting cartridges.
The field has remained the same, unforgiving and inhospitable, but thanks to our modern technology, today's rifleman can bring in a rifle that is lighter than the specialty guns of years past but one as accurate as a target rifle and as rugged as a military sniper rifle. This is what Mesa Precision Arms has delivered.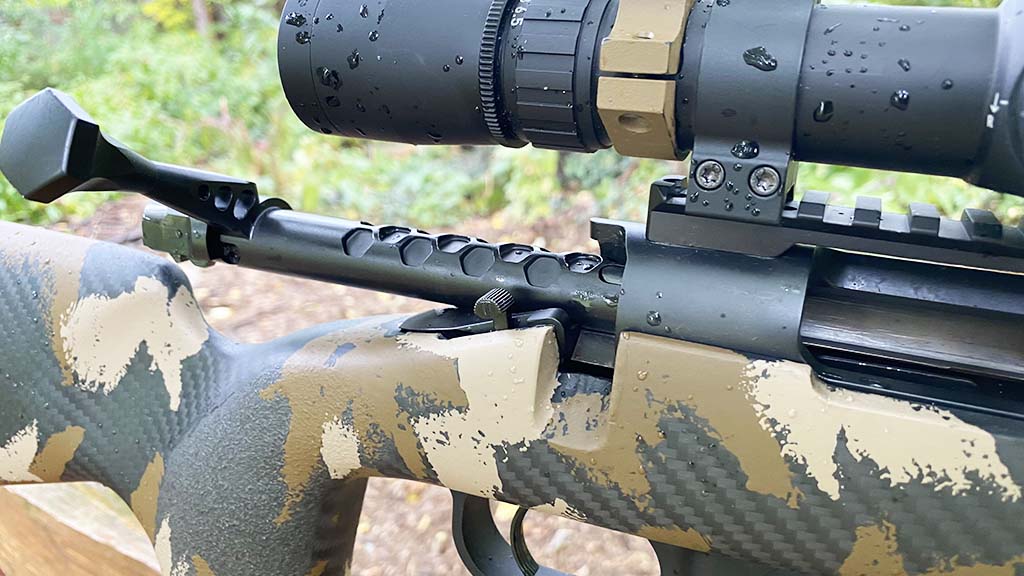 The Perfect Blend
The question of weight has plagued the hunter for centuries. Everyone loves an accurate rifle until they have to lug it up and down a leaf-covered ravine; everyone loves a light rifle until they fire it. The market was clearly missing something, and the folks at Mesa Precision Arms (MPA) sought to dive in and fix that. The author sat down with the crew behind the rifle to discuss just what makes this rifle fit in the sweet spot.
"We started out in mid-2017 after we noticed a niche in the market. More have come to see the same gap we did, but we approached it from the angle that there wasn't a suitable lightweight, long-range hunting rifle available at the cost we wanted to see," according to MPA.
MPA jumped into this market with the idea that there shouldn't be a compromise given how far we've come with materials and cartridge design. Because of how much we know about accuracy and how to make bolt-action rifles, there was really no excuse that there couldn't be a rifle both light enough to carry all day and rigid enough to shoot all day; a regular do-all rifle that can hunt and compete interchangeably. This rifle is Precision-Rifle-Series accurate, but so light it feels like it is a papier mâché replica of a real gun. How is this accomplished?
The short answer is that the rifle makes extensive use of carbon fiber and titanium in its construction. These materials are not new in the manufacturing world, but they are not exceptionally common in the firearms world. The application of these materials has often been overlooked as the processes and machines necessary to work with them are outside the scope of average manufacturers. Indeed, carbon fiber parts are still relatively rare, with only a handful of companies making stocks and barrels out of these materials.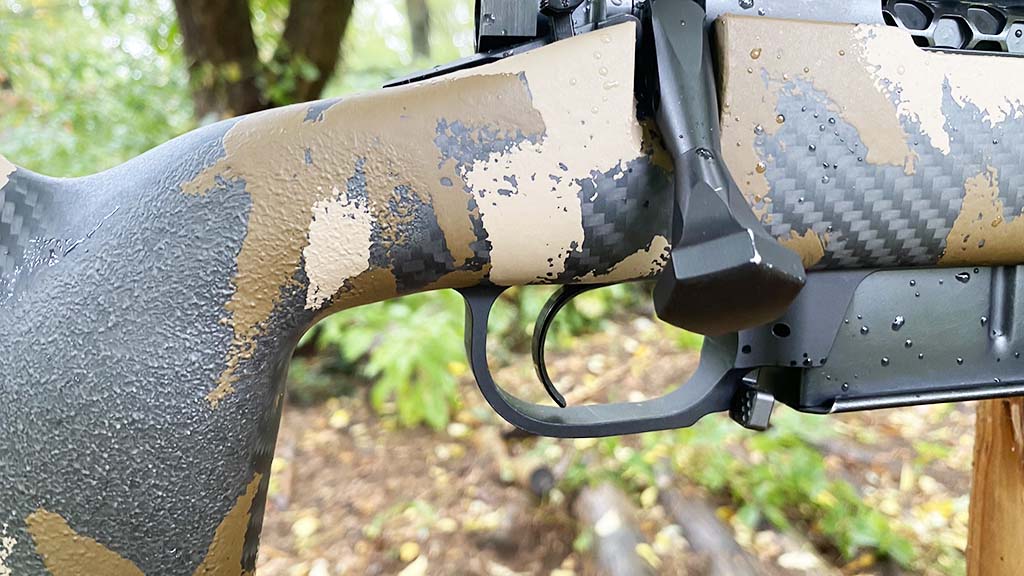 These carbon fiber parts are extremely light, shaving not just ounces but full-on pounds off a given rifle. The carbon fiber stocks alone can save a few pounds over a fiberglass or wood stock, which is nice, but the real savings comes from the barrel. The profile of the rifle discussed in this article is a full-blown M24 heavy contour and is 24 inches long. A steel barrel of the same profile weighs more than this complete rifle! A Brownells Premium, 6.5 Creedmoor, 24-inch M24 barrel alone weighs a few ounces more than the complete MPA rifle at 6.25 pounds, which is remarkable considering that from a distance they are identical in profile.
The manufacturer of this barrel is PROOF Research, a company known for the quality of their products. They are a premier and very popular maker of all sorts of carbon fiber barrels in various contours and bores.
MPA's CRUX Ti action itself is made of titanium, which offers a notable weight savings over steel. It is comparable in weight to aluminum, though far stronger. Titanium actions have been around for a while, but they are not very common, and most are custom affairs. This would not do for MPA, as its vision included no cut corners; a carbon barrel and stock on a steel action would just be too pedestrian.
"Titanium is a hard material to work with; most people won't touch it. We are one of the only companies to produce a complete rifle off our own special action designed for the end use of the rifle—in this case long-range hunting. Our stocks and actions were created from the ground up to reflect this purpose. We went with the 75-degree bolt throw—it is more user-friendly and offers a faster cycling speed. The bolt itself is easy to disassemble, unlike a Remington 700 stock model, and is simple to maintain in the field should dirt or debris become lodged in it."
If you have not yet handled a titanium action, you should at least try to get your hands on one. The feel of the action is different than steel; it feels very crisp and smooth to the point where it gives the impression of being frictionless. The bolt glides and locks up very easily. When it closes, the locking process begins and ends in about 1 degree of rotation. It can be closed with the flick of a finger, though unlocking takes a bit more effort thanks to a strong firing pin spring and the fact that there is less throw as opposed to a traditional 90-degree action.
As far as ergonomics, the carbon fiber stock compromises on nothing. It is extremely comfortable and modern while resembling traditional hunting stocks. MPA hand-fits these with precision: "We CNC the correct fit into the stock for a given action, usually [a] Remington 700 footprint. We designed our stocks to suit the modern hunter. It has a semi-vertical grip angle and a slightly raised comb. We wanted to keep it right at 24 ounces while maintaining those classic lines."
They also bed the stocks to the action along with their AICS-style bottom metal that can take any standard Accuracy-International-pattern magazines. Several were tested in the rifle to include Accurate-Mags, original Accuracy International, Alpha Industries Mags and Magpul, and they all worked flawlessly.
Other features of the rifle include a 20 MOA scope mount, a threaded muzzle and thread protector, a Trigger Tech single-stage trigger, optional QD sling mounts and your choice in camo finish.
Range Time
For testing purposes, a lightweight Leupold VX-3i LRP 6.5-20x50mm scope was installed in Warne rings. This is a type of optic that a hunter would use in the field at just 21 ounces, making the total package just over 7.5 pounds. Other than this, the rifle was unmodified except for the addition of a sling to see how well it carried. Support gear used in the field was all from Hill People Gear and it, especially their Umlindi pack with rifle butt pouch attached, allowed effortless carry of the rifle. Several miles of hiking while out after coyote proved that this was an exceedingly easy rifle to tote … but how about accuracy?
The science of accuracy is easily understood with this rifle. The rifle was tested with several 6.5 Creedmoor loads at both 100 yards for accuracy and out to 1,050 yards to see how well the rifle handled against heavy target rifles.
One-hundred-yard accuracy was as expected from a high-end premium rifle. The average five-shot group at this range was .8 MOA for all factory loads tested. That should impress, considering that .8 is the average of all loads. The best accuracy was produced by Black Hills Gold 143-grain ELD-X at .22 MOA average of five, five-shot groups. SIG SAUER 120-grain Elite Hunter Tipped produced the lowest accuracy at .95 inches for five, five-shot groups, but you'd hardly call that bad by any stretch. SIG SAUER 140-grain Elite Match, SIG SAUER 130-grain Elite Hunter, Federal 130-grain Gold Medal Berger, Federal 140-grain Gold Medal Sierra MatchKing, Hornady Precision Hunter 143-grain ELD-X, Hornady 147-grain ELD Match and Hornady 140-grain American Gunner all produced an average of .5 MOA for five, five-shot groups. The performance was extraordinary.
While it is safe to say that the vast majority of all hunting takes place at about 100 yards, this rifle is not limited to that distance. The author traveled to the famous Marksmanship Training Center (MTC) range in Lake City, Michigan, to test the rifle on steel plates out past 1,000 yards. This test is not just a test of the rifle, but also of the ammunition and optics. Several loads were selected that the author felt would be a good representation of what hunting ammunition can do at long-range, so target loads were omitted for the sake of authenticity.
The Black Hills 143-grain ELD-X, SIG SAUER 130-grain Elite Hunter Tipped and Hornady 143-grain Precision Hunter were tasked with field duty. Using a Kestrel weather station, the author calculated wind and drop for each load and went about shooting steel. What proceeded was perhaps the most uneventful range trip in recent memory, as each of the three selected loads provided a 100% hit rate at ranges out to 500 yards, which is probably the limit of the 6.5 Creedmoor cartridge on medium game for ethical shots.
The author moved to field positions and shot off the pack and some barricades. All the same story. If the rifle was stable and weather conditions monitored, hits came as easy as pointing and firing.
But how did it do at long-range with that hunting ammo? The average five-shot group at this range for all three loads tested was again around .5 MOA to .75 MOA, so only about 5 to 8 inches at 1,050 yards! This is performance on par with many dedicated target rifles with the same accuracy as the author's heavy-class target rifle that weighs three times as much. To have a rifle so light that is capable of such extraordinary accuracy is nothing short of amazing.
Over 800 rounds of various types were fired in this rifle, and it was also used in a competition. It performed with no feeding issues or any issues of any kind, even in rigorous circumstances.
No Compromises
Mesa Precision Arms is a small shop, but it delivers something that the largest and most well-funded companies have failed to do time and again. MPA delivers a rifle 30% lighter than most hunting rifles and a full 60% lighter than steel rifles with the same barrel profiles. As stated earlier, it is lighter than some target barrels, not counting the rest of the rifle it attaches to.
Not only that, MPA delivered a complete product that is as accurate as a dedicated target rifle, which is truly a feat when directly compared to how poor accuracy and heat resistance are on lightweight steel rifles. Because of the carbon fiber construction, it bleeds heat faster and remains rigid and consistent for much longer, thus allowing the hunter to become proficient with less of a learning curve or having to wait for the gun to cool enough to group well again.
When combined with modern factory hunting ammunition and modern bullets, this is a combination that allows for true extended range performance without having to go to a magnum chambering or specialized load.
While this article covers Mesa Precision Arms and its product, what must be noted is just how far we've come technologically in terms of materials and craftsmanship. MPA stands apart in this sense in that it was among the first to realize the potential of all these lightweight materials, not just as individual advances, but as a true step up when combined.
This article first appeared in Small Arms Review V25N1 (January 2021)