The Valkyrie BSR-Mod1 combines the simplicity and technology of the early, original ArmaLite/Colt belt-fed AR-15 designs with today's modern materials and manufacturing methods to provide end users with an accessory they have desired for years. The ability to have your own AR-15 type rifle converted for a reasonable price and back in your hands in under a month.
Those of us who are heavily involved with military-style rifles live in a universe where new accessories are created for many popular platforms with extreme speed. Thanks to the lightning fast abilities of the Internet, the social network mediums and the many boards and blogs where like-minded people gather to chat, ideas spring up daily. People who are enthusiastic about a new acquisition can immediately link up with others with the same interests and a think tank can be formed in minutes. We no longer live where we can only "talk shop" at the occasional range outing, organized shoot or gun show, but almost immediately. Ideas are shared at extreme speed and entrepreneurial builders and tinkerers can get to work right away. For all the faults we can find in the Internet, there are certainly plenty of positive uses we can find as well.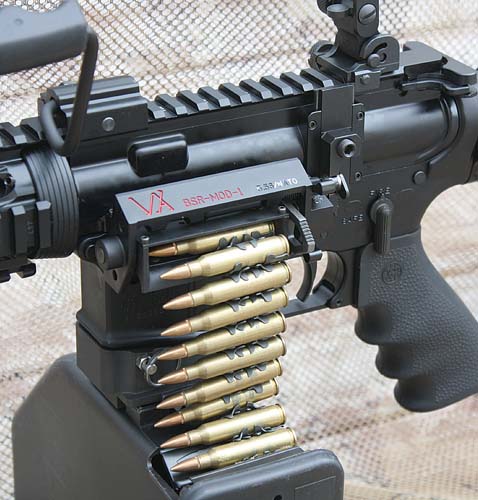 Much slower than the speed of the Internet, our beloved printed gun magazines still play an important part in the ingenuity of shootists. At times they are even very complementary of each another. That is where this story begins.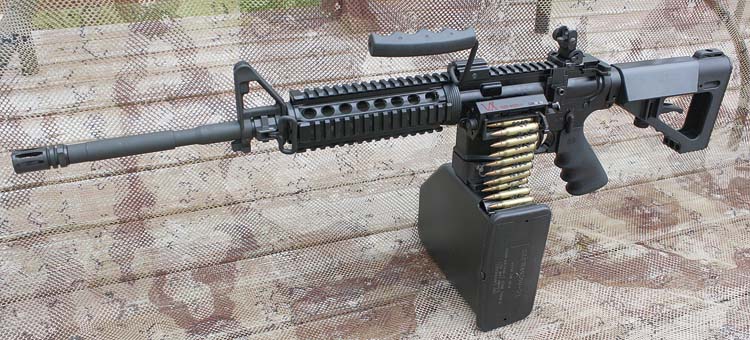 In the January, 2010 issue (Vol. 13, No. 4) of Small Arms Review magazine we published a very in-depth test of the long out of production Jonathan Arthur Ciener commercial version of the Colt belt-fed prototype AR-15/M16 rifles. Within days of the magazine hitting the newsstand, the websites and blogs started buzzing. This design that has roots going as far back as the 1950s and lived a very short commercial life in the late 1980s into the early 1990s was again "discovered" by many people who may not have been involved in the shooting community at this earlier time. Several questions about its viability today and the perils or pitfalls of manufacturing of a similar rifle started popping up in numerous conversations. Paying close attention to all the chatter was George DeLury and Bill Grieve of Northridge Tool and Machine, soon to be Valkyrie Armament, LLC.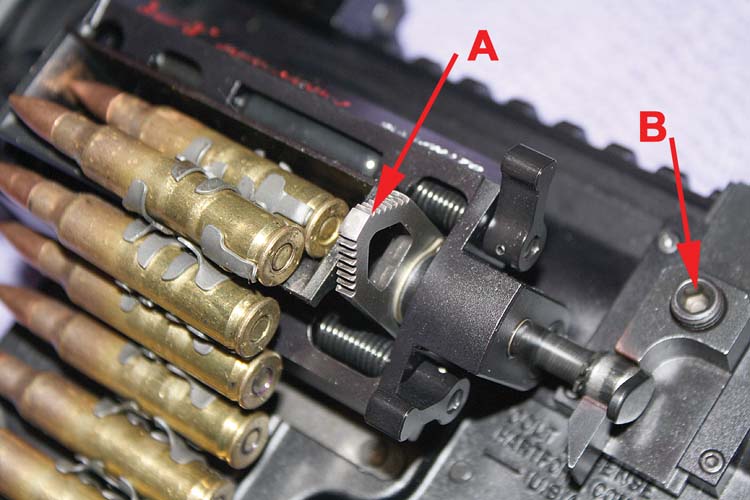 George was one of several people who called shortly after the article was published to say he was working on a similar design with a few upgrades. I told George, like I told the others, that if he got to the point where they started manufacturing a production version for sale, I would be happy to evaluate it for our readers. About 3 months later I received a second call from George that started with "Hey Jeff, it's George. Remember me? I have something you may want to look at." Within a very short amount of time a large box arrived and that was the first time I saw the BSR-MOD-1 belt-fed AR-15.
The Evolution Continues
Upon initial inspection of the BSR-MOD-1 it looks very much like the currently fielded, higher-end M4s given the use of current furniture and accessories. The base rifle is a Colt Law Enforcement Carbine. The front handguard is a Daniel Defense EZ CAR 7.0 rail with a SAW-type carry handle and E-3 upper receiver topped off with YHM 2-position BUIS folding sights. The rear stock is a 7-position collapsible M4S Ace Ltd. with cheek riser. A Hogue pistol grip and side-mounted sling swivel in the front sight round it off.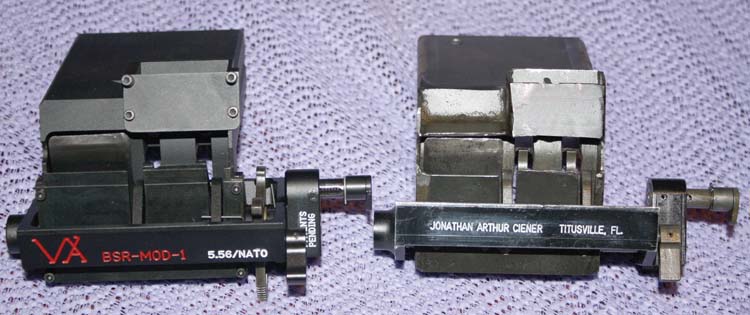 Looking at the belt feed mechanism of the Valkyrie BSR-MOD-1 from the outside there are several similarities with the earlier rifles we have examined and tested. It is quite similar in the way it is driven by capturing the energy from the bolt carrier on the recoil (reward) stroke and the feed pawls are also similar. It has the ability to feed from a belt or a standard box magazine with removal of the belt-feed mechanism. It is fed with a modified M27 SAW link in a similar manner to the earlier models as well. There are currently 4 patents pending on this system thus far.
While the basic function seems to mimic the earlier system there are several subtle differences upon closer examination. A favorite design difference of this writer is the addition of a bolt release that protrudes through the feed system. It is a "V" shaped, serrated arm that toggles the bolt release to either hold the bolt back or release it, keeping the shooters fingers far from the feed mechanism. (For those who did not see the test of the Ciener belt-fed rifle, the author ended up with his thumb caught in this extremely tight space during a moment of severe judgment lapse). Another difference is in the belt drive mechanism where the linkage connects to the bolt carrier. Where the original was a fixed pin, the Valkyrie is a removable pin allowing the shooter to completely remove the drive unit when the gun is used with standard box magazines or drums. This serves two purposes. First, the shooter no longer has a reciprocating shuttle in the exterior drive unit when the magazine is being fired. The second benefit is that by removing the link-pin and drive unit, a standard bolt carrier can be used for box magazines including subcaliber units, which was not an option in the earlier versions. Of course the shooter can simply remove the belt-feed unit and be firing from a standard box magazine with the installed bolt carrier in less than a minute without removing the drive pin as well. There are also several other machining differences used in the process of manufacturing that may not have been available 25-50 years ago when the original units were designed.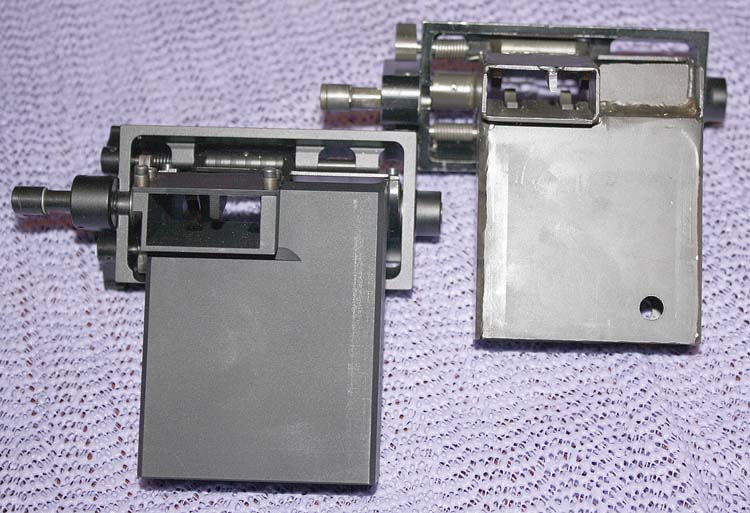 In the area of feeding, a downfall of this system has always been the lack of excess and residual energy to capture and assist in pulling the belt into the mechanism. This necessitated a belt box so the length of pull was kept short. Colt designed (and Ciener later utilized) a very nice box that pinned on the bottom of the rifle and doubled as a link chute, which captured the expended links and stored them in a separate compartment for reuse. The Valkyrie BSR-MOD-1 uses an adapter for standard NATO SAW boxes. While the Ciener feed box is very nice and even doubles as a link catcher as a big advantage, SAW Boxes are readily available and multiple boxes can be preloaded and stored or taken out at the same time. We like both designs for their individual advantages. Valkyrie Armament will be releasing a detachable link chute and box in the very near future but it was not available for testing at the time this went to print. We understand it is made of Kydex and will hold 200 links.
Serious Business
While Valkyrie Armament's key market is geared towards recreational shooters at the current time, it isn't being built as a "one off" or custom order only project. Even though they are pleased to convert your own gun to utilize their belt-feed system, they are manufacturing and stocking complete rifles of numerous configurations for immediate shipment. Spare parts are all on hand and are available for purchase. Custom builds certainly are available, such as conversions on registered M16s, piston-type rifles and they even manufacture a special line for the MGI Hydra MARCK-15 system taking full advantage of the quick change barrel (QCB) system. To date they have even converted a water-cooled M16; so if you think your project is "outside the box" please don't discard it without calling them first. While Colt manufactured rifles are preferred for conversions due to their consistent tolerances, they have not found any rifles they could not convert at the time of this writing. Some that take longer, requiring additional custom fitting may incur additional fees and Valkyrie Armament is happy to quote special jobs on request.
Range Time & Operation
The rifle was an instant hit out of the box, but the proof is always in the performance and not the looks. Since this writer is very familiar with these types of belt systems it was found to be very easy to operate. The rifle comes with a starter tab and an end tab to be linked to each belt. Additional tabs are available for purchase as well as extra links. As mentioned before, the links are a modified, slotted M27 SAW link so factory belted 5.56x45mm ammo will not run in the gun as is. It must be linked with the special links available from Valkyrie Armament, LLC. The current price at this writing is $35 per 100 and they are certainly reusable like any other link.
Rather than go into great length and spend several pages explaining the operating system, since it is so similar to that of the early ArmaLite/Colt/Ciener systems, this writer would urge you to pick up a copy of Vol. 13, No. 4 (January, 2010) issue of Small Arms Review for extremely detailed information about the operation and feed system. (If they become difficult to obtain we will make every effort to post a PDF of the article on the Small Arms Review website in the near future.)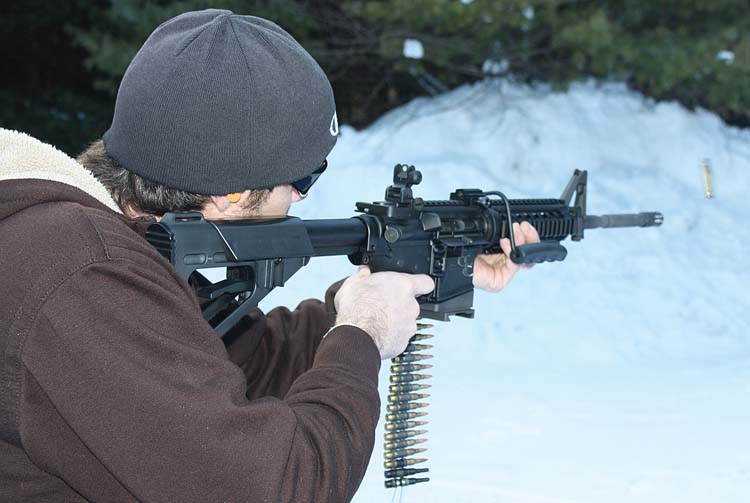 The shooting debut of this system for our initial function testing was at a large invitational machine gun shoot held at the Williams Machine Gun Range in North Anson, Maine. Since we are very familiar with Murphy's Law we knew if we made a big announcement that we had one to test it would be destined to not function properly. It was concealed as well as it could be until the first few belts, but we were sniffed out and a small crowd had gathered to watch even though the majority of the firing line had no idea what we were doing. Since all we needed to do this day was determine if it functioned properly we loaded several small belts and were very pleased it ran them without a hitch.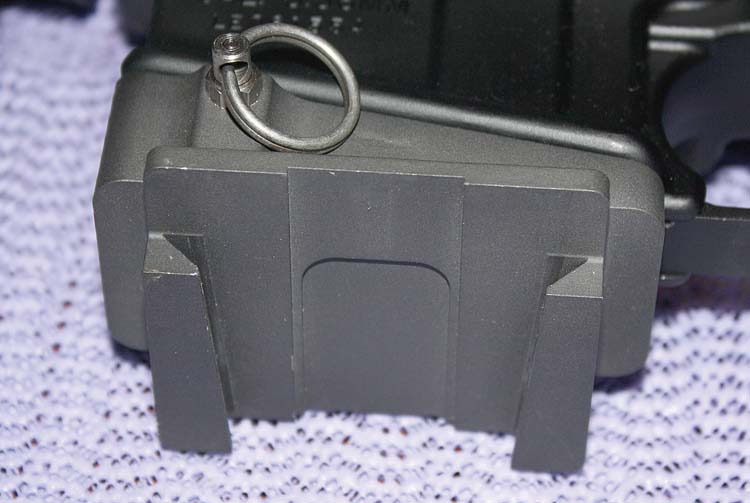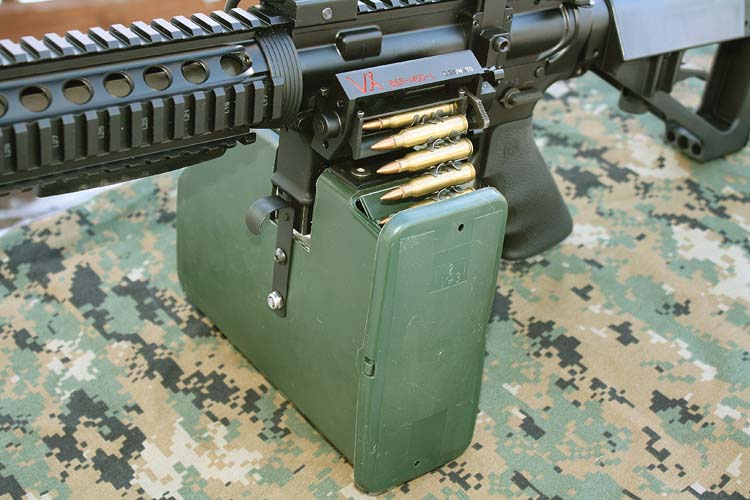 Further firing was conducted (and continues as of this writing) at the Small Arms Research Test Range in central Maine. The bulk of the testing has been function testing and it has allowed several other tests to run concurrent. We wanted to see if the extra duty the bolt carrier needed to perform had any effect on the accuracy and found no difference in either group size or point of impact when switching between the box magazine and the belt. Since the ejection was very positive and consistent we decided to conduct a belt pull test. The early guns are known for a weakness in this area so we had limited expectations. We started with a short length of 20 rounds and kept adding 7 rounds after firing 2 rounds to give us a 5 round net addition each time until we found the point it would no longer pull a hanging belt with reliability. This system didn't prove to last but a few cycles when we switched to adding ammo in 50-round lengths. We started the new protocol at 50 rounds and fired 3 rounds. This continued to 100 rounds, 150 rounds and 200 rounds. The length of the belt was so long that we needed to utilize a ladder to keep it from dragging on the ground. At 200 rounds we found it would not function reliably. It would fire 2 or 3 and stop. We cut back to 150 rounds and found the same result. 3 or 4 or 5 rounds and it would stop. At this point we started removing 25 rounds instead of 50 and continued testing with a 125-round belt. The result was the end of the belt pull testing as it easily cycled through the remainder of the hanging belt with ease. Remembering we were shooting a dry gun around the 100 round mark we stopped long enough to lightly lubricate the bolt carrier where it interfaces with the drive pin and continued to empty the belt. Since we were evaluating a semiautomatic this time we couldn't take belt whip into consideration, which can create additional forces under fully automatic fire. We found the number of rounds it would fire from a hanging belt was an amazing 125 rounds, which was far more than the original designs would reliably handle. The weight of 125 belted rounds, using 55gr Federal XM-193 ammo was approximately 3.75 pounds. Considering the length of pull is only between 8 rounds and 20 rounds when using a standard SAW box (depending on the number of rounds in the box), and the hanging weight of that belt is between 3.9 ounces and 9.6 ounces, having the ability to feed and function reliably with approximately 600% of the normal feed forces, we found to be a huge reliability margin.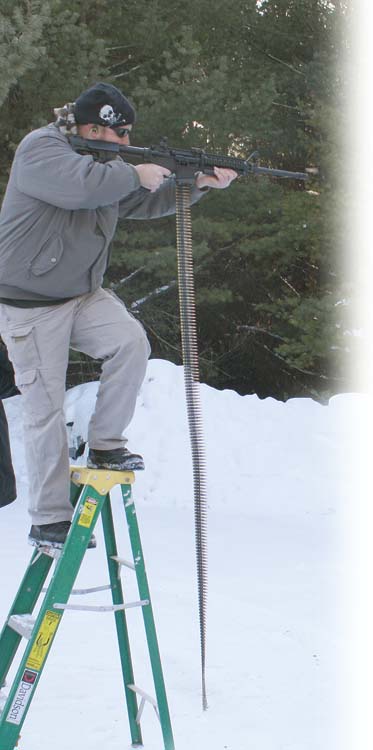 Conclusions
The Valkyrie Armament, LLC BSR-MOD-1 was a hit, right out of the box. It was meticulously manufactured and the fit and finish matched the host gun very well. It looked like it could have been completely manufactured by Colt given the strait, clean receiver cuts and feed mechanism. It was a perfect match to the host firearm. The function was everything we had hoped it would be, not failing in any form of feeding, firing and ejecting except for when we purposely overloaded the weight of the belt for the hanging belt test to find the point of failure. It is fun to shoot and when compared to similar firearms, although this one is quite unique in its availability as a modification to your own host firearm the price seemed like a bargain for a modern belt-fed. At the time of this writing the retail pricing for a conversion on your host gun is $3,300 with approximately a 3-week turn around time. Since it has an 85% parts compatibility with any regular AR-15 type firearm, parts are readily available and even specific parts to this conversion are in stock and available from Valkyrie Armament, LLC. If you are a Black Rifle aficionado and need a new model to kindle the fire, we think you will enjoy this conversion. If you live in an area where you can't own machine guns, a belt-fed semiautomatic AR-15 rifle is pretty high on the fun meter. For those with lightning links and registered Drop In Auto Sears, yes, this will run fine as long as you get the proper bolt carrier.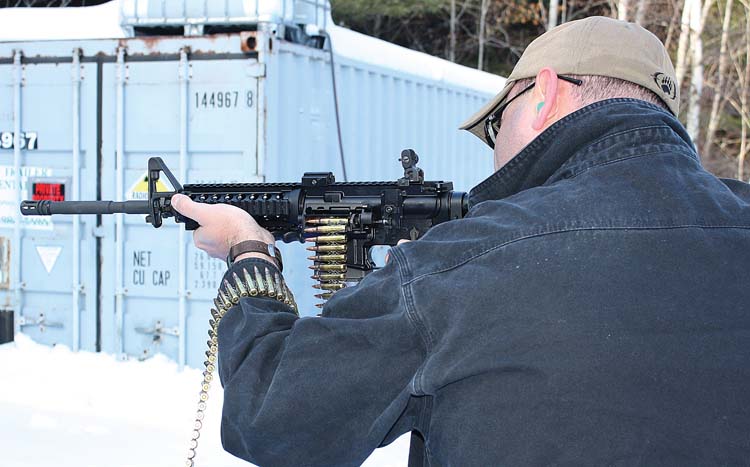 At $35 per 100 links at the current time, it is expected that this price will go down as they continue to increase the quantity of links they manufacture. Make sure you police your links and it will keep the cost of shooting way down. If only it used a standard link…
But Wait, There's More!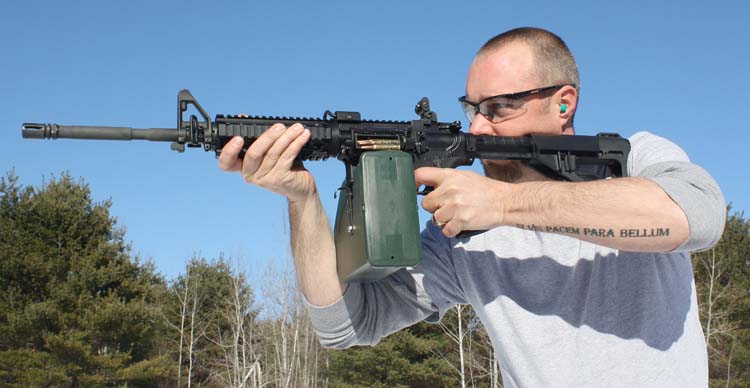 As we are going to press we have been notified that several variants are being tested with standard M27 SAW links. This is an exciting development and definitely raises the bar on the usefulness of the system and the cost of operation. Not only are standard links very inexpensive, it can be purchased already linked. The best part has yet to be told though – if you have one of the current models (MOD-1) you will receive the "Standard Link Upgrade" (MOD-2) for free so you don't have to stand on the sidelines and wait for the latest gun in fear of the next generation passing you over. And just in case the whole "Belt-Fed .223" concept doesn't catch your attention, we thought we would mention the .308 AR-10 prototype being tested and prepped for production and release in early 2012.
Valkyrie Armament, LLC
Email: sales@valkyriearmament.com
Website: www.valkyriearmament.com
For more information please visit:
www.beltfedar.com
This article first appeared in Small Arms Review V14N8 (May 2011)