By The Small Arms Review Editorial Staff
Commercialization of the Russian Ammunition Industry
The Tula Cartridge Works in Russia's State Arsenal is the leading engineering enterprise in Russia's defense complex. They have recently made some exclusive arrangements with the Prineas Group for exporting to the United States, among other end users. Tula considers that ordering through Prineas is ordering direct from the factory, and they want the customers to understand their commitment to quality and consistency in the ammunition products they offer.
The 7.62 x 39mm being offered is new manufacture, not surplus. Distributors can order bullet configurations in hollow point, FMJ, or soft point. Tula uses a special non-aging steel to increase strength with the use of a hot drying varnish (Lacquer) to seal the joints between the cartridge case, bullet and primer. This insures that the cartridge performance characteristics after prolonged storage, or during operation in adverse weather conditions, are optimum. This method is exclusive to Tula's products, and is evident by the red-water mark seals. Tula also uses a non-corrosive, environmentally friendly primer that reduces any atmospheric contamination. (SAR's editors applaud this effort, and sincerely hope that Greenpeace, etc, are paying attention to this effort). Tula's manufacturing facility utilizes a state of the art high capacity transfer line system with built in checking devices to ensure the best quality control available today.
The packaging has been changed from the 1440 round wooden crate system to 1000 round cardboard (200#) cases. This reduces the case shipping by 26 pounds per case, and puts the ammunition in units that are easily shipped in the US, in a quantity that the end user prefers. Bar coding will soon be added to the shipping system as well, making an even more distributor friendly package.
The desirable "Western" cartridges; 9x19mm, 45 acp, .30 carbine, 5.56x 45mm, and 7.62 x 51mm (.308) will also be available in the user friendly packaging, with the same high quality manufacturing procedures being used.
The Prineas Group and Tula Arsenal have designed this program with the idea of forming a satisfying working relationship with the distribution system, and providing a top-level product for the consumer.
Further assistance or questions can be directed to the importer: Mr. Stacy Prineas, Tel: (206)-882-1161 Fax: (206)-882-0487
Introducing a briefcase that could save your life!
Now you can carry lifesaving protection with you everyday without a second thought. Introducing the "Executive Defense Briefcase" the only hard leather briefcase on the market that combines style and elegance with life saving capacity.
With the push of a button, a hidden compartment bursts open from the briefcase to reveal a strategically placed holstered firearm. The process to open the briefcase and draw your firearm takes less than 2 seconds. Each briefcase comes with a universal amb1rdexterous holster, magazine pouches, and the capacity to add a bulletproof panel, pepper spray, and a handcuff case.
As a traditional functioning briefcase, the suede and leather interior offers ample storage room for documents and valuables. The executive Defense Briefcase is ideal for wholesale jewelry reps and retail merchants as well as bodyguards, private investigators, law enforcement and security personnel. It makes a perfect accessory for nicely dressed executives who would like the security of carrying a full sized firearm without altering their wardrobe.
The Executive Defense Briefcase is built to last a lifetime, featuring solid bass wood and interlocking corners for added strength. It's quality is that of briefcases sold in fine luggage shops, not in office supply stores. For the price of a an average full-sized firearm you can protect yourself every day for the rest of your life. This elegant and effective briefcase is only $495.00. How much is your life worth?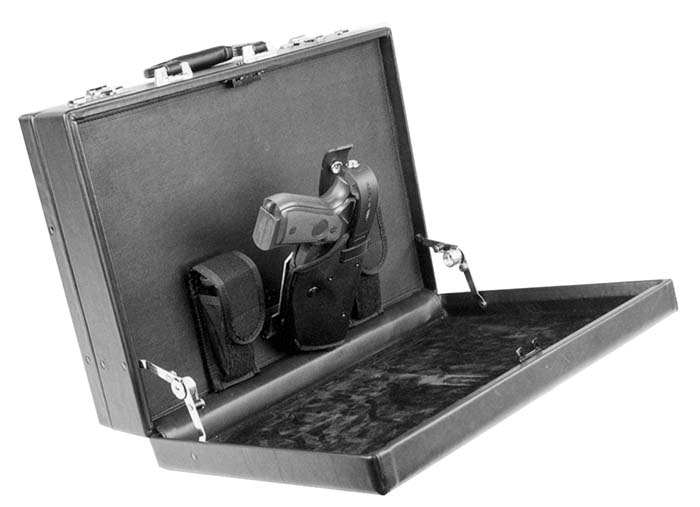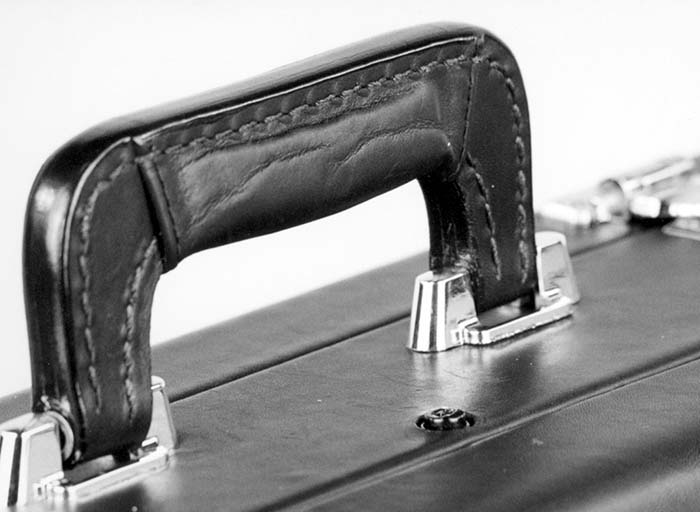 For more information contact Peter B. Gripon – Concealment Systems – 638 Lindero Canyon Road #323 – Agoura, CA 91301. Tel:(818-889-3666.
This article first appeared in Small Arms Review V1N3 (December 1997)