By Chris Choat
Affordable Infrared Laser Sights from Crimson Trace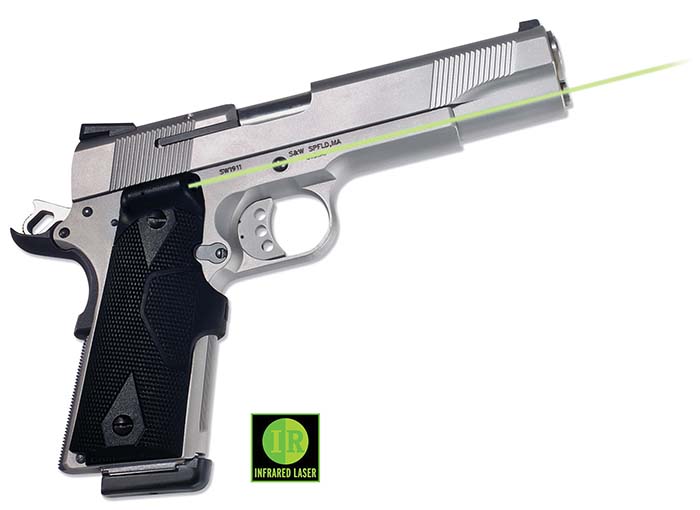 Drawing heavily on technology developed in support of America's warfighters by its defense division, Crimson Trace will introduce a line of Infra Red (IR) laser sights for the civilian market. Observable only through night vision equipment, these laser sights offer the user the ability to mark a target invisibly, which is a boon for predator control, security personnel or anyone involved in the growing sport of hog hunting. Due to ITAR restrictions, these new IR sights will be available only through select distributors in July 2012 and will be the most cost-effective solution for anyone who seeks to add a covert night sighting solution to their firearm, listing at MSRPs of between $299 and $599. In order to assure the widest possible number of gun fitments, the first IR lasers to be made available will be the award-wining MVF-515 vertical foregrip and the hugely popular Rail Master mini laser. The Rail Master fits almost any firearm with a Picatinny rail and adds less than 2 oz. to the overall weight, while incorporating the most powerful laser available by law. The MVF-515 has an incredibly long run time and offers the additional benefit of a blinding, 200 lumen white light to enable the use of daytime optics as well as night vision devices. Crimson Trace will also introduce IR versions of its instinctively-activated Lasergrips for the 1911 and Glock pistols, assuring the same night vision compatible performance for sidearms. For more information please contact them at Crimson Trace, 9780 S.W. Freeman Drive, Wilsonville, OR 97070. Phone: (503) 783-5333. Fax: (503) 783-5334. Website: www.crimsontrace.com.
New Short to Mid-Range Riflescope from Bushnell Tactical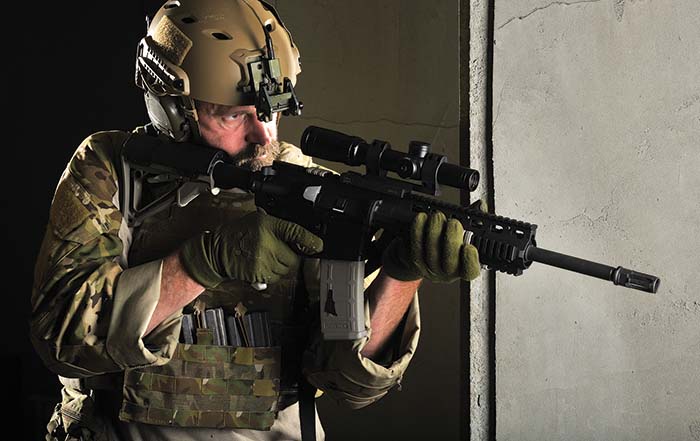 Bushnell Outdoor Products, an industry-leader in high performance sports optics for more than 60 years, has introduced a new line of short to mid-range riflescopes (SMRS). The Bushnell Elite Tactical SMRS 1-6.5x 24mm is available with two illuminated tactical reticles in both first and second focal plane. The new tactical SMRS 1-6.5x 24mm scope combines close quarters precision with outstanding mid-range capability. With a true 1x magnification and the new BTR-1 and BTR-2 reticle options, this scope delivers instant target acquisition and calibrated ranging for longer shots. The scope features an illuminated reticle with 11 brightness settings and a side parallax adjustment for quick focus at various ranges. The BTR-1 reticle is an illuminated, ballistically calibrated reticle that is optimized for use with 5.56/.223 caliber rounds. This bullet drop compensating (BDC) reticle provides accurate ranging and aiming to 600 meters. The BTR-2 is an illuminated mil-hash reticle that allows for ranging, holdover and windage adjustments. Both the BTR-1 and BTR-2 illuminated reticles are available in first or second focal plane. Bushnell Elite Tactical series scopes are built to withstand the rigors of the field, whether in military and law enforcement situations, competitions or countless rounds at the range. With fully multi-coated optics and the new anti-reflective Ultra Wide Band (UWB) coating, the scope delivers light transmission across more of the visible light spectrum than before. This feature leads to enhanced clarity, exceptional brightness and true color from dawn to dusk. Built from high-quality forged aluminum alloy, the scope features a robust 30mm one-piece tube and Argon purging. Integrated to deliver long-lasting performance and reliability, Argon provides added resistance against corrosion, reduced chances of fogging and longer seal life. The scopes are 100 percent fog proof, shock proof and waterproof. Bushnell takes all-weather performance a step further with its patented RainGuard HD lens coating. The permanent, water-resistant finish gives shooters a clear view when weather conditions present a challenge. For more information about the Bushnell Elite Tactical series contact them at Bushnell Outdoor Products, 9200 Cody Street, Overland Park, KS 66214. Phone: (913) 752-3410. Fax: (913) 752-3539. Web site: www.bushnell.com.
I.O. Inc. Now Offers Historic Polish Pistol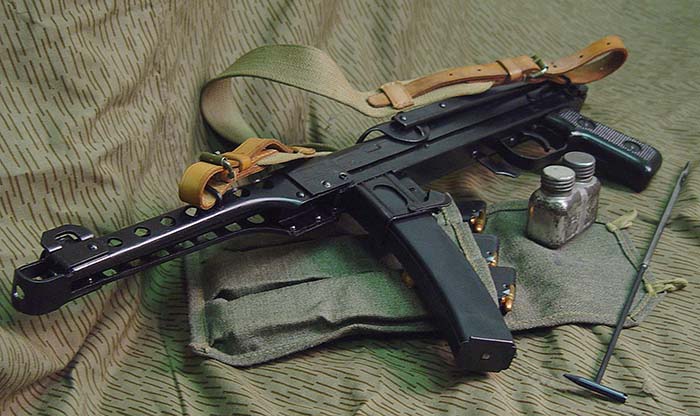 I.O. Inc. is proud to introduce the PPS-43C pistol, imported from Poland and redesigned for modern use. The PPS-43C (Pistolet-Pulemet Sudaeva, model of 1943-Sudaev SMG) was designed as a more compact and mobile option than the PPSh-41 used by the Soviet Army during the early years of WWII. A designer named Sudaev offered the original prototype in 1942, then refined the design for the final product in 1943. The result was a mass production of the PPS-43 for the Soviet Army, with nearly 2 million manufactured between 1943 and 1946. Argued as the best SMG (sub machine gun) of World War II, the PPS-43 has now been redesigned to shoot from a closed bolt position with a safety located at the front of the trigger guard. The PPS-43C pistol has a stamped steel receiver and barrel shroud, an L-shaped flip rear sight marked for 100 and 200 meters, and a fixed blade front sight. The PPS-43C is chambered in 7.62×25 mm TT and weighs 8.09 lbs with a loaded magazine or 6.7 lbs empty. The barrel length is 9.84 inches and has an effective range of over 200 yards. It is manufactured at the Radom Plant in Poland and has all new Polish made parts and components. The PPS-43C pistol is ATF approved, has an MSRP of $449.95 and ships with four 35-round curved box magazines. For more information they can be contacted at I.O. Inc., 3305 Westwood Industrial Drive, Monroe, NC 28110. Phone: (888) 968-4437. Fax: (704) 225-8362. Website: www.ioinc.us.
In-Range Supplies Introduces the Portable Encapsulator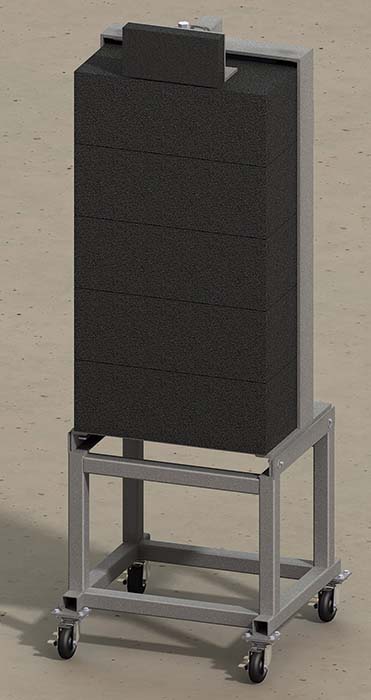 In-Range Supplies, manufacturers of live fire shooting products for the military and law enforcement communities, introduces their Portable Encapsulator to the consumer market. Initially developed for the U.S. Marine Corps to use in live fire shoot house training, the Portable Encapsulator bullet trap has set the standard for ballistic capabilities. Since its introduction, the product has quickly gained acceptance among law enforcement, commercial gun ranges, and the consumer market. The Portable Encapsulator bullet trap consists of 5 stacked blocks of patented Dura-Bloc ballistic rubber, which captures rounds virtually intact. It can safely capture rounds with a minimum velocity of 600 FPS and up to a maximum caliber of .308/7.62mm. The Dura-Bloc shooting surface measures 24″ w x 45″ h and allows for safe target shooting without concern of ricochet, backsplatter and airborne lead particles. Each of the 5 Dura-Bloc units has been rated to accommodate up to 5,000 rounds of 7.62 NATO (.308 Winchester) and can be rotated to extend the life of the unit. The Portable Encapsulator body is manufactured from 3/8″ AR 500 steel to ensure complete ballistic integrity. The Portable Encapsulator is a robust unit, weighing 736 lbs., and incorporates heavy-duty casters and handles on the stand for ease of movement. The entire unit retails for $1,599 MSRP and replacement Dura-Blocs are $79.00 each. Established in 2005, In-Range Supplies provides portable bullet traps, steel targets, gun-clearing devices, forcible entry training tools, and a wide-range of paper targets including bulls-eye, situational and game targets. For more information contact them at In-Range Supplies, 5121 Winnetka Avenue North, New Hope, MN 55428. Phone: (877) 432-1785. On the web at www.inrangesupplies.com.
Uncle Mike's Introduces New Competition Belt and Speed Caddy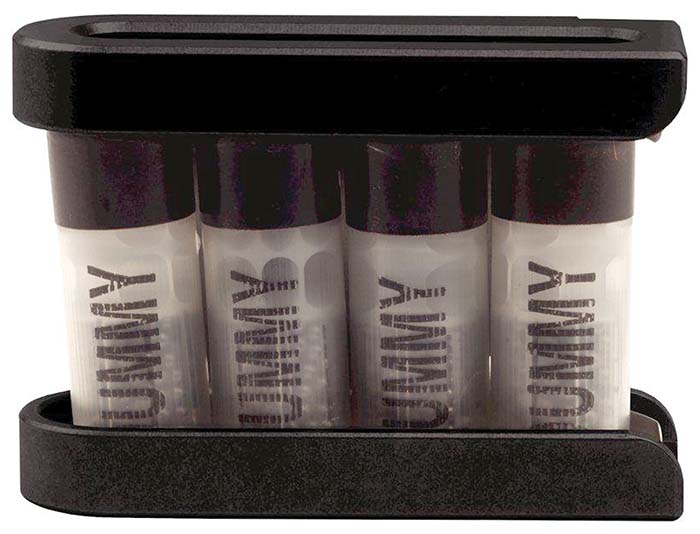 Uncle Mike's, a leading provider of shooting accessories for more than 60 years, has introduced a new competition belt system and shotgun shell speed caddy for multi-gun competitors. With the growth in both professional and amateur 3-Gun competitions, the new competition gear from Uncle Mike's can help shooters of all experience levels improve their performance and success. The new competition belt system includes both an inner and outer belt. The outer belt is MOLLE/PALS compatible, making it easy to attach a number of shooting accessories. The inner belt is padded to offset gear loads and provide extra comfort during competition. The competition belt system is compatible with the Uncle Mike's Kydex and ReflexTM holsters and a number of other competition products including the ITW FastMag. It is available in sizes ranging from medium (32-36″) to XXL (50-54″) and is solution dyed for color fastness. The shotgun shell speed caddy is CNC-machined from aircraft aluminum billet and finished with type II hard coat anodizing. The shells are secured with yield stainless steel retention clips, and the caddy features a spring belt clip for easy on/off operation. The shotgun shell speed caddy holds four 2-3/4″ 12 gauge shells and is compatible with all competition belts. Both the competition belt system and shotgun shell speed caddy are made in the USA and are available for MSRPs of $77.95 and $53.95, respectively. For more information please contact them at Uncle Mike's, 9200 Cody Street, Overland Park, KS 66214. Phone: (913) 752-3400. Fax: (913) 752-3539. Website: www.unclemikes.com.
ASYM Introduces New 9mm Solid Defense X Ammo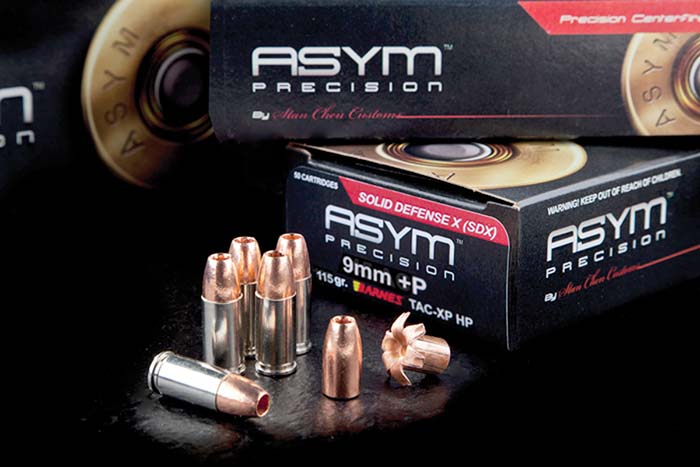 ASYM Precision announces the release of its new 9mm SDX Solid Defense X personal protection ammunition featuring the ultra-premium 115 grain Barnes solid copper TAC-XP bullet. The new ammunition was designed for maximum performance in today's compact 9mm concealed carry firearms. The new ASYM 9mm SDX ammunition uses only premium components including the Barnes bullet. Offering the very best in fight-stopping terminal performance, this bullet delivers complete reliability and immediate expansion, even through heavy clothing. It delivers optimal penetration and nearly 100% weight retention. The Barnes TAC-XP bullet also offers the best in class performance through intermediate barriers such as auto glass and steel. As the bullet is a monolithic solid, there is no chance that a lead core will separate from a copper jacket. Extensively tested, this load was developed to pass all FBI protocol ballistic testing standards. Of particular interest to shooters using compact 9mm pistols for personal protection, this phenomenal bullet is designed to fully expand and perform even at the lower velocities that shorter barrels yield. The load generates 1,200 feet per second, and 368 ft. lbs. of energy from a 4 inch barrel. Full expansion occurs at approximately 950 fps and above, so even when fired from a short-barreled compact pistol, this load delivers the performance needed for effective personal protection. Built from the ground up, the new 9mm SDX Solid Defense X is a +P load assembled on state-of-the-art equipment customized to ASYM's exacting standards. To insure ultimate reliability, each round is hand-inspected and individually chamber checked as part of an industry leading quality control process that insures outstanding performance from all ASYM ammunition. The 9mm Solid Defense X ammunition will be available in boxes of 20 rounds at a retail price of $28.90 at their online retailers and from their website. You can reach them at ASYM Precision Ammunition, P.O. Box 2016, Durango, CO 81301. Phone: (970) 385-7900. Website: www.asym-ammo.com.
This article first appeared in Small Arms Review V16N4 (December 2012)