By Chris A. Choat

Laserlyte V4 Compact Laser Now Available In Tan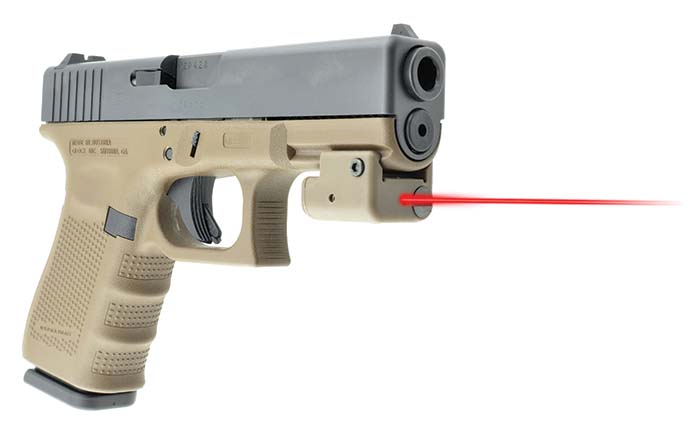 LaserLyte, innovators in firearm laser technologies, including the best-selling LaserLyte V4 laser (FSL-4) that fits on less than one-inch of a Picatinny rail in front of the trigger guard on any full size handgun, is proud to announce the new FSL-4T in tan glass filled nylon. The color is injection molded in the laser form and not painted on, unlike many pistol laser imitators on the market. This laser is made with a durable 55% glass-filled nylon body for long-term durability with an inner aluminum core that keeps the laser accurate at all times. The new no-snag, contoured lines allow the user to quickly draw and re-holster without catching, and with less bulk, reduces printing in concealed carry situations. The new V4 Tan laser with its slimmer, smaller form, blends into the gun form yet is easily activated by the user at just a touch of the finger. The V4 Tan laser is easily mounted on a one-inch or less Picatinny rail with a crossbar screw. An auto-off feature prevents accidental activation of the laser and prevents unnecessary battery depletion. The laser has programmable modes that enable dual mode, constant on and pulse mode. The V4 Tan laser is ambidextrous and operates on four 392 batteries. It has a battery life of 5 hours constant on and 10 hours in pulse mode. The LaserLyte V4 FSL-4T laser gets sport shooters and professionals on the target faster, increasing accuracy and overall hits. It has a retail price of $109.95. For more information, visit www.laserlyte.com.


Magnum Research Introduces New MLR Ultra .22 LR Rimfire Rifle



Magnum Research, Inc. (MRI) has once again expanded their Magnum Lite rimfire rifle product line with the introduction of the MLR Ultra .22 LR with a high-tech modular tensioned-type barrel. The modular barrel means that it has been constructed utilizing a superior quality of steel for the barrel, which is attached to stainless steel breech and muzzle caps inside a thin-walled aluminum construction. The Ultra barrel took over a year to develop internally at Magnum Research and was extensively tested utilizing a variety of ammunition. When tested for accuracy against similarly constructed barrels, the Ultra barrel out-shoots them significantly. Part of the reason for this is the patented heat sink located strategically inside the Ultra barrel itself.

The MLR22ATU measures 36-1/8-inches in length and weighs just 4 lbs. 8 oz. Barrel length is 18 inches. Features include 1 in 16 twist, Bentz chamber, ambidextrous thumbhole stock design with a comb designed for scope use, integral Weaver type scope mount base on the receiver, extended magazine release, swivel studs and checkering on the palm swell grip. The length of pull is 13-5/8". The barrel is black anodized aluminum and has stainless steel breech and muzzle caps. MSRP on the MLR22ATU is $544. A similar model to the MLR22ATU is the MLRATUT. The difference between the two rifles is that the MLR22ATUT can accommodate a suppressor and has muzzle threads of 1/2 x 28. It is supplied with a thread protector. The weight is the same, but the overall length is 36-5/8 inches and barrel length is 18-1/2 inches. Both rifles utilize the 10/22 trigger group and 10/22 rotary magazines. MSRP on the MLR22ATUT is $571. Both barrels are also sold separately for upgrading 10/22 rifles. For more information contact www.magnumresearch.com.


Millet Tactical Introduces: Three New Red Dot Sights


Millett, a performance-driven and trusted brand in the shooting industry for decades, has announced the release of three new tactical red dot sights. The new M-Force, M-Pulse and Speed Point red dot sights from Millett provide shooters with a versatile selection of precision sighting options equipped for a variety of shooting disciplines. The M-Force features a 5 MOA red dot with a fully-coated fixed power optic for a bright sight picture and quick target acquisition. Constructed with a durable 30mm tube, the M-Force comes with flip-open scope caps and a one-piece, tool-free cantilever mount for optimum sight height and quick installation on AR rifles. The high-quality, all-aluminum constructed M-Pulse features a self-adjusting 5 MOA red dot that illuminates in harmony with ambient light conditions. The sight, which includes a tool-free high rise mount ideal for AR platforms, activates once the sight cover is removed and offers versatility across a broad range of light conditions. The affordable Speed Point works great as a single sighting system or in conjunction with other sights. Featuring fully-coated optics and a 5 MOA red dot, the Speed Point offers a bright sight picture and rapid target acquisition at a variety of ranges. It comes with high tactical rings for proper alignment on AR platforms. This new red dot collection from Millett ranges in price (MSRP) from $90.95 for the Speed Point to $220.95 for the M-Force and $259.95 for the M-Pulse. For more information about Millett and its complete line of mounting systems and high-performance tactical optics, visit www.milletsights.com.


Daniel Defense Releases New Firearms And Keymod Rail System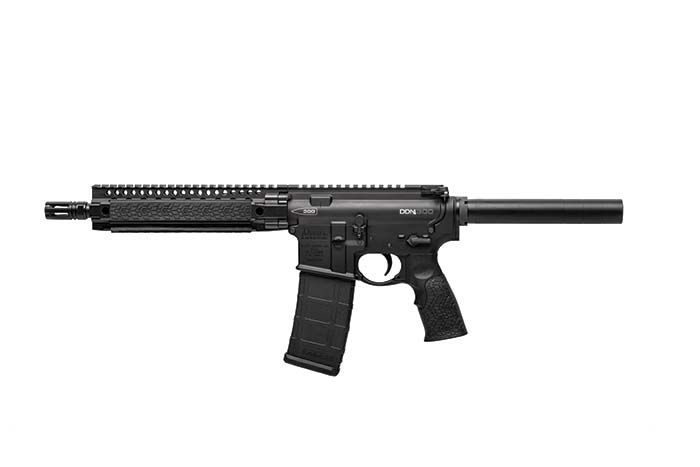 Daniel Defense, engineering and manufacturing the world's finest firearms, precision rail systems and accessories, has announced several new product releases. These include the DDM4v11 series rifles, the MK18 pistol and .300 Blackout pistol variants. Daniel Defense introduces the DDM4v11 series of rifles with the newly designed SLiM Rail 15.0, their first rail system featuring the KeyMod attachment system. The V11 is available with the 16-inch Government, 16-inch Lightweight, or 18-inch Strength-to-Weight (S2W) barrel. The SLiM Rail, which is an acronym for Slim Lightweight Modular, will be available for individual sale at a later date.

Simultaneously, Daniel Defense is releasing the MK18 pistol and .300 Blackout pistol. A recent ATF ruling making it easier to possess an AR pistol, and extended approval times for NFA tax stamps, has driven demand for the pistol variant. The MK18 pistol is very similar to the MK18 factory SBR-popular in the law enforcement and special operations communities with a 10.3-inch barrel that is classified as an SBR (short-barreled rifle) under the National Firearms Act. The .300 Blackout pistol, chambered in .300 AAC Blackout, also comes with a 10.3-inch barrel. Both pistols are designed with a 1.15-inch diameter pistol receiver extension opposed to a Mil-Spec receiver extension and buttstock and are not NFA regulated items. For more information contact them at www.danieldefense.com


Savage Arms Expand Line of Suppressor Ready Rifles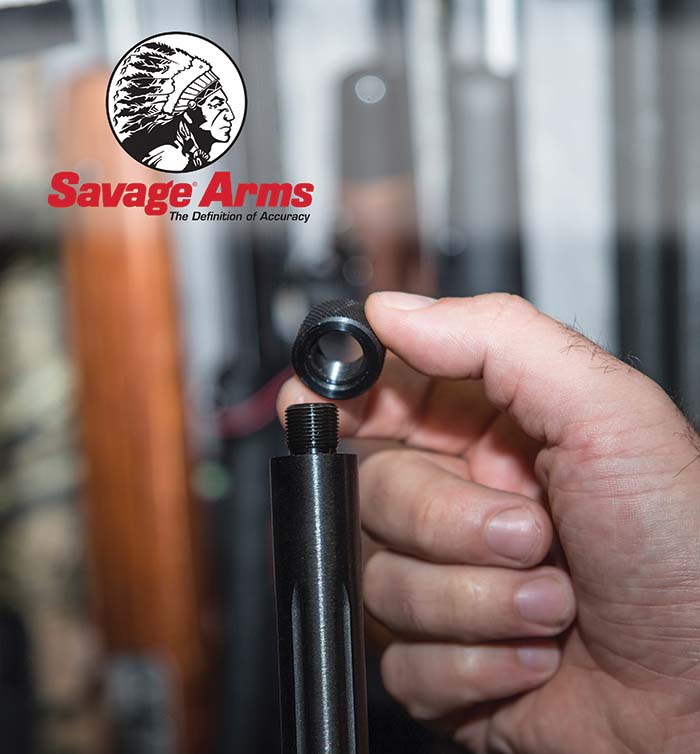 Savage Arms continues to offer a broad lineup of suppressor-ready rifles for shooters and hunters who want to reduce firearm noise at the range or in the field. Savage expands its line of suppressor-ready rimfire firearms with three new rifles: Model 93 FV-SR in .22 WMR, Model 93R17 FV-SR in .17 HMR, and Model 64 FV-SR in .22 LR. These new models give hunters and plinkers accurate rifle platforms ready to accept after-market suppressors with ease. The popularity of suppressors continues its rapid climb as more shooters and hunters see the benefit of reducing firearm noise at the range or in the field. For years, Savage Arms has been serving these shooters by offering several firearms with threaded muzzles that easily accommodate aftermarket suppressors. For 2014, Savage expands this lineup with three new suppressor-ready rifles that deliver quality and accuracy, yet are priced to deliver value. The bolt-action Model 93 FV-SR chambered in .22 WMR and Model 93R17 FV-SR chambered in .17 HMR weigh 5.5 pounds. Other specifications include overall length of 35.25 inches, and barrel length of 16.5 inches. Each are equipped with a heavy, fluted barrel that improves accuracy and dissipates heat quickly, an easy-to-use oversized bolt handle, and a 5-round detachable magazine, as well as Savage Arm's legendary, user-adjustable AccuTrigger. The 93R17 FV-SR has a rate of twist of 1-in-9 inches, and the 93 FV-SR has 1-in-16 inches. The semiautomatic Model 64 FV-SR chambered in .22 Long Rifle weighs 5 pounds. Other specifications include a rate of twist of 1-in-16 inches, overall length of 36 inches, and barrel length of 16.5 inches. It is equipped with a 10-round detachable magazine. All three rifles feature a 1/2-inch, 28-pitch threaded muzzle with a twist-off thread protector; buttoned-rifled, carbon steel barrel; one-piece optic/accessory rail; checkered synthetic stock and black matte finish. For more information you can contact them at www.savagearms.com.


New SAM7K Pistol With Sig Stabilizing Brace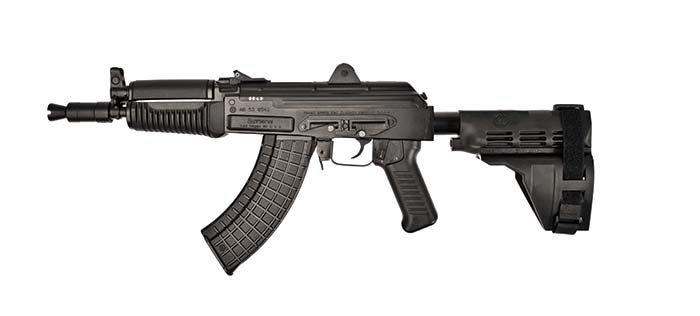 Arsenal, Inc. is introducing a new configuration to their successful line of Bulgarian-made SAM7K 7.62×39 caliber pistols, now with SIG Sauer's SB15 pistol stabilizing brace. The first variation of the SAM7K pistol was introduced in 2013, and became an instant success. The SAM7K pistol is manufactured with Arsenal's exclusive forged then milled receiver, original Bulgarian hammer forged chrome lined barrel, flip-adjustable peep rear sight, and ambidextrous safety lever. The SIG-Sauer SB15 pistol stabilizing brace used on the SAM7K-03 is a veteran-designed aid that is made to improve the single-handed shooting performance of a pistol. By using the operator's forearm, it provides a stable support to reduce felt recoil and minimize accuracy-robbing spin and shift. The stabilizing brace sits on the receiver extension, and the flexible cuff with two adjustable nylon straps allows the brace to be custom fit to any user. The receiver extension has a water proof storage compartment with a sealing threaded cap. It is accessible when the brace is removed or pushed all the way forward. The SAM7K-03 pistol is ideal for sport shooting, self-defense, and handgun hunting. The SAM7K-03 has an MSRP of $1,199 and is now available through their dealers and retail outlets. The SB15 Pistol Stabilizing Brace is manufactured and provided by SIG Sauer. This product has been reviewed by the BATFE and was determined that it does not alter the classification of the firearm or subject the firearm to NFA control. SIG Sauer donates $3 of every SB15 sold to support the veterans of HAVA. You can find more information at www.arsenalinc.com.
This article first appeared in Small Arms Review V19N2 (March 2015)