By Chris A. Choat
Serious Stopping Ammunition from G2 Research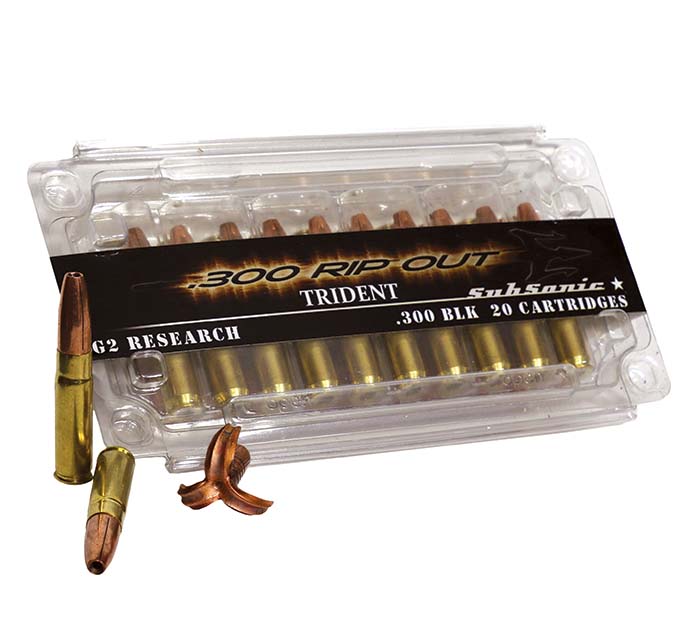 G2 Research announces a new subsonic .300 AAC Blackout-caliber round for hunting or tactical use. The new G2 Research 300 Ripout Round produces a massive wound channel that ensures hunters of an accurate, sure and swift kill. This new subsonic (suppressor-friendly), premium-grade, 200-grain .30 caliber round quickly expands at reduced velocities, creating a devastating, energy-depositing wound channel of one inch or more. Bullet weight retention is an astounding 98 to 100 percent, which creates more than 17 inches of soft tissue penetration. Free from the massively overdone hydrostatic shock prevalent in so many of today's ultra-high-velocity loads, the sub-sonic G2 Research 300 Ripout Round will kill 'em quick and quietly without turning good game meat into useless jelly. Individually manufactured in highly specialized CNC machines, each expensive-to-make bullet is precision machined to open up within the first two to three inches of impact, resulting in a controlled expansion of three large copper petals called tridents that make up the first half of the bullet. (A .30 caliber bullet, for example, will expand between 1 and 1.5 inches while the bullet shank remains attached for controlled penetration even at subsonic velocity.) The new Ripout round has a velocity of 1,020 feet per second and has a retail price of $54.99 for a 20 round box. You can get more information at www.G2Rammo.com.
IWI US Brings Back the Legendary Jericho Pistol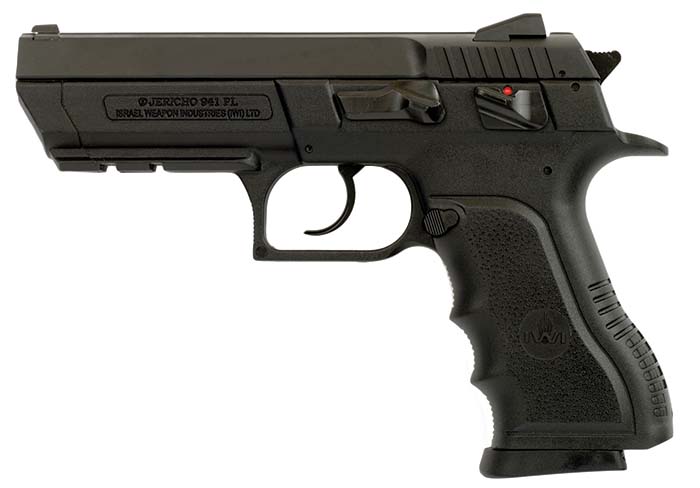 IWI US, Inc., a subsidiary of Israel Weapon Industries (IWI) Ltd., proudly announce the return of the Jericho brand of pistols to the U.S. market. The Jericho 941, designed specifically for the U.S. market, will be available in both steel frame and polymer frame models. Since it was originally designed based upon the highly regarded CZ-75 model, the Jericho has been imported into the U.S. under several names including Jericho 941 from KBI when first introduced, UZI Eagle from Mossberg and Magnum Research's Baby Eagle. IWI US is pleased that the Jericho 941 has come full circle and arrived home. The Jericho 941 steel frame, semi-auto, short-recoil model will be available in full-size and semi-compact in 9mm, .40 S&W and .45 ACP caliber. The pistol features adjustable sights, an integral Mil-Std 1913 rail, an ergonomic grooved pistol grip and ships with 2 magazines in a lockable carry case. The Jericho 941 polymer frame with steel slide, semi-auto, short recoil model is also available in 9mm, .40 S&W and .45 ACP calibers in a full-size and semi-compact frame. All features are the same in the polymer version with the benefit of reduced weight. Unlike the Baby Eagle, UZI Eagle and earlier versions of the Jericho 941 imported by KBI that had a slide mounted de-cocker system, this new Jericho 941 utilizes the more desirable frame mounted safety, a la CZ75.
Jericho 941 pistols are used by civilians and elite forces around the world including the Israeli police. IWI US will also carry CO, CT, DC, HI, IL, MD, NJ and NY compliant pistols with 10-round magazines (no models available for CA and MA). For more information contact them at www.iwi.us.
Krebs Custom Flash Suppressor For AR Pattern Rifles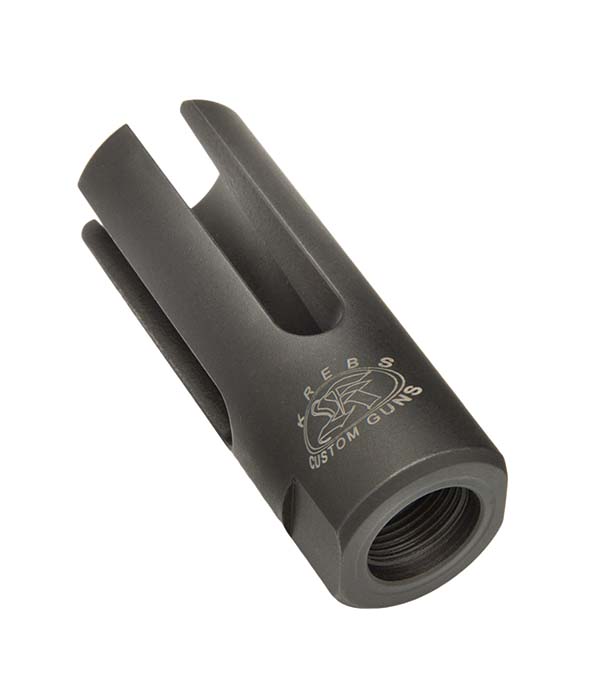 Krebs Custom is now producing its very effective 4-prong flash suppressor for installation on AR-pattern rifles. Threaded 1/2-28 for rifles in 5.56/.223 caliber, these 2.25-inch, 2.5 oz. flash suppressors are made from heat-treated 4140 steel for durability, with a black oxide finish. Flat sections on either side permit the use of a wrench, and a "crush" washer is included to keep the unit in place. Retail price for these new flash suppressors is $70. They can be reached at www.krebscustom.com.
New Techna Clip for Handguns Offer Ultimate Concealed Carry
Even the best conceal carry holsters add unnecessary bulk and weight. Techna Clip offers an excellent alternative for conceal carrying a gun that is even more comfortable. Gun belt clips also make any firearm much easier to truly conceal while in public. If you are ready for an incredibly comfortable and unbelievably discreet method for concealing your pistol – then witness the Techna Clip – a truly minimalist solution for those who conceal carry. It's a concealable gun clip that easily attaches to your sidearm to deliver a secure, lightweight and discreet carry option – without a holster. The Techna Clip installs in just moments, with no modification to your firearm. Securely conceal your pistol in your pocket, inside your waistband, or even in the small of your back – with confidence. The "zero-bulk" design of the Techna clip allows users to securely attach a gun to their belt, pocket, or waistband. Users experience maximum comfort with these lightweight clips. The Clips are constructed of high quality carbon spring steel with a Black Teflon coat that will not mar the finish of the handgun. Techna Clip make these clips for a wide range of gun models. Techna Clips are 100% satisfaction guaranteed. For more information, visit their website at: www.Technaclip.com.
New Tripod Shooting System from Ashbury Precision Ordnance
Ashbury Precision Ordnance (APO) Manufacturing introduces the new RSTA-II Tripod Shooting System for Rifle Sports focusing on long range hunting, practical/tactical rifle competition, and professional marksmen. The RSTA-II Tripod Shooting System allows long gun users to shoot from a variety of alternate shooting positions while standing, kneeling or sitting whether on flat ground, rock strewn, steep mountainous or complex urban terrain. The 1.1 pound RSTA-II Tripod Head allows users to position long guns using the Rapid Control Handle (RCH), which can be set up for either right or left hand control. This versatile tripod head provides a positive locking ±35 degree head that can securely hold a 25+lb long gun using a 6 o'clock accessory rail grabber, Pig Saddle or APO AnyPoint Bipod/Tripod Mount. RSTA-II Tripod Shooting Systems offer users a maximum shooting height of approximately 68 inches and collapses to approximately 29 inches using Quick Power Lock leg latches. The standard duty RSTA-II Tripod Shooting System uses the stable, yet lightweight Manfrotto 190XPROB alloy tripod base that is suggested for long guns up to 15lbs. This tripod base uses 3-section legs that collapse into a highly portable field shooting platform at only 5.5 lbs. The extreme duty version of the RSTA-II uses the Manfrotto 055XPROB, a heavy duty tripod base with larger diameter 3-section tripod legs weighing 6.6 lbs. that flexes less under heavier loads of up to 20 or more pounds. The RSTA-II allows shooters to track, lock and when ready accurately engage distant targets without fatigue. In rugged field testing for more than 18 months RSTA-II Tripod Shooting Systems were live fire tested with a wide range of rifles including the M107 .50BMG. Long-gun shooters can interchangeably mount semiautomatic carbines, shotguns, and a wide range of hunting and tactical rifles on RSTA-II Shooting Tripod platforms. Variable power spotting scopes are also easily mounted on the RSTA-II platform using the common 1/4×20 detachable baseplate, or clamped snugly inside the Pig Saddle. One tripod system, many uses. For more information go to www.ashburyprecisionordnance.com
Recover Tactical Offers Rail Grip for Bereta 92/96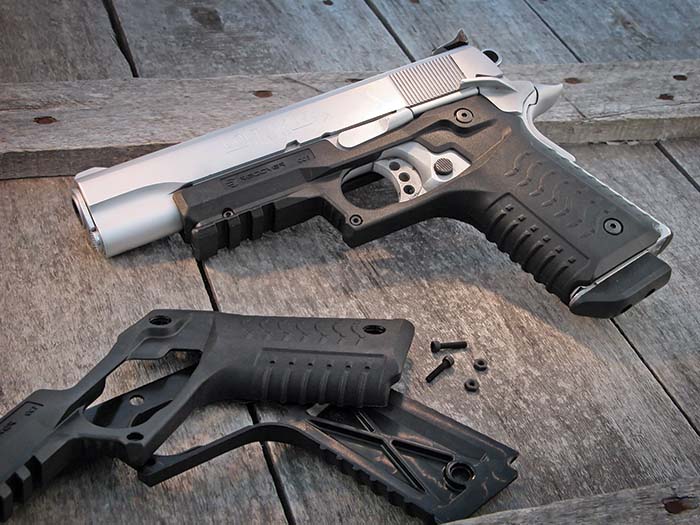 Recover Tactical is proud to announce the release of the new Recover BC2 grip and rail system for the Beretta 92/96 series of pistols. The Beretta grip and rail system follows on the success of Recover's CC3 grip and rail for 1911s. The patented design of the BC2 adds a fully functional Picatinny rail to the Beretta and can be easily installed in about three minutes without a gunsmith. Just like Recover's popular 1911 grips, the new Beretta BC2 grip and rail system was design by world renowned Israeli weapons designer Tamir Porat (Porat also designed the IWI Tavor assault rifle). The BC2 grip is manufactured in Israel from the same high-grade, glass-reinforced polymer used by many polymer gun manufacturers. The Recover BC2 will not scratch or damage your gun. Weighing in at only about 65 grams it will not significantly change the weight of your gun or the thickness of the grip. The Recover Beretta grip and rail system is currently available in black, desert sand, OD green and digital camo and comes with a limited lifetime warranty. Retailing for only $49.99, the BC2 is the easiest and most affordable way to add a full Picatinny rail to a Beretta. Visit them at www.recovertactical.com.
Italian Gun Grease Offers Tactical Lubricant for Extreme Conditions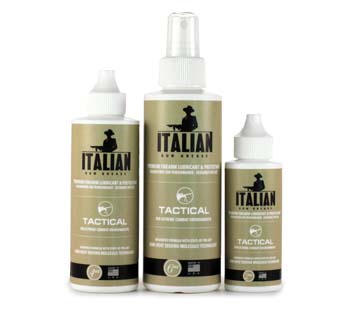 Italian Gun Grease (IGG), leaders in the field of firearms lubricants and cleaners, offer shooting enthusiasts its Tactical Lubricant Formula. Italian Gun Grease's Tactical Lubricant was engineered for use in extreme conditions, conditions that other lubricants simply can't handle. In a combat situation or shooting competition it's important that your gun shoots straight and fast every time. The Tactical Formula penetrates deep into the metal itself leaving a slick surface that inhibits carbon, copper and lead build up. Italian Gun Grease's Tactical Lubricant reduces friction, increases muzzle velocity, lowers standard deviation, reduces malfunctions and extends the life of a firearm. The Tactical Formula uses state-of-the-art HSM Technology (heat seeking molecule) and it won't burn off in even the most extreme temperatures. It has a working temperature of -40 to 1,000 degrees. The Tactical Lubricant Formula is available in various amounts starting at the 2 ounce size. The 2 ounce size MSRP is $7.95. For more information, visit www.italiangungrease.com.
This article first appeared in Small Arms Review V19N3 (April 2015)