The Mini Thirty "Tactical" evaluated sports a 16.1 inch hammer forged medium profile barrel with flash hider and 1:10 twist. It weighs in at approximately 6.75 pounds and measures 36.75 inches in length.
By Todd Burgreen
There are different ways to address weapon needs besides following the well worn AR or AK path. This is especially true when it comes to a weapon intended more for general purpose civilian use than pure military application. There are hidden "gems" available to someone willing to explore the subject in depth. When it comes to a survival situation, multipurpose is not just a marketing "buzz" word, but an absolute necessity to maximize limited logistic support. A weapon worthy of being labeled a "gem" in these parameters is the Ruger Mini Thirty chambered in 7.62×39. The Mini Thirty is derived from the earlier Ruger Mini-14 introduction.
The Ruger Mini-14 rifle has been around for 40 years now. This is a testament to both its sound design and popular appeal. For a reader who has just landed on the planet or a new member of the gun culture, the Ruger Mini-14 is a semiautomatic, clip fed, gas operated rifle chambered for .223 Rem (also 7.62×39 and 6.8 SPC) and resembles a scaled down M14 service rifle. The M14, and subsequently the Ruger Mini-14, shares an operating system lineage dating back to the legendary M1 Garand. The Mini-14 was designed by L. James Sullivan and William B. Ruger with a reliance on Ruger's specialty of investment casting and heat-treated receiver. A version of the M1/M14 rifle locking mechanism with a self-cleaning, fixed-piston gas system is adapted for use with the Mini-14. As described in its manual, the Mini-14 features a "simple, rugged Garand-style breechbolt locking system, with a fixed-piston gas system and self-cleaning, moving gas cylinder." In the words of General Patton, the M1 Garand was, "…the greatest battle implement ever devised…" This is pretty high praise and provides the Mini-14 with an auspicious family tree.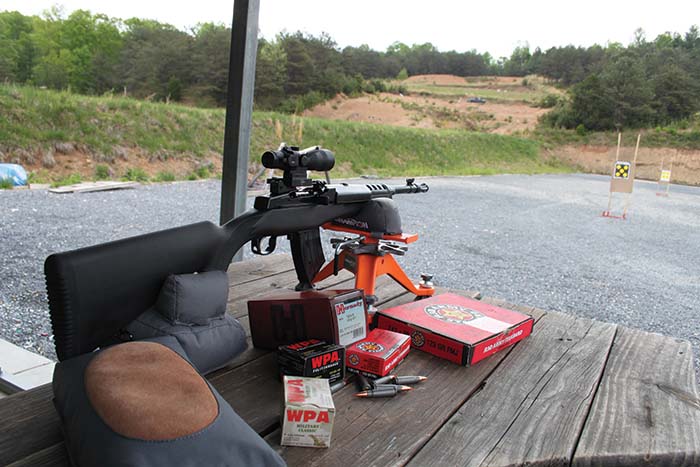 The Mini-14 is renowned for ultra-reliability and robustness; a characteristic of most Ruger designs. Personal experience has involved different model Mini-14s over the years. The first Mini-14 experimented with was a folding stock model that, unfortunately, is no longer offered. Second was a Ranch model, and then a Mini-14 Target. All proved rugged and reliable no matter what ammunition was fed them. Each had great handling characteristics. We can only speculate on what might have been for the Ruger Mini-14 design if it had come out before the AR-15. Especially now, with recent AR-15 designs incorporating piston driven designs for increased reliability reasons. The variant evaluated herein is the Ruger Mini Thirty "Tactical" chambered in 7.62×39. The official nomenclature for the Tactical Mini Thirty is Model #5854 in the Ruger catalogue.
In 2003, Ruger overhauled the Mini-14 production process with an eighteen month shutdown in Mini-14 production line with a focus on improving accuracy, an often heard complaint with the Mini-14, and update the styling. Most important here was the investment in new cold hammer forging machinery for the production of barrels. The same machines had been churning out Mini-14 for thirty plus years and the Ruger hierarchy decided that retooling was necessary. This was a business decision that paid dividends for Ruger by addressing the Mini-14's bad rap for accuracy. In 2005, the Mini-14 was tweaked with a modified gas system designed to reduce barrel vibration for further improvement in the accuracy department. The Mini Thirty benefitted from these improvements. Late 2007, Ruger added a heavier tapered barrel model to the Mini series of rifles. This barrel has an overall larger diameter with the barrel visibly becoming thicker in the final inches as the barrel approaches the gas block from the muzzle.

The Mini Thirty's upgrade in caliber appeals to many in terms of terminal ballistics. Lessons rediscovered in Iraq and Afghanistan about terminal ballistics are enhancing 7.62×39 credentials. 7.62×39 loads ranging from 122g-154gr FMJ, HP, and SP perform very similar to the popular .30-30 in terms of ballistic performance. A recently introduced Hornady 123gr SST offering is further proof that the 7.62×39 has come to stay in the U.S. The Mini Thirty's gas-piston operating system is a benchmark in terms of reliability for other actions. A key component in the Mini Thirty design is the looser tolerances compared to an AR-15 in its moving parts, giving it more latitude to function when dirty from field conditions or hot and grimy after firing numerous rounds over extended amounts of time. This translates into reduced sensitivity to debris in the action and ultimately lower maintenance requirements to keep it functioning.
Many firearm aficionados agree that the Mini Thirty has much going for it in terms of reliability, handling, and firepower. Inconsistent accuracy was the great knock against Ruger Mini-14s before the Ruger upgrades. In fact, if you do a comparison of the Mini Thirty to the AR-15, which is inevitable, the Mini Thirty seems superior except for the accuracy department. For example, many proponents of the Mini Thirty offer the following discussion points: 1) The Mini Thirty does not have hot gases dumped into the bolt due to it utilizing a self-cleaning operating rod mechanism that minimizes heat and carbon buildup. 2) The Mini Thirty has a case hardened all steel receiver compared to aluminum alloy on the AR-15. 3) The rotating bolt is not confined inside the receiver in its operation making it much more forgiving in dirty environments. 4) The superior terminal punch of the 7.62×39 is touted as making it a better all around chambering for a rifle that may be pressed into duty against four legged adversary as well as two. All of these Mini Thirty features make you pause and reconsider preconceived notions.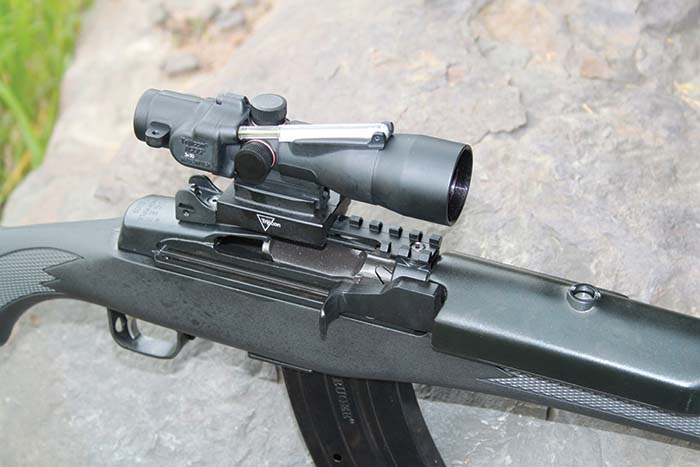 The Mini Thirty was initially introduced in 1987; there are three models of the Mini Thirty in the current Ruger catalogue with differences in barrel length, thickness and stainless versus blue metal. The Mini Thirty "Tactical" (Model #5854) evaluated sports a 16.1 inch hammer forged medium profile barrel with flash hider and 1:10 twist. The Mini Thirty weighs in at approximately 6.75 pounds measures 36.75 inches in length. Two twenty-round magazines are supplied with the rifle. The Mini Thirty is equipped with aperture style open sights and comes with the signature Ruger scope bases machined directly in the receiver and a set of stainless steel 1-inch scope rings. The Mini Thirty features an installable Picatinny rail section for mounting optics or other aiming devices. Recent trends in fighting rifles would indicate the design intent for the Mini Thirty is to mount some sort of low powered magnified optic or red dot as the primary sighting tool. It was decided that a magnified optic would better serve the Mini Thirty's capabilities. Another important feature related to mounting a scope is that the Mini Thirty ejects brass out the side allowing for a scope to be mounted as low as possible. The Mini Thirty's trigger measured 6 pounds with only minimal creep. While not a gilt edge trigger, this is more than acceptable.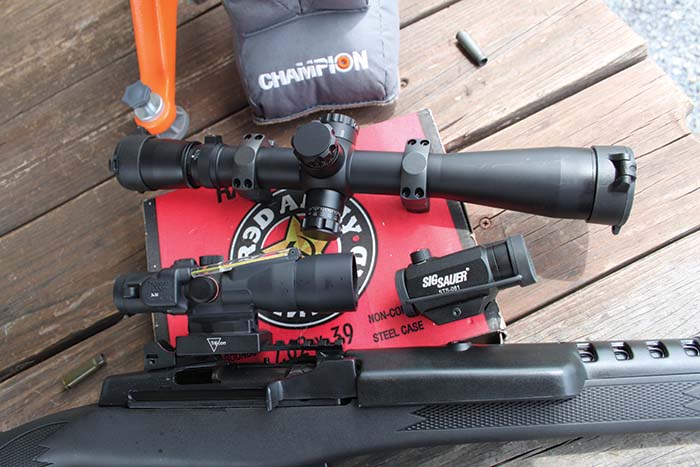 Anyone looking for a hard-hitting high capacity carbine will appreciate the Ruger Mini Thirty. The functionality of a rifle utilizing a proven gas operating rod system with a heritage tied to the legendary M1 Garand is hard to deny. Ruger manufacturing quality combined with the means to mount an optic of choice on the Mini Thirty represents an enhancement for anyone considering the 7.62×39 cartridge. The Ruger Mini Thirty with its 16 inch barrel and relatively light weight offers excellent handling and maneuverability. Thus, no matter the situation one may find his/herself in, whether it is a rural setting with longer distances encountered or more urban requiring CQB style tactics the Ruger Mini Thirty can satisfy the mission.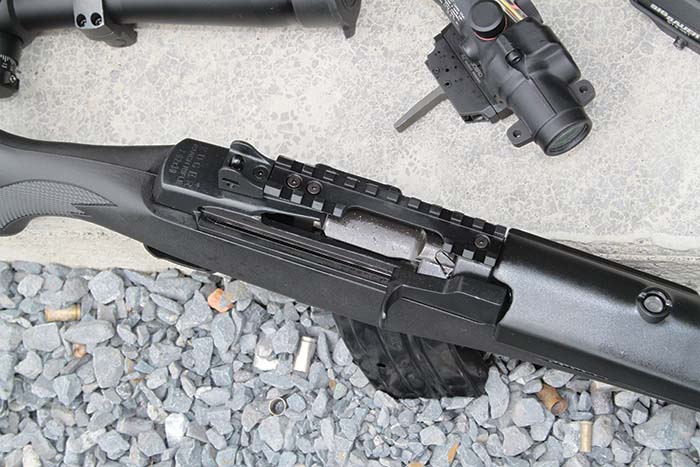 It was decided to take full advantage of the Mini Thirty's Picatinny rail upper by mounting an optic during testing. A Trijicon TA 31 3x ACOG with reticle calibrated for 7.62×39 trajectory was mounted on the Mini Thirty. The typical ACOG mount did not work properly in terms of height above receiver negatively affecting cheekweld. Trijicon offers a lower quick release mount for use with the Mini Thirty's Picatinny rail. The mount weighs only 2.7 ounces and provides a 1.37 inch height above mount to optical axis. The mount is CNC machined from 6061 T6 aluminum. The Trijicon ACOG offers the capability to engage multiple targets in rapid sequence compared to open sights, while at the same time providing adequate accuracy out to a couple hundred yards. The Trijicon reticle superimposes an aim point on the target while not totally obscuring the target due to the center dots not being that large. As many maturing shooters can attest to, the single focus plane reticle is easier to shoot accurately than coordinating front and rear sights. The Trijicon is an ideal choice for use on the Mini Thirty. The 7.62×39 round's trajectory is conducive to making hits out to 300 yards without having to resort to excessive hold over; 3 inches high at 100 yards produces a 200 yard zero with -15 inches at 300 yards. The Trijicon's reticle further simplifies the process of connecting with your target.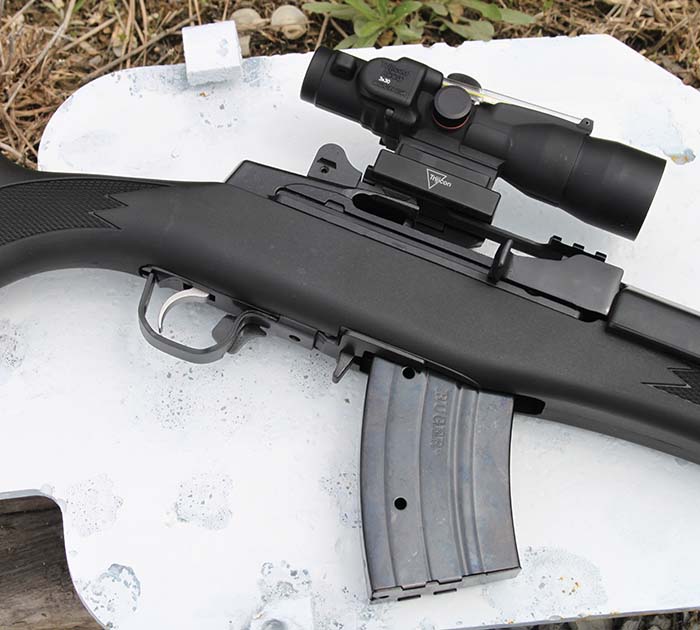 Multiple 7.62×39 loads were tested with the Mini Thirty such as Hornady, Century Red Army Standard, and Wolf. Century and Wolf steel cased 123 grain loads hovered in the 3-4 inch range at 100 yards. The Hornady 123 grain SST loads delivered accuracy in the 2 inch range at 100 yards. The Ruger Mini Thirty combined with quality optics mated to quality ammunition in the form of the Hornady 123gr SST is what many 7.62×39 connoisseurs should reconsider in using. There are many pages written in magazines and on various internet forums about what it would take to turn the 7.62×39 into more of a general purpose rifle. The hold-up to more effective use of the cartridge at ranges past 100 yards usually revolves around solid scope mounting and ammunition of greater quality than what is offered in the surplus realm. The Mini Thirty solves this conundrum.
The Ruger Mini Thirty had several hundred rounds fired through it for this article. No issues were encountered in terms of reliability; overall accuracy and shootability were pleasant surprises. Magazine change drills turned out to be more AK like than AR in terms of manipulation techniques due to need to rock Mini Thirty magazines into place. The Mini Thirty does have a bolt hold open feature after the last round is fired; an improvement over most AK rifles. After getting the magazine in place one needs to either reach over or under the rifle with your left hand to work the bolt recharging the chamber, or tilt the rifle over with the right hand and work action with left hand, or switch rifle over to left hand and work bolt with right hand. None of these techniques were particularly hard to master, but different from what dyed-in-the-wool AR operators are accustomed to. A word of hard learned experience with reloading the Ruger Mini Thirty in that the windage knob on any turret style scope dictates an underneath finger pull action on the Mini Thirty's bolt handle versus a more aggressive over the top "grip-n-rip" style.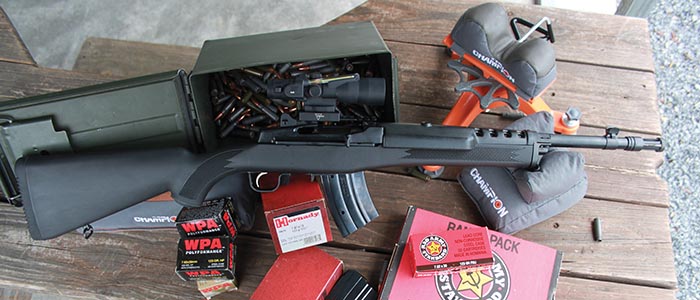 Many custom AKs seek to remedy known AK shortcomings in terms of mounting optics over the receiver and creating rifles that are capable of a higher degree of accuracy. The Mini Thirty achieves these AK improvements out of the box for much less of an investment and generally better overall performance. On the AR front, the Mini Thirty's reliability and harder hitting potential thanks to the 7.62×39 cartridge trumps 5.56mm performance. Think of all the effort involved with bringing the 6.8 SPC, 6.5 Grendel, and .300 Blackout/Whisper to the market to address AR ballistic weaknesses. A user can take advantage of recent 7.62×39 ammunition improvements typified by Hornady and Corbon loadings; while still maintaining capability to access surplus ammunition and other established manufactures such as Century, Wolf, Tula, and Silver Bear. One potential con with the Mini Thirty that needs mentioned is its use of a proprietary Ruger magazine versus the more prolific and less expensive 30-round AK magazine. Ruger factory Mini Thirty magazines are available in the $40 range which still allow for a user to acquire enough to support their Mini Thirty if committed to focusing on its use.
The Ruger Mini Thirty is worthy of serious consideration for anyone needing to focus effort on one rifle fulfilling a general purpose role. The Ruger Mini Thirty takes the best from the M1 and M14 design and incorporates it into one platform. The Mini Thirty is an alternate path from either AK or AR; Mini Thirty's own distinct aesthetics is a further benefit to anyone concerned with being labeled by using an AR or AK profile weapon. The Mini Thirty certainly would not have the same threatening appearance, yet offer all of the same virtues of the other more popular assault rifles.
Sites of Interest
Sturm, Ruger & Co., Inc.
www.ruger.com
Echo Valley Training Center
www.echovalleytrainingcenter.com
Hornady Mfg., Inc.
www.hornady.com
Century International Arms
www.centuryarms.com
Wolf Ammunition
www.wolfammo.com
Trijicon Inc.
www.trijicon.com
This article first appeared in Small Arms Review V19N3 (April 2015)