By Jeff Folloder
The National Firearms Act Trade and Collectors Association has always endeavored to work cooperatively with all of the moving pieces of the National Firearms Act (NFA) community in order to make more NFA opportunities available to more people, more often. This is not an easy path to travel. And even though one of our most ardent supporters describes us as "surprisingly effective," we know that much of what we do is a long, slow, sometimes painful process. Time to finish can be measured in years and decades.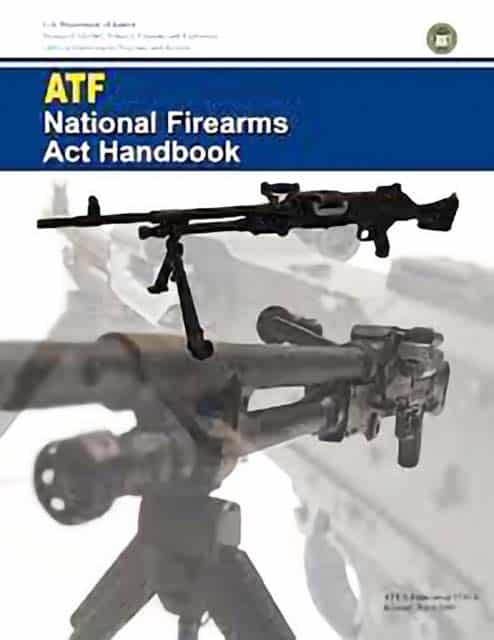 One of our very first major accomplishments was the NFA Handbook. Way back in 2007, it became painfully clear to the Board of Directors of NFATCA that the general public was having a difficult time understanding all the meanings and implications of the ocean of regulations that concern NFA. We also acknowledged that there was a certain amount of shortcoming from the regulators themselves in their understanding, as well. The idea was floated to embark upon a comprehensive review of all of the relevant regulation, execute a Memorandum of Understanding (MOU) with ATF to begin working cooperatively and create a handbook that was less legalese and more plain English. Most folks thought us to be just few slices short of a full loaf on this project.
But we stuck with it. Lots of meetings. Lots of drafts and reviews. The lawyers stepped in and out of the project… Yet we kept at it. And in 2007 we published the very first guidebook titled ATF National Firearms Act Handbook, or "NFA Handbook," for short. It was an immediate success. It won a significant amount of praise from collectors, dealers, manufacturers, and importers and even the ATF and Department of Justice. It became the go-to reference for making sense out of the world of NFA. It was also intensely gratifying to learn that Industry Operations Investigators (IOI's) were using the reference in their day to day to activities. The success of the roll out was so profound that NFATCA formally presented the ATF with the publication and they, in turn, made it an official publication with the official designation of document 5320.8.
Like everything having to do with government regulation, the world of NFA continued to change. A few minor updates of the NFA Handbook were released, but those updates dried up fairly quickly. The NFA Handbook withstood many different White House administrations, but stayed substantially the same. There was a desire to do comprehensive updates. Unfortunately, a lack of resources and several government restrictions on the publication of new "guidance" meant that the NFA Handbook had grown a bit stale. The NFA Handbook was in desperate need of an overhaul and it showed. The NFATCA dutifully offered many times a year to execute a new MOU and once again work cooperatively to get the updates and revisions put together and published. As many know, these types of effort are often akin to watching dry paint fade.
Yet the NFATCA kept at it. We are used to being told "no" or being told that we would revisit the issue in a few months, or next year. We knew how important the issue was. ATF knew how important the issue was. All that was needed was a perfect storm of opportunity to get the ball rolling again. January 17, 2022 was the date that things changed. It was a very long time since there had been ATF industry meetings at SHOT Show. Travel restrictions resulting from COVID were something that nobody had contemplated, yet the 2022 meetings were a go. NFATCA held a comprehensive and productive meeting with ATF senior management (while wearing masks and social distancing, of course). Once again, NFATCA brought up the desperate need for a significant NFA Handbook update  This time, we were not rebuffed! ATF committed to getting the project rolling in the short term and assigned a senior chief to oversee the endeavor. We already have a lot of notes for needed changes and updates. We know that you have ideas, too. Please send any NFA Handbook updates and suggestions to us at info@nfatca.org so that we can make sure that everyone has a voice!
The NFATCA will continue working for you on this project and many others. We all will benefit from progress, and we will stay focused on the long road. We encourage you to support us financially with memberships and donations. You can sign up online at nfatca.org. Please do so today!
This article first appeared in Small Arms Review V26N6 (JUNE/JULY 2022)