By Rob Curtis
An AR-style rifle must really stand out to get some attention these days. Aside from good looks, it's got to have hot licks, toboot. And Black Rain Ordnance's We the People custom model has both, in spades. The statement piece from one of America's premier builders of ARs brings its patriotic motif to the range with performance the Founding Fathers would applaud.
The deep laser engraving and Cerakoting really demonstrates what state-of-the-art customization means. From a distance, the artwork turns heads; but, up close, there are so many visual treats.
The Black Rain Ordnance Story
Justin Harvel, BRO's president and cofounder, started the company in 2009, growing the company from a modest beginning to an industry behemoth in the intervening 13 years. The company sold just 17 rifles in its first year; it sold more than 80,000 last year. The Missouri-based company now employs 107 people in its state-of-the-art manufacturing facility and sells guns throughout the country, and in three other countries.
Harvel chalks up the company's success to his love of guns and his ability to listen to his customers.
"I've been around guns since I could crawl," says Harvel. "I have hundreds and when I go to gun shows, I don't just look at AR-15s, I check out 30-30s and bolt actions and pistols and whatever … I just love guns."
Harvel has guns, and gun shops, in his blood. The 46-year-old says the history of his family is four gun shop owners, with three of those shops still in business. He had his own gun shop when he started BRO and his experience at the counter led him to recognize an unfilled need in the market and fill it with his own vision for what an AR could be.
"When I was standing at my gunshop counter, I knew what I wasn't getting as a dealer and I knew what my customers weren't getting, so I recognized that niche in the market and went after it. Back then, billet aluminum receivers were rare in general, and rarer on factory rifles." This was the impetus for Harvel. Since then, his company has become the number one vendor of AR-style rifles for America's biggest firearm retailer, Bass Pro Shops.
We the People
Along the way, as the brand grew, BRO made the decision to control as much of their product as they could, gradually building the capacity to make just about their entire rifle in-house. Black Rain branded parts found on these rifles aren't just a way to save money, presenting the best value to their customers, but a statement that BRO stands behind each and every part on the gun.
BRO kept sight of what drove the company's success and tapped into the market's lust for custom and semi-custom builds. Offering some of the industry's most compelling aesthetics that feature deep engraving and multi-coated Cerakote finishes, it's no secret why BRO's rifles stand out on the shelves.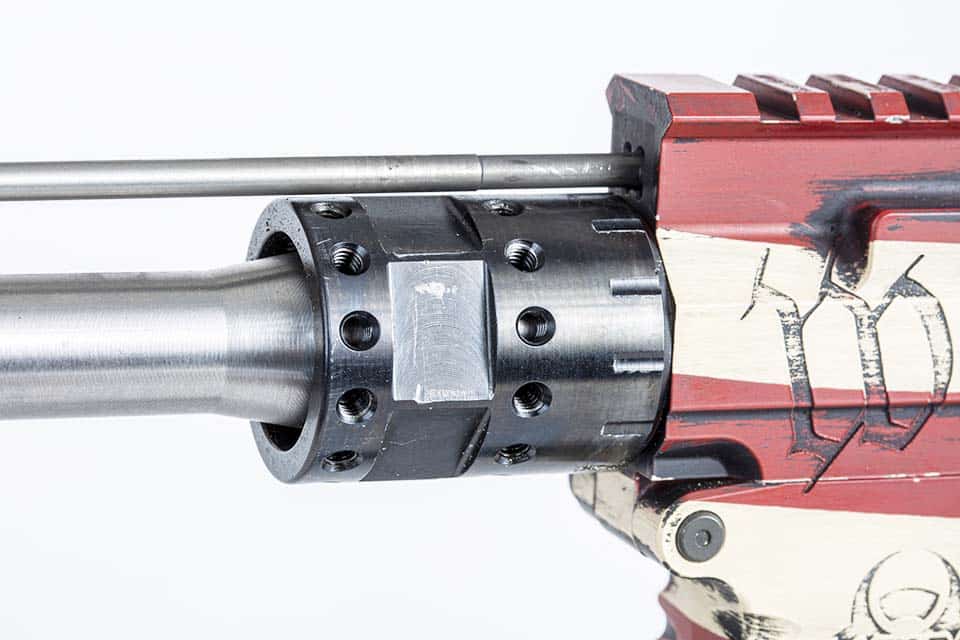 Every once in a while, BRO puts out a limited run of custom rifles. The "We the People" offering seen in this review is one of a couple hundred produced. The rifle features every high-performance bell and whistle BRO could put on it.
The top-shelf component list includes a matched billet receiver set that incorporates a flared magwell and winter trigger guard, a nickel boron bolt and bolt carrier, a 416R stainless-steel barrel, a two-chamber, port-biased compensator, a house-made 3.5-pound drop-in trigger with KNS trigger pins, a low-profile gas block, a Tac-Latch charging handle, a slimline, extended handguard, and premium Magpul furniture.
And that's not to mention the incredible "We the People" treatment that adorns the rifle's exterior. The deep laser engraving and Cerakoting really demonstrates what state-of-the-art customization means. From a distance, the artwork turns heads; but up close, there are so many visual treats. Each of the handguard and upper receiver's Pic rail surfaces are adorned with all 56 signatures found on the Declaration of Independence. The Pledge of Allegiance is engraved on the top of the handguard, and the words "Land of the Free, Home of the Brave" adorn the base of the handguard. The receivers feature deep engravings of "We the People," "One Nation Under God," with "Est. 1776" carved into the trigger guard. We've not seen a rifle that better enshrines the minuteman spirit than this red, white, and blue beauty.
And that's just what's visible. There are other homages to America's roots if you know where to look. BRO says the 18-inch handguard on the We the People actually measures out to 17.76 inches. We'll save the rest of the Easter egg spoilers for the lucky few that get to own one of these rifles.
Digging In
Taking a closer look at some of the rifle's componentry reveals BRO's ability to home in on what's important to shooters. For instance, the handguard's top is scalloped with Pic rail on the fore and aft sections. The middle dives a bit, not only allowing space for the Pledge of Allegiance, but the relief cut provides a little depth to accommodate larger scope bells that would otherwise come in contact with the handguard. It's also a slim handguard that's easy to beer-can grip for guys with normal-sized paws. M-Lok slots adorn the sides and bottom, providing ample space to mount accessories up front. We mounted a Knight's Armament bipod up front with an M-Lok to Pic rail adapter plate for our accuracy testing. We chose to leave the topside of the handguard bare, forgoing backup irons to leave the signatures of John and Samuel Adams visible on the rail.
Under the hood, guys might appreciate the barrel nut interface. BRO makes barrel changes easy enough by placing standard wrench flats on the barrel nut and using a set-screw mounted gas block.
Another huge upgrade is the rifle's nickel-boron coated bolt carrier group. After several hundred rounds of our shake-out process, we took the rifle down to parts for its photo shoot. With nothing but a microfiber cloth, the carrier wiped down to shiny metal with a couple swipes. The bolt cleaned up nicely, too, but the tail could use a little more attention with a carbon scraper to get it back to its factory shine.
The trigger is another area where this BRO build stands apart. BRO makes its own drop-in trigger. We ran it through our Dvorak TriggerScan and found it compares favorably to any number of popular aftermarket drop-in triggers. BRO claims a 3.5-pound break, but our scan shows a smooth ramp to a crisp 3.1-pound break. Looking at the scan chart, you can see it's a smooth trigger with a slight bump at about 0.48 inches, just before the break. This means the break feels less like breaking a glass rod … more like snapping a matchstick. Reset is short and tactile. We also like that BRO went the extra mile adding KNS anti-rotation trigger pins, as well.
There are only two areas where the rifle needs attention. We're fans of ambidextrous safeties. We assume a lot of other folks are, as well. So, we're not sure why BRO didn't just throw an ambi safety on the gun. Other than that, we needed some sights.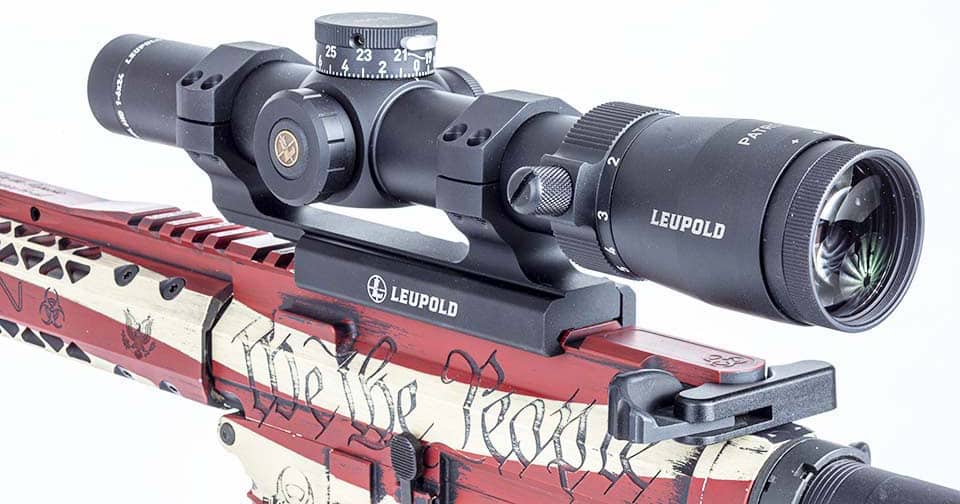 Leupold Patrol 6HD
On an 18-inch AR, we figured we'd get the most capability from a low-power, variable optic. It also only felt right to top this rifle with an American-made optic, so we chose Leupold's new Patrol 6HD. It's a second focal plane, 1-6 magnification power scope featuring Leupold's CM-R2 reticle that is marked for holds from 300 to 900 meters based on M855 62-grain, 5.56 NATO ammo when used at max magnification. At the close-end of things, the CM-R2 reticle features an illuminated horseshoe reticle with 0.5 MOA center dot that stays the same size throughout the optic's magnification range, making fast shots on anything inside of a couple hundred meters easy money. The optic is also quite lightweight, and short enough that it doesn't impede the host rifle's handling at all.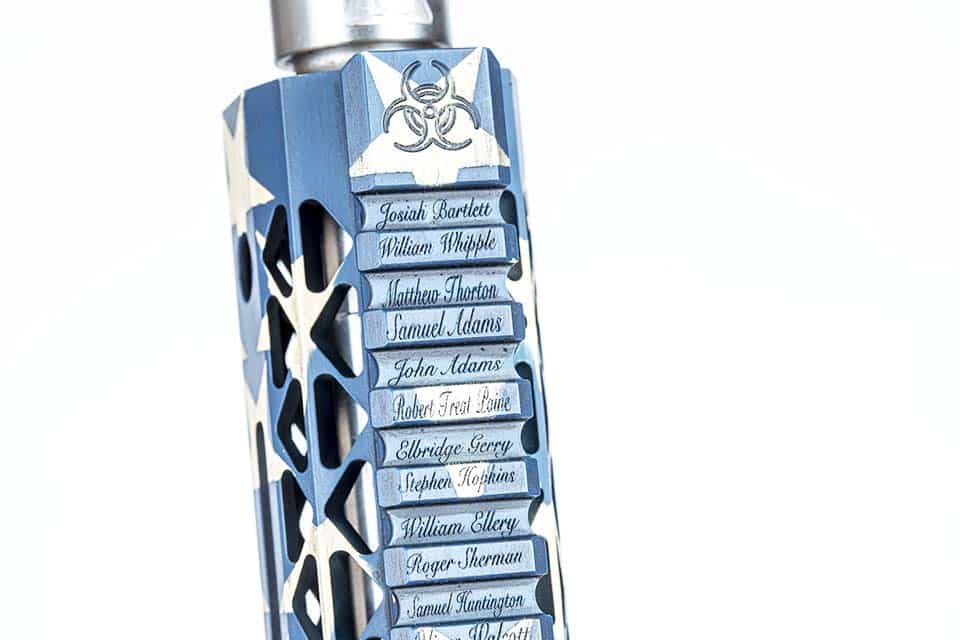 On the Range
Judging from the buildsheet, we expected a lot from this rifle on the range. Getting out on a cold winter day, we gave the We the People build a good dose of Slip 2000 and crossed our gloved fingers. Range drills were typical fare consisting of Mozambiques, box drills, some VTAC barrier work, and others. This gave us a good feel for how the rifle handled, ergonomically, as well as how the various bits and pieces fared when interacting with barricades. The rifle swings well and the flat-sided and flat-bottomed handguard played well with the barricade.
We encountered no malfunctions in 400 rounds of drills and benchwork for accuracy testing.

On Paper
We put four types of ammo through the rifle and found the 1:8 twist barrel liked heavier ammo the best. In our five of 5-shot groups, we found the rifle grouped the best with Hornady's 73-grain ELD Match ammo, posting a tear-inducing 0.43 MOA group at its best, and averaging just over an inch. Other ammo produced groups that would lead us to believe it's a 1 MOA gun with the right ammo.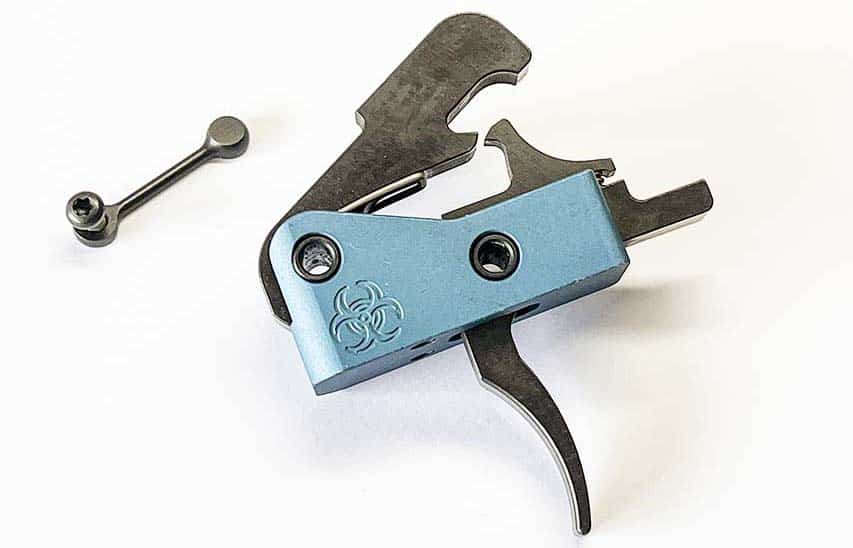 Parting Shot
There are plenty of companies that just buy gun parts and assemble them into guns. Black Rain Ordnance isn't one of them. They clearly take pride in their work and want to share their passion for guns and America with everyone. We realize that a $3200 AR isn't for everyone but building a rifle like this from parts will have you wondering if you should have just gone and bought something like this that comes with a warranty and a cool-as-hell American motif that, frankly, you probably can't get anywhere else. Hell, if the rifle didn't group as well and run as flawlessly as it does, we'd be the first to tell you this thing isn't worth it. But those that made this rifle bore the weight of all those important words our Founding Fathers used to enshrine our freedoms. And by so inscribing those names and words on their work, they knew they had to make a rifle that could stand on its own as a vehicle of liberty. And they did.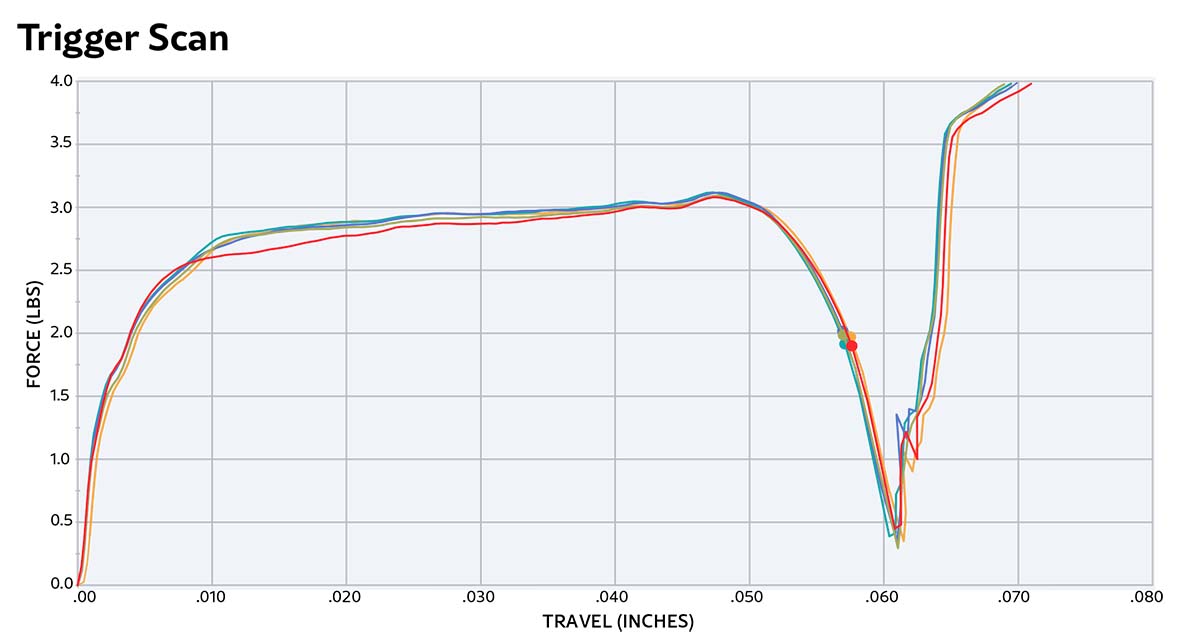 | | | | | | | |
| --- | --- | --- | --- | --- | --- | --- |
| | Avg. Velocity (fps) | ES | SD | Avg. Group (MOA) | Best Group (MOA) | |
| Federal XM193 55gr | 3087 | 47 | 15.3 | 1.88 | 1.02 | |
| Hornady ELD-M 73gr | 2645 | 69 | 22.3 | 1.16 | 0.43 | |
| PPU HPBT 69gr | 2590 | 73 | 20.4 | 1.31 | 0.98 | |
| Federal GMM SMK 69gr | 2644 | 51 | 19.7 | 1.24 | 1.03 | |
SPECIFICATIONS
Manufacturer: Black Rain Ordnance Model: We The People Custom Caliber: 5.56 NATO
Barrel Length: 18in
Overall Length: 34.7in
Magazine Capacity: 30rds
Weight Unloaded: 6.9lbs
MSRP: $3200
URL: blackrainordnance.com Featured Accessories: Leupold Patrol 6HD CMR2: $1,500
Price as Featured: $4,700
This article first appeared in Small Arms Review V26N6 (JUNE/JULY 2022)