RRA LAR 47 utilized field expedient positions at Echo Valley Training Center's Jungle Walk Lane Range.
By Todd Burgreen
The search for the "perfect" rifle and cartridge combination is the impetus of many gun designers and manufacturers; this search motivated Stoner himself back in the early 1960s. Of late, the most attention seems to be on "improving" the AR platform via developing piston-driven ARs in lieu of Stoner's original gas-impingement design. Rock River Arms (RRA) has approached the AR from a different angle than just tweaking the AR operating system. One way Rock River Arms seeks to improve the AR platform rests on calibers chambered other than the 5.56mm. Rock River Arms features AR models chambered in 7.62x51mm/.308Win, 9mm, .40 S&W, 6.8 SPC, .458 SOCOM, and most recently 7.62×39.
Rock River Arms (RRA) was founded in 1996 by brothers Mark and Chuck Larson. The Larson brothers combine over 40 years of experience in the firearm business into RRA. Unfortunately, Mark passed away in early 2013. Their initial product focus consisted of custom 1911 pistols before turning their attention to AR style rifles. The attention to detail associated with creating Match-grade 1911s was soon transferred over to AR production methods. RRA's goal with the AR style rifle is the utmost reliability combined with accuracy; thus wringing the most out of Stoner's original design. These two objectives are often at odds with each other. The tight tolerances associated with accuracy can hinder reliability if not applied properly. By improving fit and finish, including the use of a forged receiver, RRA sets itself apart from the majority of AR manufacturers in existence today. RRA quality control was quickly rewarded within only a few years of emerging on the AR scene. RRA's operating methodology was quickly brought to the forefront by winning contracts to provide RRA AR rifles to DEA and FBI law enforcement agencies. This has been followed since with other contracts with Federal, State, and local law enforcement entities.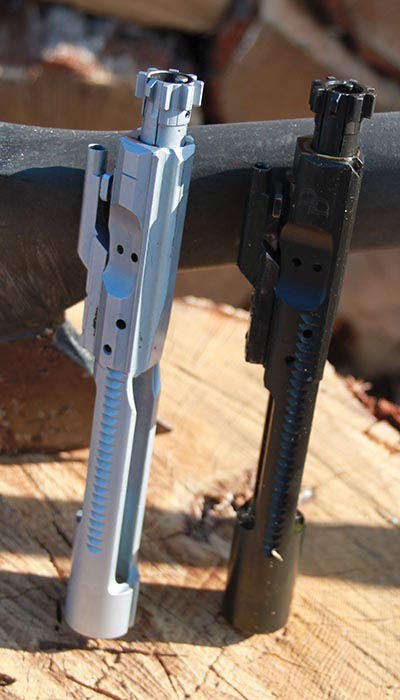 Slight radius cuts behind where the firing pin rests in the carrier group are one difference with the chromed LAR 47 bolt carrier compared to a Mil Spec AR-15/M16 bolt carrier.
The exponential growth of AR popularity and Rock River Arms' involvement in this progression is impressive. Rock River Arms definitely has "skin" in the AR game with numerous models and calibers in its product line-up. Our focus for this review is the RRA 7.62×39 LAR 47. Word emerged as early as 2012 about the RRA LAR 47 with product reaching dealer shelves in mid 2014. This delay was surely a result of the AR craze the industry went through during that time frame as well as Mark's unexpected death.
RRA is an industry leader well known for producing a full line of high quality AR-15 style rifles. The LAR 47 is a hybrid design that combines the versatility and ergonomics of the AR-style platform with the popularity and hard hitting nature of the AK 7.62×39 chambering. Most importantly it accepts steel and select polymer AK47 magazines compared to other ARs chambered in 7.62×39 that take proprietary magazines. The RRA LAR 47 uses forged A4 upper and lower receivers. RRA decided to use the direct impingement (DI) AR operating method in lieu of the piston option with the LAR 47. This is intriguing as RRA features each operating method in its product line up. Some will have concerns with the DI operation and increased fouling in the receiver area magnified when using surplus 7.62×39 ammunition. This is addressed by Rock River Arms by chroming the barrel and bolt carrier group.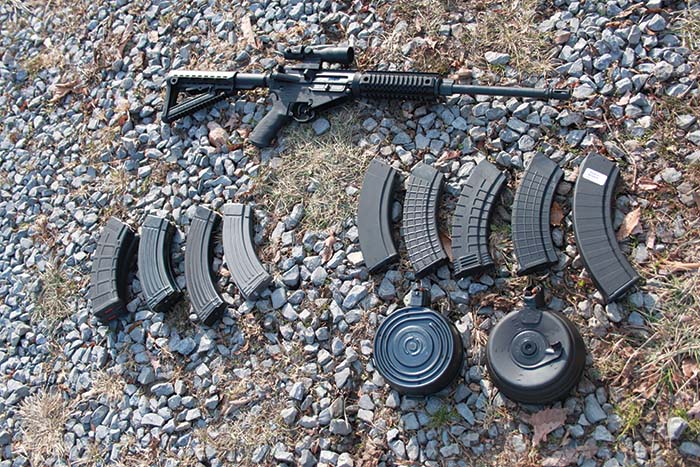 Two different model configurations of the LAR 47 are available: CAR A4 and Delta Carbine. This article features the LAR 47 Delta Carbine. The LAR 47 Delta uses a 16 inch chrome-lined HBAR profile barrel with 1:10 RH twist. The LAR 47 Delta Carbine is equipped with many standard RRA components that include an A2 flash hider (5/8×24 threads) and RRA 2-stage trigger group. Other features included are oversized trigger guard and centrally located ambidextrous magazine release. It is equipped with an RRA Delta CAR adjustable stock and Delta pistol grip, along with RRA propriety 2-piece quad rail handguard forend. The LAR 47 Delta Carbine weighs approximately 7.75 pounds with an overall length of 36.5 inches with stock extended. The package from Rock River includes polymer AK47 magazine, hard case, manual and RRA limited life time warranty. RRA lists MSRP for the LAR 47 Delta Carbine as $1,475.
Rock River Arms had to tweak the typical 5.56mm AR upper and lower receivers for the LAR 47. Interestingly, RRA was able to maintain length and width of 5.56mm AR receivers. The lower receiver's aesthetics is impacted by being engineered to accept the AK magazine. One of the less appreciated aspects of the AK design is how the front of the magazine is hooked into place and kept steady behind a wide feed ramp allowing the bullet a smooth path to the chamber. This is one factor contributing to the AKs reputation for reliability. The LAR 47's magazine well is angled to facilitate the AK's magazine hook-and-latch system, i.e., you insert the front of the magazine in first before rocking it back and locking it in place. Rock River took into account the interaction of steel AK magazines with the LAR 47's aluminum lower receiver by installing a steel crosspin for the magazine to interact with.
The LAR 47's receivers had to be modified to make room for the wider and longer feed lips of the AK magazine. The same was done for the bolt carrier. The barrel extension feed ramps were tweaked to accommodate the 7.62×39 cartridge in the LAR 47. Rock River Arms dealt with the associated hard primer strike required for surplus 7.62×39 ammunition by using a heavier hammer spring and modifying the bolt carrier group geometry. The LAR 47 utilizes standard AR-15 buffer and spring.
Multiple AK magazines were tried with the LAR 47 including polymer US Palm, Magpul, Tapco, Bulgarian smooth and waffle, IO Inc., and surplus steel magazines. Even drum magazines were tested. Steel AK magazines worked without issue. On the polymer magazine front, only the AK magazine shipped with the LAR 47 functioned properly. The Magpul PMAG 30 AK inserted and removed smoothly, however this proved a false indicator as functioning was not possible due to the bolt group dragging along its feed lips. The other polymer magazines had issues inserting and locking into the LAR 47's magazine well. Romanian and Chinese 75-round drum magazines were also a no go. The lesson here is to function test any magazine considered for use with the LAR 47. While there is definitely no shortage of steel AK magazines available for purchase, the inability to utilize multiple types of AK magazines will not be well received in many quarters of rifledom.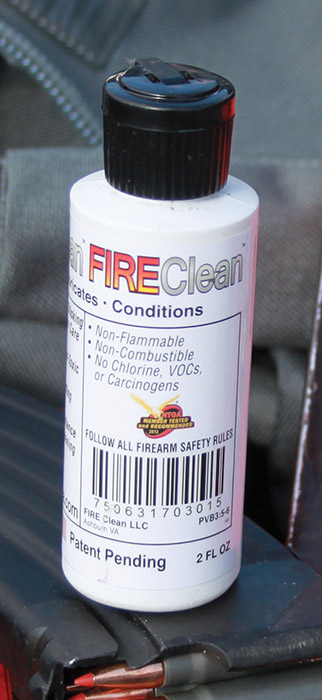 LAR 47. FIREClean CLP is a possible option for users concerned with direct impingement fouling.
Since typical AK magazines do not have a follower designed to hold the bolt open after the last round is fired, Rock River eliminated the bolt catch mechanism on the LAR 47. This eased design constraints associated with the magazine well area reconfiguration and alleviated the need to intrude into the trigger housing for space; thus enabling the use of Rock River Arms' excellent two-stage AR trigger. The design approach further extends to the magazine release arrangement decided on by RRA. The angle of the AK magazine availed RRA the opportunity for a much larger trigger guard area. This allowed for a centrally located paddle release at the front of the trigger guard behind the magazine. The magazine release lever is ambidextrous.
It was decided to take full advantage of the RRA LAR 47's flattop upper receiver by mounting a Trijicon TA 31 3x ACOG with horseshoe/dot reticle calibrated for 7.62×39 trajectory. The mounting of eye relief dependent optics is a weakness for the AK that the LAR 47 solves. A quick release mount was used with the ACOG. The mount is CNC machined from 6061 T6 aluminum and weighs only 2.7 ounces. The Trijicon ACOG offers the capability to engage multiple targets in rapid sequence compared to open sights, while at the same time providing accuracy at extended distances. The ACOG is a preferred optic for the U.S. Army and Marines. The Trijicon reticle superimposes an aim point on the target while not totally obscuring the target due to the center dot not being that large. The 7.62×39's trajectory is conducive to making hits out to 300 yards without having to resort to excessive hold over; 3 inch high at 100 yards produces a 200 yard zero with 15 inches low at 300 yards.
Multiple 7.62×39 loads were tested with the RRA LAR 47 from Hornady, Wolf and Century's Red Army Standard. A 50 yard accuracy test was chosen due to the ACOG's 3x magnification. Wolf and Red Army Standard loads grouped into an inch at 50 yards. The Hornady 123 grain SST loads delivered accuracy in the 5/8 inch range at 50 yards. The RRA LAR 47 combined with quality optic mated to quality ammunition is a prime candidate for use as a general purpose rifle.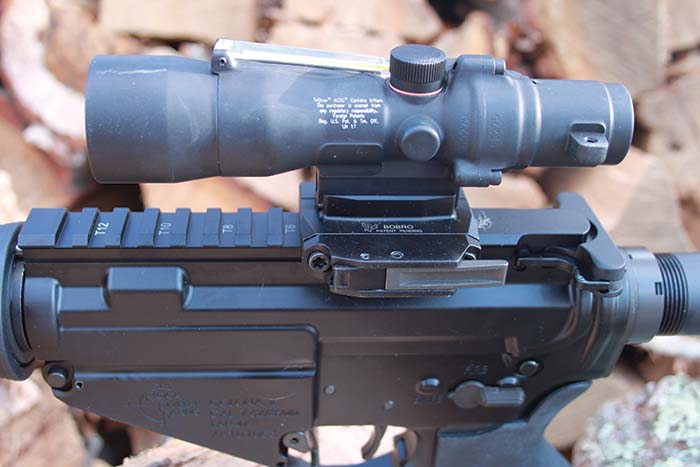 Range testing commenced with functionality consisting of dumping multiple magazines at targets arrayed along Echo Valley Training Center's (EVTC) multi-stepped berm in rapid fashion once the ACOG TA 31's was zeroed. Iron sights are not part of the RRA LAR 47 package. If so desired, Magpul flip up sights are a solution and easily mountable on the upper rail. No problems were encountered with the Wolf and Red Army Standard 7.62×39 ammunition. While the RRA LAR 47 fired Hornady 123 grain SST the most accurately compared to other loads, the rifle had issues functioning with it. Fired rounds were ejected, but fresh rounds were not picked up and chambered. It can be surmised that the bolt was not cycling back far enough to strip the next round from the magazine. The same magazines were tested with the other ammunition with no issues encountered. After initial functioning test, the LAR 47 was then put through its paces on different courses of fire. Magazine changes, shooting from the non-dominant shoulder and unconventional positions around barricades helped to evaluate the LAR 47. Strings of fire ranged from 15 to 80 rounds with target distances measured in feet out to a couple hundred yards. A major focus with the direct impingement LAR 47 was maintaining reliability after hundreds of rounds fired, including magazine dumps and breaking contact drill scenarios. The Rock River Arms LAR 47 paid several visits to Echo Valley Training Center with several hundred rounds fired. As mentioned earlier in the article, particular attention was paid to fouling and carbon build up and if reliability was compromised. Purposely, the LAR 47 was used as it emerged from the box and not cleaned or lubed for the duration of this review. The only issues encountered with the RRA LAR 47 in terms of reliability centered on AK 47 magazines chosen for use and the Hornady ammunition.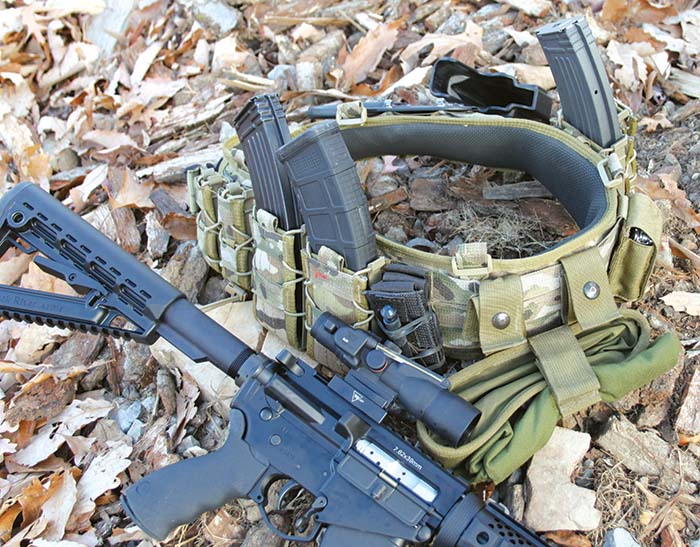 Further evaluation of the LAR 47 was based on training experiences derived from attendance at various training courses such as Pat McNamara, Suarez International, and Tactical Response. Team Tactic exercises involving moving to and from a designated target area using cover while either changing magazines or engaging targets when a partner is reloading are excellent weapon evaluation drills. One gets a good sense of the way a weapon handles along with reliability due to the sum of ammunition expended in short time frames characteristic of these types of drills. The full gamut of rifle manipulations are encompassed in Team Tactics training evolutions – handling around cover while engaging designated targets, accuracy to effectively strike at both distance and CQB ranges, magazine changes, and reliability once a weapon gets heated up.
High Speed Gear (HSG) Sure Grip patrol belt and TACO magazine pouches assisted with keeping steel AK magazines available. Many train and operate with multiple calibers either by choice or necessity. Others are tasked with training different weapon systems as part of their job description. The logistics of maintaining different belt systems or switching magazine pouches on one belt repeatedly is daunting. Imagine having to accommodate AR magazines one day, AK47 magazines the next, AR-10/SR-25 magazines, or AK74 magazines another time and so forth. Just as important in any transition between gear systems is making sure nothing affects magazine draw stroke muscle memory, pistol presentation or obtaining medical equipment. Accessing gear must remain seamless with no hitches caused due to different feel or location of pouches. High Speed Gear's TACO magazine pouch was developed with this set of circumstances in mind. The HSG TACO magazine pouch eliminates the need for different gear per weapon magazine used and just as importantly keeps your items in familiar instinctual locations.
The Rock River Arms LAR 47 is a rifle that many will be interested in. This is based on the increasing popularity of the 7.62×39, especially when fed via AK47 magazines. Further supporting this is the better quality ammunition coming on line from manufactures combined with ability to securely mount optics on the railed upper receiver facilitating wringing the most out of the cartridge and platform.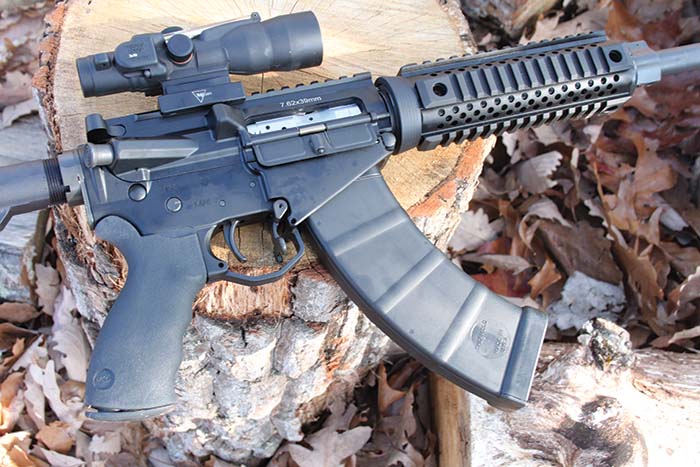 SITES OF INTEREST
Rock River Arms
www.rockriverarms.com
Century International Arms
www.centuryarms.com
Echo Valley Training Center
www.echovalleytrainingcenter.com
Trijicon Inc.
www.trijicon.com
This article first appeared in Small Arms Review V19N3 (April 2015)