Colts intent with the .38 Super was a cartridge capable of penetrating the body armor and automobile sheet metal of the 1920s-30s combined with the preeminent semiautomatic handgun designed for fighting: the 1911.
By Todd Burgreen


The Dan Wesson (DW) Guardian 1911 evaluated herein represents over 100 years of various tweaks in the 1911 developmental path. The DW Guardian is a Commander sized 1911 chambered in .38 Super. It is also available in .45 ACP and 9mm. A word about both the .38 Super and Commander frame is in order. It may surprise many to learn that the .38 Super cartridge has a lineage dating back to the late 1920s and was not that uncommon of a 1911 chambering during the heyday of organized crime and professional criminals fostered by the Depression along with the lawmen assigned to stop them. Colt designed the .38 Super with the full sized Government 1911 platform in mind; Colt's intent was a cartridge capable of penetrating the body armor and automobile sheet metal of the 1920s-30s combined with the preeminent semiautomatic handgun designed for fighting. The longer case length of the .38 Super (22.86 mm) facilitates its feeding from magazines fitted in a 1911 frame better than the shorter 9mm cartridge. The .38 Super has almost the identical overall length of the .45 ACP – explaining why it works so well in the 1911 platform. The .38 Super was derived from the .38 ACP and shares its dimensions, though loaded to higher pressures for a boost in velocity. The .38 Super was designed to fire a 130 grain bullet at the 1,300 feet per second (fps) threshold while the .38 ACP is in the 1,100 fps range.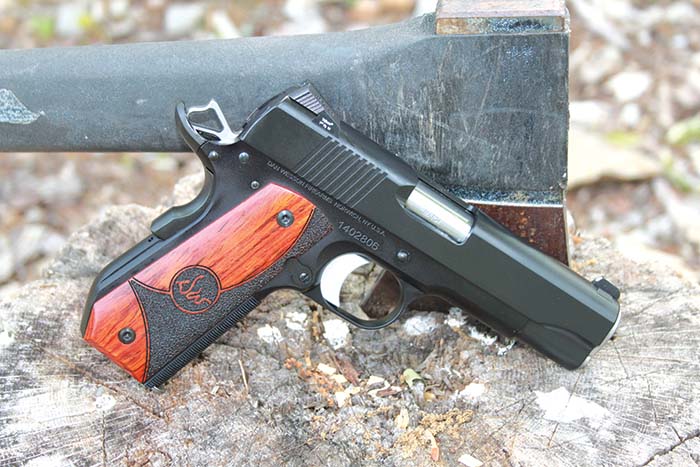 From its inception, the 1911 .38 Super attracted savvy aficionados to it; a characteristic that continues to this day. The .38 Super experienced resurgence in the 1970s due to its "discovery" by IPSC competitors with its ability to make "Major" in terms of cartridge classification due to its high velocity and mild recoil especially when combined with a muzzle brake; not to mention its ability to fire reliably from the 1911. The .38 Super combined in a 1911 based Match gun became, and still is, a favorite platform for competitors. This is for a variety of reasons such as flat shooting, tame recoil, and the extra capacity offered by the .38 Super compared to a .45 ACP 1911. These same characteristics are valued in a personal defense handgun as well.

Due to similar case dimensions between the .38 Super and the .38 ACP, in 1974 SAAMI added a +P headstamp to the .38 Super to help distinguish it from the lower powered .38 ACP. A .38 Super fired in a .38 ACP weapon could prove disastrous. The 38 Super is popular in Europe as well as Central and South American due to gun laws limiting access to military caliber such as .45 ACP and 9mm. Here in the U.S. the .38 Super has more of a cult following with limited sales numbers. However, ammunition is still carried by multiple manufacturers with reloading a popular option. The .38 Super's performance benefits greatly by the increased sophistication of bullets and powders that wring the most out of its capability compared to when it first appeared in 1929. Originally, the .38 Super headspaced off of the cartridges semi-rim and led to early reports of inaccuracy due to stray tolerances in weapon manufacturing impacting accuracy. More modern manufactured .38 Supers headspace off of the case mouth similar to the .45 ACP with accuracy on par with any pistol cartridge. Let's face it; professional shooters would not have embraced it if it was not accurate.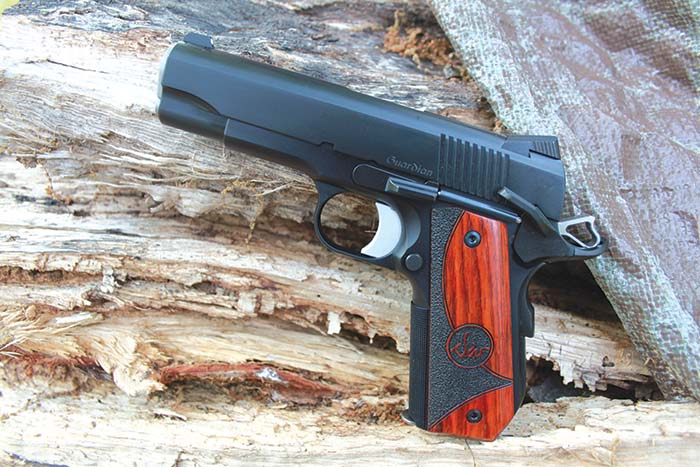 Background pulled from various sources show the Commander 1911 as designed for ease of carry compared to pure combat effectiveness. Sources state, "The pistol that would eventually be named the Colt Commander was Colt's Manufacturing Company's candidate in a U.S. government post-World War II trial to find a lighter replacement for the M1911 Government model pistol that would be issued to Officers. Requirements were issued that the pistol had to be chambered for 9mm Parabellum and could not exceed 7 inches in length or weigh more than 25 ounces." (Yes, that is right: 9mm.) Candidates included Browning Hi-Power variants by Canada's Inglis and Belgium's Fabrique Nationale and Smith & Wesson's S&W Model 39. Colt entered a modified version of their M1911 pistol that was chambered for 9mm, had an aluminum alloy frame, a short 4.25-inch barrel, and a 9-round magazine. In 1951, Colt decided to move their Commander service candidate into regular production for the civilian market. It was the first aluminum-framed large frame pistol in major production and the first Colt pistol to be originally chambered in 9mm. The first year's civilian production included .45 ACP and .38 Super chamberings. In 1970, Colt introduced the all-steel Colt Combat Commander. To differentiate between the two models, the original aluminum-framed model was re-named the Lightweight Commander.

The Dan Wesson's connection to the 1911 is interesting. In 2000, Dan Wesson started working on the development of a 1911 style pistol. Their decision to focus on making quality 1911 handguns surprised many as they were known for their revolvers. The objective for the Dan Wesson 1911 product line was the same as the Dan Wesson revolvers – the most accurate and reliable out of the box weapon on the market with features dictated by listening to feedback from customers. Dan Wesson became part of the CZ group of companies in 2005. CZ is reputed in various sources as the largest firearms producer in the world. Operating under the CZ corporate umbrella gave Dan Wesson the financial backing and corporate resources to once again pursue the quality products Dan Wesson was known for in the 1980s. The Dan Wesson 1911s are "Made in the USA" at Dan Wesson's Norwich, New York facility.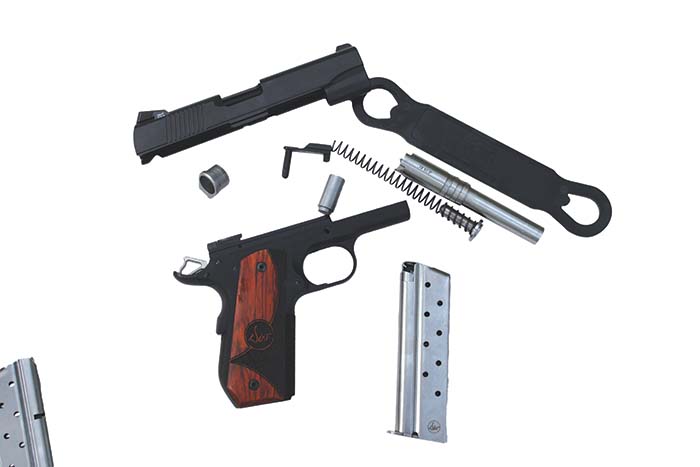 The Dan Wesson Guardian is equipped with features more likely to be found on full-blown custom 1911s costing much more. This includes an undercut trigger guard facilitating better hand placement. The 25 LPI (lines per inch) stippling pattern on the front strap provides positive grip and recoil management. The Guardian's bobtail aluminum frame and mainspring housing signify Dan Wesson's intent for it to be a personal defense concealed carry candidate. The shorter length Commander slide and bobtail grip is conducive to concealed carry and minimizes the chance of printing under a cover garment. The barrel features an integral ramp. The Guardian has dimensions typical of a Commander-style 1911. Thanks to its aluminum frame it weighs in at 28 ounces empty. The Guardian measures nearly 8 inches long from barrel bushing to beavertail safety and 5.5 inches high. The Match grade 4.25 inch barrel provides the optimum mix of sight radius, concealment, weapon balance, and reliability. The DW Guardian uses a plug bushing and spring following Browning's original design intent. This will warm the heart of many 1911 purists who deride the use of full length guide rods in a 1911 as a solution to a problem that does not exist with the 1911. The stainless steel slide and other parts are coated in a ceramic based duty-coat finish for protection against wear that a concealed carry handgun is subjected to. An Ed Brown tactical thumb safety is utilized with the DW Guardian. It is not an ambidextrous design. A textured slide stop and magazine catch round out the DW Guardian package.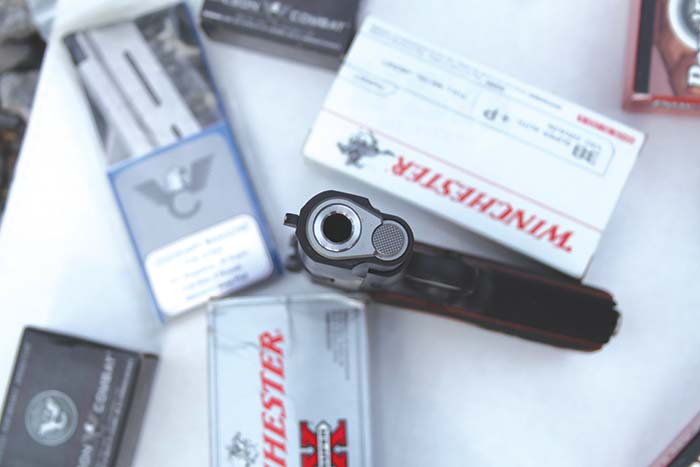 Trijicon tritium night sights compliment the DW Guardian's intended role as a concealed carry weapon. The front and rear sights contain contrasting color vials for easier orientation when aiming in dark conditions. Furthermore, a white ring on the front post assists in concentrating on the front sight. The sights are designed in a way allowing for fast target acquisition while still allowing for precise shot placement as situation demands or increase in target distance. The Dan Wesson Guardian is a sharp looking pistol exuding understated confidence with "Guardian" inscribed on its side in a low profile script. Aesthetically pleasing, yet functional, dark wood grips contrast nicely with the Guardian's dark metal components. The DW Guardian is proof positive that a weapon can look good and still function as designed. The DW Guardian typifies why the 1911 is still popular as ever. The 1911's slim width and classic, svelte ergonomics has it carry and handle like no other. The DW Guardian .38 Super features nine round capacity magazines with two provided with the pistol. These were supplemented by .38 Super magazines from Wilson Combat – a main source of reliable aftermarket magazines for 1911s in most calibers.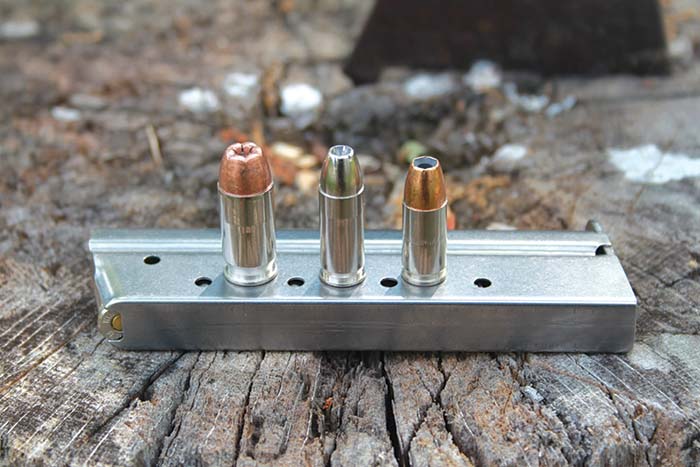 The DW Guardian .38 Super 1911 stems from a prior similar DW 1911 model chambered in .45 ACP. Dan Wesson decided it was time to introduce .38 Super and 9mm variants. The intent of this article is not to rehash debate of .45 ACP versus other handgun cartridges. Let's leave it at modern non-.45 ACP loads have come a long way from FMJ bullets that are the basis of much of the disdain focused on them. .38 Super ammunition selections chosen for this article consisted of Winchester, Federal/American Eagle, Wilson Combat and Corbon. Modern premium .38 Super defensive loads fire 115 grain bullets near 1,450 fps. Chronographing of all loads took place to verify if the .38 Super lives up to its hype as the original .40 S&W/.357 SIG cartridge for semiautomatic handguns: it does with the Corbon loads being the "hottest" as per their reputation. The Corbon 100gr Pow'RBall clocked just over 1,500 fps with the 115 grain JHP at 1,435 fps and 125 grain DPX chronoing 1,320 fps.
The Dan Wesson Guardian is a 1911 that benefits from nearly a century of refinement. While the association between the non-.45 ACP cartridges and the 1911 platform is not a natural one for most, we should not let prejudices block us from exploring what cartridges such as the .38 Super offers. The Dan Wesson Guardian represents portability, reliability, controllability and lethality. These are poster child traits in a personal defense handgun. The 1911 is often labeled as an aficionado's weapon that continues to attract users with its natural handling, and great trigger. Is the 1911 a prime weapon for all situations or users? No. However, you should not give it a second thought as a carry weapon once it has fully proofed on the range. A 1911 should be trained with to ensure that functions are natural and instinctive if having to deploy in haste; the same as any other personal defense weapon. No one can argue that there is a more instinctive handling weapon as the 1911. The trigger and grip size/angle cause it to be most accurate handgun in most arsenals. Why do you think hostage rescue units and other special purpose military/LE teams use it? It is accurate and conducive to precise shot placement.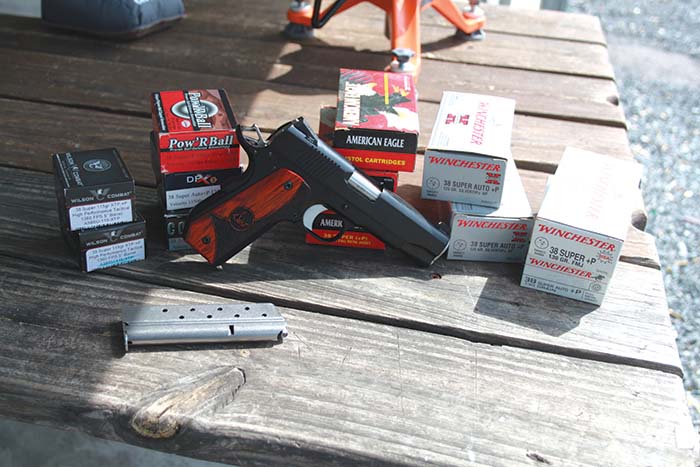 The DW Guardian's ergonomics and handling characteristics are quickly appreciated and make a user understand why the 1911 is a legend. The Dan Wesson Guardian was initially tested by verifying sight zero and then proceeding to fire several magazines rapidly at various steel man targets. This quickly shows if any reliability issues exist. Firing was at a relatively steady pace with different shooters running the Guardian through its paces on plate racks, dueling trees, and other drills. During this, all made comment on the .38 Super Guardian's surprisingly uncanny accuracy. Despite its lightweight alloy frame, the .38 Super was amazingly tame in the recoil department; showing why it was so favored by modern competitors and professionals on both sides of the law dating back to the 1930s.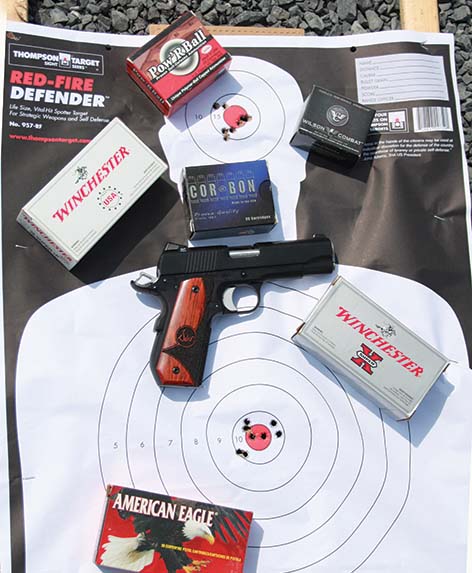 Drills started from the holster firing as fast as the front sight was verified on target. It was refreshing to see a 1911-style weapon functioning out of the box without needing a "break in" period. I rarely bench test pistols for accuracy due to reliability and quick engagement of targets being more paramount in a self-defense handgun. However, it could not be resisted with the DW Guardian being advertised as having a match grade barrel combined with producing one jagged hole on paper silhouette targets engaged at 15 yards. The Dan Wesson Guardian did not disappoint regularly producing 2-3 inch groups at 25 yards. This rivals full-size Match 1911s. Nearly 350 .38 Super rounds were fired without a hitch. An assortment of bullet configuration from various ammunition manufactures mentioned above were tested to verify reliability.
The DW Guardian's 1911 configuration facilitates a user finding accessories in terms of holsters and other gear. This is because holster and accessory manufacturers always make sure to provide customers with 1911 options. Flexibility is the key to effective carry practices with inside-the-waistband (IWB), Yaqui slides, belt slide, side-of-back, and shoulder holsters all a part of a concealed carry practitioners repertoire. Quality holsters, magazine carriers, and gun belts are not to be underestimated in importance for effective carry. A Galco Royal Guard IWB and CDM Double Mag case was used primarily with the DW Guardian. Other holsters from DeSantis, Comp-Tac Victory Gear, and BlackHawk were also employed on a more limited basis. All are comfortable, but the Comp-Tac paddle holster is a viable option if weather and dress allows. The Comp-Tac paddle holster remains secure on the belt and the Guardian is retained with a pressure point around the trigger guard. Its open top design allows quick access. Remember the defender is reacting to an attack and must overcome the reactionary curve. The paddle allows a user flexibility in putting on and taking off the holster without having to "undress." A fact of life for civilian carry is that there are places you cannot go with your firearm. The on/off ease of the Comp-Tac paddle holster is much appreciated when having to dismount your weapon into a lock box or other means of storage.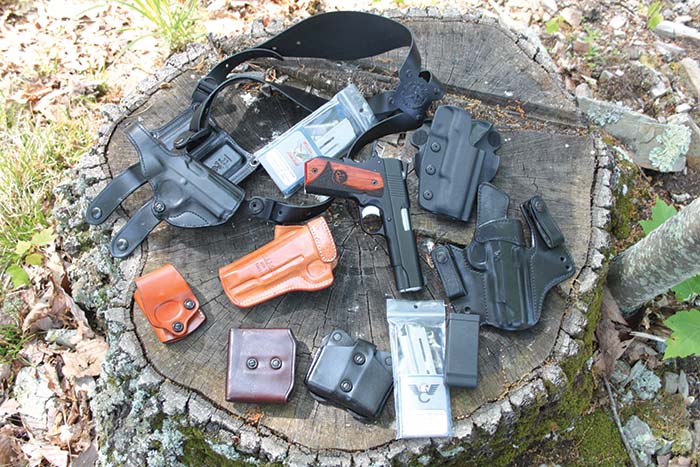 The reduced size and weight of the Dan Wesson Guardian is far more beneficial for concealed carry compared to a full sized steel framed 1911. The .38 Super chambering came to be appreciated as well in the 1911 DW Guardian with its 9 + 1 capacity stoked with high velocity premium defensive ammunition. The Dan Wesson Guardian .38 Super's performance combined with 1911 nostalgia is difficult to resist when pondering a concealed carry handgun.

SITES OF INTERESTS

CZ-USA/Dan Wesson
PO Box 171073
Kansas City, KS 66117
(800) 955-4486
www.cz-usa.com

Galco International
2019 West Quail Ave
Phoenix, AZ 85027
(800) 874-2526
www.usgalco.com

Wilson Combat
2234 CR 719
Berryville, AR 72616
(800) 955-4856
www.wilsoncombat.com
This article first appeared in Small Arms Review V19N3 (April 2015)