By Todd Burgreen
A manufacturer that is developing into a noteworthy force in the US for all firearm categories, albeit sporting, competition, tactical or personal defense, is Sturm, Ruger & Co. This epiphany was caused by the recent introductions of AR style rifles, a .300 Blackout Mini 14 and most recently the bolt action Precision Rifle. This bolt action is unlike any other offered by Ruger. The Precision Rifle is Ruger's take on creating a highly accurate long range bolt action detachable magazine rifle; all the while keeping it affordable.
The Ruger Precision Rifle will surely be considered by any department or individual pondering a precision bolt action tactical rifle; its reasonable price will only reinforce this. It is available from the factory in various calibers, .308Win (tested herein), 6.5 Creedmore, and .243Win. The Precision Rifle arrives with many notable features including fully adjustable folding rear stock, threaded muzzle, Picatinny rail running along the upper receiver out to the end of the forend, and Ruger's adjustable Marksman trigger. One thing that distinguishes the Precision Rifle, functionally and aesthetically is the ability to accept multiple types of detachable magazines. Ruger has devised a patented Multi-Magazine Interface (MMI), allowing them to greatly increase magazine compatibility beyond only one type. The Ruger Precision Rifle can use DPMS, M110, SR25, PMAG, AICS and some types of M14 magazines. Two 10-round Magpul PMags arrive with the Ruger Precision Rifle.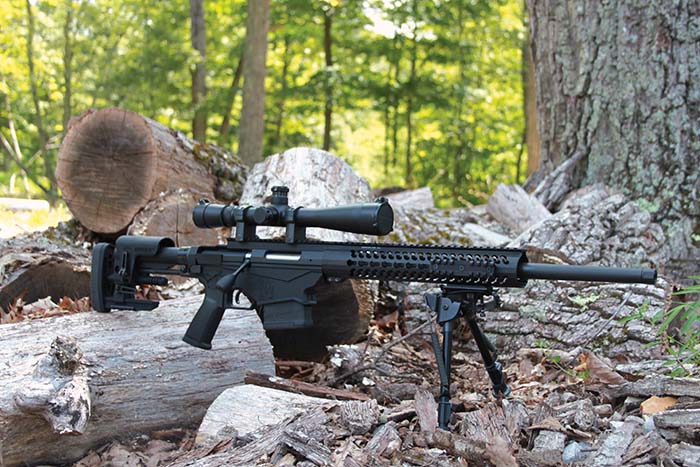 The Precision Rifle evaluated herein is chambered .308Win with 6.5 Creedmore and .243Win available. Many are already salivating at the thought of a long action version chambered in .300WinMag or even .338Lapua appearing in the future. The Precision Rifle is centered on a modified Ruger All American bolt action. Overall length is 38.25 to 41.75 inches with the 20 inch hammer forged 4140 chrome-moly steel free-floated medium profile barrel (.75 inches at muzzle) featuring 5R 1:10RH rifling. According to research for this article 5R rifling places a land opposite each of the barrel's grooves, resulting in less aggressive upset and distortion of the bullet as it engages the rifling, thereby aiding in accuracy. The 5R rifling also features less sharp edged lands than those present in conventional-style rifling, reducing powder fouling and jacket failures. The company further optimized the Precision Rifle's accuracy by utilizing the tightest possible chamber while also taking extra care to ensure a centralized chamber and minimal headspace. The muzzle is 5/8×24 threaded. A Ruger provided thread protector can be removed to make room for installing other muzzle devices. The Precision Rifle weighs in at 9.7 pounds when empty.
The Precision Rifle's lower magazine well is machined from aerospace-grade 7075-T6 aluminum Type III hard coat anodized for maximum durability. The upper receiver and bolt are CNC-machined from pre-hardened 4140 chrome-moly steel. The upper receiver has an integral 20 MOA Picatinny rail secured with four, #8-40 screws for increased long range elevation capabilities. The three lug full diameter All American bolt has a 70 degree throw along with dual cocking cams. A bolt disassembly tool is stored in the bolt shroud. The bottom bolt lug is ideal for stripping rounds from the detachable magazines. Ruger decided to go with an oversized threaded on bolt handle for easier rapid working of the action; after all you have a high capacity magazine worth of ammunition available. If a user so chooses, a different bolt handle can be installed.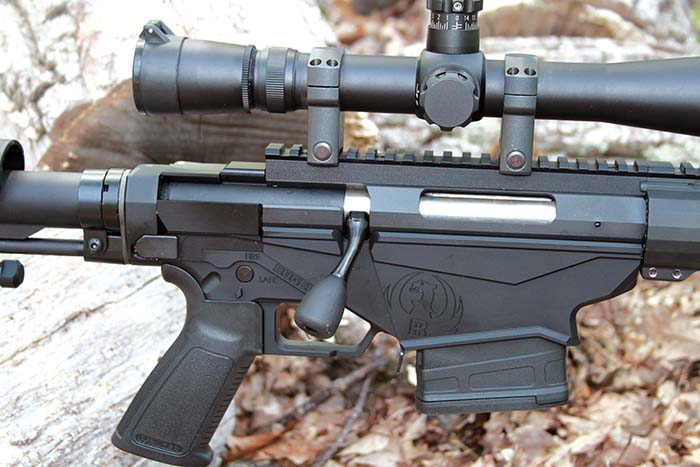 Ruger has chosen a different path from typical bedded stocks or even the chassis systems that seem to be gaining in popularity. The Precision Rifle utilizes a linear in-line recoil path to maximize accuracy potential by directing unwanted movement and vibration straight back into the buttstock. This minimizes impact on barrel harmonics when the rifle is fired; the key here is consistency during the firing impulse. The stock is threaded into the rear of the receiver in effect becoming a part of it.
The AR influence is hard to escape for any rifle nowadays-even bolt actions. Any AR style stock can be used over the buffer tube like projection if a user feels the MSR stock is not to their liking for some reason. The Precision Rifle's barrel can be easily changed using techniques and tools common with AR15 rifles. Ruger is using a 15 inch free floated Samson Evolution KeyMod AR handguard. As with the buttstock most AR style forends can be used if a user wants to retrofit with one. The same can be said of the AR style pistol grip and fire selector switch.
The 1:10 twist hammer forged barrel gets the most out of the various wide ranging .308Win loads on the market i.e. 147 grain to 175 grain. The Precision Rifle's relatively light weight, compared to other precision rifles on the market, gives improved portability and above average handling characteristics for a precision tactical bolt action rifle. Many tactical rifles, while accurate, resemble boat anchors when it comes to handling due to weight and stock configuration; not the Ruger Precision Rifle.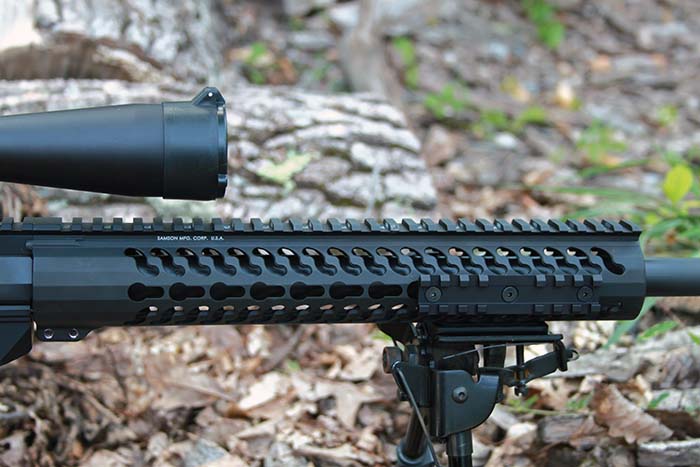 One has to be impressed with Ruger's design work in getting the Precision Rifle to accept and feed via popular detachable magazines. Reliability is something that can not be compromised. The oversize bolt and smooth passage of the bolt in the raceway allows for minimal disturbance of the rifle when the bolt is worked. The Precision Rifle's oversized bolt handle and detachable magazine are features that lend themselves to performing in a tactical environment and serve to maximize the Ruger's potential.
Many will wonder what is the purpose or niche for the Ruger Precision Rifle. Why not just use a tuned semi-automatic AR in lieu of the bolt action Precision Rifle? The answer lies with individual or department preference for a bolt action. This could be based on cost, public perceptions, or myriad of other reasons. Ruger has designed a rifle that is rock solid with characteristics making it conducive to accurate shooting from a variety of positions. The forend handles bipods or sandbags with equal aplomb. The Ruger Precision Rifle is not exclusively designed for shooting from the supported prone or bench position. The stock allows for offhand and other types of supported fire if needed. Think hood/trunk of a squad car or other field expedient positions. The ergonomics of the adjustable length of pull Ruger MSR buttstock allows for a comfortable, repeatable cheekweld. This is combined with a Magpul AR pistol grip making hand placement conducive to pulling the Ruger Marksman trigger smoothly to the rear.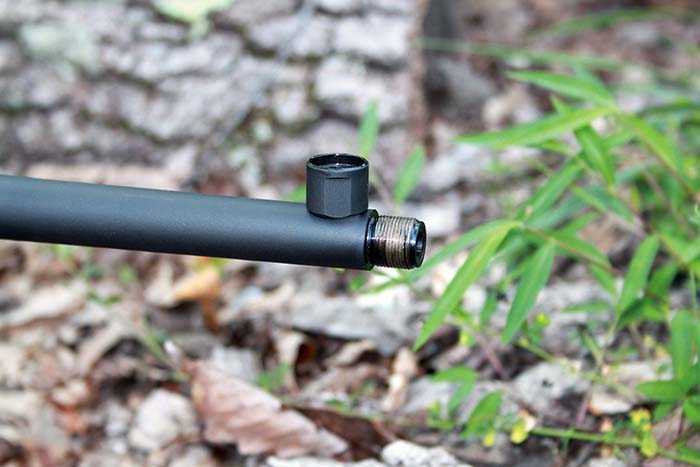 The first requirement of a tactical rifle is precise accuracy. A Leupold Mark IV 3.5-10x50MM scope with mil dot reticle was mounted on the one piece Picatinny rail above the Precision Rifle's receiver via Leupold Mk IV rings. It has the typical great Leupold reliability, clarity, and image quality with a near perfect variable power range for a precision .308Win rifle. Importantly, Ruger provides the Precision Rifle with an integral Picatinny rail to that optics can be mated right up to the action for a solid zero maintaining connection between rifle and optic. Champion tripod front rest and sandbags were used to support the Ruger Precision Rifle during bench testing phase of evaluation in conjunction with bipod.
Various .308Win loadings from Black Hills Ammunition, Federal, Winchester, and Hornady provided the basis of accuracy tests. The Black Hills Match loads tested consisted of 168 grain Match bullets. The Federal chambering was the venerable 168 grain Match load that still serves as the benchmark for performance. 168 grain TAP from Hornady along with Winchester 168 grain Match was also used. The Precision Rifle's 20 inch barrel produced velocity in the low 2600 feet per second (fps) range with the 168 grain loads. The Precision Rifle's 20 inch barrel maximizes portability and handling while maintaining .308Win ballistics and terminal performance. As to be expected with quality ammunition, velocity figures within the different loads deviated very little from round to round as witnessed shooting over a RCBS AmmoMaster chronograph. The Precision Rifle produced MOA or smaller groups with several different ammunition brands—an important logistic consideration. The accuracy figures are based on firing five five-round groups and averaging group sizes.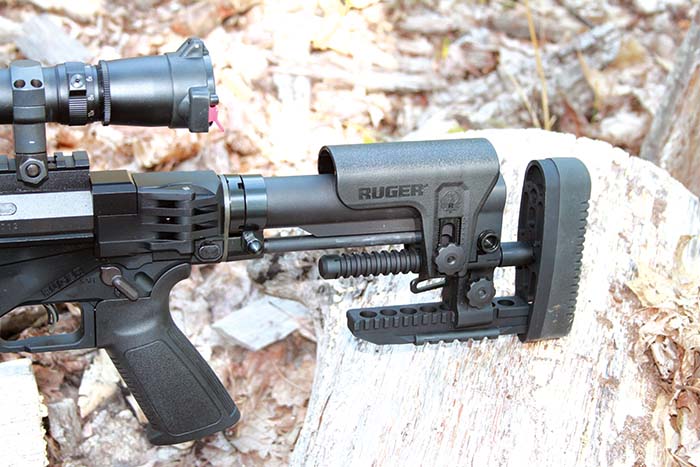 Steel targets were smacked with ease out to 320 yards using field expedient rests at Echo Valley Training Center's Range #1 stepped berm system. While by no means rivaling a semi-automatic for pure fire power, the detachable magazines were handy to recharge the Precision Rifle after the last empty case was flipped out on the ground. The Precision Rifle's action was "slick" and smooth as it emerged from the box. The Magpul magazines that arrived with the Ruger Precision were used as well as the recently introduced Brownells' AR 308 20-round magazine. The Precision's bolt would function over the Magpul follower when the magazine was empty; however not with the Brownells due to follower configuration. This is not a criticism of either magazines or rifle. Just an observation so that different user's can explore on other magazines they choose to use. This does not impact use of the rifle as laying cartridges in the raceway to single feed rounds did not work no matter magazine used. It is required to first click the rounds under the magazine's feed lips for chambering properly.
The Ruger Marksman trigger is a huge part of the phenomenal accuracy to cost ratio factor derived from the Precision Rifle. The Marksman trigger is just as important to accuracy as the Ruger bolt action and quality barrel. A rifle's trigger is the interface between shooter and rifle and must be right or accuracy will suffer. From the box it measured just below 4 pound pull weight. Ruger Marksman trigger is externally adjustable with a pull weight range of 2.25 to 5.0 pounds. Conveniently, Ruger has stowed the trigger adjustment tool in the bolt shroud with the previously mentioned bolt disassembly tool. This allows the Marksman trigger to be adjusted by the user without having to resort to an armorer. Without going into minutia, the Marksman distinctive "trigger blade" release lever in front of the trigger proper is the secret to maintaining minimal trigger weight, without creep, while keeping the system safe. The "trigger blade" must be activated (i.e. moved rearward into the trigger) before the sear will move firing the cartridge. A sudden drop or impact will not do this, even if the safety is off. The Marksman trigger's contribution to precise accuracy can not be overemphasized.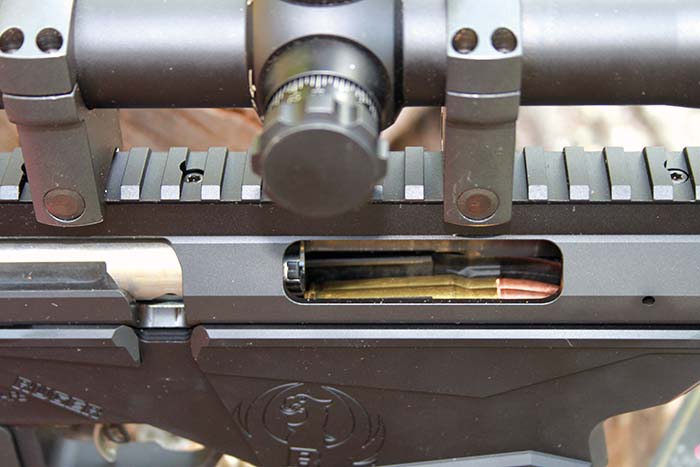 In an effort to demonstrate the Ruger Precision Rifle's flexibility in use, a Yankee Hill Machine Phantom flash suppressor was threaded on. The YHM Phantom flash hider allows for easy mounting of the YHM 7.62 Phantom suppressor. YHM's Phantom 7.62 Sound Suppressor is a .30caliber suppressor utilizing Mike White's Sound Technology Inc.'s patented baffle design. The Phantom 7.62 Sound Suppressor is manufactured from Chrome-Moly steel and features a matte black Parkerized finish. Its overall length is 8.5 inches with a diameter of 1.6 inches and weighs 25ounces. Hand tightening is all that is needed with the Phantom Flash Hider to hold the suppressor firmly in place. Conversely the suppressor can easily be removed via hand pressure when no longer needed. The Phantom Flash Hider supports the suppressor in two places helping to ensure bore alignment. A patented gas seal keeps the Phantom Flash Hider threads clean so the suppressor will not bind when removed from a weapon no matter how many rounds are fired.
Some time ago Engel Ballistic Research (EBR) subsonic ammunition was discovered as a primary source of quality sub-sonic ammunition due to the variety of calibers and loadings offered. Another reliable source for .308Win sub-sonic loads is Corbon. The Ruger Precision Rifle combined with YHM suppressor and Engel Ballistic Research or Corbon sub-sonic .308Win loads is eerily efficient out to 100 yards. Furthermore tactical modification of the Precision Rifle into a lowlight/dark role is satisfied by mounting an American Technologies Network ATN PS22 Night Vision device in front of the Leupold scope. This multiuse ability keeps day scope constantly zeroed, yet allows for quick adaptation night use. The PS 22 is attached or detached with no impact on the day optic's point of aim and parallax is not an issue. Another benefit of the PS 22 is that a scope's reticle does not need to be illuminated or IR compatible for it to be visible when using the PS 22. This differs from NV products that mount to the rear of the scope. These kinds of uses are outside the realm that most user's require from a weapon.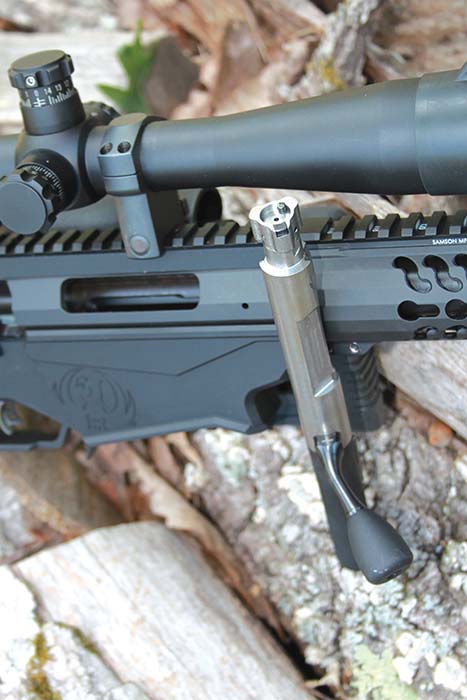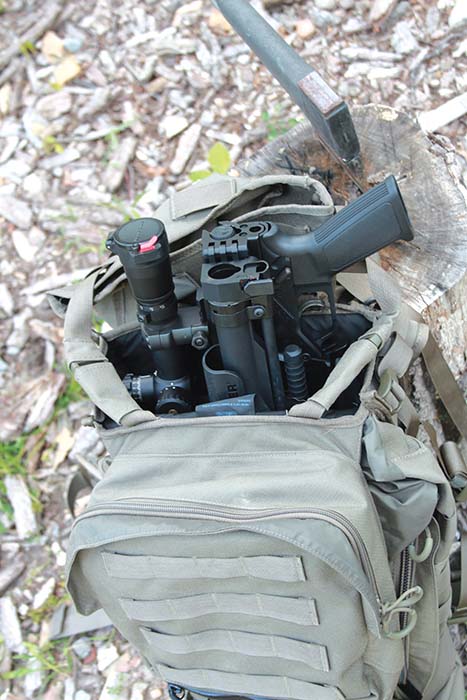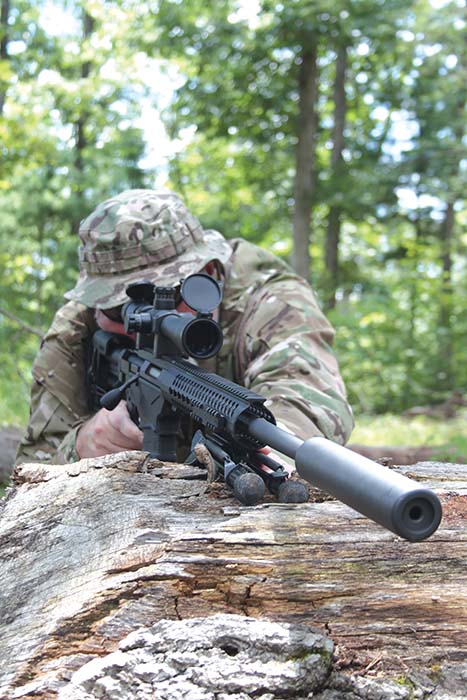 The ability to adjust the Ruger MSR stock in a myriad of ways further supports its accuracy potential. Length of pull (LOP), check riser height, even cant of the buttpad is adjustable to user preference. The ability to fold and lock the Ruger MSR stock eases transport. An Eberlestock G2 pack proved a natural companion to the Precision Rifle during T&E. The G2's combination of being a top loader pack and accessible front panel means that the main compartment is hassle free to access. There's no digging and wrestling with your pack to free an item–its quick at hand. It's a great combination. If you carry your weapon on your back, you're much more agile and effective than if it's stuck in your hands or on a shoulder sling all of the time; simply no better way to move about in an organized fashion. By having the pack carry the rifle, your hands are free for all of the things you need them for when you are traversing terrain. Further more, Eberlestock makes it so that you can get your weapons off the pack without having to un-strap everything that you're wearing. Most importantly the pack must be comfortable considering all the time spent with it out in the field. The Gunslinger II (G2) has all these characteristics. It's a mid-sized pack with a full-width scabbard to better accommodate weapons with larger cross-sections or bulky optics; weapons up to 60 inches long can be accommodated. Eberlestock's "Control Clips" at the top of the G2's Backscabbard compartment are used to segregate the scabbard and also to securely hold a rifle. The Control Clips are also used to hold the top cover onto the scabbard locking your gun into the pack. The G2 offers 2,700 cubic inches of space measuring 22 inches high, 10 inches wide, and 8 inches deep. The G2 can be generalized as a Three-Day pack in terms of what it can carry afield. The G2 is waterproof with the 1000d Cordura Nylon material polyurethane coated.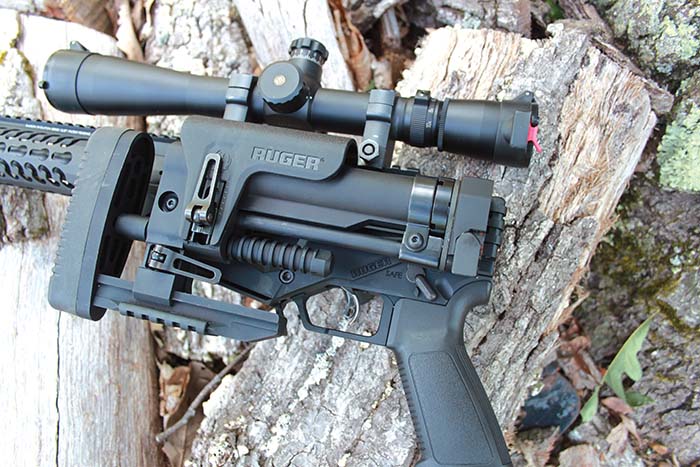 Even though a bolt action and imminently qualified to serve a precision tactical weapon, the Ruger Precision Rifle should not be pigeon holed into solely a sniper rifle role. There many jurisdictions and/or private users that will appreciate its non-assault rifle bolt action persona while maintaining its high capacity capability. Misconstrued prejudices may arise when it comes to Ruger Precision Rifle stemming from elitist sentiments based on price. Some individuals, not to mention industry competitors, will want you to believe that the moderately priced Precision Rifle, $1399 MSRP, must somehow be deficient when compared to rifles costing two to three times more. The Ruger Precision Rifle takes a back seat to no rifle in terms of repeatable accuracy, ergonomics, reliability, trigger, and capacity.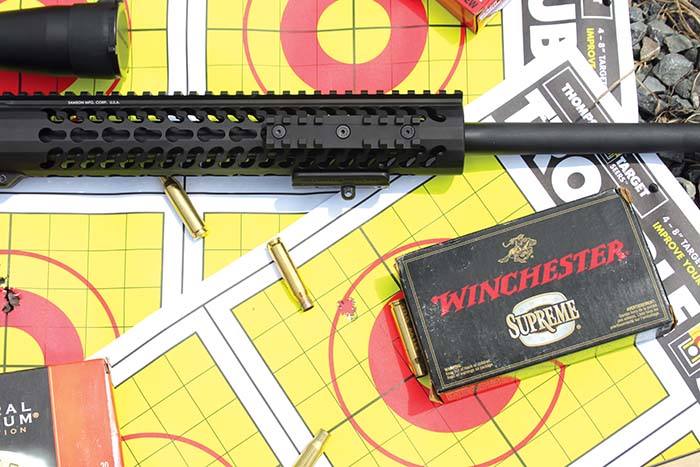 SITES OF INTEREST
Sturm, Ruger & Co., Inc
www.ruger.com
Black Hills Ammunition
www.black-hills.com
Winchester Ammunition
www.winchester.com
ATK/Federal Cartridge Company
www.federalpremium.com
Echo Valley Training Center
www.echovalleytrainingcenter.com
Leupold & Stevens Inc
www.leupold.com
HornadyMfg.Inc
www.hornady.com
This article first appeared in Small Arms Review V20N9 (November 2016)