By Chris A. Choat
SureFire M600IB Intellibeam ScoutLight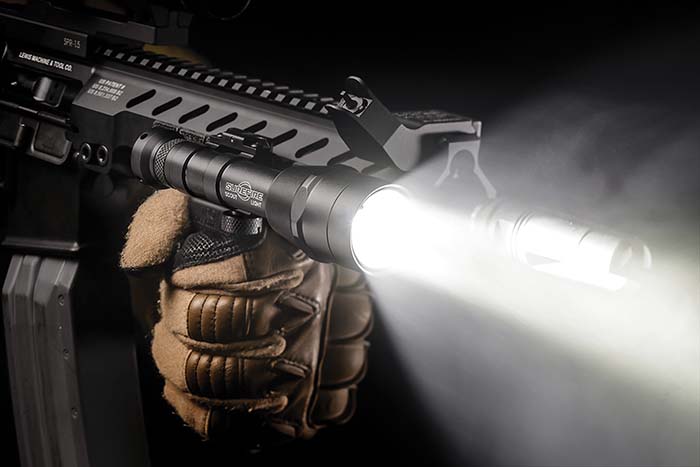 SureFire, LLC, manufacturer of the world's finest—and most innovative—illumination tools and tactical products, has launched their new M600IB Intellibeam ScoutLight. The revolutionary M600IB utilizes SureFire's proprietary IntelliBeam Technology—an intelligent sensor and microprocessor-based system that continuously evaluates the environment where the beam is aimed—to automatically adjust the light output to the optimal level, anywhere between 100 and 600 lumens. So you always get just the right amount of light for the task at hand, based on your surroundings! Inside, in close quarters, you get less light, to eliminate light splashing back into your eyes. Outside, or with longer distances, you get maximum output. Find out more about this WeaponLight at www.SureFire.com.
CENTURY ARMS AK OPTIC MOUNTING SYSTEM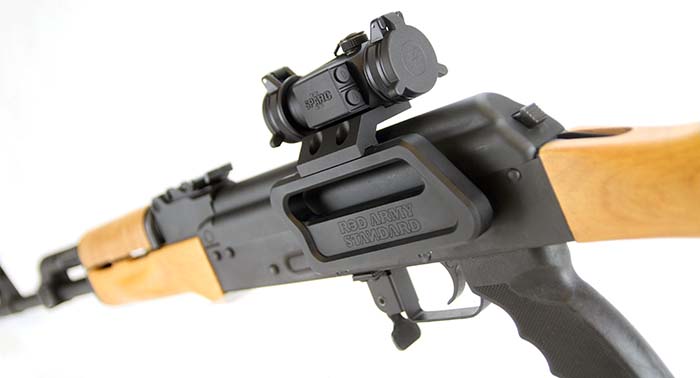 Century Arms, North America's premier AK manufacturer, is proud to announce the introduction of the new addition to their AK-47 accessory line, the AK Micro Dot Side Mount. This solid and easy-to-install mount contains features that set it apart considerably from other side mounts currently available on the market. This AK receiver rail and side mount represent a true evolution of optics mounting systems for the AK platform. The AK Micro Dot Side Mount is machined from 6061-T6 billet aluminum and is hardcoat anodized per MIL-A-8625F Type III, Class 2 specifications, giving it superior overall strength. The AK Micro Dot Side Mount is the first AK side scope rail mount that has true return-to-zero capability. The mount offers four times the clamping engagement over traditional side scope rail mounts, improves sight acquisition for follow-up shots and allows for complete field stripping of the rifle without removal of the mount. It is compatible with most standard T1/H1 style optics and provides a modular mounting system to adjust the optic from front to back. All of Century Arms' American Made AK47's in the C39v2 and RAS47 product lines now come equipped with a new receiver side rail that is compatible with the AK Micro Dot Side Mount. This combination allows the modern shooting enthusiast the ability to customize their rifle and make it a more capable, flexible platform. The AK Micro Dot Side Mount includes all necessary hardware and has a suggested retail price of $119.99. You can find them at: www.centuryarms.com.
HARTMAN MHI SIGHT HAS LANDED IN THE US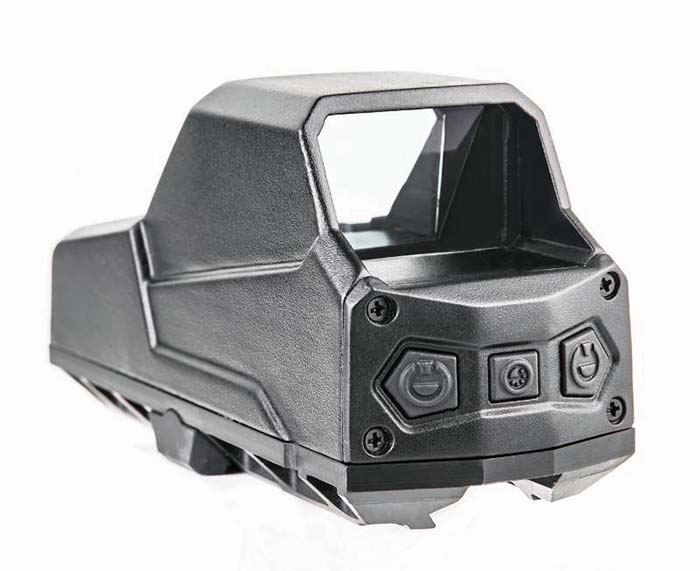 Hartman Ltd., an optics company co-founded by Lt. Col. (Ret) Mikey Hartman of the Israeli Defense Force (IDF) and founder of the IDF Marksmanship and Sharpshooting School, is proud to announce the arrival of the MH1 reflex sight to retailers across the U.S. The game-changing features of the patent-pending MH1 sight have been specifically designed to meet and exceed the demands of military, law enforcement and sportsmen around the world. The Hartman MH1 reflex sight is distributed exclusively in the U.S. by CAA. The MH1, is an advanced tactical red dot sight, featuring multiple ground-breaking technologies, including: the largest field-of-view on the market, an optional customizable user interface and a USB charging port that allows the user to charge the sight via any mobile device, computer or wall socket (a single CR123 backup battery provides additional extended battery life). In addition, the sight is motion activated and will stay in battery saving mode until its dual 30° motion sensors perceive the firearm is being moved in a shooting position. The MH1's rear panel and activation buttons are uniquely angled allowing the user to mount additional optics or night vision gear behind it without impeding access to the controls even when using gloves. Optionally, as part of the interface feature users can customize a variety of controls: PTT on or off, sleep mode duration, motion sensors enable/disable, low battery indicators and adjusting brightness levels. In addition, an optional remote control PTT strap allows the user to activate the sight as well as control brightness while maintaining two handed control of the firearm, useful when moving from low light to bright light conditions or vice versa. You can find out more at www.hartman-il.com.
FDE AND TACTICAL MODELS JOIN THE HK VP PRODUCT LINE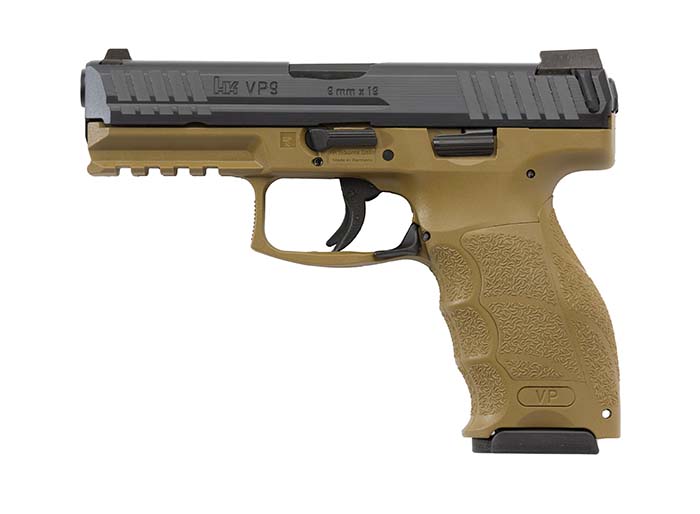 Two new models of Heckler & Koch's VP striker fired pistol have been added to the company line-up. New Flat Dark Earth (FDE) colored frame variants and threaded barrel "Tactical models" join the renowned VP family of 9 mm and .40 caliber pistols. The new VP FDE models are manufactured using special colorants added to the frame during the molding process and are available in both 9 mm (VP9) and .40 caliber (VP40). The color frame cannot fade or chip and is unaffected by chemicals, sun, and exposure to the elements. FDE models have all of the highly regarded VP features-with the addition of their colored frames. Flat Dark Earth is a tan/brown color scheme that has gained favor among many military and security units in recent years. The VP Tactical models (available in both 9 mm and .40 S&W) are also identical to standard HK VP pistols, except for the addition of premium grade threaded barrels only their weights and lengths differ due to the longer and slightly heavier threaded barrel. The threaded barrels are manufactured at HK's Oberndorf factory in southwest Germany, using the legendary Heckler & Koch cold-hammer forging process. HK cold hammer forged barrels, made from proprietary cannon grade steel, are well known for their long service life. Similar HK barrels on P30 models have fired more than 90,000 rounds in endurance tests. Both the VP FDE color frame models and the VP Tactical models are made completely in HK's Oberndorf factory in southwest Germany using all of the company's advanced technologies for barrel manufacturing, as well as production of the machined steel slide, polymer frame, and all internal components. HK VP pistols are competitively priced and covered by Heckler & Koch's lifetime warranty. Learn more at www.hk-usa.com.
CCI AMMUNITION ADDS HANDGUN SHOTSHELL LINE-UP TO HANDGUN LOADS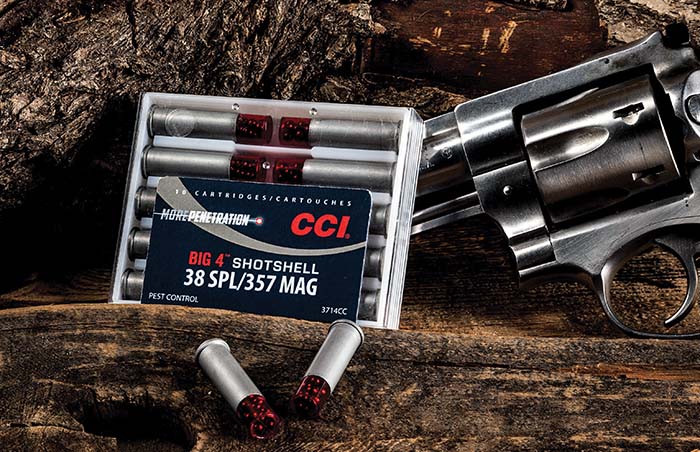 CCI Ammunition, the only American manufacturer of handgun shotshells, introduces all-new handgun shotshells featuring larger shot for deeper penetration and extended range. They are available in four popular handgun calibers. Shipments of this new product are being delivered to dealers. Centerfire handgun shotshells have long proven themselves as highly practical options for close-range pests. CCI has added to its one-of-a-kind offering with exciting new CCI Big 4 loads to extend the range and capabilities of these downsized shotshells, thanks to a payload of No. 4 lead shot. The resulting energy and patterns enable Big 4 loads to take down larger pests at longer distances, making them even more useful. The new ammunition is packed in reusable 10-round boxes and is available in 9mm, .38 Special/.357 Magnum, .44 Special/.44 Magnum and .45 Long Colt. More information is available at www.cci-ammunition.com.
NEW CREEDMORE PTR AMMUNITION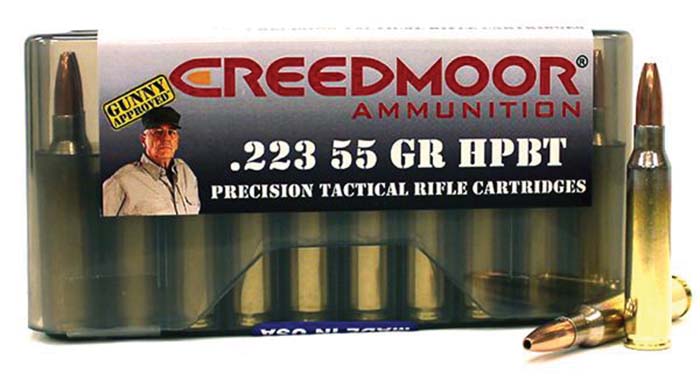 Creedmoor Ammunition, a division of Creedmoor Sports, is now loading Creedmoor Precision Tactical Rifle (PTR) ammunition, made specifically with law enforcement in mind. Hard-hitting and extremely accurate, the new .223 caliber PTR round is loaded with a 55 grain Sierra HPBT bullet. The Sierra HPBT leaves the muzzle at a sizzling 3,200 feet per second, and generates 1,250 foot pounds of threat-stopping energy. When zeroed in at 100 yards, the bullet drops a scant 3.4 inches at 200 yards. The new PTR ammunition is loaded into Creedmoor's own high-quality brass, sold in boxes of 20 in a MTM case, and is made in the USA at Creedmoor Sport's Anniston, Alabama facility. Quantity discounts are available. Every round Creedmoor Sports produces is hand inspected, after being loaded in new state-of-the-art AmmoLoad machines. The PTR rounds–like all Creedmoor Ammunition–are offered at the lowest prices possible because Creedmoor sells directly to consumers-no distributors or middle-men to drive up prices! For more information, please visit www.creedmoorsports.com.
POLYCASE RELEASES NEW SPORT UTILITY AMMO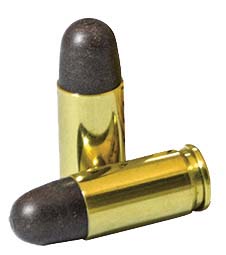 PolyCase Ammunition releases their new line of Sport Utility Ammo. PolyCase Ammunition has taken the industry by storm with their innovative copper-polymer projectiles, performing beyond expectations. The New Sport Utility line is range-friendly with its copper-polymer blend. Unlike other jacketed and frangible ammo, the Inceptor RNP Sport Utility Ammo can be shot on hardened steel with safe range distances being measured in feet, not yards, resulting in a safer and more realistic training experience. The Sport Utility Ammo is the perfect practice round for both indoor and outdoor shooting. This sport/training product is perfectly matched to the recoil and performance of the Inceptor Preferred Defense and Ruger Self-Defense lines of ammunition, making it the ideal practice ammo choice for users of Ruger or Inceptor-branded defense ammunition. The Inceptor RNP Sport Utility Ammo delivers high velocity and low recoil providing a comfortable day of shooting at the range while holding the accuracy and performance expected from PolyCase products. The Inceptor RNP Sport Utility Ammo line is available in .380 Auto, 9mm, .40 S&W, .45 Auto and .38 Special. This flatter, faster and frangible ammo is now available in contemporary packaged and competitively priced 50-round count boxes, making it the obvious choice for today's cost-conscious shooter. Contact them at www.polycaseammo.com.
This article first appeared in Small Arms Review V20N10 (December 2016)