By Todd Burgreen
Shadow Systems, based in Plano, TX, arrived on the polymer striker-fired handgun scene in 2016. The company quickly gained a reputation as a solid upgrade over other polymer framed striker-fired weapons on the market. Not only talking about the Austrian variation, but all offerings. This stems from Shadow Systems' in-house manufacturing of slides, barrels, triggers, and internals. Shadow Systems also employs patented MIM and injection mold tooling for frames and small parts. An example is Shadow Systems own LCI extractor. It features proprietary geometry for extra reliability and consistent 3 o'clock brass ejection pattern versus brass back in your face you get with some other polymer striker-fired handguns.
The CR920P is great example of Shadow Systems' innovation and ability to respond quickly to emerging weapon technology and trends. As we know red dots on personal defense handguns are here to stay. Most Shadow System models come standard with an optic-ready slide cut, including the CR920P. The Shadow Systems optic cut is unique thanks to its ability to accommodate multiple manufacturer red dots without need for adaptor plates. The Shadow Systems mounting method allows for a lower 1/3 co-witness with the Shadow System low-profile factory sights. The elimination of suppressor height iron sights protruding upward from the slide will be warmly received by anyone that has been gouged or had them snag on a cover garment during a draw stroke. Co-witnessing is important, as anything electronic can fail, no matter how rugged; thus, it's important to have iron sights ready as a backup plan.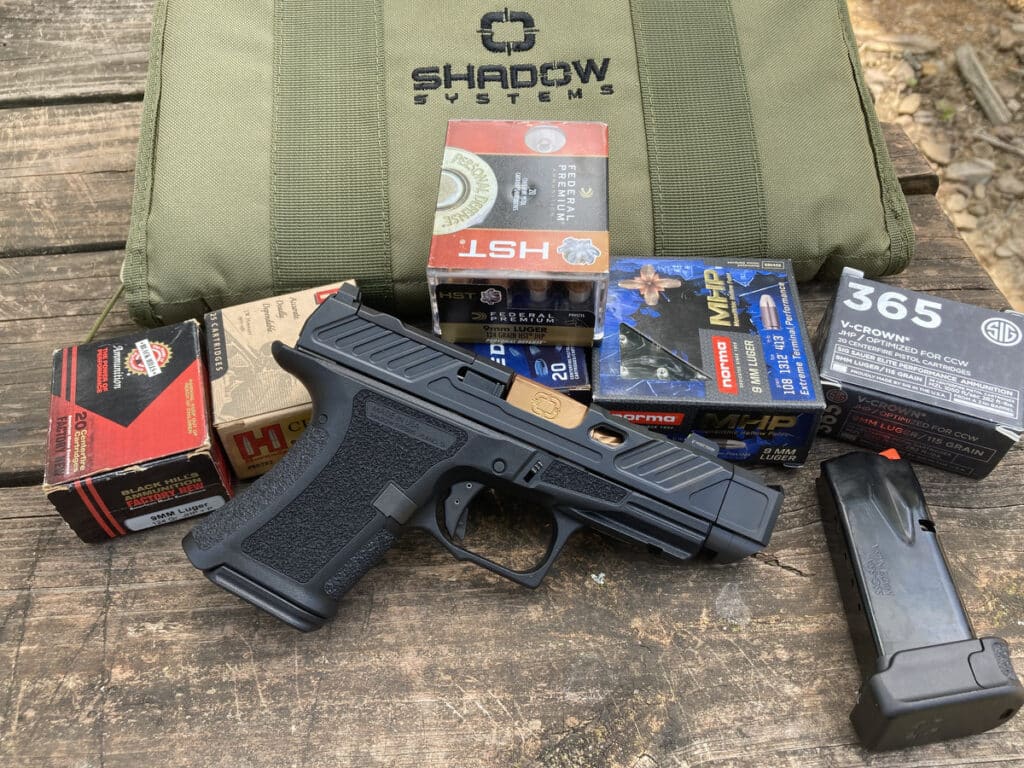 What sets apart the CR920P from its stablemates is the integrated compensator at the end of the slide. An earlier compensated model, the DR920P, showed Shadow System's creativity. Merely screwing on a compensator was not good enough. In fact, the Shadow System compensator does not require a threaded barrel. This is good news for those living in jurisdictions prohibiting threaded barrels.
The CR920P takes this a step further. The CR920P employs a proprietary 3-lug muzzle that works in combination with a centrally located locking lever in the body of the compensator. The intent here was to keep the pistol as compact as possible. The compensator is machined in a way to give a unified appearance with the slide and frame. This allows the CR920P to fit into a wide array of holsters created for the Glock 43X/48 models from Austria by way of Smyrna, Georgia.
FORM FOLLOWS FUNCTION
With the CR920P, Shadow Systems creates a superior covert carry handgun that excels in gunfighting, not just reactive defense most associated with smaller framed handguns. The CR920P is a slim, petite, sub-compact polymer handgun chambered in 9mm. Dimensions lend it to pocket, ankle, belly band, or other deep cover methods of concealed carry.
The CR920P is created from scratch. It is NOT a customized Glock. The CR920P benefits from Shadow Systems quality control and experienced gunsmiths pulling it all together. With that said let's lay out what the CR920P consists of; Shadow Systems 1:10 twist conventional rifling 3.75-inch spiral fluted bronze TiCN coated match barrel made from 416-R stainless steel, distinct Shadow Systems slide machined from 17-4 stainless steel with enhanced serration all around, patent pending optic cut, black nitride finish on the slide, steel iron sights with green Tritium front, undercut trigger guard, stainless steel guide rod, integral railed dust cover, and a flat-faced trigger.
ATTENTION TO DETAIL
Shadow Systems slides are machined from 17-4 stainless steel. The CR920P' slide is not just a hunk of steel meant to host barrel, sights etc. The slide is well thought out—from serration pattern to optic cut. Special attention is paid to the barrel lug and hood geometry to ensure concentric lockup enhancing accuracy. The serrations are not merely aesthetic. The purposely designed directional nature of the serrations provide an aggressive grasping surface when manipulating the slide… but they also reduce friction when coming out of the holster. The serrations combined with the window cut in the slide also reduces reciprocating slide mass. Lastly, the serrations contribute to minimizing weight. The CR920P weighs only 20 ounces.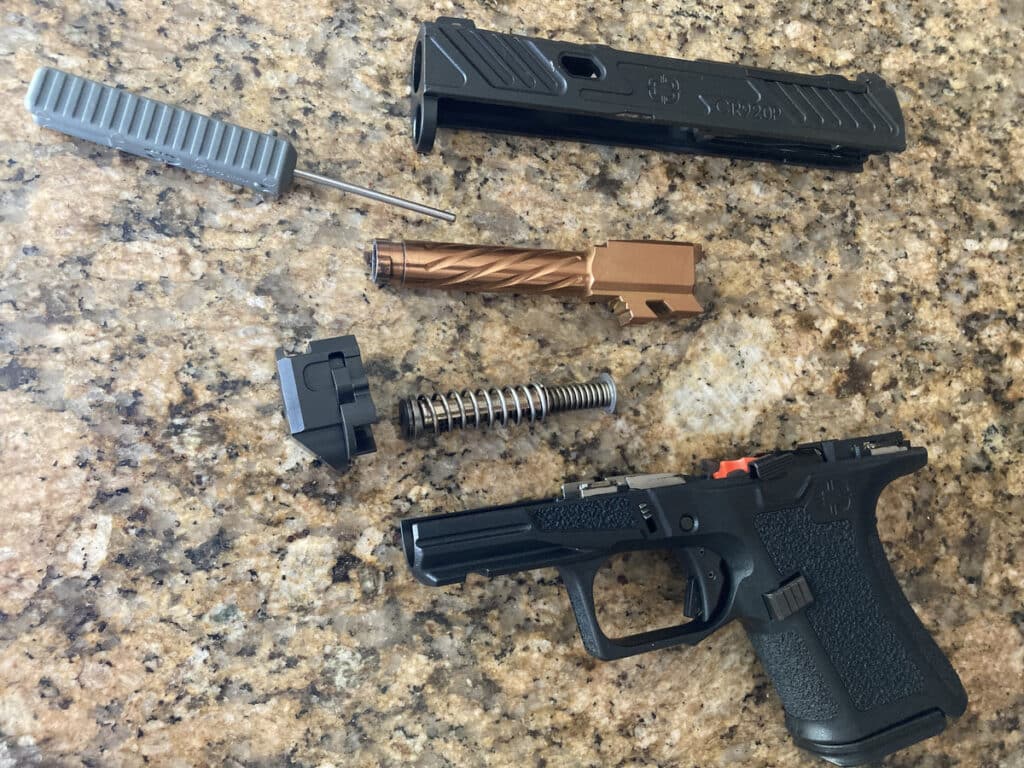 The CR920P sits low in your hand for better recoil control. An extended beavertail and double trigger guard undercut assists with proper grip straight from the holster. Material is relieved from where the guard connects with the grip as well as under the center of the trigger guard. A nice touch usually only found on polymer frames sent out for custom stippling are the recoil ledges on both sides of the frame in front of the trigger guard for off-hand thumb placement as well as finger placement when not manipulating the trigger. Shadow Systems enhanced the CR920P's polymer frame using a texturing pattern, lengthened backstrap skirt and a streamlined extended beavertail. These things were done so that the CR920P feels like a larger handgun when fired. Accurate strings of fire with multiple rounds placed on target bears out the Shadow Systems design philosophy.
The CR920P's compensator further accentuates the recoil control characteristics of the Shadow Systems design philosophy. It produces an extremely benign recoil impulse and lowered decreased muzzle flip due to the single-chamber comp using muzzle gases to drive the slide down after firing. This is key in keeping the handgun on target during multiple shot strings of fire.
WHY COMP?
Just as with red dot sights on handguns, compensators are expanding beyond competition applications and becoming more prominent in the realm of personal defense weapons. This drives the impulse to reduce compensator size while still retaining effectiveness. Why? Part of the challenge of using a handgun involves controlling muzzle flip. No one is saying a 9mm needs a brake. Do not confuse muzzle brake with compensator. However, controlling muzzle rise is a valid goal.
Muzzle flip reduces the speed with which you can accurately fire multiple rounds. The weapon must return to the sight alignment point before firing again. Recoil and muzzle flip also cause the pistol frame to move in the hand. A well-designed compensator allows for an easier job in firing the weapon under normal conditions, as well as under duress or with one hand. Most literature on compensators indicate 30% to 40% reduction of muzzle flip. Testing protocols can be somewhat subjective.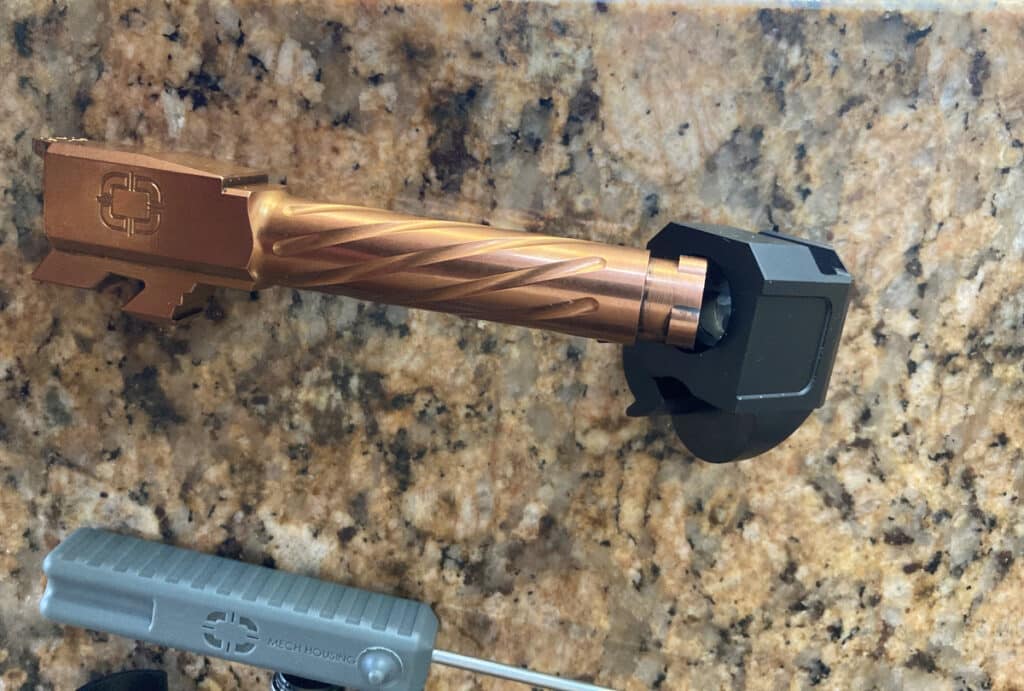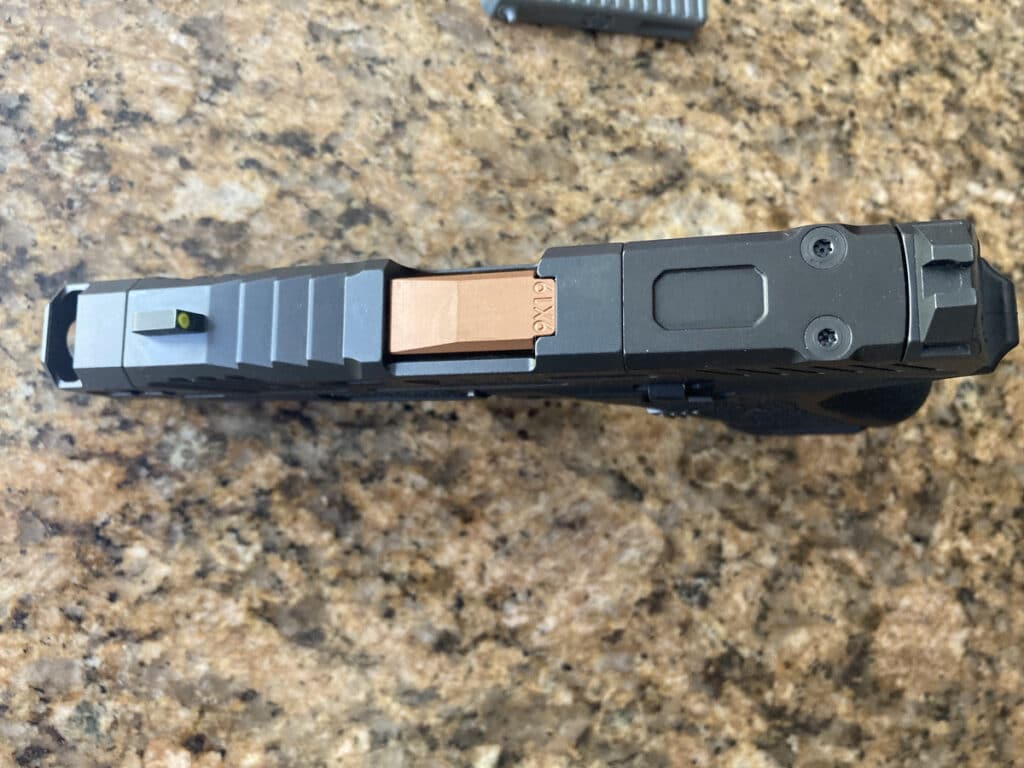 A size-equivalent non-compensated handgun was fired next to the CR920P. I not only fired the weapons but also volunteered students who were attending a concealed carry certification course at my home range Echo Valley Training Center. Many were new to handgun shooting which served my purposes perfectly. I loaded the same ammunition and have shooters engage a target 7 to 10 yards away. There was no prefacing what I was looking for; just questions after each handgun was shot asking about the perceived recoil and muzzle flip. The CR920P was unanimously judged as much more pleasant and easier to shoot accurately.
| | | |
| --- | --- | --- |
| LOAD | VELOCITY | AVG. ACCURACY AVG@ 15yds |
| Federal 124gr HST | 1026 fps | 1.2 in. |
| SIG 115gr V-Crown | 1041 fps | 1 in. |
| Hornady 147gr XTP | 905 fps | 1.33 in. |
| Norma 108gr MHP | 1206 fps | 1.25 in. |
Accuracy test protocol consisted of three five-shot groups with each ammunition type. Group sizes were averaged. Velocity figures obtained by averaging five rounds fired over a Caldwell Precision Shooting chronograph.
NOTHING QUITE LIKE IT
The CR920P can be compared to a Glock 43 in terms of size. However, the CR920P arrives in a zippered pistol rug with two magazines that indicate something different is afoot—one, a 13+1 and the other, a flush 10+1 capacity magazine. This is a significant improvement over the G43's 6-round magazine with the CR920P maintaining nearly the same dimensions of the G43, including height and width. This capacity increase is wrought by proprietary metal Shadow Systems magazines. The magazine redesign is necessary for the CR920 to achieve Shadow System's higher capacity goal. With that said, you are not going to be jamming G43, G26, or any other GLOCK pattern magazine into your CR920 Elite. Calm your rising angst as extra Shadow System CR920 magazines are available for $26 to $28.
A variety of 9mm loads were tested with the CR920P, including Norma, Federal, Hornady, SIG Sauer and Black Hills Ammunition. The CR920P was fired one handed, including use of the non-dominant hand, to verify there was no sensitivity in terms of reliability. Premium self-defense JHP, target, and match 9mm loads including 108-, 115-, 124-, and 147-grain bullets were used. The CR920P digested anything fed to it.
ON POINT FOR CCW
The CR920P is a near perfect blending of concealed carry compactness while maintaining performance. The ability to mount a red dot only increases its appeal. With that said, I was somewhat surprised by my preference of keeping the CR920P iron-sighted. This stems from maintaining as compact a profile as possible. I found under the right circumstances the CR920P could be considered for pocket carry, especially without a red dot mounted. This is quite an upgrade over any of the miniature 380 ACPs on the market.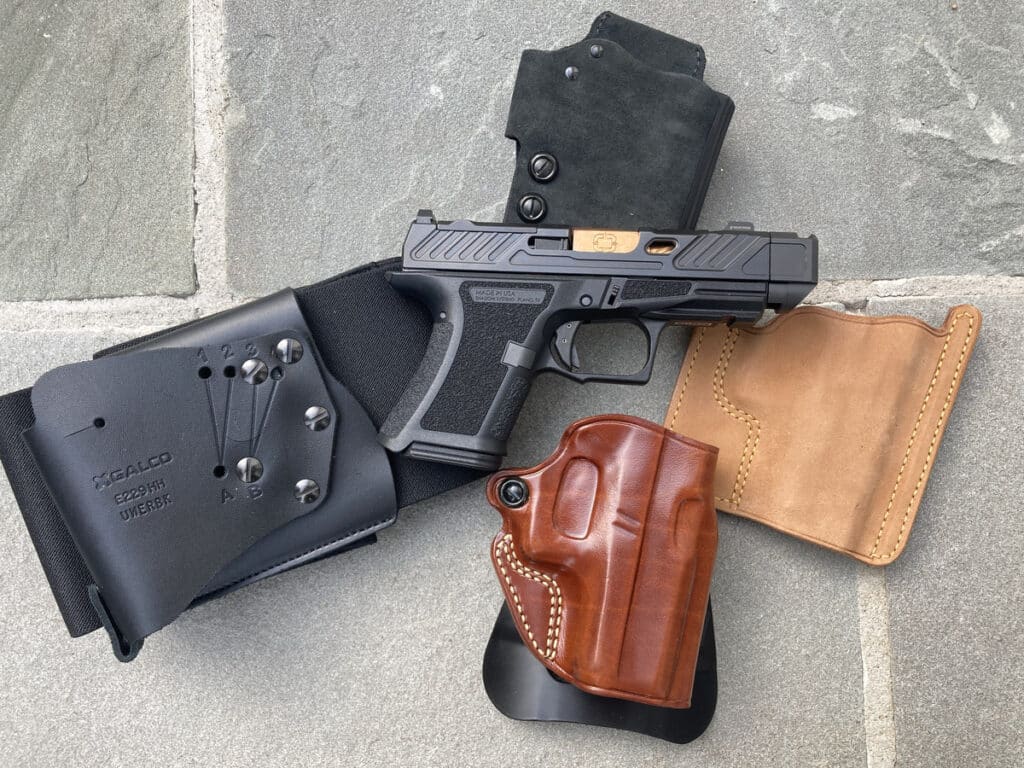 Various Galco holsters were not only incorporated into range testing, but also incorporated inyou a daily concealed carry routine with the CR920P. Galco's Front Pocket Horsehide, Quicktuk Cloud, Blakguard belt, and Underwrap Elite belly band allowed for exploring what the CR920P offered as an ultra-concealable handgun. I am not about to decide what is the best way to carry the Shadow Systems CR920P for others, as everyone has their own ideas on balancing concealment with practical carry.
Scenarios involving plate racks and dueling trees were run. Engaging targets from behind cover or on the move was incorporated into testing. Magazine changes were done for the dual purpose of getting a feel of manipulating CR920P and verifying how quickly it could get back on target. Speaking of magazines, Shadow Systems attention to detail is found here, too. The 13-round magazine's extension features the same texture on its front pad as the grip providing a comfy spot for your pinky finger. The rear of the 13-round magazine's basepad is notched to accommodate the lengthened backstrap. With the 10-round magazine, the backstrap extends below the rear of the magazine eliminating a possible pinch point.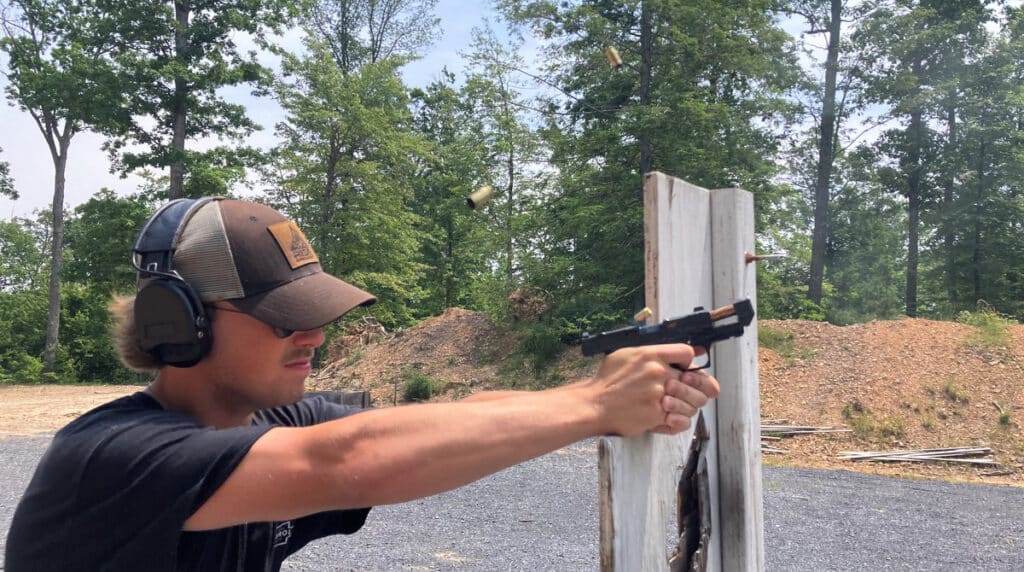 The Shadow Systems CR920P balances size to firepower for the concealed carry practitioner. The ability to mount a red dot will only add to its appeal. The Shadow Systems CR920P is a compact handgun that pushes the envelope past norms, while still maintaining real world application. The CR920P increases the effectiveness of a compact handgun beyond what most thought capable.
SPECIFICATIONS
| | |
| --- | --- |
| Make | Shadow Systems |
| Model | CR920P |
| Caliber | 9mm |
| Magazine Capacity | 10- and 13-round |
| Barrel Length | 3.75 in. |
| Overall Length | 7.13 in. |
| Height | 4.27 in. w/10-rd magazine // 4.79 in. w/13-rd magazine |
| Width | 1.05 in. |
| Weight Empty | 20 oz. |
| MSRP | $940 |