By Dean Roxby
Regular Small Arms Review readers may recall the article, "Big Bore Cartridges for AR-10s & AR-15s" (Vol. 22, No. 8, October 2018) in which this author examined the big-bore cartridge trend as it relates to the AR-10 and AR-15 platforms. At the time, I noted that the list is growing all the time and to expect new designs to appear.
Sure enough, there is a new cartridge to report on, and this one is a monster! The .475 Bishop Short Magnum (BSM) from Bishop Ammunition and Firearms is claimed to create approximately 5,400 ft.-lbs. of energy for the maximum load. That is definitely African dangerous game power level. This load fires a solid copper 390-grain bullet at 2500 fps from a 24-inch barrel. It is worth noting that this exceeds most factory loads for the .458 Winchester mag and all of the classic British "Nitro" rounds in the .450 to .476 range.
While it would make a fine elephant round, it actually was designed for a different purpose. Merrisa Bishop, president of Bishop Ammunition and Firearms, designed this round for military use. She wanted a rifle and cartridge combo that had enough bonk to kill a vehicle, yet was far more portable than a typical rifle chambered in .50 BMG. The Bishop AR475GAR (Godzilla Auto Rifle) is built on a standard AR-10 platform, ensuring a handy package in a familiar layout. The rifle weighs 12 pounds. This includes a tungsten buffer to add weight and
help tame recoil. An eight-port muzzle brake also helps as well.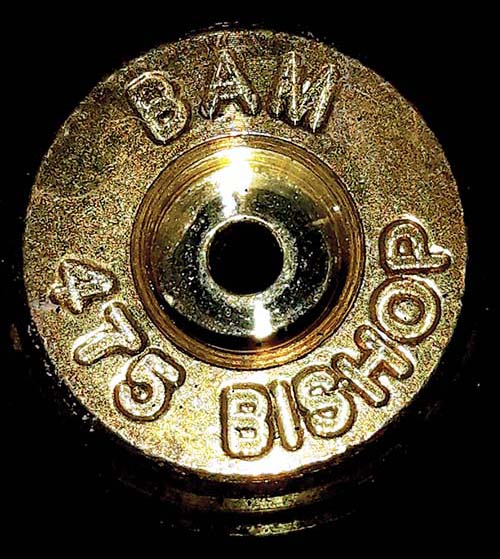 Features
As with several other recently introduced cartridge designs, this one features a rebated rim. The .475 BSM case uses the same rim diameter as the .308 Winchester case, thereby allowing the use of a standard AR-10 bolt and carrier. The case has a length of 2.182 inches (55.4mm). Under the European naming system, this cartridge would be named 12×55.4RB. Speaking of names, the original prototype was called the ".475 Odin," and some online gun forum posts still mention the Odin name. This was dropped to prevent issues with another similar name.
The case body is an impressive .588-inch diameter, the same diameter as a .338 Lapua or .416 Rigby case. Merrisa explained that the case was designed from scratch with the dimensions of the AR-10 Star Chamber as the size limitation for its base and shoulder diameters. The cartridge OAL is 2.85 inches, allowing it to feed through a standard AR-10 magwell. The magazine itself will need to have its feed lips adjusted to accommodate the large body diameter. The AR475GAR rifle feeds from an AR-10 mag modified to single-stack, center-feed. Each cartridge case is CNC-machined from virgin brass by Roberson Cartridge Company. The Bishop-designed 390-grain bullets are CNC-machined by Cutting Edge Bullets. These are solid copper and feature a deep hollow-point to promote aggressive expansion. The new cartridge is designed to operate at a maximum pressure of 65,000 psi.
Bishop also makes a bolt-action rifle called the .475 Safari in the same chambering. The .475 Safari and the AR475GAR were both unveiled at SHOT 2019.
I asked if there might be a full family of calibers based upon the BSM case in the future. Merrisa replied, "We are considering a full magnum cartridge based on the .338 Lapua case and cartridge lengths. But at this time it is just theory. I am also considering a necked down version in a .375 caliber or possibly a sabot round in the .475."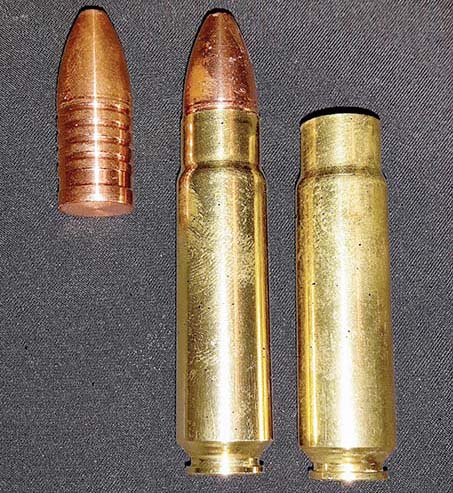 Company History
The business began as Bishop Ammunition Manufacturing, in 2009. Founded by Merrisa and Dianne Bishop, both are U.S. military veterans who have served in times of conflict. Merrisa, the president, is a disabled combat veteran and former Army military police officer and long-range marksman. She credits her father for introducing her to firearms. "My father was a U.S. Marine in the 1950s and taught me how to shoot when I was 6 years old. The U.S. Army further refined my shooting skills, and I became intimately familiar with the M16 rifle, its components and its shortcomings. As I was growing up my father taught me about ammunition reloading, quality control and gunsmithing."
Dianne is a former Air Force veteran, serving on active duty from 1982 to 1986 in satellite communications, operator-technician. She then served in the Air Force Active Reserves as a jet engine mechanic on C-5 Galaxy engines from 1988 to 1996. She was involuntarily recalled for active duty in 1991 for operation Desert Shield/Desert Storm. She was a 7-level Staff Sergeant when she transferred to the Individual Ready Reserve in 1996, until her Honorable Discharge in December 2000.

Dianne takes care of all graphic design, website and ammunition production. Merrisa does the research and development of rifle and ammunition products, as well as being in charge of rifle builds.
It is the innovation and initiative shown by small businesses such as Bishop that keeps the shooting sports interesting. You probably do not need a massive thumper such as the .475 BSM, but it is great to know that you can have one if you desire. I wish Merrisa and Dianne the best of success.
RESOURCES
Bishop Ammunition and Firearms
Cutting Edge Bullets
Roberson Cartridge Company (RCC Brass)
This article first appeared in Small Arms Review V23N9 (Nov 2019)