This year both shows saw a significant increase in attendance after the impact of the pandemic in previous years which led to show cancellations in 2020/21 and the uncertainty of visitor attendance in 2022.
EnforceTac
This year saw the tenth iteration of this international exhibition of law enforcement, tactical solutions and homeland security at the Messe exhibition center in Nuremberg, Germany which was held during 28 Feb 23 – 1 Mar 23 with the second day running concurrently with IWA Hunting and Sporting exhibition at the same location. The show, which it should be noted is only open to professionals in the law-enforcement/security industry continues to expand and the footprint this year had increased to three halls to cater to the range of exhibitors which had risen to a record number, just short of 500.
In addition to the main exhibitor areas, the show organizers also offered a live demonstration area and what was termed a 'Blackbox' facility where vendors could demonstrate a variety of thermal imaging, residual light amplifiers, torches and other devices in a suitable environment. A specific area was also designated for new "start-up" companies to demonstrate their product lines.
The product ranges and services offered have dramatically increased since the early years of EnforceTac, when the focus was primarily on personal issue law-enforcement firearms and individual equipment. This year, exhibitors were permitted to display a much greater range of products, such as the Diederich Defense Systems ATR with the Diehl Defence/EOS M134 Minigun overhead weapon-station, to the more mundane uniforms and international police insignia, the variety of the latter is difficult to believe!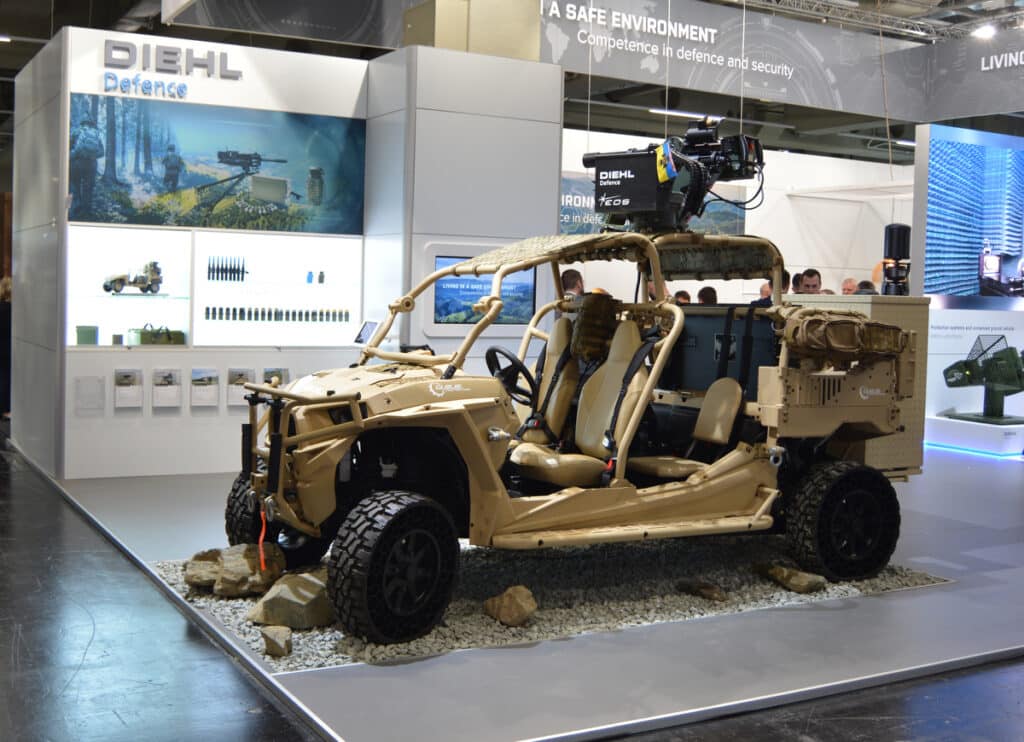 The regular Turkey-based exhibitors continue to expand their law-enforcement and military product line. The Turkish company Çanik displayed a range of products from their twin-mount .50 Browning HMG's and well as a line of their handguns each configured for a specific purpose.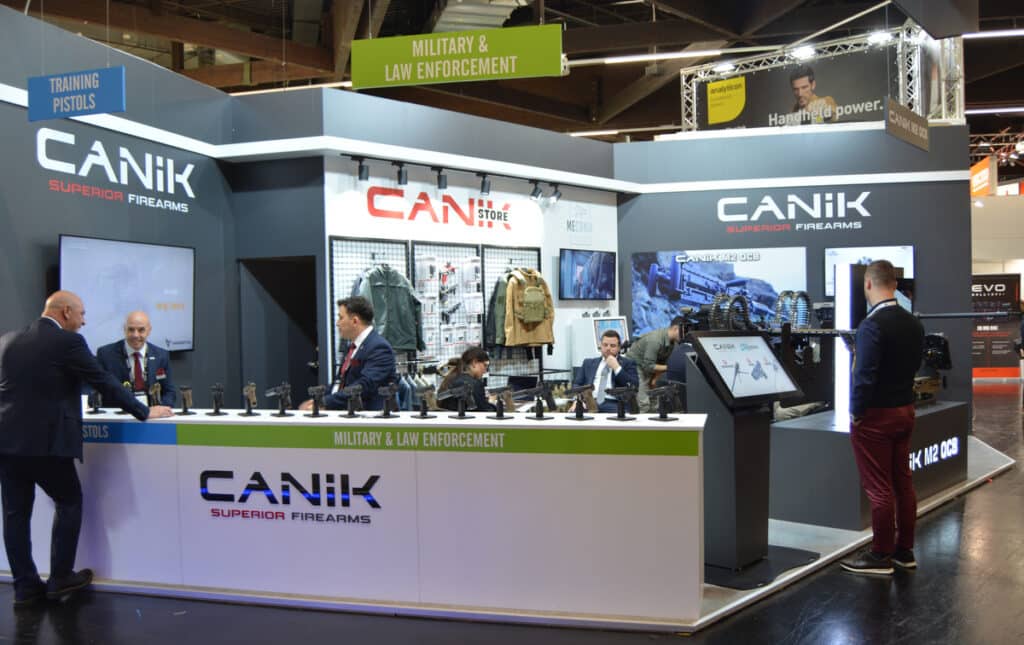 Readers with an interest in small arms might recall an earlier controversy over reported 'inaccuracy' issues when using the G36 assault rifle at "high volumes of fire." Whether or not the claims are correct, the Austria based Steyr Arms GmbH have offered a fix with their G62 option, which allows current users of the 5.56 mm NATO caliber G36 to replace the H&K made polymer receiver with the Steyr option of an all-metal receiver. It's claimed all other original (G36) components can be used, although Steyr also offer a replacement barrel with extended life and an alternative STANAG compatible magazine, well as a replacement for the propriety-design H&K magazines. Not a few countries armies and police forces have taken the G36 into service and the Steyr G62 package might well be a good option for a mid-life upgrade?

The long-established manufacturer of firearms Zastava of Serbia displayed an extended line of their military and law-enforcement products, which ranged from handguns to .50/12.7mm caliber anti-material rifles and machine guns.  Their current assault rifle, the M19 is offered in two calibers with quick change barrel facility, the universal standard 7.62 x 39mm and the unique 6.5 x 39mm round, which was developed by Prvi partizan Uzice using the 6.5 mm Grendel as a base for Serbian special forces use.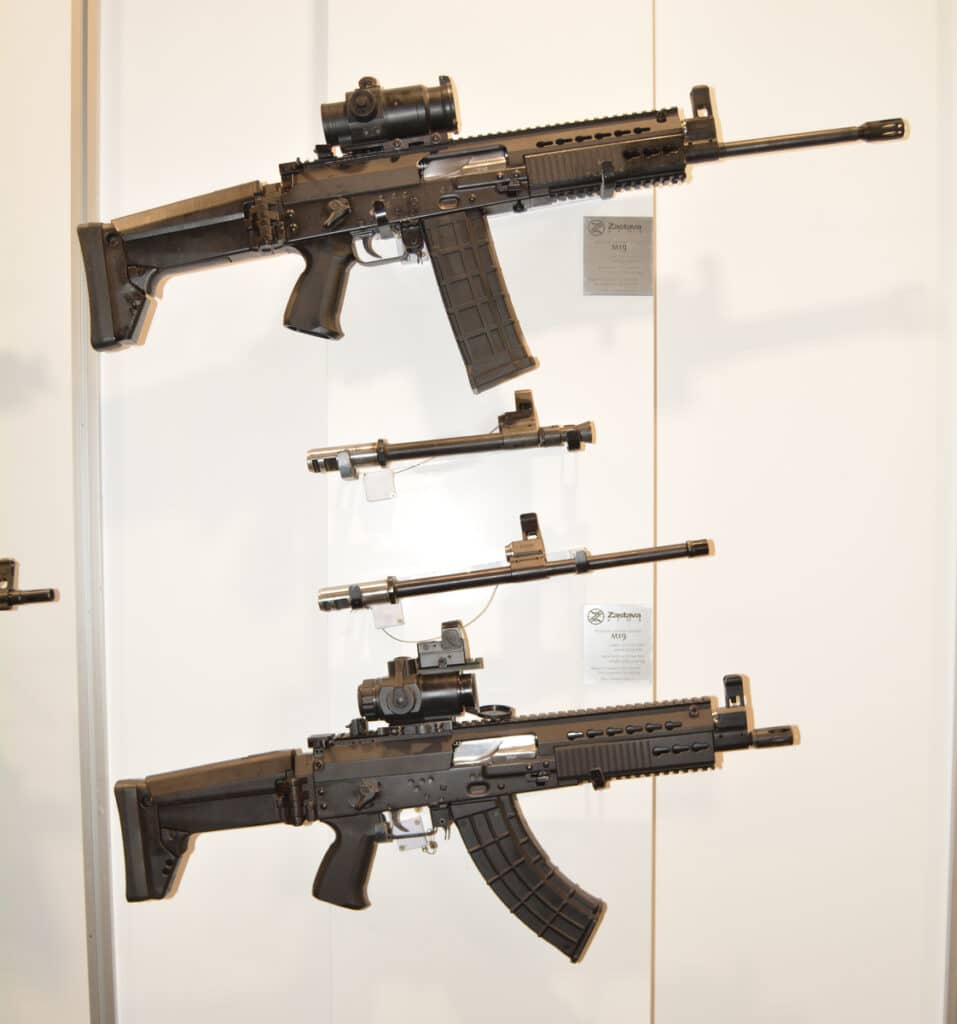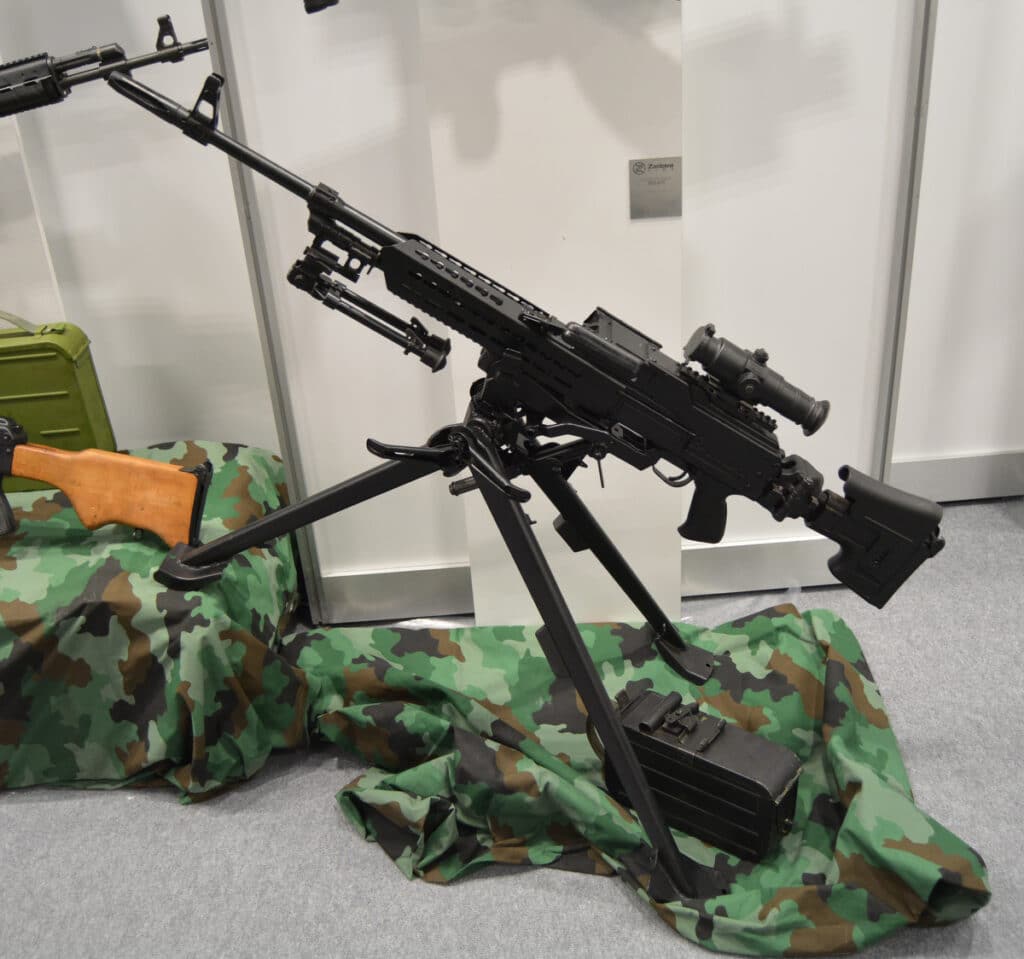 Swedish Ordnance, another EnforceTac regular attendee, offer a line automatic weapon feed systems and belt-filling devices as part of their product line.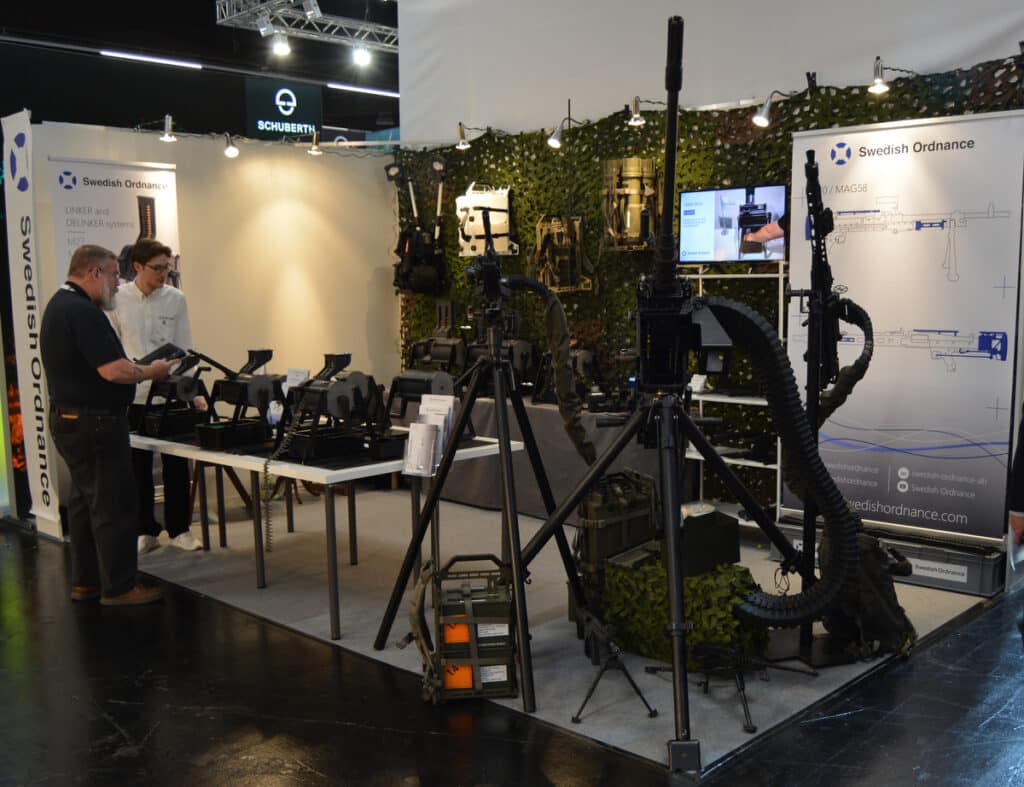 Sabre Defense and Pepper Ball were two U.S. companies offering less-lethal personal protection devices that travelled long-distance to attend.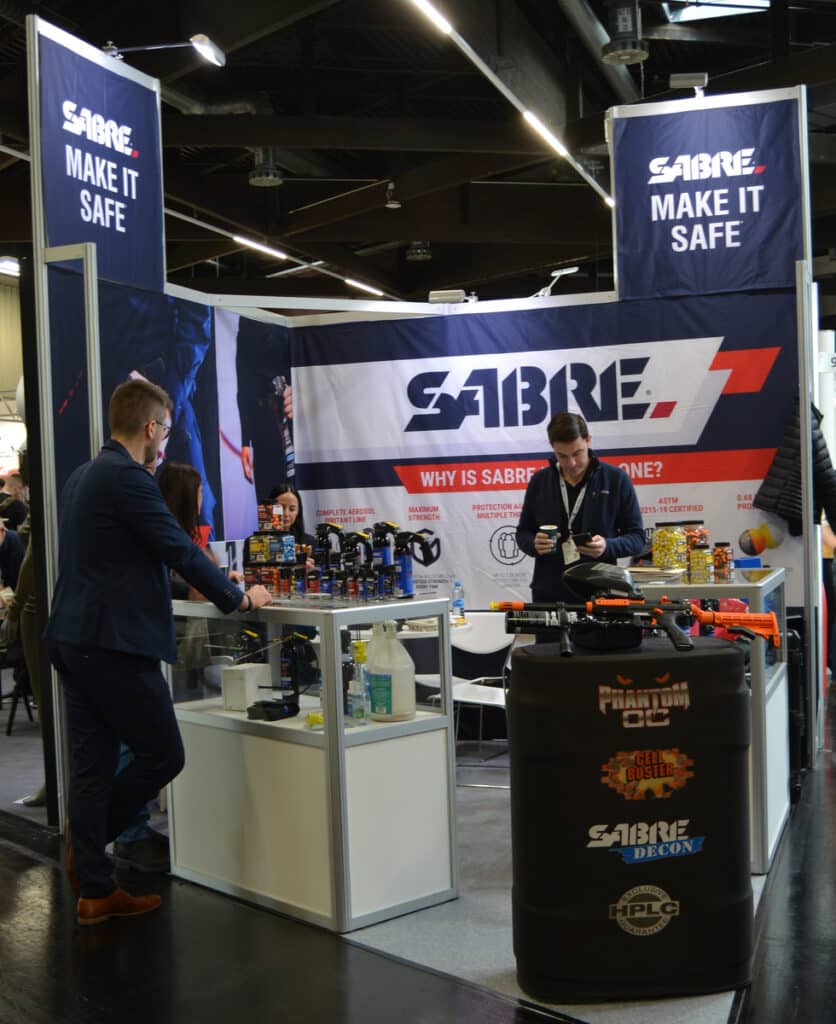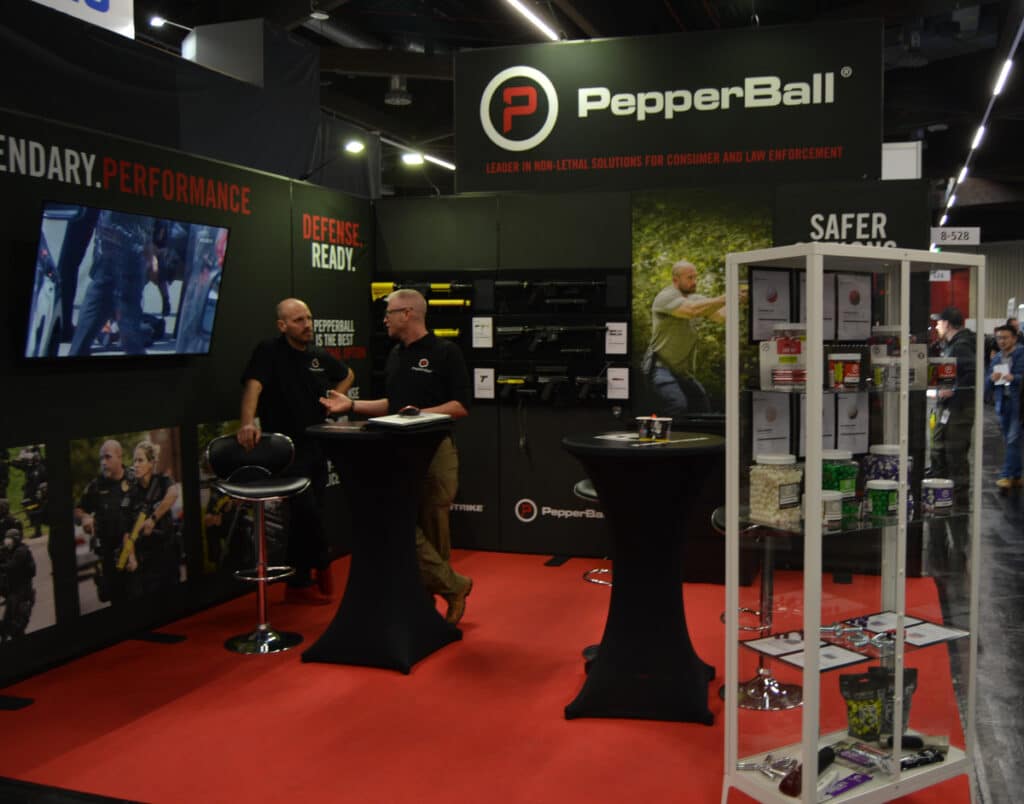 FAB Defense of Israel exhibited their range of tactical equipment and weapon accessories.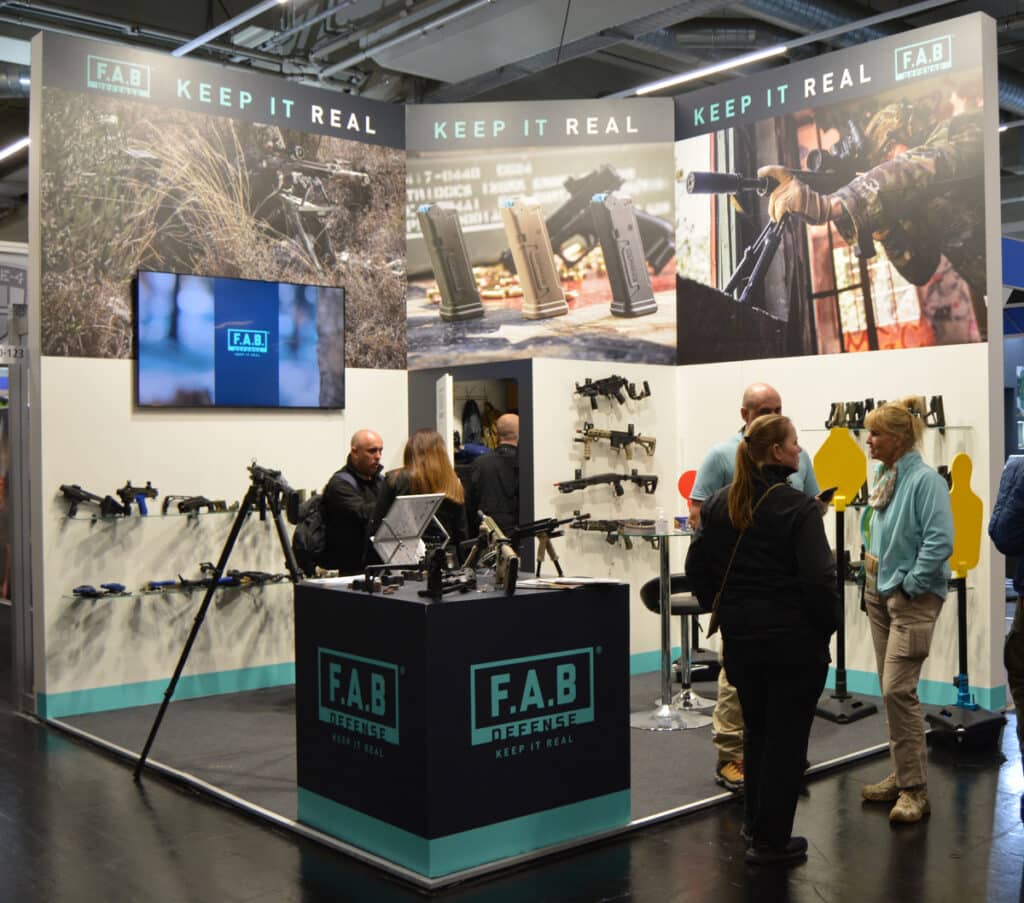 Drones have become part of everyday life. The law enforcement community has been drawn remorselessly into the tug and pull of drone use/misuse and drone suppression and increasing numbers of venders of aerial platforms, counter-drone measures ranging from hand-held devices to sophisticated command & control software solutions. One such exhibitor was Aaronia AG of Stricksheid, Germany whose impressive booth presented a vast range of options to monitor, detect and defeat unwanted drones.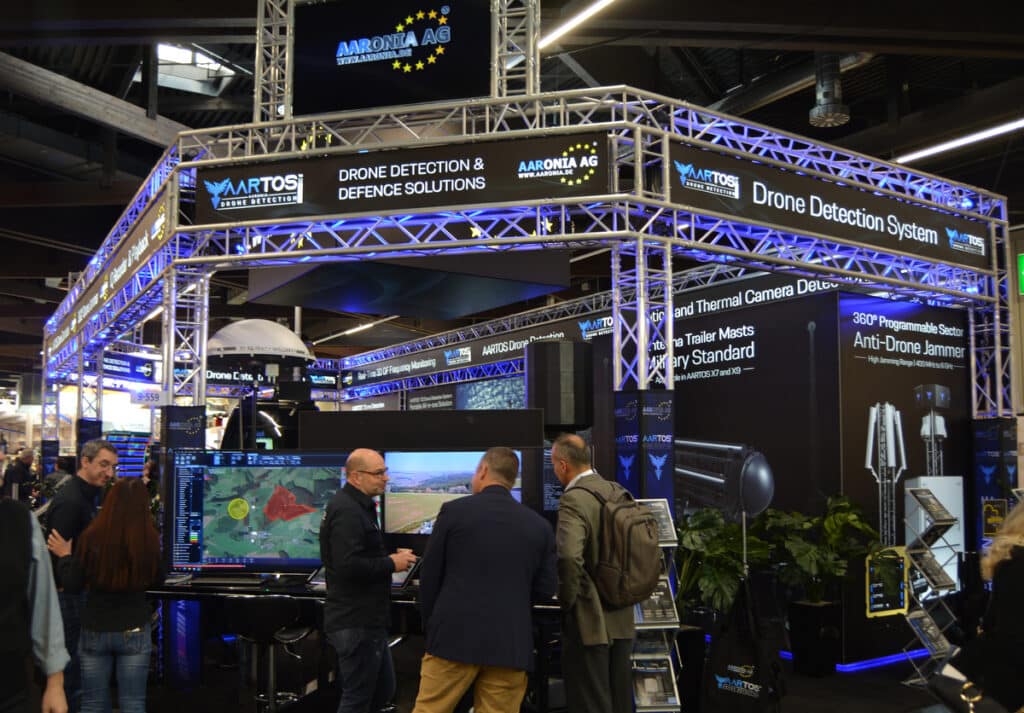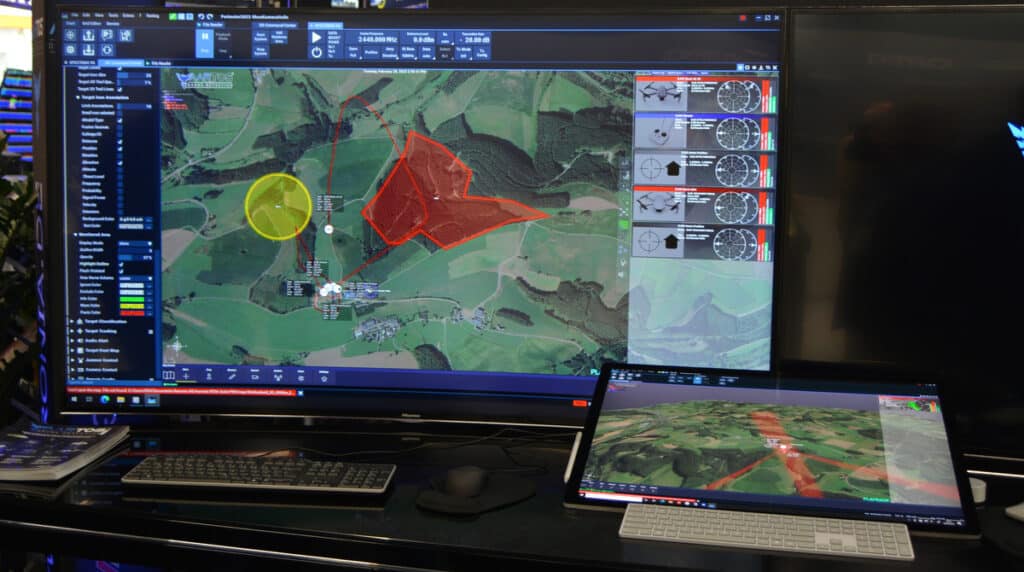 A much updated "paddy wagon" was displayed by Rheinmetall, the SurvivorR' "Protected Multirole Vehicle" weighing in at about 17,000kg fully loaded and carrying a maximum of 11 personnel. A number of capability enhancement options are offered for the SurvivorR, including a CBRN suite, riot control grid/dozer blade/battering ram, and high performance loudspeaker, amongst others.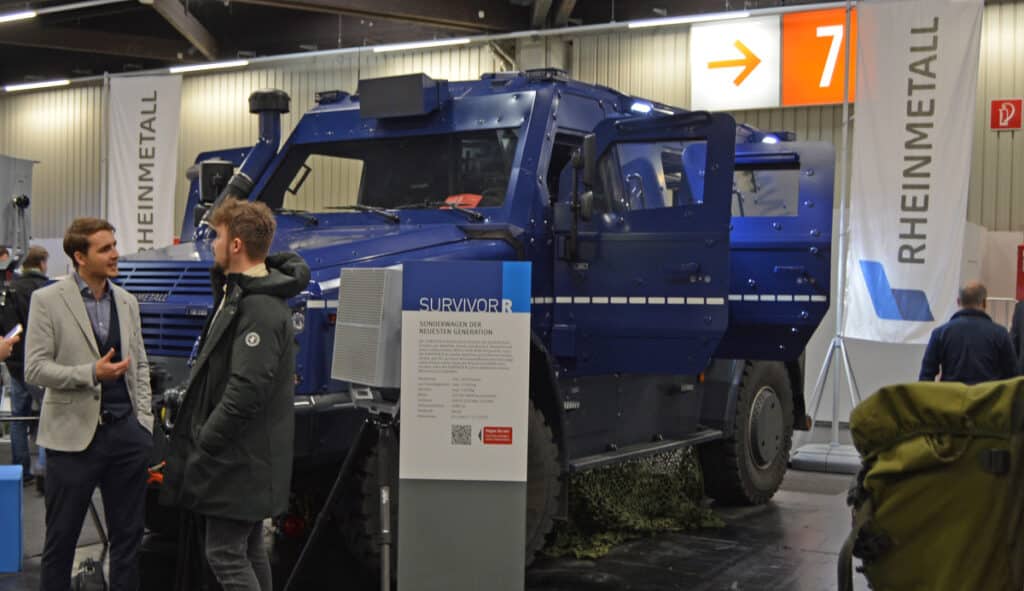 Future Planning included the MBDA shoulder-fired Enforcer lightweight missile system, developed by the company for use by military, and other specialist units when enhanced barrier defeat at distance is required. It also has an alternative enclosed space firing-mode.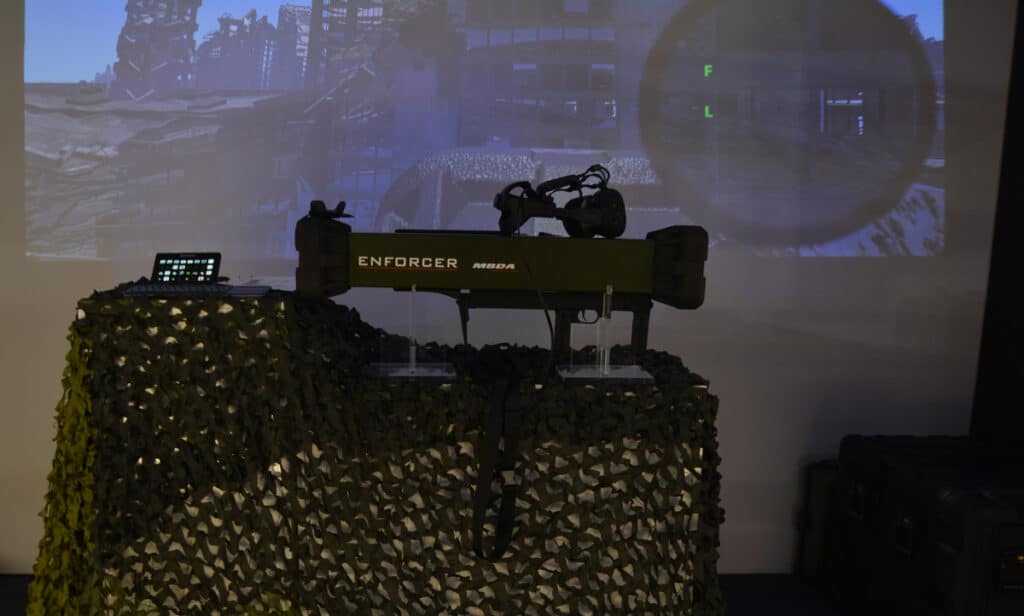 A regular visitor to such shows is the Swiss firm B&T who specialize in law-enforcement firearms and less-lethal devices, in addition to their well-established line of suppressors which have seen widespread police and military adoption.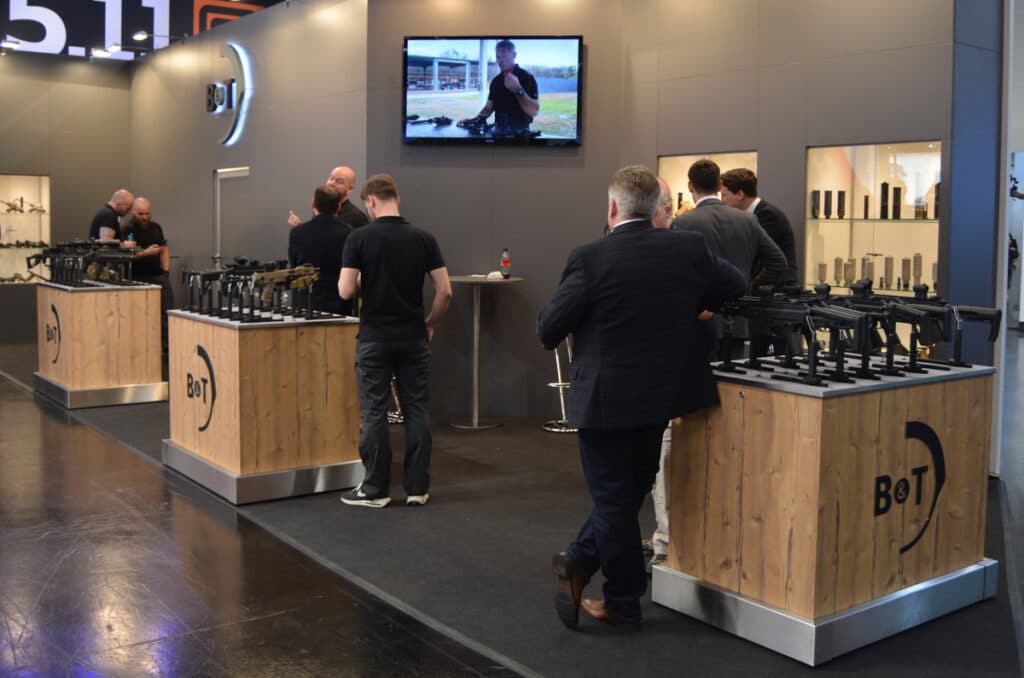 New to EnforceTac was the B&T KH9 'Covert' 9x19mm submachine gun. The Covert has the ability to be rearranged into a smaller package for concealment purposes.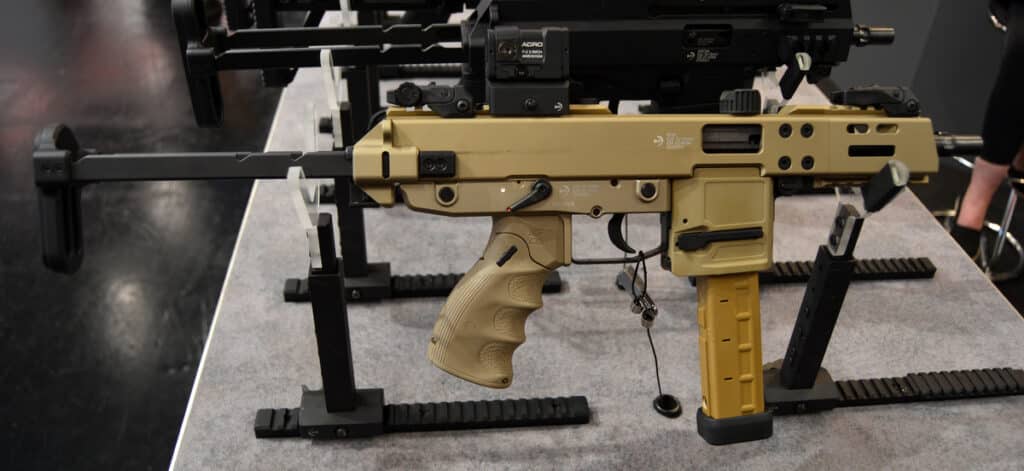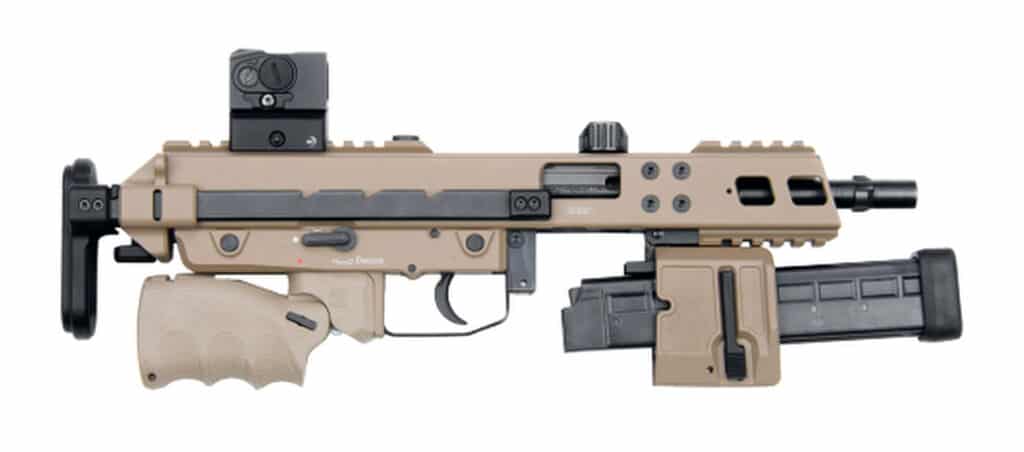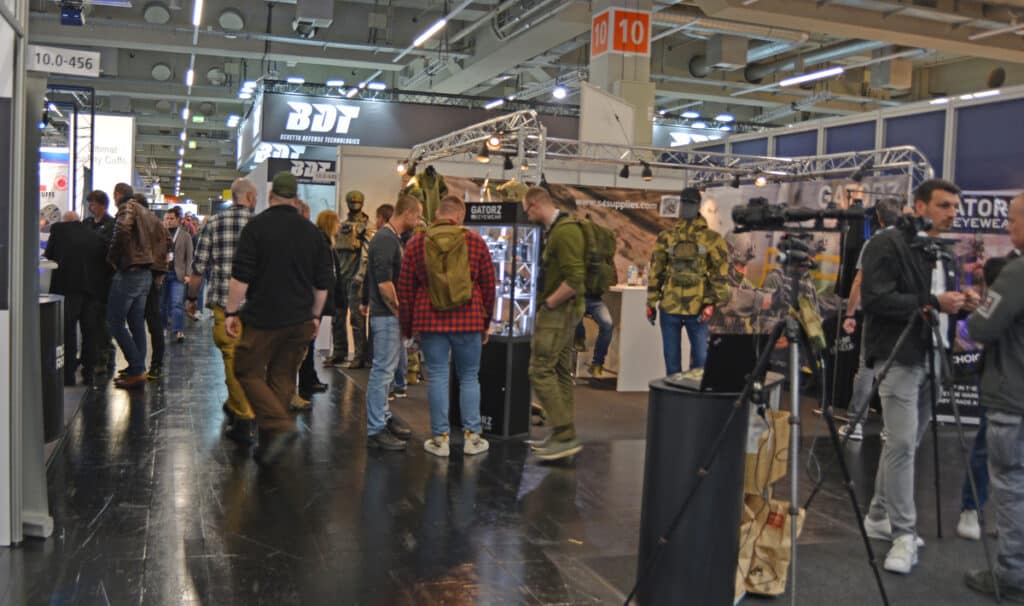 IWA – 2023
This year, to use its rarely used full title, the Internationale Waffen Ausstellung or International Trade Fair was billed as "IWA Outdoor Classics 2023".  The final count on exhibitor numbers reached around 1,100, attracting some 34,000 trade visitors from 119 different countries according to official figures issued after the show; with the organizers claiming its position as the "leading trade fair for global trade in the fields of hunting, shooting sports, outdoor activities and security."
The footprint of the show also continues to expand with nine halls in use this year at the expanded Messe Exhibition Centre. The halls are generally organized by theme to a specific product groups or topic which assists with visitor navigation and access. The previously rigid demarcation line between what the show organizers considered "sporting" and of a more "official" use has been relaxed. Hall 3 this year was staged for security equipment for civil and official agency purposes. Hall 4 for clothing and outdoor equipment for hunting, sport, fishing and leisure time.  Hall 5 focused on knives and was again the focal point for U.S. vendors. The remaining halls offered shooting accessories, firearms, sporting ammunition and optics.
HS Produkt of Croatia offered their popular line of HS self-loading pistols.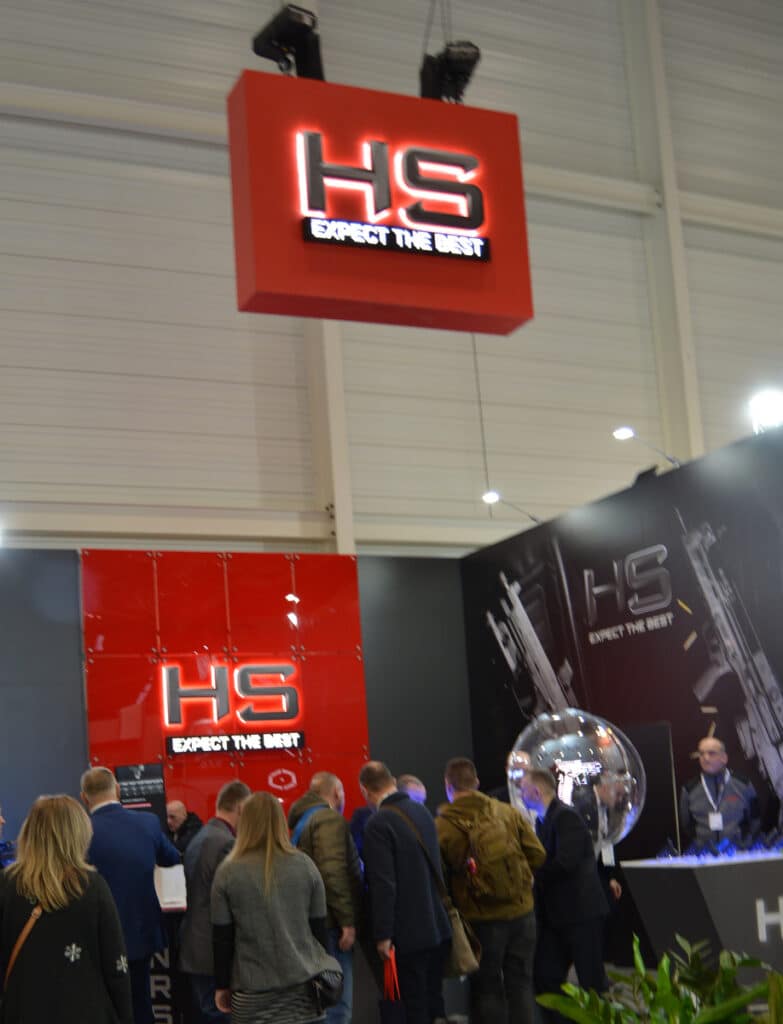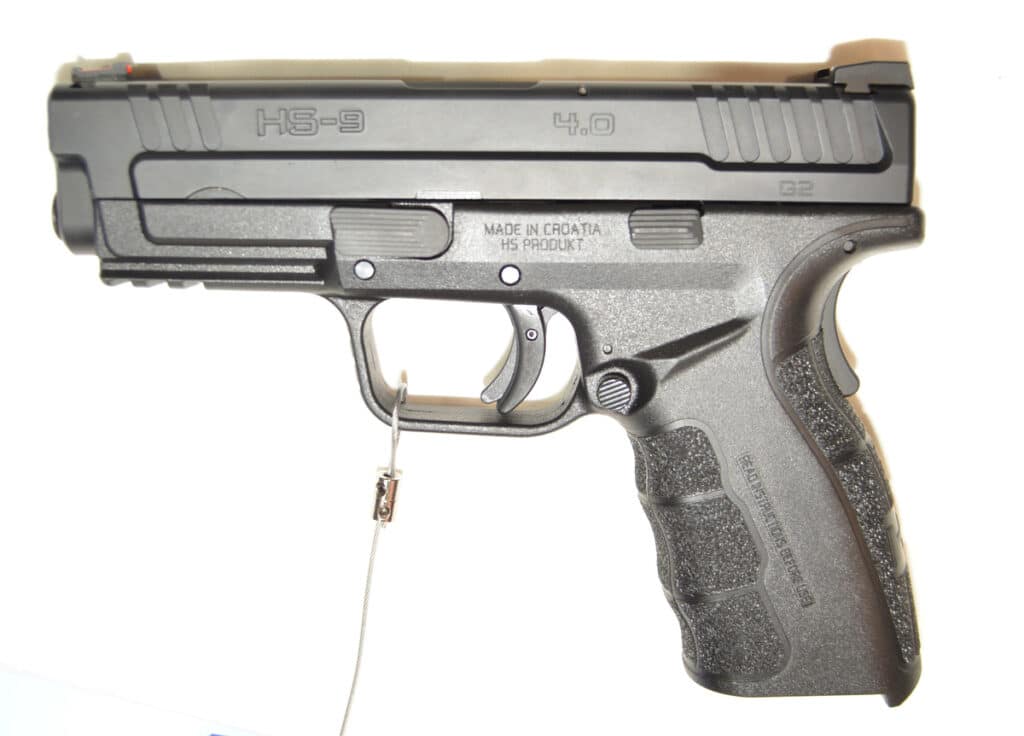 Collocated with the HS booth was the U.S.-based Springfield Armory whose extensive 'XD' pistol line is manufactured by the latter in Croatia. The latter also now offer a revamped version of the select-fire military VHS-2 assault rifle as the 'Hellion' in caliber 5.56 mm (.223 Rem).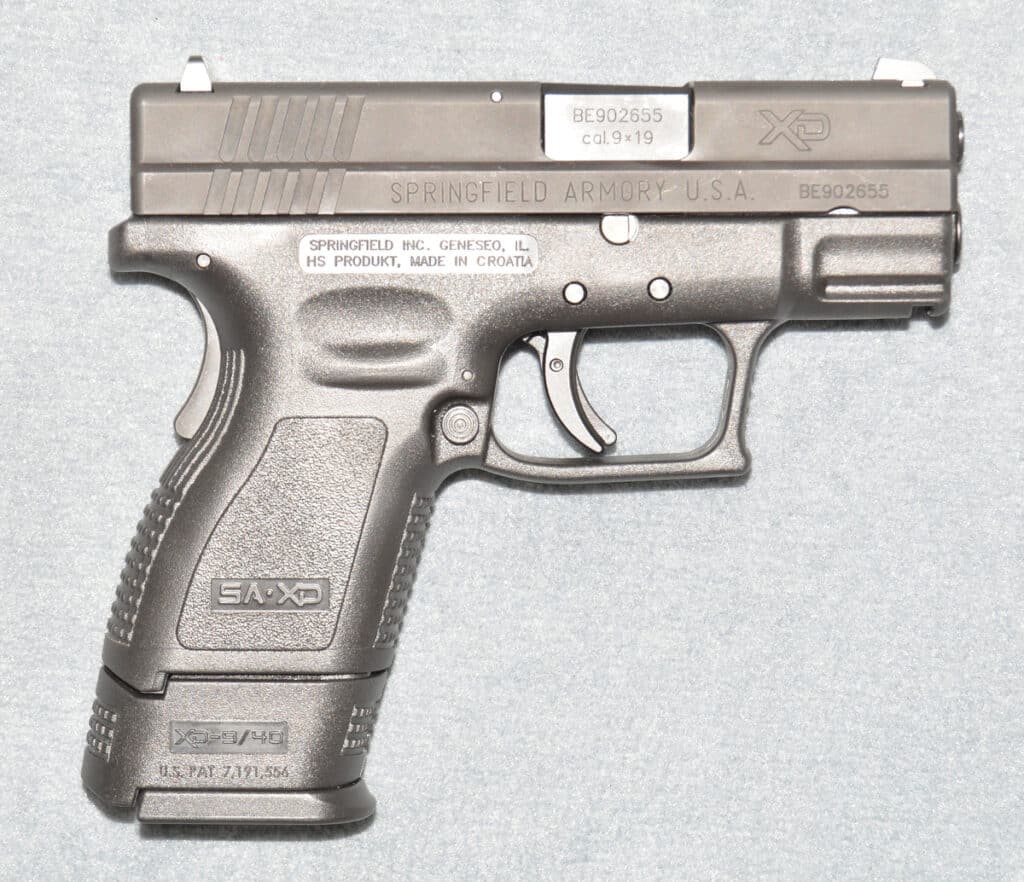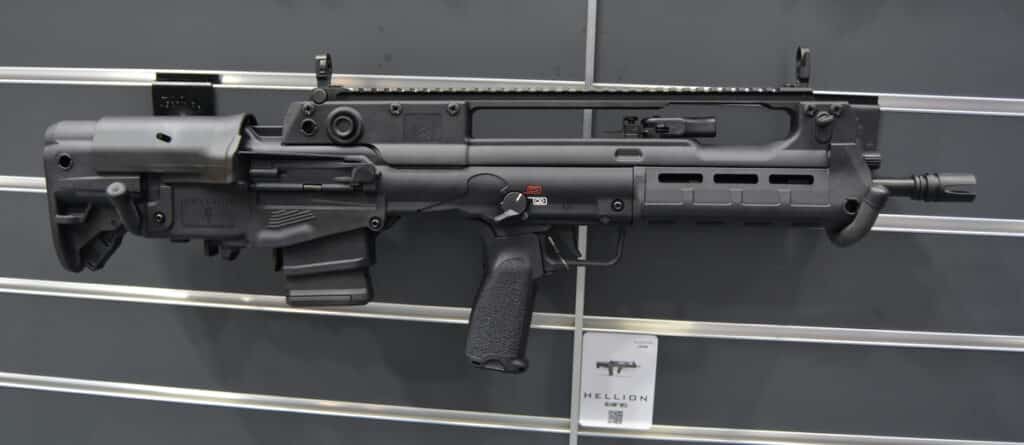 Black Powder shooting continues to be popular in Europe and a major supplier of quality reproductions arms is the Italian manufacturer Davide Pedersoli & Co. of Gardone Val Trompia who supply an extensive range of black powder muzzle-loading, flintlock, percussion and breech loading longarms with a complimentary handgun range.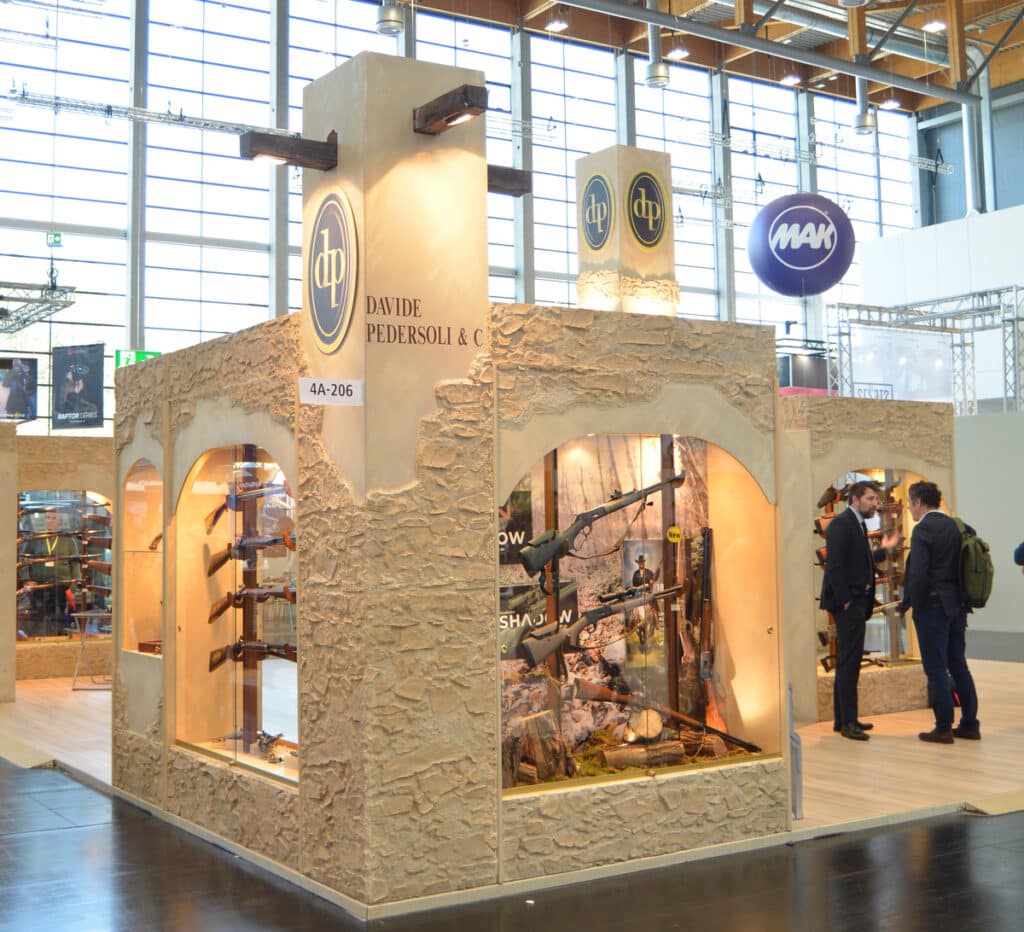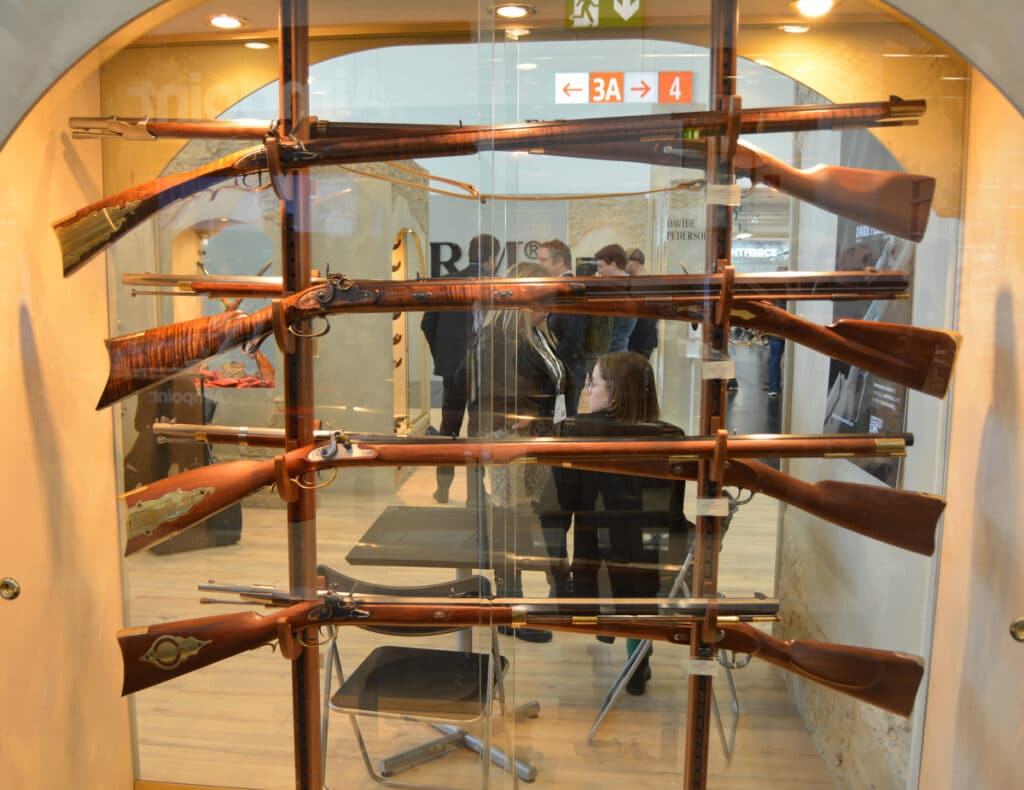 With firearms ownership restricted or banned in many countries, 'blank-firing' weapons, particularly handguns, have become very popular with several Turkish manufacturers offering a wide range of types. While primarily offered as 'blank-firers' for recreational or warning purposes, where legislation allows gas-cartridges for personal defense are available. It has been noted that the die-cast metals used in earlier production have been replaced by models of more substantial materials and construction, it is sometimes now hard to tell blank-firer from the genuine article at a distance!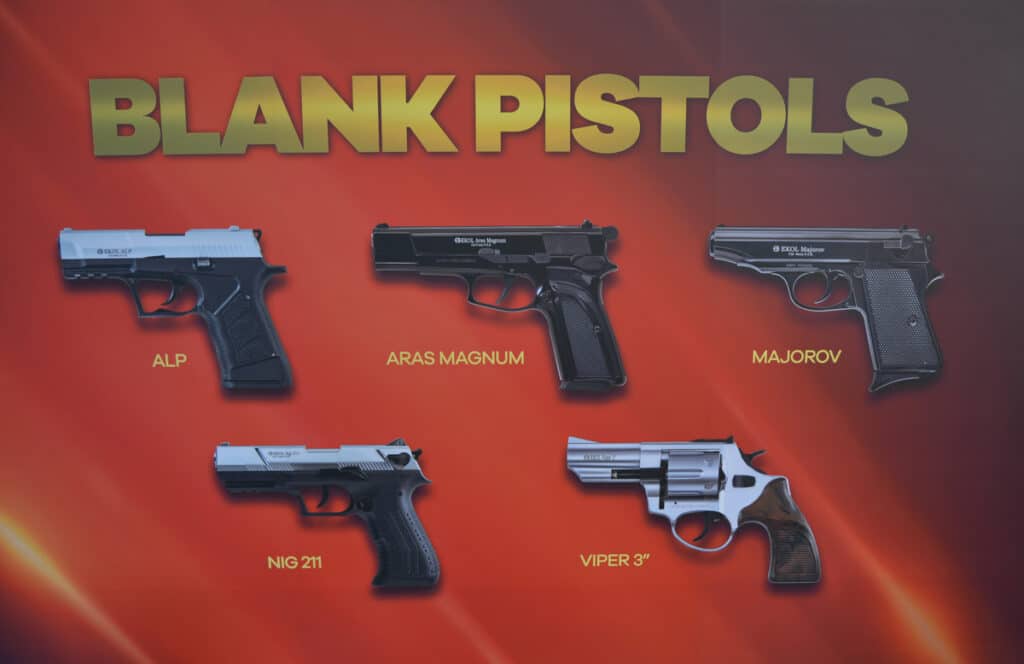 A U.S. manufacturer who made the journey to IWA was Sturm Ruger & Company, Inc., more commonly known as Ruger. The company displayed a full range of the product line of handguns and sporting rifles.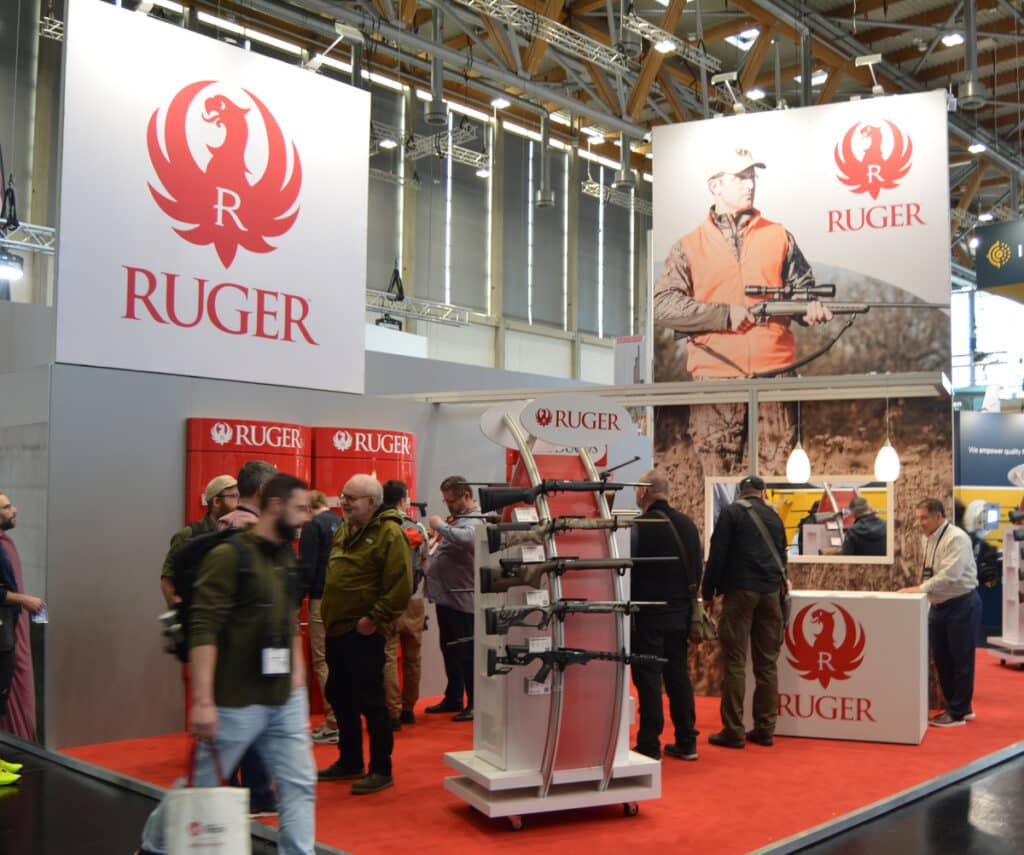 Vertex of Sofia, Bulgaria exhibited a range of their product line of specialist less-lethal ammunition in various calibers, together with their range of hand-held flare and distress signaling devices.


The Czech Republic based Alfa Proj offer a range of pistols and revolvers both in common calibers, and rarely seen these days in calibers 6mm and 9mm Flobert for use in indoor ranges using modified actions.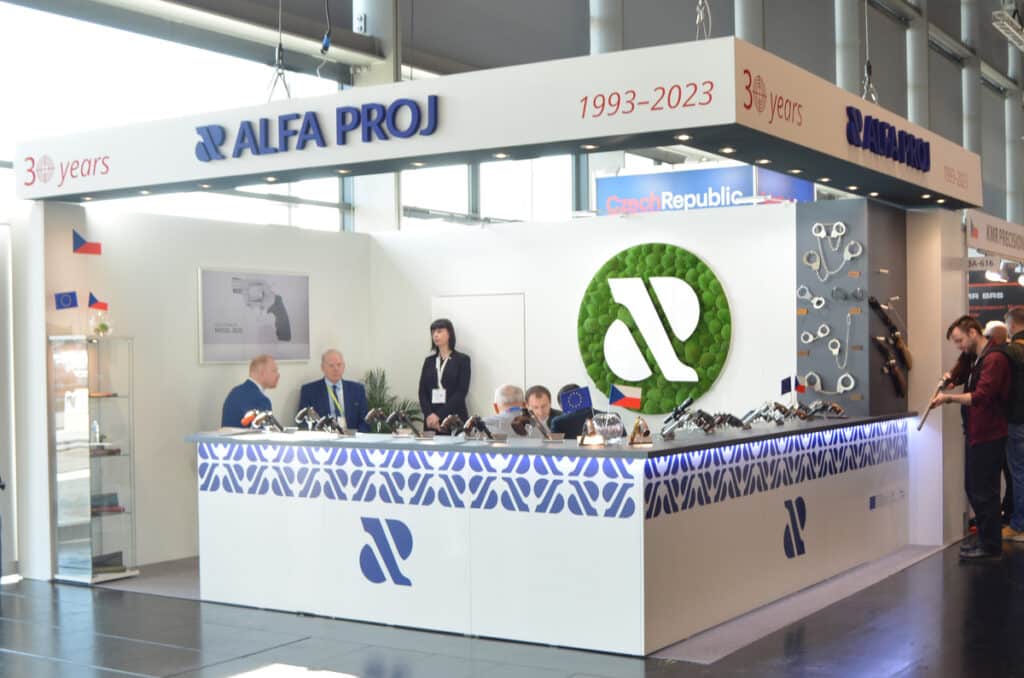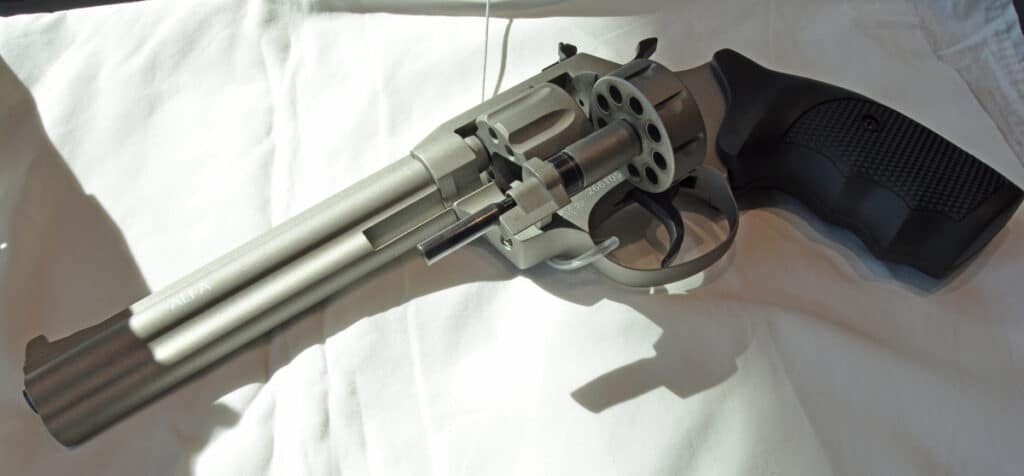 LCT Airsoft of Taiwan offer a wide range of airsoft replicas of military style weapons.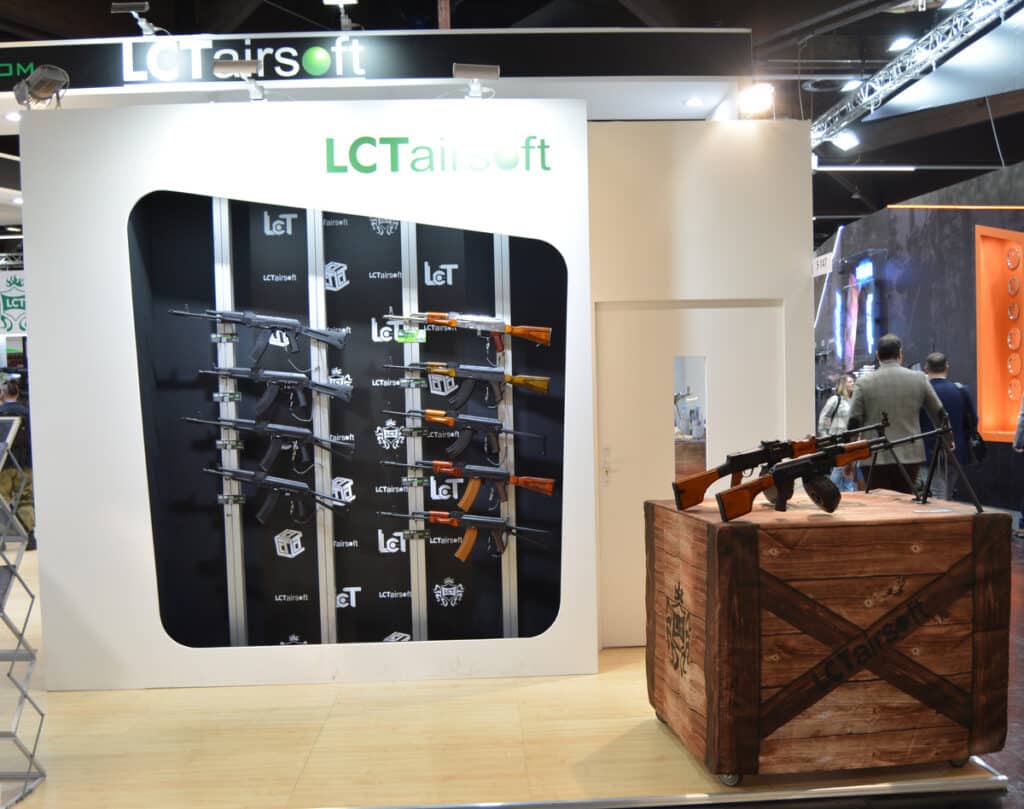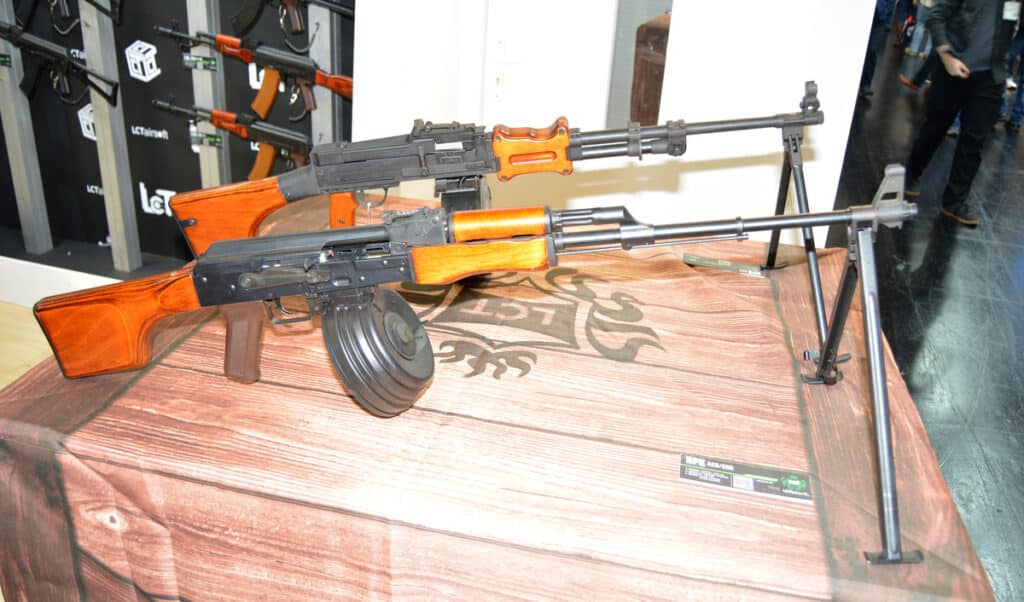 Zastava Arms of Serbia crossed over from EnforceTac and offered their range of sporting and target shooting firearms including the Model SP M07M, bolt-action precision rifle in .338 Lapua Magnum calibre.

Ceska zbrojovka (CZ) of the Czech Republic had their usual large booth which attracted much visitor attention throughout the show. CZ are the current owners of the 'Colt' brand name and displayed range of the latter's products in addition to their own.
.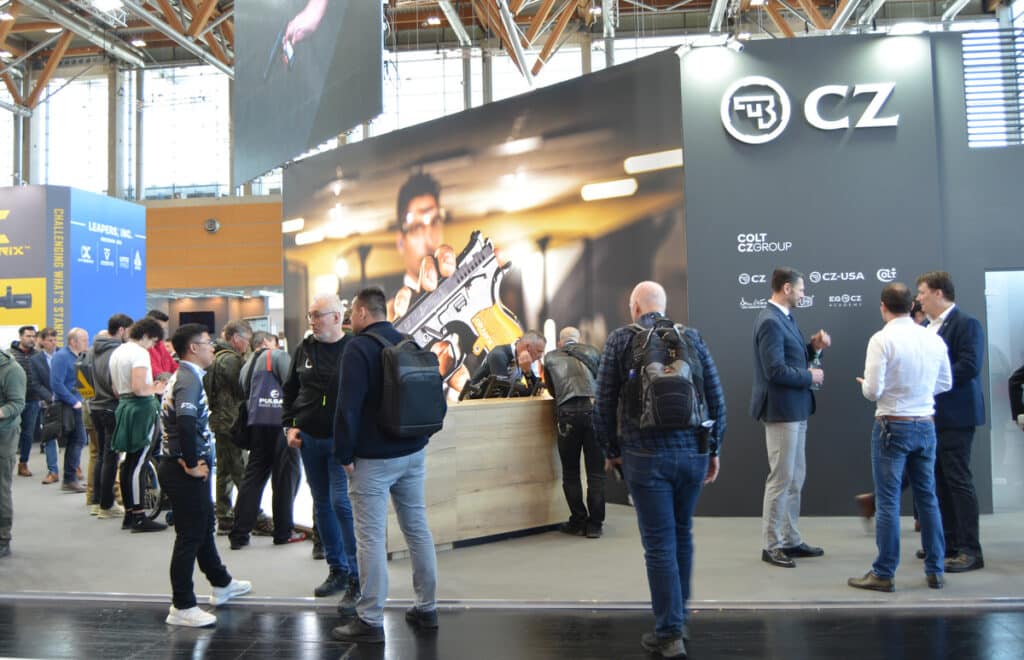 The Turkish manufacturer Sarsilmaz is one of an increasing number of Turkish arms manufacturers who have exhibited at IWA over many years and who have constantly developed their product line from a small range of handguns in the early days to a complete range today of military, law-enforcement, sporting handguns, and long arms.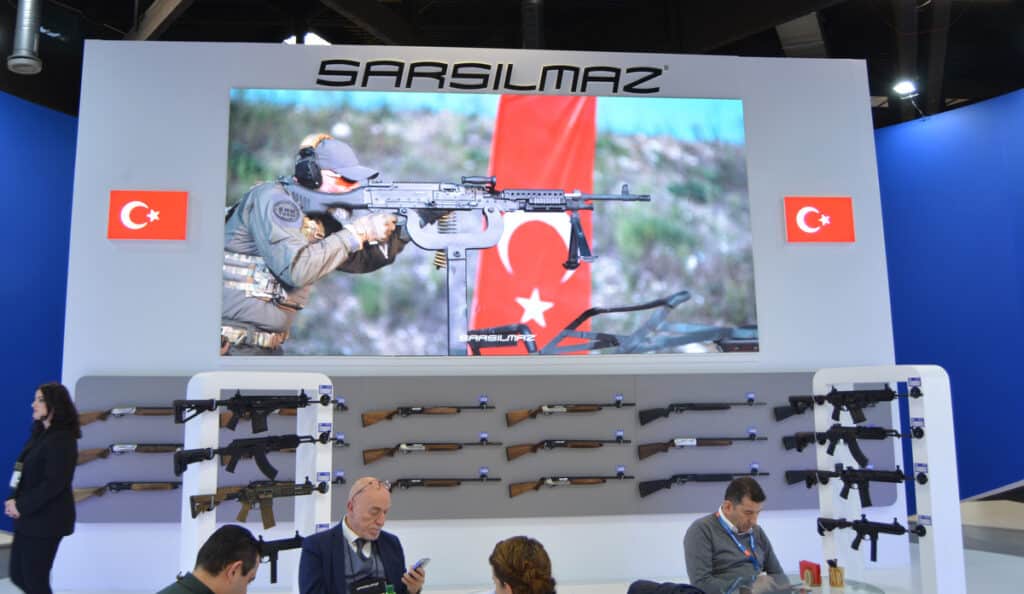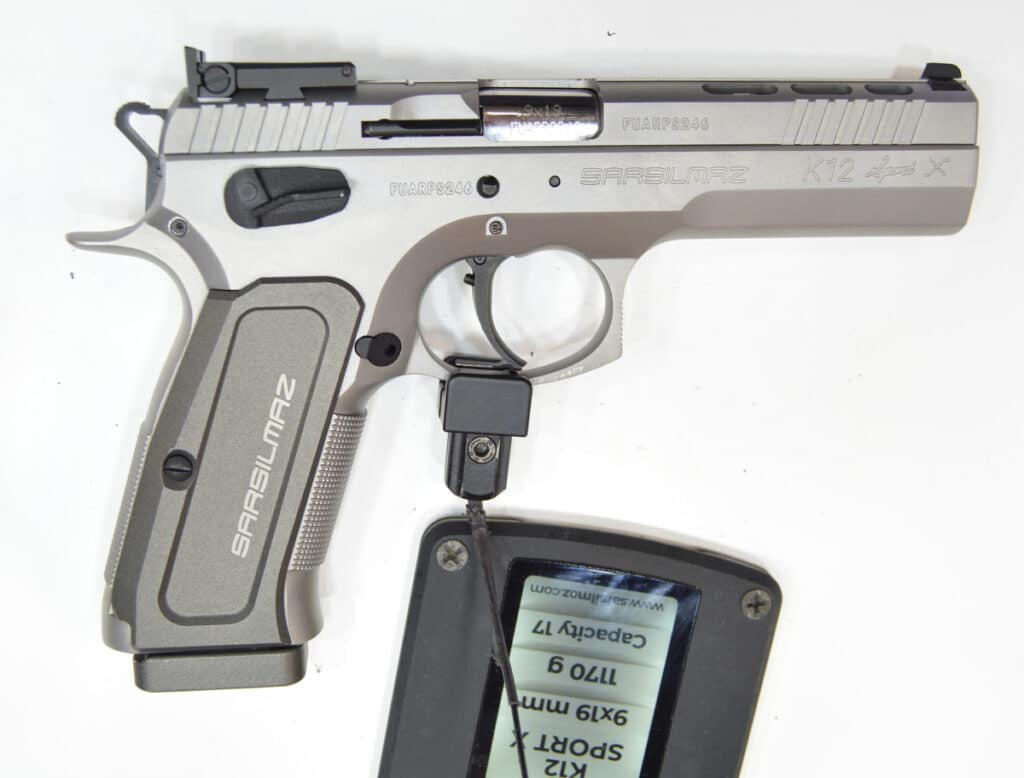 Reflecting the opportunity to display more military style weapons, FN Herstal of Belgium's large booth offered the visitor their product line from .50 cal. Browning HMG down to handguns and their less-lethal range.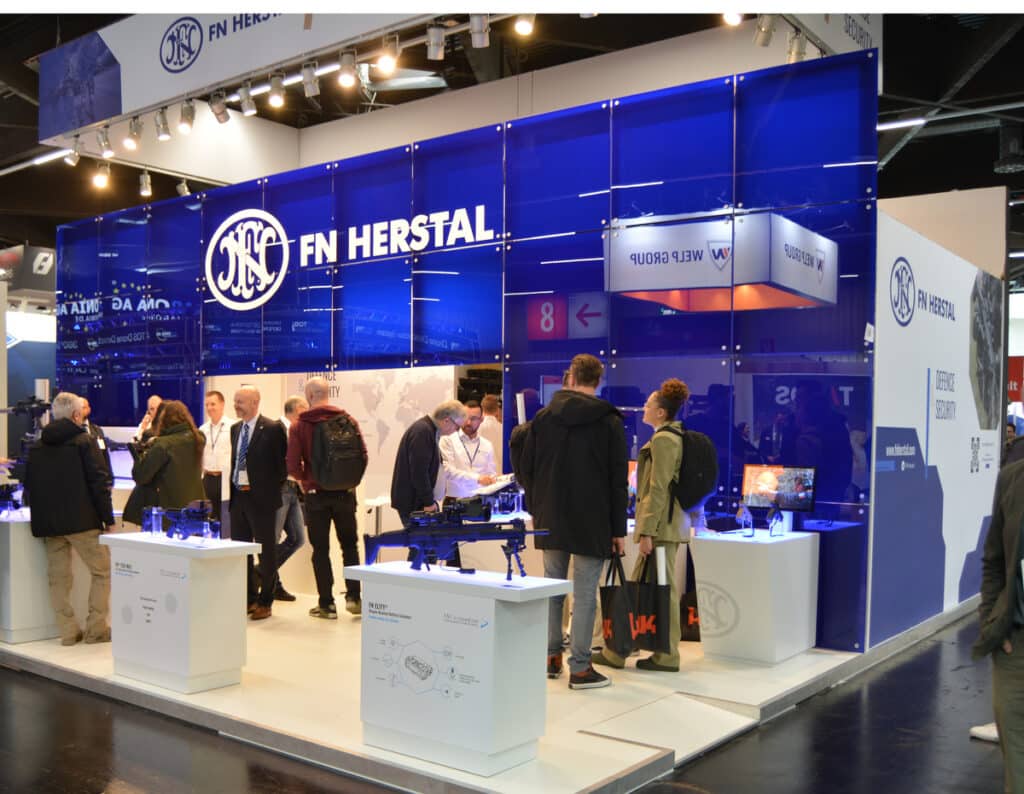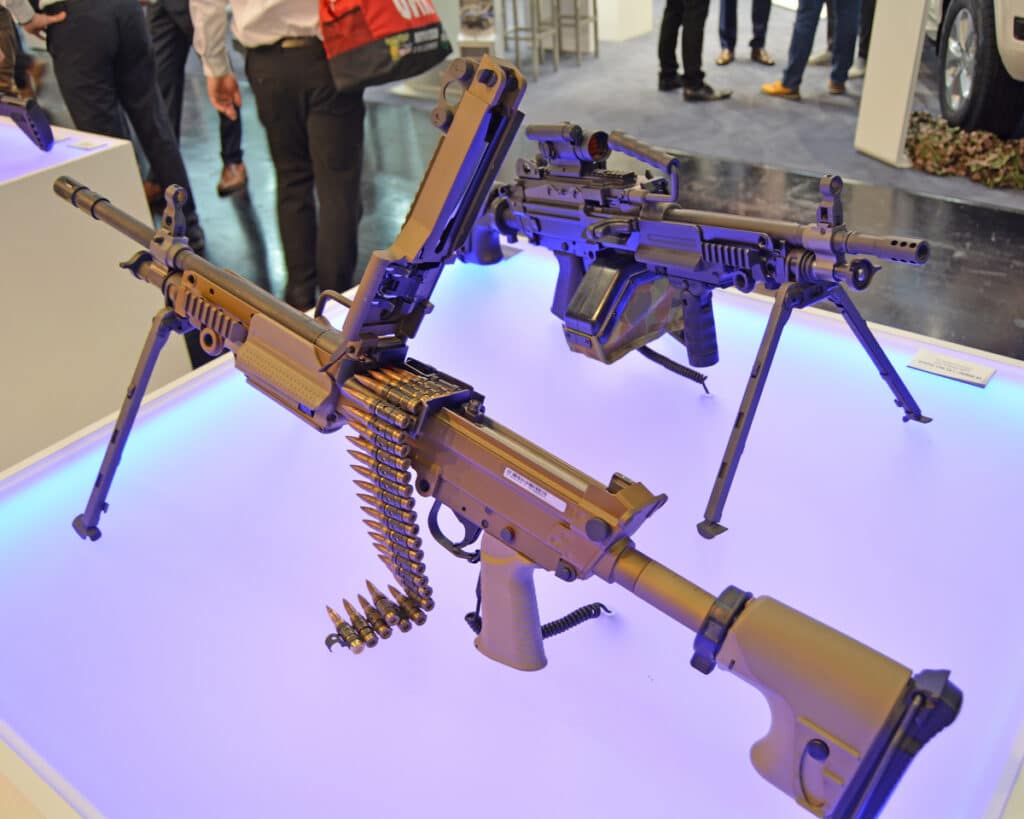 There seems no end in sight and yet another Turkish manufacturer, DAĞLIOĞLU is offering copies of the iconic AK47, in this case a copy of the AKMS, or if, from the same manufacturer you want your particular gun to stand out in a crowd, the 12ga option should fit the bill?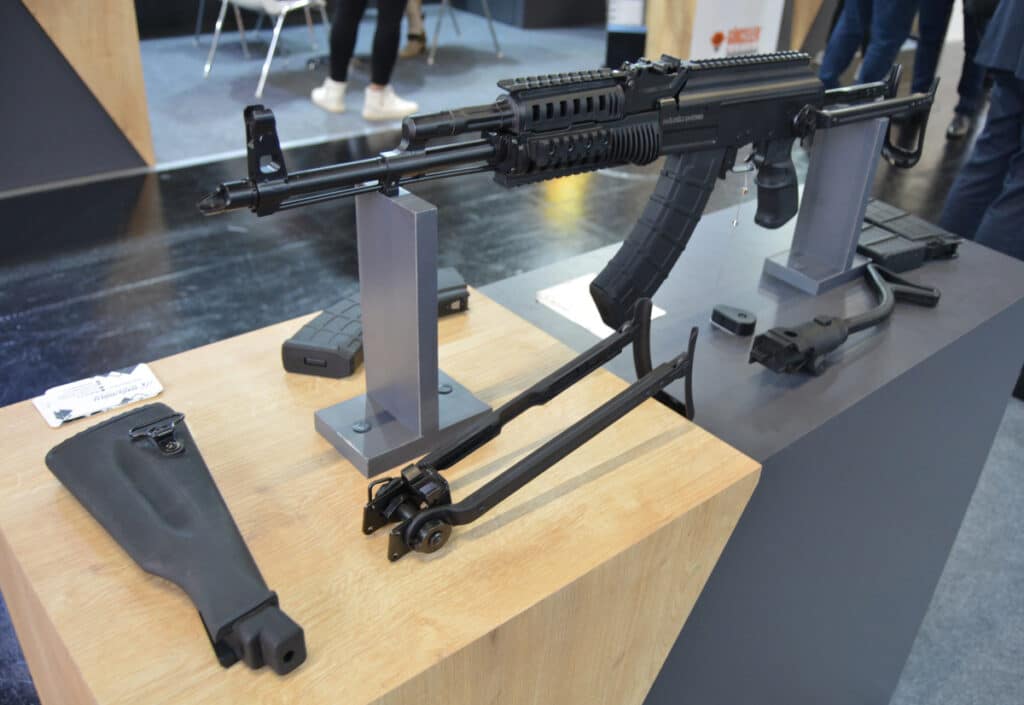 EnforceTac/IWA Show Info:
Contacts:
EnforceTac (For Media Enquiries)
Luisa Seibt, Ruth Cuyap, Phone: +49 9 11 86 06-88-75
Social Media:
https://instagram.com/enforce_tac
https://facebook.com/enforcetac
https://linkedin.com/company/enforcetac/
IWA (For Media Enquiries)
Georg Loichinger, Phone: +49 9 11 86 06-81 91; e-mail: press@iwa
IWA General Inquiries:
Stefanie Leege, Ellena Probst, Phone: +49 9 11 86 06-81 85/+49 9 1186 06-80 88
Next Show Dates:
EnforceTac: 26-28 February 2024 (Note: The show has been extended by one day for the first time.)
IWA: 29 Feb-3 March 2024.