By Jonathan Ferguson, Photos Courtesy Armament Research Services
As our previous instalments have covered, the SA80 family endured a very troubled development cycle, and many of these challenges continued well into its actual service life. Only a handful of small changes were made to the XL80 series before they were accepted as the L85A1 Rifle and L86A1 Machine Gun (aside from tiny dimensional changes in the final set of drawings). The cocking handle was simplified to eliminate the bevelled inner edge; the guide rail inside the body (upper receiver) was altered from an L-shape to an oblique-angled profile, presumably to strengthen it; the retainer that kept the ejection opening cover (dust-cover) closed was now a plate spot-welded onto the outside of the receiver, rather than being pressed from the inside of the receiver wall (which then had a plate welded in behind it over the resulting hole!); and the composition of the polymer furniture was altered lightening it from a darker forest green to a brighter colour. This plastic appears to be cheaper and more flimsy, and after complaints of breakage, it would be replaced in service with a more durable alternative.
In this form, the new rifle (formerly "Individual Weapon") and machine gun (aka Light Support Weapon or LSW) were approved for service in 1984. This was a year later than the most recent target date that had been set and came with the acknowledgement that the weapons had issues still to be addressed. Unfortunately, rec-tifying the substantial challenges ultimately took more than 15 years, and these were only definitively solved by a far-reaching upgrade programme that would ultimately be dubbed "SA80 A2."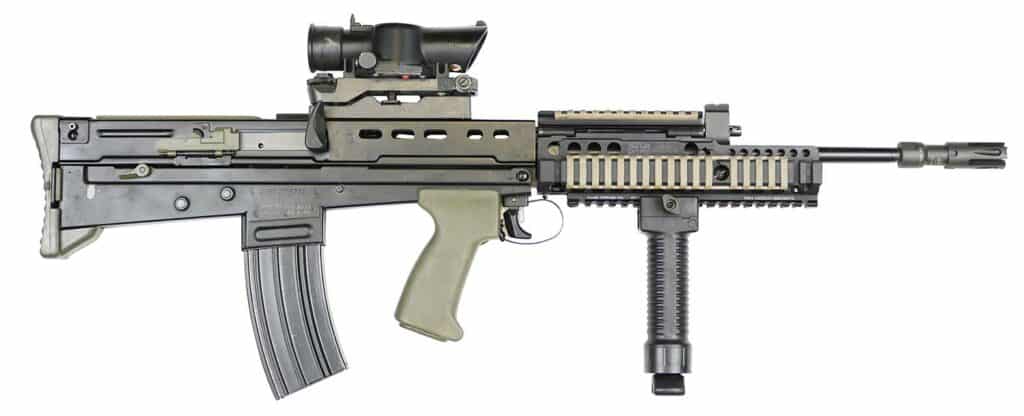 In 1995, the German firearms manufacturer Heckler & Koch (HK), then owned by British Aerospace, was engaged to analyse and provide options for upgrades that would definitively solve many of the A1 series' issues. In 2001, the SA80 A2 build standard was finalised, and troop trials began that year. General issue followed in 2002. The only obvious external change was the composite plastic and metal comma-shaped cocking handle/case deflector; the wedge-shaped, snow-clearing trigger seen on A2 weapons was actually one of many universal modifications made to the A1 series. Inside, the story was very different; almost every major component was replaced. Nonetheless, no features were extensively redesigned. The changes made were subtle and involved improved materials, precise manufacturing methods and superior quality control. Steve Raw's The Last Enfield and an online article by regular ARES contributor Anthony Williams cover them in detail, but we will reprise them here:
Cocking handle enlarged and reprofiled to serve as a case deflector;
Bolt remanufactured, polished and relieved to reduce friction;
Extractor claw enlarged;
Extractor pin remanufactured;
Ejector remanufactured to include a spring guide;
Ejector retaining pin remanufactured from solid stock;
Cam stud remanufactured to slightly greater length;
Hold open device carrier and button extended for more positive engagement;
Bolt carrier remanufactured and polished;
Firing pin remanufactured and reprofiled to prevent tip breakage;
Gas cylinder remanufactured;
Gas plug remanufactured and reinforced to prevent damage;
Hammer stop in TMH reinforced;
Hammer weight increased;
Barrel remanufactured in higher grade steel;
Barrel extension (part of the body assembly and not the barrel) relieved (1.5 locking splines cut away) to ease extraction;
Ejection opening slightly enlarged;
Piston, recoil, ejector, extractor, extractor insert, hammer and safety sear springs all remanufactured;
New steel magazine based upon HK G41 design;
Polymer handguard redesigned with larger vents and a new upper with large plastic hinges in lieu of the plastic-covered sheet metal upper. NB that this was introduced as a spare part only, existing A1 handguards being retained with their old markings machined away; and
"HK A2" markings on all upgraded components, most obviously on the rear upper of the body.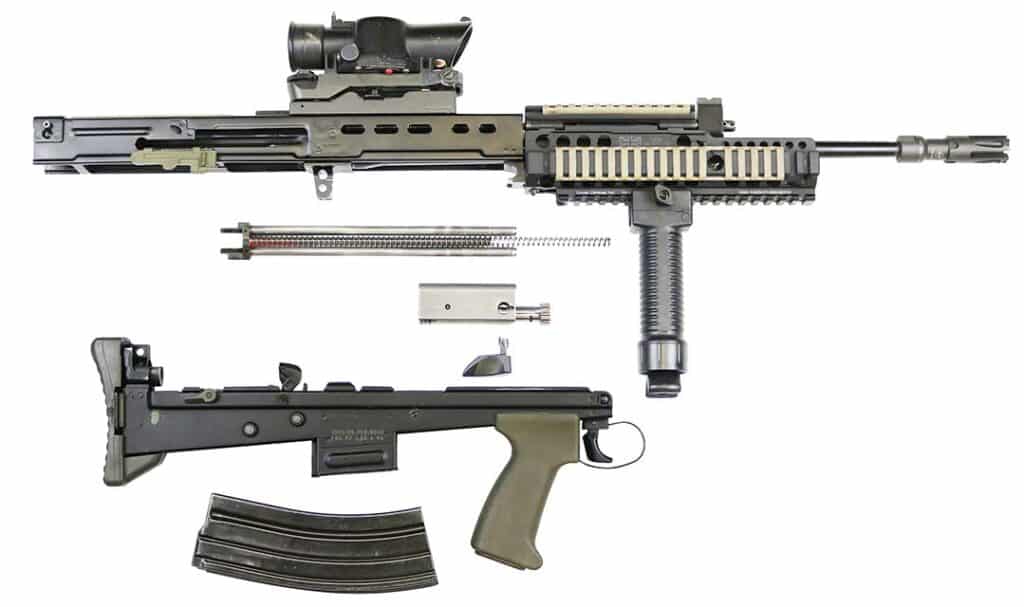 The body (upper receiver) is marked "HK A2" but, unlike other parts marked in this way, is otherwise unmodified (and is in fact a re-used component taken from A1 series weapons). Presumably the marking applies to the modified barrel/barrel extension which is normally an integral part of the body assembly. The recently introduced "A3" body has been improved in several ways, but it should be noted that this does not in itself denote a change in designation of the weapon (in other words, rifles may be fitted with this A3-marked assembly, but remain L85A2 models).
Again, as this list shows, a great deal was changed, but only in detail. Essentially, the weapon was simply rebuilt to the standard that it should have been manufactured to in the first place. It is worth noting that despite complaints about the number of vents in the receiver and handguard and the large, open ejection port, these supposed "problem" features were not addressed in the A2. The number and size of vents remained the same, and the ejection opening was actually slightly enlarged. Whereas the A1, with its marginal reliability, was susceptible to ingress of dirt and foreign matter, the A2 seems to take it in its stride, provided that the fairly detailed cleaning instructions are followed.

The A2 Rifle Enters Service
This was the extent of the changes introduced in 2001 for troop trials of the new SA80 A2, preceding the full-scale issue the following year. Improvements made since 2002 have all been either Urgent Operational Requirements (UOR) resulting from service overseas or part of the Future Integrated Soldier Technology (FIST) programme. These cumulative changes have yet to warrant a change from A2 to "A3" designation (see below) but are nonetheless significant. They include the introduction of 4x ACOG and ELCAN Specter OS 4x "Lightweight Day Sight" (LDS), with their respective Pica-tinny mount adaptors; improved laser light modules (LLM) Marks 2 and 3; Daniel Defense railed fore-end with Grip Pod vertical grip/bipod accessory; Magpul E-Mag polymer mag-azines; and the SureFire flash suppressor. All of these accessories except the muzzle device are still in service and, as with other contemporary service rifles, different configurations are seen in use with different units depending upon role and context. The A2 rifle described here is representative of a front-line weapon c.2008. Due to the "trickle-down" phenomenon of military logistics, weapons may still be found in this configuration in Reserve armouries, albeit without the flash-suppressor. The latter appears to be incompatible with the issue Blank Firing Adaptor; although it was designed to accept the SA80 bayonet. This bayonet, a cast-steel socket bayonet of utility knife pattern, remains unchanged from original issue with the A1 rifle in 1985; although its wire-cutting scabbard was modified later. Although we have not covered the bayonet or other accessories in this series, use of the bayonet as a weapon of last resort is still emphasised in British infantry doctrine.

In early 2004, the rifle (no longer referred to as the IW) and LSW were joined by the L22A2 carbine, a role-specific variant that we will cover in the next instalment of this series. The new SA80 A2 family therefore comprised:
● L85A2 Rifle;
● L86A2 MG (LSW);
● L22A2 Carbine (aka SA80K); and
● L98A2 Cadet Rifle.
The A1 family saw few export sales, and most of these comprised part of overseas military assistance packages. Only Bolivia and Jamaica appear to have made direct purchases. Despite the success of the SA80 A2 series, there have been no further export sales. This is likely in part due to the weapon's tarnished reputation, and the availability of other product-improved and proven bullpup designs such as the Austrian Steyr AUG and Israeli IWI Tavor. However, a major factor is the SA80 family's commercial "orphan" status. As a product, it belongs to HK (the "Enfield" name having long since been dropped), who has several other products in its line-up that it would rather market and that the customer would probably rather purchase (most notably, perhaps, the successful HK416 self-loading rifle). The clincher is that no full production line exists to manufacture complete weapons for sale even if there were a market.
Regardless, after 15 years of combat use in Iraq and Afghanistan, the L85A2 rifle is still going strong. Complaints are few and since a widely publicised incident in 2002, even the press controversy has petered out. Without getting into the politics of said incident, it appears to have been down to a cleaning issue that has, one way or another, been addressed and has not since reappeared. Today, regardless of the ongoing debate over the broader merits of the bullpup configuration, the only real complaint to be made is that the weapon remains excessively heavy. Yet this is a complaint rarely heard from users, unless they have spent time carrying an alternative weapon such as the L119A1 or A2 Diemaco (now Colt Canada) carbine. The rearward point of balance seems to go some way toward mitigating the felt weight. The L86A2 LSW remains an anomaly and is rarely seen in service outside of domestic training exercises, although a feasibility study was conducted in 2015 to look at potential upgrades to this weapon and assess its suitability to supplement the L129A1 Sharpshooter rifle as a weapon for sniper pair "no.2s." Anecdotally, however, its reputation as a 5.56mm "sharpshooter" substitute has been exaggerated. The L22A2 appears to fill its particular niche satisfactorily, providing 5.56 capability with an 11-inch barrel in a PDW form factor for vehicle, aircraft and boarding party personnel.

SA80 A3 Coming Soon
It appears highly likely that a new A3 variant will soon appear in service. A standardised suite of upgrades were created for the "SA80 Equipped to Fight Improvement Programme," aka SA80 EFI. Based upon open-source photographs of a prototype, these appear to consist of a new HK-de-signed negative-space accessory fore-end with continuous Picatinny/NATO rail extension, a cut-away gas block (to accommodate the new rail system) and a modified change lever (selector switch) to prevent over-ro-tation. The existing desert colour scheme found on front-line rifles is carried over as standard, along with the LDS optic and presumably the newly manufactured "A3" body and the LLM Mk.3 (or perhaps a further upgrade to this unit). The lighter LDS optic and E-Mags will reduce the weight of the weapon as carried. The longer sight rail extension will add a small amount of weight, but the cut-down steel gas block will likely compensate for this.
Finally, the prototype has been shown fitted with a new HK underbarrel grenade launcher (UGL) that can be fitted to the 6 o'clock rail of the fore-end rather than requiring the removal of the handguard as in the current SA80GL configuration. In a tender for refurbishment of an initial 5,000 units to this specification, this programme is referred to as "SA80 A3." Coupled with the existence of the "HKA3"-marked body, this suggests that we will indeed see the next official iteration of the SA80 family and not simply another piecemeal set of improvements. Given that the only component not to have been newly manufactured since production ceased in 1994 is the TMH (lower receiver), SA80 seems likely to remain in service years beyond its current 2025 out-of-service date.
Technical Specifications L85A2 Rifle 
Calibre: 5.56 x 45mm 
Overall length: 773mm 
Barrel length: 518mm (ex. flash suppressor) 
Weight: 4.41kg (9.72lbs) (unloaded with SUSAT) 
Feed device: 30-round detachable magazine 
The next article in our series on the SA80 will examine the SA80 carbines.
Special thanks to the National Firearms Centre at the Royal Armouries, which graciously allowed us access to their world-class collection, and to the Defence Academy of the United Kingdom at Shrivenham for allowing us to handle and fire SA80 rifles. Thanks are also due to Neil Grant.
This is Part 5 in a series of articles examining the developmental history of the United Kingdom's SA80 family of firearms. Part 4 appeared in Small Arms Review, Vol. 23, No. 6.
See armamentresearch.com for further original content.
(This article is adapted from a chapter in Mr. Ferguson's forthcoming book on British bullpup rifles, which will be published by Headstamp Publishing in 2019. HeadstampPublishing.com)
This article first appeared in Small Arms Review V23N7 (AUG/SEPT 2019)