Story & Photography by Miles Vining
SHOT Show 2020 has come, has excited and now is over. This year was similar to previous years and, if anything, might have seen an increase in participating vendors, necessitating a mid-week Pop-Up booth section on the 5th floor of the Sands Expo and Convention Center for the second year in a row. Despite the enormous diversity within the firearms industry, there were some trends that became clearly relevant to those who wandered the booths throughout the week. Possibly the biggest in terms of the defensive handgun market was the mass adoption of handguns with red dot optics mounts, or at least having an optics-capable plate on handgun slides. Last year, some of the larger companies were trickling in with limited optics capability, but this year it certainly took the industry by storm with a significant percentage of every handgun manufacturer, importer or distributor offering a wide breadth of optics, optics plates or optics-ready slides in everything from their standard offerings to their custom shop product lines, standard duty packages and subcompact defensive setups. Also of note, in terms of product trends, was the continued march of the pistol brace, starting with SB Tactical, Gear Head Works and now Magpul; industry partners across the board were sprouting up with improved designs of their own or supplying products with some of the aforementioned companies.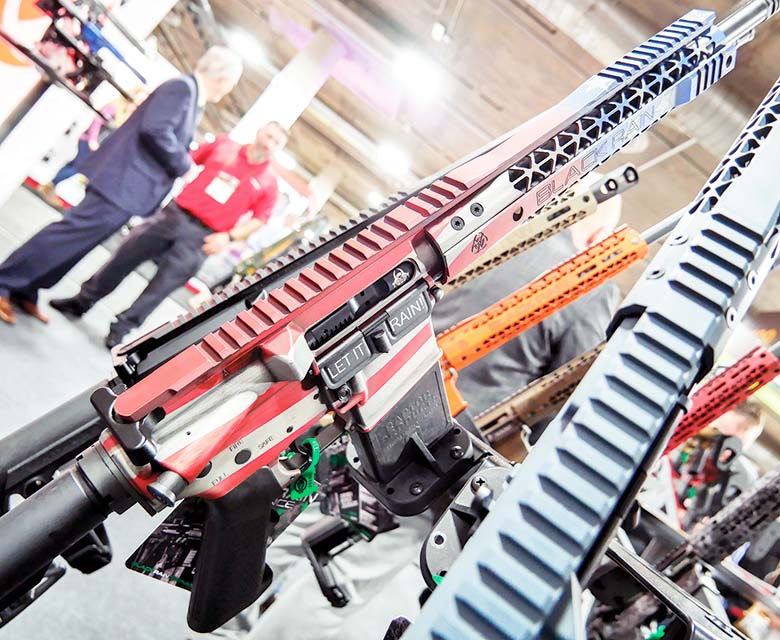 This has also been a significant year of military acceptance trials, with SIG SAUER taking home the SOCOM .338 Norma Magnum acceptance and Barrett Firearms being awarded the Advanced Sniper Rifle (ASR) contract also by SOCOM. Development continues on polymer-cased ammunition in the form of True Velocity's selection to supply significantly lighter and reportedly more reliable rounds to the Next Generation Squad Weapon (NGSW) program, which is still ongoing. Meanwhile, Dillon Aero has upped the game with both .50 BMG and .338 Norma Magnum redesigns of its M134D Minigun.
Otis Technology Purchases DRD Tactical
DRD Tactical recently fell under the Otis wing in October last year and demonstrated its APTUS® rifle at the show this year. This rifle recently won a contract with a close U.S. ally in Asia in August 2019.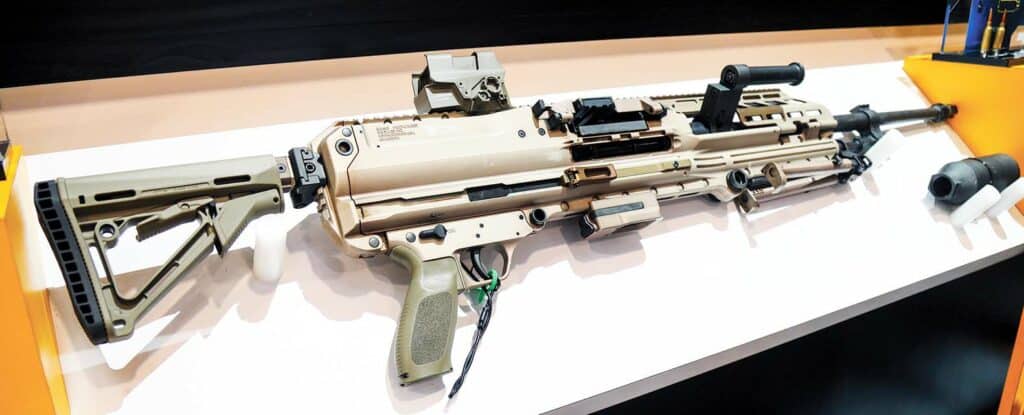 Magpul Pistol Brace
The polymer magazine company is diving deep into the accessories field this year with several new products. Of particular note is the new Magpul AR-15 pistol brace, of which there are two variants, the BTR and the BSL. Also added to the product line are a number of drum magazines for the CZ EVO, dedicated GLOCK interface drums for pistol caliber carbines and polymer stocks for the Savage 110 and Ruger PC-9.
Trijicon Ventus Rangefinder
Alongside new optics and magnifiers was the Trijicon Ventus™ Rangefinder. The device is touted to be able to read six different wind values up to ranges of 500 yards and then able to lase as a rangefinder out to 5,000 yards. The ability to mechanically make wind calls is a very rare capability in the industry despite a pressing need for accurate wind call measurements in the precision rifle community.
CZ-USA Bren 2 MS Carbine
CZ is bringing a 16.5-inch barrel rifle variant of their Bren pistol line which has been on the U.S. civilian market for over a year now. The rifle is a semiautomatic civilian variant of the select fire Bren rifle which has seen limited adoption by the Czech Armed Forces. Handguards are M-LOK-compatible with built-in rail sections along the sides and bottom while a full-length optics rail runs the length of the rifle. CZ officials have hinted at a possible .308 Win release for the U.S. market as well.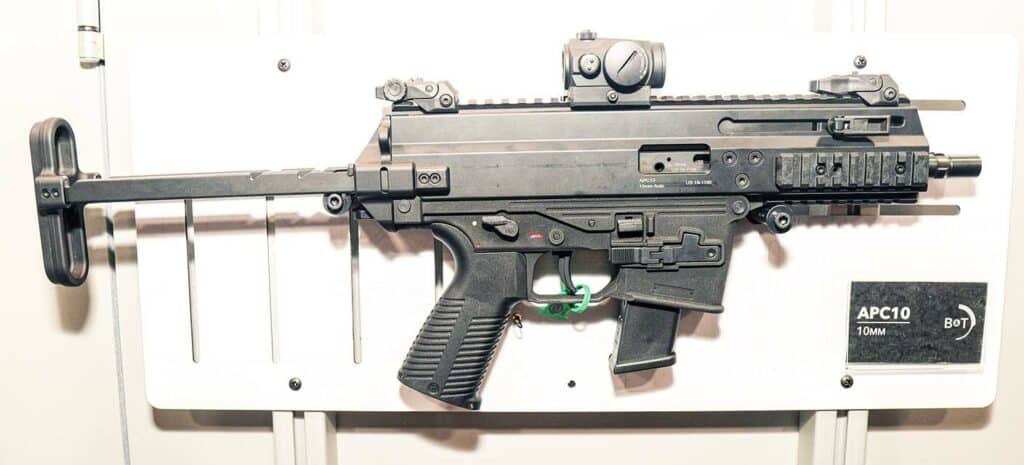 Patriot Ordnance Factories Handguns and AR-15 Pistols
POF-USA made some news earlier last year when the company introduced a .22 LR AR-15 pistol with brace that was compatible with Ruger 10/22 magazines called the Rebel .22LR. This was certainly an attraction at the show, but what also got attendees' attention was the P19 handgun which is a 9x19mm semiautomatic patterned after a GLOCK 19 Gen4 frame while using some of the aftermarket parts that POF already makes for the GLOCK market.
Century Arms AK-74 Rifles
The military surplus and budget rifle manufacturer Century Arms is introducing 5.45x39mm AK-74-patterned rifles to the U.S. civilian market amid a large marketing campaign aiming at getting more 5.45mm rifles into the hands of U.S. shooters.
Christensen Arms .22 LR Precision Rifle, 5.56mm and 9mm AR Rifles
New this year is the Ranger 22, a 5.1-pound precision bolt-action rifle that is compatible with Ruger 10/22 magazines. Also new this year are lightweight competition AR-15-patterned 5.56x45mm and 9x19mm rifles and carbines.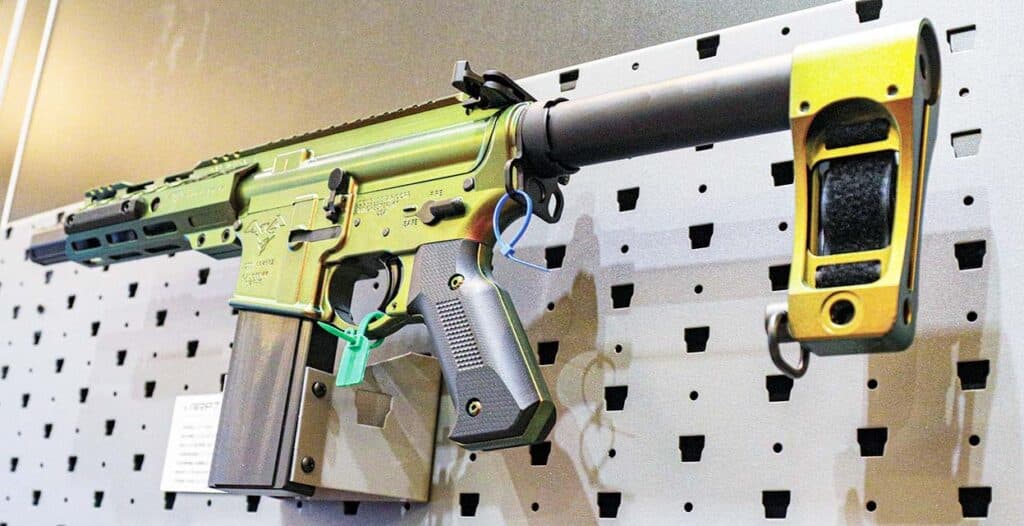 Heckler & Koch VP9-Optics Capable
While not coming with a particular optic, HK is bringing their VP9 handgun to market with five mounting plate options that customers can specify on their orders. These plates are drilled and threaded to accommodate miniature reflex sights from Trijicon, Leupold, C-More Systems, Holosun, Burris and Vortex, among others.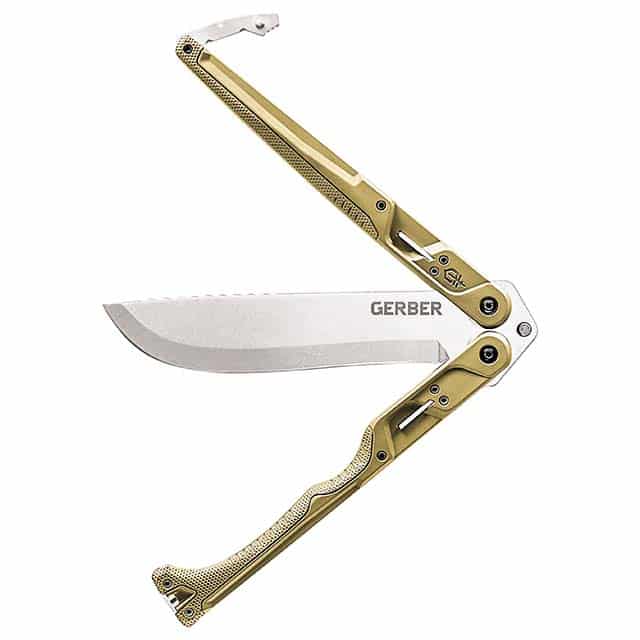 FN America 6.5mm Creedmoor SOCOM Request
New at the FN America booth was FN America's answer to a request from SOCOM for a 6.5mm Creedmoor variant of the MK 48 light machine gun. Essentially identical to the MK 48 except for caliber and internal components, the version on display was equipped with a suppressor as well.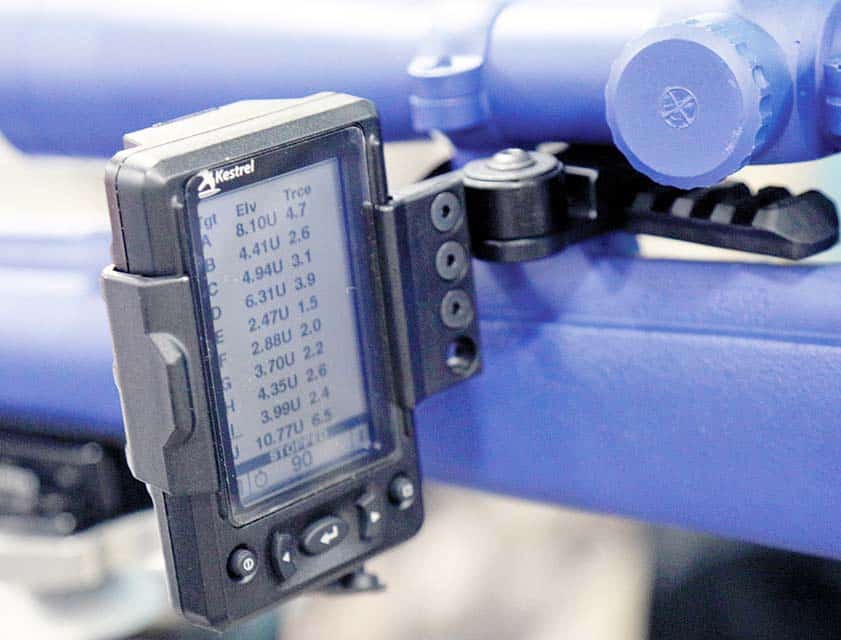 GEMTECH Lunar 9
Gemini Technologies was present at the show with a new modular suppressor called the Lunar 9. Benefits of the Lunar 9 are that it can be converted from a 7-inch model to a 4.7-inch model in order to shorten the length when desired but still remains hearing safe. Decibel metering ranges from 129 Db in the 7-inch configuration while rising to a 135 Db in the 4-inch version.
Smith & Wesson 9x19mm "EZ"
The Military & Police line of handguns is getting an upgrade in the form of a 9x19mm Shield EZ M2.0 carry handgun. Previously, the grip-safety-equipped handgun was only available in .380 ACP.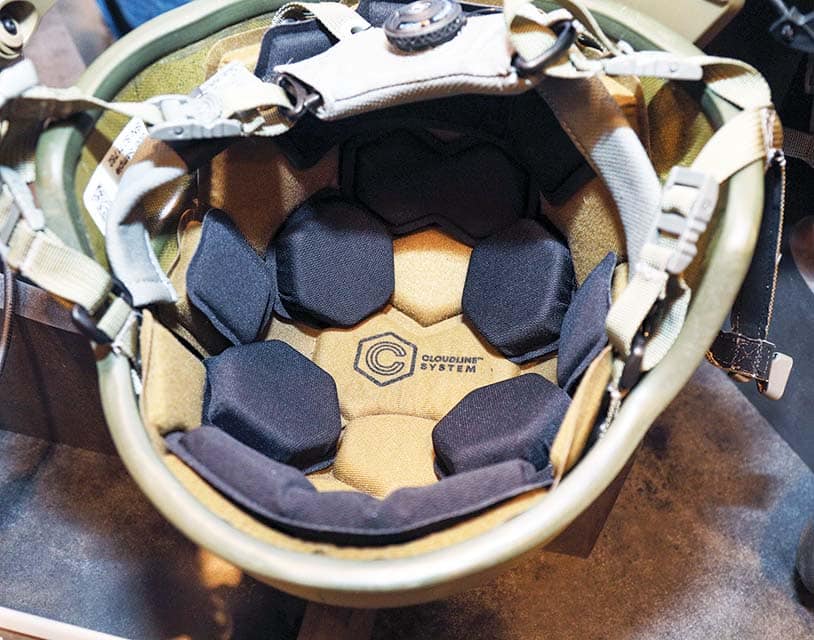 SureFire Suppressors
As SureFire digs deeper into the suppressor market every year, the company is expanding the product lineup. Of particular importance here is SureFire's SPS 50, designed for use on .50 BMG precision rifles. The suppressor uses a proprietary mount that has to be installed before use and has an added blast mitigation bracket at the muzzle, reportedly helping significantly with felt recoil.
Remington 700 Upgrades
Pistol braces are coming to Remington in the form of the Model 700-CP Armbrace equipped with a short barrel and SB Tactical arm brace along with a sub-16-inch barrel. The pistol configuration Remington 700 is intended for backcountry hiking as a short package that can still make precision shots out to several hundred meters.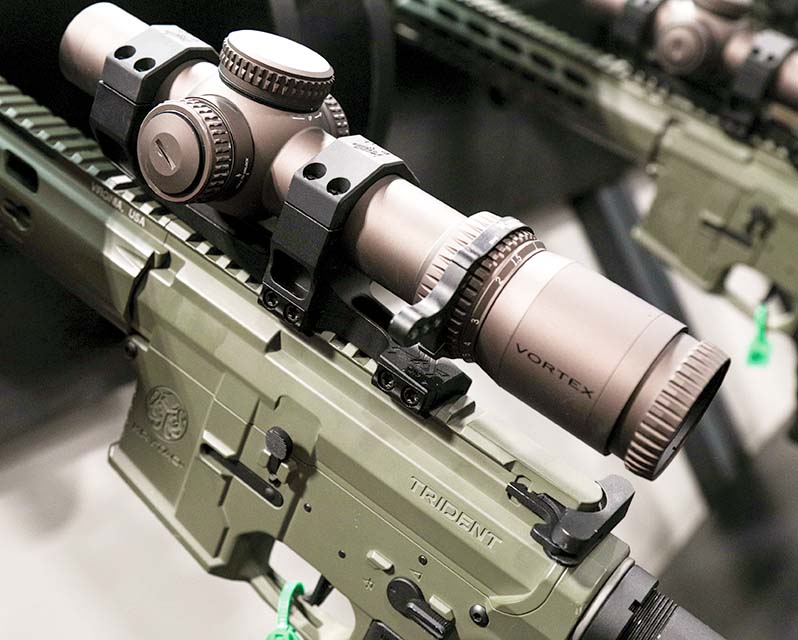 Aimpoint CompM5b
The CompM5b is the latest in the optic line at Aimpoint, decreasing the previous M68/CCO-sized optic to something much more manageable on a shorter carbine. One of the important design features are the adjustment turrets which use an external tab to lock in place, not requiring a special tool or cap to make those fine adjustments.
Maxim Defense SBRs
Maxim had two new offerings for SHOT 2020. Both are pistol-brace- or SBR-configurable AR-15s that are coming in 7.62x39mm, 5.56x45mm and .300 BLK. The MDX 508 has an 8.5-inch barrel, while the MDX 510 has a 10.3-inch barrel. Designations are as follows: SCW Pistol, SCW SBR, CQB Pistol and the CQB SBR.
Condor Recon Chest Rig
Condor brought the latest version of a chest rig that the company is experimenting with, a minimalist design that allows for central magazine pouches with an admin pouch on top that has internal pockets, PALS laser cut webbing on the outside and a waist-level utility pouch as well.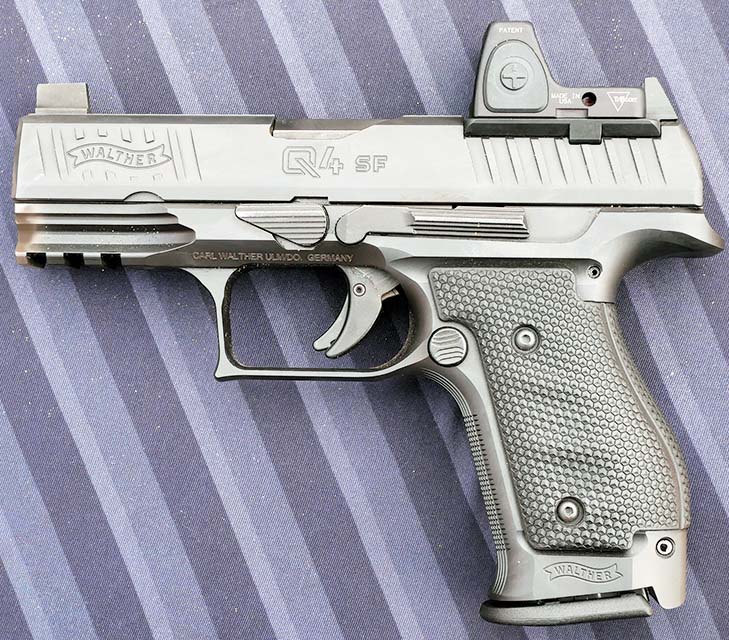 SHOT SHOW 2021: Show Master Info
Location
The Sands Expo Convention Center, Las Vegas, Nevada, U.S. is situated on the north end of the Las Vegas Strip just off the I-15 interstate and easily accessible from McCarran International Airport. The convention center is within walking distance of hotels such as Caesars Palace and The Mirage.
Contact
Registration
Customer Service
regmgr@shotshow.org
(855) 355-7468
Exhibitor 
regmgr@shotshow.org
(855) 355-7468
Exhibit Space
Chris Tatulli
ctatulli@nssf.org
(203) 426-1320, ext. 214
Next Show
SHOT Show 2021, January 19-22, 2021, Las Vegas, Nevada, U.S.
Focus of Show
This show has an astoundingly broad spectrum of exhibitors, from firearms to accessories (e.g., scopes, flashlights), from soft-gear equipment to ammunition. Aside from the floor where exhibitors can display their products and interact with buyers, NSSF also hosts a number of educational programs. The Law Enforcement Educational Program (LEEP) addresses current police topics such as active shooter. Retailers can attend sessions from SHOT Show University discussing human resources topics, ATF compliance and many more. 
An industry day at the range is held on the Monday prior to the show so vendors can provide a live-fire demonstration, with the morning being dedicated to media and the afternoon being reserved for buyers. 
Statistics
Thousands of exhibitors and attendees from across the globe attended the show. Along with IWA, SHOT ranks as one of the largest firearm trade shows on the globe. 
Dress
While there is no dress code per say, business attire is a sensible choice.
Hotel Hints
The show is located near hotels on the Las Vegas Strip and has partnered with a number of hotels to offer discounted rates. Details are published on the show website (shotshow.org). Henderson, Boulder City and Sloan offer lodging alternatives within reasonable driving distance.
Power & Plug Types
120V, 60Hz, grounded wall outlet. It is always advisable to protect sensitive electronics with an uninterruptable power supply. 
Country Warnings
Consult Las Vegas Metropolitan Police Department for any local advisories and the U.S. Department of State—Bureau of Consular Affairs for U.S. travel warnings (Travel.State.Gov). 
Cultural Hints
Americans and Las Vegans are used to receiving overseas visitors. English is the spoken language. 
Tipping
It is common practice to tip 10% to 15% for lunch and 15% to 20% for dinner. Tip 10% to 15% for taxi drivers who offer courteous service and about 15% for limo drivers.
Getting Around
Rental cars are available at McCarran International Airport, with left-hand drive and automatic gearboxes. Parking structures are readily available along the Las Vegas Strip; although some charge a fee. The airport is very close to the Strip and hotels. It is conceivable to attend SHOT Show without hiring a cab at all; however, there are many cab companies, Uber and Lyft.
Firearms-Related Points of Interest
Battlefield Las Vegas offers machine gun rentals where one can shoot a number of automatic firearms. There are 12 MG rental groups in the area as well as several shooting ranges. Concurrent with the SHOT industry day, ATAC Global holds a law enforcement / military demonstration event. Pre-registration is required.
Tourism
Immediately near Las Vegas, Red Rock Canyon National Conservation Area and Valley of Fire State Park offer beautiful vistas and hiking experiences. Mt. Charleston to the Northwest has skiing and hiking. To the east, there is Hoover Dam, and Lake Mead forms one end of the Grand Canyon while the National Park is about 300 miles away by car. Of course, the Las Vegas Strip itself offers entertainment in the form of casinos and numerous shows. 
NOTE: All information subject to change. Go to www.shotshow.org for up-to-date information.
This article first appeared in Small Arms Review V24N5 (May 2020)