By Frank Iannamico
The term "AK-47" has become a generic identifier for a popular military rifle. The term is generally used to describe a particular Soviet-designed firearm, of which there are many variations. In most cases, using the designation "AK-47" is not technically correct, yet it has been widely accepted, particularly in the world media, and by most firearm enthusiasts. The original AK-(47) is a Russian-made rifle with a machined-forged steel receiver (except for rare early models) that was designed by Mikhail Timofeyevich Kalashnikov. Like most other Russian military weapons, the designer's name is used in the nomenclature. It was accepted for Russian service in 1947, with mass production starting in 1949. However, the Soviets never used the designation "AK-47" in their manuals or literature, only the letters "AK" that represent "Avtomat Kalashnikova." The original milled-receiver AK began to be replaced in Russian service by the stamped sheet metal receiver AKM model in 1959 and the smaller caliber AK-74 in 1976. Copies of all the aforementioned weapons have been produced in at least 20 different countries, none of which have used the name "AK-47" as an official designation.

The favorable characteristics of the AK as a military weapon are its simplicity and legendary reliability. Accuracy was acceptable by Soviet, not Western, standards. The U.S. Ordnance Department's initial dismissal of the AK rifle, citing its lack of attributes, was due in part to different military doctrines used by the Soviet and U.S. forces. The United States Army viewed itself as a well-trained professional force that used marksmanship, well-trained motivated officers and well-practiced tactics to win battles. The Soviet Army used massed formation tactics that had little regard for the personal safety of its troops. Their small arms requirements placed firepower, simplicity, reliability and minimum maintenance above accuracy, as many members of their diverse conscript army were peasants. Those requirements would also make the AK rifle ideal for its eventual proliferation in many third-world countries.

Ever since the first Egyptian and Chinese semiautomatic-only AK variants were imported to the U.S. in the mid-1980s for the civilian market, the AK rifle has become a favorite of collectors and target shooters alike. Together with both rifles and spare parts sets being imported from former Combloc countries and a wide variety of U.S.-made stamped and milled receivers, an accurate representation semiautomatic AK clone from just about any nation can be purchased or assembled. However, this wasn't always the case. For many years importation of such goods from communist nations was strictly prohibited, and AK rifles were rare in the U.S.—prior to the early 1980s, there were no semiautomatic AK rifles available in the U.S. The 7.62x39mm ammunition was equally scarce. During that time, AK-74 rifles, 5.45x39mm ammunition and magazines were largely unknown and simply non-existent in the U.S.
In the decades since the first AK rifles were imported into the U.S., many talented gunsmiths have continually strived to improve and upgrade Mr. Kalashnikov's original design. Improvements and innovations have included making the AK more ergonomic and improving the weapon's accuracy.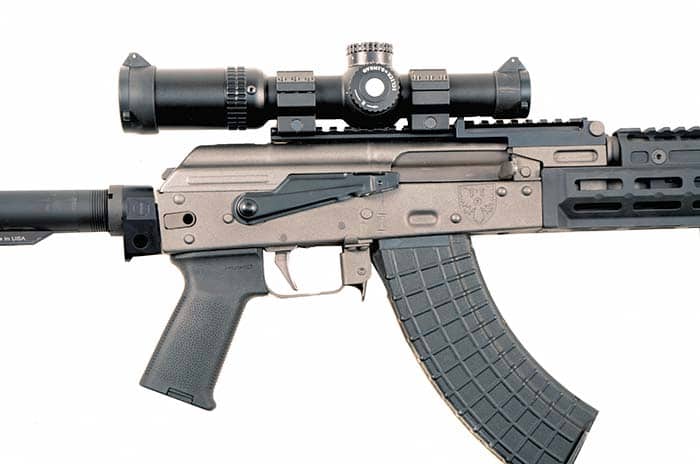 The FCGM SK-17 Rifle
The SK-17, the nomenclature representing "Semiautomatic Kalashnikov 2017," is a stamped receiver AK variant primarily designed for one purpose, enhanced accuracy using standard 7.62x39mm ammunition. The enhancements implemented into the SK-17 rifle are the result of years of study, observations and range testing. The manufacturer FCGM is an acronym for Fire Control Group Manufacturing LLC, based in Port Charlotte, Florida.
The SK-17 was not intended to be a precision or Designated Marksman Rifle (DMR) for long-range engagements, but simply an AK rifle capable of a higher accuracy level than that encountered with standard issue AK weapons. There were a number of changes implemented into the basic AK design by FCGM to enhance the accuracy of the rifle. Starting with the gas system, which was modified by drilling the gas port closer to the breech, the gas port is sized appropriately for its proximity to the chamber. According to the manufacturer, this does three things for the system: it reduces barrel flex during cycling, increases barrel rigidity and reduces the amount of gas required for reliable cycling of the action, requiring a smaller gas port allowing more gas to provide greater energy behind the bullet. Accordingly, the overall length of the gas piston assembly has been reduced to fit the shorter system.

The 7.62x39mm military issue cartridges generally have bullets that weigh 122 to 124 grains and are .92-1.02-inches in length. The short, flat-base 7.62mm bullets offer little bearing surface; not an ideal design for accuracy. The Soviet/Russian 7.62 caliber firearms have a standard bore diameter of .300-inch (land to land), but traditionally have deeper grooves than most U.S. designs. The original Soviet AK barrels are 4-groove with a 1:9.45-inch RH twist.
The heart of any accurate rifle is the barrel. The barrel of the SK-17 rifle is 4150 Chrome Moly Vanadium steel, chromium-lined with 5R rifling to reduce projectile deformation and uses a 1:16 twist rate, which according to the manufacturer, improves gyroscopic stability of the round in flight. The slower twist rate combined with the 5R rifling also leads to an increase in muzzle velocity. The heavy Faxon barrel is precision-machined no more than +/- .001-inch tolerance. These changes increase muzzle velocity, improve accuracy potential, increase effective range and terminal performance. FCGM LLC's proprietary design is a major step forward in improving the accuracy of the 7.62x39mm cartridge. The SK-17 barrels have a correct groove diameter of .311-inches for the 7.62 Soviet cartridge. The barrel's muzzle is threaded with the standard 7.62 AK 14x1L left-hand metric thread.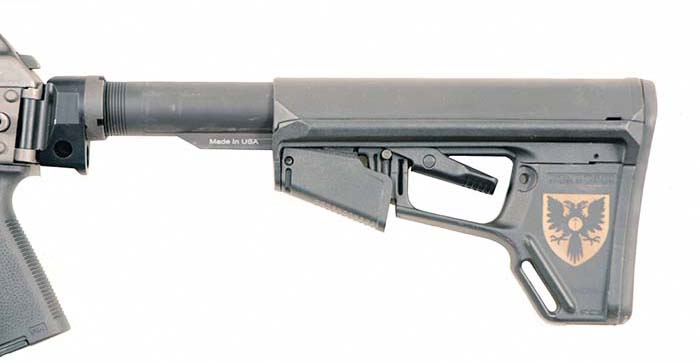 Another key component contributing to accuracy is the trigger assembly. The triggers fitted to the SK-17 are ALG Defense's AKT single-stage triggers, which are modified in FCGM's shop for enhanced performance. ALG Defense is a division of Geissele Automatics, a company well-known for its match grade, competition trigger groups.
Like any accurized rifle, the SK-17 is assembled using hand-fitted parts resulting in a very smooth action. The finish on the rifle is Cerakote over manganese phosphate. Standard features of the SK-17 rifle include: a Magpul MOE pistol grip, Magpul ACS stock (other stocks are available), a Midwest Industries Gen2 M-LOK handguard, an ALG Defense AKT trigger, a Sabrewerks 13 Kalashnikov Optics Platform (KOP) scope mount, a JMac Customs GBC-13 front sight/gas block combo, JMac Customs RRD-4C Slim muzzle brake and FCGM muzzle device detent block so that the end user has the ability to use any standard AK muzzle device and to stow a cleaning rod.

The goal of FCGM was to build a system using high-quality parts from the top innovators in the U.S. AK industry combined with FCGM's barrel specifications and unmatched barrel quality that did not sacrifice any of the reliability the Kalashnikov is famous for.
Other Fire Control Group Manufacturing LLC Services
FCGM builds and services both foreign and domestic weapon systems. The company specializes in Kalashnikov-pattern rifles and its many variants. They offer build services for those customers who would like a rifle built and may already have an AK parts kit, or those who wish to have a ground-up custom AK-47 or AK-74 built by experienced, knowledgeable and skilled craftsmen. Every rifle that is built at FCGM's Custom Shop is constructed to proper specifications and hand-fitted for smooth and reliable operation for the lifetime of the system. Every rifle is built and assembled with great attention to detail and is test fired and zeroed to ensure the customer does not encounter any issues after delivery.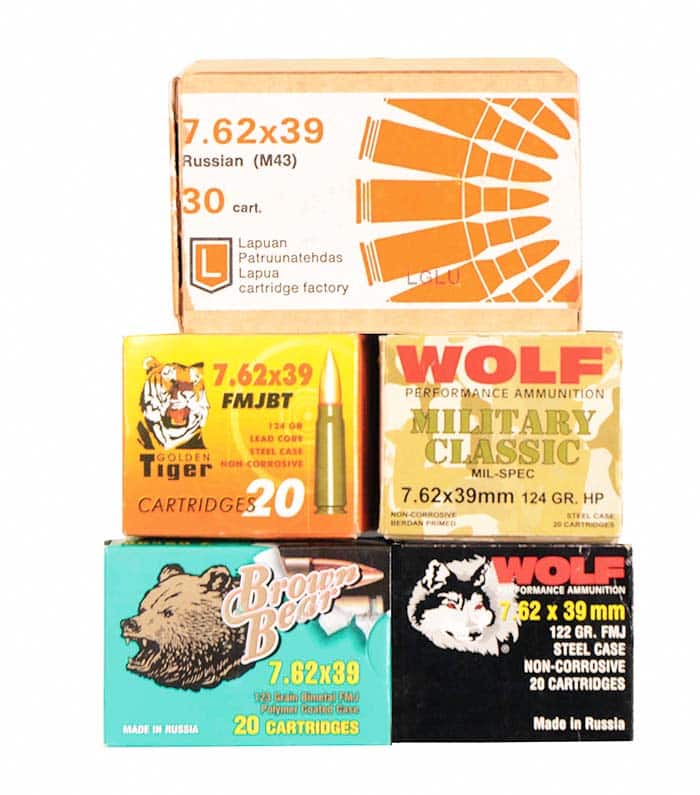 Firearm Refinishing
FCGM offers a variety of refinishing services—everything from classic restoration to some of the most durable and corrosion-resistant products for the most austere environments. Finishes available include: Manganese phosphate and Zinc Phosphate (parkerizing), Cerakoting, PVD, KG Gunkote, Moly Resin, Bluing and Nitriding Services.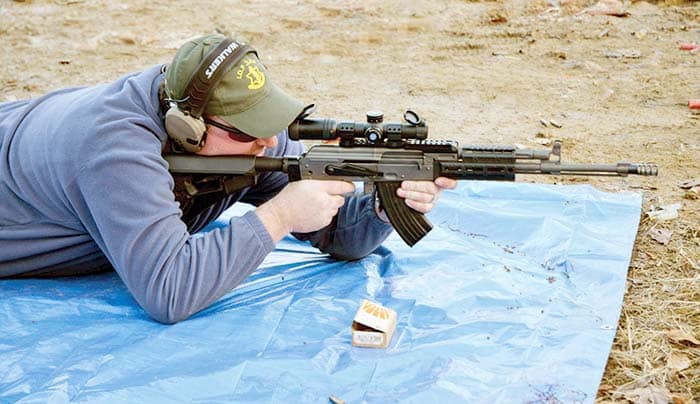 This article first appeared in Small Arms Review V23N5 (May 2019)