BY ALTON P. CHIU
Even with the prevalence of instructional videos on the internet, there is tremendous value in hands-on training with an esteemed instructor like Ernest Langdon. The author attended Langdon's Tactical Pistol Skills class, and this piece recounts his analysis-driven lessons.
Analytics
Langdon was an instructor for the High Risk Personnel course during his tenure in the US Marine Corps. He attended various shooting schools, analyzed their techniques and fused together highlights for implementation with the USMC. He continued this intellectual approach on the competition and instructional circuit with much success, earning 10 National Championship Shooting titles and two World Speed Shooting titles.1 At each segment of class, Langdon concisely presented his preferred techniques and their rationale. The author found this effective in facilitating material absorption and preventing a "cargo cult" of blind followers.
Analysis requires data, and Langdon expounded upon the need to track the sights before and after trigger break to gather data. Sight alignment and sight picture at trigger break allow one to "call the shot," and this early information enables quicker re-engagement if necessary. While this skill should already be familiar to riflemen, the recoil profile of pistols imparts additional information. Front sight movement immediately post trigger break shows whether it (and hence, point of impact) was moved by the finger. This author experienced front sight lateral offset and dip during class. With diligent analysis, he was able to diagnose his trigger pushing and flinching. This information afforded corrections during a course of fire to speed up the learning loop.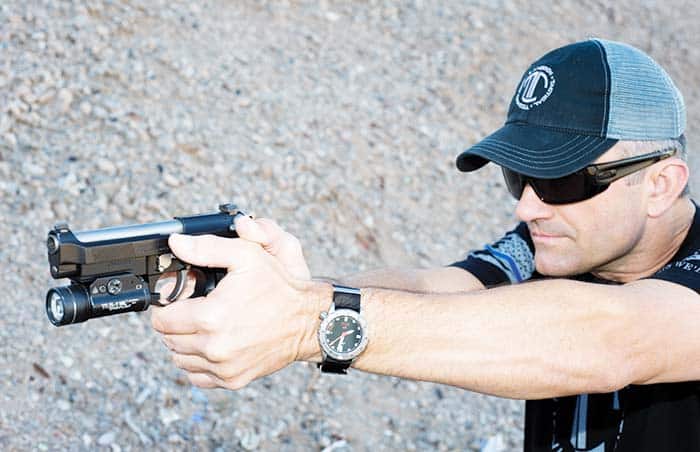 Continuous Improvement
Continuous learning and self-improvement through competition and instructor development forms a large part of Langdon's shooting philosophy. Competition drives innovation and provides inspiration for improvement. Instructor development not only hones analytic skills, but it also improves the community by stocking the pond with good ambassadors. Langdon observed that students already take part in some form by simply trying to "one-up" their friends or taking someone to a shooting range. He encouraged the continual pursuit of such opportunities.
In fact, Langdon encouraged his students to attend classes from different instructors as different renditions of similar information can trigger "lightbulb moments" for different students. His personable nature and freewheeling Q&A on varying topics help students to connect with the material. In a sense, this approach is Kaizen applied to the shooting discipline.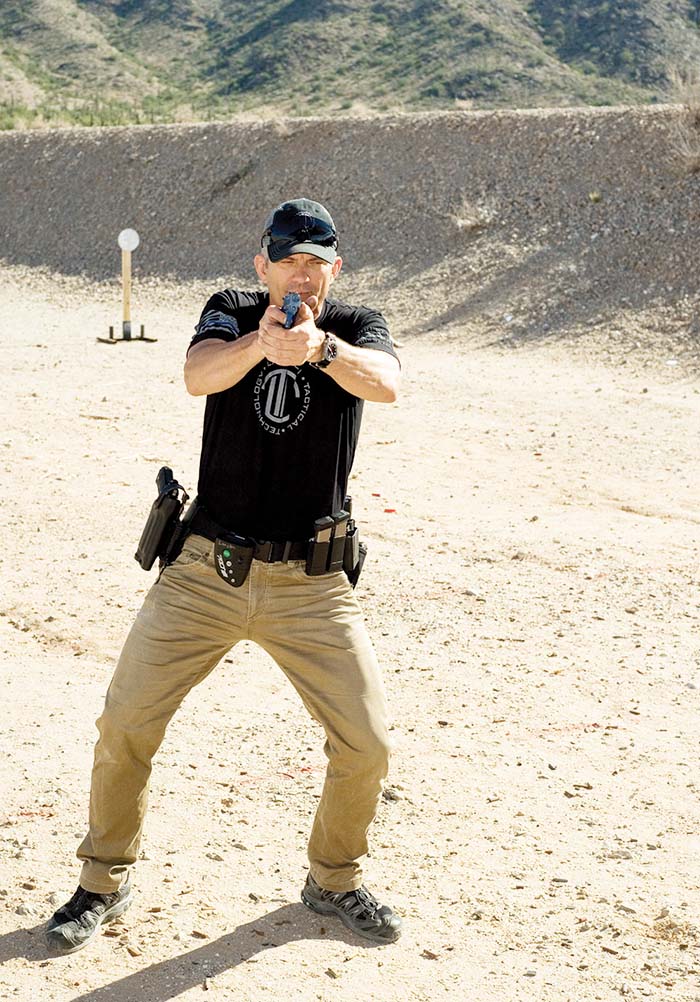 Subconscious Performance
Langdon emphasized that one should train and "build muscle memory" until basic functions like pistol presentation and trigger roll can be performed subconsciously. Under stress (whether life-threatening or competition), the conscious mind is overwhelmed with processes such as discerning targets, relocating to cover and maintaining situational awareness. To draw a real-time computing analogy, these high-priority tasks occupy so many clock cycles of a frame that low-level functions get little or no execution time. When shooting the X-Drill, this author experienced "CPU overload" on the high-priority task of which box to engage next. To the detriment of marksmanship, there was no time to consciously implement the recently learned grip correction.
Stance
To better absorb recoil in static shooting, Langdon advocated a modified isosceles stance, where the elbows are not locked in full extension. For head and shoulder positions, he preferred a slight tuck of the neck—similar to how one would instinctively protect it when startled. However, he noted an over-aggressive "tactical turtle" may lead to discomfort and long-term health detriment.
Langdon also articulated various reasons to slightly cant the pistol. When firing with weak hand only, canting aligns the sights with the dominant eye without undue lateral shift of the arm. When turning the upper body to address a target on the strong side, lifting the strong side's elbow can allow additional rotational movement. This cants the pistol as a side effect.
Optimal feet placement, on the other hand, was not overly emphasized due to the compressed timeline and propensity for movement during a defense scenario. Were a situation allowing a static stance to come along, students were taught to slightly stagger their feet (closer to fully squared than Weaver) in an aggressive forward lean while maintaining their weight on the balls of the feet. This affords better recoil control and facilitates movement.
Grip
For optimum recoil management, Langdon advised that the pistol beavertail be centered as high as possible on the natural web of the hand. He then explained the importance of maximum skin contact with aggressive grip material to gain traction and manage recoil. The stock plastic grips on the author's pistol were worn too smooth for good purchase. Aftermarket G10 grips were found to offer improvements; however, it was noted that the golf ball dimple texture irritated the hand, while standard chequering proved insufficiently tactile. The Langdon Tactical Technology exclusive VZ G10 grips provided an optimal balance between hand comfort and grip. The texturing extends high to support a thumbs-forward grip, while the vertically elongated diamond chequering provides substantial recoil resistance without the irritation.
As someone who learned through internet discussion boards and videos, the author very much appreciated the discourse on the rationale for a thumbs-forward grip. Langdon explained that the grip is not about thumb placement but about palm contact with the pistol. Starting with a high strong-hand grip, the thumb is moved out of the way to open up a large area for support-hand contact. The support hand is then rotated down so that the wrists come together with no gap in between for maximum contact. For the author, this positions the strong hand's abductor pollicis brevis muscle against the support hand's thenar crease. This downturn of the wrist also preloads it for better recoil management.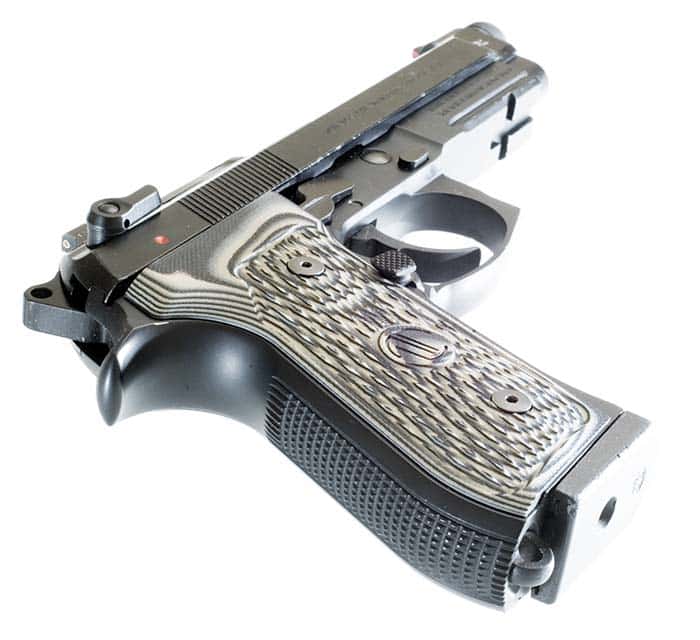 To further explain the grip, Langdon drew an analogy between resisting recoil and pushing a table. It is more efficient to push against the table ledge in comparison with placing one's hands on the tabletop to push via friction. Similarly, it is more efficient to catch the backstrap with the support hand instead of resisting recoil through grip panel friction alone. Specific to the Beretta 92 series, Langdon explained that the backstrap hump of the 92FS/M9 cleared the strong hand away for more support-hand contact, while the smaller grip of the Vertec model allowed less contact for most shooters. The 1.8-meter-tall author, after grip adjustments by Langdon, found that the 92FS/M9 was very comfortable and permitted an effective support-hand grip. To confirm good posture during practice, Langdon advocated firing at least two rounds after re-establishing grip (as in a reload drill). This is a corollary to how a low-recoil 5.56x45mm rifle hides bad posture even during the rapid-fire stages of high-power rifle competition, while a 30-caliber rifle breaks down and reveals poorly built positions.
Langdon also highlighted grip strength as the common thread between accomplished pistoleers (whether bullseye or International Practical Shooting Confederation), as it enhances recoil management and encourages consistent groups. Embracing the analytic approach, the southpaw author observed his front sight shifting right under recoil which required a manual reset after every shot. Reasoning pointed to a weak support-hand grip, as recoil naturally follows the path of least resistance. Assiduous application of full grip strength on both hands cured this problem.
During the two-day course, the author discovered his office-worker hands to lack in raw strength and stamina. Langdon suggested hand gripper exercise tools, reverse curls and even wringing out a wet towel. Using the fingers to gather a piece of paper into the palm and then ball it up also promotes finger dexterity, with reverse stretches recommended to maintain muscle health.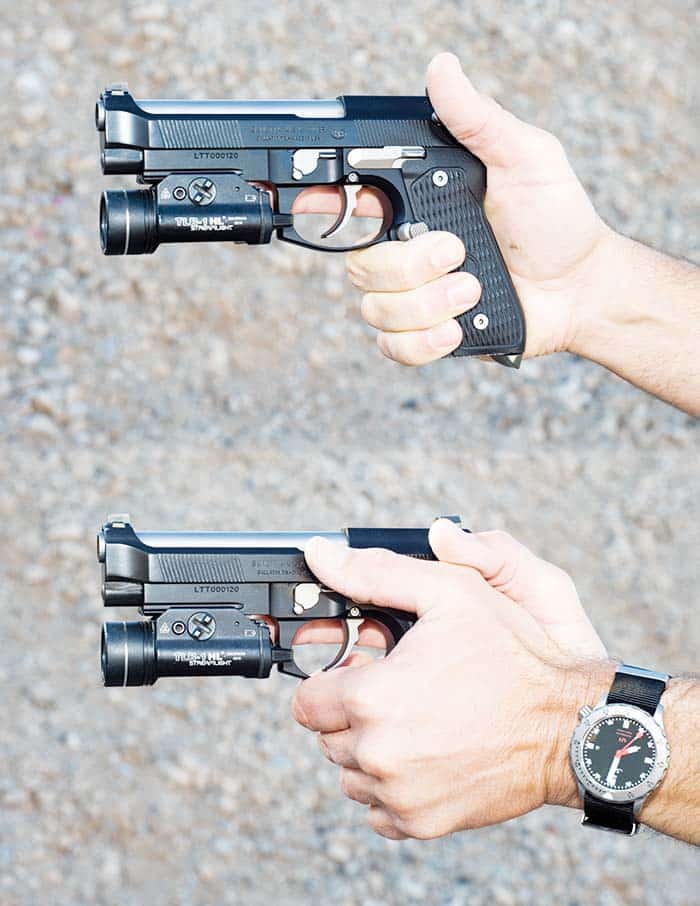 Trigger
Langdon is an advocate of the Double-Action/Single-Action (DA/SA) semi-automatic pistol.2 To quickly and accurately deploy the DA first shot, Langdon advised performing a smooth trigger "roll" as part of the pistol presentation. When extending the pistol, one should keep the front sight slightly proud of the rear in order to better see and steer out lateral errors. Start rolling the trigger at the end of the presentation while obtaining the sight picture. The trigger should ideally break just as the proper sight alignment and sight picture are obtained, but by no means should one break the shot just because the pistol is fully presented.
Quickly pushing out the pistol can cause a "whipping" sight picture that requires time to dampen, while rapidly "slogging through" the trigger affords precious little time for proper trigger control. In order to better illustrate the benefits of combining trigger roll and presentation, Langdon used a shot timer to demonstrate both methods. While the combined deliberate motions seemed slower, it was actually about one-tenth of a second faster. After some practice, the author recognized how Langdon's method allowed him to "take his time in a hurry."
In teaching the optimal trigger break for self-defense, Langdon eschewed the traditional wisdom of "ever-increasing pressure with a surprise break" and opted for "slapping the trigger without disturbing the sights" instead. Given that target and own-ship motions are inherent to a defense scenario, it is nigh on impossible to maintain proper sight alignment and sight picture while applying ever-increasing pressure for a surprise trigger break. Instead, one must "slap the trigger without disturbing the sights."
To do so, Langdon instructed the author to critically observe his own dry fire in order to discover the proper trigger finger placement to make the pulling movement effective. On command (from an assistant or a timer set on random), he broke the SA trigger promptly without a thought to ever-increasing pressure while observing any front sight movement. For the southpaw author, such movement to the right required the trigger finger to reach deeper onto the trigger face. Discovery of this proper placement, combined with a proper grip, vastly improved marksmanship.
Peculiar to DA/SA pistols are the two different trigger break points, but Langdon remarked that there was no need to shift finger position if they were close enough together. He further opined that Beretta does the best job of closing that gap in his experience. The author can anecdotally report that the difference between DA and SA break point was not discernible on his Beretta 92, and it was not necessary to shift finger placement.
Cover and Movement
Working with and from cover is a necessary skill, and Langdon imparted some wisdom for the responsible citizen who would probably respond to the threat alone. He mentioned that one should not tuck up overly close to cover, as it limits situational awareness, prevents full pistol presentation and increases exposure to ricochets. In order to lean left around corners in the most stable manner, one should lead with the left foot when standing. When kneeling to the left, place the left knee down to avoid contact between the elbow and knee at aggressive angles. Note that this is different than a team environment, where two people peek around the corner together (one standing and one kneeling), so the kneeler must place his left knee up to create space for his teammate behind.
While the class was focused on aspects of shooting, Langdon did provide tactics tidbits when applicable. He cautioned that part of one's body is always exposed before the threat is sighted, because the eyes are not at the scalp or other extremities. While slow and cautious have their place, aggressiveness and commitment are sometimes warranted to reduce the time between exposure and response.
To demonstrate the importance of movement during a self-defense scenario, Langdon presented a Tueller-inspired drill while holding ground versus moving sideways. Movement created additional space and afforded the defender time to draw and shoot. Additional wisdoms include the fact that people are predominantly right-handed and are therefore more likely to miss leftwards when slapping the trigger, so it might be advantageous for the defender to move right (as viewed by attacker).
As for the mechanics of shooting on the move, Langdon advised students to squat somewhat in order to isolate the upper body from the impact of footsteps. To further reduce the shock, one should "roll" the feet to create smooth and continuous motions. Lastly, Langdon reminded students to incorporate movement into their draw practice to better prepare themselves.
Final Thoughts
The outline presented in this article does not do Langdon's Tactical Pistol Skills class justice, as it merely reflects parts the author gleaned and not the entirety of the class. Langdon not only taught pistol skills (gave this man a fish), he instilled a philosophy of continuous improvement through critical analysis (taught this man to fish). The championship-winning techniques, concise delivery and masterful pedagogy make Langdon's class well worth the price.
Langdon Tactical: langdontactical.com/about/
Ernest Langdon, "Why Choose a Traditional Double Action Gun?" YouTube, April 11, 2018: youtube.com/watch?v=m42IJIreRoc
This article first appeared in Small Arms Review V23N5 (May 2019)