By Todd Burgreen
The pistol caliber carbine (PCC) has proven not to be a "flash in the pan" that some thought it might be. Shooters are viewing them as alternative a long arm option not only for personal defense, in lieu of defaulting automatically to a shotgun or rifle platform, but also training, target practice and even competition. Initially, select-fire weapons modified for civilian ownership typified the PCC category. This is accomplished by converting the SMG to fire semi-auto only from closed bolt and installing a 16-inch barrel. Classifying the firearm as a pistol negates need for long barrel. Weapon models such as the H&K MP5, IWI Uzi, SIG MPX, and Kriss Vector are examples. AR-pattern weapons chambered in 9mm, or other pistol calibers, are fan favorites as well. Consumer options are now being rounded out with specifically built pistol caliber carbines such as the recently introduced Smith & Wesson M&P FPC. This offering definitely caught the market by surprise.

Some will question the utility of employing a pistol cartridge in a shoulder-fired weapon. Well, most training scenarios, or even active engagements, albeit LE or military, happen well within a hundred yards. This is especially true in the civilian setting. Handling and reliability characteristics play more of a factor in quick, reactive engagements than the choice of caliber. Furthermore, many more 9mm rounds can be carried in the same space as rifle rounds. Two slim high capacity 9mm magazines fit into the same pouch as one M16/AR15 magazine. The pistol caliber carbine typically weighs a few pounds less than its 16-inch rifle brethren. Also, less experienced shooters will find the lower recoil impulse and smaller muzzle blast of a pistol caliber fired from the shoulder easier to manage, which often translates into better accuracy and performance.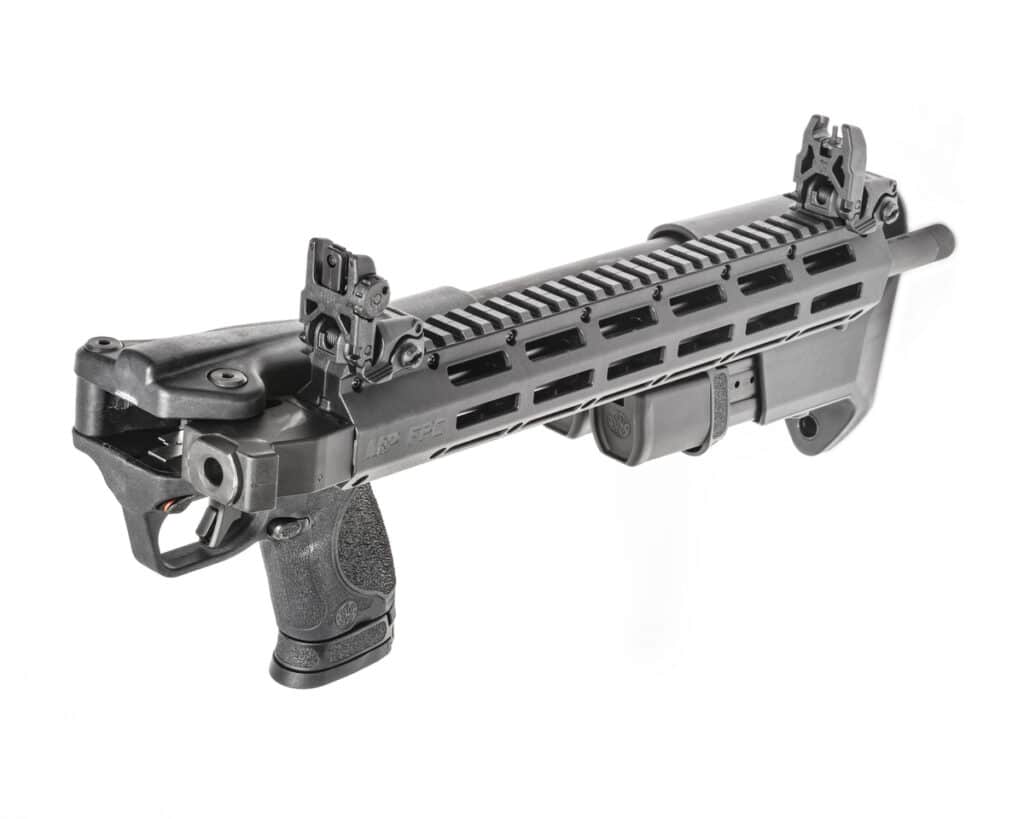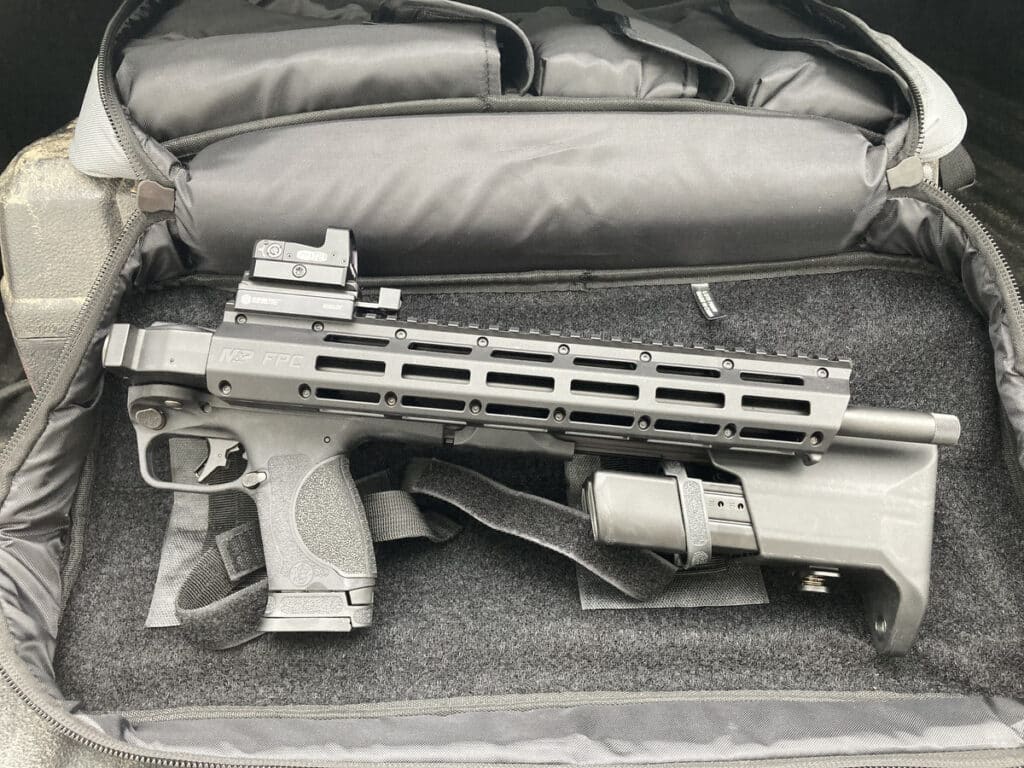 Let's not disregard the economic incentive of 9mm rounds versus rifle cartridges. This can be taken advantage of with more training and greater access to indoor ranges—where rifles are usually verboten. A training regimen is further enhanced by a 9mm carbine's ability to be used with steel plate targets. The muzzle blast differential between a PCC and a rifle is another advantage, especially if training/operating indoors, in a shoot house, or a vehicle.
FPC—Folding Pistol Carbine
The S&W M&P FPC operates using a straight blowback action. Cartridge pressure is tamed by the bolt's mass, usually a sizable chunk of metal. The bolt is pushed to the rear upon firing and the action recoil spring returns it into battery, stripping a fresh round from the magazine. The FPC's two-piece bolt assembly contributes to the mass needed for a blowback operated weapon moving into a buffer tube-like rear stock. The FPC makes maximum use of polymer materials in the frame and forend. A trigger safety and a crossbolt safety are present. The trigger pull measures a smooth and consistent 4.5 pounds. The bolt can be manually locked to the rear and automatically locks back on an empty magazine.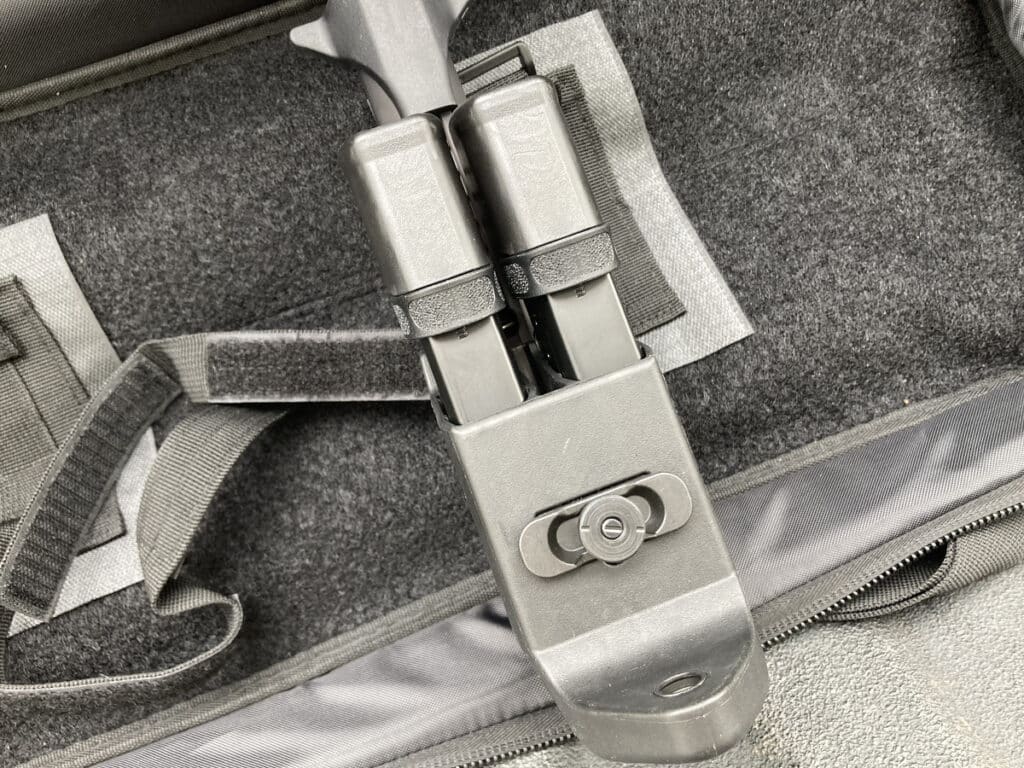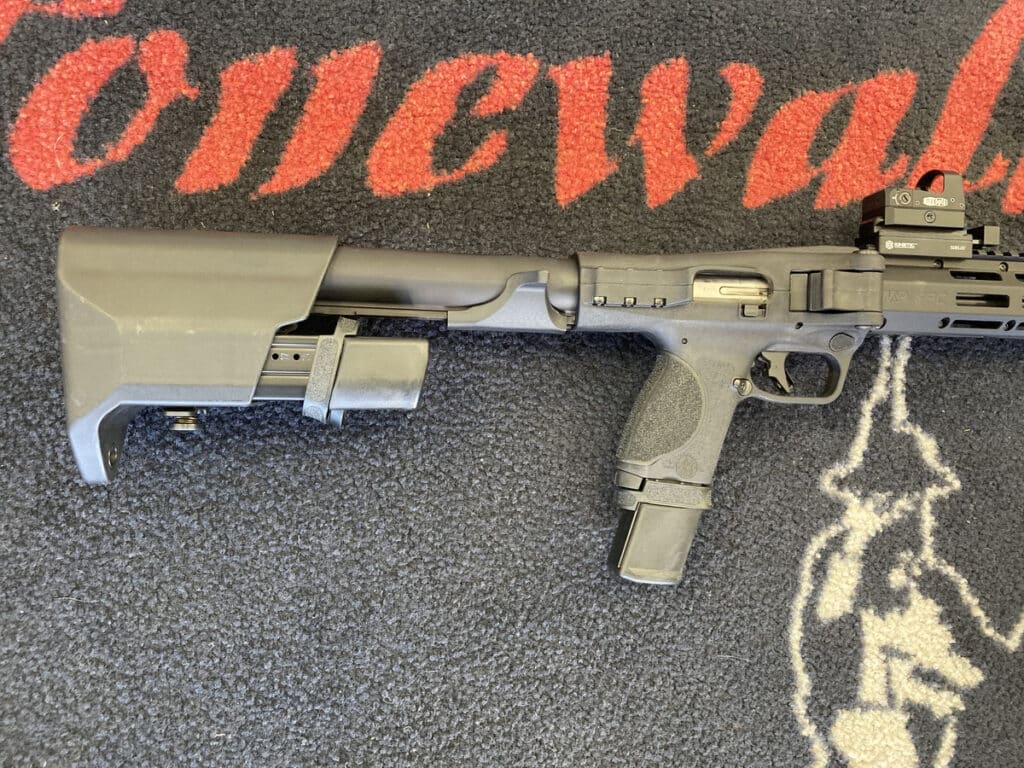 The defining feature of the five-pound, 16.25-inch threaded-barrel S&W FPC is the ability to fold in half for discrete carry and storage. At 30.3-inches overall length, the FPC folds sideways at a hinge in front of receiver giving the FPC a reduced size of 16-inches. By folding sideways instead of vertically, the FPC enables the use of a mounted optic. A weapon classified as a rifle that can be discretely carried off body in something as innocuous as a computer bag has value for any security-conscience individual. The FPC's ability to morph into a size/shape so untypical of a rifle outline allows it to hide in plain sight.
The old standard touting the advantage of having both a carbine and handgun chambered in the same caliber should not be casually dismissed. This is taken a step further with the S&W FPC's utilization of M&P handgun magazines. An ideal companion handgun for use the FPC is a S&W M&P. What could be better than not only using the same cartridge, but also the same magazines? A 17-roundd and two 23-roundd magazines arrive with the FPC. The 17-rounder fits flush into the M&P-like pistol grip. Spare magazines can be kept under the AR-like check piece thanks to an in-stock magazine storage system with tab release.
Performance Enhancing Accessories
Ease of sound suppression is another important pistol caliber carbine advantage. Suppressor use has never been as popular for military, law enforcement, and civilians. The benefits of suppressor use is hard to argue against. Rugged Suppressors did not seek to mimic other suppressor designs; instead, they chose their own path backed by engineering, experience, and science. Each type of Rugged suppressor, albeit rimfire, pistol, rifle, has unique characteristics distinguishing it from competitor cans.
The Obsidian45 used with the S&W FPC is one of the most versatile pistol suppressorson the market. The Obsidian45 can be adapted from 22LR to 45 Super. What got my attention was ability to use the Obsidian45 with numerous rifle calibers, as well, such as 45-70, 350 Legend, 300 BLK, etc. Fixed barrel spacers or 3-lug mounts allow the use of the Obsidian45 on SMGs or pistol caliber carbines. The Obsidian45's baffle stack is not only optimized for a sound reduction, but it's also designed to come apart for cleaning.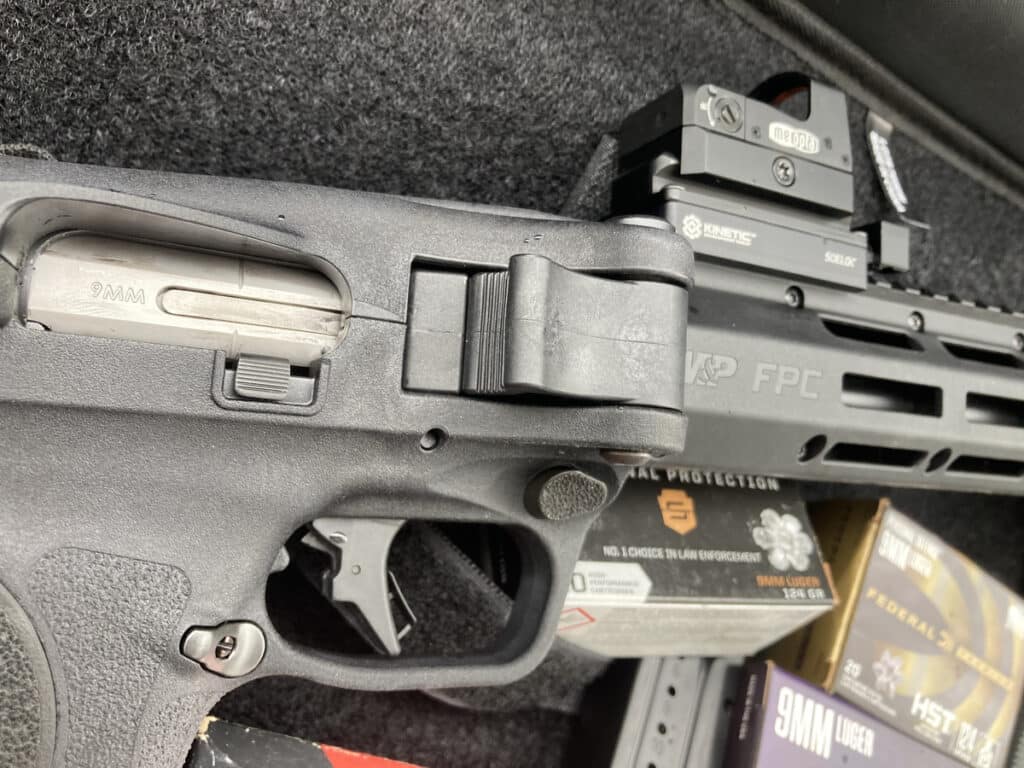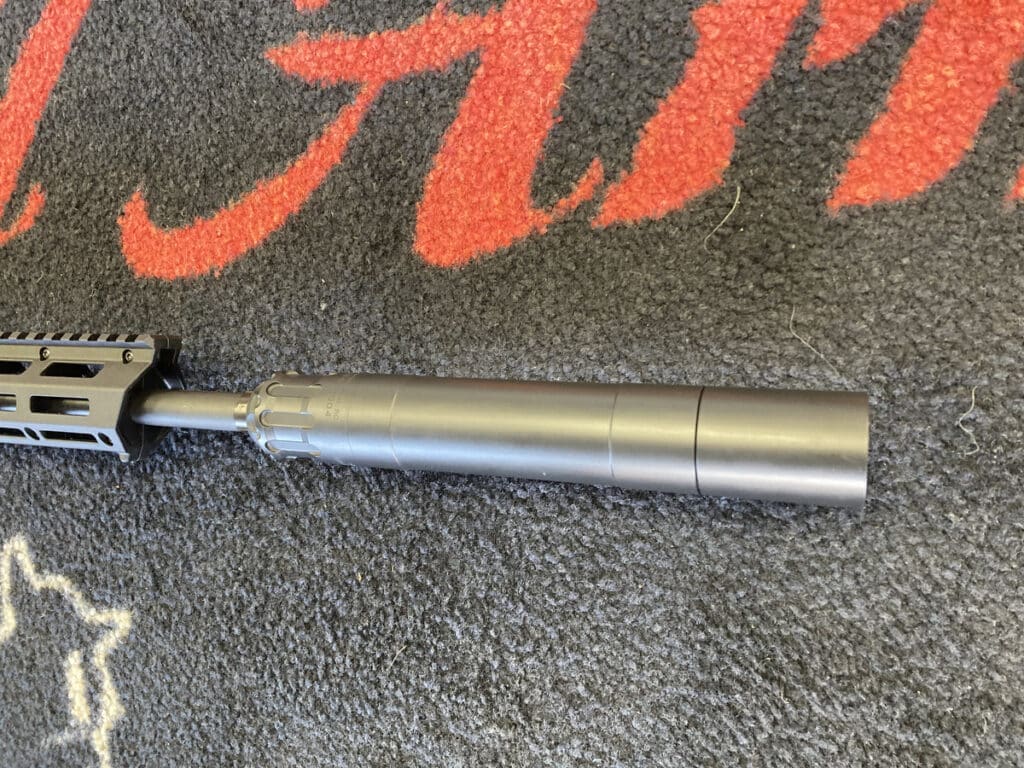 A quality red dot is an immediate performance enhancement for any pistol caliber carbine. A compact Meopta MeoSight IV offers a 3 MOA dot within a 1.2-ounce package that offers a 30,000 hour battery life. The 3 MOA dot simplifies placing rounds on target no matter the aiming method used. The MeoSight IV has a 120 MOA range of elevation and a 120 MOA of windage adjustment. The illumination feature has a manual or automatic mode, and the brightness of the red dot is easily adjustable to five different intensity levels. The sight is powered by a CR1632 3V battery. The sight's auto-off function preserves battery life by automatically turning the illumination off after four hours of continuous operation if the function button has not been touched. The MeoSight IV is compatible with standard-size optics-ready pistol systems using a Docter adapter plate and comes with a Picatinny rail mount in the box.
Meopta is relatively unknown in the U.S. market. This is a shame, as its products rival any of the more familiar European optics companies. Based in the Czech Republic, Meopta is an international company with a long tradition of developing, manufacturing, and assembling world class optical, opto-mechanical and optoelectronic products dating back to the 1930s. Meopta has had a U.S. presence since 1960 with Meopta USA formally announced in 2005. Meopta has made a name for itself involving precision medical and scientific instruments along with digital cinematic projectors, aerospace technologies, military weapon systems and consumer sports optics.
The S&W FPC arrives without sights. A Kinetic Development Group Sidelok Universal Riser was used to mount the Meopta MeoSight IV to the S&W FPC at the necessary height for use. Not only does the KDG Sidelok riser elevate the height of MeoSight IV, the Sidelok offers advantage of toolless QD removal and installation while maintaining zero.
Range Time
A wide range of 9mm loads were tested in numerous range trips with the FPC including 115-, 124-, and 147-grain JHP and FMJ loads from Black Hills, Federal, Hornady, and Winchester. The S&W FPF was sighted in at 25 yards which gives an approximate +1-inch 50-yard impact and -5 inches low at 100yds trajectory depending on exact ammunition used. This is a flatter trajectory than most would expect. Range evaluation consisted of a mixture of drills establishing durability, reliability, and handling. Firing behind cover, engaging multiple targets, magazine changes, targets at CQB distances to 100 yards made up the bulk of these drills.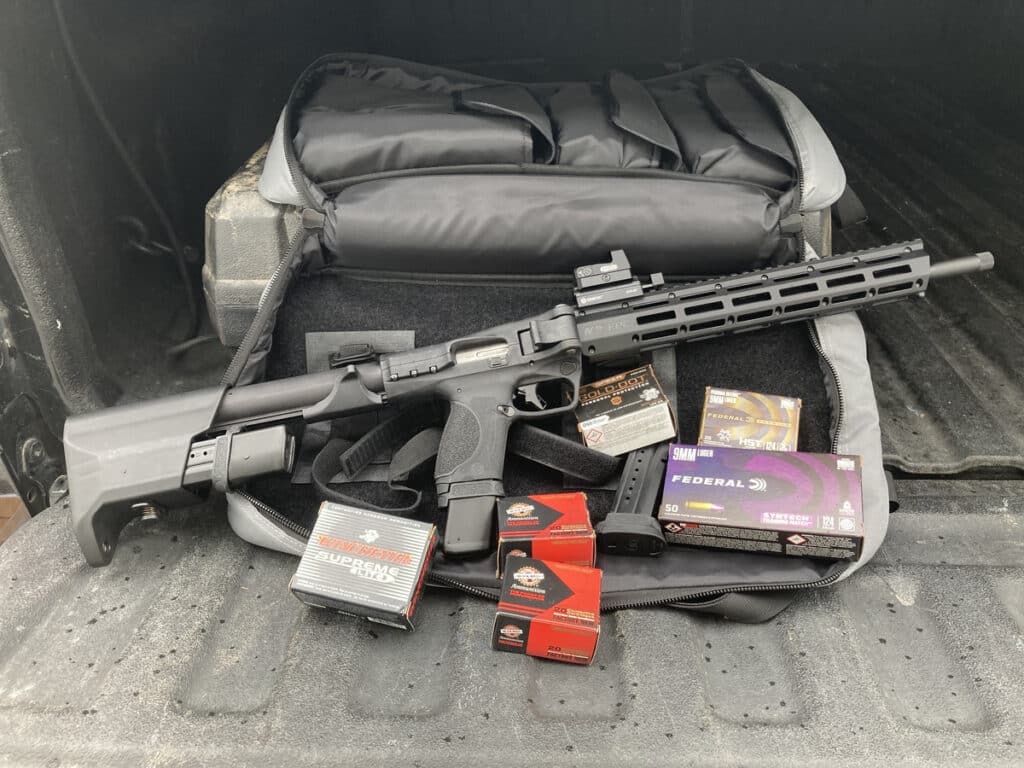 Testing was conducted at Echo Valley Training Center. The layout and availability of various steel target and simulated barricades at Echo Valley Training Center is convenient allowing for full spectrum firearm evaluations. The S&W FPC was folded and unfolded dozens of times while at the range to ascertain if reliability issues could be induced along with making sure the Meopta red dot stayed sighted in. This FPC continued to hammer out rounds monotonously ringing steel. Don't let the FPC's non-typical profile mislead you; it handles well.
The combination of the heavy bolt and magazine placement in the center of the weapon grip serves to balance the S&W FPC and minimize any recoil or muzzle climb. Accurate strings of fire had no problems keeping rounds smacking steel due to minimal muzzle climb and muzzle blast.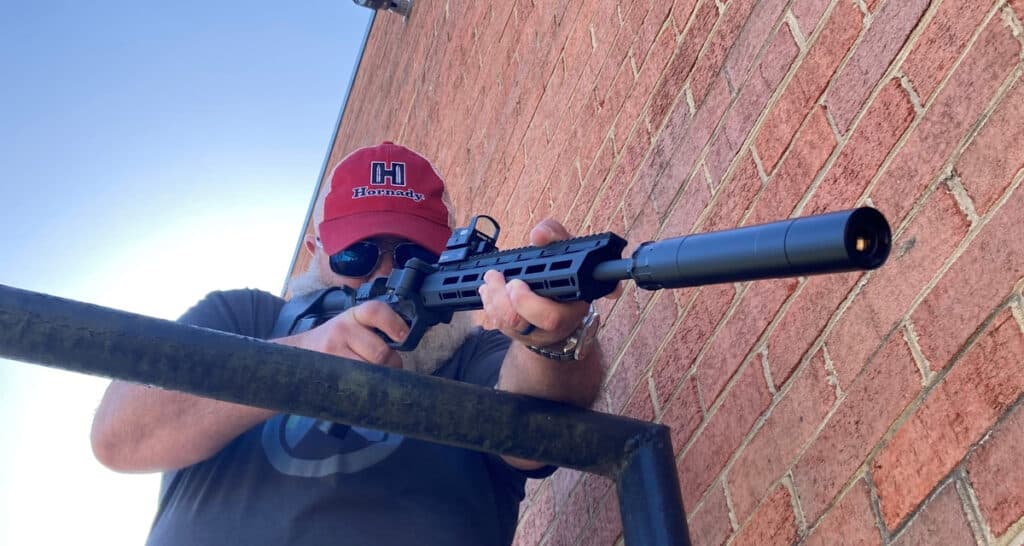 In an effort to determine the advantage of the FPC compared to a handgun, a Glock 17 was fired at 15 and 25 yards at a plate rack featuring multiple 6-inch round targets and a man-sized steel target at 50 yards. This was an effort to establish a baseline of typical field accuracy with a handgun. The S&W FPC was then fired. The accuracy and increased time differential in dropping the plates definitely supports the claimed advantages offered by the FPC. While plates were certainly successfully engaged at 15 and 25 yards with the G17, the 50-yard target was challenging, with results less than satisfying. The FPC proved much faster at 15 and 25 yards with 50-yard hits routine, thanks to the shoulder stock. Yes, handguns can engage targets at ranges much further than most realize, but this is not the norm and even more rare are the pristine conditions under which a person has to set up to take a successful long shot with a handgun.
PERFORMANCE
| | | |
| --- | --- | --- |
| LOAD | VELOCITY AVG. | ACCURACY AVG@ 25 yds |
| Federal 124gr HST | 1219fps | 1in |
| Winchester 147gr PDX | 1046fps | 1.5in |
| Hornady 115gr XTP | 1197fps | 1.2in |
| Black Hills 124gr JPH +P | 1235fps | .75in |
Accuracy test protocol: three 5-shot groups with each ammunition type; Group sizes were averaged. Velocity figures obtained by averaging five rounds fired over a Caldwell Precision Shooting chronograph.
The 9mm pistol cartridge chambered in a carbine is a much more potent package than any handgun. Why? The advantage is derived from the increased accuracy and handling found in a pistol caliber carbine. This is based on multiple points of contact between the gun and shooter. This consists of shoulder, cheek, and hands spread further apart, offering more stability compared to a handgun.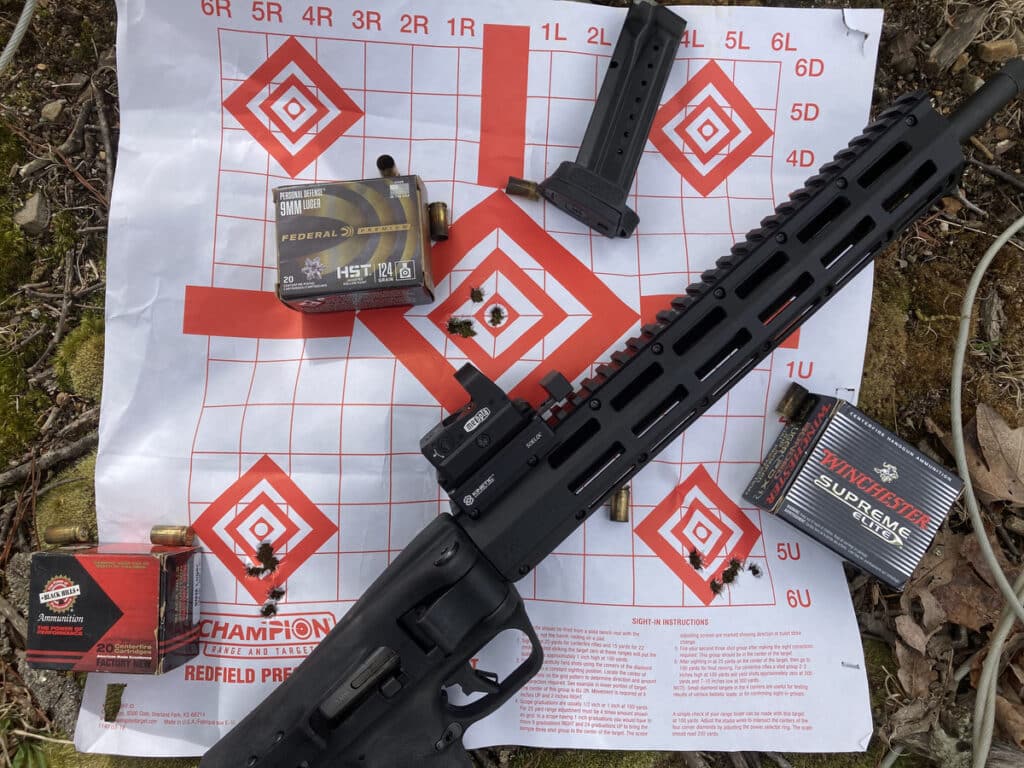 Ergonomic Nitty Gritty
The magazine release is a handgun-style button located on the left side of the grip. The firing hand thumb can manipulate the button. Having larger hands or button slightly more to the rear would give more peace of mind if having to change magazines in a hurry. Magazine changes proved awkward when coming from the storage area under the rear buttstock due to toggle system that holds the magazines in place. The storage area should still be considered a plus in that it allows for convenient onboard storage; just accept it's not an optimum setup for speed reloads. A magazine change from belt, vest, or pocket proved simpler. The trigger finger can deactivate the crossbolt safety. An offhand is needed to place weapon back on safe if the firing grip is to be maintained.
Good luck releasing the bolt via the lever whether the magazine is in place or not. The lever does not protrude very far from the frame and the pressure against it is considerable. We strongly suggest using the reciprocating two-prong ambidextrous charging handle (think AR) riding under the tubular buttstock for manipulating the action. The FPC's blowback operating method translates into a stiff action spring. It's best not to rush manipulating the action during reloads to ensure your hand doesn't slip off the cocking handle or fail to bring the action back far enough to strip a fresh round from the magazine. The magazine well in the pistol grip allows for reloads without having to look, once you're accustomed to the manipulation method. Range experience indicated that the "hand-to-hand" method works efficiently in getting a fresh magazine inserted into the weapons pistol grip, especially under pressure of time constraints and wanting to keep eyes downrange during the reload.
Recap
The pistol caliber carbine such as the S&W M&P FPC makes far more sense than relying strictly on a handgun for defense. Accurate hits are possible out to 100 yards with the carbine after only minimal practice, especially with a red dot optic. The pistol caliber carbine offers cross-over capabilities for anyone not wanting to invest time, money, or training to acquire proficiency in handgun, rifle, or shotgun. A PCC is easier to shoot accurately than a shotgun or a rifle due to its compact nature and softer recoil impulse.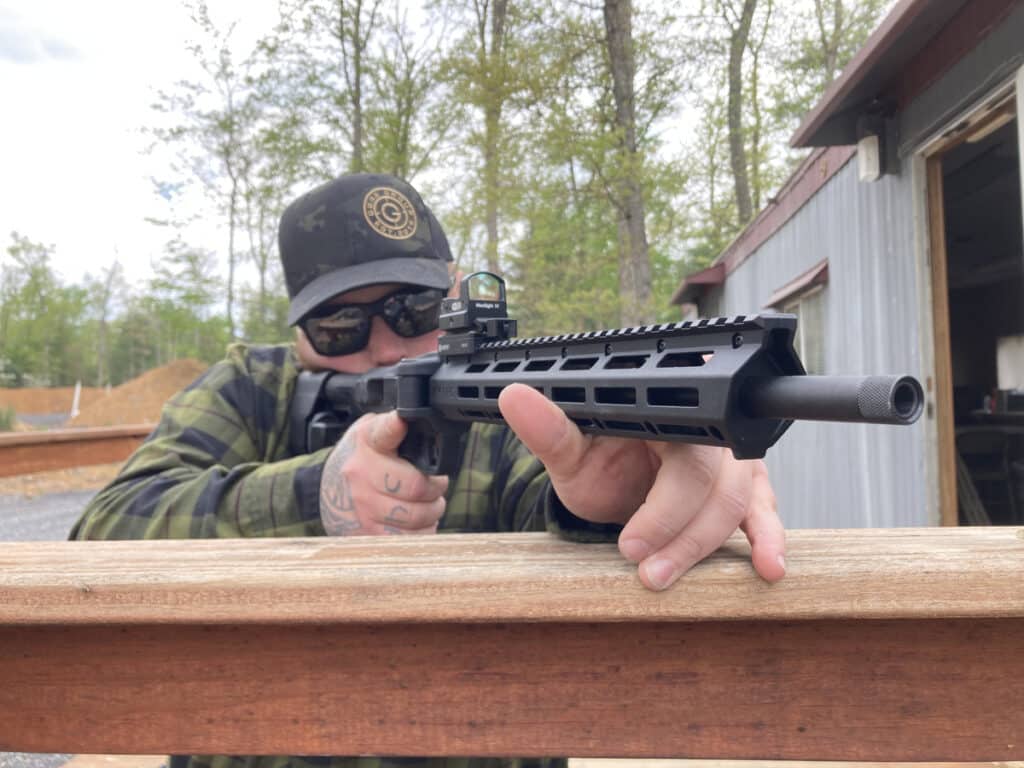 Many will be lured to the S&W FPC for its unusual ability of folding in half; this nuance intrigues many with its ability to maintain rifle status, while still being carried in a laptop bag. Others will argue that there is no defensive value in any carbine chambered in a semi-automatic pistol caliber; they'll tell you to just use a full size rifle. The FPC's weapon capability as a 9mm pistol carbine should not be underestimated. The S&W M&P FPC's ability to be transported discretely may translate into it being the weapon most readily available if a situation arises unexpectedly while away from home.
SPECIFICATIONS
| | |
| --- | --- |
| Make | Smith & Wesson |
| Model | M&P FPC |
| Caliber | 9mm |
| Magazine Capacity | One 17- and two 23-round M&P magazines provided |
| Barrel Length | 16.25 inches |
| Overall Length | 30 3/8-inches unfolded 16 3/8-inches folded |
| Weight Empty | 5.03 pounds empty |
| MSRP | $659 |