Compiled by Robert Bruce, SAR Military Affairs Editor
As explored in our two previous online offerings of selected World War motivational posters, we continue to emphasize the importance of obviously contrived "propaganda" to encourage both civilians and military forces to commit themselves and their efforts to victory.
From 1940 to 1945 major nations of the world were locked in a desperate fight to the death. Would America and its Allied nations – principally the United Kingdom and Soviet Union – preserve freedom? Or would the "Axis" forces of Germany, Italy and Japan impose slavery under their iron fisted rule?
"Propaganda," the art of persuasion, was skillfully employed by all powers in the conflict. We see this in selectively edited movie newsreels, tightly scripted radio broadcasts, censored newspaper features, and a proliferation of remarkably effective posters, the subject of this feature series.
While some today will probably find the graphics and messages in the posters seen here to be unsophisticated and even intolerably offensive, the intended audiences of the time – friend and foe – lived in dire circumstances. Arrogantly applying "modern standards of correctness" to what was necessary and undeniably effective eight decades ago in the 1940s needs to be suspended in order to understand the people and peril of the time.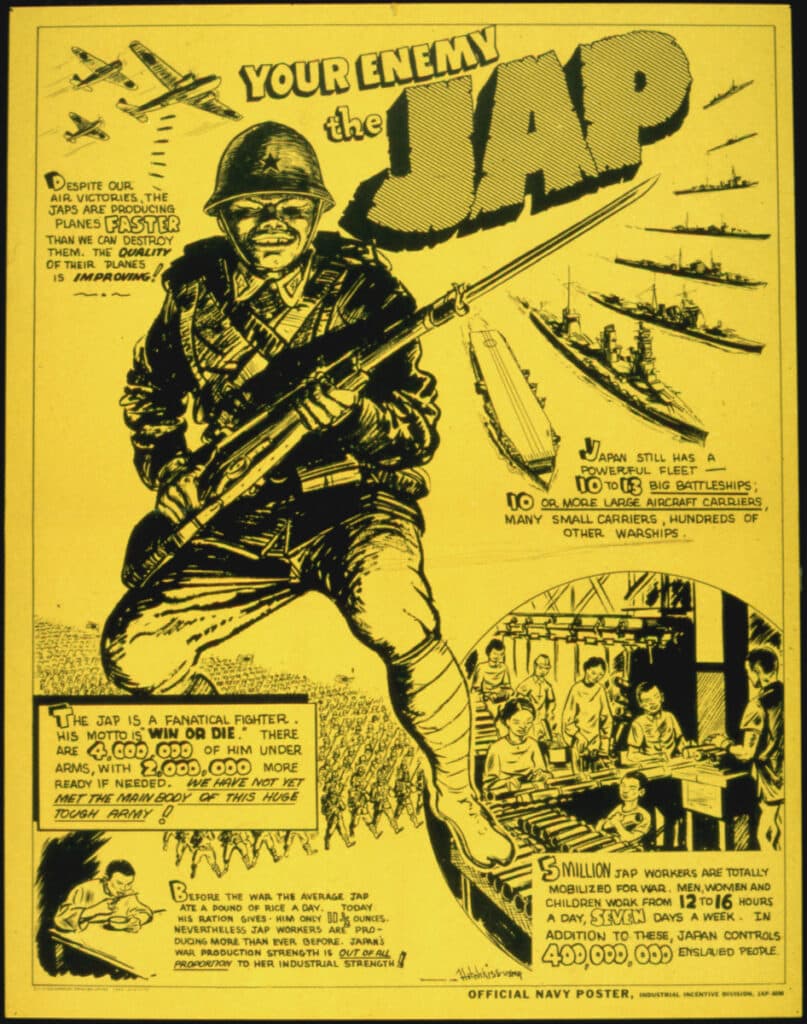 YOUR ENEMY THE JAP. "The Jap is a fanatical fighter. His motto is 'WIN OR DIE.' There are 4,000,000 of them under arms with 2,000,000 more ready if needed. We have not yet met the main body of this huge, tough army." Although undated, this official U.S. Navy poster was probably published sometime after 1943 when the tide of war had turned in Allied favor. "Island hopping" pressed on in the Pacific with vicious fighting to take a series of strategic, enemy held islands that would almost inevitably require invasion of the fanatically defended Japanese mainland. Credit: U.S. National Archives via Wikimedia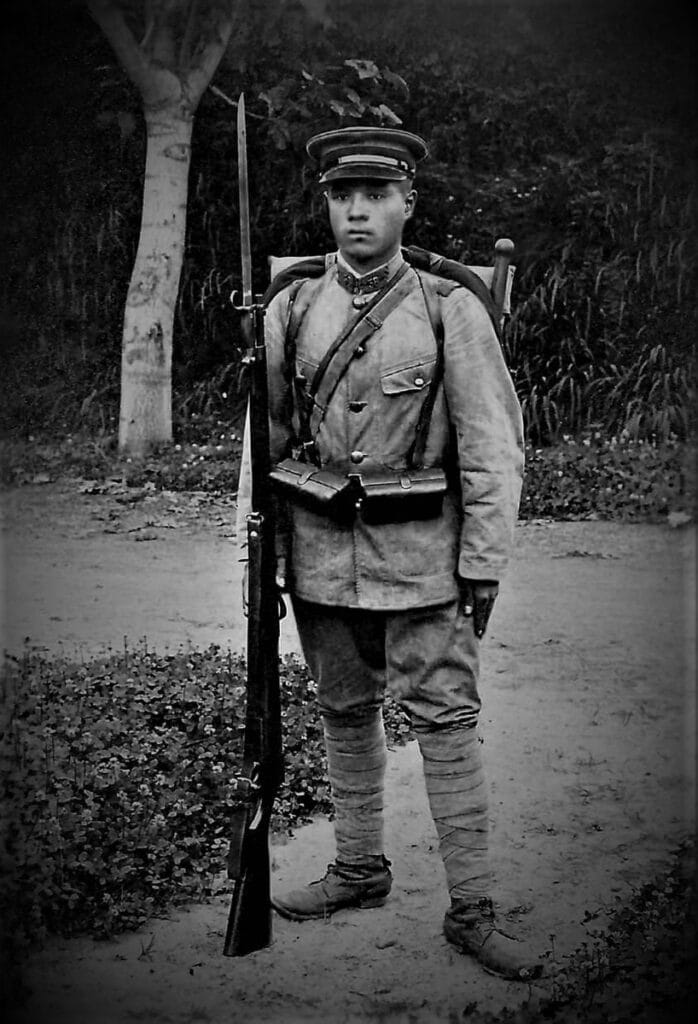 No location, probably circa 1939-40. Posing for a formalized portrait with his long, bolt action 6.5mm Type 38 Arisaka rifle and Type 30 bayonet, this youthful Japanese infantryman doesn't seem to fit the propaganda image of a bloodthirsty murderer of civilians and POWs. But appearances can be deceiving, and one official analysis of Japan's widespread instances of horrific war crimes noted uncompromising indoctrination in the warrior code Bushido that all the Emperor's forces received. "…when the Japanese murdered POWs by shooting, beheading, and drowning, these acts were excused since they involved the killing of men who had forfeited all rights to be treated with dignity or respect." Credit: Australian War Memorial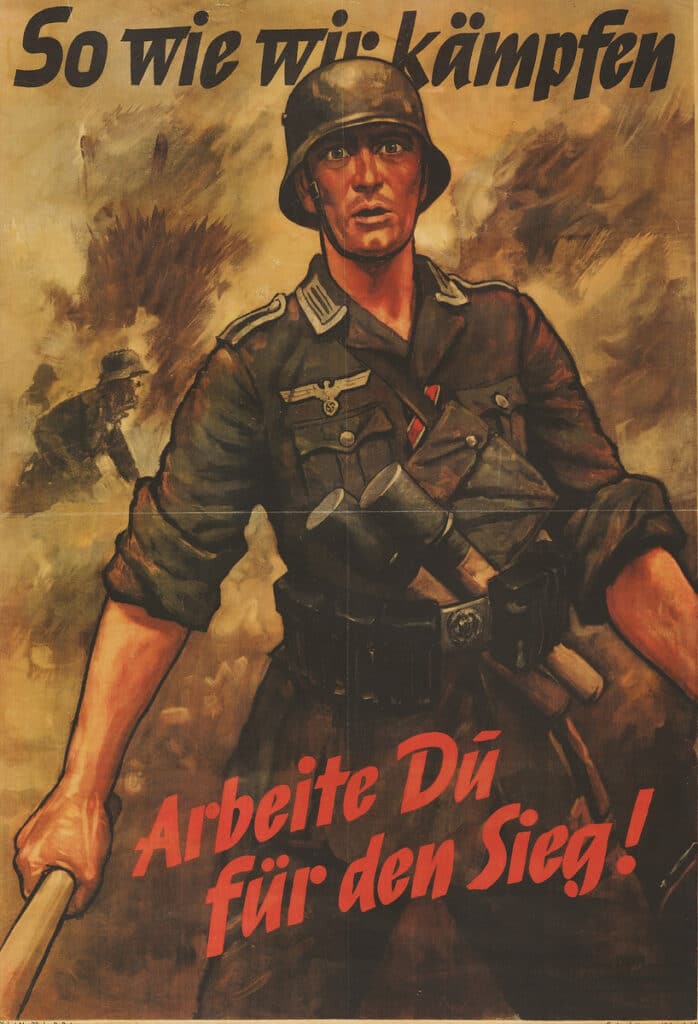 So wie kampfen Arbeite Du fur den sieg! "As hard as we fight, you work for the victory!" Pausing momentarily in the midst of battle, this ruggedly handsome German soldier implores those in support units, on the home front, on farms, and in factories to support the fighting forces. With two distinctive "potato masher" stick grenades in his belt and one ready to throw, the message is clear that untold numbers of these and all other types of war materiel must be made and rushed to the front. Credit: Deutsche Kriegspropaganda via Wikimedia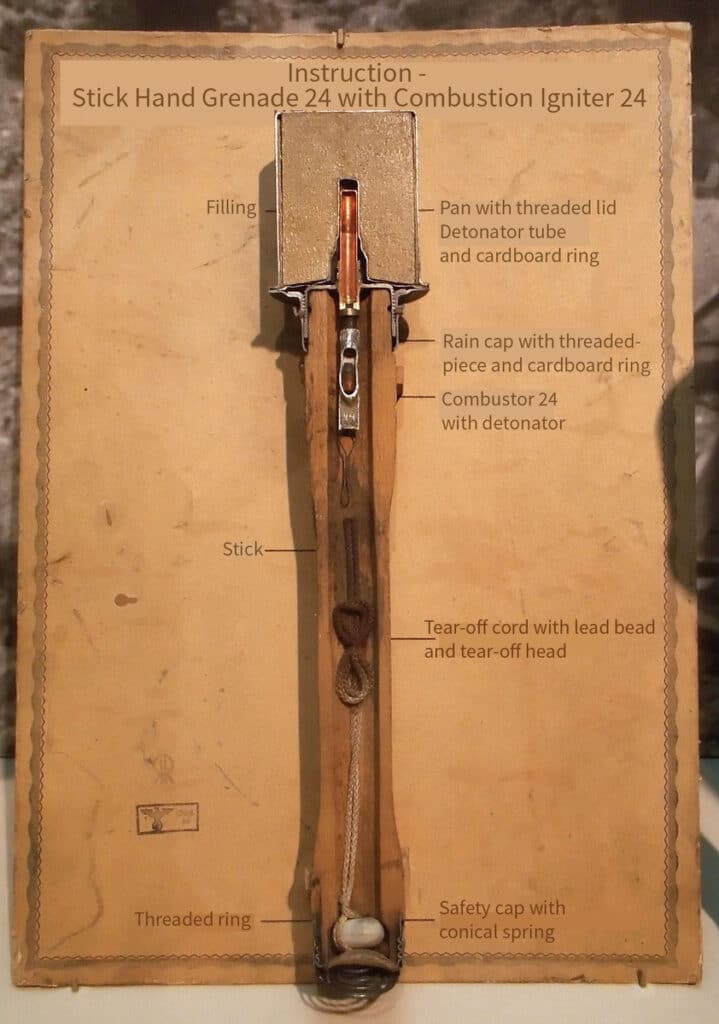 Instruction – Stick Hand Grenade 24 with Combustion Igniter 24. This training aid display featuring a cutaway view of the classic German Stielhandgranate 24 was used to familiarize Allied soldiers with its inner workings and perhaps even prepare them to use captured examples when needed. Primarily an offensive weapon relying on concussion effects, it was also an effective antipersonnel grenade with addition of a serrated metal sleeve slipped over the can shaped head. Credit: Canadian War Museum, Ottawa via Wikimedia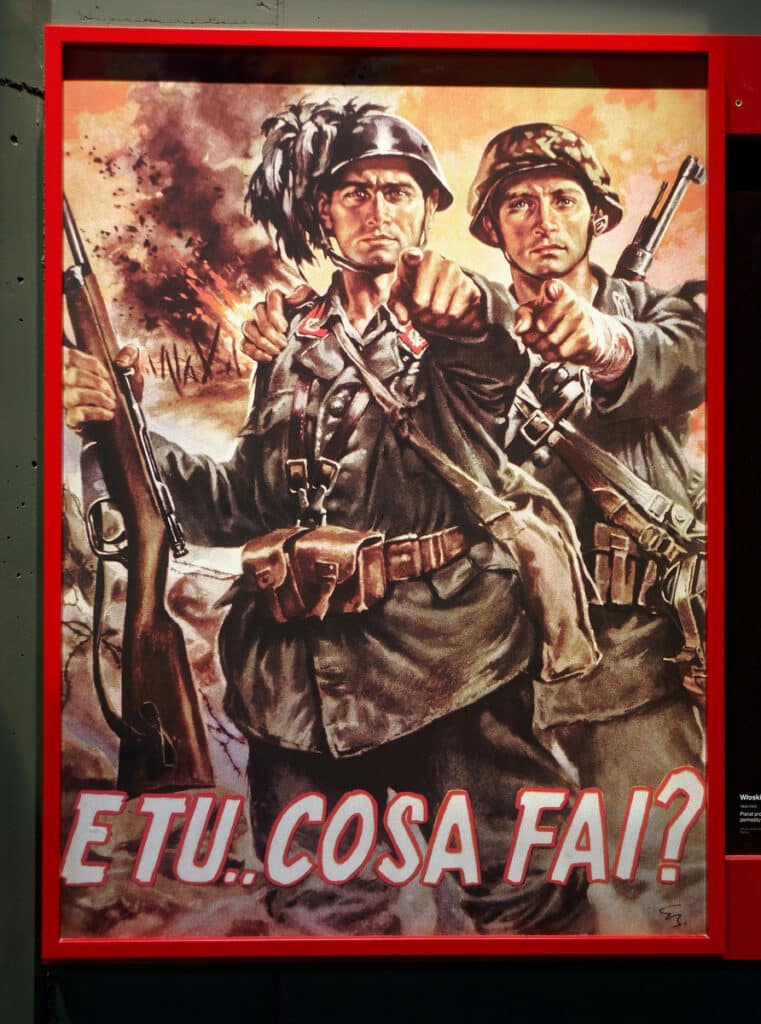 E TU..COSA FAI? "And what did you do?" Standing boldly with a German infantry comrade on the battlefield, this determined Italian soldier challenges his countrymen. Readily identified as a member of an elite Bersaglieri formation by the distinctive black capercaillie feathers on his helmet, it is known that the 1st Bersagliari Division "Italia" was attached to the German 14th Army in Eastern Europe. Credit: Poland's Museum of the Second World War via Wikimedia

Moschetto Modello 91/38 Cavalleria. The Italian M91/38 Cavalry Carbine is a compact, bolt action weapon firing 6.5 x 52mm Carcano cartridges from a six round internal magazine. Shorter and lighter than its rifle counterpart with a spike bayonet handily folded underneath its 17.5-inch barrel, it was issued to horse and bicycle cavalry units as well as the elite Bersaglieri units. Credit: SARCO, Inc. (which is currently offering some of these well used but serviceable carbines for a mere $155.)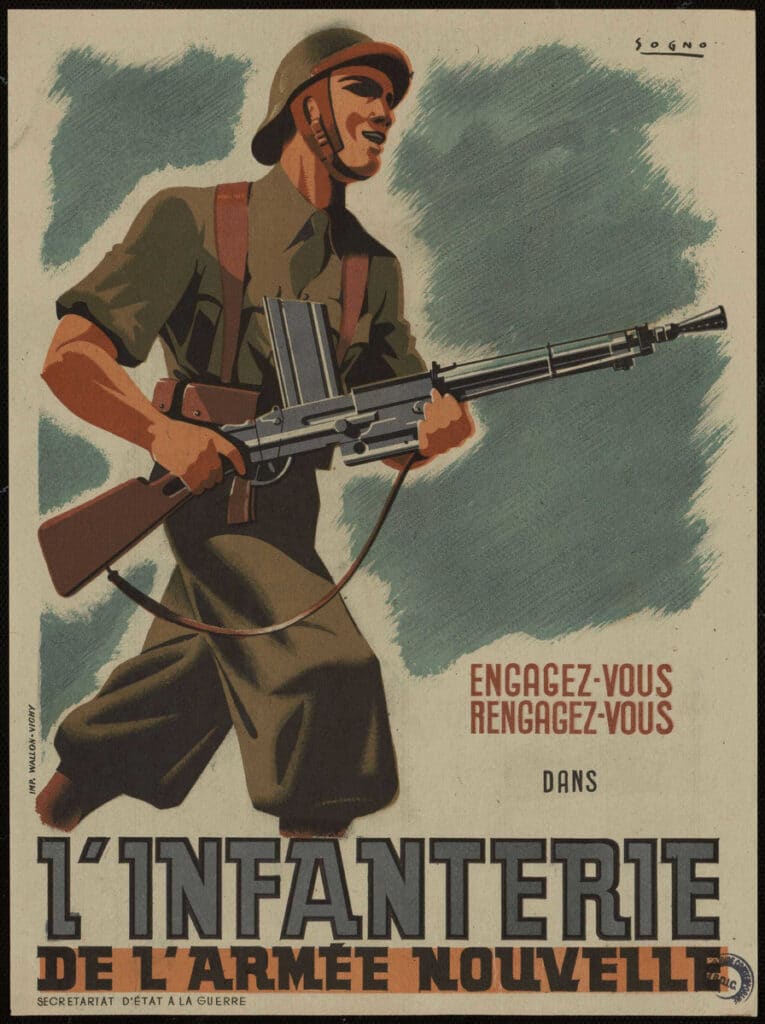 ENGAGEZ-VOUS RENGAGEZ-VOUS L'INFANTERIE DE L'ARMEE NOUVELLE. "Enlist yourself, re-enlist in the infantry of the new army." Advancing at a run with his Fusil Mitrailleur 1924/ M29, this stylized French infantryman appears ready to take on Allied armies – enemies of the Vichy government – a collaborationist regime of Nazi-occupied France. Credit: Argonnaute Parisnanterre via Wikimedia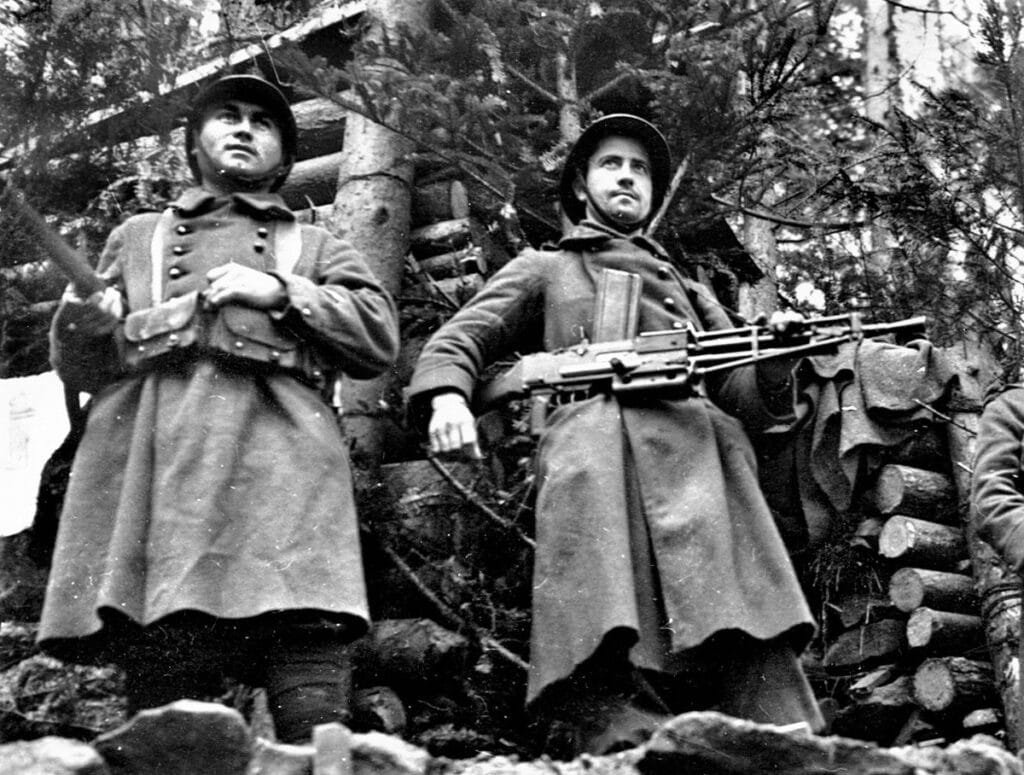 France, ca. 1938. These French infantrymen standing watch outside their log bunker are prepared to repel the enemy with a little Mosqueton Mle 1916 on the left and a formidable Mle 1924/M29 automatic rifle. Feeding 25 rounds of powerful 7.5mm cartridges from a top mounted magazine, this 20-pound, air cooled machine rifle has dual triggers, firing semi auto from one and 550 rounds-per-minute full auto from the other. Credit: Musee de L'Armee via Wikimedia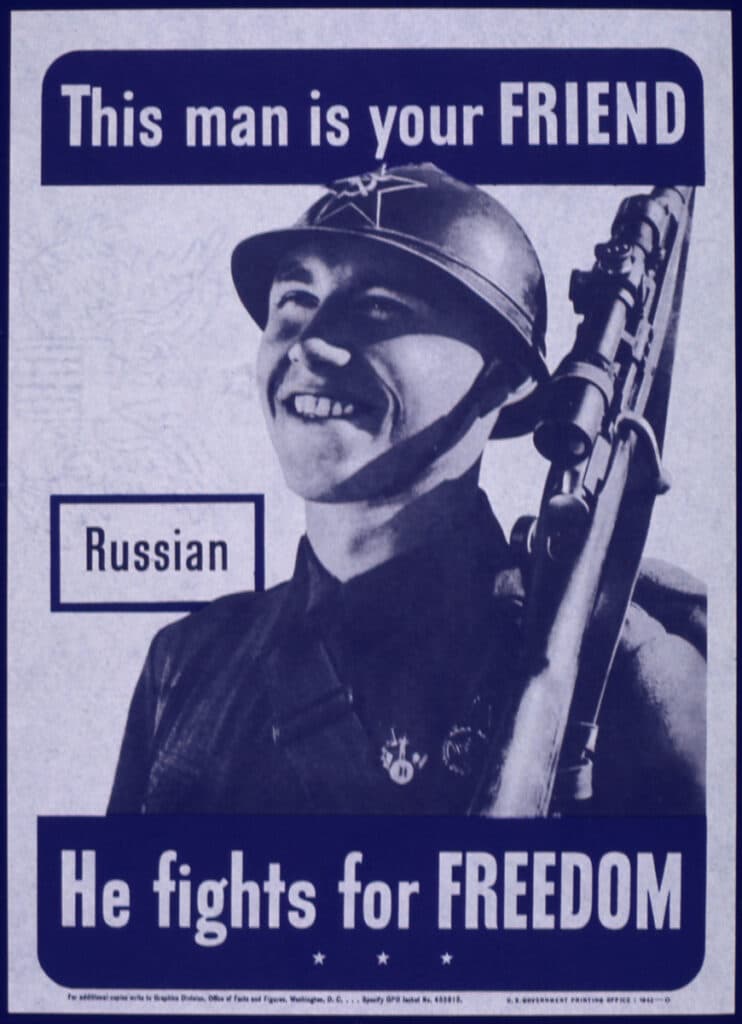 This man is your FRIEND – Russian – He fights for FREEDOM. Well, since the poster was released in 1942, Stalin's Red Army – previously joining Hitler's Wehrmacht in the invasion of Poland – had by then switched to the Allied side. This image of a grinning Russian sniper is intended to offset understandable confusion among U.S. and Allied forces as to whether "Ivan" was a good guy or what. Credit: U.S. Office of War Information, National Archives via Wikimedia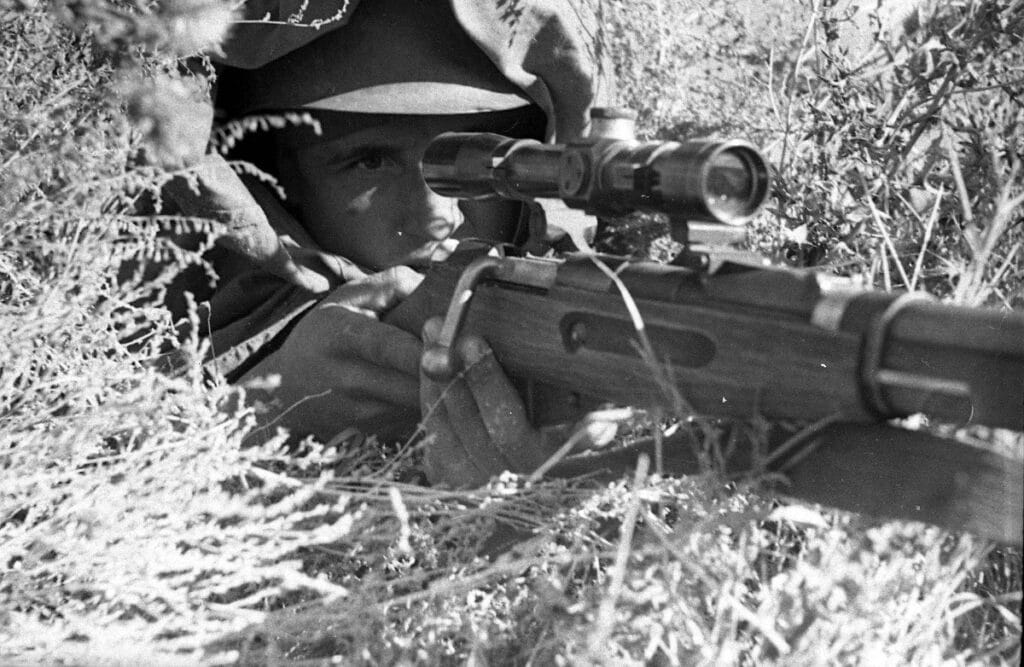 A Soviet sniper searches for a fascist target. Scanning his assigned sector through the four-power PE optical sight, this well-hidden Red Army sharpshooter will reach out hundreds of yards with precisely aimed 7.62 mm bullets from his specially selected, bolt action M1891/30 Mosin-Nagant rifle. Note, the rifle's bolt handle is turned down so it clears the scope and mount. Credit: Tass via waralbum.ru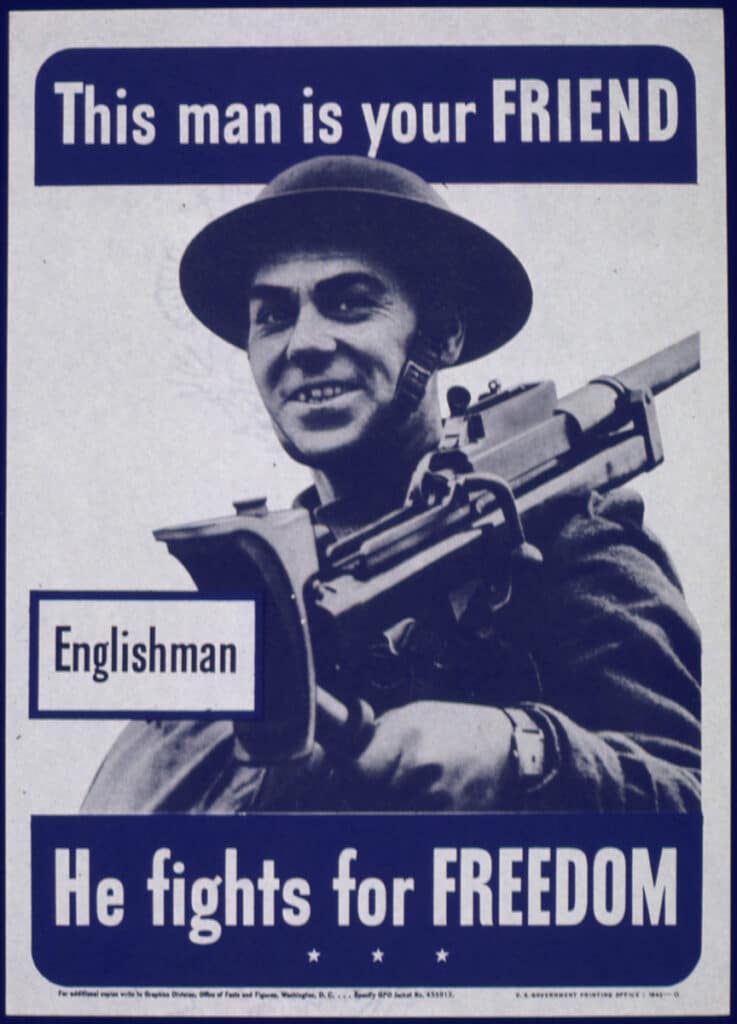 This man is your FRIEND – Englishman – He fights for FREEDOM. Not as tricky a task as that of portraying Russkis as buddies, America's traditional British allies are readily recognized by their characteristically cheerful demeanor and "tin hat" helmets. This smiling "Tommy" shoulders a massive Boys antitank rifle. Credit: U.S. Office of War Information, National Archives via Wikimedia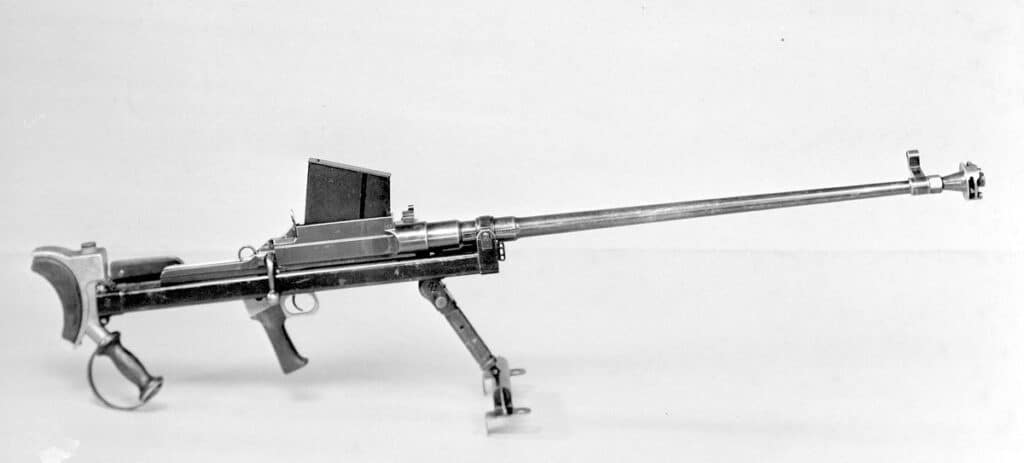 The bolt action Mark 1 Boys Anti-tank rifle with a magazine holding five massive, hard-hitting .55 caliber (14mm) cartridges could penetrate almost an inch of steel armor head-on. Although weighing in at 35 pounds and fitted with a muzzle brake on its 36-inch-long barrel, recoil and muzzle blast were said to be punishing. Credit: SA-Kuva Archive (Finland) via Wikimedia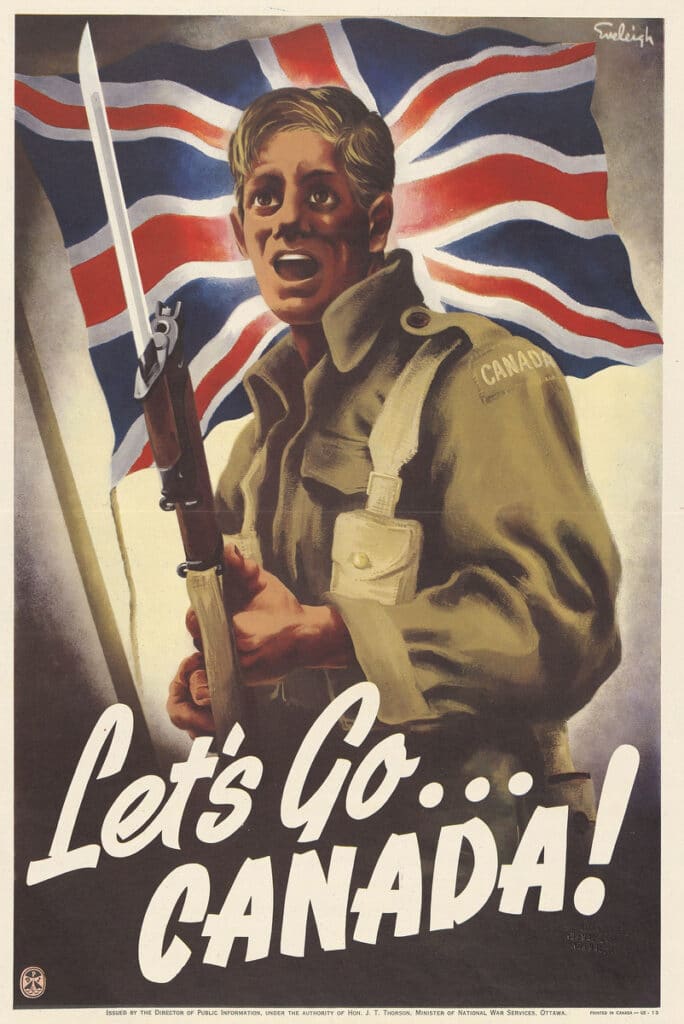 Let's Go …CANADA ! In this classically inspiring motivational and recruiting poster, a fair-haired Canadian lad with bayonet fixed on his British pattern SMLE rifle looks eager to join the fight against the Axis powers. Proudly billowing behind him is the British "Union Jack," known in Canada as the Royal Union Flag, versions of which are incorporated in all of the United Kingdom's Commonwealth Nations. Credit: Canadian Director of Public Information via Illinois State University and Wikimedia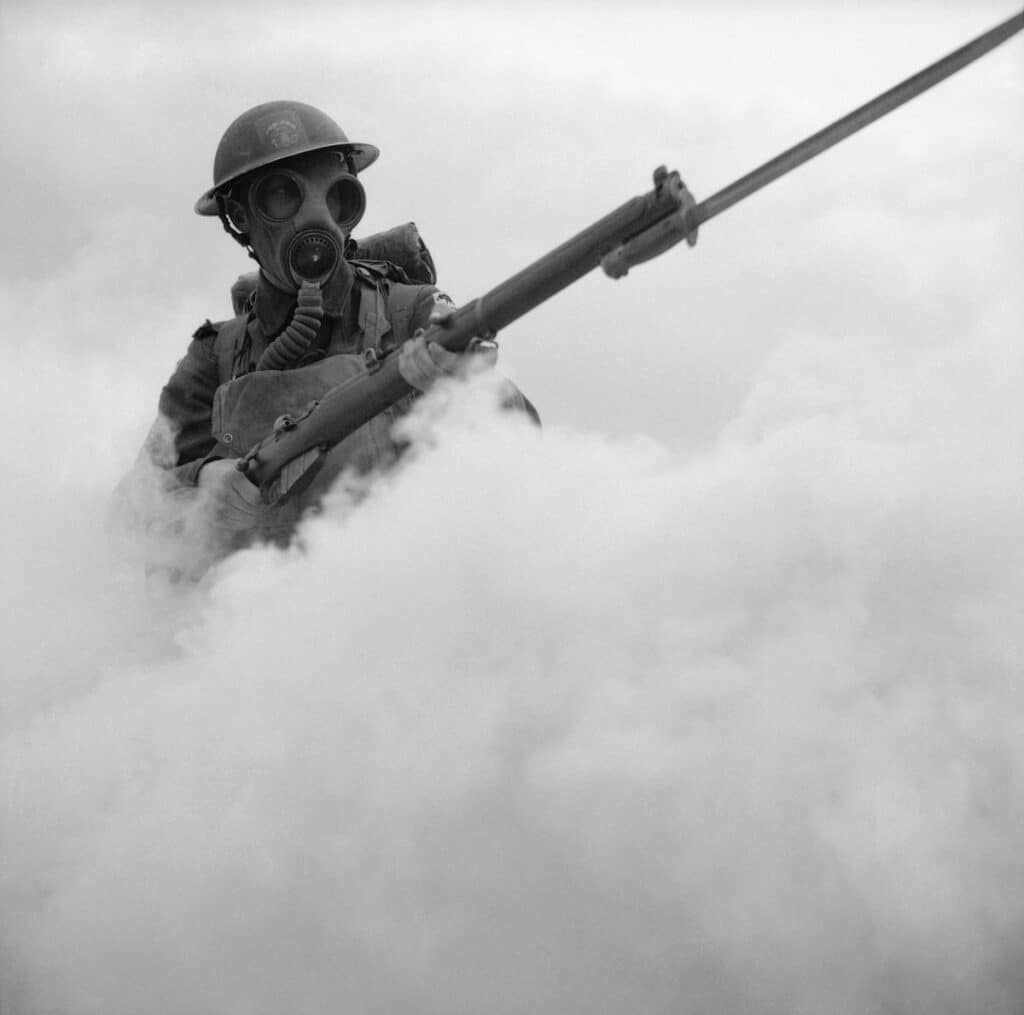 Hampshire, England, 1941. A gas masked British infantryman with bayonet tipped SMLE rifle advances through a smoke simulated "poison gas" fog in a training exercise. His bolt action, .303 caliber Number 1 Mark III Short Magazine Lee Enfield measures 49.5 inches overall and weighs in at 9.25 pounds not counting the menacing 17-inch-bladed Pattern 1907 bayonet. Credit: Imperial War Museum via Wikimedia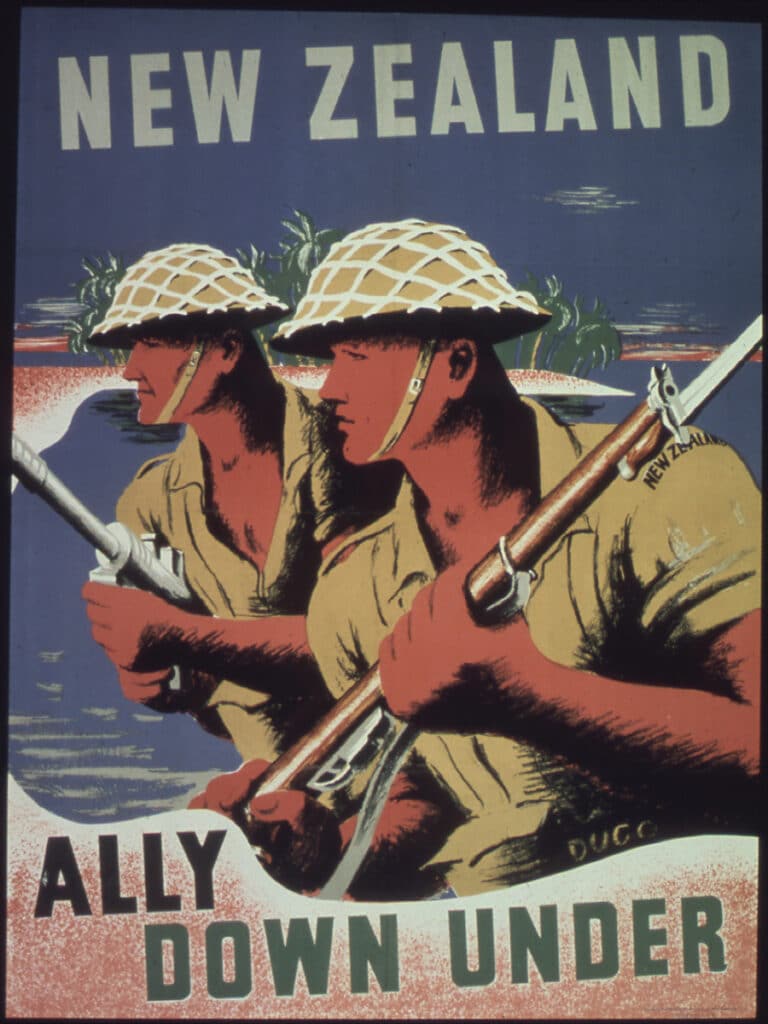 NEW ZEALAND. ALLY DOWN UNDER. Presenting idealized portraits of "Kiwi" soldiers armed with an Owen submachine gun and SMLE rifle, the simple message to American and other Allied soldiers is to know that these men are on your side. ANZAC (Australian and New Zealand Army Corps) were prominent both initially and throughout the war in the fight against Japanese forces in the Pacific. Credit: U.S. Office of War Information, National Archives via Wikimedia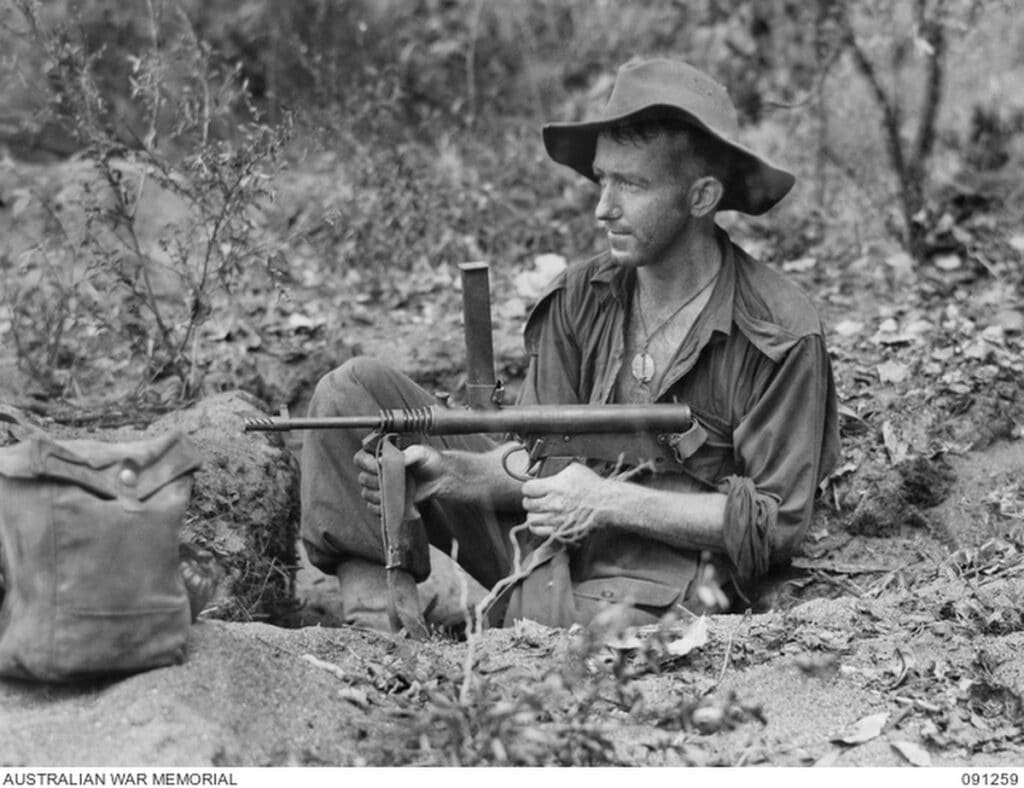 New Guinea, April 1945. Cradling a 9mm Owen Machine Carbine, this ANZAC soldier, Private R.F. Gaudry of the 2/3 Infantry Battalion, is on guard against Japanese infiltrators. This handy and highly regarded submachine gun, instantly recognizable by its top mounted 33-round magazine and quick removable barrel with diagonal compensator cuts, was a home-grown development of Australian Evelyn Owen, a vast improvement over the British STEN. Credit: Australian War Memorial via Wikimedia