By Todd Burgreen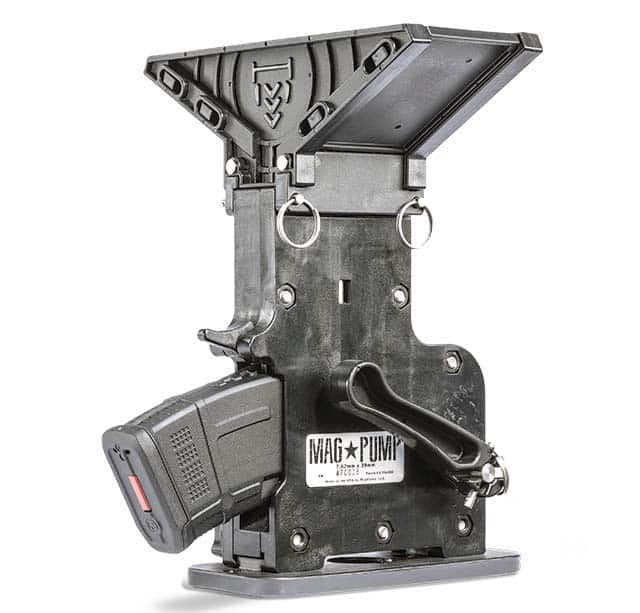 We all enjoy a day at the range honing skills or partaking in a training course. After all, shooting skills are perishable if not maintained. The best way to do this is productive practice and/or training. Loading aids with promises of sparing your hands/thumbs have surely tempted many, especially as higher capacity magazines have become the norm and round-count expenditures grow. This author admits trying multiple brands with limited success either due to marketing hype not being met, cost, size prohibiting easy transport, set-up issues at the range, or a particular tool not being accommodating to different magazine styles within a certain model (i.e., metal/polymer construction or manufacturing quirks).
The latest and most promising loading aid the author uses currently is from MagPump (magpump.com). MagPump started off with an AR-15 loader and quickly expanded to the AK-47 and then the bane of all shooters—high capacity 9mm magazines. Initial reports from range days at the last couple SHOT Shows, notorious for frenzied high-round expenditure, generated high expectations. The success of MagPump loaders rely on certain key design aspects shared between all MagPump loaders. Once you have experienced one MagPump loader, seamless transition to the other models can be expected.
Loading Is Easy
First off is the top hopper loading method that does not require users to orientate or line up cartridges in a specific direction. The MagPump AR loader hopper can accommodate 90 rounds and the AK loader 65 rounds, each layered in to maximize space. For the 9mm loader simply dump in a box of desired ammunition or scoop a handful from a bucket or ammunition can. The capacity of the 9mm hopper is 50 rounds. MagPump's better "mousetrap" approach takes care of getting ammunition in proper orientation for placement in your magazine after it funnels down from the hopper. How? This author cannot really answer that, but after thousands of rounds loaded into AR, AK and 9mm magazines, none have been backwards.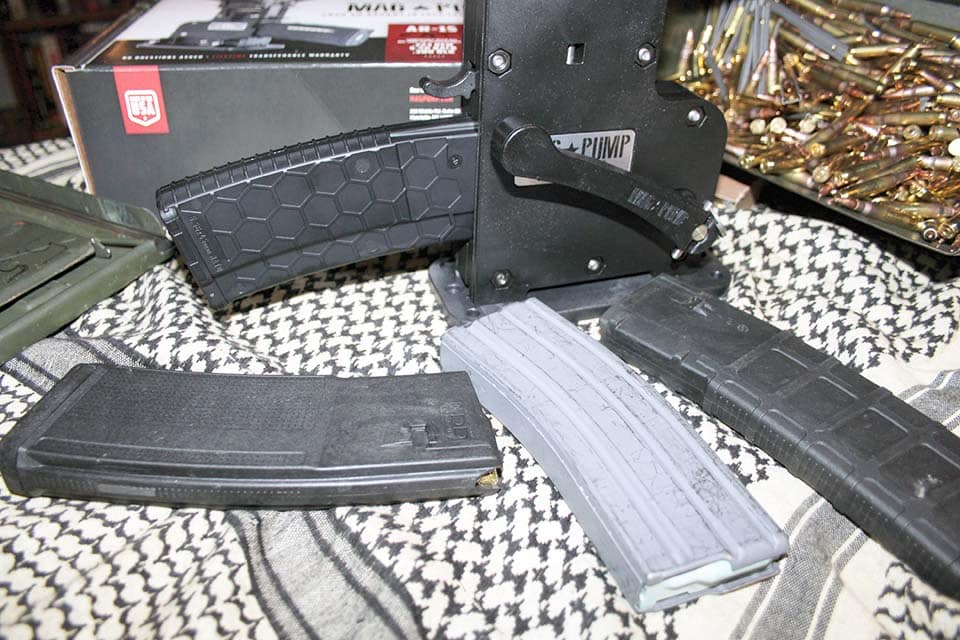 Another advantage is the portability and simplicity of getting the MagPump loaders in action. The top hopper can be removed for ease of transport. All of the loaders arrive in a sturdy box with foam lining cut out for secure placement. The hoppers are connected to the bases via stainless retaining pins. There is no need to fasten the MagPump loader base down—simply hold in place with the hand not operating the loading lever found on the side of the loader. A mounting plate is available if the user desires this option. Magazine retainers hold inserted magazines in place. Once a magazine is inserted properly, an audible and tactile click is created. At this point, lifting and lowering the handle loads a round into the magazine. It is that simple.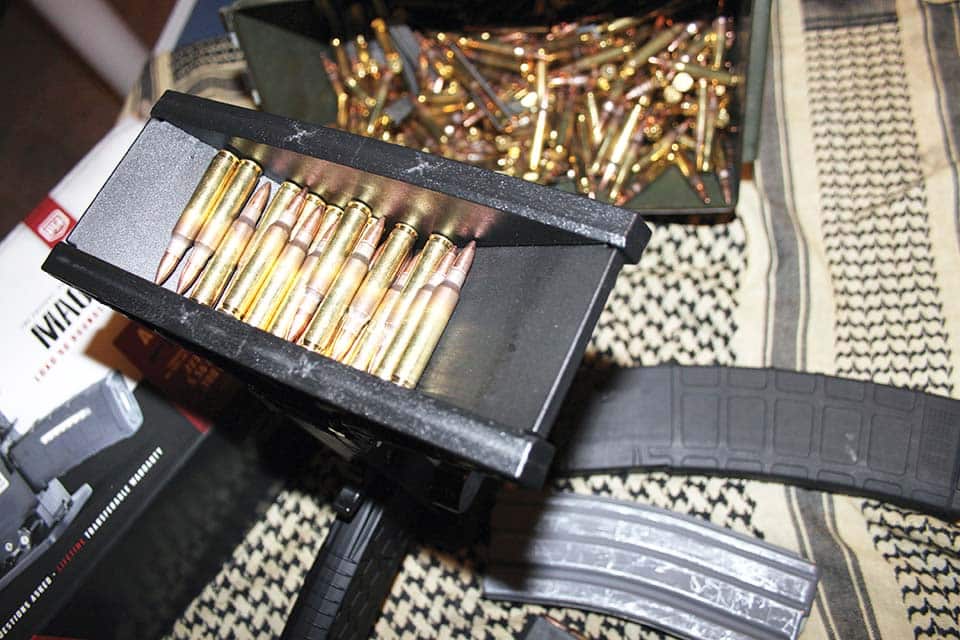 The standard MagPump loader is made from polymer and priced at MSRP $149.99. Elite models feature an Aluminum billet base and metal loading handle. MSRP for this model is $399.99. No matter which MagPump model, loading time is decreased 50% with hand fatigue reduced drastically, especially if loading magazines in a high-round count course or shooting session. 30 rounds in 30 seconds is the standard set forth by MagPump. The author's own experience supports this with all three models.
Testing
The new 9mm MagPump was tested with GLOCK magazines. After all, we live in a GLOCK world. With that said, both GLOCK and Magpul brand 9mm magazines fit and load fine. The different retainers with the 9mm MagPump eliminate concern of certain magazines not being compatible. The 9mm loader arrives with GLOCK, SIG, Smith & Wesson, Springfield Armory, Ruger and CZ double-column magazine retainers. More retainers enabling different handgun type use are available separately including Beretta, Walther, HK and Hudson. A single-stack GLOCK 43 retainer is also available.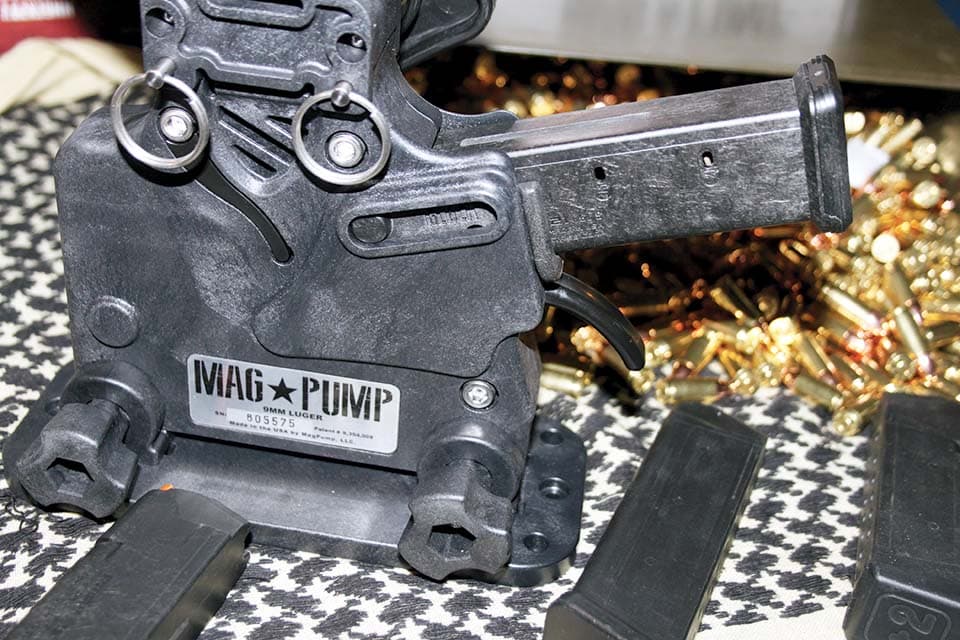 A good habit is to arrive at the range with a couple dozen GLOCK magazines loaded and ready to go, especially if attending a training class. This is to maximize time. Having a head down loading magazines is not productive with many insightful anecdotes possibly missed from classmates or instructor staff. This time the author decided to show up with only three or four magazines total with bulk ammunition ready to be loaded to better evaluate the MagPump 9mm loader.
The 9mm MagPump had no trouble keeping up with magazine loading demands while balanced on the back of a utility vehicle or designated loading table area. Once a rhythm was established, the 50-round hopper quickly disappeared into magazines. After a few tries, one gets a feel for making sure rounds are slipping down the chute from the hopper to be loaded. A little shake or manipulation of lever is all that is required to keep rounds shuttling along once the user gets orientated. An integral built-in safety prevents rounds from loading when magazines reach the full mark.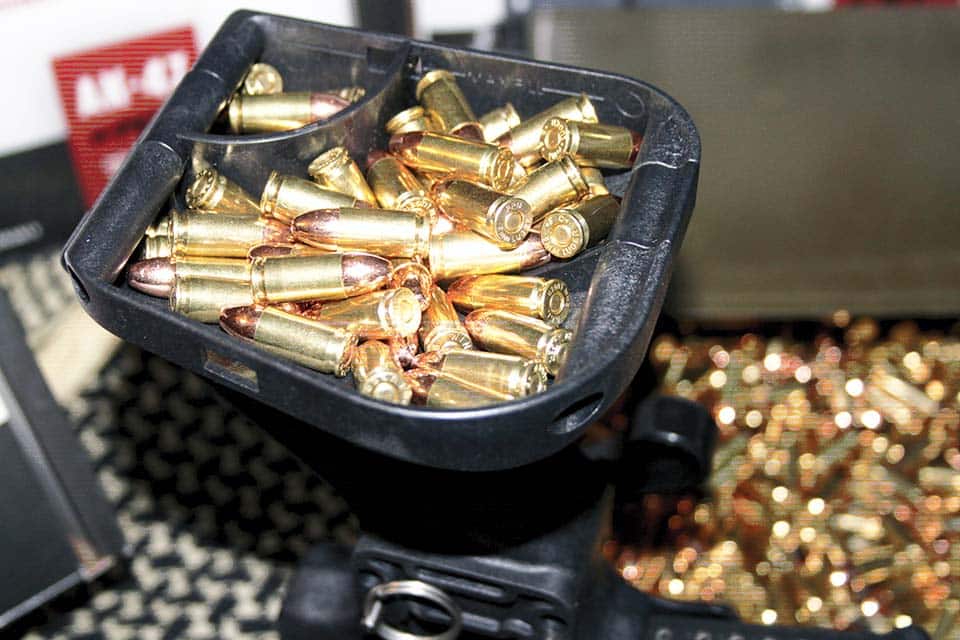 The AR and AK MagPumps were just as easy to use. The MagPump AR loader is 50 rounds will fit into the MagPump 9mm hopper.
compatible with MIL-SPEC AR-15 magazines and can load .223 Remington/5.56mm and .300 Blackout rounds. I dug up four different AR-15 style magazines—polymer and metal—for verification purposes; all snapped into place and loaded without issue. Rounds are laid in the hopper tray parallel to the magazine snapped into place below in the MagPump base unit.
The AK-47 loader is just as compatible with different magazine types. Here again metal and polymer magazines were tested. With the MagPump AK-47 loader, the magazines are rocked into place similar to how they are inserted into an AK-47 rifle. One discovered nuance with the AK-47 loader is that a 30-round magazine hung below the MagPump base. This needs to be taken into account when setting up the user's loading area.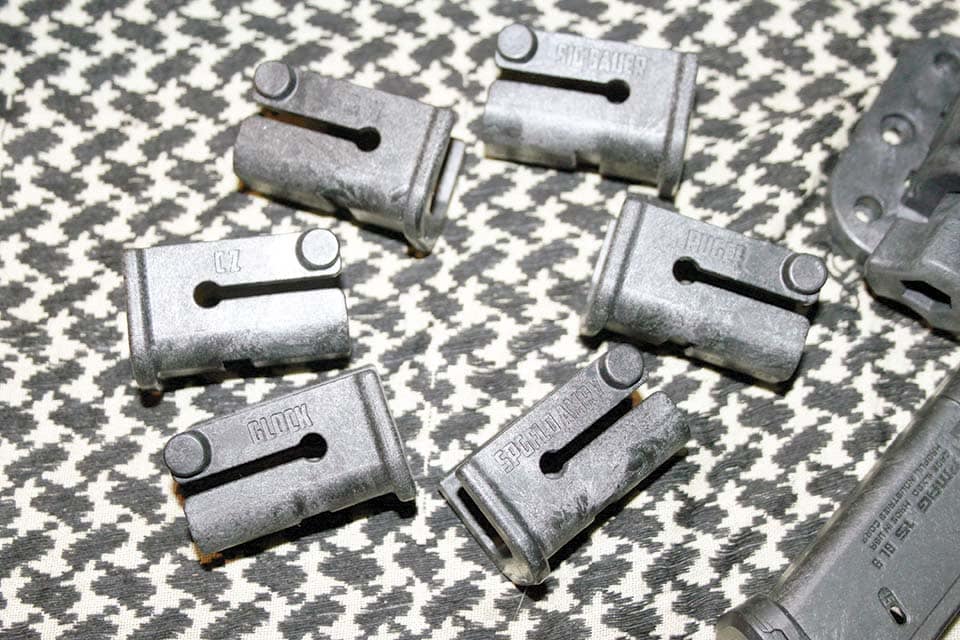 The three MagPump loaders produce the promised results in loading magazines efficiently. No one wants to practice loading magazines. Shooters want to be on the firing line. Shooting luminaries such as Kyle Lamb and Doug Koenig vouch for the MagPump products for these very reasons … more time shooting and less time loading magazines. Shooters contemplating serious trigger time should consider trying the MagPump loaders. The time saved from loading magazines with the MagPump loaders will get put to good use on the firing line.
This article first appeared in Small Arms Review V23N6 (JUNE/JULY 2019)