Compiled by Robert Bruce, SAR Military Affairs Editor
As explored previously in SAR's March online offering of selected motivational posters from WWI, it's important to understand that so-called "propaganda" is often both necessary and essential for persuading a reluctant populace to rise above their fears and enthusiastically join the common fight.
This was particularly true in the dark early days of the United States' entry into World War II, immediately after the Japanese sneak attack on Pearl Harbor on December 7th, 1941.
The American people were understandably demoralized by horrific images of dead and horribly wounded sailors and many of our previously magnificent warships gutted and fiercely burning from multiple hits by enemy torpedoes and bombs. Coming as the latest in a string of victories, Japan's war machine seemed invincible in its relentless assault in the Pacific.
Across the Atlantic, the Axis forces of Germany and Italy were rampaging across Europe, quickly overcoming British, French, Polish and Russian resistance.
America's dangerously extreme pacifism after the Great War of 1914-18 had left our military woefully unprepared in manpower and weaponry. All odds seemed against stopping the enemy's worldwide assault on freedom.
But motivated by righteous rage and spurred on by hard-edged speeches by President Franklin D. Roosevelt, Americans rallied to the fight. Men rushed to recruiting offices for all branches of the armed forces and women on the home front poured into defense industry factories, "The Arsenal of Democracy."
The U.S. Office of War Information went into high gear with multiple means of mass persuasion toward support of a unified war effort including radio broadcasts, movie newsreels, newspaper features, and posters, the subject of this feature.
A handful of weapons related posters are offered here as representative of countless examples that inspired Americans to enlist, to fight, to produce weapons and munitions, to buy War Bonds, and do just about anything else needed for victory.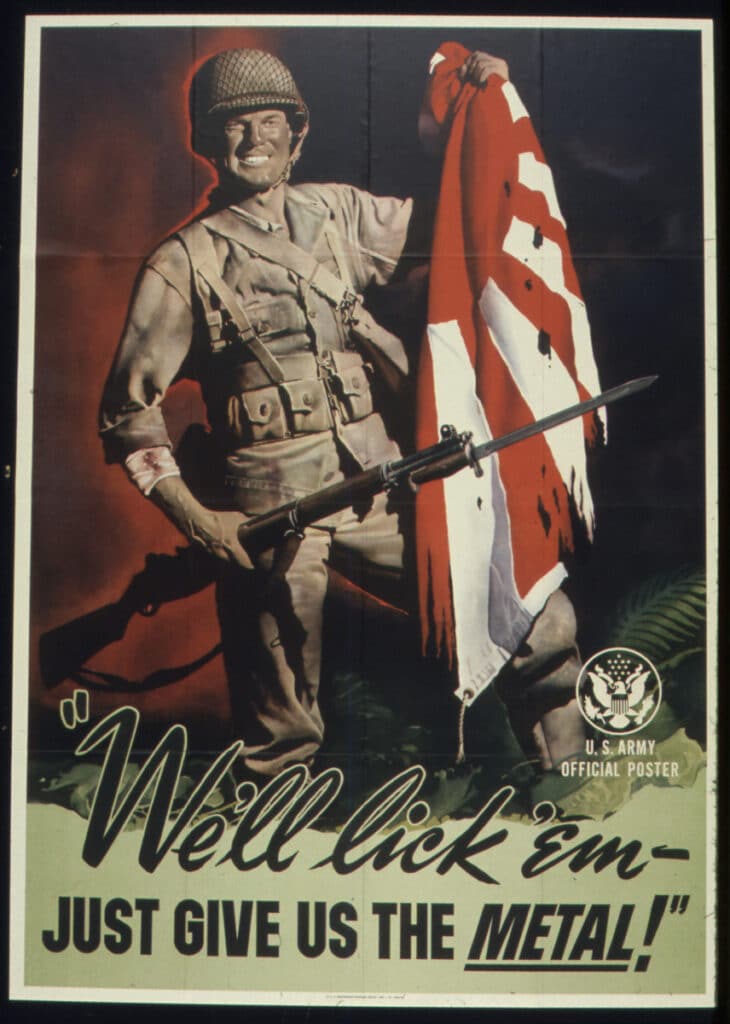 WE'LL LICK 'EM. JUST GIVE US THE METAL. A determined American soldier holding a battle-damaged Japanese flag and a formidable M1 rifle with long, menacing bayonet assures arms factory workers that their output will result in victory. Credit: U.S. National Archives via Wikimedia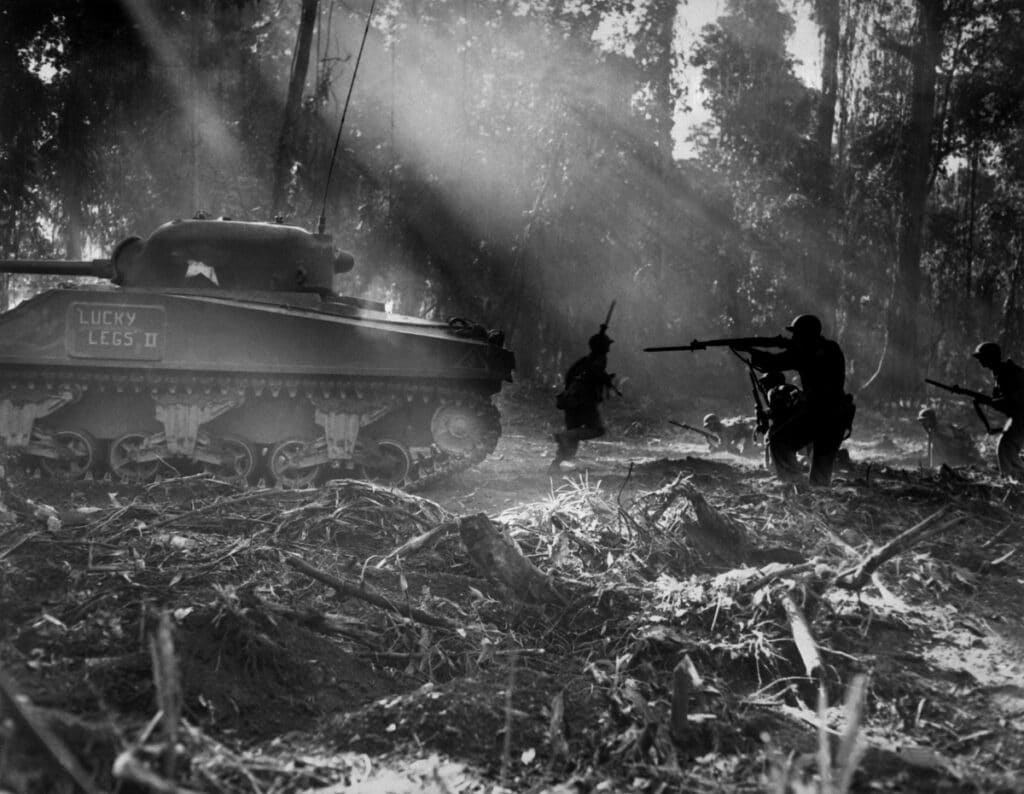 March 1944, Bougainville, Solomon Islands. Supported by a massive Sherman Tank and advancing cautiously with fearsome 16-inch blade M1905 bayonets fixed on their .30-06 caliber semiauto Garand Rifles, this squad of GIs got the metal they needed to hunt down, spear or shoot fanatical Japanese infiltrators. Credit: U.S. Army Signal Corps, National Archives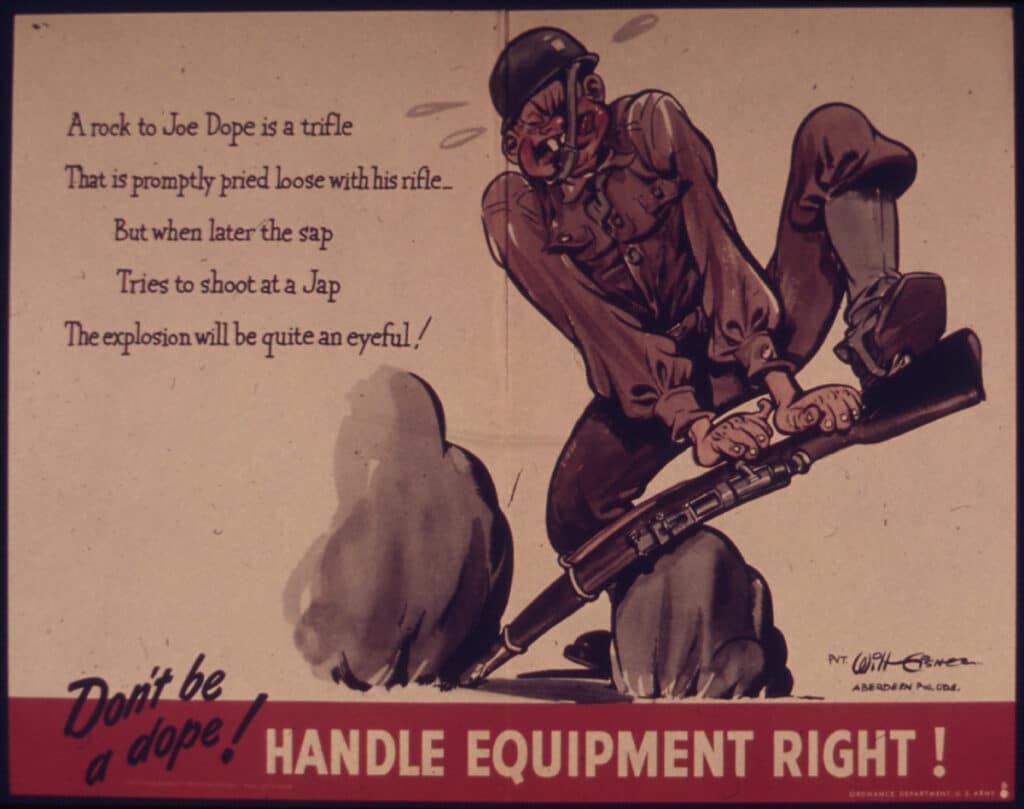 DON'T BE A DOPE. HANDLE EQUIPMENT RIGHT! Newly enlisted and hastily trained soldiers couldn't always be counted on to exercise the best judgement in using their weapons only as intended. Here, the comic character Joe Dope figures his M1903 Springfield Rifle is just the thing for prying a boulder outta the way before digging his foxhole. But when urgently needed to repel a Japanese attack the rifle's bent barrel will cause the rifle to blow up in his face. Credit: U.S. National Archives via Wikimedia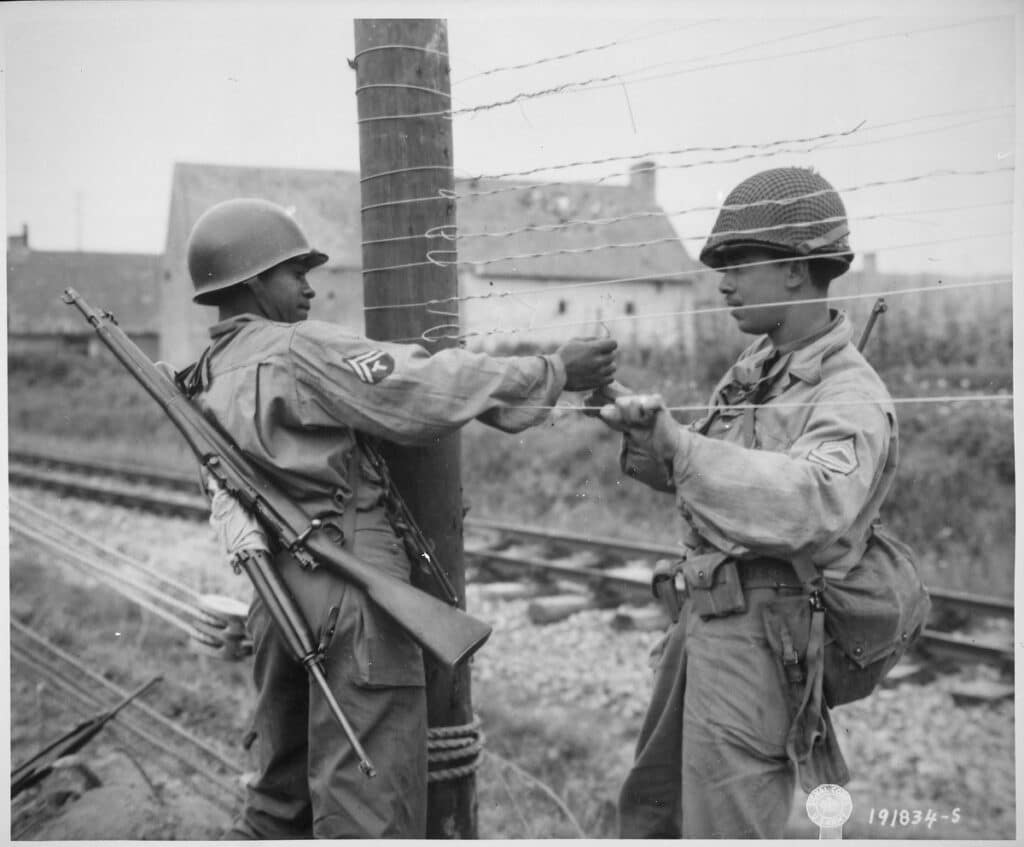 July 1944, France. With his hard hitting, long ranging, bolt action .30-06 caliber M1903 Springfield Rifle slung handily over one shoulder, T5 Dexter Clayton helps Master Sergeant Nelson Ewing tighten up wire. For some reason, Clayton also has a little .30 cal. M1 Carbine slung muzzle down behind his back. Credit: U.S. Army Signal Corps, National Archives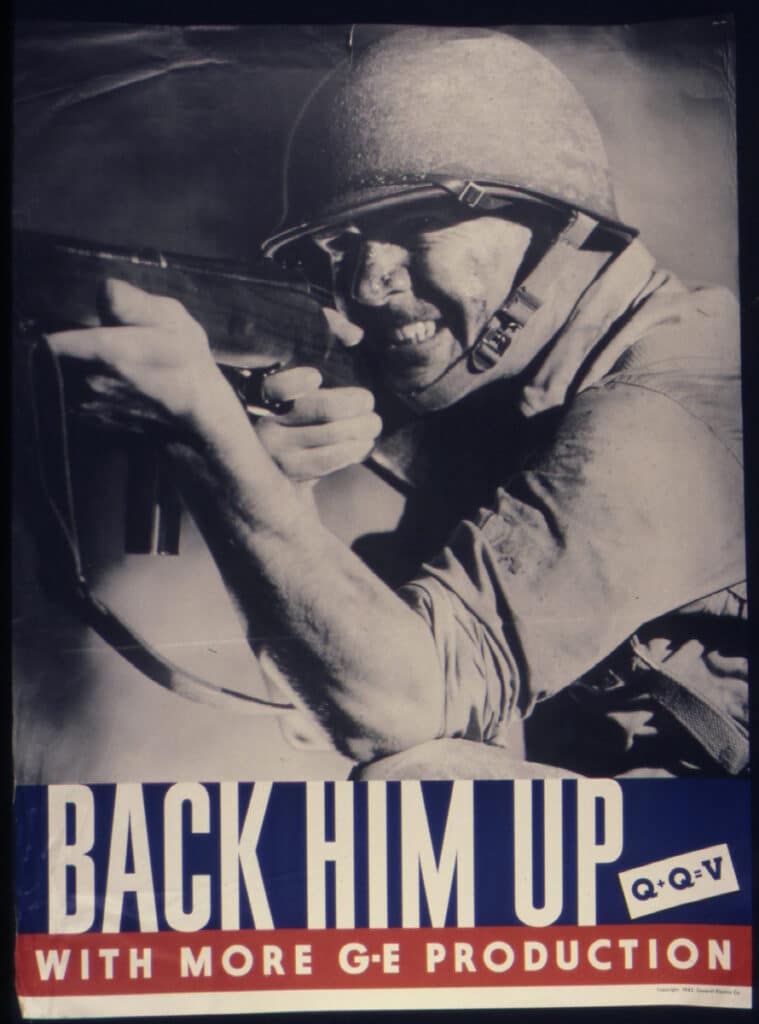 BACK HIM UP WITH MORE G-E PRODUCTION. With clenched teeth, a tough Marine pumps lead into the enemy with this .45 ACP Reising Submachine Gun. The message to factory workers at G-E (General Electric) is don't slack off on the assembly lines. Quality + Quantity = Victory. Credit: U.S. National Archives via Wikimedia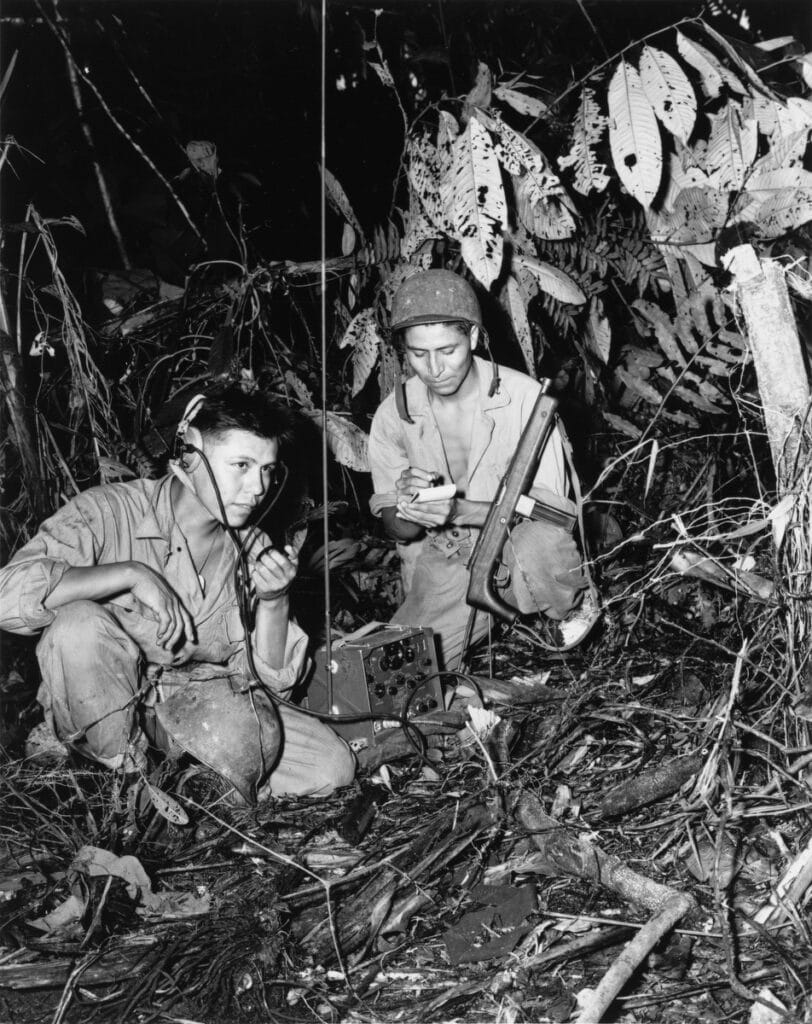 December 1943, Bougainville, Solomon Islands. Corporal Henry Bake, Jr., (left) and Private First Class George H. Kirk, Navajo Indian "Code Talkers" serving with a USMC signal unit, operate a portable radio set in a clearing they've hacked in the dense jungle close behind the front lines.
Note Kirk's Reising M55 submachine gun with 20-round magazine and distinctive folding wire stock. Credit: U.S. Marine Corps, U.S. National Archives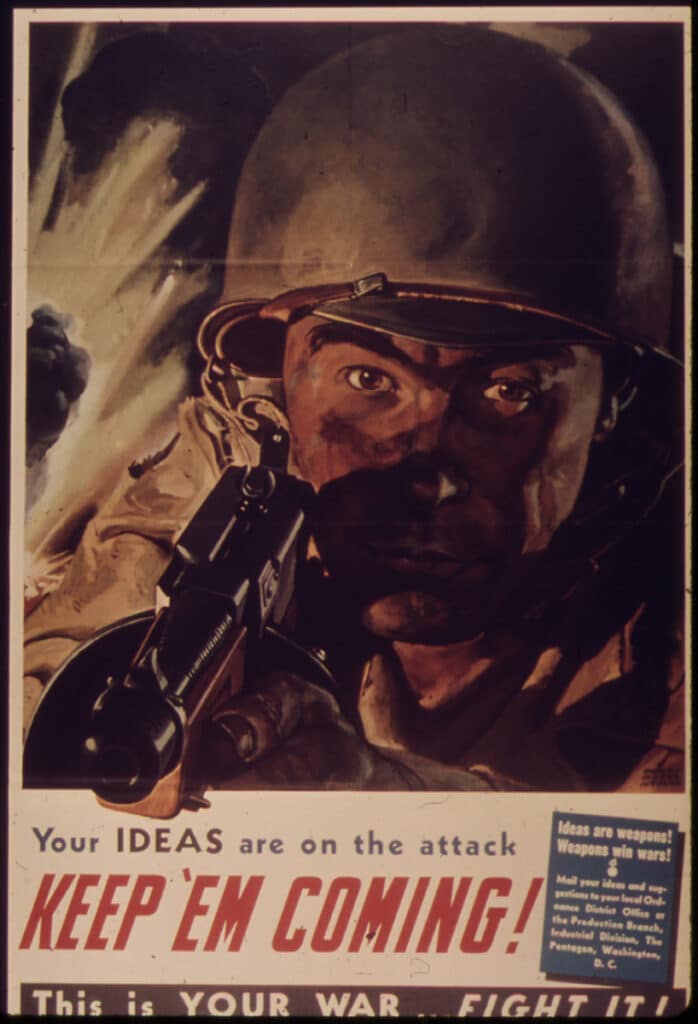 YOUR IDEAS ARE ON THE ATTACK. KEEP 'EM COMING! Ideas are weapons! Weapons win wars! Mail your ideas and suggestions to your local Ordnance District Office…. Looking right at you over the sights of his .45 ACP M1928A1 Thompson Submachine gun with 50-round drum magazine, this combat soldier wants good ideas that will increase the effectiveness of his weapons and ammunition. Credit: U.S. National Archives via Wikimedia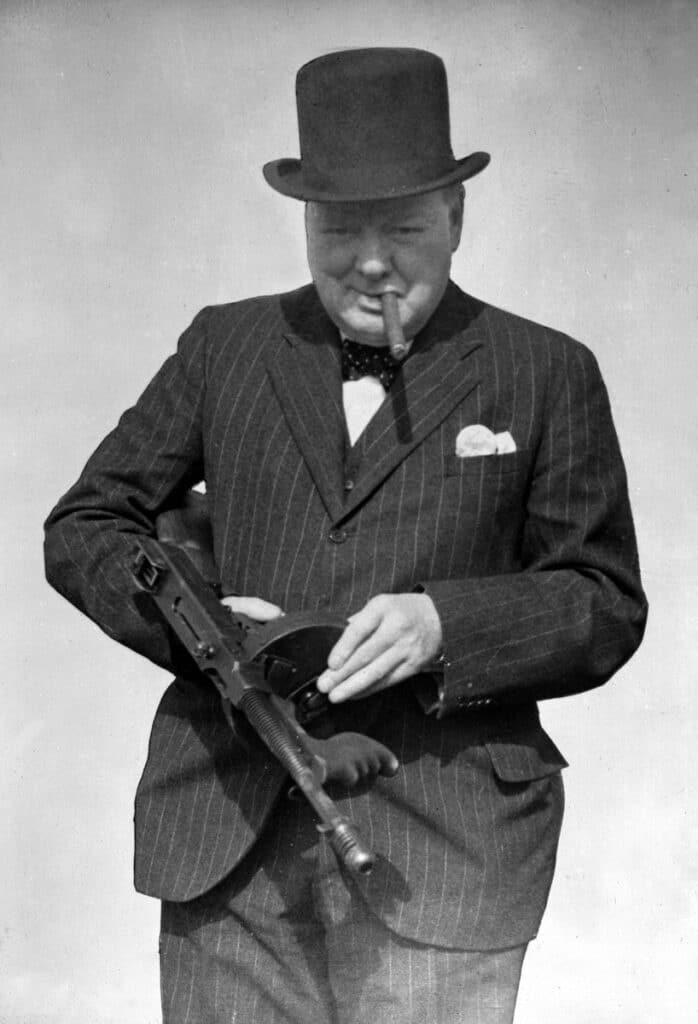 31 July 1940, Hartlepool, England. Not an American Gangster of the "Roaring Twenties," it's British Prime Minister Winston Churchill handling an American "Tommy Gun" while visiting his soldiers manning costal defense positions in anticipation of a German attack across the English Channel. Before the U.S. entered the war a year later, thousands of these iconic submachine guns were supplied to Britain under the Lend Lease Program. Credit: Imperial War Museum via Wikimedia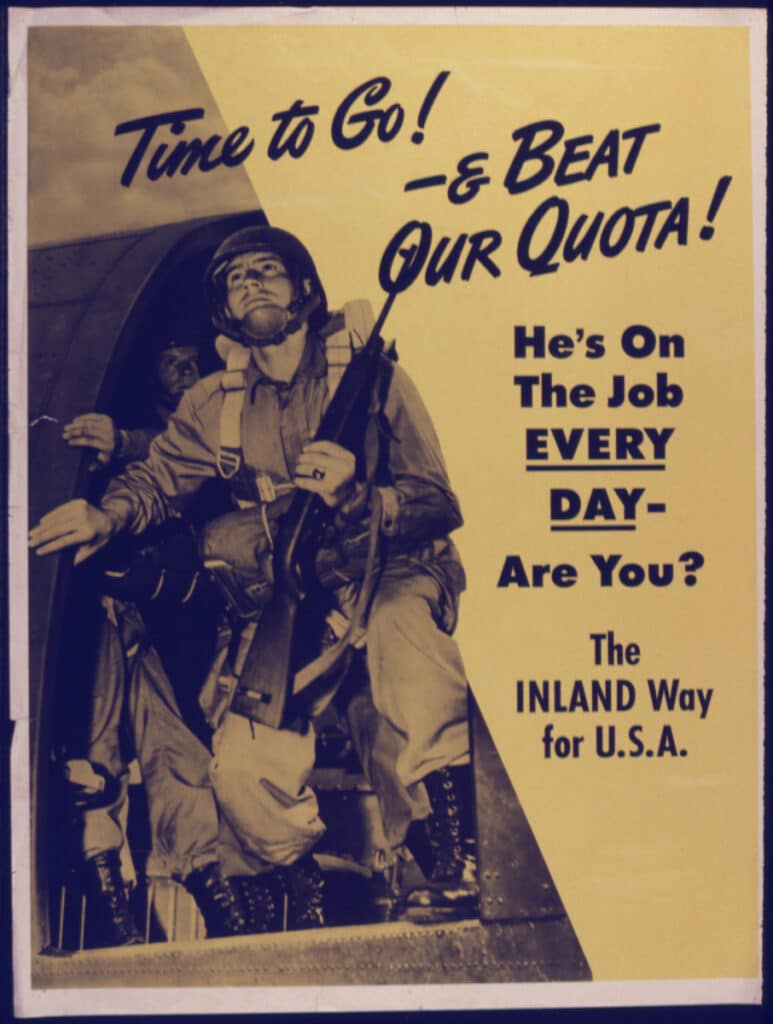 TIME TO GO! – & BEAT OUR QUOTA! A U.S. Paratrooper leaps out of a transport plane holding on tight to his little .30 caliber M1 Carbine. Factory workers at the Inland Division of General Motors, the largest producer of carbines, were encouraged to never miss a day in the desperate rush to turn out the many tens of thousands urgently needed by American GIs. Credit: U.S. National Archives via Wikimedia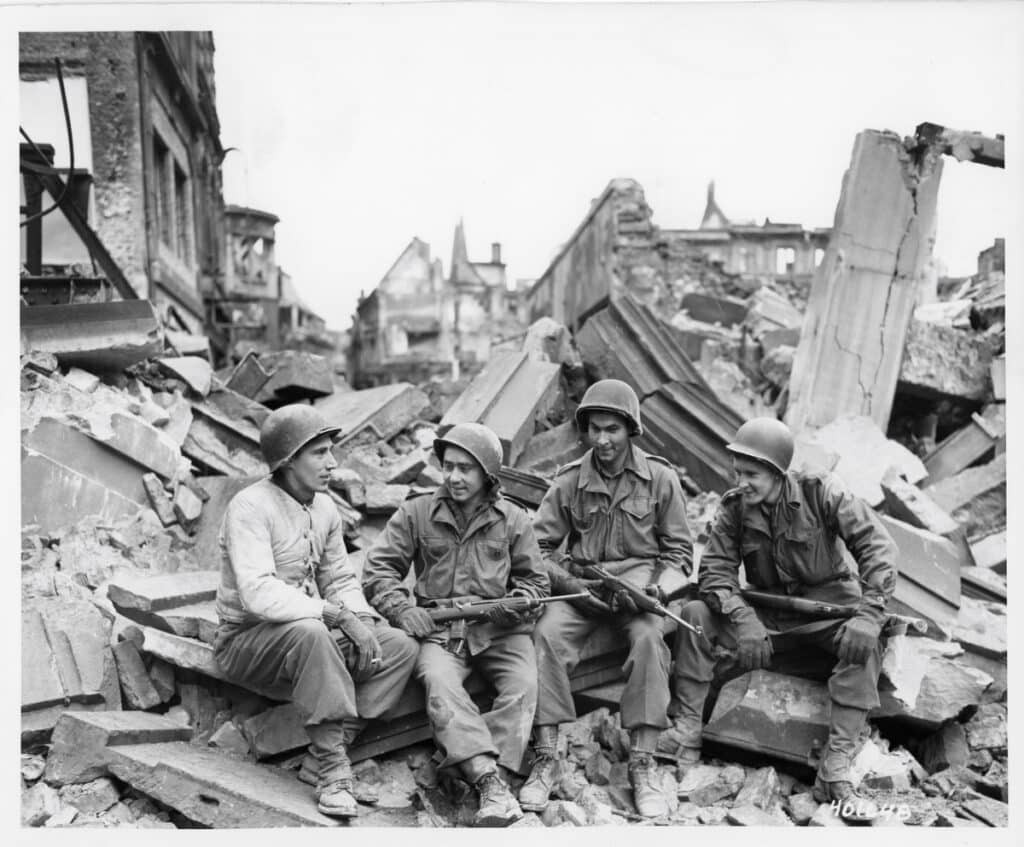 8 March 1945, Cologne, Germany. Combat infantrymen of Company G, 415th Infantry, 104th Infantry Division, take a well-deserved break during a lull in fighting. Second from left is Private First Class John Thresher of East Prairie, Missouri, who has taped a couple of 15-round magazines together for quickly reloading his light, handy, semiauto M1 Carbine in the heat of battle. U.S. Army Signal Corps, National Archives via Wikimedia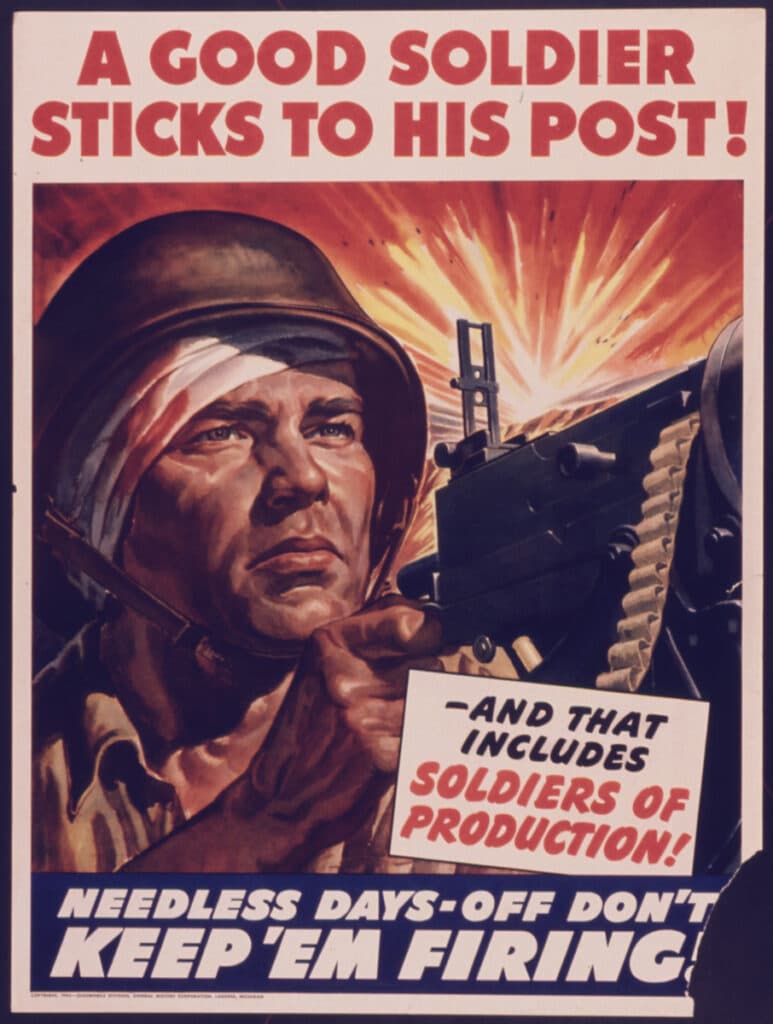 A GOOD SOLDIER STICKS TO HIS POST! And factory workers – "Soldiers of Production," need to stick to the job at hand. Despite an apparent head wound and with artillery shells exploding nearby, this determined GI is no slacker, blasting the enemy with long bursts of bullets from his M1917A1 Browning Machine Gun. Credit: U.S. National Archives via Wikimedia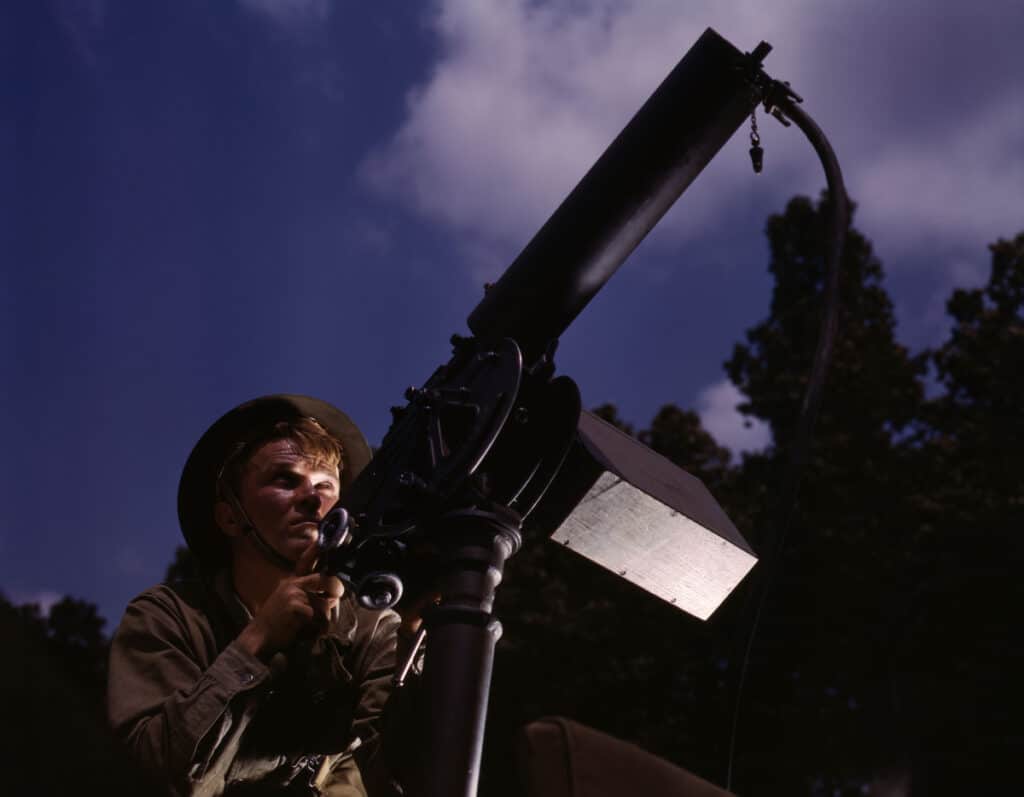 June 1942, Fort Knox Kentucky. Famed commercial photographer Alfred Palmer skillfully staged and captured this dramatic color image of a young GI with his pedestal mounted M1917A1, a 30-06 caliber, water cooled, belt fed machine gun, training to shoot down the enemy's close attack aircraft. Credit: Office of War Information, National Archives via Wikimedia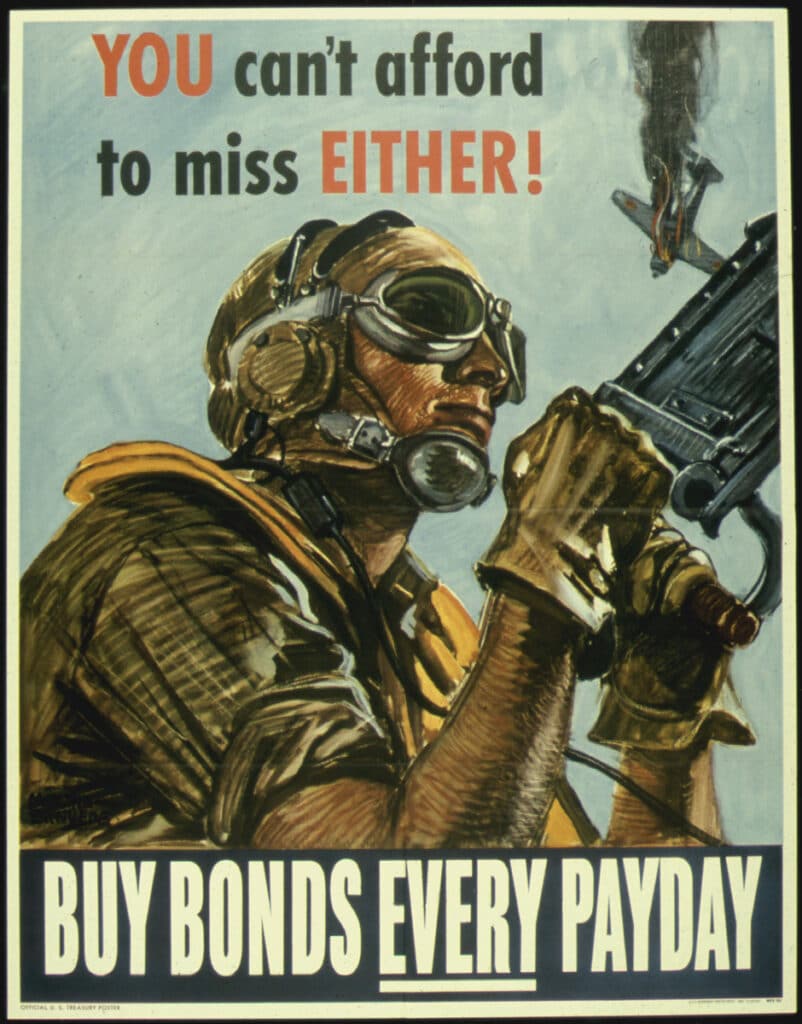 YOU CAN'T AFFORD TO MISS EITHER! With bursts from his powerful .50 caliber Browning Machine Gun, this aerial gunner has just sent a Japanese Zero fighter into a fiery death spiral and he's eager to get another one. The message to all American adult civilians is not to miss regularly purchasing War Bonds to finance the astronomical costs of the war effort. Credit: Office of War Information, National Archives via Wikimedia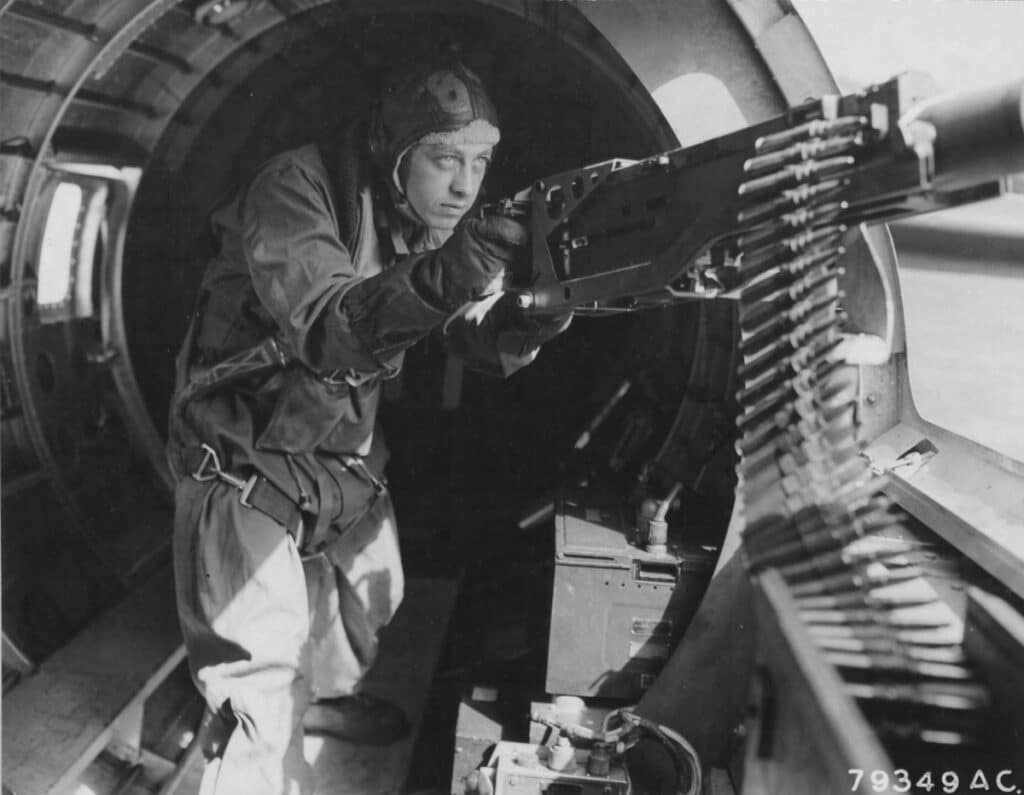 1943. Staff Sergeant Maynard Smith posing for a news release photo with a .50 caliber Browning Machine Gun in a bomber's waist gunner window position. Smith was a ball turret gunner in the 423rd Bomb Squadron, 306th Bomb Group, 8th Air Force, on the 1 May 1943 mission to bomb heavily defended German submarine pens at Saint-Nazaire, France. His heroism and gunnery skill against a swarm of enemy fighter planes on that fateful day led to him earning the Medal of Honor. Credit: Army Air Corps, U.S. Air Force via Wikimedia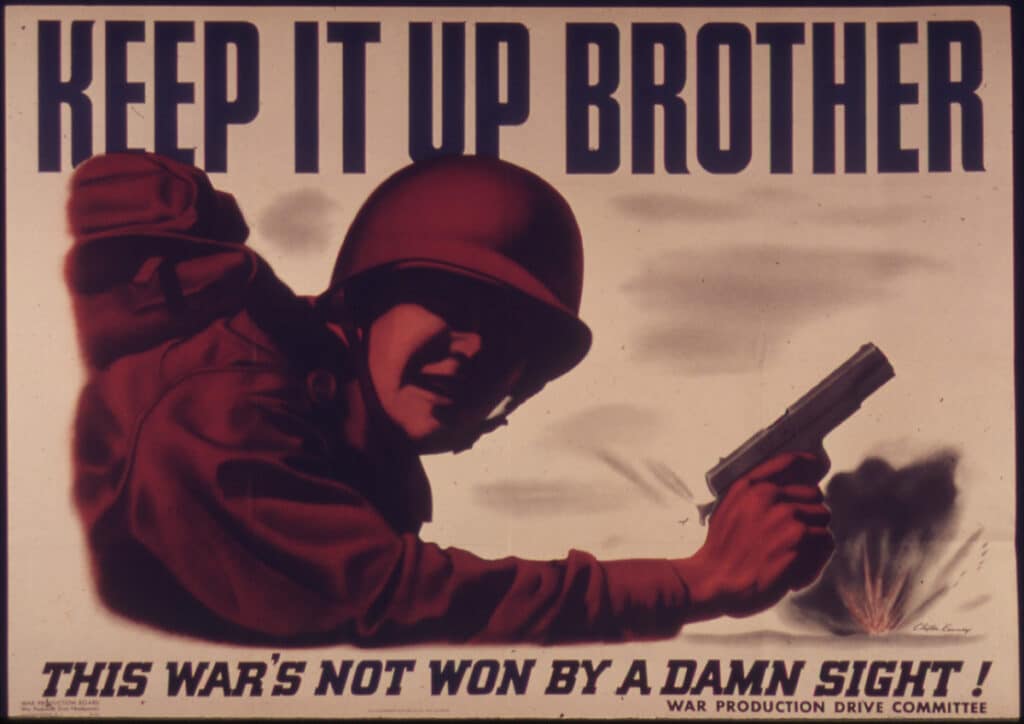 KEEP IT UP BROTHER. THIS WAR'S NOT WON BY A DAMN SIGHT! With an M1911A1 pistol at the ready, this brave GI in the heat of combat urges defense factory workers to work harder and not slow down just because it looks like the Allies are beginning to win the war. Credit: Office of War Information, National Archives via Wikimedia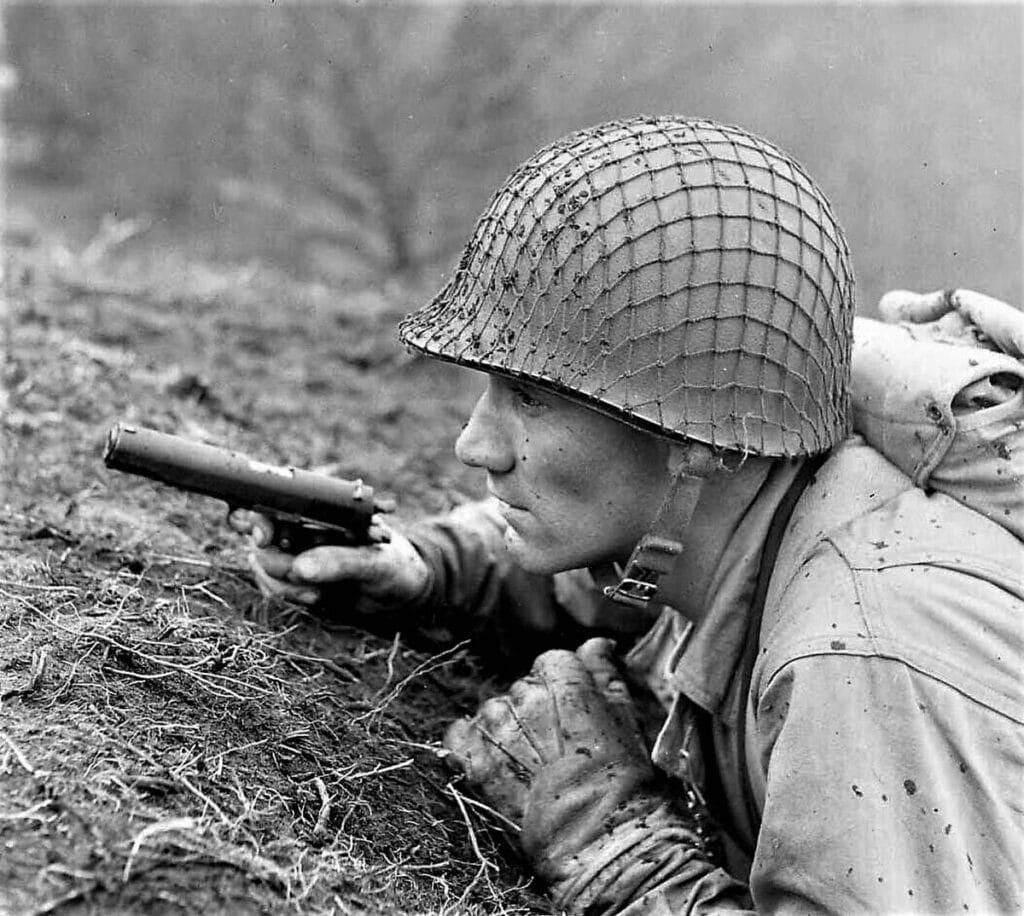 December 1942, Achncarry, Scotland. Armed with a hard-hitting, highly reliable, semiauto, .45 ACP M1911A1 pistol, this mud splattered soldier of the U.S. Army's 29th Ranger Battalion is ready to move out during intense commando training under battle-hardened British Royal Marines. In live fire or the real thing, he would certainly have racked the slide to load a round and move the hammer into cocked position. Credit: U.S. Army Signal Corps, National Archives