Compiled by Robert Bruce, SAR Military Affairs Editor
Unfortunately, the word "propaganda" has come to be regarded as something bad; misleading at best and outright lies at worst. While this is true in too many cases, propaganda as originally intended is employed in various forms simply as a means of persuading its audience.
Between 1914 and 1918 – the period of "The Great War" (World War One, as we have come to call it) – poster art had achieved well-deserved prominence as an advertising and communications medium.
Usually big and bold, with colorful, eye-catching images and compelling words, posters were displayed almost anywhere a vertical surface was available on which to paste them.
So, posters were an obvious choice for mostly ethical propaganda as a means of encouraging a nation's populace to support the war effort in all aspects. Messages included recruiting, training, honoring battle prowess, soliciting money, spurring greater war production, and certainly to negatively characterize the enemy.
As noted by O.W. Riegel, a propaganda analyst for the U.S. Office of War Information, "In the overall view, posters of the First World War were exhortations that sought to exploit people's conscious or subconscious vulnerabilities to appeals to basic emotions of self-preservation, tribal patriotic pride, and traditional morality."
What we're offering here is a small selection from among thousands of these propaganda posters produced by combatant nations embroiled in the first war of a truly global scale.
And since our focus is, of course, on man portable weaponry, our choices are based on how some prominent examples of these weapons were skillfully and dramatically incorporated in the messaging.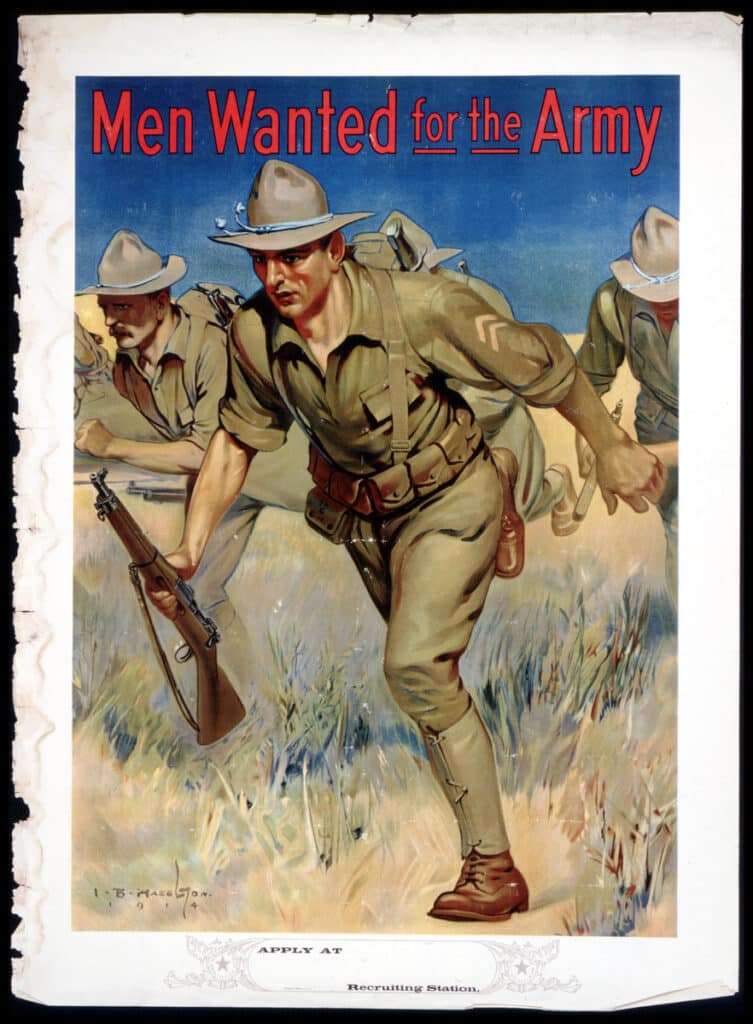 MEN WANTED FOR THE ARMY. When this poster was created in 1914, the war in Europe had just started but America was officially neutral. Foreseeing what would soon become inevitable, the woefully undermanned U.S. Army stepped up recruiting. Here, a stalwart infantry corporal carrying an M1903 Springfield rifle leads his squad running toward their objective. The iconic felt campaign hats would be exchanged in 1917 for British style "tin hats" or French "Adrian" helmets in the trenches. Credit: Library of Congress via Wikimedia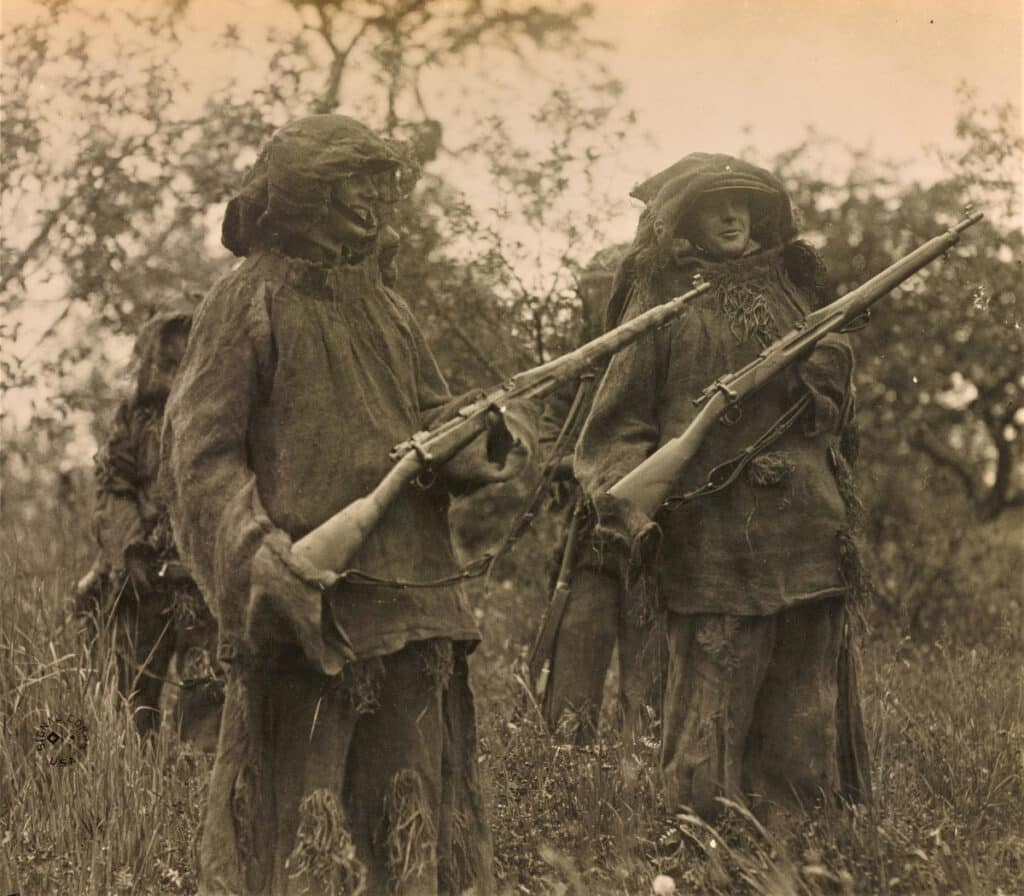 May 18, 1918, Badonviller, France. These "Doughboys" of the American 42nd Division are snipers, draped from head to toe in formless sack cloth camouflage and armed with M1903 Springfields, the Army's standard infantry rifle. Highly accurate and very reliable, the 8.7-pound .30-06 caliber, bolt action rifle was sometimes fitted with an optical scope for target identification and longer-range sniping. Credit: US Army Signal Corps, National Archives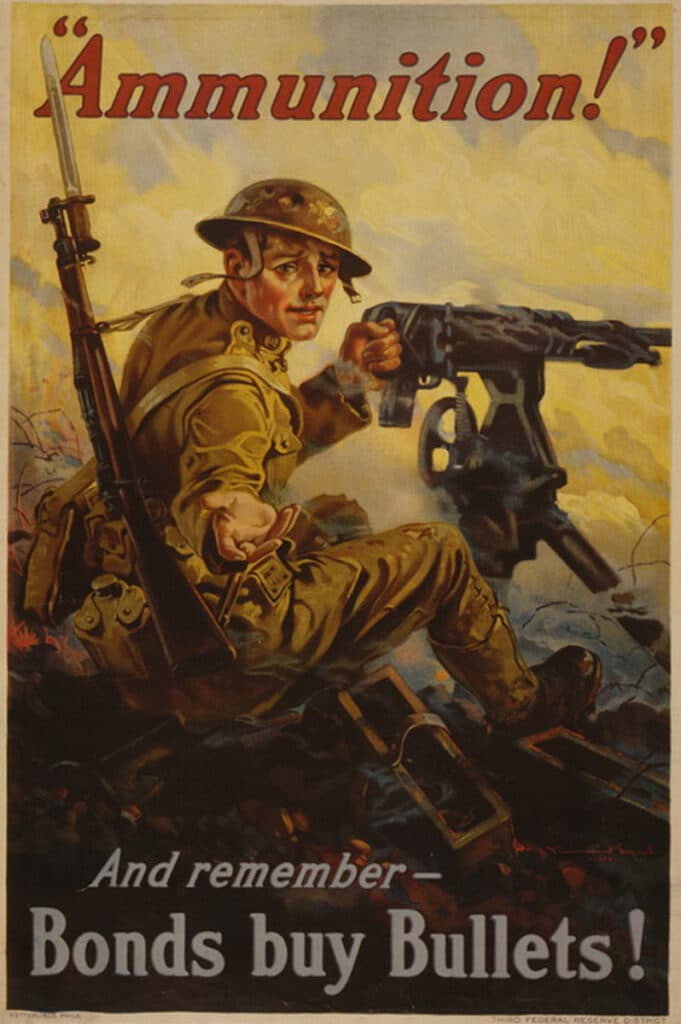 "AMMUNITION!" This American soldier has his hand outstretched in a plea for more ammo for his smoking hot French 8mm Hotchkiss Mle 1914 machine gun. Somewhat improbably slung over his shoulder, he has a .30-06 caliber M1903 Springfield Rifle with fixed bayonet. Civilians at home were urged to buy War Bonds to help finance the astronomical costs of war materiel. Credit: Library of Congress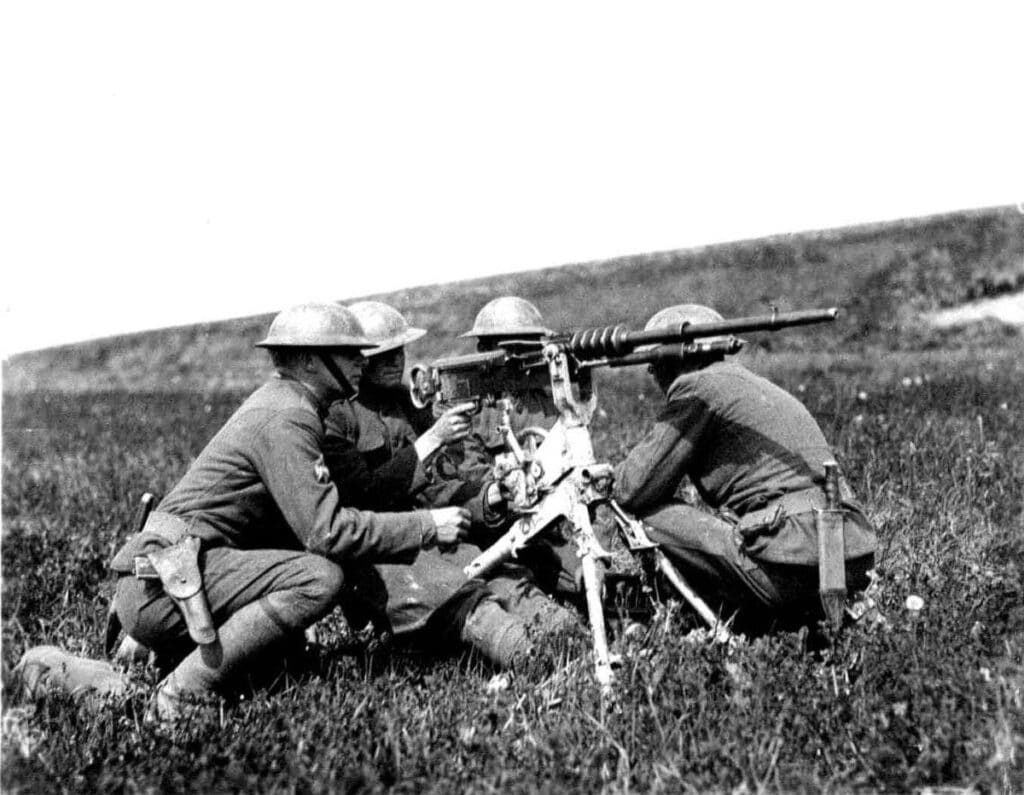 May 10, 1918, France. U.S. 1st Infantry Division soldiers on the firing range with a French Mle 1914 machine gun on the awkward Omnibus tripod. When serving alongside French forces, shortages of American weapons and ammunition, as well as logistical efficiency, dictated the need to equip American troops with these combat-proven, 8mm, strip fed, air cooled guns with distinctive "doughnut" cooling fins. Note their "tin hat" style Brodie helmets, a holstered .45 caliber M1911 pistol, and sheathed "bolo" knife. Credit: US Army Heritage and Education Center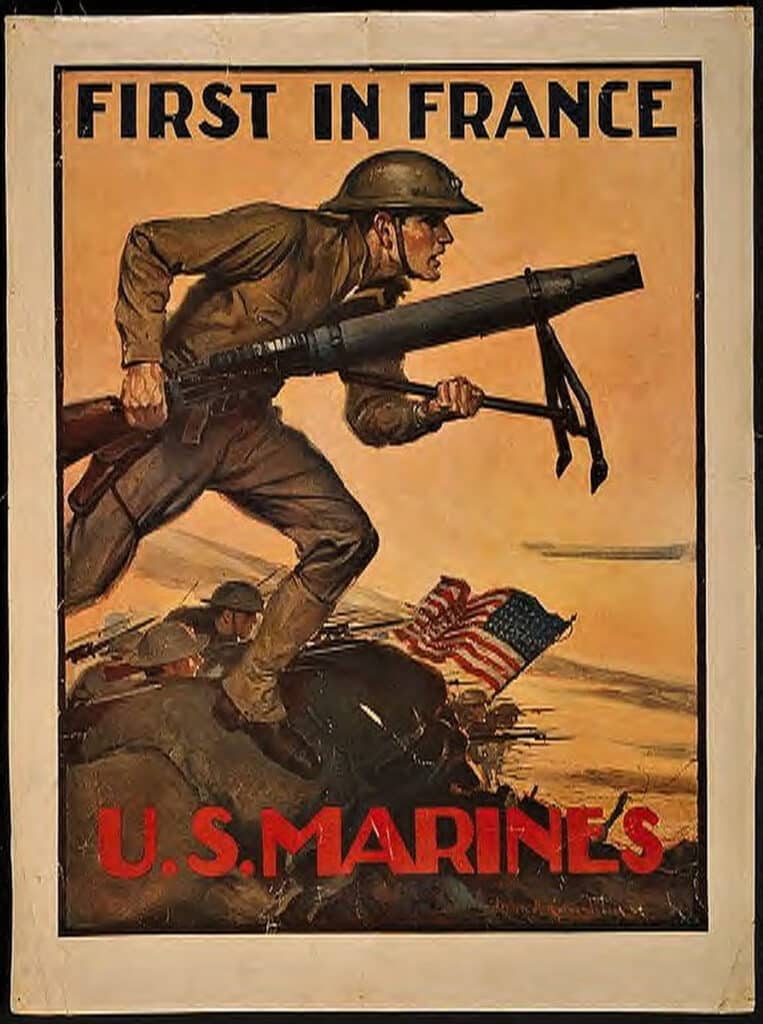 FIRST IN FRANCE. Deployed to the European battlefields at Verdun in March 1918, American Marines were – along with elements of the U.S. Army's 2nd Division – the first U.S. troops to join the fight against Germany and its allies. The artist has portrayed this charging "Devil Dog's" .30-06 caliber Lewis Gun on ungainly bipod with dead-on accuracy. While not specific in intent, multiple messages are conveyed in this poster including praise for courageous Marines, sparking admiration among civilians at home and inspiring young men to enlist in the Corps. Credit: Library of Congress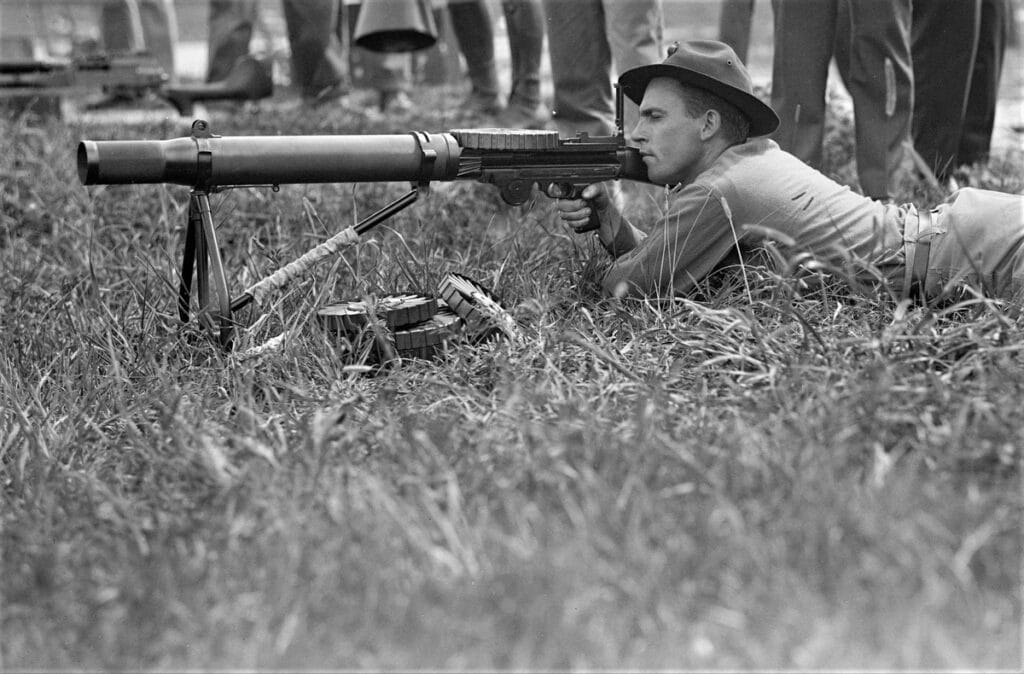 1917. No location noted but probably on the range at MCB Quantico, Virginia, the Marine Corps is conducting firing tests of the Lewis Machine Gun. Soon proving quite satisfactory, some 6,000 of these were quickly ordered from Savage Arms. These pan-fed, air cooled, .30-06 caliber Model 1917 guns armed Marines sent to France in 1917. Credit: Library of Congress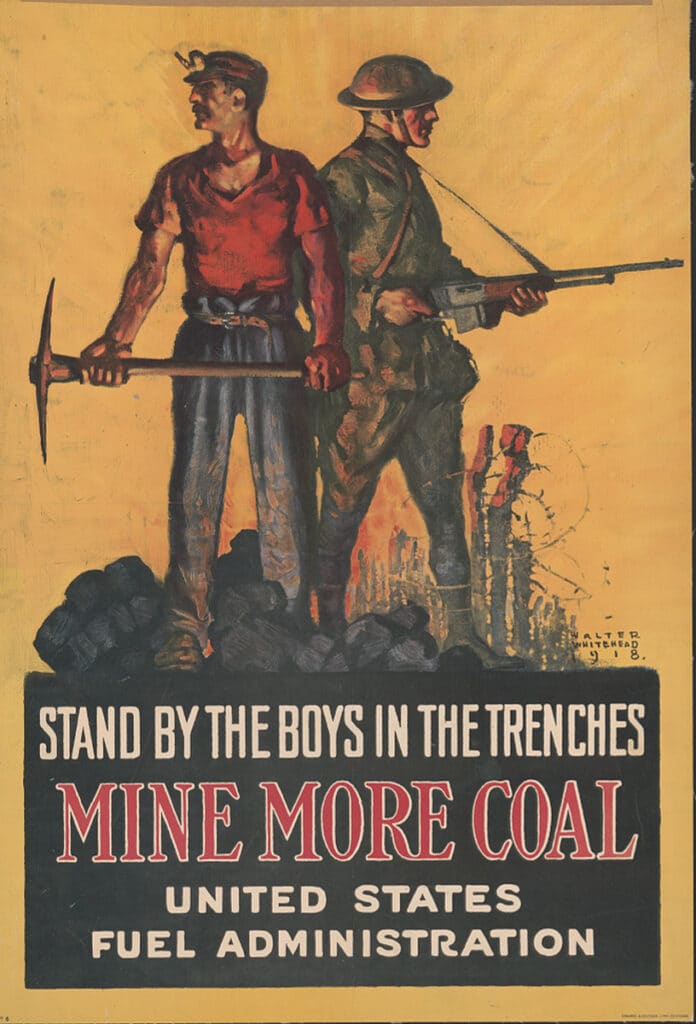 MINE MORE COAL. This poster serves dual duty in urging America's coal miners to increase production because coal fuels war material factories and fires boilers in trains and in cargo ships transporting supplies to soldiers in France. Dramatically posed side by side with pickaxe and Browning Automatic Rifle at the ready, they both fulfill necessary and honorable duty in the war. Credit: Library of Congress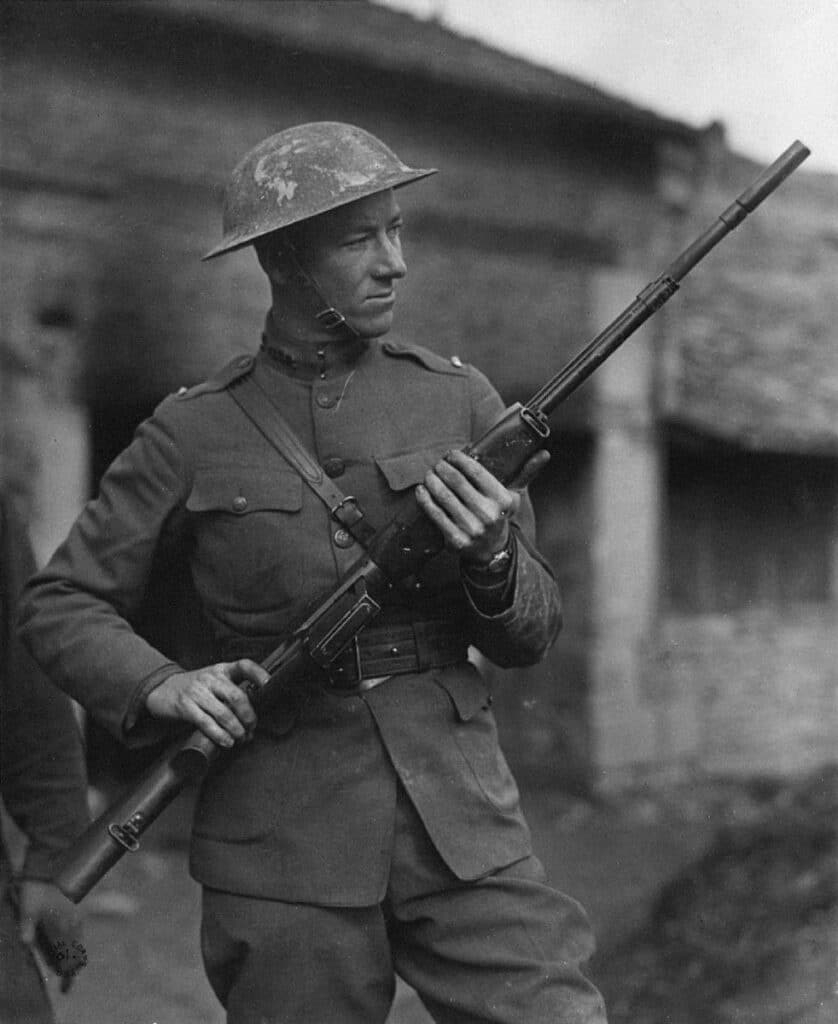 18 February 1918, France. US Army Lieutenant Val Browning, son of prolific firearms inventor John M. Browning, is conducting a demonstration of his father's Model 1918 Browning Automatic Rifle. The 15½ pound weapon was fed by a detachable magazine holding twenty .30-06 cartridges. Although not arriving until very late in the war, these highly reliable and accurate machine rifles were a godsend to Doughboys previously armed with the crude but surprisingly useful French Chauchat. Credit: U.S. Army Heritage and Education Center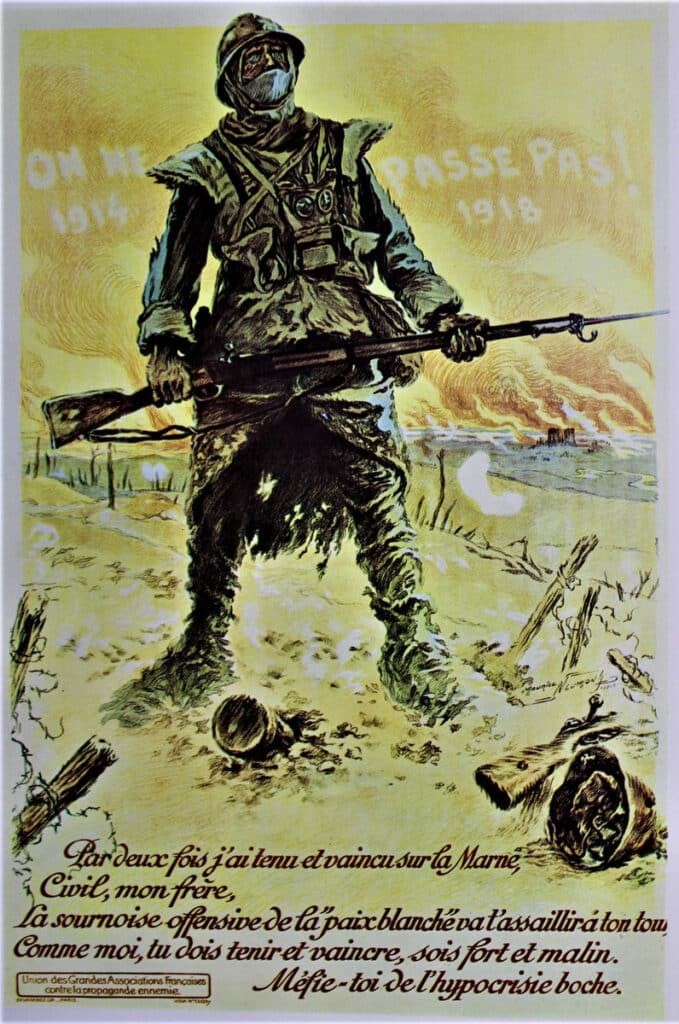 THEY SHALL NOT PASS! "Twice I have stood fast and conquered on the Marne," saving Paris from German occupation. By 1918, French and Allied soldiers had been deadlocked in vicious, savage and increasingly futile trench warfare for four horrific years. With bayonet fixed on his Fusil Modéle 1886/93 "Lebel" rifle, this ragged, battle-ravaged Poilu stands defiantly amid the shell blasted desolation of "no mans land." Credit: Author's collection/Library of Congress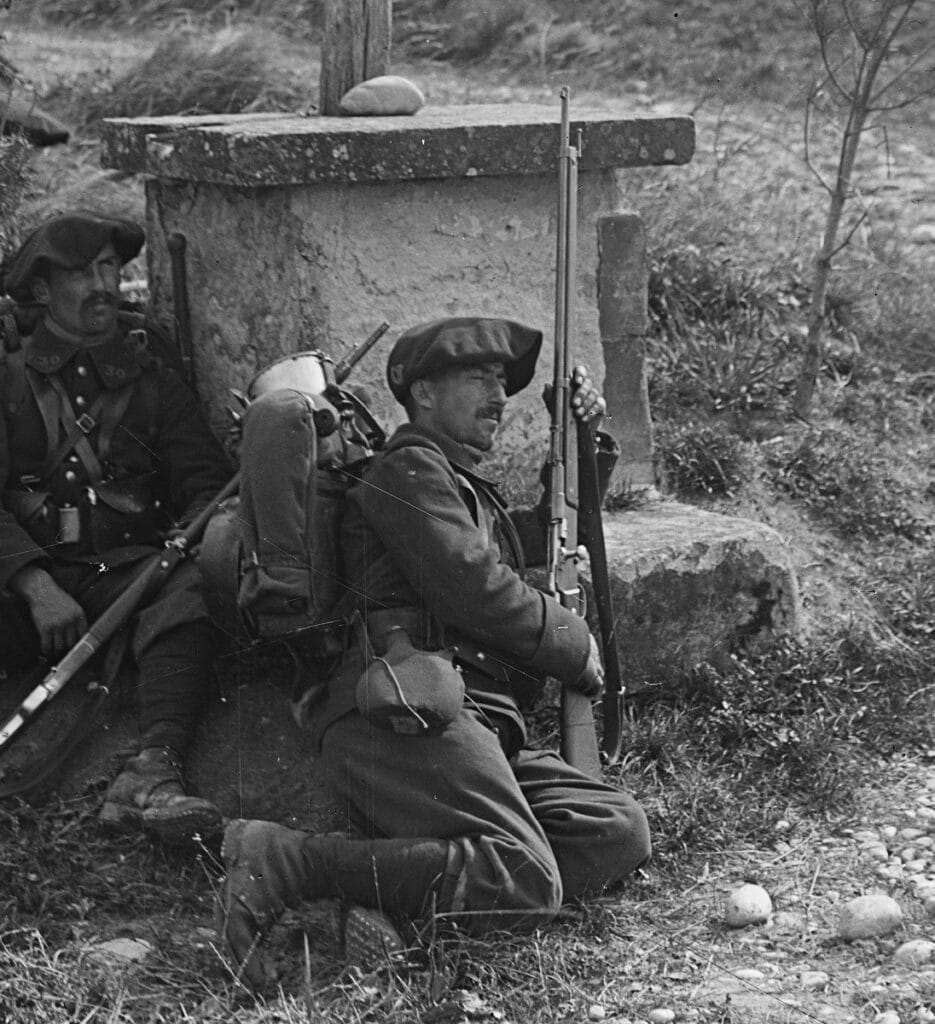 1912, France. Two years before the outbreak of war, these well dressed and fully equipped French Chasseurs pause briefly during training maneuvers. An impressively long Modéle 1886/93 rifle in the foreground is readily identified by its straight bolt handle and 30½ inch long barrel. Its tubular magazine holds eight rounds of 8mm Lebel smokeless powder cartridges. Credit: Bibliotheque Nationale De France via Wikimedia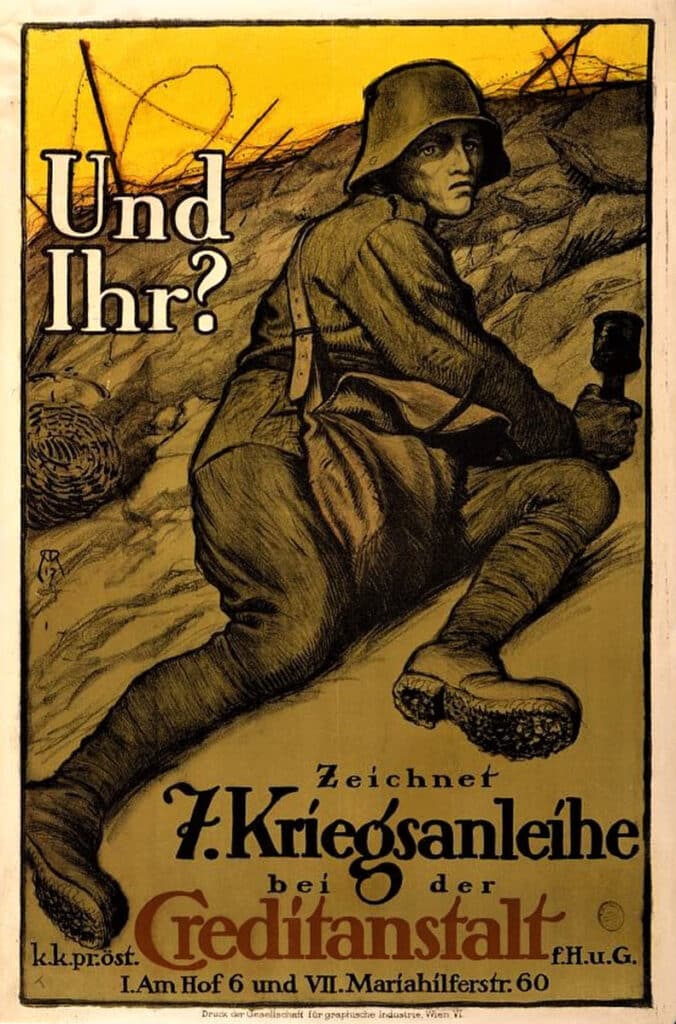 AND YOU? Sign War Loans. Asking his fellow German citizens to give money to support the war, a somewhat forlorn German infantryman clutches a "potato masher" stick grenade, ready to assault enemy trenches. This not so subtle, guilt-inducing appeal to civilians of the Fatherland is seen in similar posters from all the other combatant nations. Credit: Philasearch.com via Wikimedia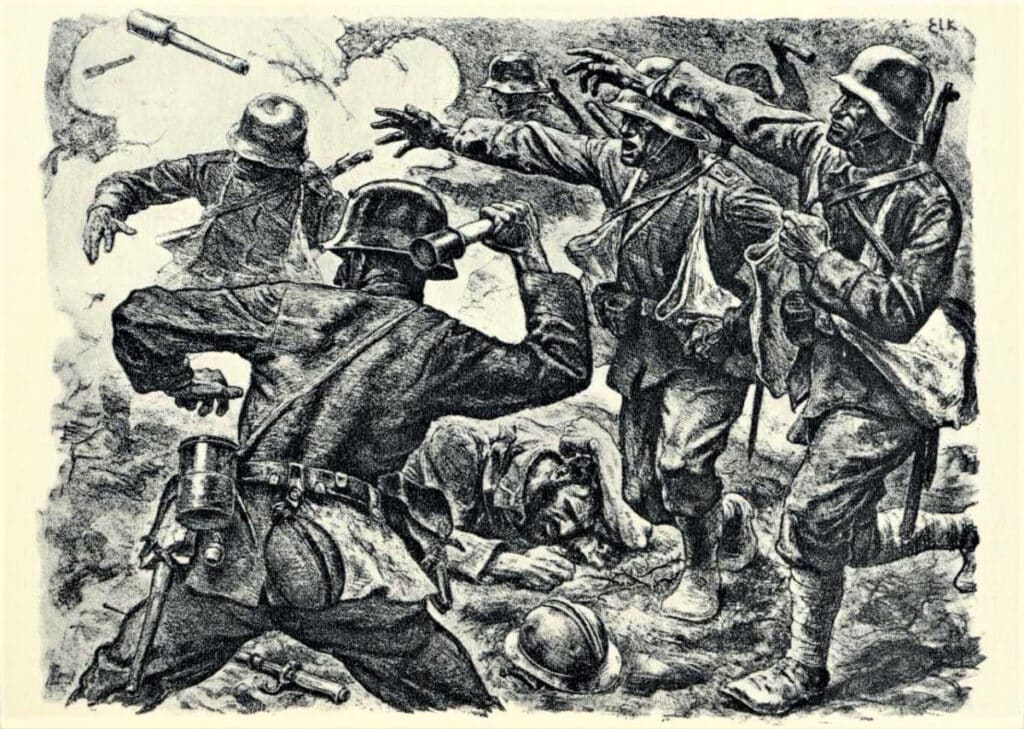 STAHLHELM HELDEN (Steel Helmet Heroes). This propaganda postcard image is from a series depicting heroic German soldiers in WWI. Here, Stosstruppen (shock troops) assault French positions with a hail of Stielhandgranaten (stick grenades). Additional grenades are carried in pairs of sandbags draped over their shoulders. This is a late war scene, probably 1917 or 1918 when grenades of all types had become the primary weapons of trench warriors on both sides. Credit: Philasearch.com via Wikimedia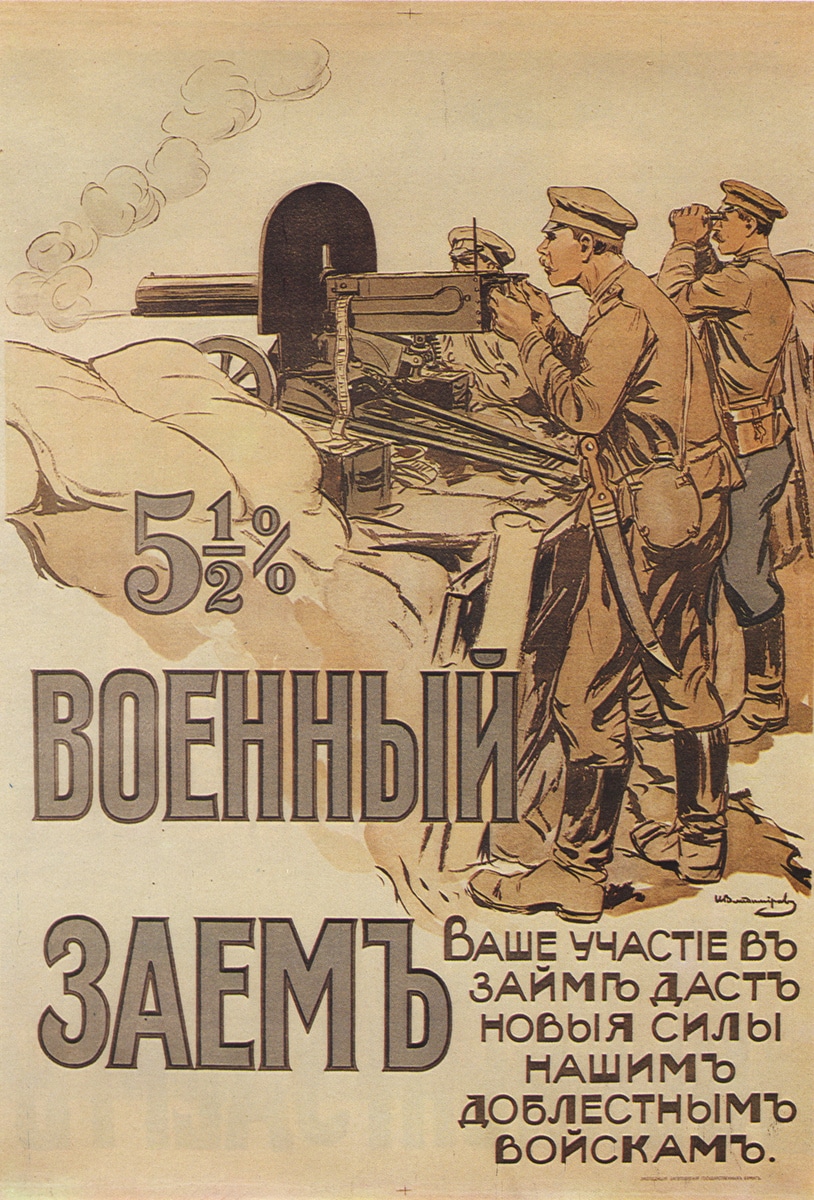 MILITARY WAR LOANS. The Imperial Russian Army was very poorly prepared when it entered the war against Germany in 1914. A rush to mobilization and necessary war production followed, including the need for large numbers of heavy machine guns. This 1916 poster shows a rather idealized and uncommonly clean gun crew in combat action, firing their Pulemyot Maxima PM1910 (Maxim's machine gun Model 1910) and urges everyone to "aid our glorious troops, and all who can must subscribe to the 5½ percent war loan." Credit: Baburina N.I. via Wikimedia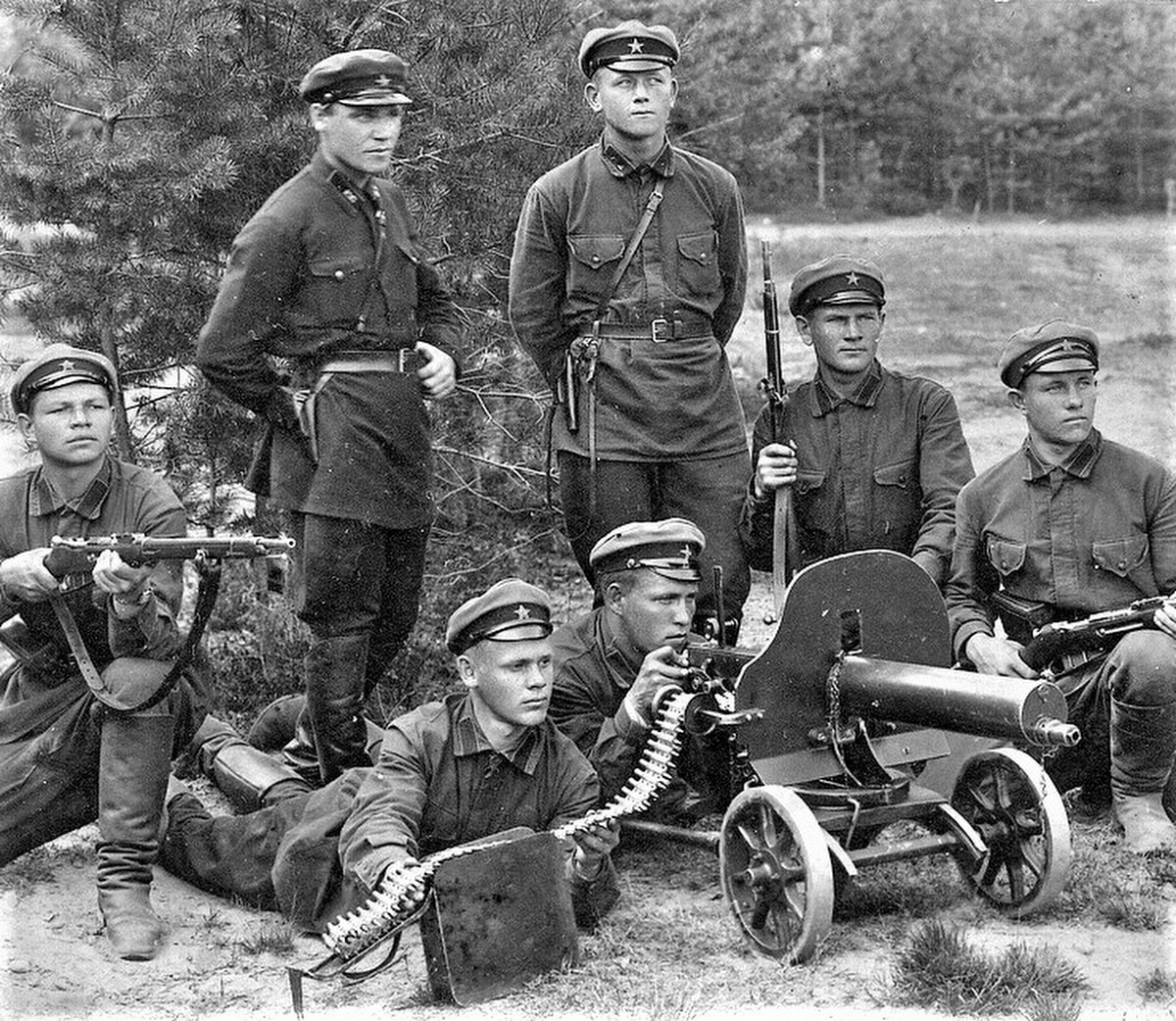 Although this photo was taken a decade or so after the Revolution of 1917 that took Tsarist Russia out of WWI, it's useful in depicting the similar composition of a typical Red Army heavy machine gun section. Under the watchful eyes of two pistol-packing officers and flanked by protective riflemen who double as ammunition carriers, the gunner and his assistant are prepared to engage the enemy with a torrent of powerful 7.62 mm bullets from their Pulemyot Maxima PM1910. This iconic water-cooled and belt-fed weapon, characterized by its steel shield and wheeled Sokolov mount, has a sustained fire capability of 600 rounds per minute. Credit: Ukrainian SSR via Wikimedia