By Todd Burgreen
What does the statement "high capacity 9MM handgun" conjure up? For sure, models coming to mind are the striker fired polymer ones. The steel framed Browning Hi-Power, or CZ75 variant may also sneak in there along with some double/single-action models like Beretta, or Smith&Wesson, especially if you were born before 1970. Few would think to name a 1911 Pistol derivative considering the high capacity 9MM caveat. Staccato 2011 is actively working on changing this with their C2 DPO Tactical offering.
Staccato 2011 can trace their corporate beginnings back to the 1980s as a supplier of high-end 1911 components. They then transitioned into offering exceptional 1911/2011 pistols under the STI moniker. One thing is certain, Staccato has been at the forefront of modernizing the 1911 into forms not previously conceived. While competitive shooting was the initial drive for this, the recent transition into the tactical realm is thanks to new leadership featuring strong military and law enforcement backgrounds.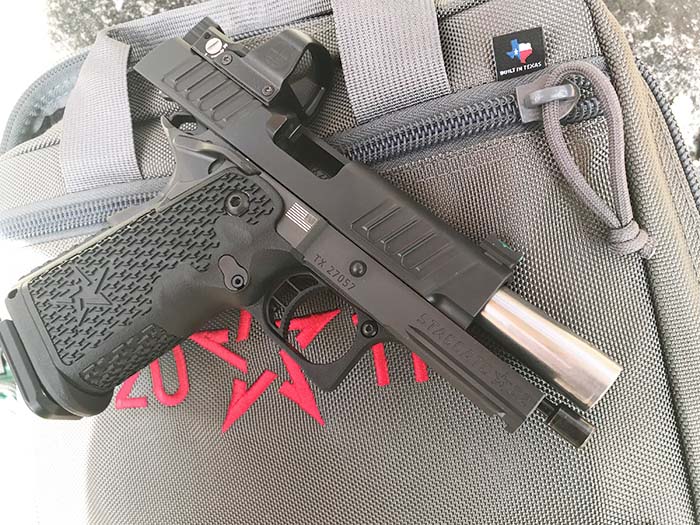 The Staccato C2 DPO Tactical features the 2011 frame at its core. This patented frame that arrived in 1994 via STI, is a modular two-piece design consisting of a 4140 steel subframe mated to polymer grip. Housed within the frame are the slide rails, fire control group, thumb and grip safeties, slide stop, and railed dust cover.
The 2011 polymer grip is contoured to maintain 1911 characteristics while also accommodating high capacity, double-stack magazines. Staccato decided to keep the 17-degree grip angle that the 1911 is renowned for. However, there is only a .25-inch difference in circumference, along with minor increases in width and front-to-back measurements on a 2011 frame compared to a 1911. The 2011 frame does not require a gargantuan paw to feel at home shooting. Its grips are made of a proprietary glass-filled polymer with side panels featuring a raised pattern design for texture. The same raised grip pattern is found on the front strap, as well as the flat mainspring housing. A nuance of the polymer grip construction is its relatively thin front strap and sidewalls, allowing for measurements comparable to a typical single stack 1911 with twice the round capacity.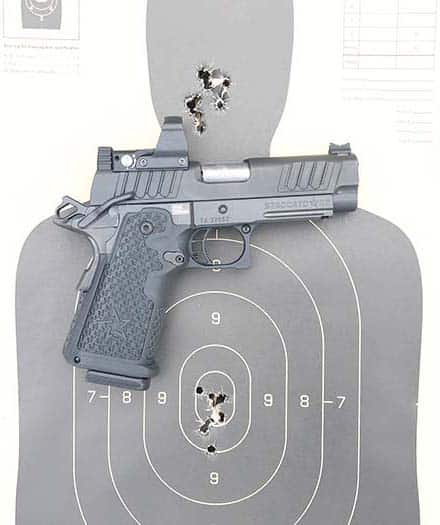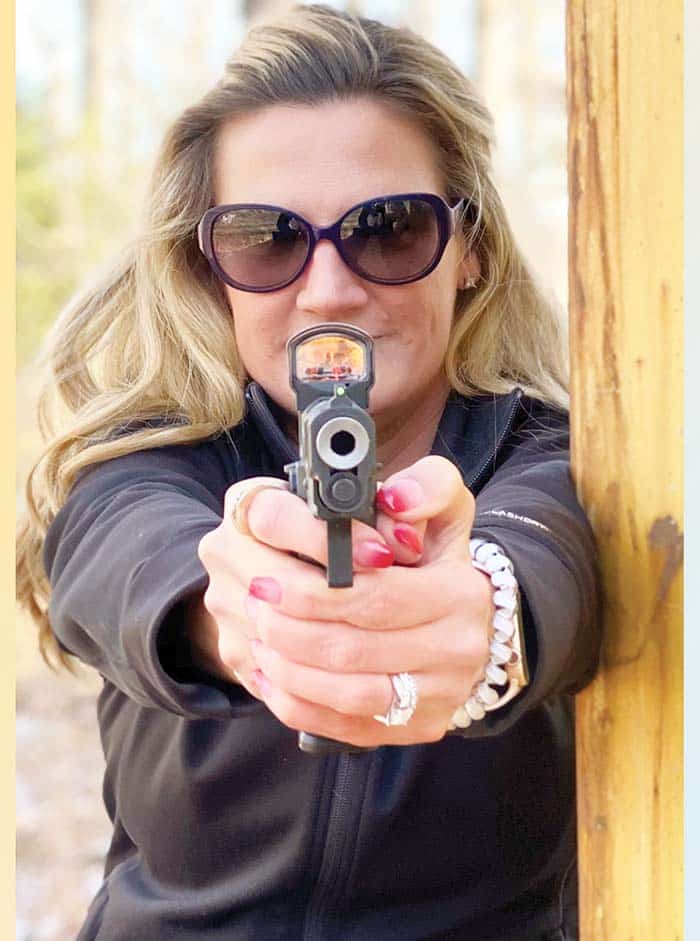 The C2's trigger pull is factory set for a nominal weight of 4 to 5 pounds. Other performance-enhancing features include an oversized, ambidextrous thumb safety, a high-grip beavertail safety with a palm pad, and an extended ejector. With a is CNC machined and heat treated 4140 steel slide featuring angled front and rear slide serrations, the pistol's overall weight is 25.7 ounces. All its metal components have a DLC finish.
Lights, lasers, and other accessories are only getting more popular and accepted on a handgun; especially ones that offer carbine-like capacity such as C2 DPO. Did I mention the 2011 9MM platform accommodates 16, 17, 20, or 26 round magazines? Staccato offers numerous types of holsters that reflect C2 DPO Tactical versatility—IWB, belt and duty rigs. All of which are readily available from Staccato's website.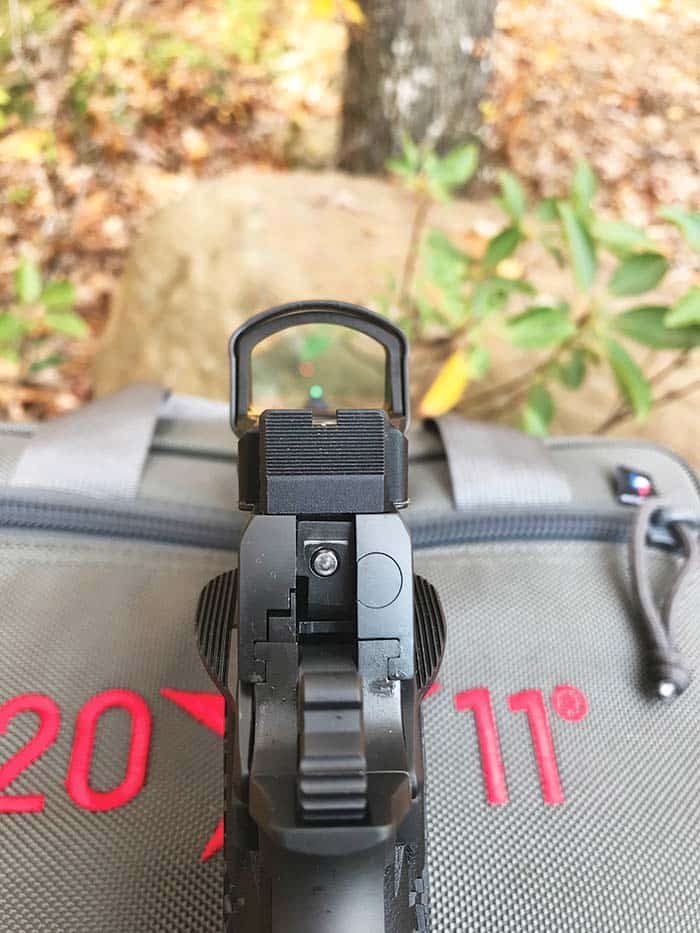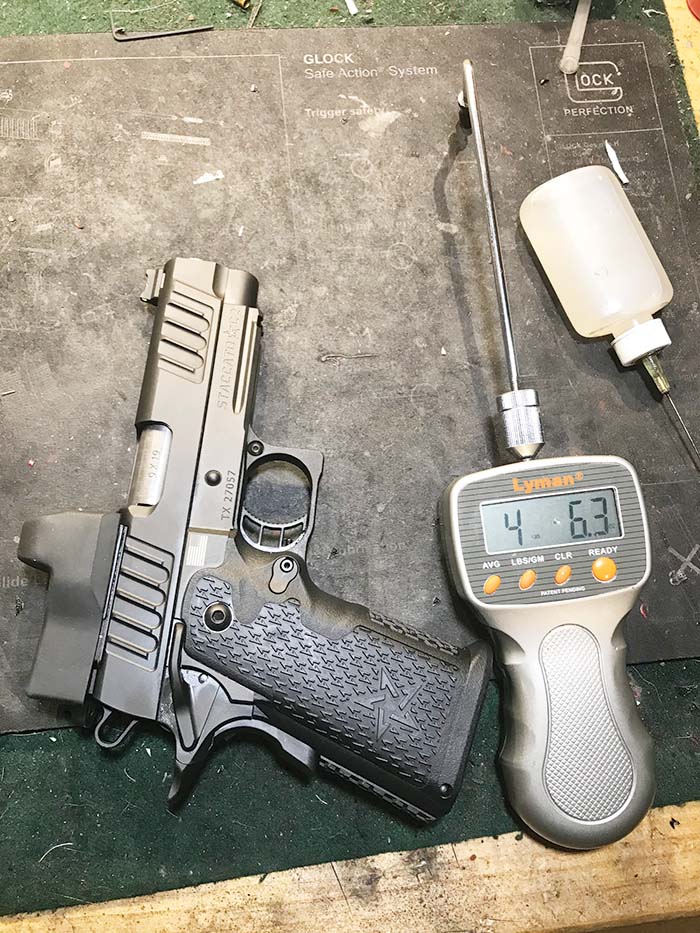 The name change from STI to Staccato signifies a new mission for the organization. Staccato has decided to focus on the tactical arena based on experience garnered with previous STI Tactical models. This all came together when in 2018 US Marshal service chose the 2011 Staccato 9MM for its elite SOG unit. Long Beach SWAT was another early convert to the Staccato 2011 9MM platform.
High round count testing protocols with these agencies gave invaluable feedback to Staccato in terms of production methods, material upgrades for certain high wear parts, recoil system, and most importantly the 2nd Generation magazine. The 2nd Generation double stack magazine is a redesign of the original STI magazine set to precise and consistent measurements at the feed lips and throughout the length of the tube, both front-to-back, and side-to-side. This translates into more consistent reliability and performance. In addition, features such as witness holes, and the polished interior/exterior of the mag body further enhance the quality of these magazines. The "ribs" on the 9MM magazine run down both sides of its body.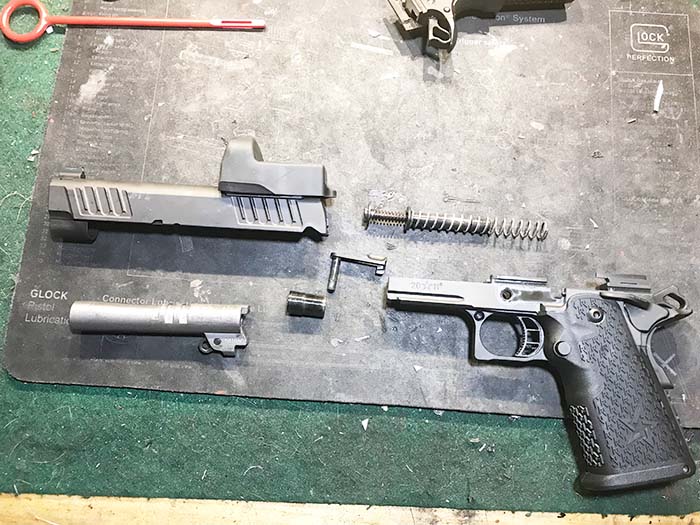 Staccato 2011 handguns are meant to function out of the box. The days of needing to "tune" STI competition weapons are over. Staccato assumes its weapons will be used in life-or-death situations; their production is guided by this. The Staccato C2 DPO Tactical is a valid choice for real-world use, and not merely a competition weapon attempting crossover appeal. Over 250 law enforcement agencies have approved the Staccato for use by its personnel. The C2 DPO Tactical featured in this article is a close rendition of the US Marshal SOG weapon, the 2011 Staccato-P, featuring the Leupold DeltaPoint Pro red dot. Staccato's collaboration with Dawson's Precision Optic System allows the mounting of multiple red dot sights while maintaining the use of iron sights. A Commander-length slide was chosen based on testing protocol results, along with maximizing carry options for the end user.
The Staccato C2 DPO Tactical shot SIG SAUER, Wilson Combat, Black Hills, Hornady, and Federal/American Eagle ammunition for this article. Approximately 550 rounds of 9MM ranging from 115 to 147 grain were fired, with both hollow points and FMJ bullet types tested. A .50cal can with an assortment of steel and brass case 9MM loads consolidated from partially used boxes was purposely used to determine load sensitivity. No issues were encountered.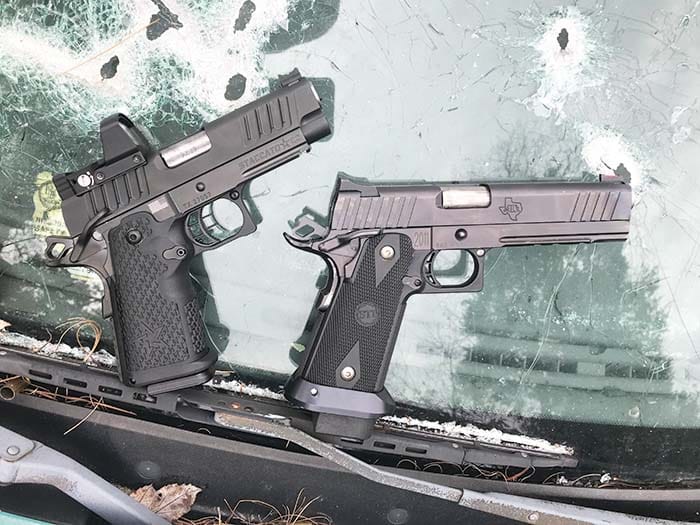 It was decided to evaluate the C2 DPO Tactical working in/around vehicles, breaching facades, door entries, and other CQB activities. The natural point-ability of the Staccato C2 DPO Tactical was confirmed along with speed getting it into action. Recoil is minimized by Staccato's Recoil Master spring assembly. This dual spring system is designed to last ten times longer than a typical single recoil spring and allow for the bulk of kinetic energy to be expended in the process of loading a new round from the magazine. The slide comes forward more gently and with a fraction of the force typical of a standard 12–18-pound single spring. This reduces the slide slamming forward and creating muzzle dip. The dual springs of the Recoil Master assembly dampen recoil, and more importantly muzzle flip, allowing the shooter to re-acquire aim when firing multiple shot strings. The C2 DPO's slide seemed to reciprocate on ball bearings, moving smoothly with the sights tracking efficiently in between shots fired.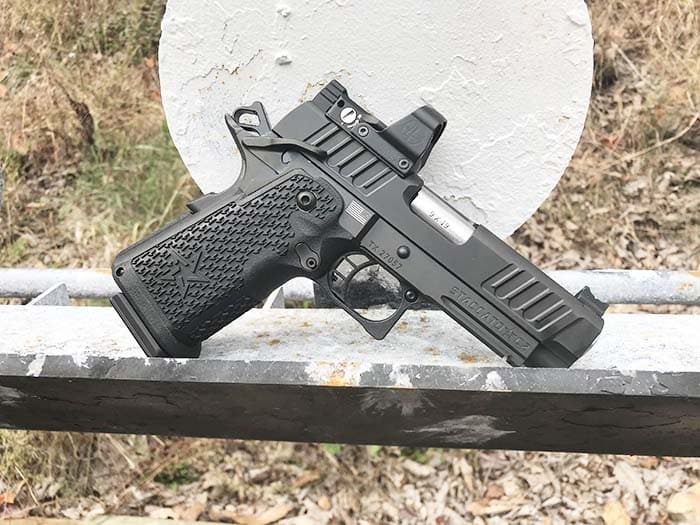 One of the most basic weapon concepts that has remained constant, or stagnant, depending on point of view, are handgun sights. Yes, modern open sights are more refined, but the basic form is the same—align the front post within the rear notch. This is now undergoing a change with the advent of installing red dot sights in lieu of the traditional iron open sights for everyday personal defense weapons, law enforcement, and military weapons.
Competition handguns have sported enhanced sights, albeit red dots or magnified optics, for decades now. Debate rages over equipment derived from competition for use in the tactical world. I think we can all accept that professional competition shooters are the highest skilled "pistoleers" in the world—after all that is what they do for a living: expend time and money on improving skill levels that most just cannot imagine. Reports of Tier 1 Special Operation units having world class competition shooters train them in running a handgun more efficiently and ruthlessly in CQB environments ends the argument in my opinion. The number of red dot handguns appearing in the hands of elite unit personnel further confirms the soundness of the red dot handgun approach.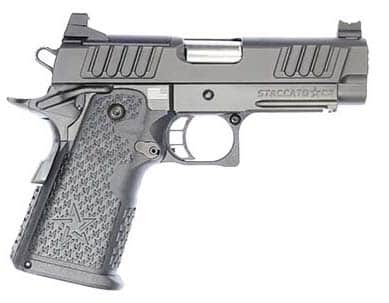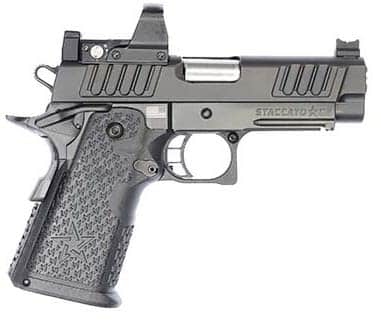 A concern based on handling other red dot equipped handguns was being able to find the DeltaPoint Pro's dot just as quickly as traditional iron sights, especially in quick/fast close-range affairs. The Leupold DeltaPoint Pro mounted to the Dawson Precision Optic System allows for co-witnessing of iron sights with the Leupold red dot. Point shooting with the Staccato C2 DPO Tactical is still very possible using the window on the DeltaPoint as a ghost ring – albeit a large ghost ring – if forced to react spontaneously to a threat. Users of the Staccato fitted with Leupold DeltaPoint Pro find that they no longer have to switch focus from the target to the sights. They can now do as nature intends for them to do–focus on the threat. Moreover, because the indexing of a red dot is far easier than front and rear sight alignment, they find they can take accurate shots beyond what was considered feasible. Hitting steel silhouette at 100 yards on the first shot is very possible with the Staccato C2 DPO Tactical, as well as running CQB drills at times that were considered impossible to achieve before. All simply because the red dot concept uses the eyes in a more natural manner.
CrossBreed Holsters proved an excellent resource for the Staccato C2 DPO Tactical. The CrossBreed SuperTuck IWB and DropSlide OWB proved their worth over months of constant carry with the Staccato C2 DPO Tactical. At times the Staccato seemed to disappear on your hip due to Crossbreed comfort. This is impressive considering the 30 plus ounce weight of a fully loaded C2 DPO Tactical.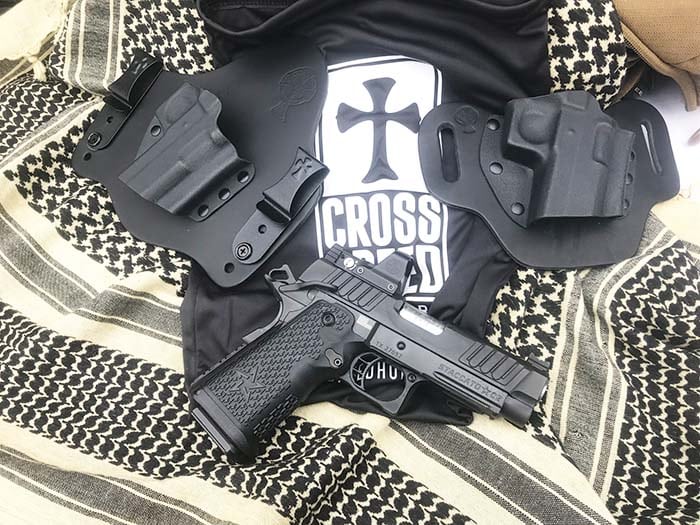 What is it about the 100+-year-old 1911 design that keeps it so adored and desired by so many shooters for personal defense, tactical shooting, or competition? Surely more modern designs featuring higher capacity and new materials have eclipsed it. Don't bet on it! Especially thanks to what Staccato is offering in the form of the C2 DPO Tactical. One thing is certain—Staccato is at the forefront of modernizing and adapting the 1911 into the forms not previously conceived.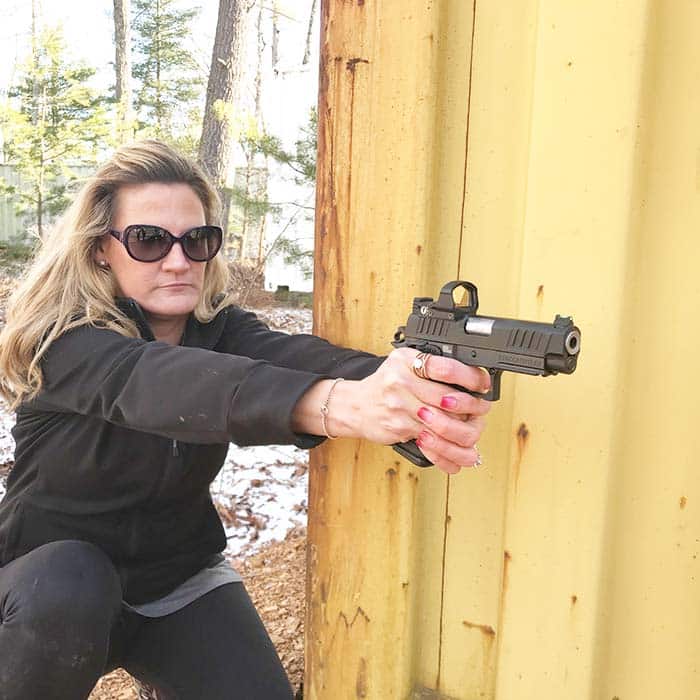 A sidearm is an extremely personal weapon, albeit for duty or daily personal defense carry. A weapon like the Staccato C2 DPO Tactical is analogous to a medieval knight's broadsword, or a samurai's katana in terms of pride. They are intended to always be on your person, both due to their lethality, as well as warrior talisman. This type of weapon is intended to work when the world goes to hell. Just as with a sword, it takes lifelong training to achieve and maintain proficiency with a handgun. While more expensive than the typical polymer weapon, the Staccato C2 DPO Tactical is a top-of-the-line weapon intended to perform at a higher level than the standard handgun. The prevalence of polymer, striker fired weapons getting upgraded via aftermarket slides, triggers, springs, grip customization, etc., makes the cost of Staccato C2 DPO Tactical not so daunting.
With the C2 DPO Tactical you will feel as if you have reached the pinnacle of craftsmanship, design, reliability, and efficiency in the 1911 genre. While you cannot purchase proficiency, the Staccato C2 DPO Tactical certainly feels like a worthy enhancement to existing skill. You perform better with it in your hand versus other types of weapons. There is no better compliment than this.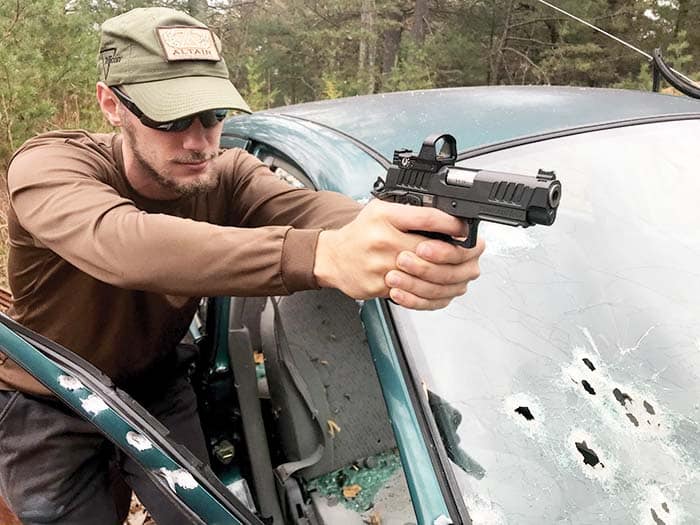 SITES OF INTEREST
Staccato
CrossBreed Holsters
Leupold
Specifications: Staccato C2 DPO Tactical
Caliber: 9MM
Barrel: 3.9 inches
OA Length: 7.5 inches
Weight: 25.7ounces (empty)
Grips: Polymer
Sights: Dawson Precision Optic system/Leupold DeltaPoint Pro with co-witnessing iron sights
Action: Single Action
Finish: DLC-Black
Capacity: 16+1 (Three magazines arrive with Staccato C2 DPO C)
MSRP: $2,299 (Dawson Precision Optic plate and Leupold DeltaPoint Pro not included)

This article first appeared in Small Arms Review V25N5 (May 2021)