By Todd Burgreen –
Secure firearm storage in a home setting is traditionally associated with bulky "heirloom" safes that resemble lock boxes robbed by Jessie James. Let's face it, traditional safes are not that efficient in their accommodation of modern firearms due to interior layout designs based on slim shotguns or rifles not featuring pistol grip, detachable magazines, or firearms equipped with optics. While advertising may claim 18- or 24-gun capacities, you will be lucky if you get a fraction of that inside, especially if you have modern sporting arms (ARs) or weapons with large optics mounted, not to mention other accessories mounted such as tactical lights or laser designators. If you do push the envelope by haphazardly stacking, you run the risk of damaging your firearms.
All of this is starting to change; especially as current real-world requirements are better understood. Many would argue for more convenience via less weight, better access strategies if weapons are needed for personal defense, and more compact sizing that offers discrete placement options. The good news is that Department of Defense and Department of State armories around the world shifted towards this model 20 years ago. Civilians are now benefitting, as well.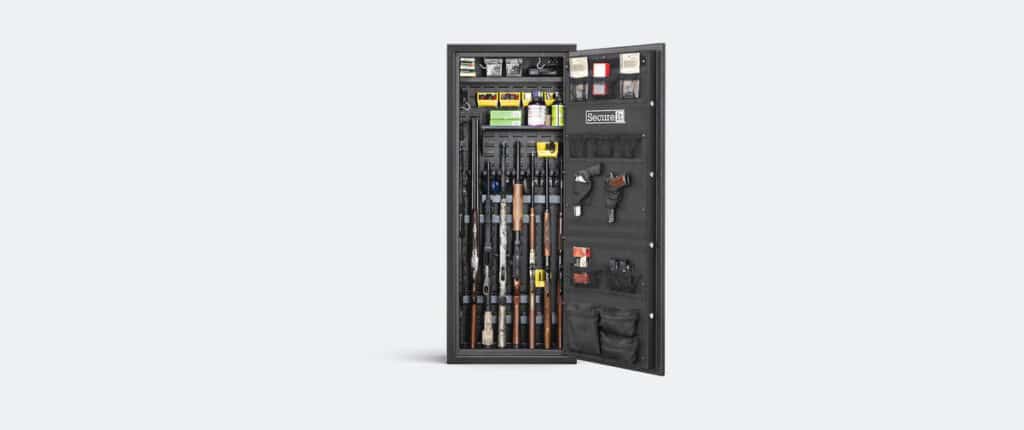 SecureIt has been a leading provider of weapon armory storage options for the Department of Defense and Department of State since 2001. Even cursory research into SecureIt's webpage and other media sources leave no doubt that SecureIt's CEO Tom Kubiniec is on a mission to better serve the consumer by offering alternatives to traditional hard safe methods. SecureIt's extensive experience with the often-fluid needs of U.S. Special Forces and U.S. Marines pay dividends for the civilian consumer. These DOD customers did not have the time or patience for more traditional hard safe arrangements. Who wants a thousand-pound behemoth with limited practical space for modern optic, light, laser, pistol grip equipped weapons—albeit long arm or handgun?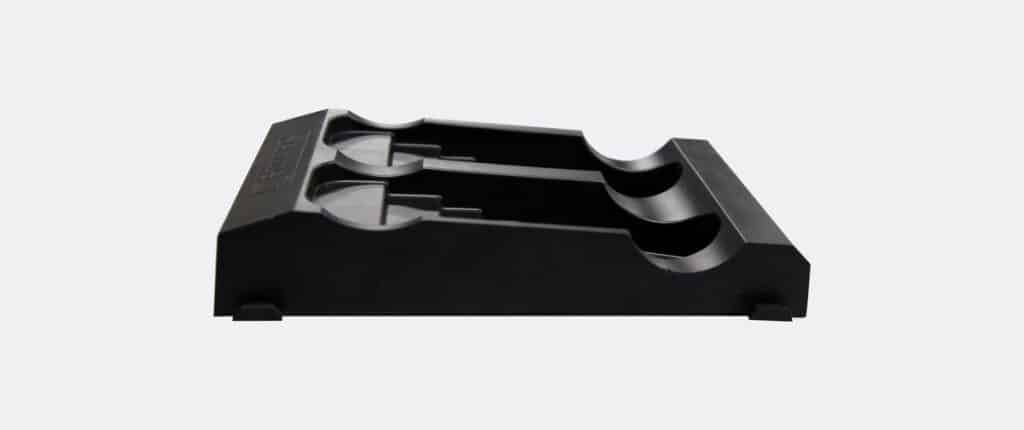 Decentralization
SecureIt's leadership team sifted through the data pertaining to home burglaries. 10-minutes is the average time a criminal spends in a home focusing on master bedroom, home office, living room, and dining room. The basement is also scoured, hoping to find a safe of some sort. That's right…a criminal actually looks for a safe assuming this is where valuables will be located, thus saving them time from searching. Most current safes offer minimal protection for a prepared thief, especially when operating with power tools. Access is measured in mere minutes. The truth is the only type of safe that cannot be broken into is one that cannot be found. While traditional "heirloom" safes will not be totally forsaken by the consumer market, there are other methods and techniques that a homeowner should explore. SecureIt offers superior alternatives to traditional hard safes benefitting from less cost, better accessibility, and the ability to be placed around the home for the greatest tactical benefit.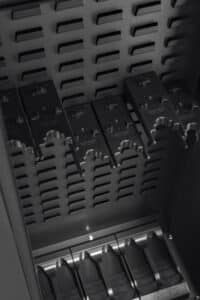 SecureIt's approach is to decentralize firearm locations taking advantage of a criminal's limited available time on the scene. SecureIt offers far more than merely hiding your weapon in a sock drawer or hidden with the coats. SecureIt products made from hardened steel provide lockable solutions preventing thieves, as well as unauthorized members of your home or guests from having easy access to your firearms. Decentralized, yet accountable secure storage, spread around the home per security needs is the way to go.
SecureIT's experience with the military quickly taught them that traditional gun safes are unable to properly store modern firearms. Afterall, they were designed 50 years ago and have never changed. Typical gun safes struggle to hold any type of modern firearm and have no ability to properly store optics and gear. SecureIt gun storage solutions solve these problems. Consumers now have flexible storage options for both guns and gear. Think of SecureIt gun storage as a building block system that allows the owner to create lightweight, modular gun storage solutions.
Fresh Ideas
The heart of the SecureIt method is their patented CradleGrid system. The CradleGrid system consists of three components: a grid panel that attaches to the back wall of a SecureIT safe or gun wall, a cradle that can be easily re-positioned on the grid panel allowing for reconfiguration without the need for tools, and a tiered polymer base into which the buttstock of each firearm sits to ensure proper lean angle. The SecureIT CradleGrid system allows for flexible, in the field arranging, where long arms are not banging into or stacked on top of each other. The CradleGrid mounting solution offers "one arm, one gun" in and out capability simplifying reaction and access to a weapon of choice. No unstacking or removing weapons to access one buried behind it as found in a traditional safe. Imagine a U.S. embassy Marine security detachment rushing to respond to a situation where a team leader reaches into a secure weapon storage space bringing out a rifle in each hand to pass off to a responder. Your individual home needs reflect similar requirements.
SecureIT has put together multiple bundle packages for the civilian looking to take advantage of decentralized storage. For example, a Level 2 Decentralized Storage Bundle consists of two SecureIt Fast Box Model 47 Gun Safes and the Agile Ultralight Model 52 Pro Gun Safe. The Fast Box Model 47 can be configured for horizontal or vertical placement accommodating one to two long arms in a vertical orientation. Handgun can be snuggled in, as well. Think horizontal under a bed or vertical in a foyer closet. The Fast Box Model 47 weighs 39 pounds. Don't let this fool you. The Fast Box Model 47 is California DOJ approved as a gun storage solution. The Fast Box Model 47 features both electronic and key access methods.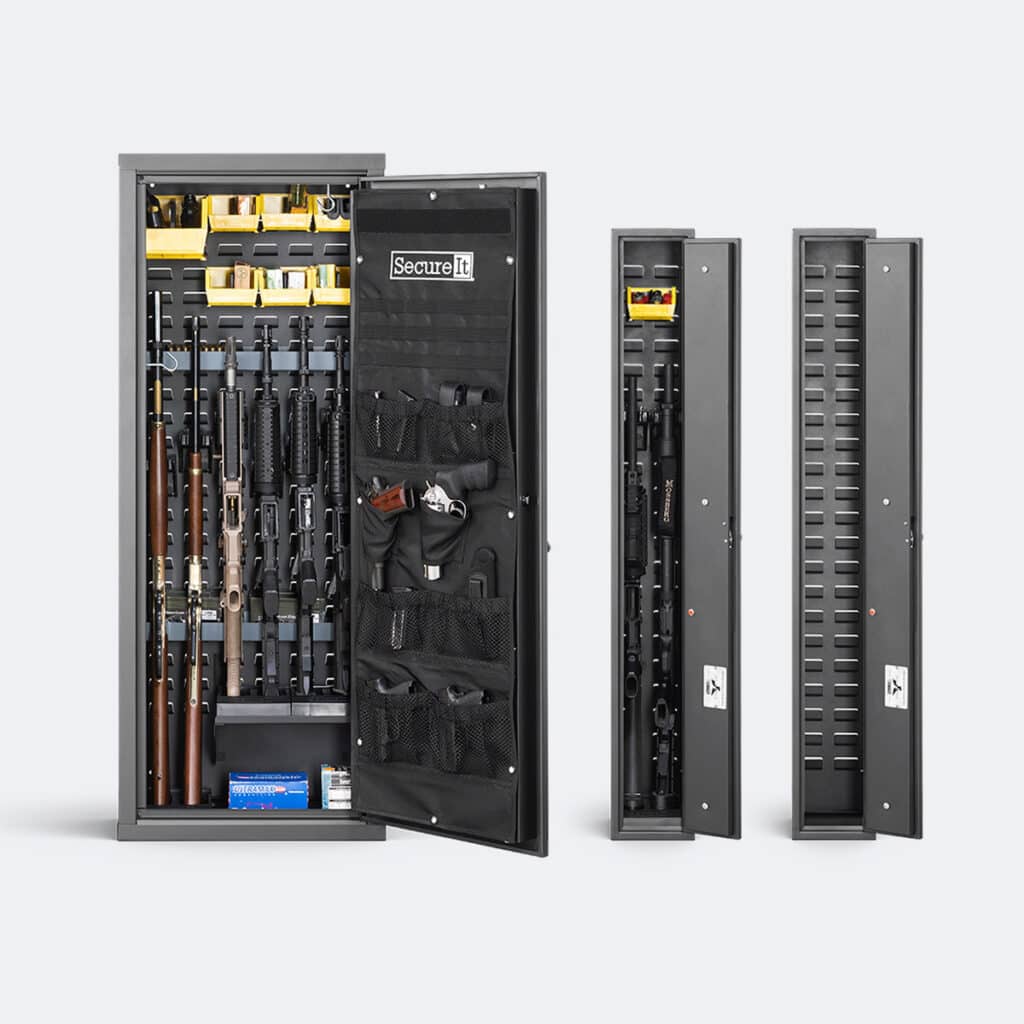 The Agile Model 52 is assembled after it arrives. SecureIt has come up with ingenious design maximizing security. It takes about 20 minutes to put together with help suggested once the door component is ready to mount. A customizable 6-digit electronic push button keypad and swingbolt lock system is found with the door. The lock system provides silent access in a matter of seconds. A key override is also included. The Agile Model 52 is meant to be mounted to the floor and/or wall for added protection. The Model 52 weighs 105 pounds. Agile Model 52 external dimensions of 52 x 20 1/4 x 15 1/4 inches allow for placement in closets or smaller nooks and crannies in various rooms around the house. This provides stoutness while still enabling placement in the most optimum locations. You can even change your mind without having to contact a professional mover to relocate. SecureIt mobility combined with security is not to be underestimated. Door organizers, metal trays and magnetic hooks that also arrive with the Agile Model 52 Pro, enabling handguns and other items to be secured. SecureIT also offers small, medium, and large bins that provide flexibility for storing other firearms items—ammunition, magazines, etc.
DOD Approved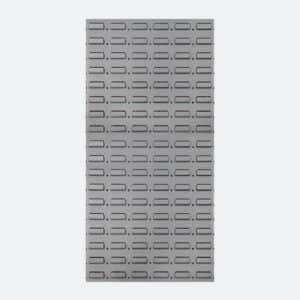 SecureIt offers multiple other products beyond the Agile Model 52 and the Fastbox Model 47 highlighted above. For example, the Answer Model 8. This is a beefier version of the Agile Model 52. The Answer Model 8 is created from welded 12-gauge steel weighing 400 pounds. With the Answer Model 8 SecureIt has created a safe eliminating the corrosive and potentially moisture gathering materials such as drywall and carpeting found in traditional safes. The inferior layout found in heirloom safes is addressed in these, as well, making room for both firearms and accessories.
The SecureIT Model 84 24/24 Tactical Weapon Rack is the same one used by U.S. Army Special Forces and other SOCOM unites. The Model 84 24/24 cabinet stores 24 rifles and 24 handguns. It also includes 12 large bins with removable dividers that may be repositioned anywhere on the grid to store optics and gear. SecureIt's Cradle Grid system accommodates most weapons and shelving can be adjusted or removed per user needs. Straight line weapon access is another advantage with the Model 84.
Ultimate flexibility is found with the SecureIt Agile Quad Plus system. By combining two Agile Model 52 and two Model 40 safes you can safely store up to 24 long weapons fully configured with optics and other tactical enhancement, numerous handguns, and accessories such as magazines, ammunitions, cleaning supplies and other gear. The Model 40s are stacked on top of the Model 52s in the Quad Plus configuration for ultimate use of floor space.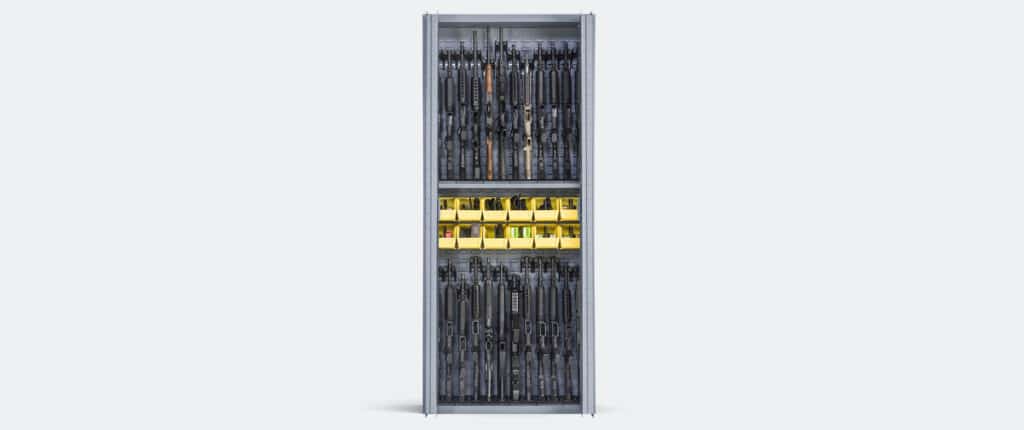 Common Sense Approach
Most struggle dealing with balancing secure weapon storage with speedy weapon access. SecureIt avoids the horror stories of purchasing medium to large traditional safes then spending several hundred more dollars getting the safe delivered and placed. By "placed," we mean dumping it where it will remain for the foreseeable future. Avoiding stairs and locations not structurally suitable inside a home must also be taken into account with these types of safes. The SecureIT way just makes more sense.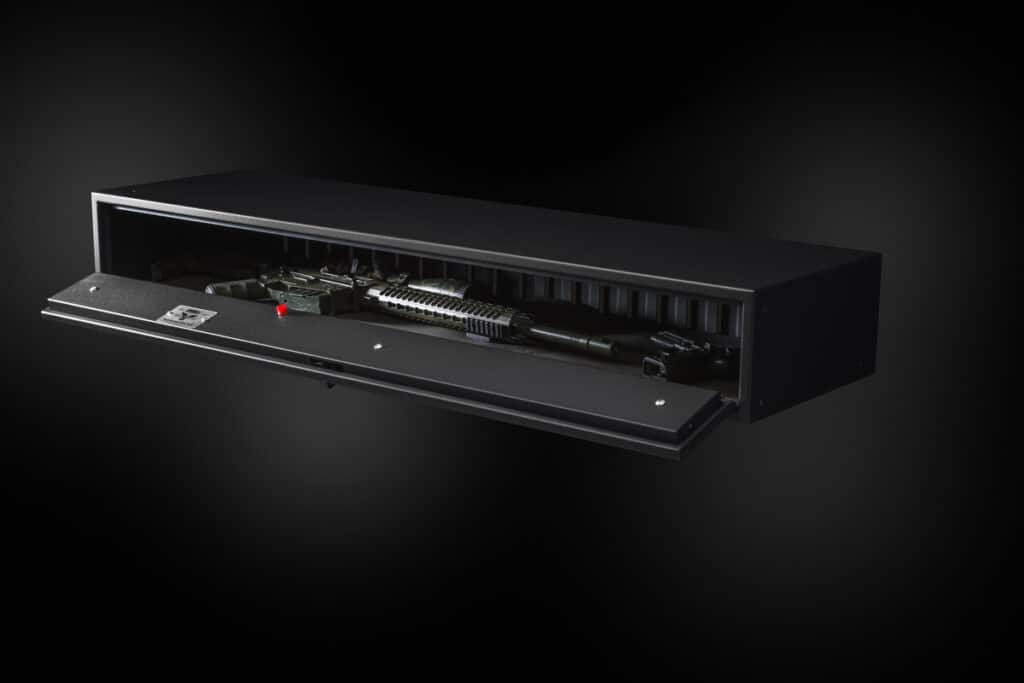 Having a basic, yet flexible, plan made in advance is crucial. Pertinent questions are how best to access and locate personal defense items? Can you even make it to where the secured firearm is before you or a family member comes into contact with an intruder? Do you have the fine motor skills necessary to open your gun safe in an adrenaline induced situation? These are very important questions that SecureIT safes, inserts, and bundles are designed to help answer.