By Todd Burgreen –
Stoeger has been in the firearms business since after WWI when Austrian immigrant Alexander F. Stoeger opened his shop on 5th Avenue in New York City. What started as a mail order enterprise for firearms and accessories – ahh, the good ol' days of gun ownership in the U.S. – turned into the largest retailer of firearms and accessories in New York City. Between WWI and WWII, Stoeger was the exclusive importer of Mauser bolt-action rifles, as well as Luger handguns. Stoeger also dabbled in manufacturing with .22LR conversion kits for Colt 1911s and other items.
Brand Story
An interesting footnote is how Stoeger's comprehensive mail order catalogue morphed into the yearly industry reference guide known as The Shooter's Bible. By the mid-1950's, Stoeger had closed its New York City retail showroom and moved operations to New Jersey. Stoeger was busy with publishing efforts as well as importing Finnish Sako, Brazilian IGA, and Spanish Llama brands of weapons. Stoeger became well known for its firearm manufacturing and importing. These efforts gave U.S. consumers opportunities to own types of weapons that would not normally be available from domestic manufacturers or other importers.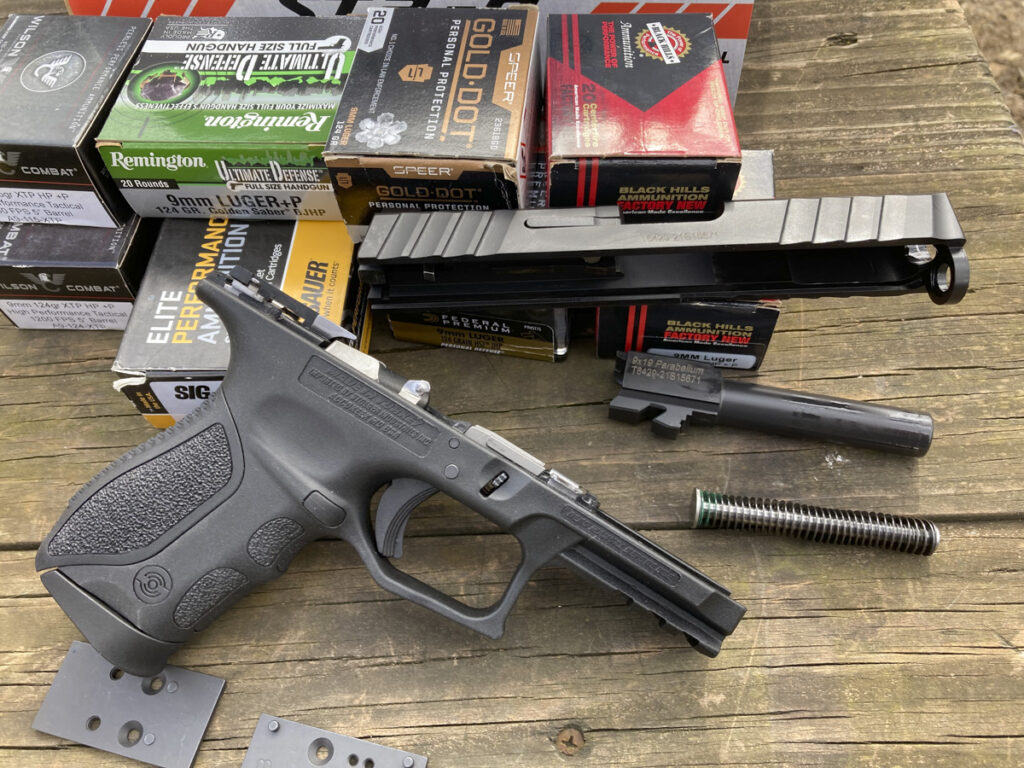 In 1994, Finnish firearm-maker Sako became Stoeger's majority owner. When Sako was bought by Beretta in 2000, Stoeger was moved to Accokeek, Maryland, joining another Beretta Holding company, Benelli. Stoeger's line of shotgun imports melded well with Benelli, Franchi, and Uberti products. The Beretta acquisition did end Stoeger's publishing efforts – a major aspect of Stoeger's business up to that point. The Shooter's Bible and other Stoeger publications continue under different ownership today.
More Than Just Shotguns
While inertia-driven shotguns from Turkey are some of Stoeger's most well-known products, in 2019 Stoeger began offering consumers a polymer, striker-fired handgun option with their STR-9 series. The STR-9s pistols are made and imported from Stoeger's Turkish factory connection. With the STR-9 models, Stoeger has embraced the obvious popularity of polymer-framed, striker-fired, high-capacity, semi-automatic handguns. We are going to focus on one of the most recent pistols in the Stoeger STR-9 lineup, the STR-9C Optic Ready (STR-9COR). This is not the 1980's when people doubted the staying power of the Austrian Glock. Looking back, this sentiment seems absurd; especially considering how quickly striker-fired handguns came to dominate the law enforcement and civilian personal defense market.
Layout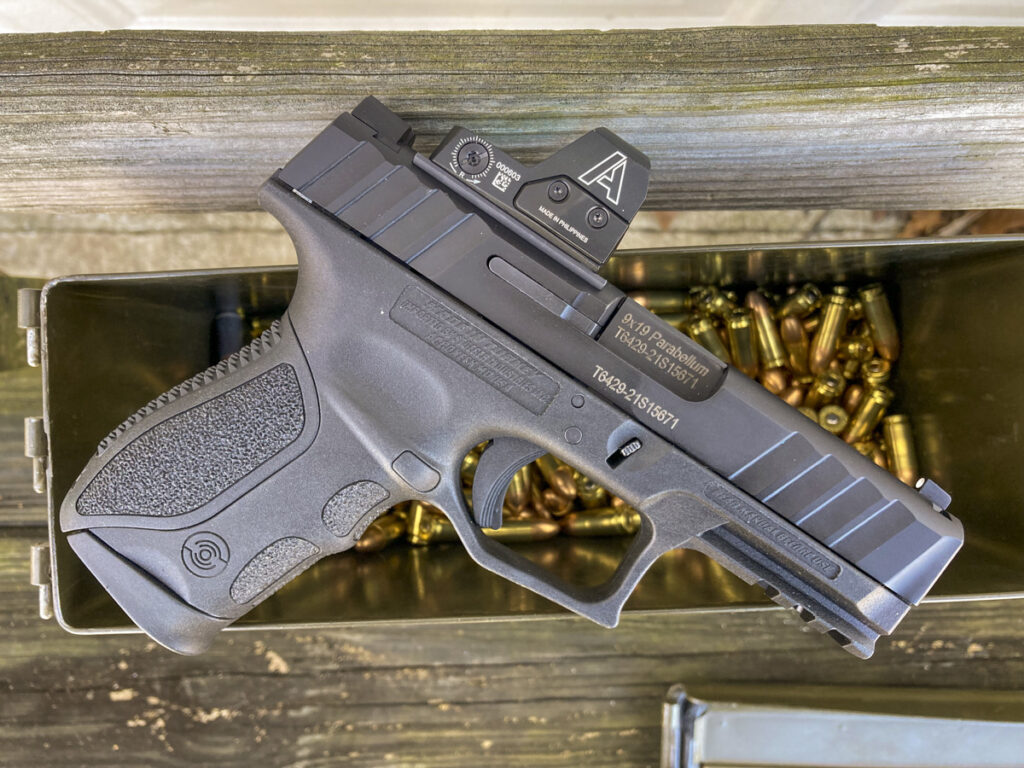 The STR-9COR follows the common operating path shared by most polymer striker-fired handguns – a polymer frame with a pinned steel chassis that interfaces with the slide during reciprocation. The STR-9COR's nitride-treated slide has wide front and rear serrations aiding in slide manipulation, no matter the conditions. Fixed 3-dot sights come as standard. (More on the sighting system options to follow.) Molded finger grooves and modular backstraps allow the end-user to better fit the STR-9COR to their hand. Grip texture on the backstrap is more aggressive than typically found on competing pistols – a positive. The magazine release button is reversible and the slide stop lever is found, predictably, on the left side of the frame. Stoeger has undercut the trigger guard allowing for a lower center of gravity in your hand. This helps minimize muzzle flip. A squared-off trigger guard and Picatinny rail dustcover for mounting lights/lasers finishes off the aesthetics. The weight is 24 ounces and overall length is 6.9-inches. A 13-round magazine comes as standard. An MSRP of $399 is impressive considering the features present on the pistol.
Action
The Stoeger STR-9COR employs the familiar Browning locked-breech short-recoil tilting-barrel operating method. The 3.8-inch barrel locks up tight when in battery. As is the case with modern semi-autos, Stoeger slightly modifies Browning's design by moving the locking recess from the barrel, instead milling a single locking lug above the barrel chamber and using the slide's large, overhead ejection port as its mating locking recess. The front contour of the barrel lug cam slot has been cut square to direct counter-recoiling forces up and forward into the barrel itself. This reduces stress on the lug.
Optic Ready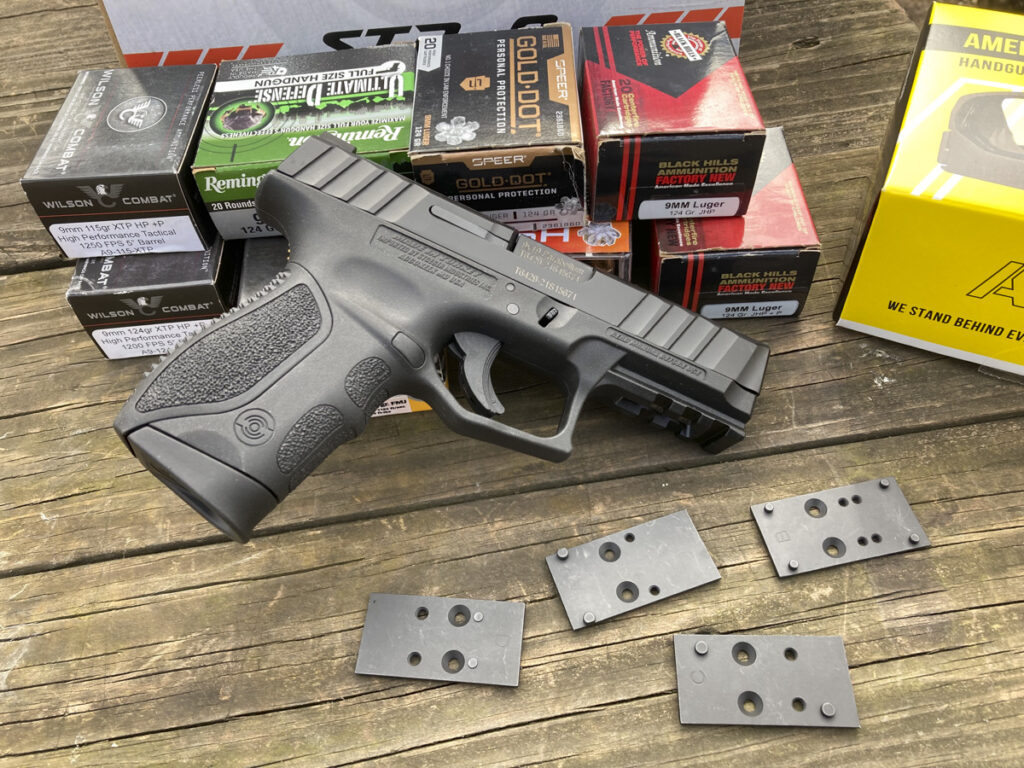 The pistol embraces the growing trend of mounting red dot sights on personal defense handguns. It offers the ability to mount various red dot sights straight from the factory without having to resort getting the slide milled. This is accomplished with four adapter plates that accommodate various red dot footprints such Trijicon's RMR, Vortex's Venom, Leupold's DeltaPoint, SIG Sauer's ROMEO1PRO, and more. A blank plate covers the rear receiver when no red dot is used. The plate mates seamlessly to the slide. Having a slide milled for specific sight limits your flexibility in choosing various red dots. The Stoeger's mounting plate method is a great solution that provides mounting options for many of the most popular pistol optics.
The ability to easily mount a red dot separate the STR-9COR from other entry level striker-fired handguns. There is no resisting the momentum of handguns featuring red dot sights. Competition handguns have sported enhanced sights, albeit red dots or magnified optics, for decades now. These competition examples featured red dots that were big and ungainly affairs with complex, often custom mounts resulting in a package that's less than ideal for everyday carry. This is not the case with the current state of RDS offerings. A perfect example of this is the Ameriglo Haven red dot mounted on the STR-9COR.
Ameriglo Haven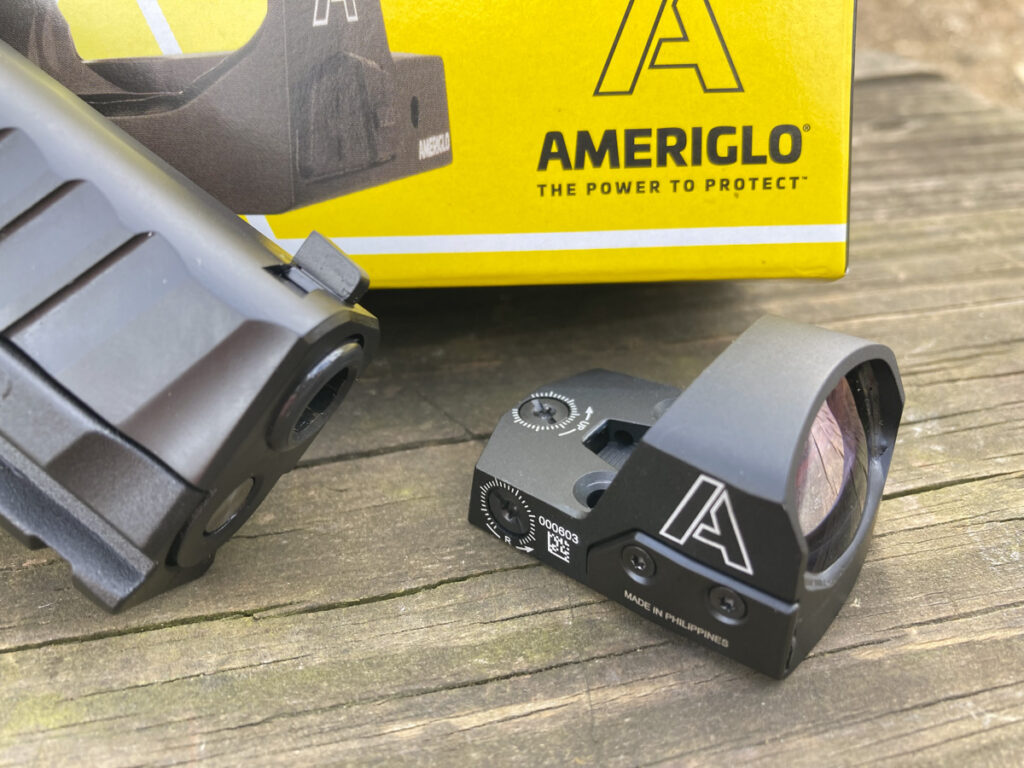 Ameriglo's Haven red dot optic uses a Trijicon RMR footprint. Rugged construction, including aircraft grade aluminum housing and waterproof electronics, increase its reliability under the harshest use and stiffest recoil typified by the operation of a semi-automatic handgun slide. The side-loading battery is a nice touch, meaning you don't have to remove the Haven from the slide to change its CR2032 battery. This eliminates the need to sight back in after battery replacement. Smart electronics offer a 12-hour runtime followed by a 12-hour, motion-activated auto-on and provide up to two years of battery life at a mid-level brightness setting. A large viewing window with an upward-curving concave housing with highlighted vertical white post on the rear of Haven sight aids in faster dot acquisition. The Haven used for this T&E featured a 3.5 MOA dot. A 5 MOA dot is available, as well.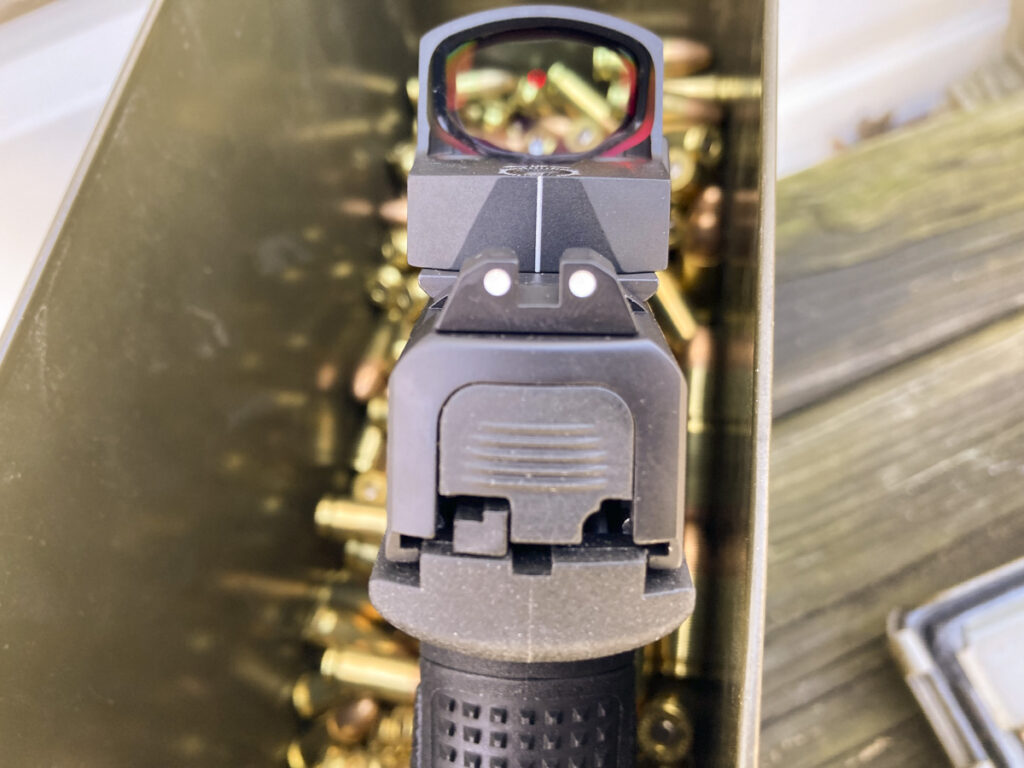 Users of the Haven-equipped will find they no longer have to switch focus from target to sights and invariably eliminate the front sight focus that's so difficult for older shooters to naturally maintain when using iron sights. Handgunners with a red dot-equipped weapon can now do as nature intended – focus on the threat/target. Moreover, because the indexing of a red dot is far easier than two separate protruding pieces of steel, you'll find you can take shots beyond what's considered possible with iron sights. Hitting steel at 75 yards is very possible with this setup, as well as running CQB drills that were once considered impractical to run, all simply because the RDS concept uses the eyes in a more normal manner. The Stoeger's trigger pull is what we have come to expect from factory striker-fired weapons — 6 pounds with a consistent break.
Range Time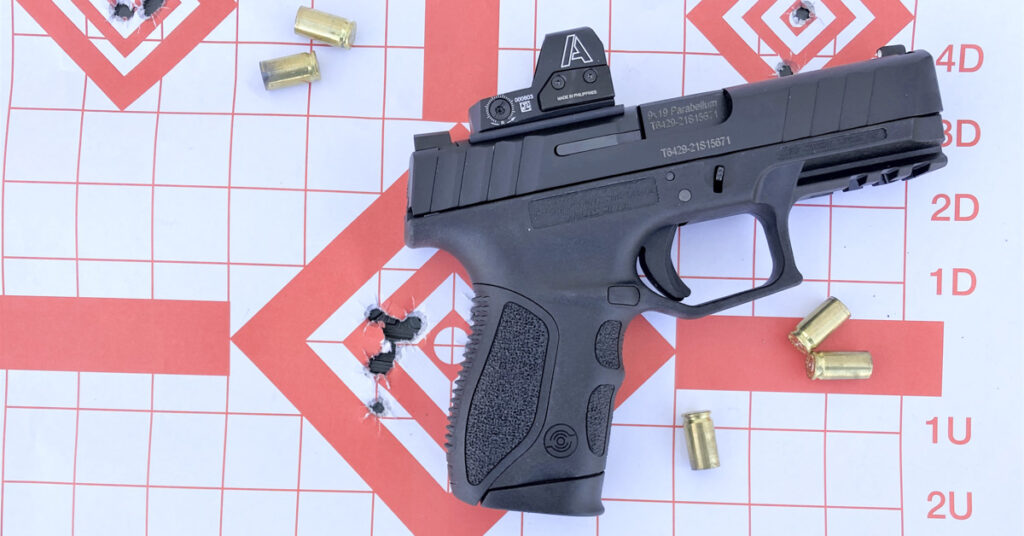 Range testing of the Stoeger/Ameriglo combo took place at Echo Valley Training Center. The Haven red dot offered the capability to engage multiple targets rapidly with faster target transition compared to open sights… while providing superior accuracy at ranges beyond normal iron sight engagement distances. Longer shots are possible thanks to the precision afforded by the sight's small dot not obscuring the target. As many shooters can attest, working with the red dot's single plane of focus is easier to shoot accurately than coordinating front and rear sights. The Stoeger's mounting bracket mechanism and the attached Haven sight withstood the recoil and heat generated by repeated, long strings of fire. The Haven weighs only 1.6 ounces which contributes to its ability to withstand the inertial forces of the reciprocating slide.
We evaluated the STR-9COR using several shooting drills, included working around breaching facades, door entries, and other CQB activities. In these drills, a premium is placed on a quick-handling, accurate handgun with multiple rounds fired in quick succession. The natural pointability of the STR-9COR comes into its own in this realm with the Haven red dot proving advantageous. Both eyes open with a red dot superimposing "on target" information is hard to beat.
First round hits were the norm on the various steel targets, plate racks, and dueling trees. The STR-9COR combined with the Ameriglo Haven regularly produced 3.5-inch groups at 25 yards when fired from standing unsupported positions. Ammunition from Black Hills Ammunition, Remington, Speer and SIG Sauer was used. The ammunition fired spanned 115- to 147-grain and included hollow point and FMJ loads. Significantly, no malfunctions were experienced while firing more than 320 rounds.
Conclusion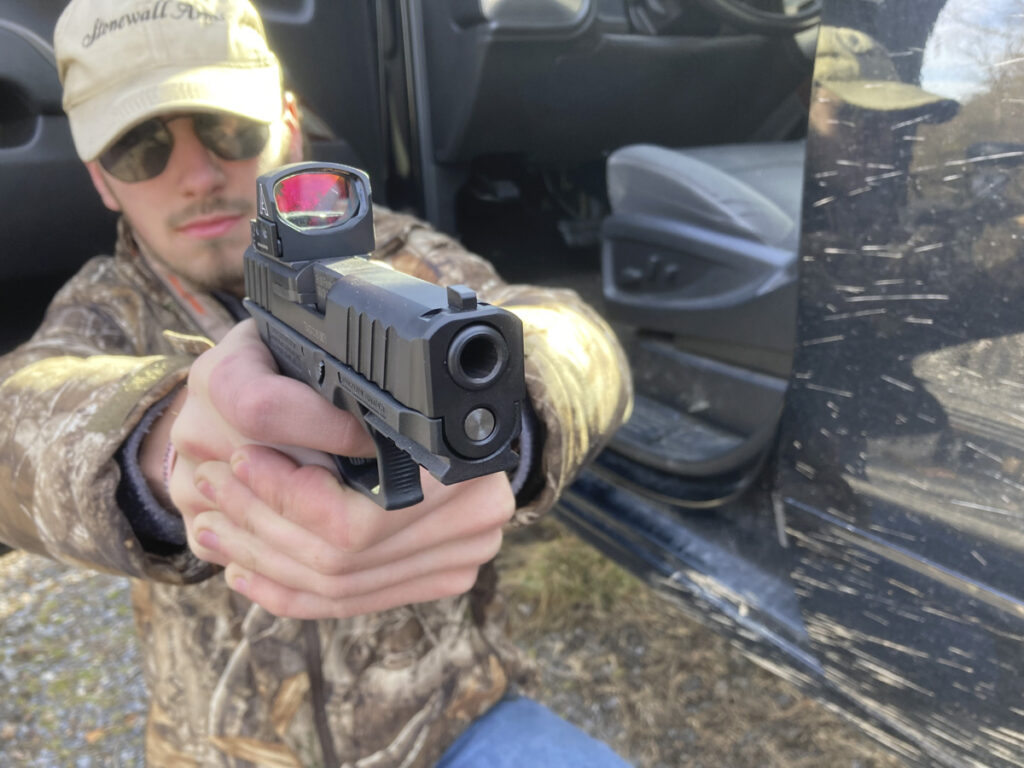 Stoeger's STR-9C Optic Ready pistol offers a reasonably priced platform that allow users to explore the benefits of red dot optics on a legitimate concealed carry platform without remorse in terms of cost. If the decision is made against pursuing the red dot path you still have a potent, compact, striker-fired weapon at your disposal.
Specifications:
Make: Stoeger
Model: STR-9C Optic Ready
Caliber: 9x19mm
Barrel Length: 3.8in
Overall Length: 6.9in
Weight: 24oz
Mag Capacity: 13
MSRP: $399
URL: stoegerindustries.com