By Robert Bruce

Although the big and muscular fellow was dressed in casual slacks and unmarked polo shirt as he walked past me yesterday, anybody could tell from his crewcut and the way he walked that he was no ordinary Joe Civilian. Passing to within just a foot or so as he talked animatedly into his cell phone, I couldn't help but overhear his end of the conversation.

"I'm in the middle of cop heaven right now," he enthusiastically said, "can I call you back later?"

TREXPO-EAST

This particular law enforcement officer was, indeed, in "Cop Heaven" as he and many hundreds more of his brethren made their way among long rows of display booths in the cavernous hall of the Capitol Expo Center for TREXPO and E-Tech 2000. Tactical Response Expo-East is the Varro Group's annual East coast trade show and conference for police and others with responsibilities in tactical operations, high risk patrol and critical incident management.

For eleven years TREXPO has been attracting legions of local and federal officers, military special operations guys, executive security professionals, and many others. Drawn by an exciting equipment exhibition, a wide variety of mini-classes on cutting-edge subjects, plus hands-on range day activities, the event has firmly established itself as a "must see." There is much to be learned by everybody from rural county cops to those with embassy security responsibilities in nearby Washington, DC.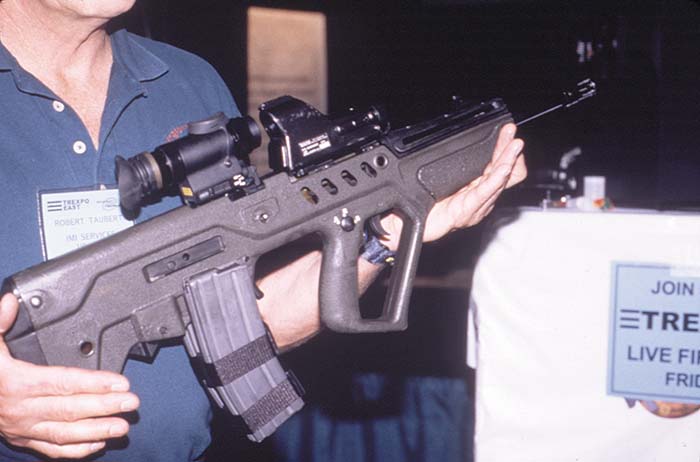 More than 200 companies were on hand with everything from body armor to books, from ammo and armored vehicles to guns and gear. In addition to the best known companies like Heckler & Koch and Safariland, TREXPO gives newer firms an equal chance to showcase their wares in the exhibit hall and in personal interaction with attendees. Whether you are a patrol officer looking for a backup weapon or a department chief concerned about efficiently processing field reports, there is lots of comparison shopping to be done among rows and rows of colorful booths.

E-Tech

This year's four day event was further expanded by addition of E-Tech (Enforcement Technology), showcasing state-of-the-art electronic tools and techniques for the ever expanding missions of modern law enforcement. E-Tech features such things as "ComputerCop" software as well as digitized fingerprint identification and other cyber-gadgets that can help the street officer and his support or command structure.

Professional Development Conference

During the first three days of the event more than thirty mini classes were available to all who had paid their basic $295 registration fee. As an alternative, individuals can pick and choose exactly which of these they need to learn about at a mere $50 each. Either way this public security smorgasbord represents an amazing bargain given the expertise of the presenters and the timeliness of their subjects.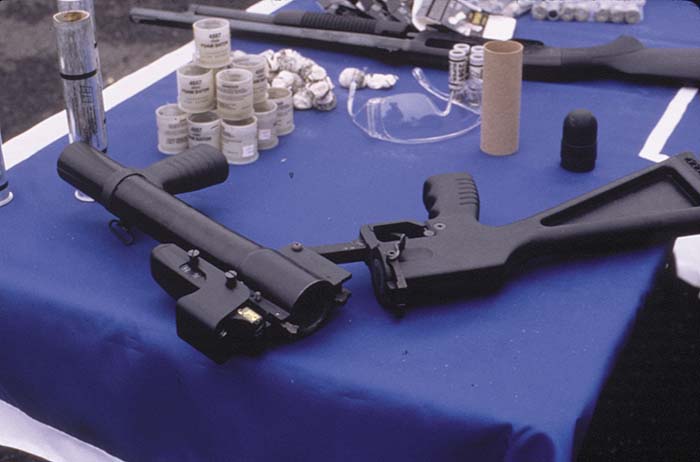 Beginning on the 15th with Response to Workplace Violence, the seminars ranged widely to include Advanced Raid Tactics, Weapons of Mass Destruction Delivery Systems, and Wireless Video Surveillance. Want to sharpen your survival skills in knife fighting? Join Jim Wagner of HSS International for a theory and practice session on Combative Subjects and Edged Weapon Defense. Want to get an inside track on how some big boys handled some big problems? Sit in with Captain Elliott Grollman of Federal Protective Service for his class- IMF World Bank Demonstrations —Washington DC Responds.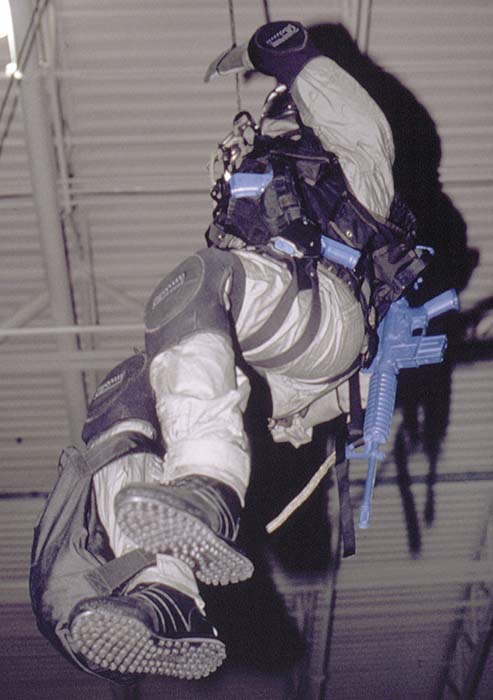 Range Day

Saving what many consider the most stimulating element for last, TREXPO Range Day provides attendees, exhibitors, and seminar presenters with an exciting opportunity to bring hardware and ideas into action. Best of all, it also affords the opportunity to grab a fistful of firepower and pump some lead with free ammo and somebody else cleaning the weapons afterward. Are we having fun yet?

Conducted just a few miles away from the Expo hall at the Loudoun County Sheriff's Department range, this was a four ring circus of live fire, classroom and practical demonstrations, plus numerous static displays.

Alas, "Murphy's Law" was clearly dominant this year when a week of sunny days crashed into an overcast and intermittently rainy Friday. Undaunted, intrepid vendors and cops alike bravely carried on because the real world is not always sunshine and cool breezes. However, photographers — at least this one — are not typically resigned to rain and low light. Not only does this make the job of getting good pictures a pain in the butt, it also leads to rain-spotted lenses and sometimes drenched and ruined cameras. Bitch, bitch, bitch.

"Static" Displays

Of course the DRASH guys had to be delighted with the bad weather, dry and snug in their "Deployable Rapid Assembly Shelter" super tent that is intended for just this sort of circumstance in field operations. Meanwhile, demonstrators from Foldable Products and SWATEC scrambled up and down their cleverly designed tactical climbing devices as the Tasertron guys zapped high voltage into a mylar target (nobody volunteered to stand in) and Time Domain peered through walls with their portable radar.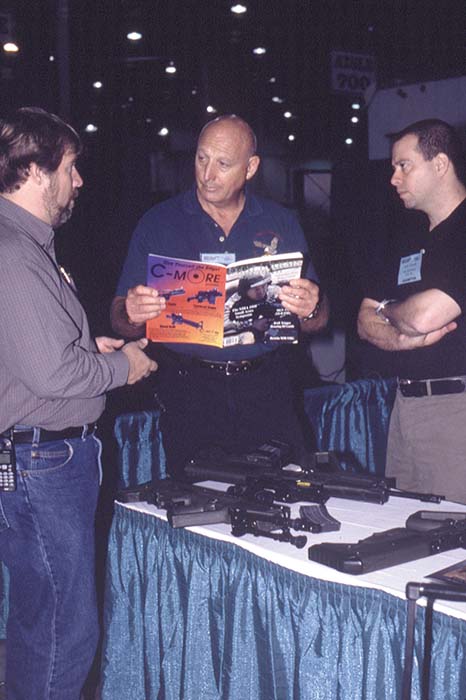 Pyros and Potential Lawsuits

The Upper range was set aside for several lively demonstrations of unusual ammo for some of the old favorite tools in the law enforcement arsenal. Six firms showed their stuff including Polyshok's 12 ga. "smart ammo" and MK Ballistics' "less lethal" loads and launchers from sidearms to 40mm chunkers. Armor Holdings' Dave Young kept spectators ducking and hopping as rebounding 40mm and 12 ga. batons and balls bounced around. Fortunately, nobody got hit — at least during the session I observed — so the company's lawyer will just have to wait for some other time to upgrade his Mercedes. Young's energetic and fast moving demo also included an extensive line of smoke, chemical and other pyrotechnic rounds.

Serious Shooting

But the meat and potatoes of law enforcement armament was laid out on the lower range on several tables stacked with a variety of pistols, submachine guns and assault rifles. This is the place for free ammo, exotic weapons and the chance to load and shoot stuff that most guys just read about.

Not surprisingly, H&K's presence was exceptionally strong given the fact that their US headquarters is only a few miles away in Sterling and the range we were on is its official Tactical Training site. Big boxes of ammo were laid out in a magazine loading station right behind a pair of tables covered end to end with their German and Italian wares.

A swarm of cops gathered to grab a mag or two (gimme one pistol and one smg mag to go, please) then bellied up to the bar for some shooting time. Under the watchful eyes of experienced trainers like Chris Shepard, even those who had never held an MP5 before were quickly checked out on loading and handling procedures then methodically air-conditioned the paper targets.

A small but significant annoyance needs to be mentioned here. Because the range's target berm is directly opposite the Dulles International Airport complex just a few miles away, all shooting had to be done from close in at the 15 yard line! While this isn't too bad for pistol popping, it is a real bummer when demonstrating or trying out an assault rifle — particularly when equipped with telescopic sights. There, I got it off my chest.

Ashley Outdoors was next on the line, demonstrating their Express and Pro Express pistol sights and white dot/ghost ring models for rifles and shotguns. H&K's Matt Nassar tried out the Ashley sight for the USC Carbine and seemed favorably impressed.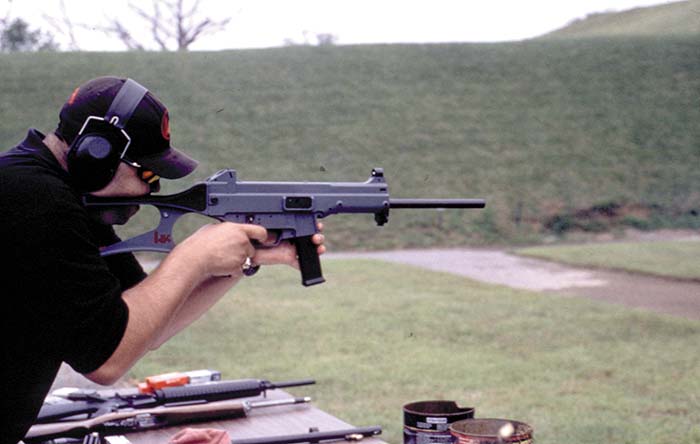 The relatively new teaming of Mullins Ammunition and SIOPTS demonstrated some highly interesting tools for the special operations arena. Combining titanium suppressors with innovative ammunition from .22 to .50 caliber, their line includes the ultra-quiet rimfire SPECTRE pistol and OMEGA rifle, as well as cleverly engineered "Earth Safe Munitions" like the blunt nosed 46 grain tungsten composite 5.56mm ESM-2 reduced ricochet round. No earplugs needed when these southwest Virginia boys are shootin'.

Many time national champion tactical shooting competitor Todd Jarrett put on a fast moving and amazing demonstration of lightning speed mag changes and close-quarters accuracy for Aetco's line of Para Ordnance auto pistols. Highlighting the award-winning new LDA 14-45, Jarrett makes an airtight case for the venerable old Army M1911, now updated in double action.

Bullpup Showdown

More than two decades old now, the highly praised Austrian "Armee Universal Gewehr" (AUG) has been around long enough to establish itself as the leader in compact assault rifle technology. Pioneering the use of a polymer housing with modular components for maximum tactical flexibility, the AUG concept has now inspired gun designers in the Middle East and the Orient to build a better bullpup. Two very exciting new assault rifles were introduced at TREXPO, externally similar in configuration but with significant differences inside.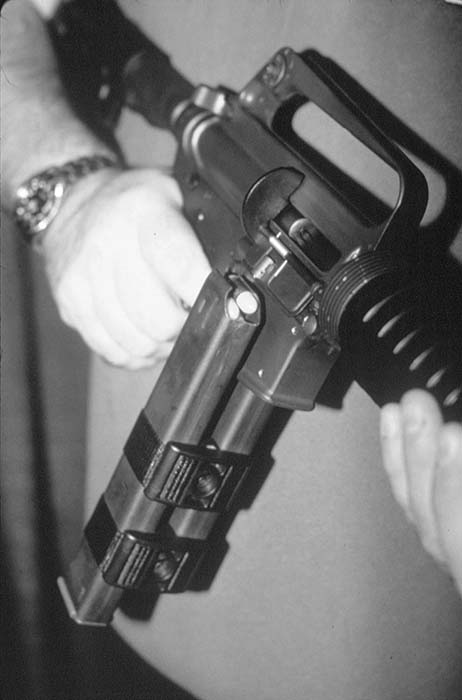 Israel Military Industries was a last-minute entry this year at the Expo and on the range with their brand-new TAVOR-21. Billed as the "world's lightest and shortest assault rifle," the 5.56mm bullpup can be fitted with long or short barrels and a variety of sights on a US military standard Picatinny rail.

Israeli special operations veteran Segal Naom put two versions of the TAVOR through a multiple magazine demonstration of efficient semi and full auto fire in a variety of positions. Speed of mag change is particularly impressive, with the gunner merely bumping the prominent release lever with a quick rearward jab of the gripping hand then jamming in a fresh one guided home by the gun's flared magazine well.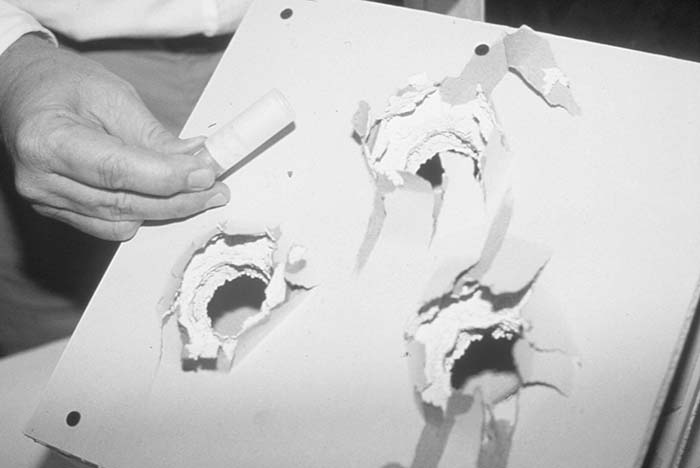 On the other side of the world, Felix Tsai and others at Singapore Technologies Engineering (perhaps better known to old-timers as Charter Industries of Singapore) have been hard at work on an Asian AUG. The resulting SAR-21 assault rifle with integrated 1.5x optical sight and built-in laser also got its North American debut at TREXPO. Several variants were on display including one with Picatinny rail, and another with the CIS 40GL, a 40mm single shot grenade launcher.

Cleveland SWAT veteran Ron Dodus conducted the SAR-21's range demonstration on Friday, punctuating a matter-of-fact rundown of mechanical details and performance characteristics with short and long bursts of 5.56mm fire. STE employee Gek Soo How also fired alternative versions of the gun, including the 40mm grenade launcher (with non-explosive dye-marker ammo, of course).

I am delighted to report that both the TAVOR and the SAR have eliminated one of my pet peeves — the damned multi-lug Stoner bolt that is impossible to ever get really clean! Both guns use a variant of Gene Stoner's AR-18 combined op-rod and carrier but now its bolt is thoughtfully fitted with a pair of big and beefy locking lugs. Good riddance to the strange porcupine chamber brushes and endless work with emery cloth….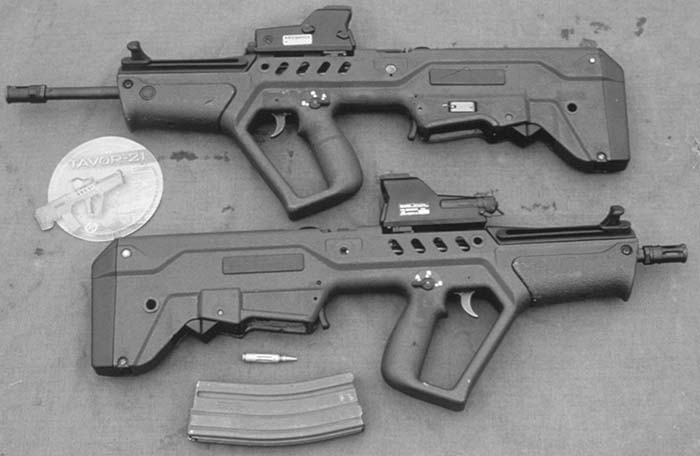 Now, I did get to do a little shooting with both rifles and had a fair amount of time to strip and examine them in detail. As space limitations here won't allow a more comprehensive report, I am preparing an in-depth look at both weapons for a future issue. Stay tuned….

Get More Information

Qualified law enforcement, military, corrections, security and those in related professions are encouraged to contact TREXPO and E-TECH for information on upcoming events including TREXPO-WEST: Varro Group, 4507 West 90th St., Shawnee Mission, KS 66207. Telephone 913-385-2034 or internet site www.varro.com

Also, here's contact info for some of the products featured in this report:

Advanced Taser,
Taser Int., www.etaser.com

AO Sights,
Ashley Outdoors, www.ashleyoutdoors.com

ComputerCop,
ComputerCop Corp., www.computercopinfo.com

Cougar Armored Car,
Technical Solutions, www.forceprotection.net

CQD Knives,
Masters of Defense, www.mastersofdefense.com

Firearms,
H&K, www.hecklerkoch-usa.com

Gear,
Tactical & Survival Specialties, www.tacsurv.com

Ghillie Suits,
Custom Concealment, www.ghillie.com

Holographic Sight,
EOTech, www.eotechinc.com

K-9 Vest,
First Choice, www.firstchoicearmor.com

LDA 14-45,
Para-Ordnance, www.paraord.com

Mag-Cinch,
Buffer Technologies, www.buffertech.com

Radar,
Time Domain, www.time-domain.com

Remote Cameras,
NS Microwave, www.nsmicrowave.com

SAR-21 Assault Rifles,
ST Kinetics, www.stengg.com
SARK Knife,
Emerson Knives, www.emersonknives.com

Shooting Van,
Advanced Interactive Systems, www.ais-sim.com

TAVOR-21 Assault Rifles,
IMI Services USA, www.imi-israel.com

Mullins/SIOPTS,
Mullins Ammo, www.mullinsammunition.com
This article first appeared in Small Arms Review V4N5 (February 2001)