By Todd Burgreen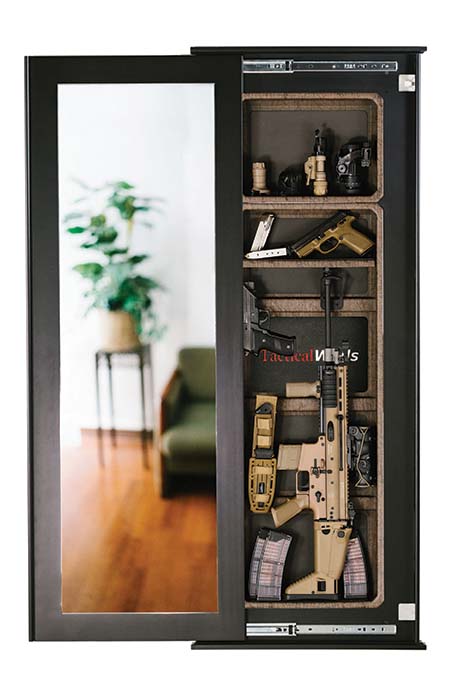 Today, there are a multitude of companies involved in producing ancillary personal protection items and accessories. This was not always the case with consumers paying the price both literally and figuratively. This business competition has not only spurred R&D, but also lowered the cost of items making them available to a wider range of clients. A case in point is the ability to maintain access to weapons in a residential setting with a modicum of security. Most individuals struggle with this balancing of weapon access versus security. Firearm security in a home setting is most associated with "hard" safes. Micro electronics have led to digital key locks that improve access by removing the need for turning a dial back and forth multiple times. While these types of "hard" safes are crucial for storing firearms with many also offering benefit of fire protection, many would agree more convenient access and discreteness would better serve in a personal defense situation. Armed home invasion is the worse case scenario and thus the benchmark for planning. A different form of security can be found in discrete camouflage versus a hard safe. Camouflage is the use of any combination of materials or coloration for concealment, either by making objects hard to see or by disguising them as something else. One such company offering unique "discrete" products that facilitate personal defense is Tactical Walls.

Tactical Walls is a family owned and operated business based out of the Shenandoah Valley of Virginia. Tactical Walls founder, Tim Matter, is a husband and father and served in the USAF as an F-16 fighter crew chief. Tim's wife is office manager as well as regular contributor with her background in graphic design. Tim received a bachelor's degree in industrial design after leaving the service. Tim combines "membership" in the gun culture, industrial design skill set and a desire to give people usable defensive options in the form of Tactical Walls' products. For clarification purposes, industrial design is the use of both applied art and applied science to improve the aesthetics, ergonomics, functionality, and/or usability of a product; it may also be used to improve the product's marketability and even production. The objective of industrial design is to study both function and form, and the connection between product, the user and the environment. Anecdotally, Tim arrived at the Tactical Walls' concept while trying to figure out where best to store firearms in a house without closets.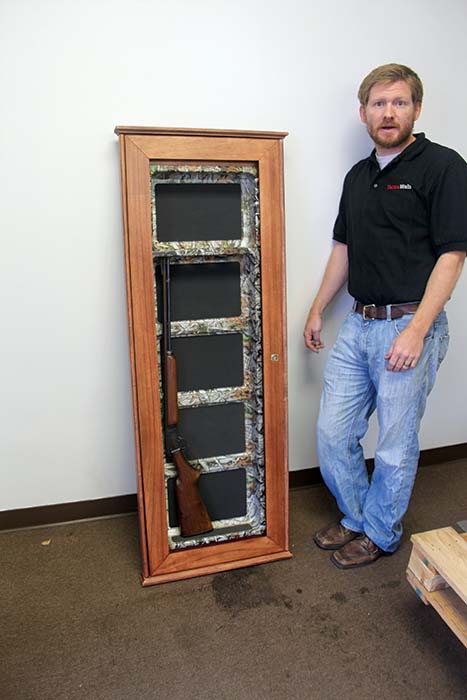 A visit to Tactical Walls' facility showed a highly organized business with products in various degrees of the assembly process. Tactical Walls learned early the importance of controlling as much as possible of the production process. By keeping production "in house" and limiting outside contractors, Tactical Walls minimizes the chance of outside influences impacting component quality and availability. This allows for tight quality control and maintaining of production rates. Tactical Walls management team is hands on and motivated in all aspects of product development, manufacturing, quality control, shipping procedures and customer service. Prototypes were shown and discussed as a way to highlight the early evolution of the Tactical Walls inserts and covers. It was refreshing to visit a burgeoning rapidly expanding new business. Another integral part in the Tactical Walls' business is Vice President Chris Wood. When asked for how long Tactical Walls has been operational, Chris replied, "Tim's first prototype was in December 2011, I (Chris) got involved February 2012. The formal Tactical Walls LLC was formed April 2012, with first website sales in October 2012. The current product line has been operational since January 2013." Chris further elaborated on Tactical Walls' goals as a business by stating, "We are in the process of creating a national dealer and installer network. We are strong believers in the power of local businesses and their importance to the community. We are also working on new product lines for the rental market."

Many can relate to stories of being "caught" by your better half trying to stash a small revolver or Glock in various locations around the home. A shake of the head combined with a "he/she is nuts" look dissuade most from converting the Grandfather clock into a hide area. There are various existing products such as hollowed out books, hinged clocks, etc. The presence of children in the home also serves to temper one's zeal for locating weapons around the house. Tactical Walls and its varied product line immediately appeal to most as a worthy nuanced option; Tactical Walls provides the answer to the quest of access. A quick look at the Tactical Wall's website combining informative videos, product information, and practical outlook further supports this assumption. Tactical Walls stressed during meetings and interviews when asked about access versus security, "We first want to stress that that Tactical Walls' inserts and bundles are not intended to serve as a traditional safe. Tactical Walls' products are tactical concealment of your firearms (or any other valuables you see fit to keep out of sight). The camouflage factor is the main security. There is a magnetic latch, but we again want to make it clear that we do not consider this to serve the same purpose as a safe."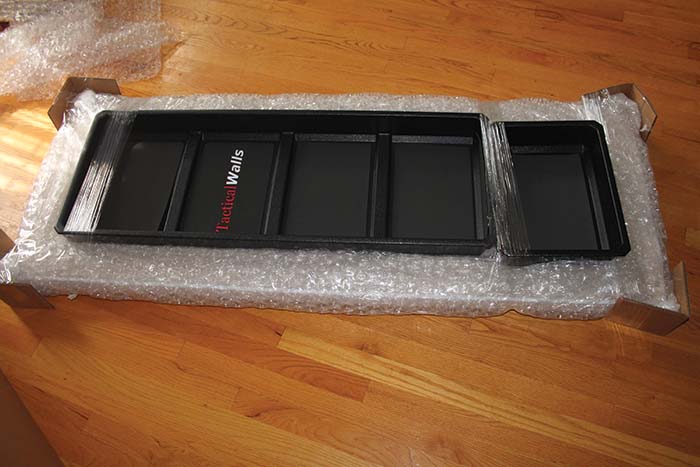 Over eight thousand home invasions occur each year in the United States. A home invasion will occur at the least expected time likely catching you completely off guard. Tactical Walls recognizes and addresses what a harrowing experience a home invasion can be. Certain questions need to be addressed ahead of time with a basic plan formulated. Examples of pertinent questions are: What do you do in this stressful situation in terms of accessing personal defense items? Do you have the fine motor skills necessary to open your gun safe? Can you even make it to where the gun safe is before yourself or a family member comes into contact with an intruder? The likelihood of you being full of adrenaline in a stressful situation is to be expected. These are very important questions that Tactical Walls' inserts and bundles are designed to help answer. There is no one way to predict how your home will be broken into. There is no way to know the number of assailants ahead of time. Therefore the absolute necessity of having a plan and be prepared as much as possible for the unknown.

This is where Tactical Walls' inserts and bundles come into play. The ability to custom tailor to your home and where to place personal defense items is crucial. There are so many variables to consider when it comes for planning for a home invasion. Flexibility is key and speed is paramount. This type of discussion and scenario based planning can be uncomfortable; it should be, as our minds do not work like the criminals who plan the heinous crimes. However, this should not prevent you for preparing to defend your family. You have to be able to consider the worst case scenarios in order to plan for them. The more options you allow yourself the better your odds for success will be.

Tactical Walls offer various sizes and will continue to add new products in the future. Currently, Tactical Walls makes the #1410 and #1440 inserts. The nomenclature indicates inside width and height of the inserts. The 1410 makes use of a 14 inch by 10 inch usable interior space. The #1440 makes a 14 inch by 40 inch of usable interior space. The inserts are designed to fit between standard 16 inch on center 2×4 framing of an interior home wall. The inserts are made of ABS plastic making them both very light and durable. The inserts are intended to accommodate rifles, handguns, or other personal defense items. Tactical Walls also markets accessories to hang handgun, lights, and ammunition inside the inserts. The empty Tactical Walls inserts are an open canvas that a user can customize and personalize the inside of. A variety of attachment points, hooks and straps are available. You could even use MOLLE inside if you wanted to.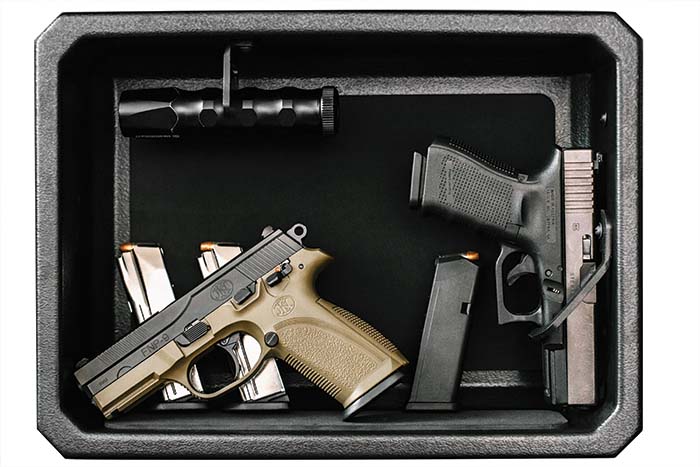 A user can cover the inserts using their own items or take the easy road and utilize the Tactical Walls'1450 & 1410 Concealment Covers allowing the inserts to blend into the decorum of your home via mirrors, designer covers, etc. Tactical Walls reports that the #1450 bundle is their current best seller. The concealment covers included in the Tactical Walls bundle packages are the ideal companion to the inserts to effectively camouflage the inserts. Various designs are available such as mirrors and logos. The covers are designed to be inconspicuous while still providing a means to access the personal defense tools behind it. When closed, it is impossible to tell that it is anything other than a normal mirror. To open, simply slide it off to the side. The drawer slides provide for a smooth open and closing. The cover comes with a magnetic lock. The locking mechanism is completely inside the cover, so nobody can see that it is there. To open, you simply need to pass your magnetic key over the surface of the frame near the lock and it will click open. This design insures that nobody will be aware that your cover is anything but a standard framed mirror. Other locking methods are being designed for the concealment covers. The construction of the covers is robust and professionally done. The mirrors are backed with a security panel to prevent access into your wall insert and encased in a full frame for added rigidity and security. The magnetic locking mechanism is sturdy and well tested and protects your cover from being opened without a key. Think of the magnetic lock as a child proof mechanism – not as an all encompassing access prevention more associated with a hard safe.

Installation of the Tactical Walls' inserts is simple and straightforward. First, after you've decided where to put your insert and/or cover, you hang the included instruction sheet on the wall and use it as a template to cut around. It is important to locate the studs on either side of the inserts. The inserts are designed to fit in between the 2×4 studs. Third, you will slide the insert into the hole and the 1-inch lip of the insert will hide any irregular edges from your cuts. Of course, one must be aware of any piping or wiring already located in the wall before choosing where to install the Tactical Walls inserts. After securing the inserts along with shelves and accessories, place your own cover or one purchased from Tactical Walls over the inserts achieving the discreteness and access that is a hallmark of the Tactical Walls product line. The Tactical Walls' covers are made from hardwood; not substandard laminate or press board material with questionable longevity.

What you place inside the Tactical Walls' inserts will be dictated by your own resources, training, and what you decide best serves your needs. The Tactical Walls' #1450 bundle provides a good example of what Tactical Walls offers in terms of flexibility in terms of accommodating long guns, handguns, spare magazines, flashlights, knives, night vision i.e.; what ever you decide. Remember, the insert is not a safe, but rather an immediate action plan resource location. After installing the Tactical Walls' inserts, you can add any hooks, shelves, or whatever else you can think of to make your insert right for you before you implant your goods. Also available from Tactical Walls as an option is Velcro backing instead of standard foam rubber backing. The Velcro backing allows you to put patches, storage pouches, etc., right onto the inside of your insert. It makes for added versatility and customization of your Tactical Walls insert. Various options are offered in terms of aesthetics and utility from Tactical Walls when ordering your items. Tactical Walls' well done website is a great resource for exploring what is available and serves as a stimulus in terms of information and photos inspiring how best to set up your inserts. While many will decide to take advantage of Tactical Walls' clever cover option in the form of a sliding mirror, those who are more creative can choose to forego the Tactical Walls' cover and rely on their own imagination to disguise their wall insert. This is especially true when going with the #1410 insert that is more compatible with handgun applications. A bulletin board, small mirror, or photo frame is a simple cover option.

While this article focused on the camouflage security aspect of Tactical Walls inserts and cover bundles in the personal defense realm, other aspects of the insert use is possible such as actively and proudly displaying items of choice in more of a gun cabinet role. Imagine using a Tactical Walls Stow and Show Bundle to show off a prized hunting rifle next to a taxidermy mount for a unique presentation style. Another option for the Tactical Walls' inserts is placing of electronics, camera equipment, jewelry etc when the need is discerned.

Tactical Wall inserts and covers are designed to give you a chance to respond to a home invasion. They allow you the flexibility to place the defensive tools necessary to protect your family wherever you feel they are most beneficial. Multiple insert sizes and bundle packages enhance your options in preparing to locate personal defense items. You may have only one location, or many throughout your home. Whatever works best for your situation is the key. One of the basic Tactical Walls' templates a lot of people follow is a larger primary weapon insert in the bedroom containing long guns and handgun with smaller secondary weapons located near the front and rear entrance ways of the home. This set up affords options that can allow for speed and effectiveness needed to successfully defend your home. In addition to a weapon most folks feel it is beneficial to keep a reliable high intensity tactical flashlight handy and an edged weapon. What you choose to put in your inserts is entirely dependent on your plan for you and your home.

Tactical Walls
www.tacticalwalls.com
(858) 859-2557
This article first appeared in Small Arms Review V18N1 (February 2014)