By Jeff W. Zimba
There are few people intimately involved with the gun industry who have not had a favorite 1911 or two. Testing the latest .45 ACP offering from DoubleStar Arms started as a familiar exercise but quickly turned into a new and exciting experience.
When the Starnes family of J&T Distributing and DoubleStar Arms decided to make the leap from their signature black rifle line and jump into the .45 ACP 1911 business, they had a specific goal in mind. Their business plan was to combine the quality and performance of the "old school" 1911s that were made one at a time, and offer them at a price much closer to the "production line" guns offered today.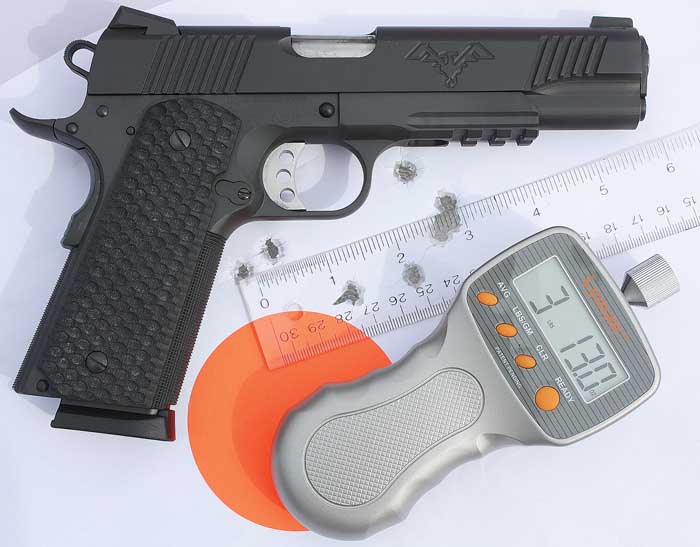 With no attention to detail overlooked, the shooter is greeted to an upgraded experience before even opening the packaging. Each DoubleStar 1911 is shipped in a quality 5.11 pistol case, custom embroidered with DoubleStar's trademark winged dragon. The 8.5×11 padded soft case is made of 1050D Nylon and incorporates 5 magazine/accessory loops and lockable YKK zippers. The pistol is stored inside, in a separate compartment to prevent marring.
When the case is opened and the pistol is removed there are several obvious upgrades indicating at first glance that "this is not your father's Colt .45." One of the most pronounced features is the 1.5-inch Mil-Std 1913 Picatinny rail incorporated in the receiver in front of the trigger guard. This rail adds a wide range of mounted accessories not usually available for simple use on this particular pistol line. You then notice the deep front and rear serrations on the slide. When pulling the slide to the rear to charge or clear the action, the serrations increase the grip strength several-fold making it safer and easier to use under any conditions. The next visual sensation is the addition of Simonich Gunner Grips from Strider Knives, Inc. Originally manufactured for MCSOCOM DET1, these deeply scalloped grips provide a safe and comfortable no-slip surface that seems to magically adhere to your shooting hand and is naturally complemented by a lightly stippled surface on the front of the magazine well and the stippled mainspring housing. As exciting as these initially obvious upgrades are, they are just the beginning of the DoubleStar 1911 package.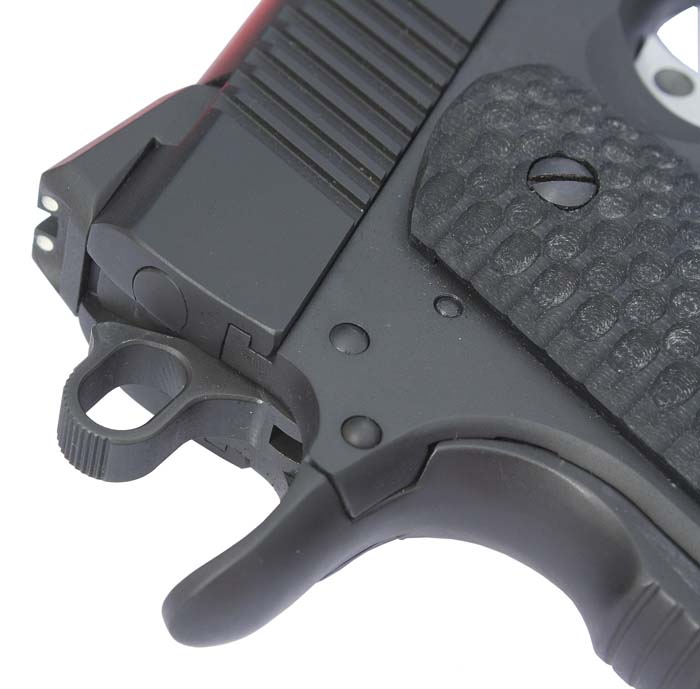 The frame is forged from 4140 steel and meticulously finished to exacting tolerances. The frame and slide is matte finished with a Black Manganese Phosphate (Parkerized) for optimal protection and wear reduction.
The trigger is a Greider Precision match trigger; CNC machined from top-quality aluminum billet and includes a stop screw to prevent over travel. We measured the trigger pull with a Lyman Electronic Pull Gauge and it broke consistently between 3 pounds 1 ounce and 3 pounds 14 ounces.
The "delivery system" is a Storm Lake 5-inch barrel made from solid 416 stainless steel and hardened to 40-42 HRC. It is cut broach rifled with a 6-groove, 1 in 16 inch right hand twist.
The barrel is guided by the Caspian Arms slide and topped with Novak Low Mount White Dot sights.
Rounds are fed from an 8-round Novak ACT-MAG giving the DoubleStar 1911 Combat Pistol an impressive 9-round capacity. It slides smoothly into the lightly beveled magazine well and locks securely into place with ease.
Also deserving mention is the extended beavertail grip safety, skeletonized combat hammer and arched mainspring. The thumb safety is large enough to find and employ with ease without being large enough to be cumbersome.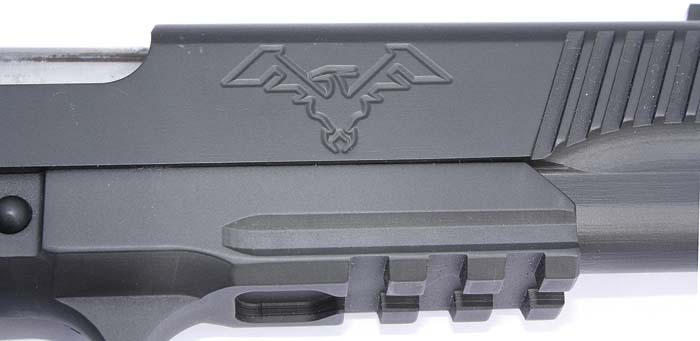 Range Time
The gun was examined and readied for shooting. 100 rounds of Wolf 230-grain FMJ was used during the testing. The firing points ranged from 10 yards to 25 yards with the practical distance of 10-yards being determined the most realistic distance for test firing. After shooting an entire box of ammo to check for little more than feel and function, a new target was utilized with 6 orange dots for separate points of aim. Since the magazine capacity is 8 rounds it was decided that 6 groups of 8 shots would be fired and recorded for accuracy. All shooting was standing and off-hand, in a weaver stance. Every group measured under 4 inches with many under 3 inches. The shooting was so consistent that no two groups could be confused with each other. Since it was common for 2 or 3 rounds to cloverleaf the same hole it looks like some groups are less than 8 rounds until closely inspected. That is fantastic performance for a new out-of-the-box gun, with plinking grade ammunition and fired at a fast pace.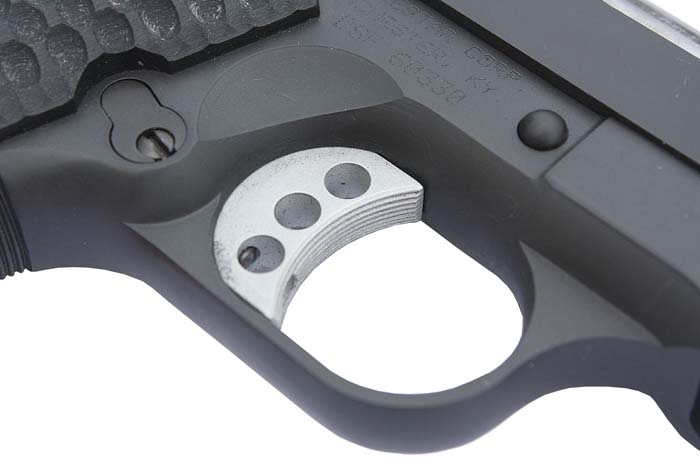 Conclusions
The fit, finish and function of the DoubleStar 1911 Combat Pistol left nothing to be desired. The deeply serrated slide was effortless to charge to the rear. The Strider grip panels combined with the stippled mag-well and back-strap provided for a comfortable and positive grip. The trigger break was smooth, clean and crisp allowing the shooter to focus more on the other essentials of pistol shooting instead of wondering where the break would be. It was consistent and predictable. The Novak sights are large enough to pick up easily but small enough to carry without getting caught on clothing and holster material. The Picatinny rail is useful and rigid since it is part of the frame, and will open all kinds of possibilities not previously available to standard 1911-style pistol shooters. The performance was excellent for any pistol and quite amazing for one fired as pulled out of the factory packaging with plinking ammo. The bottom line is it looks nice, feels great, goes BANG every time you squeeze the trigger and places the round in its intended location. The large caliber and higher magazine capacity is just a little ballistic icing on the cake.
DoubleStar Corporation
Kentucky, USA
Ph: (859) 745-1757
Fax: (859) 745-4638
www.star15.com
DoubleStar 1911 Specifications
Manufacturer: DoubleStar Arms
Model: 1911 Combat
Caliber: .45 ACP
Action: Semiautomatic, recoil operated
Magazine capacity: 8 rounds
Overall width: 1.3 inches
Overall length 8.375 inches
Barrel length: 5 inches
Rifling: 6-groove right hand twist
Weight, empty: 2.5 pounds
Finish: Parkerized
MSRP $1,199
This article first appeared in Small Arms Review V13N6 (March 2010)