By Robert G. Segel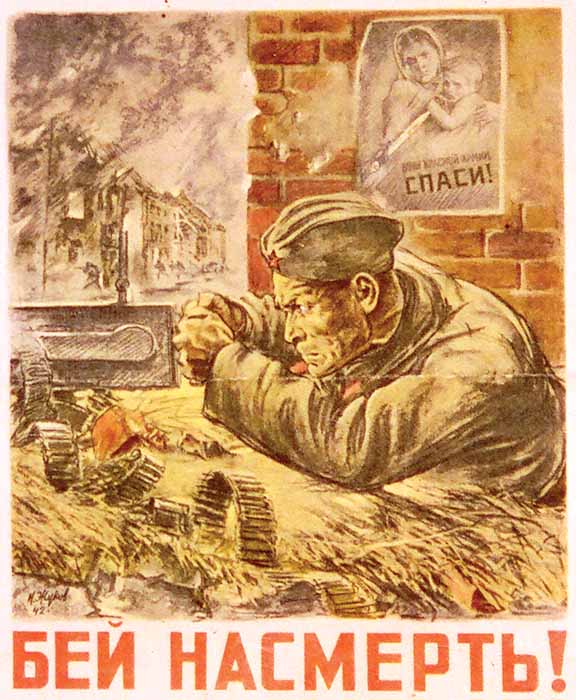 As with all nations involved in World War II, propaganda on the home front was essential and instilled a sense of camaraderie, loyalty, pride and hope by the use of posters, articles, speeches, films and song.
The Russian Model 1910 Maxim machine gun was the standard heavy machine gun used by Russia in World War II. Produced in the hundreds of thousands, it is the iconic heavy automatic weapon of the Soviet army and is revered for the role it played in helping turn the tide of battle of German aggression on the eastern front.
Recently discovered is an old Russian World War II song from a scratched and muffled monophonic recording entitled Tale of the Two Maxims. Recorded in 1943, the music was by Salomon Katz and the lyrics by Vladimir Dykhovichnyi. It tells the heroic story of a machine gunner named Maxim and his Maxim machine gun. Inseparable, the two Maxims fight for the glory of the Mother Land. And though Maxim the gunner is wounded and the Maxim gun damaged by a grenade, one is healed and the other repaired to both return to service to once again fight the Germans.
Both the Russian lyrics and the (rough) English translation are provided for your enjoyment. Additionally, the original Russian recording is available for your listening pleasure and may be heard by visiting the Small Arms Review website at www.smallarmsreview.com.
(Thanks to Leszek Erenfeicht in Poland for uncovering this rare bit of history and passing it on to us.)

Tale of the Two Maxims
The beech-trees are rustling out on the border.
There, were we now had to fight,
Once two good friends were serving together,
And both by the name of Maxim.
One of them was a
machine gunner,
Folks, please greet my
friend, Maxim,
And the other was a
medium machine gun,
Also by the name of Maxim.
Joined fast by the friendly bonds,
They both took part in the fray,
Inseparable comrades-at-arms,
Both my friends, both Maxims.
Very precisely aims the gunner,
And the Maxim unleashes a thunderous hail,
"Tak-tak-tak" –
says the machine gunner,
"Taka-taka-tak" –
agrees his machine gun.
Once, when they both
failed to duck
from the shrapnel of
the German grenade,
The machine gunner was wounded, boys,
And the machine gun
also got damaged.
The days of therapy
happily passed by,
And his little friend
was also repaired,
So they both return to
the front now,
And as inseparable
as ever before.
Fighting there is getting
hot and bitter,
Hails of bullets are
ripping the soil,
But both friends are
still serving together,
And they both are
known as Maxims.
Once again the gunner is
aiming very precisely,
And the Maxim just
thunders away,
"Tak-tak-tak" –
says the machine gunner,
"Taka-taka-tak" –
agrees his machine gun.
This article first appeared in Small Arms Review V13N6 (March 2010)