by James L. Ballou

The 1960s and 1970s were turbulent times in South Africa. The policy of Apartheid led to a complete arms embargo, resulting in an indigenous arms industry that produced several interesting variations of familiar weapons. One of these is the Kommando LDP. While South African farmers dubbed it the "Land's Defense Pistol," "LDP" actually stands for LaCoste Engineering (the manufacturer), DuPless (the designer) and Ponter (the financier).

There existed, during that time frame, a strong need for a personal defense weapon (PDW) for civilian use. The requirements were for a simple, rugged, semiautomatic firearm that could be handled by almost everyone.

In 1976 LaCoste Engineering, Pvt. LTD, a South African firm, developed a prototype to meet these parameters. Designed around the Uzi magazine and similar in configuration to the Uzi, it was a third generation, open-bolt submachine gun. Originally designed in Rhodesia and called the "Rhuzi," it was, in reality, closer to the Czechoslovakian Model 25 than the Uzi. The LDP was given the name "Kommando," for no apparent reason but for marketing and only produced in a semiautomatic version for civilian sale. Most interesting was the lower receiver, which was fabricated from a plastic molding. The "Kommando" logo was molded into the grip frame. This predates the Glock polymer receiver by at least 10 years. There is even a "passive" trigger safety, similar to the Glock's.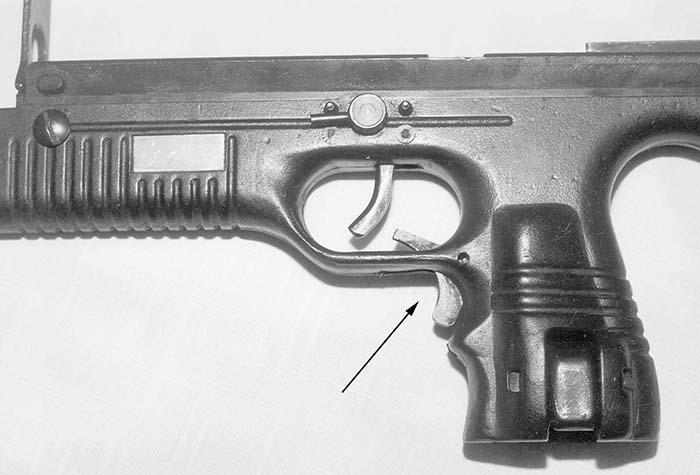 The following information was obtained from a letter by Peter LaCoste for the exclusive use of Small Arms Review. LaCoste Engineering, a family-owned die casting company, was approached by a gun enthusiast who requested that a pistol be made to his design. The original concept was not very successful nor was it designed for mass production. Unfamiliar with firearms, the company was presented with a steep learning curve. Ten months was required to redesign the weapon. The pre-production prototype was tested in November 1976 in Salisbury, Rhodesia.

With limited availability of raw materials, special equipment had to be designed for the production of the LDP. The barrels were made from solid barstock of mild steel. A 9-inch-long true hole was drilled with a standard drill bit .The barrel was reamed to give an acceptable bore. Broaching was done one groove at a time, five grooves in all. The components of the trigger unit were cyanide-hardened to give a hardwearing surface. Unfortunately, drill and barrel reamer bits could only be purchased as standard length, so they all had to be extended with a silver steel shank. All the springs were made in-house, and the winding was done a half turn at a time. The original stock was two units molded together, but later versions were of one-piece design.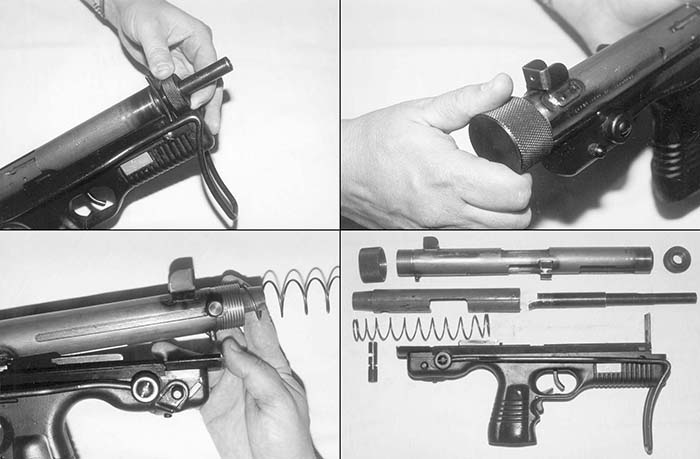 Each weapon was factory tested with three proof rounds. To prove that a barrel made from mild steel was safe, one barrel was tested with 2,000 rounds without any signs of distortion. There were five different versions of the LDP/Kommando. Version 1 is shown in the enclosed exploded diagram. Version 5 was the only version made in semiautomatic-only. In 1978 they were producing 600 units per month of the fifth version. The weapon was considered very successful, with very few reports of operational problems. The majority was due to the improper loading of the magazines.

The Kommando migrated to the United States by way of Thomas D. Griggs of Marex International Corporation. He purchased the production rights prior to the 1986 machine gun ban, and planned to produce this weapon along with the Viking submachine gun.

I was hired to field-test the semiautomatic-only Kommando. One thousand, one hundred and ten rounds of miscellaneous 9x19mm Parabellum ammunition was fired through the test specimens. The test was a disaster. I couldn't get one full magazine to fire without stoppages. The sear lost contact with the bolt, resulting in a cocked weapon, and the bolt would not go forward. It fired in bursts of two to three rounds only (so much for the semiautomatic mode.) Fortunately, it was imported as a submachine gun not a semiautomatic-only weapon.

In the early 1980s, Mr. Griggs imported crates of parts to complete 500 units of the Kommando. The soft machine gun market, along with the plethora of surplus submachine guns doomed this venture from the start. It is understood that Mr. Griggs voluntarily turned the entire contents of his warehouse over to the BATF.

CATCo. of Reno, Nevada , has recently imported part sets for the Kommando LDP. When they ran out of barrels they went to the trouble to manufacture new barrels to complete some of the sets. They also supplied diagrams and photos used in this article.

Parts kits:
CATCO
316 California Ave. #341
Reno, NV 89509
Phone: 707-253-8338
FAX: 707-253-7149
E-mail: jdcatco@pacbell.net

Receivers:
Keller Enterprises
P.O. Box 563
Safety Harbor, FL 34695-0563

Stenparts.com
E-mail: tokarev@earthlink.net
Phone: 727-725-4700

Jeff's Shooter Supply
P.O. Box 1054
Trussville, AL 35173
Phone: 205-833-3705
FAX: 205-836-0778
Email: jeffshooter@mindspring.com
This article first appeared in Small Arms Review V7N5 (February 2004)