by Chris Choat
NEW "FAT BOY" SOUND SUPPRESSED PISTOL FROM SOUND TECH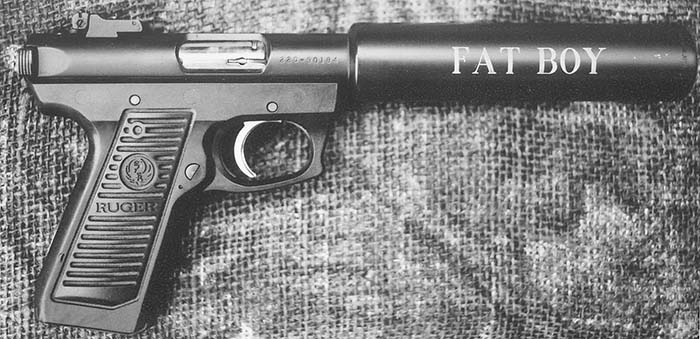 Sound Tech, a manufacturer of quality sound suppressors for several years, now has a new heavy-duty suppressed pistol. Dubbed the "Fat Boy", the new suppressed pistol was designed to fill a number of requests that the company had received from police tactical units, training officers and animal control personnel for a robust sound suppressor permanently mounted on a heavy-barreled, Ruger 22/45 pistol. The 22/45 was chosen because of its overall strength and reliability-combined with a grip handle and controls similar to those of the M1911 Government Model pistol. In addition, the 22/45's trigger reacts differently after the last shot – providing the shooter with a tactile warning that the weapon's magazine is empty. Most officers wanted a short, thick, powerful can welded in place to reduce the backpressure and action fouling so common with slim-line, integral suppressors.. Bullet velocity with common, generic, garden-variety .22 LR high-speed ammo was to be set at just under 1,000 fps. Special subsonic ammunition would not be needed in the new suppressor. Accuracy, weapon strength and durability, workable silence, handling, overall length and cycling reliability were all of paramount importance. Out of these requirements the new "Fat Boy" was born. Velocity out of the new pistol is 950-980 fps, which is faster than most integral pistols, but slow enough to remain subsonic. Because of the larger internal design of the suppressor the action stays much cleaner. Also the phenomenon commonly known as "first-round-pop" is virtually eliminated. The "Fat Boy" weighs 43 ounces and is 11 3/4 inches long, overall. Sound rating with hi-speed ammunition is 122dB. This makes the "Fat Boy" 4 ounces lighter, 2 inches shorter, 7 dB quieter, 100 fps faster and far more robust than the old High Standard HDMS silenced pistol of World War II fame, which has remained an industry standard for more than 60 years. For more information on this new suppressed pistol contact Sound Tech, Dept. SAR, 120 Weatherly Way, Pelham, AL 35124; phone: 1-205-664-5860.
ALL WEATHER HIGH TECH GUN GREASE FROM SHOOTERS CHOICE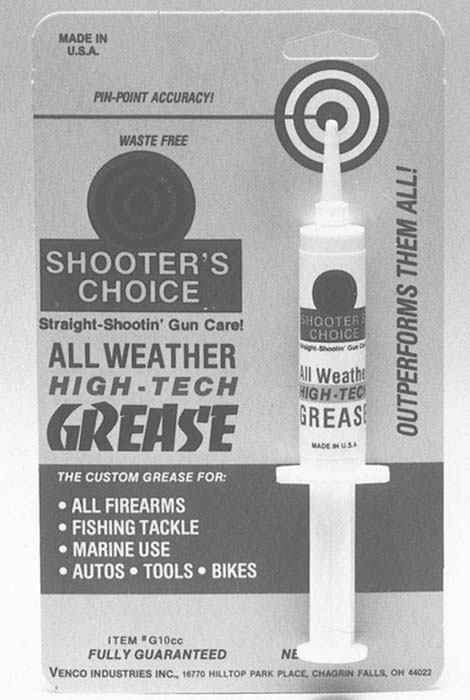 A new high-tech weapons lubricant is now available from Shooter's Choice. The unique qualities of Shooter's Choice All-Weather High Tech Gun Grease assure peak performance in both lubrication and protection under virtually any application and weather condition you'll ever encounter. The All-Weather High Tech Gun Grease provides outstanding high and low temperature performance (range of -65°. to +350° F) with no sluggish action under extreme cold or melting under extreme heat. Gun Grease is specially formulated to provide maximum protection against rust, pitting and other forms of corrosion while also exhibiting superb adhesion characteristics and water resistance. For more information contact Shooters Choice-Ventco, Inc., Dept. SAR, 15050 Berkshire Ind. Parkway, Middlefield, OH 44062; phone: 1-440-834-8888; fax: 1-440-834-3388; website: www.shooters-choice.com.
AK47 KNIVES AND WRISTWATCHES FROM BOKER USA AND KALASHNIKOV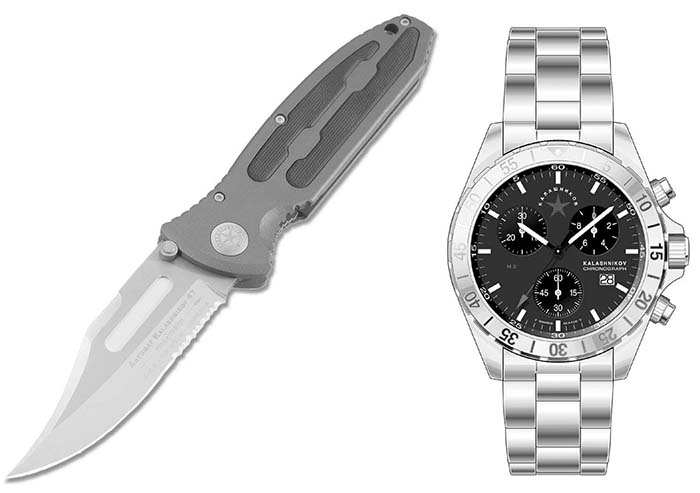 World renown weapons designer and father of the legendary AK47, Mikhail Kalashnikov, has joined forces exclusively with Boker Tree brand knives of Solingen, Germany to offer knife collectors a tactical knife worthy of its namesake heritage. These limited edition knives, debuted at the SHOT Show in Orlando, Florida, also share the spotlight with the first-ever Kalashnikov wristwatch. In fact, Kalashnikov himself was on hand to personally unveil these instant classics at the Boker booth. Designed by famed designer Dietmar Pohl, the AK47 and AK47 LTD Limited Edition knives are state-of-the-art testimony to Boker's uncompromising craftsmanship and Kalashnikov's vision of the ultimate tactical knife. The 6061-T6 aluminum handles are designed for an effortlessly secure grip thanks to the precision CNC machine work. The AK47 offers handle inlays of durable G-10 material for added functionality. The handles of the AK47 LTD Limited Edition version feature stunning Snakewood inlays. The blades of these two knives are also different. Inspired by the bayonet of the original AK47, the AK47 knife offers a 4-inch, partially serrated 440C stainless steel blade with a satin finish. While the AK47 LTD Limited Edition knives feature the same specifications but with a non-serrated mirror-polished blade and with a serial number signifying its place in a limited run of 2003 pieces worldwide. Additionally, each knife comes carefully packed in its own presentation box. Each model of these dramatic knives has a belt/pocket clip and boasts an overall open length of 91/2 inches and weighs just 6 ounces. Boker expects the AK47 to retail for $220 and the AK-47 LTD Limited Edition to be offered at $350. To properly represent this prolific inventor, Boker's Kalashnikov line hasn't been limited just to precision weapons. They've taken his vision and created an extremely functional timepiece appropriate for any situation. The AK47 Kalashnikov Precision Wrist Watch employs a high-quality Swiss quartz chronograph movement (ETA 251.262, chronograph with 1/10 second stop and date). The substantial 44mm diameter case stands at 11.5 mm high. The rotating bezel shows strong hour markers with a polished surface, while the screw down crown displays a star symbol, and the Kalashnikov logo is laser etched on the back of the watchcase. The AK47 Kalashnikov Precision Wrist Watch is available in two versions: one with a stainless steel bracelet and the other with a striking black leather strap and stainless steel buckle. Both are limited to just 1,000 pieces each worldwide. Boker expects these serialized, highly collectable timepieces to retail for $495 for the stainless steel bracelet AK47 and $450 for the leather strap version. For more information contact Boker USA, Inc., Dept. SAR, 1550 Balsam Street, Lakewood, CO 80214-5917; phone: 1-303-462-0662; fax: 1-303-462-0668; website: www.bokerusa.com.
MINOX ADDS NEW BINOCULAR TO THEIR LINE
Introduction of the new 10X32 binoculars by MINOX Sports Optics provides greater magnification with the same quality features that have made their 8X32 model so popular. Known for maximum optical performance and precision German engineering, MINOX binoculars deliver extremely high contrast and edge-to-edge sharpness by means of their aspherical lens technology. This superior lens system – fully multi-coated – also produces more brilliant color rendition, finely detailed images and higher light transmission. Even with greater magnification, these new binoculars, with a 32mm optic lens, have close-focus distance of about 21/2 feet; and a field-of-view of 315 feet at 1,000 yards. With a generous 3.2 exit pupil dimension, this new MINOX model allows more light to enter, for greater low-light capabilities. A combination of special nitrogen filling and the water-tightness of a rubber-armored aluminum body prevents internal fogging under any weather conditions. MINOX products are famous for their compact dimensions, offering the highest optical qualities with significantly less weight and size. Ergonomic design makes them fit comfortably in your hands, and efficient screw-in/screw-out eyecups assure easy use for those who wear glasses. A comfortable neoprene strap and genuine leather carrying case complete the package that makes the new MINOX 10X32 binocular a winner. For more information please contact MINOX Sport Optics, Dept. SAR, P.O. Box 530866, Henderson, NV 89053-0866; phone: 1-702-614-4038; website: www.minox.com.
D&L SPORTS INTRODUCES CQB REAR SIGHT FOR AR-15/M16 FLAT TOPS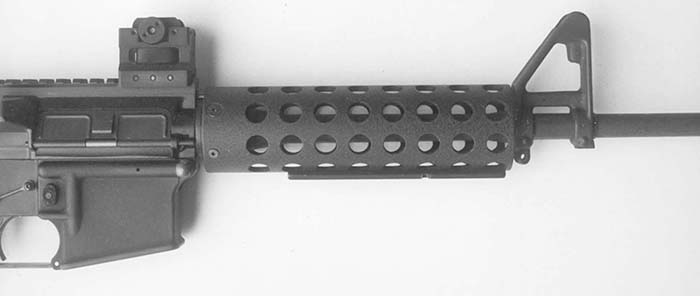 The new D&L CQB rear sight was designed by Dave Lauck to survive the rigors of police and military use, as well as serious civilian competition shooting. This sight is an excellent choice for CQB, patrol duties, speed shooting, entry teams, low-light encounters, home defense and as a back-up for optics. The sight is fully adjustable and lockable with a series of 17 locking screws. It is designed for use on A-3 flat top AR-15/M16 firearms with standard height front sight posts or standard height flip-up front sights. Dave also has designed a blade front sight to be compatible with this heavy-duty rear sight. The blade replaces the post front sight commonly found in AR-15/M16 front sight posts. The blade front sight is designed to be very durable and allow for night sight insert installation. The forward mounted notch style CQB rear sight functions very well as a pre-mounted and zeroed back-up iron sight for optical devices such as the ACOG, Aimpoint, and Trijicon(tm) Tripower sights. D&L Sports, Inc., produces a heavy-duty ring mount which positions the Aimpoint or Tripower sights properly for high-speed optic use with this CQB iron sight in place. The new rear sight allows for three interchangeable sights; an open top notch, an open top notch with night inserts and a ghost ring aperture. For more information on this rugged new sight contact D&L Sports, Inc., Dept. SAR, P.O. Box 651, Gillette, WY 82717; phone:1-307-686-4008; website: www.dlsports.com.
This article first appeared in Small Arms Review V7N5 (February 2004)