By Oleg volk
Everybody likes compact, quiet, accurate rifles, but at least two of these requirements run into NFA regulations. Paul Reavis of Gear Head Works, the maker of Tailhook pistol braces, came upon a partial solution to this while pondering stripped Remington Model 7 receivers back in 2014. Building an M700 action (receiver+bolt+trigger) into a pistol got around the 16-inch barrel and 26-inch overall length requirements for non-NFA rifles. Of course, most rifle cartridges aren't particularly efficient from short barrels, but .300 AAC Blackout (7.62x35mm) developed specifically for shorter weapons and sound suppression is a notable exception, especially with heavy subsonic bullets. Thus, the concept of the One pistol was born.
Test Shooting
Set up with a 9-inch 1:7 twist barrel, this pistol achieved most of the possible velocity while improving accuracy. Short, stubby barrels are quite rigid. Using a manual action maximized the effect of sound suppressors, since no high pressure gas escaped from any-where except the well-baffled bore. The test pistols proved accurate, thanks in part to the excellent trigger. To stabilize the gun, Paul made versions using his side-folding reversible Tailhook and collapsible Tailhook Two braces. The folding variant fit into a small Vertx® backpack, while the mostly plastic collapsible version reduced overall weight by about 0.4 pounds. The guns were as quiet as the various suppressors could make them, ear-safe with subsonic ammunition. Having tested the concept extensively, Paul produced a larger batch using more commonly available Remington 700SA receivers. Priced at $1650 for the standard models, these pistols all came with threaded muzzles, a choice of Cerakote finish and a 10-round AI magazine. A single-feed magazine was selected to ensure consistent cartridge position every time. Upgrades to fluted barrels and the custom finish were available with the online configuration manager. The entire run sold out immediately.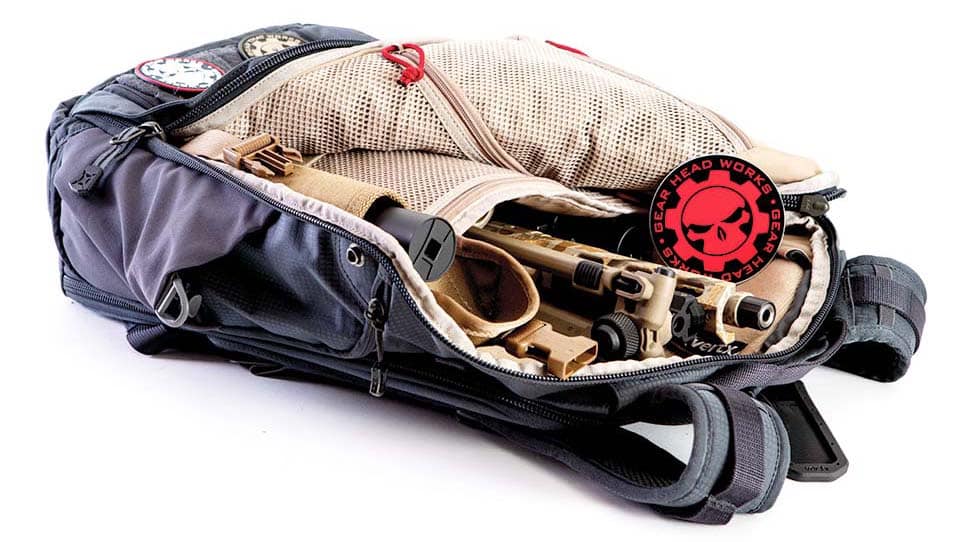 Testing one of these pistols with a Silencer-Co suppressor explained their popularity at once. A fraction over 6 pounds with the silencer attached, these pistols are short enough to be handy but long enough to give good control with two hands. Between gas braking of the silencer and the good heft for a pistol, felt recoil is minimal. The ergonomics work out well, and the only remaining question is: Is the accuracy worth the effort?
Launching a much thinner 220-grain projectile at a slightly greater velocity, .300 Blackout starts with energy similar to 45ACP but retains a useful portion of it further downrange. It's also much less susceptible to wind drift than the pistol bullet and can be quieter due to smaller exit aperture. And, most importantly, the Gear Head One pistol achieved sub-MOA results with some subsonic ammunition. As is common with .300 Blackout guns, One shoots better with some loads than with others. The absolute winner is Sellier & Bellot 220gr at just over 0.5MOA unsuppressed. With the particular suppressor used for the test, it opened up to 1.75MOA.

Suppressed, Gorilla Ammo sub-sonics won at 0.75MOA. Plain 150gr American Eagle FMJ grouped 1.5MOA. Some other loads produced groups in the 3 to 5MOA range—an issue I've found with many guns in this caliber: accuracy depends considerably on the combination of barrel and muzzle device. Test various loads in your pistol and find what works the best and stick to it! It's also worth trying the pistol with more than one sound suppressor, both for accuracy and to gauge the amount of sound reduction relative to the added weight. If only subsonic ammunition is used, lighter suppressors intended for 9mm would work at the cost of a slight reduction in attenuation due to the slightly wider opening around the .308-inch projectile. The great variety of ammunition available in .300 Blackout, from 110 to 220 grains, makes certain that several kinds would work well. For example, all-copper expanding projectiles tend to be long for the weight, stabilizing well with the fast 1:7 twist.
The Chassis
The chassis, not available separately, is the key to the performance. It's made of machined aluminum, with the barrel free-floated. The standard 700 safety is at the top right of the receiver but can still be reached with the index finger. The bolt travel is short enough to retain the cheek weld on the brace tube. With the brace folded and suppressor removed, the 19.25-inch pistol fits into most laptop bags. For comparison, a completely disassembled Henry AR-7 is 16.5 inches long. The gun can be handled like a conventional high power pistol for short range using the open brace wrapping around the forearm and either a red dot sight or a green laser for aiming.
Great to Shoot
One pistol is a child of regulatory compliance and opens up a number of uses normally reserved for traditional handguns. For example, the One is legal for some handgun hunting—check the local regulations about the bore size and sound suppression just in case. It is a legal pistol for carry though that would fly in the face of both practicality and tradition. Its primary niche is field use where bulk and weight are limited by air, motorcycle or backpacking considerations. Thanks to its short length, One balances better than most hand-held long guns and provides accurate use off-hand or with field-expedient support, making it also desirable for everyday use. And there's one other use for this pistol: shooting for fun! It's one of the most pleasant firearms in handling, with an excellent 4-pound trigger, mild recoil, minimal report and great balance.
This article first appeared in Small Arms Review V23N6 (JUNE/JULY 2019)