By Robert G. Segel

The 143rd National Rifle Association Annual Meetings and Exhibits were held in Indianapolis on April 25-27, 2014 – a celebration of the Second Amendment of the U.S. Constitution (protecting the right of individuals to keep and bear arms) and our freedom.

Held in the Indiana Convention Center in Indianapolis, over 600 exhibitors, covering over 400,000 square feet of exhibit space played host to well over 75,000 attendees for the weekend event. Besides all the exhibitors of all the different weapons manufacturers were the ancillary and accessory vendors of every imaginable sort supporting the hunting, target shooting, recreational shooting and law enforcement environment. There was plenty of opportunity to meet manufacturers, get tips from expert hunting guides, visit an air gun range, choose an outfitter and plan your next hunt. From firearm cleaning equipment to carry bags to field clothing; it was all there – nine acres of firearms, hunting and shooting gear, accessories and all the newest products. Additionally, there were seminars, panel discussions and forums featuring Governors and Senators and for entertainment, there were concerts with country music superstars. Awards Competition Each year, in conjunction with the NRA Annual Meetings and Exhibits, NRA members and affiliated collector organizations display non-commercial exhibits that feature a wide array of high quality collector items that represent a broad spectrum of historical, educational, cultural and technical knowledge. These collector displays are traditionally a very popular attraction for the thousands of NRA members that attend the show. The NRA Gun Collectors Committee conducts the National Gun Collecting Awards Program to recognize gun collecting accomplishments of the NRA members and affiliated collector organizations.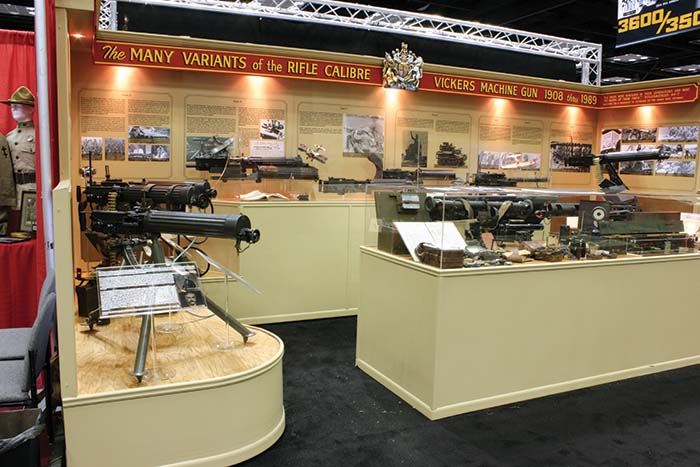 Awards are issued for individual items as well as outstanding displays. There is also a special award category for miniature arms. Award categories include the Gun Collectors Committee Trophy – a perpetual sterling silver bowl trophy awarded annually for the display judged best of show and a Best Educational Groups Awards plaques in four categories for exhibits predominantly comprised of: Antique Arms (pre-1898); Classic Arms (1898-50 years prior to the meeting year); Contemporary Arms (50 years prior to the meeting year-current production) and Combined Arms category for those exhibits that have arms represented from any of the other three categories. Finally, sterling silver medals are awarded for specific firearms that are judged on their individual quality, condition, originality, collector importance and historical value.

This year, for the first time, there were two ground-breaking machine gun displays for the attendees to learn from and enjoy. One featured an exceptional Vickers display from the Kirk Brumbaugh collection (sponsored by the Missouri Valley Arms Collectors Association) and the other featured the machine guns of World War I from the Robert G. Segel collection (sponsored by the American Thompson Association and the Dallas Arms Collectors Association). Vickers Display The Vickers machine gun presentation was set up in a very professional and museum quality looking display entitled The Many Variants of the Rifle Caliber Vickers Machine Gun 1908-1989. This engaging display portrayed major variants of the Vickers machine gun from its introduction in 1908 until its final withdrawal from service in the late 1980s. Included with the guns were period photographs, a representative sampling of accessories issued with the weapons, model aircraft and armored fighting vehicles showing deployment of the Vickers in various roles through two World Wars and numerous conflicts.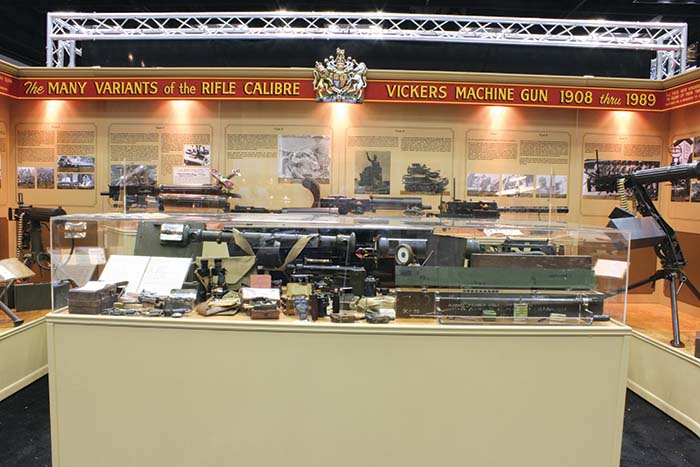 Ten different Vickers guns were on display. Gun number 1 was a 1908 "New Light Pattern" Vickers gun in its original form incorporating all of Vickers improvements to Maxim's 1889 design and equipped with the "Peddie" rear sight. This gun is one of five surviving Italian contract guns delivered in 1911. The gun is mounted on a tripod made by the Spanish maker Gabilondo. The tripod is unique to Italian issue guns and was purchased by Italy apparently as a cost-saving measure as Gabilondo's tripod was significantly less expensive than Vickers commercial tripod offering of the same period.

Gun number 2 was a British Army issued Mk I Vickers. The 1908 New Light Pattern was modified to meet British army demands, mainly to change the "Peddie" rear sight to a "flip-up" rear sight that was more robust and allowed greater elevation for indirect fire. The gun is mounted on a Mk IV tripod, adopted after the Boer War for the British Service Maxim Gun and used, unchanged, from 1904 until the Vickers' retirement in the 1980s. Appearing with the gun was a WWI pattern flexible steam hose and a Mk II canvas water bucket as well as a Sangster emergency mount to fire the gun when dismounted from its tripod.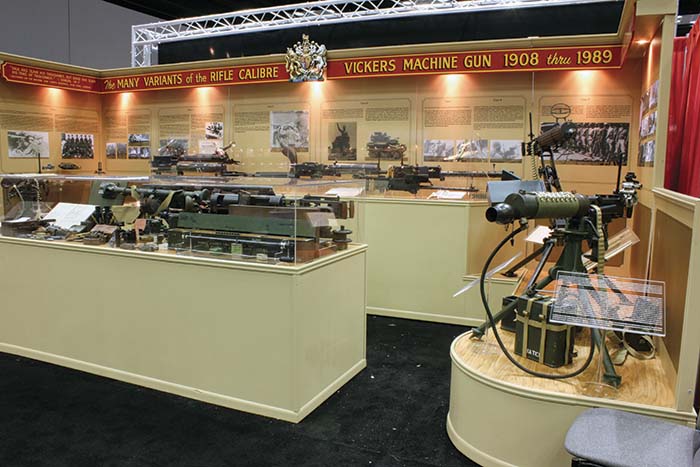 Gun number 3 was a Colt manufactured U.S. Model of 1915 Vickers machine gun in caliber .30-06. It was mounted on an original Colt made U.S. tripod with U.S. Vickers water box, ammo box, and U.S. Mills Vickers belt.

Gun number 4 was a standard World War I aircraft gun. Consistent with British practice, Mark I guns configured for aircraft use were designated "Mk I*." The "*" denoted a change from the original ground gun. The gun is identical to a standard ground gun in operation but the jacket is vented and relieved to facilitate air cooling. Also, the trigger is activated by a wire running to the cockpit. The gun displayed was made by Colt chambered for the 11mm Gras cartridge; sufficiently large to accommodate incendiary filaments. Termed a "balloon gun," its purpose was to ignite hydrogen-filled artillery spotting balloons and destroy Zeppelin airships.

Gun number 5 is one of a twelve gun contract between Vickers and Argentina. It is a short-jacketed "C Class" gun. The Argentine contract guns are the sole short guns made by Vickers. The barrel and jacket are 24 inches in length – six inches shorter than the standard "C Class" guns' 30 inch length. Argentina ordered the special length guns to mount on Harley-Davidson motorcycle sidecars used by the Presidential guard.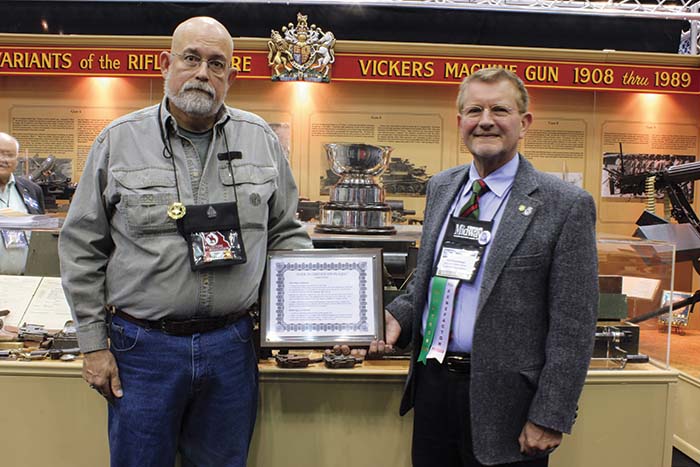 Gun number 6 is a purpose-built gun designed to mount in tanks and armored cars. It uses a standard "C Class" mechanism fired by a pistol grip and conventional trigger mechanism. It is mounted with a detachable leather-wrapped aluminum shoulder stock. It appears with a British Army folding monopod for use if the gun is fired while dismounted from the vehicle.

Gun number 7 is a Vickers "E Class" gun made for mounting in aircraft cockpits for pilot use. It uses a standard "C Class" action with an updated barrel jacket, in essence, an aerodynamic WWI Mk I* gun (gun number 4). It used disintegrating metal Prideaux linked belts developed late in WWI. This gun is one of 135 guns made for the Imperial Japanese Navy in the 1930s.

Gun number 8 is an interwar "F Class" aircraft gun fed from Lewis Gun magazines. Both Vickers and Browning redesigned their respective belt-fed guns to feed from Lewis drums during the 1920s. This particular gun was made by Vickers for the Japanese Navy and mounted in aircraft observer's cockpits.

Gun number 9 was a 1930s "C Class" commercial gun mounted on a Vickers made "L Class" tripod. The commercial "C Class" gun on this tripod was the most expensive gun and mount "package" marketed by Vickers in the post war period. Few were made and fewer sold due to the large numbers of surplus WWI vintage machine guns on the international market.

Gun number 10 was a Mk I Vickers gun, "V" serial number range, made in 1943. This gun has a smooth water jacket and is mounted on a rare Mk V airborne tripod made largely of magnesium to reduce weight. (It weighs 28 pounds, about half the 56 pound weight of the Mk IV tripod). Shown with rubber hose, articulated coupling, two gallon gas can used for water, dial sight, stripless belt and flash hider. This was the typical configuration that remained in service in the UK until 1968 and in the Commonwealth until 1989.

The display also incorporated accessories, largely of UK or Commonwealth manufacture and included spare parts and tools box with all appropriate materiel, spare parts wallet with contents, indirect fire and sight aids, the No. 12 Barr & Stroud range finder, plotters, binoculars, range tables, compass, target pointer, No. 9 Gun Director, dial sights, slide rules Mk VI Gun Layer, aiming lamps, clinometers, supplementary sights, training simulator, Parker-Hale designed .22 LR training system, blank firing device, training chart, manuals and a cut-a-way Vickers showing all the internal operating parts.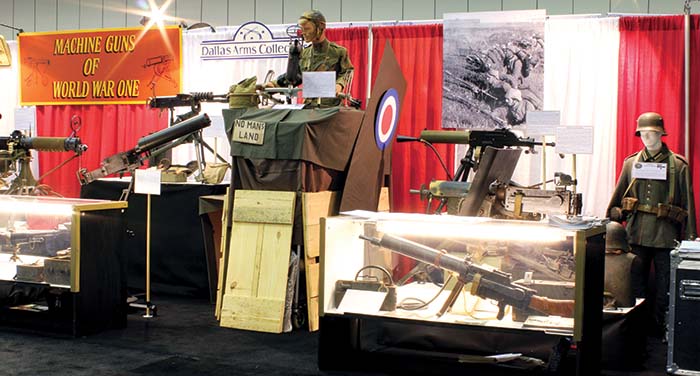 The exceptional display of Vickers guns and accessories rightly earned the NRA Gun Collectors Committee Best of Show silver bowl trophy and was presented to the Missouri Valley Arms Collectors Association as they were the sponsors of the display. Additionally, they were presented with an award certificate for Best Accessories Display – both awards well-earned and deserved. The Machine Guns of World War I Commemorating the 100th anniversary of the beginning of World War I (1914-2014), the American Thompson Association and the Dallas Arms Collectors Association combined booth space to sponsor a forty-foot wide exhibit of 14 World War I machine guns and accessories aptly titled The Machine Guns of World War I. These early machine guns represented the main combatants of England, France, Germany, Austria, Italy and the United States and also exemplified the apex of technological advancement of automatic weapons development of that time. The large crew-served heavy machine guns along with their accessories were displayed on individual risers. There were additionally four glass cases to the front that held light machine guns and other accoutrements and related items from the World War I period.

The size and scope of this collection of rare and seldom seen automatic firearms and accessories was a great crowd pleaser and presented a live visual reference to the weapons that were responsible for the 400-mile long trench warfare that became synonymous with World War I. The guns on display included a brass jacketed Maxim circa 1895. From the time of its invention in 1884 and for the next 20 years, Maxim machine guns were manufactured with heavy brass water jackets. While there were constant improvements to manufacturing techniques, materials used, efficiencies of production, efficiency of operating system and the constant ways to lighten the heavy weight of the weapon, oddly, one of the last means to reduce the weight of the weapon was to eliminate the ubiquitous heavy brass water jacket for one made of steel. Thus, all countries around the world that used Maxim machine guns that were purchased prior to about 1900 all had brass water jackets. As these countries began to fight in World War I, and until they could update their arsenals, they all used brass jacketed Maxims. The 1895 brass Maxim shown at the show was made by DWM in Germany for an Argentine contract and is typical of early brass jacket Maxims of that era.

The U.S. Colt Automatic Gun Model of 1917, a gas-operated, air-cooled, belt fed crew served weapon represented the type used during the war. Because of a swinging operating arm underneath the barrel, the weapon received the nickname of "potato digger." Though earlier versions were considered obsolete, the Model 1914 was used by the Canadian Army until replaced by the Vickers gun and the Marlin-Rockwell Model of 1917 was used as an aircraft gun. It was displayed mounted on an intermediate height leather seated tripod along with a belt loading machine.

A U.S. Browning Automatic Rifle (BAR) Model of 1918 was shown in a lighted display case. Designed by John Browning, this lightweight, gas operated machine rifle was adopted by the U.S. Ordnance Board in 1917 and designated as the Model of 1918 (as the Model of 1917 designation had already been assigned to the Browning water-cooled gun). By July 1918, the BAR started arriving in France and the first unit to receive them was the U.S. Army's 79th Division. The gun was displayed with a BAR assault cup belt, manuals and other related accoutrements.

The French St. Etienne Mle 1907, a complex mechanical nightmare prone to overheating and parts failure was also on display. It saw active service in the French African colonies and, by necessity, throughout the Western Front in World War I. The St. Etienne M1907 is an air-cooled, gas-operated, strip fed heavy machine gun chambered for the French 8mm Lebel cartridge. It is unique in its operational design as the gas piston is of a blow forward configuration using a rack and pinion system to operate the reciprocating parts. This complicated mechanism was the heart of the numerous inherent problems with the gun. When World War I broke out, the M1907 quickly succumbed to the rigors of the Western Front. But the French were desperate for machine guns and the M1907 saw wide service throughout the war.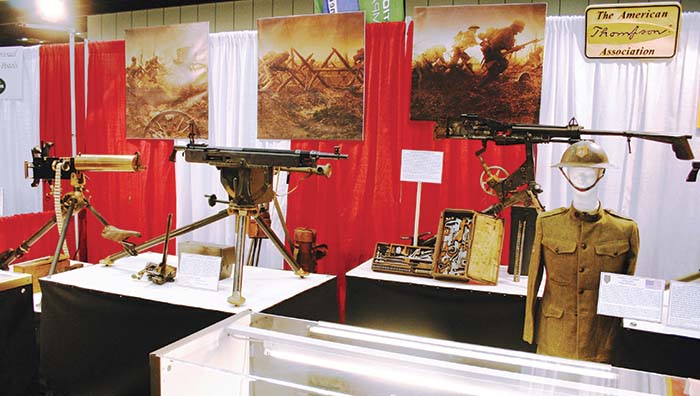 In a lighted glass display cabinet was the French Chauchat (C.S.R.G.) Mle 1915, a long recoil, gas assist, magazine fed light machine rifle. The Chauchat was the standard light machine rifle of the French army during World War I as well as the standard light machine rifle of the U.S. A.E.F. (American Expeditionary Force) when they arrived in France in 1917. Lightweight and portable, the gun functions on the long barrel recoil principle with gas assist. Its low manufacturing cost and relative simplicity made it the most produced machine gun of the war with over a quarter million being manufactured. Regrettably, some parts were not interchangeable and made from mediocre material, was poorly constructed and assembled. It rightfully suffered a poor reputation as an inferior weapon. Additionally, the gun had a number of large openings in the receiver, barrel casing and magazine that allowed the mud and dirt of the battlefield to enter the gun causing failures of operation. Though some have called the Chauchat the worst machine gun ever made, it was nevertheless fielded throughout the war. The gun was shown with its bipod, flash hider, sling, anti-aircraft front and rear sights, assault cup belt, complete armorer's spare parts and tool wallet, manuals, elite machine gunner's badges and a pair of rare French issue leather magazine holders.

Though not seeing action until the end of the war, the U.S. water-cooled Browning Model of 1917 was shown. Adopted by the U.S. as their standard heavy machine gun, it was a water-cooled, short recoil, belt fed, crew served weapon. It was mounted on an original Model of 1917 tripod along with a mounted wooden ammo box, belt, condensing hose, water/condensing can, flash hider and an armorer's complete spare parts and tool box. The first Browning Model of 1917s began arriving in France in late June 1918 and began to replace the French Hotchkiss and British Vickers machine guns in U.S. Service. The first recorded use in combat was in September 1918 by the 79th and 80th Divisions.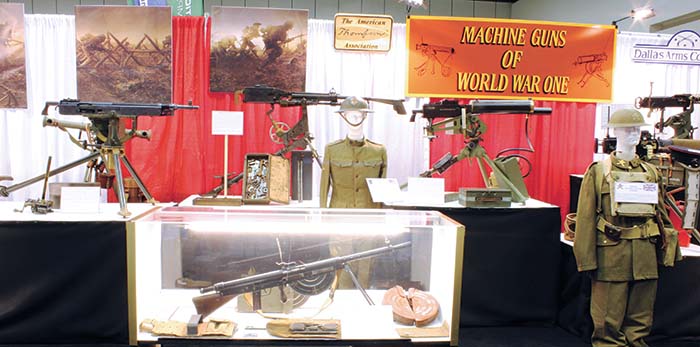 The ubiquitous British Vickers Mk I water-cooled machine gun was presented as the Vickers was the standard machine gun of the British and Commonwealth forces. It was displayed on its proper Mk IV tripod along with a canvas water bag, complete armorer spare parts and tool box, condensing hose and former gasoline can pressed into service as a water can.

Another French machine gun on display was the French Hotchkiss Mle 1914; an air-cooled, gas-operated, strip fed, crew served heavy machine gun that was the standard French army heavy machine gun in World War I. It was also the primary heavy machine gun of the U.S. A.E.F. (American Expeditionary Force). Heavy but rugged and dependable, it was shown mounted on the proper Model 1916 tripod along with ammo box feed strip container, and complete armorer's spare parts and tool kit along with leather and chain-mail gloves and shoulder pad for handling hot barrels. The Hotchkiss Mle 1914 saw continuous service by both France and the United States along the entire line of the Western Front for the full duration of the war.

The rarest gun displayed was an Italian FIAT Revelli Modello 1914; a water-cooled, crew served weapon. Designed by Captain Bethel Revelli in 1908, it used a unique swinging rotary wedge to delay blowback. It also had a water recirculation system for cooling rather than a steam condensing device and he designed a unique feed system using a metal cage containing the cartridges rather than a belt or feed strip system. The FIAT Revelli Modello 1914 remained in front line service throughout the war being used in all applications that included aircraft armament, anti-aircraft emplacements and offensive and defensive infantry applications. It was displayed on an aircraft observers/gunners mount as used on World War I Italian bombers. Also displayed was an ammunition box containing ten metal cage cartridge holders.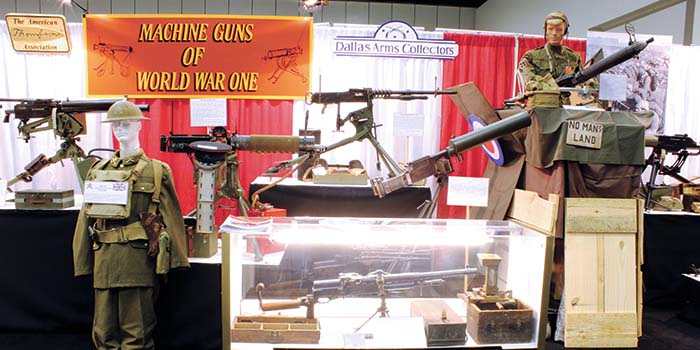 In the last lighted display cabinet the British Hotchkiss Portable Mk I*, a British made licensed copy of the French Mle (Model) 1909 Portative. This man portable light machine rifle is based on the successful Hotchkiss heavy machine gun operating principle and is gas operated, air cooled and fed with a 30-round metal feed strip. The Mk I had wood stock and a barrel mounted bipod for use by the infantry. The model on display was the Mk I* that had the buttstock removed and replaced with a smaller and lighter removable "L" shaped stock for use by cavalry, armored cars and tanks and a small emergency tripod for dismounted use. Used by Indian troops and ANZACs (Australian and New Zealand Army Corps) in Gallipoli and British mounted troops on the Western Front, it was also used by the Australian Light Horse, New Zealand Mounted Rifles Brigade and the legendary Camel Corps in the Desert Campaign in the Sinai and Palestine from 1915-1917. The Mk I* Portable was displayed with its removable "L" shaped buttstock, small emergency tripod for dismounted use, an armorer's spare parts and tool box, ammunition feed strip container, and a strip loading machine.

The versatile Lewis Gun, a gas operated, pan fed, man portable light machine gun, was used widely by British and Commonwealth infantry forces and in arming U.S. aircraft both as primary and observer's weapons. This Savage made Lewis Gun was displayed in a mock-up of a crashed Allied plane in No Man's Land with a mannequin in a U.S. Flying Corps uniform manning his Lewis Gun mounted on a Scarf Ring mount fighting the Germans to the end. It is interesting to note that the U.S. Marines attached to the 2nd Division were trained with the Lewis Gun while in the U.S. but the Lewis Guns were taken away upon arrival in France where the Marines were issued the French Chauchat M1915 automatic machine rifle.

Another rare gun on display was the Austro-Hungarian Army issued Schwarzlose Model 07/12 heavy machine gun. Designed by Andreas Wilhelm Schwarzlose, a German born Prussian arms designer, the M.07/12 is a water-cooled, belt fed crew served weapon of a simple design that was unusual in that it operated on a mechanical disadvantage toggle-delayed blowback mechanism using just a single spring: it did not have a locked breech. The Schwarzlose was a very reliable and robust weapon and was the standard issue machine gun of the Austro-Hungarian Army in World War I. It was displayed on its proper tripod and with a shoulder stock, ammo box and belt, condensing hose, water/condensing can and a complete armorer's spare parts and tool box.

Universally recognized and of great interest to the attendees was the German Maxim MG 08 display. The German army adopted this model of Maxim in 1908 and was the standard heavy machine gun of the German army throughout the war. The MG 08 is a short recoil, water-cooled, full automatic, belt fed crew served weapon. It was displayed with original water jacket armor, frontal armor shield, original sled mount, water hose and water/condensing can, spare parts and tools, belt loading machine, twin compartment ammo can and period belts as well as an armored helmet brow plate and armored chest plate. The German army used the MG 08 to great effect in World War I with tens of thousands being produced. Because of its devastating effect on advancing troops, it was the primary reason World War I became a stagnant war of trenches as it was extremely difficult to advance against it.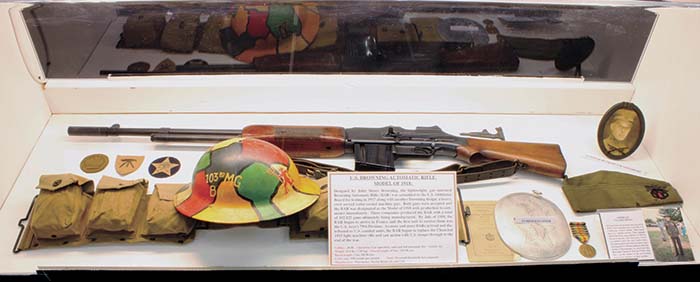 Displayed in a lighted glass display cabinet was a German Maxim MG 08/15 light machine gun. With the use of the Lewis, the Chauchat and the Hotchkiss Portable light machine guns by the Allies, Germany recognized the need for a lighter weight, man portable machine gun beyond their standard heavy MG 08 machine gun. In 1915, using current factory capabilities, the heavy Maxim MG 08 was modified and lightened by redesigning the receiver, installing a smaller water jacket and adding a pistol grip and wood butt stock. A hangar was affixed so that a 100-round assault drum could be attached directly to the gun and a provision was made for the attachment of a sling and a small bipod. Beginning in the spring of 1917, the MG 08/15 saw wide distribution and service. The gun was displayed mounted on its bipod, with water hose and water/condensing can, assault drum and assault drum carrier box and manuals.

The overall display of The Machine Guns of World War I was very well received by the convention attendees. The display won a plaque for Best Educational Exhibit in the Classic Arms category. Additionally, a sterling silver medal was awarded to the German MG08 on its sled mount as one of ten outstanding weapons of the show.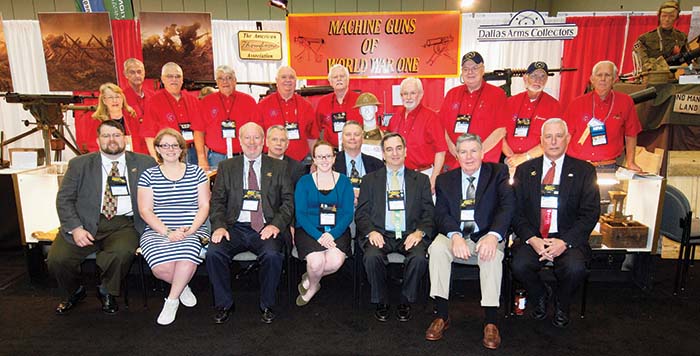 These displays do not just "happen." It takes a lot of people, a lot of time and a lot of hard work to assemble, collate, label, research, and construct and build the exhibits. The goal is to share some of the finest weapons in the world with the public and educate them of their historical significance. It all requires an inordinate amount of time and money and the volunteer work of the many members of the sponsoring organizations. Without their help, these world class exhibits would not be available to the viewing public. Thanks to the Missouri Valley Arms Collectors Association, The American Thompson Association and The Dallas Arms Collectors Association, these two machine gun exhibits received the accolades they richly deserved.

It is gratifying to see that automatic weapon collecting has finally been accepted as a legitimate collecting discipline. The fact that this NRA convention had not one but two outstanding exhibits featuring classic automatic weapons, that won top awards, is a testament to the historical importance these weapons played in the early twentieth century and that today's youth and generation can learn of the significance and sacrifice of an earlier time as represented by these historic artifacts.
This article first appeared in Small Arms Review V18N5 (October 2014)