By Chris A. Choat
Innovative Grip Adds Picatinny Rail To Your 1911 Pistol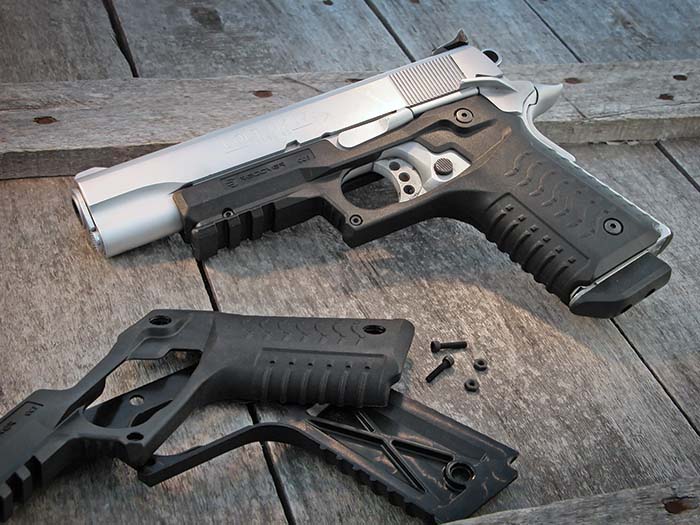 Recover Tactical is proud to announce the release of the new Recover CC3 2-in-1 grip and rail adaptor for the 1911. The patented design of the CC3 fits all standard size 1911 guns and can be easily installed in about three minutes without a gunsmith. Launched to the public at SHOT Show 2014, the Recover CC3 was designed by world renowned Israeli weapons designer Tamir Porat (Porat also designed the IWI Tavor assault rifle). The CC3 grip is manufactured in Israel on the same manufacturing line used by many leading gun manufacturers. Produced from the same high-grade polymer used by many polymer gun manufacturers, the Recover CC3 will not scratch or damage your gun. Weighing in at only about 80 grams (2.8 oz) it will not significantly change the weight of your gun or the thickness of the handle. The CC3 offers a great value for gun owners who want to add a rail to their 1911 but don't want to buy a new gun. It is a truly functional and universal rail accessory that won't break the bank. The Recover 1911 grip and rail system is currently available in black, desert sand and olive green and comes with a limited lifetime warranty. Retailing for only $49.99, the CC3 is the easiest and most affordable way to add a full Picatinny rail to any standard sized 1911. For more information or to purchase the Recover CC3 grip, visit www.RecoverTactical.com.
New Bushnell Elite Long Range Scope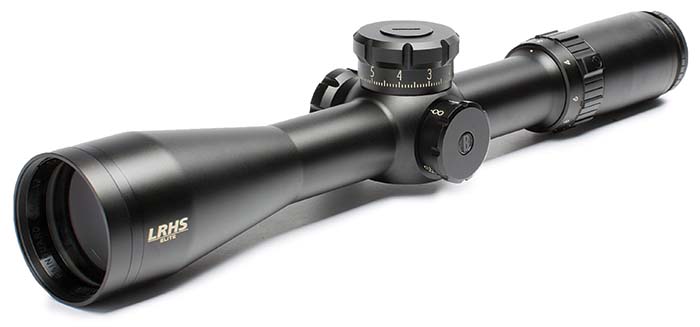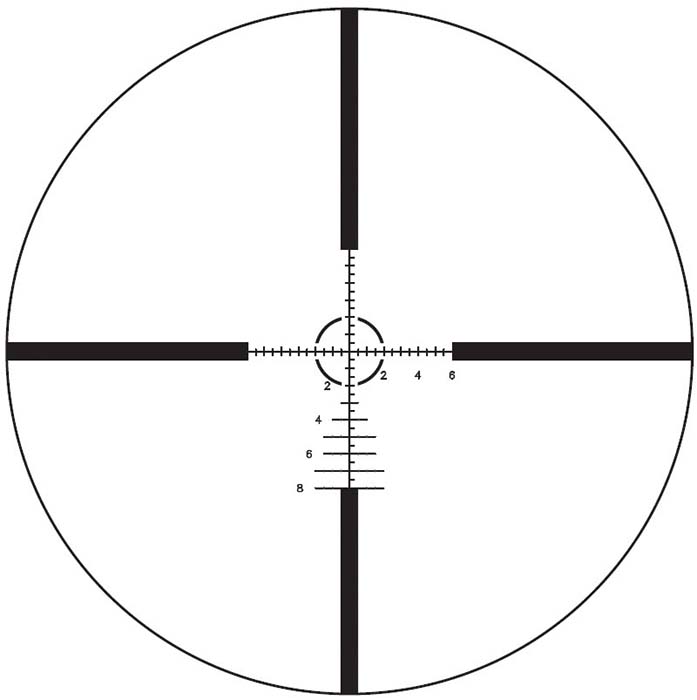 Bushnell, an industry leader in high performance sports optics for 65 years, has introduced the Elite Long Range Hunting Scope (LRHS). This 3-12x 44mm configuration, the inaugural offering in the Elite Tactical Hunter product line, showcases the integration of technology and functionality from the acclaimed Bushnell Elite Tactical series in a scope designed specifically for the long range hunter.

The LRHS is the first hunting riflescope Bushnell has offered with a first focal plane reticle. The new G2H milliradian-based reticle is designed to give hunters the ability to range targets at any magnification setting. The G2H reticle has .5 mil hash marks with eight mils of holdover and six mils of windage adjustment. In addition, the center of the reticle features a Vital Bracket that has a diameter of two Mils at any range, equivalent to 7.2" at 100 yards. Constructed with a forged aluminum one-piece 30mm tube, the scope has an overall length of 13 inches and weighs 26 ounces. The LRHS features low profile, tactical-style turrets calibrated in .1 mil clicks with 10 mils of adjustment per revolution. Equipped with the RevLimiter zero stop mechanism, the elevation turret is designed to allow the hunter to "dial up" and then quickly return to the preset zero without the possibility of dialing past zero. In addition, the scope features a rubber-armored fast focus eyepiece and side parallax adjustment to retain a crisp, clear sight picture at any range.

The Elite LRHS is argon purged to provide 100 percent waterproof and fog proof performance, while the patented RainGuard HD water-resistant coating provides a permanent exterior barrier against the elements. When moisture hits the RainGuard treated lenses it beads up and scatters less light, giving hunters a clear view in conditions that would render untreated optics unusable.

Every product in the Elite series is not only covered by the Bushnell limited lifetime warranty, the entire product line is also backed with the one-year, no-risk Bushnell Bulletproof Guarantee. The Elite LRHS 3-12x 44mm riflescope has a retail price of $1,499.99. For more information about Bushnell and its complete line of sports optics, visit www.bushnell.com.
New .22 Suppressor From SureFire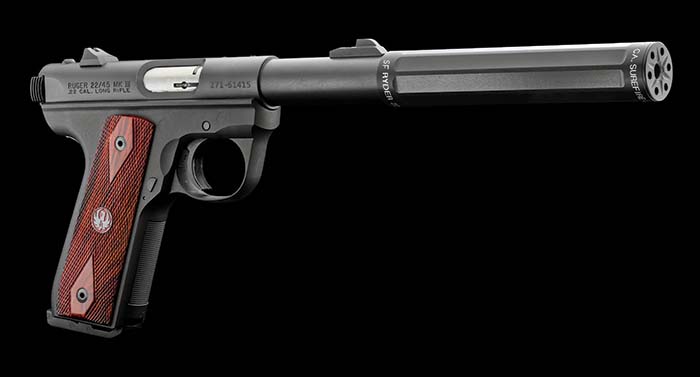 SureFire, LLC, manufacturer of high performance illumination tools, suppressors, and tactical products, has begun shipping its new SF Ryder Series Suppressors – debuting with the SF Ryder 22-A. Built to the same exacting standards as the Fast-Attach models, this ultra-lightweight and rugged rimfire suppressor is optimized for .22 caliber pistols and rifles. The SF Ryder 22 features a unique pig-nosed baffle design that provides superior sound attenuation while still making it easy to disassemble and clean. Each baffle is Red Mil-Spec hard anodized to minimize finish erosion and makes carbon buildup easier to spot when cleaning. Built-in spacers also help reduce carbon buildup between the suppressor tube and baffle stack, and each baffle is numbered and indexed to make re-assembly simple. The ultra-lightweight SF Ryder comes in at a mere 3.1 ounces due to its fluted body design and rounded edges. A stainless steel threaded interface ensures the Ryder removes as a single unit, and its single-point cut 1/2 x 28 threads provide a secure attachment to any .22 pistol or rifle with a 1/2 x 28 thread pitch. At only 5.4 inches in length, and 1 inch in diameter, the SF Ryder 22 will not weigh down the host firearm or obstruct your sight picture. The SF Ryder 22-A comes with an assembly/disassembly tool and suppressor pouch. Retail price is $469 and is available for purchase through authorized SureFire Suppressor dealers. For complete product information visit www.surefire.com/ryder22.
New TFO Handgun Sights from TRUGLO for Glock 41 and 42 Pistols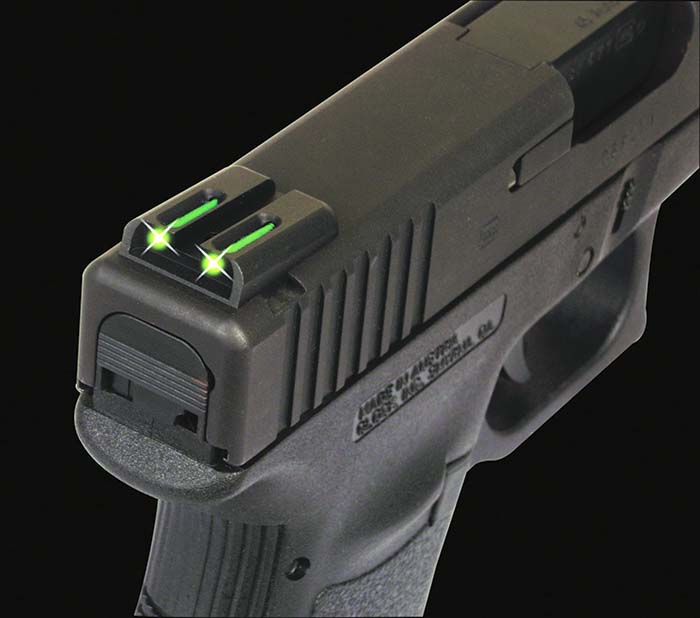 TRUGLO, Inc., manufacturer of the world's most advanced line of fiber-optic sights and accessories for the shooting sports industry, introduces its newest additions to the Brite-Site TFO (Tritium/Fiber-Optic) family of handgun sights for the Glock 41 and Glock 42 models. These new sights offer revolutionary innovation with TRUGLO's patented combination of TFO (Tritium and Fiber-Optic) technology delivering an enhanced sight picture 24/7. Rapid target acquisition is achieved with TFO technology by utilizing existing ambient light to illuminate the sight picture during bright lighting conditions and then utilizing the tritium component to illuminate the fiber-optic during low light or no light conditions. The TFO technology offers an uninterrupted, consistent sight picture for the shooter when other sight systems fall short. The low profile sight housings are constructed from CNC-machined steel. The technical design protects the fiber while concealing its view from the target. The TFO sights fit in standard holsters and are designed to be snag-resistant and dependable. Each set is available in a green front sight /green rear sight combination or green front sight / yellow rear sight combination. For more information on TRUGLO's New Brite-Site TFO (Tritium/Fiber-Optic) sights for Glock 41/42 models, please visit www.truglo.com.
New Bad Guy Shoot-N-C Targets From Birchwood Casey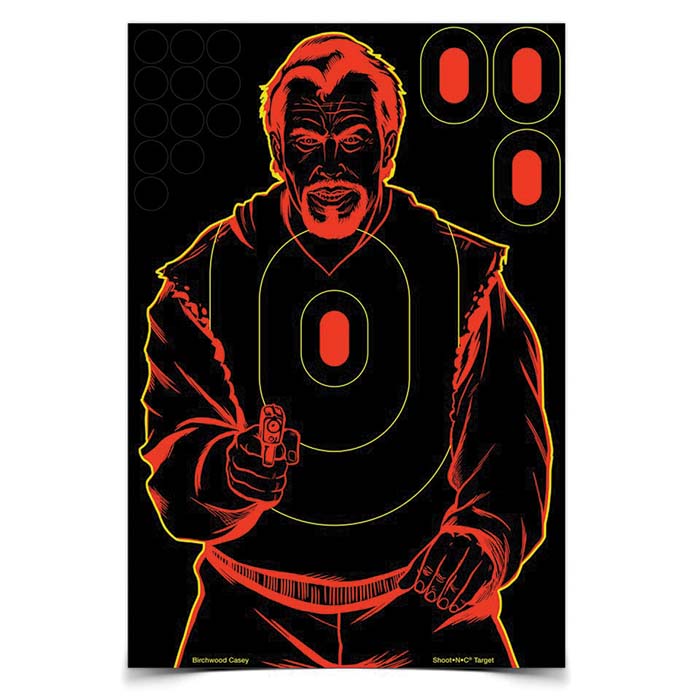 Practice is important to handgun shooters, especially with the rapid rise in the number of concealed carry holders and the small handguns on the market. Birchwood Casey's new Bad Guy Shoot-N-C Target gives shooters instant feedback, providing a bright chartreuse "halo" around each shot, making it easy to adjust your hold. The Bad Guy Target has a black background with the bad guy outlined in orange for great visibility. It measures 12"x18" and is self-adhesive, making it easy to mount on any solid target backing. They are supplied with target pasters that can be placed over bullet holes to extend the life of the target. Shoot-N-C Bad Guy Targets come in packs of five with 75 pasters for $15.20 and 12 packs with 180 pasters for $30.30. They can be purchased individually in multiples of 100 for $2.30 each. Visit www.birchwoodcasey.com for more information.
DeSantis Introduces the Road Runner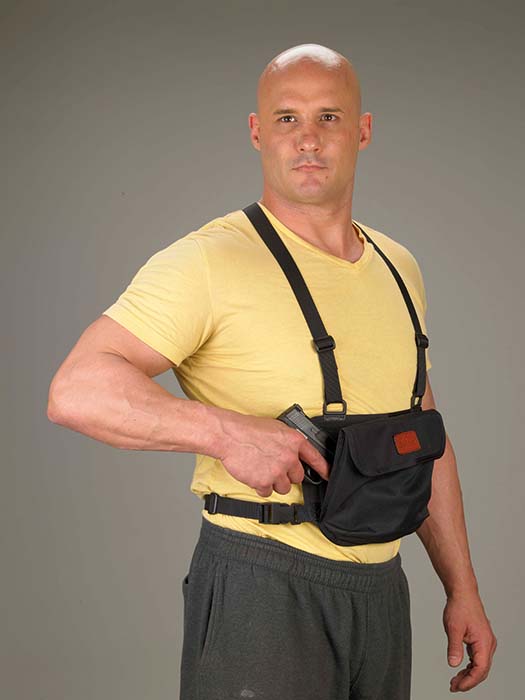 DeSantis Gunhide, a division of Helgen Industries, Inc., introduces a new holster, The Road Runner. The Road Runner is a casual running, concealment holster that can be worn under or over your garments. It is what they refer to as a "hide in plain sight" holster and DeSantis invented the concept. The gun pocket can be accessed from either side making the Road Runner ambidextrous. It is lightweight and well-padded on the body side. The outer pocket has room for keys, wallet, ammo or whatever you may need. Like all DeSantis products, the Road Runner is made from very durable materials for a lifetime of use. It is meant to fit most autos and revolvers. Retail price is $39.99. You can visit them at www.desantisholster.com.
This article first appeared in Small Arms Review V18N6 (December 2014)