By Kyle Shea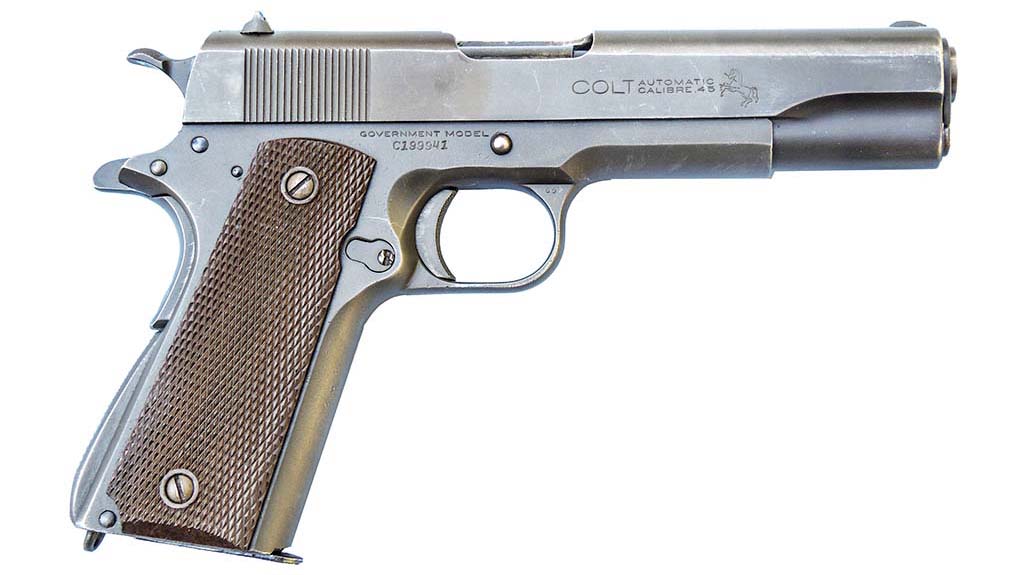 The Colt 1911A1 used by Mel Gibson as Lt. Col. Hal Moore.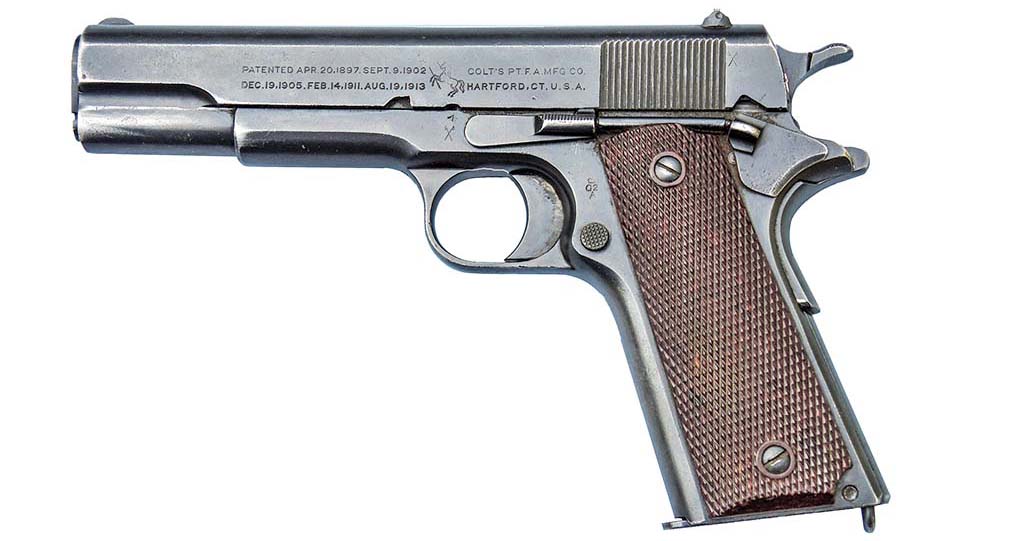 The Colt 1911 used by Sam Elliot's character, Sgt. Maj. Basil Plumley.
The Vietnam War is one of America's most misunderstood conflicts. Unlike in World War II and Korea, where the enemy was often on the other side of a battlefield, the battle lines were almost invisible in the jungles and highlands of Vietnam. The Viet Cong (VC) blended in with the population and waged a brutal insurgency in the country, launching hit-and-run campaigns, bombings and ambushes against both the South Vietnamese and the American Armies. The North Vietnamese Army (NVA) would also cross the border and launch attacks on military bases. The "American War" lasted over 16 years and saw over 58,000 American fatal casualties and cost millions of Vietnamese lives. In the end, with lack of support for the war, the United States withdrew its forces from Vietnam and the capital of South Vietnam, Saigon, fell in April 1975.
Since the war ended, Hollywood has not been kind to the American Armed Forces. While there were some incidents where a few American soldiers did do some horrible things, nothing in comparison to the VC and NVA atrocities, Hollywood usually paints the American military with a broad negative brush in Vietnam-related movies. Compared to how American soldiers are portrayed in World War II movies or any film about an earlier conflict, soldiers in Vietnam movies are often portrayed as monsters. This anti-military attitude can still be seen in the film industry today, though it is not as common as it used to be.
In 2002, a movie broke away from this attitude. "We Were Soldiers" is based on the book We Were Soldiers Once … And Young. It tells the story of the 1965 Battle of Ia Drang Valley, where American soldiers, led by then Lieutenant Colonel Harold G. Moore, first clashed with soldiers from the NVA. The battle lasted 5 days and resulted in almost 500 American casualties (237 KIA) and thousands of North Vietnamese Army casualties (559 KIA). The initial fight was 450 Americans versus almost 4,000 North Vietnamese Army soldiers. The book was written by Harold G. Moore and journalist Joseph L. Galloway, who was on the ground in the fight at Ia Drang.
In the movie Lieutenant Colonel Hal Moore was played by Mel Gibson. His second in command is Sergeant Major Basil L. Plumley, played by Sam Elliott. Hal Moore graduated from West Point and served until 1977, serving in both the Korean and the Vietnam Wars, eventually becoming a Lieutenant General. Sadly, he passed away in 2017. Basil Plumley first joined the Army in 1942 during World War II and saw combat in Operation Overlord (D-Day) and Operation Market Garden. He next saw combat during Vietnam, where he joined the First Battalion, Seventh Cavalry under Hal Moore. He served until 1974, but continued to work for the Army as a civilian. He passed away in 2012.
In the movie, Lieutenant Colonel Moore uses a Colt M1911A1, and Sergeant Major Plumley uses a Colt M1911 pistol. The M1911 was one of the greatest pistols in the history of the United States military, seeing service in World War I, World War II, Korea and of course Vietnam. It also saw service in the militaries of New Zealand, China and many others. It is still in service in a number of countries and some local police agencies in the U.S. It is popular with collectors and gun owners in the U.S. in general. The M1911A1 was "typed" in 1926 and was an upgraded version, with small changes having been made to make it more reliable and easier to shoot—a result of lessons learned from World War I.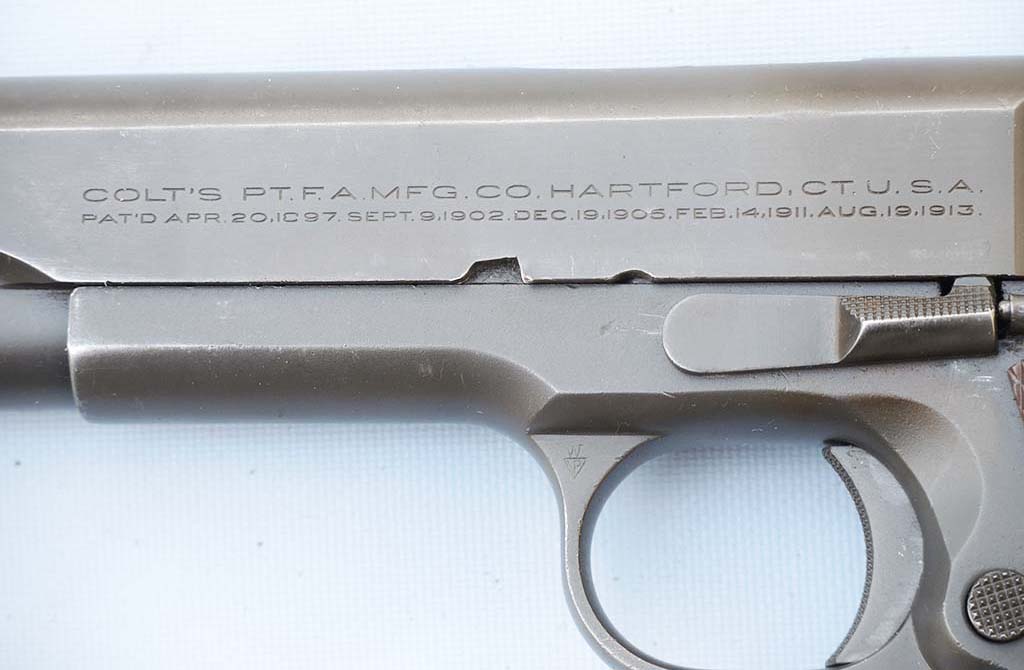 The M1911 shoots .45 ACP ammunition, generally with 230-grain ball projectiles. The ammunition is loaded in a seven-round magazine in the grip of the gun, though soldiers usually had an eighth round in the barrel or "one in the pipe," as they called it. The gun uses two safety systems, a grip safety and a manual safety. The grip safety requires squeezing the lever on the back of the grip to shoot. The manual safety is next to the hammer on the left side of the pistol. The pistol weighs less than 3 pounds, including ammo.
Other guns used in "We Were Soldiers" include AK-47s used by the NVA, though they are seen using other guns like the SKS and even an MG34 machine gun. The Americans used the M16 rifle (XM16E1 configuration), M60 machine guns and M79 grenade launchers. At one point, helicopters in the film use GE M134 Miniguns. Early in the film, there is a sequence showing French soldiers fighting Viet Minh in 1954 in the same general area as the 1965 battle, called "French Mobile Force 100." In this sequence, the French carry the MAS-36 rifle, Browning Hi-Power pistols, MAT-49 submachine guns and use Browning M1919A4 machine guns mounted on jeeps. The Viet Minh are seen using SKSs, ZB26s and PPSh-41s as well as PPS-43s.
"We Were Soldiers" is a great movie. It was well-received by critics and audiences alike and is considered one of the better Vietnam War films. The actors do a great job, especially Mel Gibson and Sam Elliott. Madeleine Stowe does an outstanding job as Hal Moore's wife, Julia Moore. Barry Peppers is good as Joe Galloway, as is Greg Kinnear as Lt. Col. Bruce P. Crandall and Ryan Hurst as Sgt. Ernie Savage. The battle scenes in the movie are compellingly done and can be a bit brutal at times, so perhaps it is not a film to show children. In any case "We Were Soldiers" is a must-see for everyone who loves war movies.
Dan Shea's Time On Set
I knew that my father (and father of Small Arms Review), Dan Shea, had something to do with this movie and asked him about it.
"I was invited out as Small Arms Review to cover the movie set at Fort Hunter Liggett in California," he said, "which had terrain and basic vegetation very similar to the II Corps highland area of Vietnam in the Ia (river) Drang valley on the Cambodian border side near Pleiku. My good friend Mike Papac was lead armorer, and I had supplied him with some intel pamphlets from my library—1956 British Viet Minh reports with uniforms, tactics and equipment. Very helpful in the French Mobile Force 100 scene. We also spent a bit of time going over making all the M16s appear to be XM16E1s, which Mike was an absolute stickler for. Anyway, I was out messing around with Mike Dillon and Miniguns—he heard I was headed to the set—and he had four M134 Miniguns to ship to Mike Papac and decided to fly his vintage U.S. Army-painted Huey from Phoenix to Hunter Liggett, via LA. He and his son Chris flew with me as baggage, we stopped in LA and picked up Syd Stembridge and flew the coast of California at 50 feet over the surf, up over the redwoods; it took about 11 hours from Phoenix. Before we got to the Valley of Wind I was sidesaddle at the door and monkey-strapped on the side, and Mike said, "Close the door, no one rides like that." I said, "Huh, imagine that" and came in. I guess slick jockeys don't look back at "cargo grunts." Coming in on the set just after the napalm scenes, with Mike scooting the Huey done up as U.S. 'Nam-era paint, was something spooky! Anyway, we delivered, spent a couple of days, and here's the most important thing: wherever I went, I found guys in the right age group, and they were all 'Nam vets … undercover. They didn't want anyone to know they were 'Nam vets and all said, "I'm here to make sure they do this right for a change." They damn sure did, great movie. Mike Papac's attention to detail was exemplary, and everyone else doing costume and equipment was on the same page. I was blown away; been on more than a few "'Nam movie" sets with all the baloney. What amazing detail all of them did on this one!"
Special Note: The movie does not cover the battle at L.Z. Albany that happened after the film's ending. Here the American soldiers were almost wiped out in an ambush by the NVA. Over 130 soldiers died and 124 were wounded. Because of this, both Americans and Vietnamese claimed to have won the battle.
Knob Creeker Note: For those who knew the late "Big Dan" Robinson, Dan was in Delta company at LZ X-ray.
Special thanks to Mike Papac of Cinema Weaponry!